This fabulous Wallingford Lake View Condo is not the first listing we have had in The Tavona. We had another listing here in 2016, and we're glad to be back in this gorgeous building. And we just love the neighborhood, too; Wallingford is one of our favorites in North Seattle.
Let's hop right into the top 5 things we love about this Diva Dwelling at The Tavona.
5 Things We Love At This Wallingford Lake View Condo
The Condo's Open Layout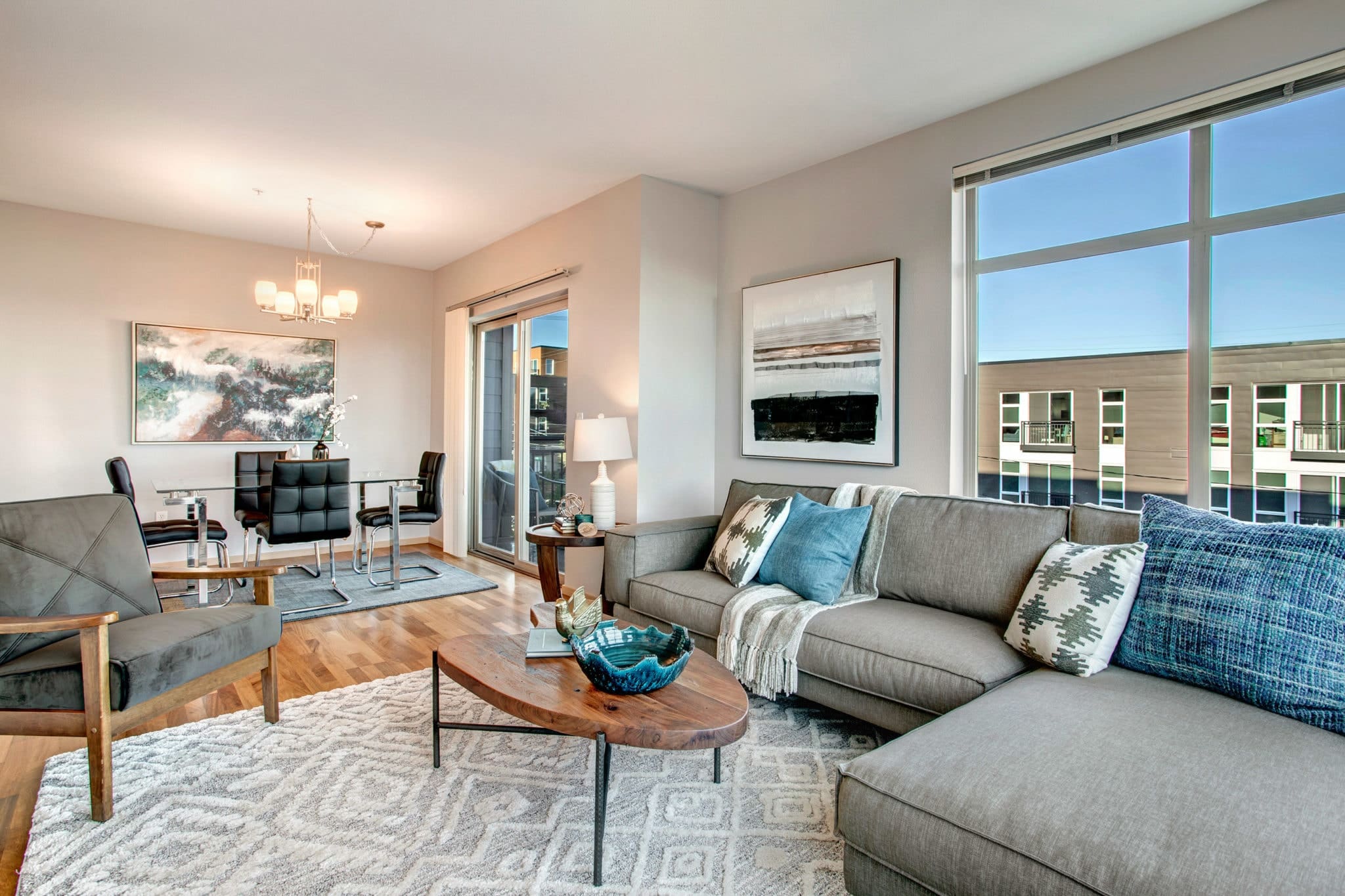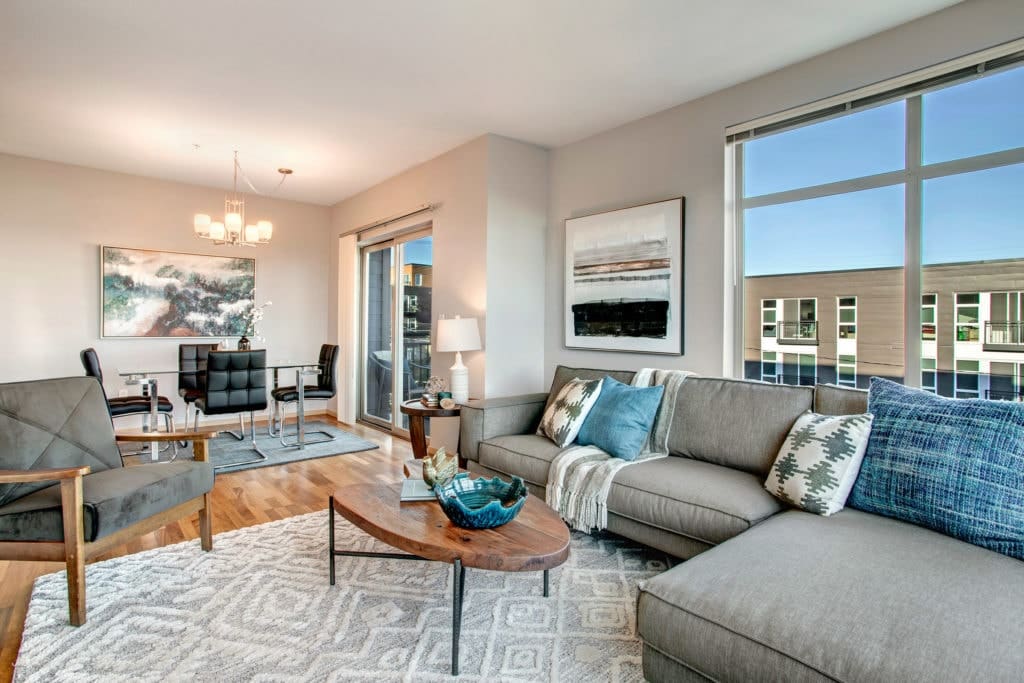 We love a Seattle condo that maximizes its space with great layouts and flow between rooms. This Wallingford Lake View Condo has all of that and gets bonus points for super high ceilings. The living area is super spacious, and is open to the dining and kitchen areas, too. The window in the kitchen and light-colored countertops and cabinets give it an airy, cheery feel.
There is even an office nook, a feature that has become all the more important in the time of remote working. It will be so easy to personalize these main indoor areas into a chic, comfy home. But let's not forget about the outdoors…
This Lake Views From The Awesome Deck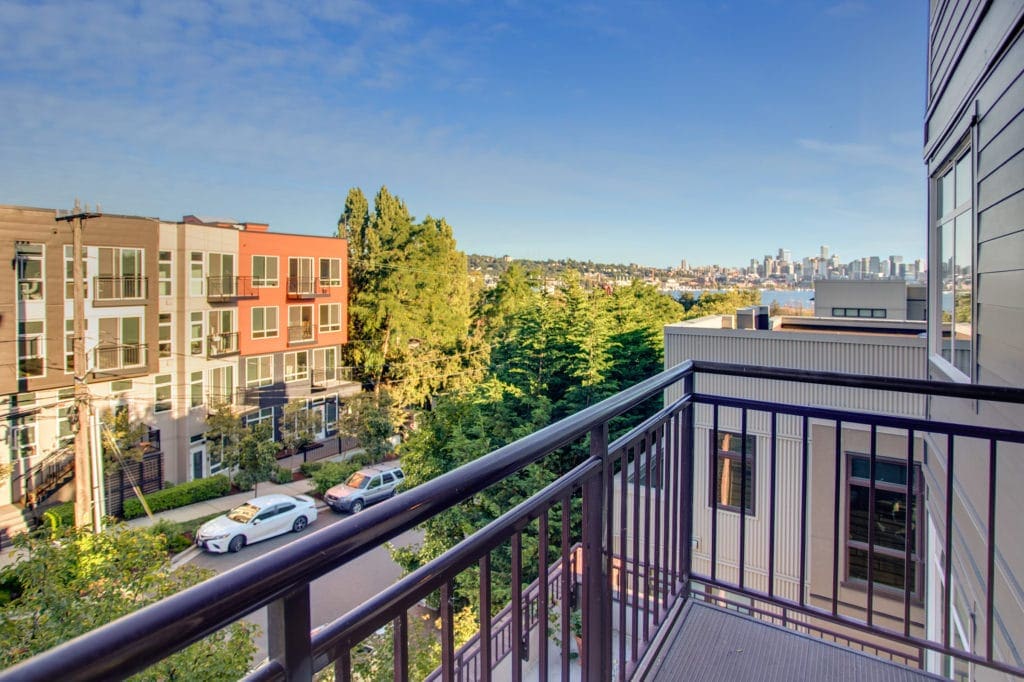 Speaking of quarantine essentials, we absolutely love the giant deck attached to this Wallingford Lake View condo. Whether you are social distancing with friends or just getting fresh air alone, you have all the room you need. What better place to chat and have dinner while looking out at the skyline of Seattle and the Space Needle over Lake Union?
You'll love this view year-round, from the Duck Dodge in spring to the Christmas ships during the holidays, and the fireworks celebrations on July 4th and New Year's Eve.
A Wallingford Lake View Condo With Ample Space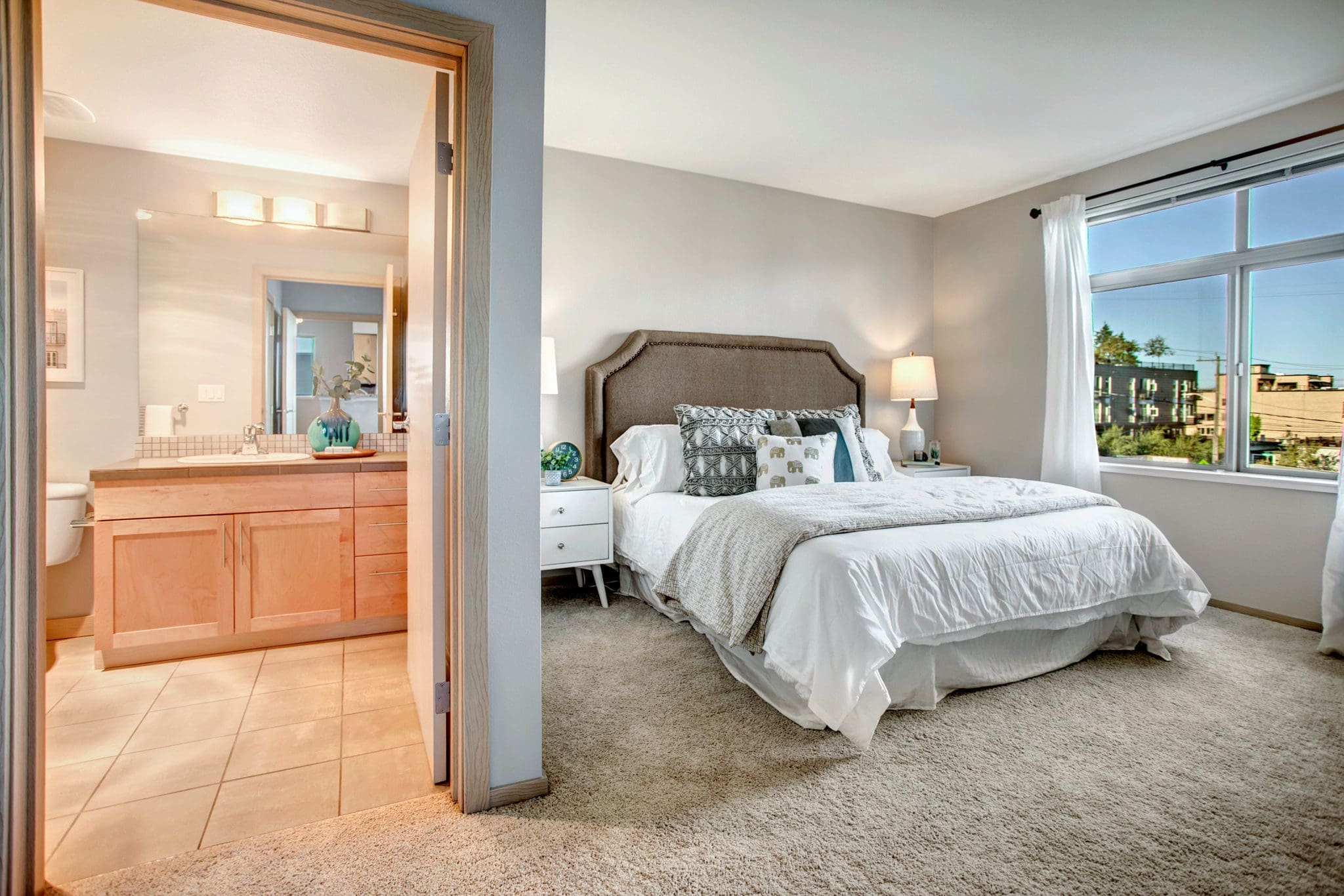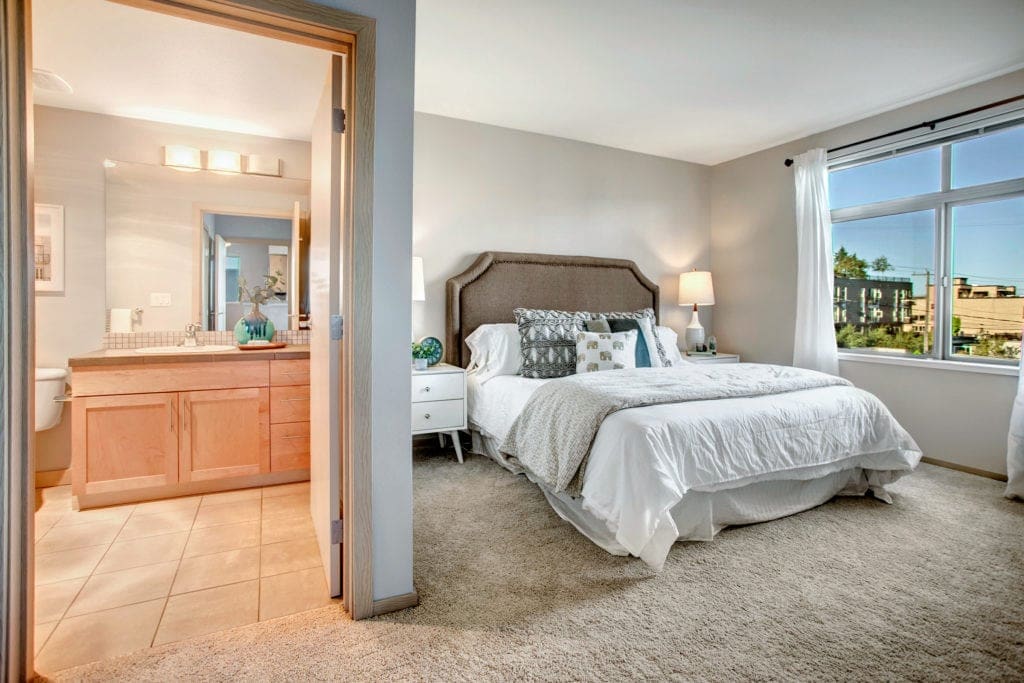 Even with a lot of experience and photos of a property, it can be hard to gauge the usable space in a condo without seeing it in person. For most people, the question is simple: "Where am I going to put all of my stuff?"
It's not every day we get to stage a condo bedroom with a KING-SIZED bed, so that is clue number one that this condo has plenty of room. There is also tons of closet space in both bedrooms. Speaking of that second bedroom, it could work as both an office/workspace, or guest room. It's big enough to do double duty.
You'll find easy storage everywhere in this Wallingford Lake View Condo, and especially where it counts. For instance, the kitchen cabinets are very roomy. You'll have all the room you need for pots and pans, small kitchen appliances, dishware, dry goods, and more. There is a full-on laundry room in the unit, AND it even has an indoor storage unit upstairs on the fourth floor.
The Tavona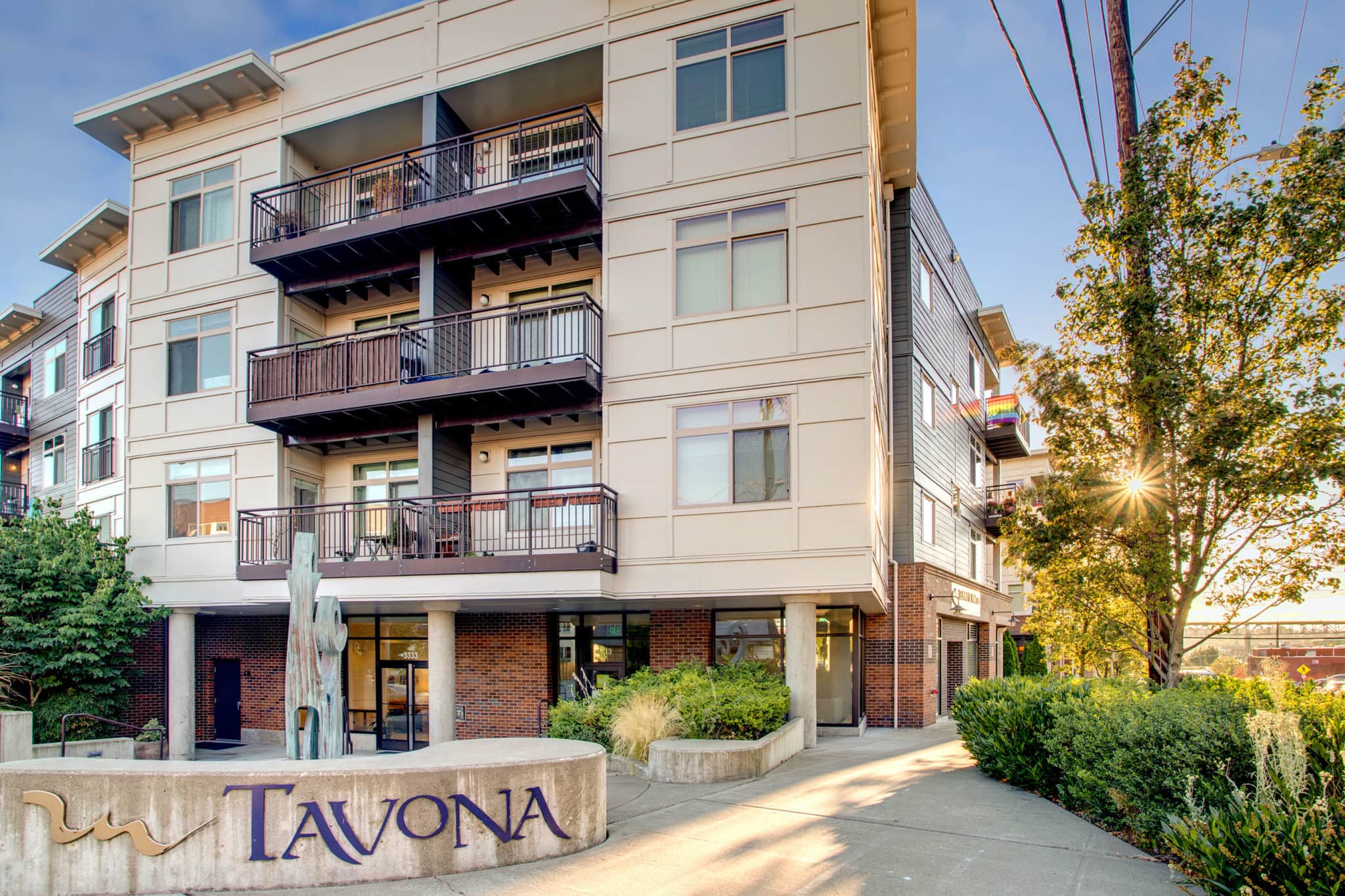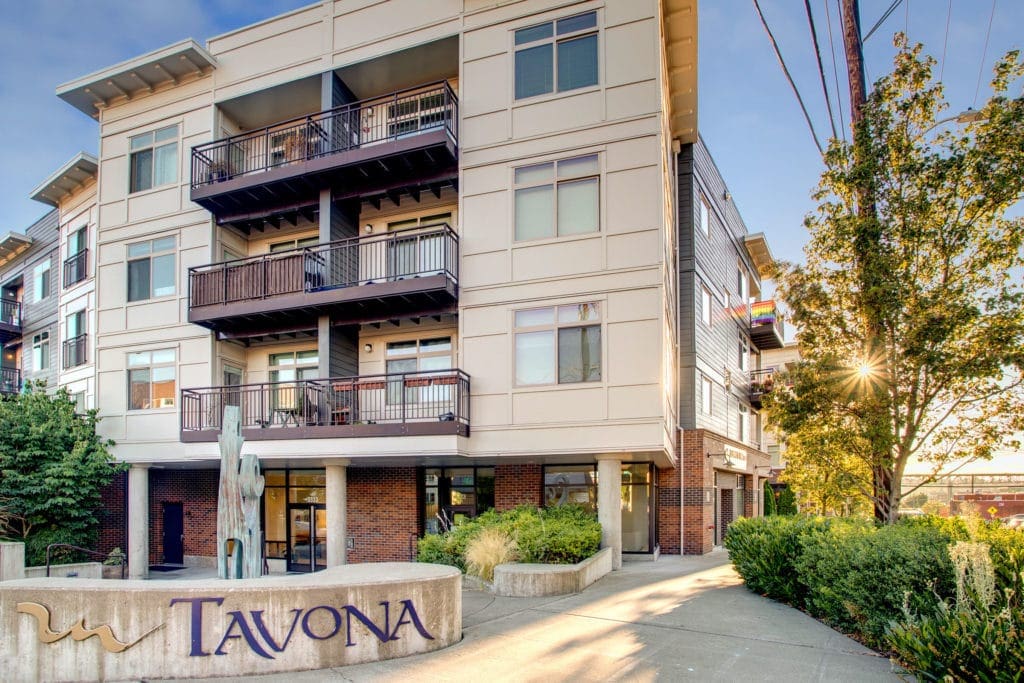 Another thing that you absolutely can't judge from photos is how quiet or noisy a building is. This Wallingford Lake View Condo is very tranquil. It's not just the building that is quiet, but also the surrounding blocks of Wallingford. It's perfectly in keeping with those serene, sweeping, southerly views.
Parking is also a key issue for condo dwellers. This unit in The Tavona has two dedicated parking spots, which is essential if there are two cars for the household. But if you're on your own, that extra space makes it easy for friends and family to park when they visit.
The Neighborhood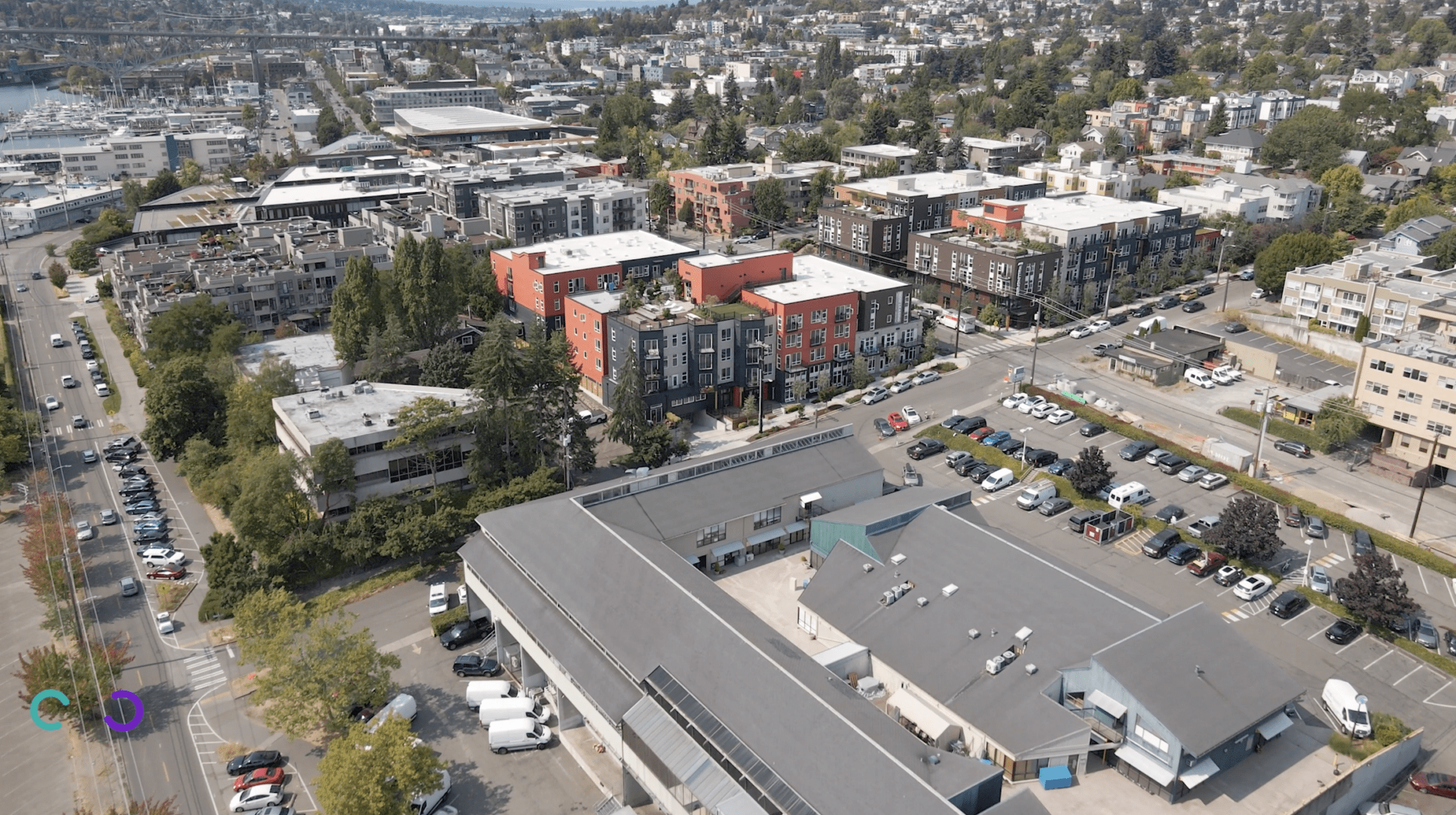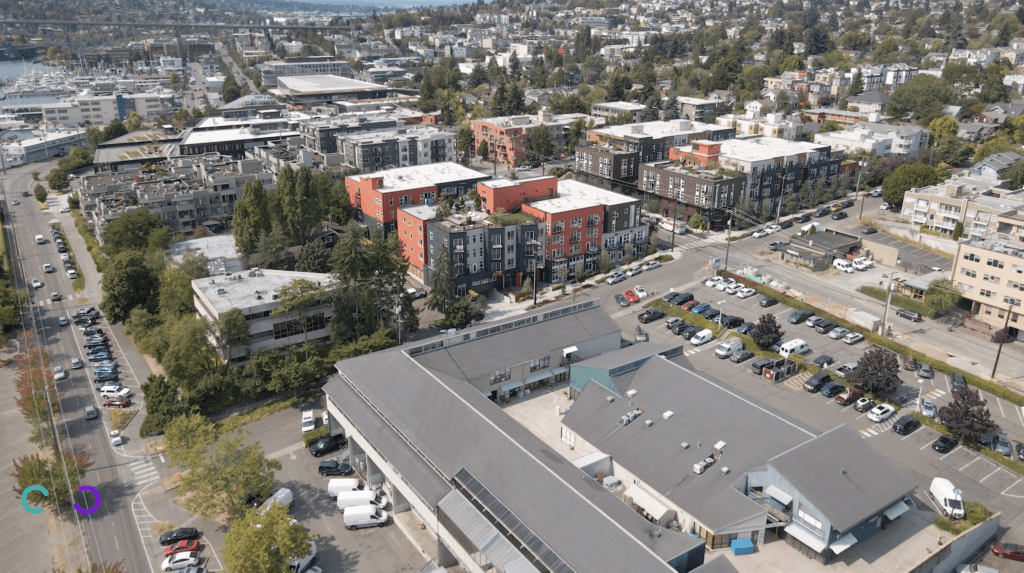 Everyone loves Wallingford's main streets, lined with independent businesses, eateries, and big grocers and drug stores for convenience. They also love how quiet and well-kept the residential blocks are surrounding these more commercial strips. There are many small parks, and big parks, too. The location is hard to beat, all around.
If we think about North Seattle unto itself, Wallingford is central going east-west, but still close to downtown. Lake Union and Gas Works Park, Fremont, and the U District are all close by. (You can easily get to them even without driving on a nice day.) The Tavona makes this especially appealing because the gorgeous Burke Gilman Trail is at your doorstep. Whether you are looking to run, bike, amble, or even paddleboard on the lake, it's all right there.
---
More On The Neighborhood: Wallingford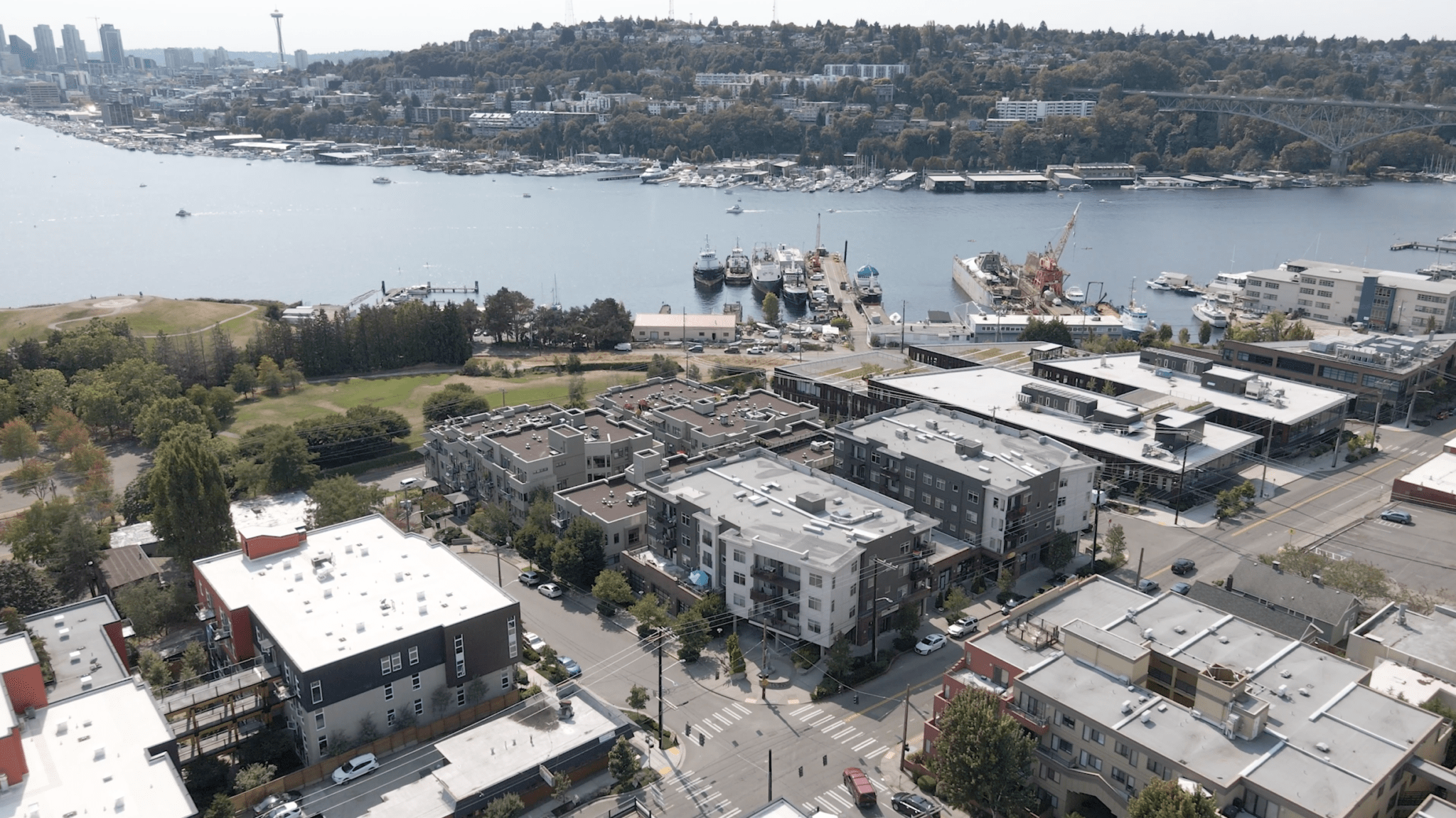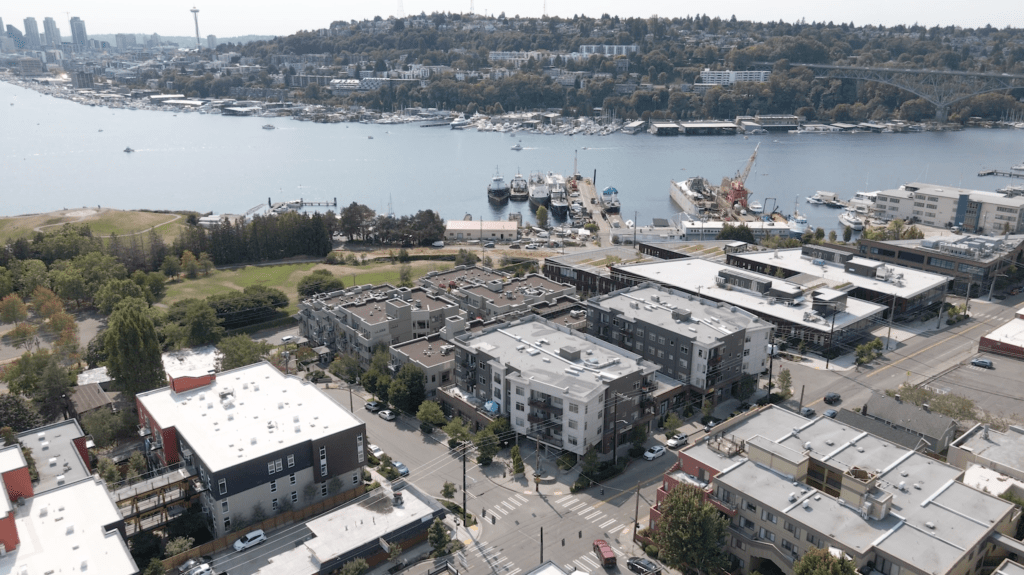 Living in this Wallingford Lake View Condo can give you the feeling that you are away from it all…but you are in fact close to everything. The Wallingford QFC is exactly a mile away, and the PCC Fremont is a short walk away, too. Between those two, you'll find Fremont Brewing and a slew of restaurants and bars on Stone Way.
In Wallingford proper, you'll find some of the best ramen in town at Yoroshiku and the very popular sushi shop, Musashi's. And when you need a hardy meal to start your day, the current owner of this Wallingford Lake View Condo recommends the delicious breakfast burritos at TNT Taqueria.
Don't want to go that far? Pablo y Pablo has amazing Mexican food, cocktails, and tequila right next door to the Tavona. Whether you want to order out or have a picnic while taking in the sunset and skyline at Gas Works, it's all at hand in Wallingford.
---
Get The Deets On Buying A Condo In Seattle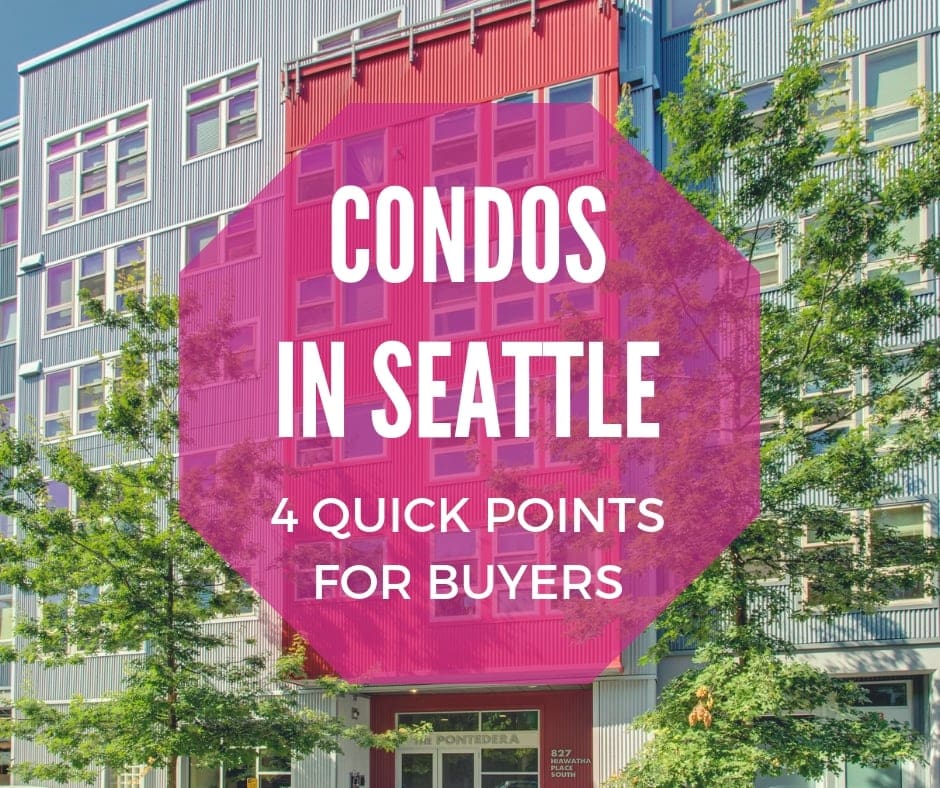 Is this your first time buying a condo in Seattle? We've written a blog for you…or for anyone wanting a little more insight into the process.
Our Seattle Home Buying page is packed with home buying lessons of all types. But because condos aren't like detached homes, we dive in here about what is simpler and what is more complicated. Read the blog to get a quick, comprehensive guide to buying a condo in Seattle.
---
Take A Virtual Tour Of This Wallingford Lake View Condo
Address: 3333 Wallingford Ave N #305
Square Footage: 705
Bedrooms: 2
Bathrooms: 2
Offering Price: $635,000

More Information