We have always been advocates of supporting small businesses in Seattle (and not just because we are one, too.) Small shops, cafes, eateries, etc all create a sense of community that makes each neighborhood in Seattle unique and vibrant. Seattle's small businesses are what makes are spot on earth and Divaland a special place in all of our hearts.
We have published many guides about how to shop and eat local on Capitol Hill, Phinney Ridge, Maple Leaf, Ballard, Columbia City, and so many other neighborhoods. We love our city, and we love all the hardworking businesses that make it so effing cool.
Despite the quarantine, we need to be supporting small businesses in Seattle, so we still have a city worth celebrating when the crisis passes.
In this blog, we are going to break down what we can all do to support our city during the Coronavirus Chaos. We have broken down our guide by neighborhood to make sure you are keep safe, stay home, and shop locally.
Divaland Supports Small Businesses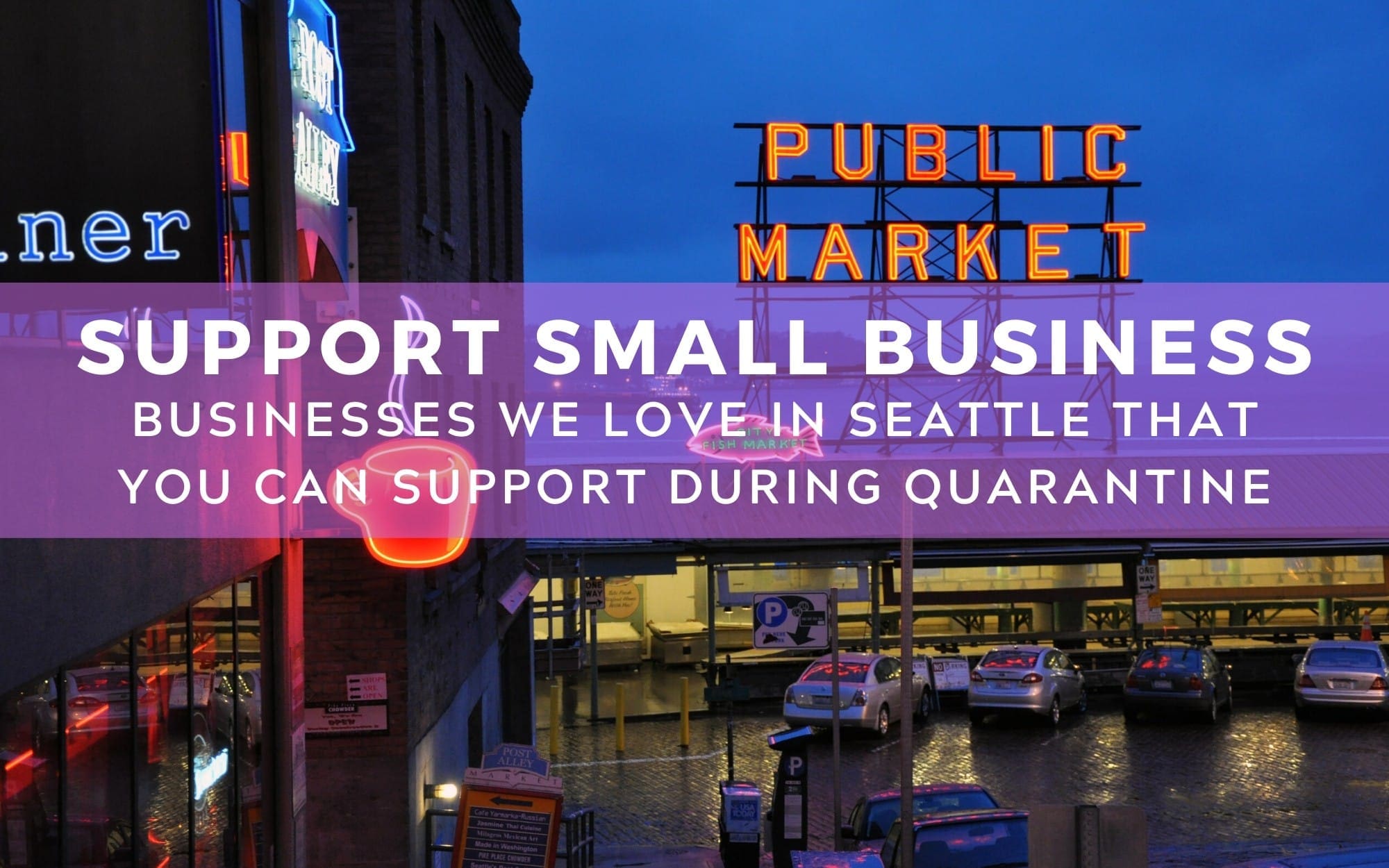 We can't make an exhaustive of Seattle small businesses. We won't even try, because no one could possibly do much with a list so large. We're going to highlight just a few select shops in quadrants of Seattle that we love. We hope you'll love them, too.
Small Businesses in the International District
We're starting here because the racism and discrimination surrounding COVID-19 has taken an additional toll on Asian communities. There is a crowdsourced Google Doc that you can see here with an extensive list. We'll be supporting small businesses in the International District as much as we can. Here are some favorites.
Amazing baked goods and sweets. You can order online.
Seattle's oldest sushi shop, originating before Japanese Internment. Seating can be difficult to get usually, so enjoy take-out now. Order online.
A family-owned vegan restaurant in Little Saigon, serving an eclectic variety (but especially Vietnamese). Order online.
Small Businesses in South Seattle
We're doing big swaths of the city from here on, starting with our own neck of the woods, South Seattle. Of course, we recommend supporting small businesses close to home, especially when trying to cut down on the distance to get take-out or delivery.
It may not be a vacation to the Bahamas, but the Caribbean spice from Island Soul will keep you feeling delightfully warm at home. Order on Grubhub.
We'll be doing a lot of cooking at home, and Bob's Quality Meats is our butcher of choice in Columbia City.
A charming and delicious Lebanese bistro in Hillman City. Order ahead and take the goodness to go.
Small Businesses in Central Seattle
Central Seattle is home to our most vibrant cultural core. We adore the owners of so many places on Capitol Hill and the Central District. We want to see them making Seattle magical at the end of this.
No munchies here, but we're listing Retail Therapy because it's one of our all-time favorite boutiques. Get a different kind of candy here…say, a gorgeous ring or necklace or perfume. (Or get a gift card to treat yourself or someone else to a goodie later.) Shop online.
This cafe (another all-time fave) is operating on reduced hours. Get lunch or a sweet treat to-go. Order at the counter, or online.
For a special night in for two, order Mamnoon's family meal for $40. You can order between 2pm and 5pm by email, and by phone from 5pm to 7:30pm. (For $15, you can even add a wine that they curate for you based on your choices for the meal.) Read more.
Small Businesses in West Seattle
Oof. As if things weren't bad enough, the West Seattle Bridge is closed until further notice. (I guess we could be grateful that it is happening now, when there is no commuter traffic.) For those in isolation, we know a few places we'd be going.
The carbalicious ecstasy of Bakery Nouveau continues. In fact, the chefs there invented a toilet paper shaped-cake called Le Charmaine that has been flying off the racks. Get your sugar rush there.
8am to 8pm, Luna Park Cafe is serving their big portions of American pub food to-go. If you have an appetite for some serious grub, order online.
Open for breakfast through dinner, The Salvadorean Bakery is on a bunch of delivery apps and also serves takeout as usual. Pupusas, tamales and so much more. See the menu and order online.
Small Businesses in North Seattle
"North Seattle" covers a LOT of territory. As we said before, we'll be staying close to home, but here are a few small businesses we love north of the lake and canals.
This utter gem of art, jewelry and decor has brought unique beauty and elegance to Ballard for years. Sadly, it was hit by a nasty robbery just as the crisis began to escalate. The future of Curtis Steiner's physical location is uncertain, but you can order gorgeous goodies online.
Supporting small business in Seattle right now is already imperative. Helping those who have faced additional hardship is even better.
Serving Mediterranean and Indian cuisine for forty years in the University District, Cedars is a Seattle icon. It's regularly a popular choice for takeout and catering, and now is a great time to enjoy some at home.
Oh, how we long for warmer days and a good drink with friends in a vibrant environment. (Besides the always fabulous Chez Diva, of course.) We may be months from experiencing that again, but for those near Lake City, you can at least get a to-go taste of Latin heat from Mojito. Order online.
---
Thank You Divaland For Standing Up For Seattle and Grabbing Some Take Out
This crisis will not be over for a while, but these quarantine measures should make it shorter (and less deadly) than it would be if we waited. We are glad that our political leaders take it seriously, and are aware of the effects it will have on local businesses.
Those of us who can continue to support small businesses in Seattle should do all we can. For the families affected and for the future of our city, Divaland will stay engaged. If you are a small business owner, be sure to check out our list of small business support resources.