On Friday, March 20th we hosted a Divaland Variety Show curated by Raja Feather Kelly. In less than 8 hours we connected with 17 different performers, did sound checks, setup an Eventbrite and sold out a show that we hosted via Zoom. It started out a little rough but as the evening went along it was truly magically.
Thank You For Being a Part of Divaland's Variety Show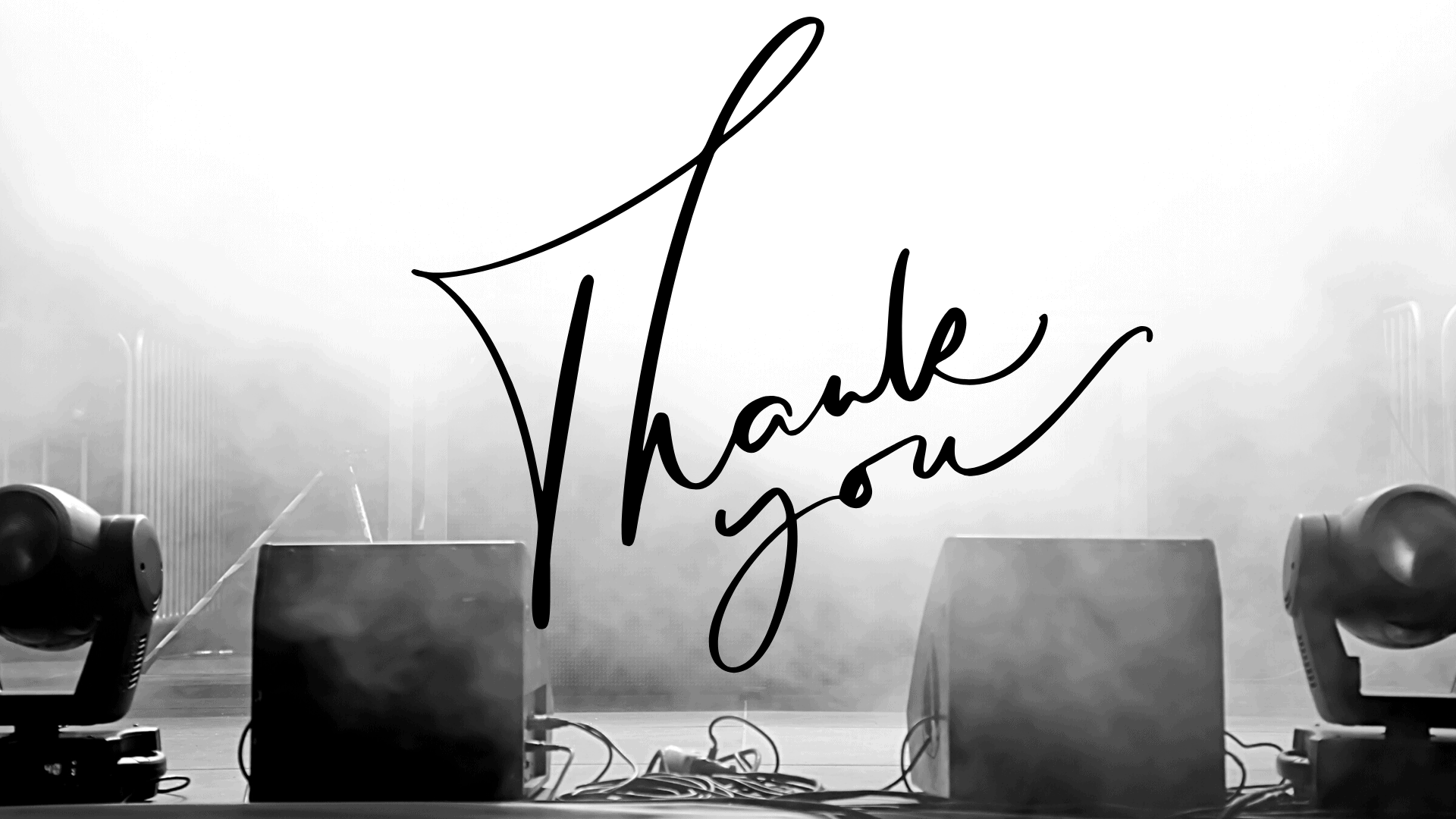 As a result of your amazing support, we raised $1,000. All of the money will go directly to the performers. Most performing artists have been dealing with a complete shut down of income due to closed theaters and music venues. Shows that were in early stages of being crafted for premiers have either been scraped or postponed for 6 months to a year. Many of these artists were also laid off from their side hustles or day jobs with retail, bars and restaurants closed across the country indefinitely. The process we birthed with Raja and his husband Collin will become a platform for other arts organizations the longer we are in this Coronavirus crisis.
Support and Connect With the Performers of Divaland's Variety Hour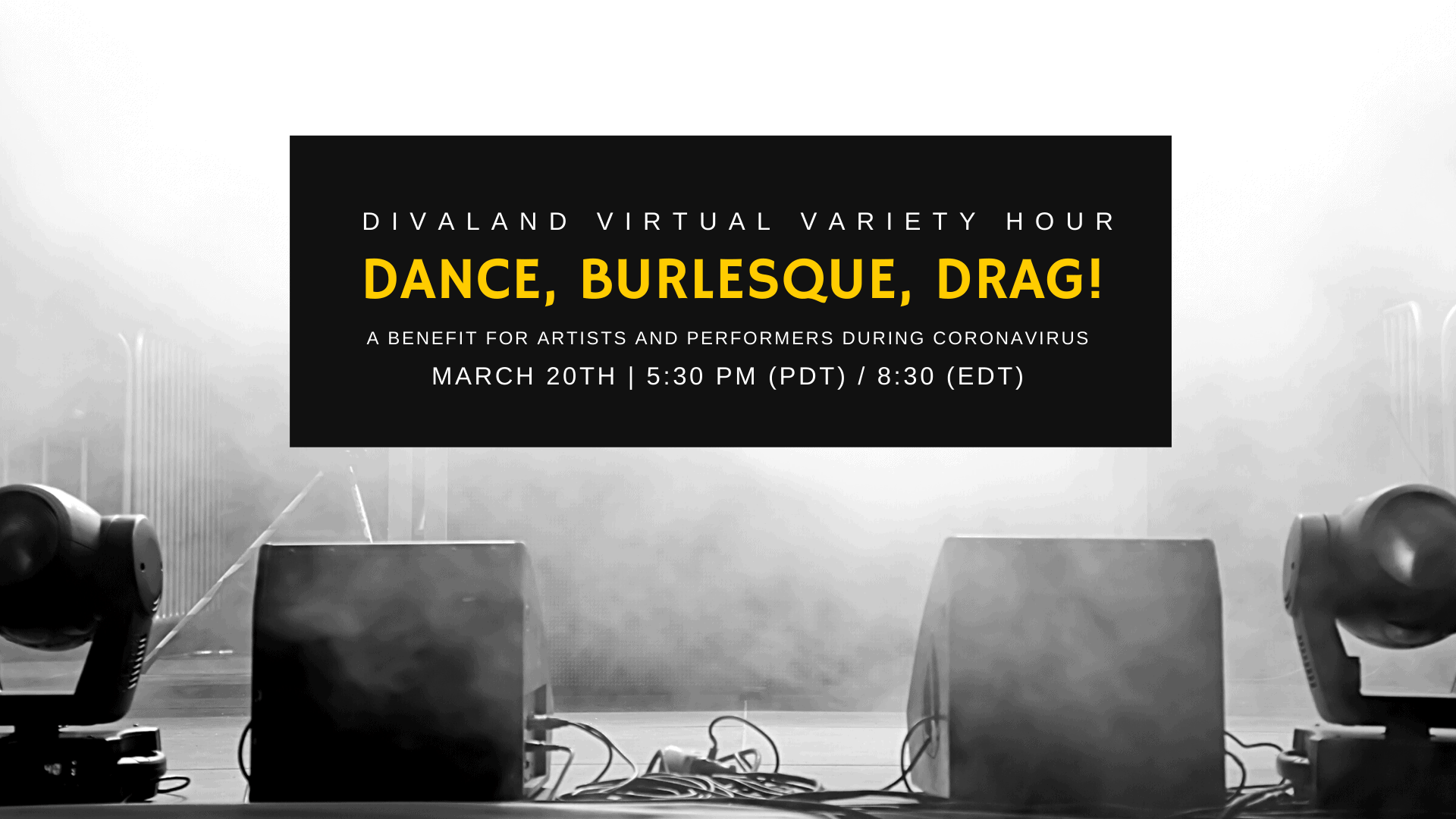 Below is a list of all of the performers. Find them on Social Media. Give them some love. And if it is possible please consider contributing directly to the performers who gave us a window into their home creative life.
All of the Performers From Divaland's Variety Hour
DONNATELLA HOWE
DonnaTella is Seattle's favorite drag queen. She opened the performance in full Jurassic Park regalia.
Raja performed "I Want to Dance with Somebody" through the Chez Diva house here in Seward Park in Seattle. Raja Feather Kelly is a Director and Choreographer from Brooklyn NY!
DUSTY
Dusty Childers performed "Tells A Sweet Story" from his highly stylized living room. Dusty Childers is from Brooklyn. Storyteller and Whoracle for 35 years.
MISS MIA MARAVILLA
Miss Mia is A member of Dark Diamonds Burlesque, an All POC troupe in Seattle. Miss Mia performed a burlesque routine in the confines of her living room.
COLLIN KELLY
Collin performed "Rab Shiva's Yoga Class" which was a parody of hot male yoga teachers everywhere. Collin Kelly lives in Windsor Terrace, Brooklyn and has been a performer dancer for 20 years and is a daydreamer for life.
REMY KURS + JOHN MICHAEL LYLES 
John Michael Lyles and Remy Kurs performed an original pieced title "Hold Your Head Up" from their brick-lined home in Harlem. Tears were brought to people's eyes when they performed. John Michael Lyles is an actor and writer. Remy Kurs is a musical director/orchestrator/pianist both off and on Broadway in NYC.
SARAH BARTLEY
Sarah Bartley performed "Rose Loves ASMR." Our internet went down in our house during her performance. We texted her to keep going. And on the fly she made magic happen. Sarah Bartley lives in New York City. She is a filmmaker and comedian for eight years. Have a martini!
MAJOR SCALES
Major Scales recorded a ditty prior to our show and shared it with us. Major Scales is a singer-songwriter and drag performer based here in Seattle. You will often find him on the road with Jinkx Monsoon and Ben DellaCreme. Look for an upcoming project coming soon from this magical human.
TIM and ROSS the Cameraman 
Tim and Ross entertained us through their New York apartment called "One Night Only". Tim Gilligan and his husband Ross live in Prospect Heights. Tim and Ross are fabulous and everything good in this world.
AMBER TAMBLYN 
The amazing Amber Tamblyn read one of her poem's "This Living" and it struck such a chord with everyone in attendance.  And yes google it. This is the same Amber Tamblyn who is an Emmy and Golden Globe-nominated actress, author and director.
 Venmo: @collinuskellys (Amber requested her proceeds be donated to the Feather Theory)
SAMANTHA NYE
Artist Samantha Nye took us her home studio in Philadelphia. She showed us her stunning art work and did a real time demonstration of her painting technique. It was a fan favorite of the night. Samantha lives in Philadelphia and is a life-long artist/painter.
TASHA!
Tasha is a big part of our Divaland family. I texted her at 3 pm in the afternoon and by 5:30 pm she was entertaining us in her bedroom.  LaTasha "Tasha" Barnes is an internationally acclaimed and awarded dancer, educator, coach and ambassador of culture from Richmond, VA – based in New York. Globally celebrated for her musicality, athleticism, and joyful presence throughout the cultural traditions she bears, which include: House, Hip-Hop, Waacking, Jazz, and Lindy Hop
EMILY WELLS
Emily Wells brought us into her home studio in Philadelphia. She's a composer and producer who's been creating albums and touring internationally for ten years. This week she has a new album coming out. Everything that she did was pure magic on Friday. You can find her at EmilyWellsMusic.com.
ZOE SCOFIELD 
Zoe Scofield is a dancer and visual artist based in Seattle Washington since 2002 and one half of zoe|juniper.org. Born and raised in Gainesville, GA, Zoe began ballet at a young age, instilling in her a deep love and interest in structure, discipline and performances' ability to create a transformative experience. Zoe brought us a multidimensional experience from her new home in Arizona. You saw hints of what art is going to look like in the era of Shelter at Home orders.
STEPHAINE GAILING 
Stephanie is Team Diva's personal astrologer. She did a small talk about "Astrological Insights For Clarity in Unclear Times" that truly grounded all of us in the space that we are experiencing right now. Stephanie Gailing is Astrologer and wellness consultant, based in Seattle, who works with clients worldwide.
Venmo: @stephanie-gailing
CARSON ST. CLAIR
Carson closed the show with a performance of "Down in Mexico" and proved that even with a small screen via Zoom one can "bring down the house!" Absolutely brilliant. And she pulled it together in six hours. Carson is a native of the Emerald City and has been entertaining audiences her whole life. A graduate of Miss Indigo Blue's Academy of Burlesque, she has seduced audiences at the Pink Door, The Oregon Burlesque Festival, and Seattle's historic Moisture Festival. She is also a member of Dark Diamonds Burlesque, the PNW first all POC ensemble.
---
Thank you for being a big part of Divaland's Variety Show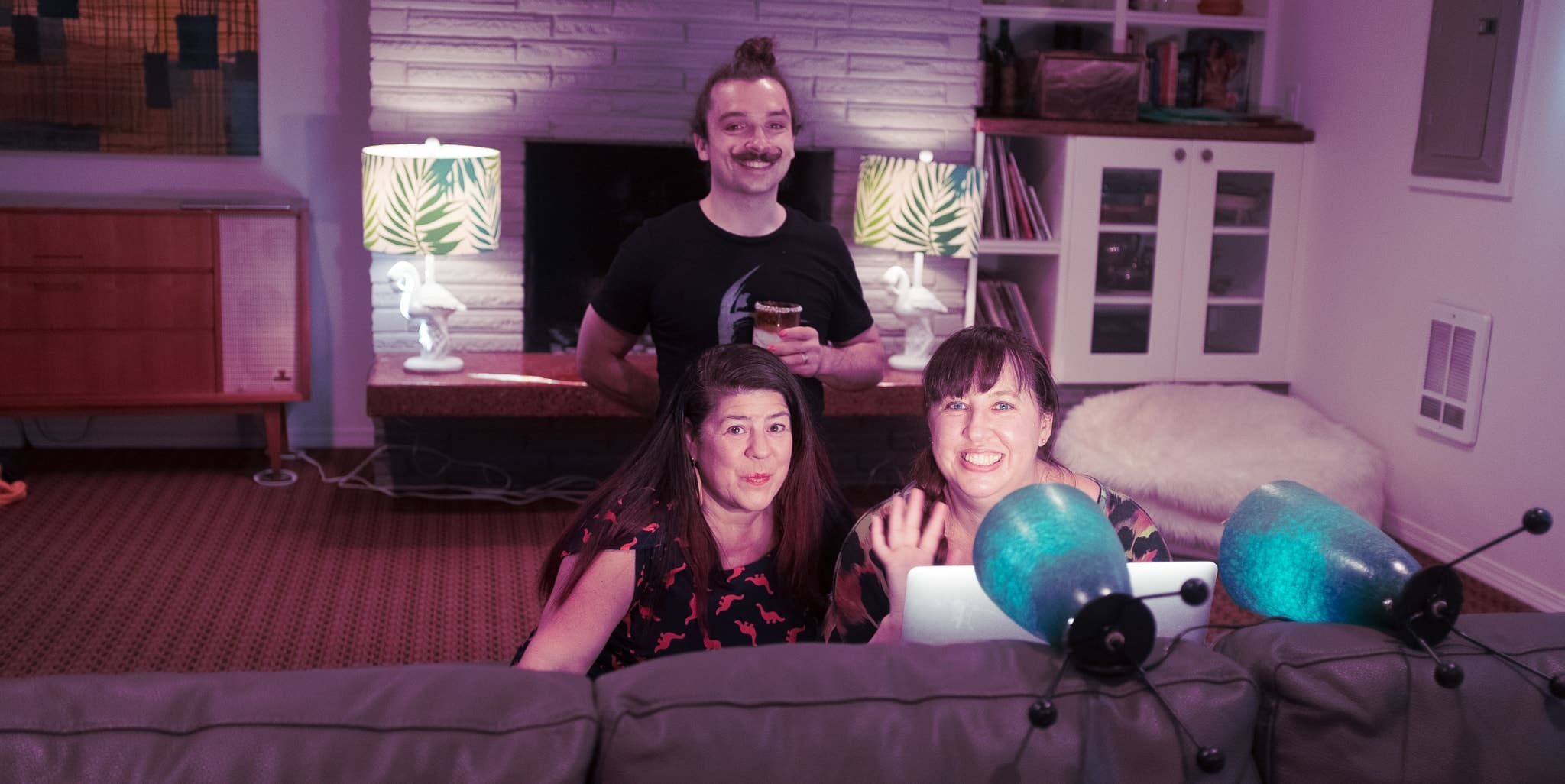 As you know Team Diva has long been a big supporter of the arts. We done it all –  from hosting and creating Divas Take America, and Divas Take the Hill, to sponsoring drag shows like Bacon Strip, and supporting organizations like  Velocity Dance Center. As we move through the Coronavirus Crisis we know that some artists will stop doing work, people will get sick, and many performers will have their current and future shows canceled. Divaland is made great by the diverse, creative, community of which we are a part. The money we raised was a small token towards our overall capacity to do good during this crisis.
What's next? Look for more events like this one. We will get better. We will make this a venue to support as many artists as possible. Stay Well, Stay Healthy and Stay Home (for now) Divaland.