Divaland knows that our Team Diva loves our drag queen family, and the Miss Bacon Strip crew is like a monthly family reunion that EVERYONE wants to attend. For those who don't know: Bacon Strip is a monthly burlesque and drag bonanza, that encourages some of our area's most talented queens to really let their freak flags fly. Hosted by Sylvia O'Stayformore and Mizz Honey Bucket, it's a cavalcade of sick lewks, gogo-boy butts, and musical entertainment. (Oh, and bacon, too.)
First We Will Mourn The Reign of Old Witch as the 2018 Crowned Miss Bacon Strip Queen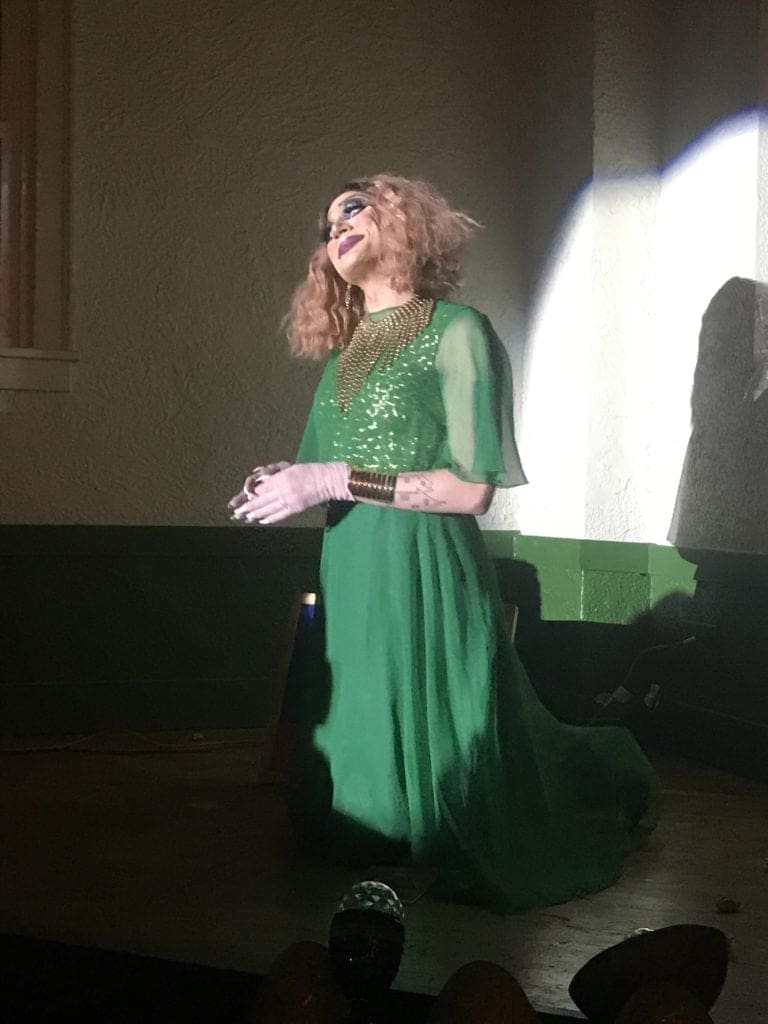 Fun fact. Old Witch and her Hubby Cookie Couture are also Diva Dwellers. Earlier this year we saw Old Witch glue chicken worms to her skin and be poked with a stick by DonnaTella. You had to be there. It was magical.
Read Old Witch and Cookie's Buyer Story Here
For those of us who were at last year's Miss Bacon Strip the drama was thick. I saw a drunken queen steal money from other queens. I saw someone do nasty things to a pig. And than there was an issue around the counting of the ballots. Old Witch did not go home with the crown. But B!TCh Got Her Money aka the Miss Bacon Strip Crown.
So what will happen this year……
Miss Bacon Strip Unpageant
The annual Bacon Strip Unpageant is this weekend, and you can bet that the queens will BRING IT extra hard this time. The contestants are fighting for the crown, a $100 prize and "the unlimited fame this title provides," in the words of the hostesses. This year's eight contestants are:
Epi Scene
Jemma Von Swan
Sindulgence
Baby Guuurl
One1
Juliet Hellfire
Nyx Moons
Daddy Issues
The contestants will be awarded points by a panel of celebrity judges, including our own Diva Dude Rocky Flowers and Diva Dweller Sam. The ways of the judges are steeped in mystery, but probably swayed by crowd reactions, too, so get ready to cheer hard for your favorites and bring dollars to tip those queens. At the end of the night, last year's winner, Old Witch (a Diva Dweller and rad dad) will step down and the new queen shall be crowned.
Give Me All of The Details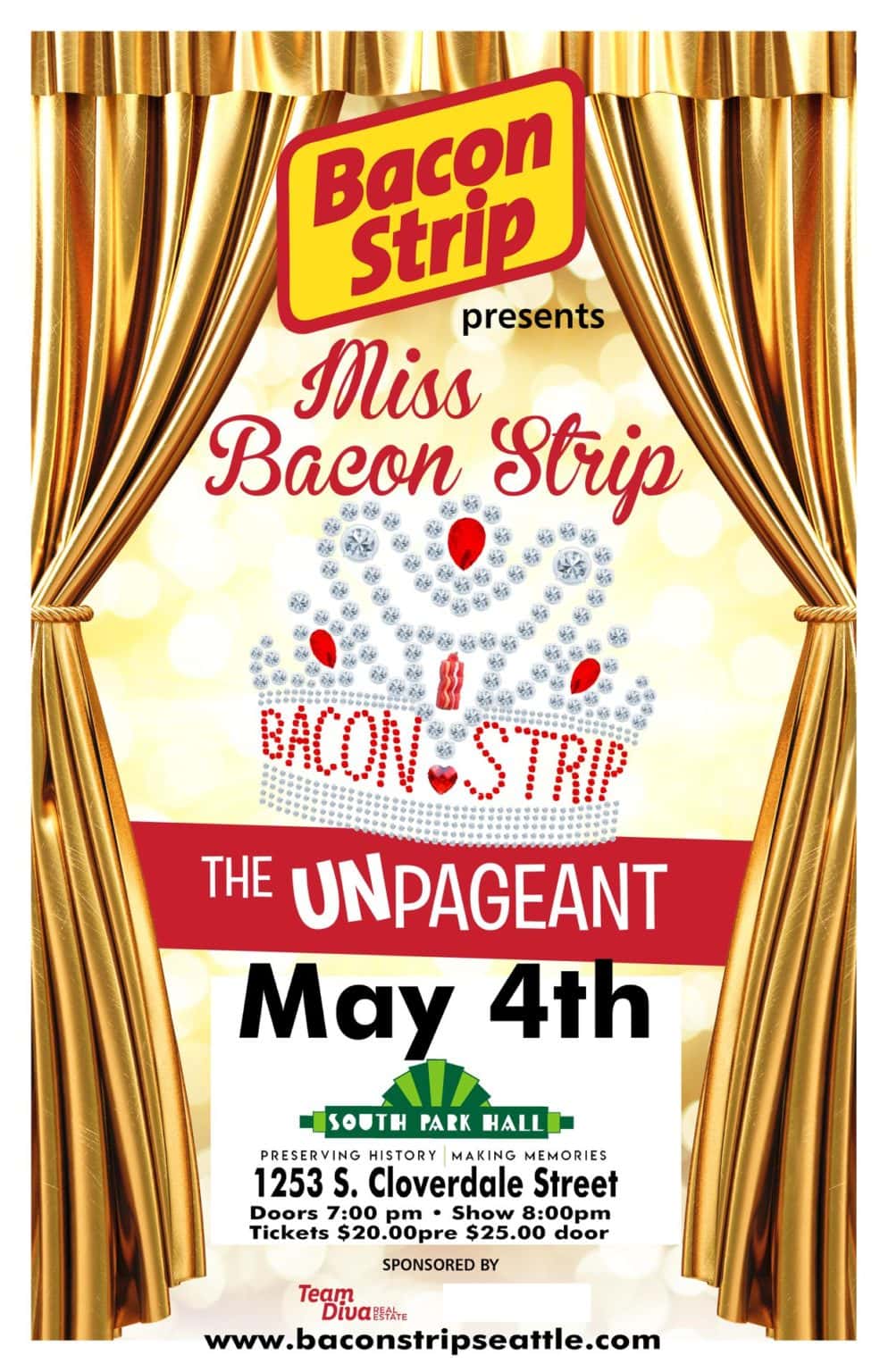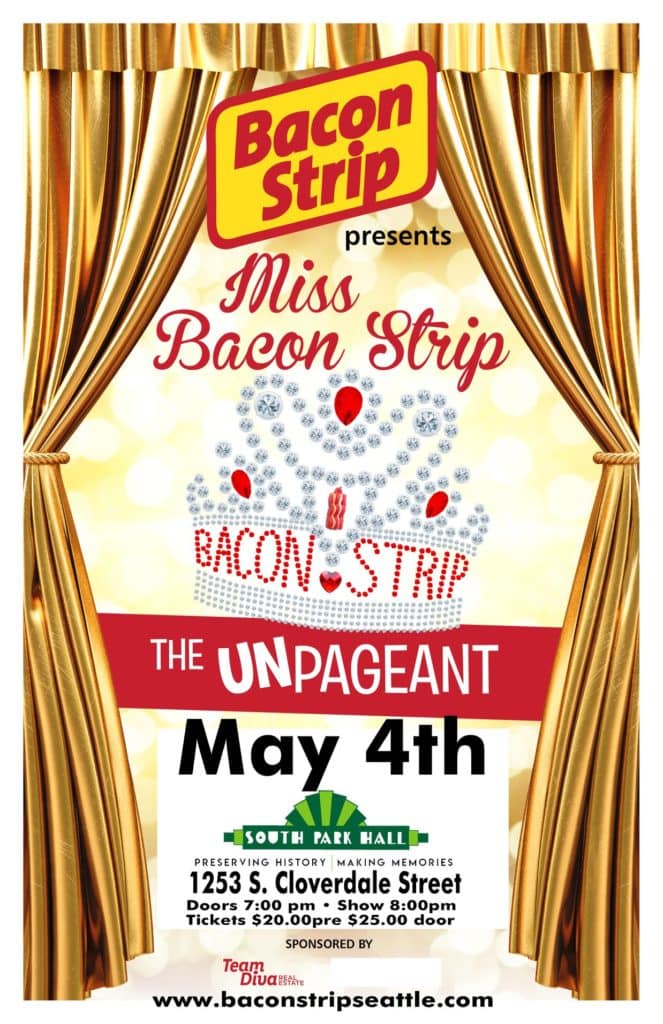 Bacon Strip's home is typically at the Palace Art Bar and Kitchen in Georgetown, but don't show up there this Saturday. This event demands a larger space for the crowds (and big personalities) to come, so the Bacon Strip Unpageant takes place across the Duwamish in South Park at:
South Park Hall
1253 S Cloverdale St
Seattle, WA 98108, USA
Saturday, May 4th
7 PM to 10 PM
That's right… it's May the 4th. So we may be seeing some sassy cosplay in the crowd, in addition to the fierceness on stage. Come dressed however you like, and ready for a party.