JUST SOLD! Uniquely and beautifully restored. Diva Kim received multiple offers and sold this historic Wallingford farmhouse for 12% over asking by using our proven Team Diva method for marketing homes. Typically homes like this in Seattle's Wallingford neighborhood will sell for somewhere around 3-4% over list price. Thanks to our dialed in staging and online marketing, we were able to sell this treasure for top dollar. 
Diva Kim received multiple offers and sold this historic Wallingford farmhouse for 12% over asking during the first weekend of COVID lockdown. DIVA DIFFERENCE aka having a well honed online marketing strategy. 
We brought this original 1901-built Wallingford farmhouse to market in March at the very beginning of the COVID-19 pandemic. Lovingly known as the "Red House" in the neighborhood. This thoughtfully preserved and updated home was already in stellar condition and stunningly remodeled by one of the previous owners (our clients' husband). The owner is well known for restoring and updating old homes. It is a true farmhouse and predates the Craftsman homes that would come later in the 1920s and '30s. In addition to its eye-catching historic character. The home also has a stunningly updated kitchen and remodeled basement. Meaning that modern homeowners are more than comfortable here. 
Let's take a closer look at what Diva Kim did to ensure this piece of Wallingford history sold for well over asking during COVID lockdown.
How Did We Sell this Wallingford Farmhouse During COVID Lockdown?
The majority of real estate brokers sat out of the market the first two weeks of lockdown. Not our team. Hands down the reason why we sold this Wallingford Farmhouse over asking during the lockdown is because of our amazing online marketing strategy. Most real estate brokers have minimal knowledge on how to use digital marketing. Much less how to turn it on when times get tough. But you know…. Team Diva shines in moments like this.
Kim and Michael also put in the time to make sure everything about this home was ready for market. Let's dive into the preparation process our team and homeowners went through. The marketing team got to work and made a huge difference. Team Diva's website was doing its job, along with the video, blog, and online marketing. And most important is that Team Diva was the first in the nation to do a Virtual Open House.
Renovated Historic Wallingford Farmhouse Home Preparation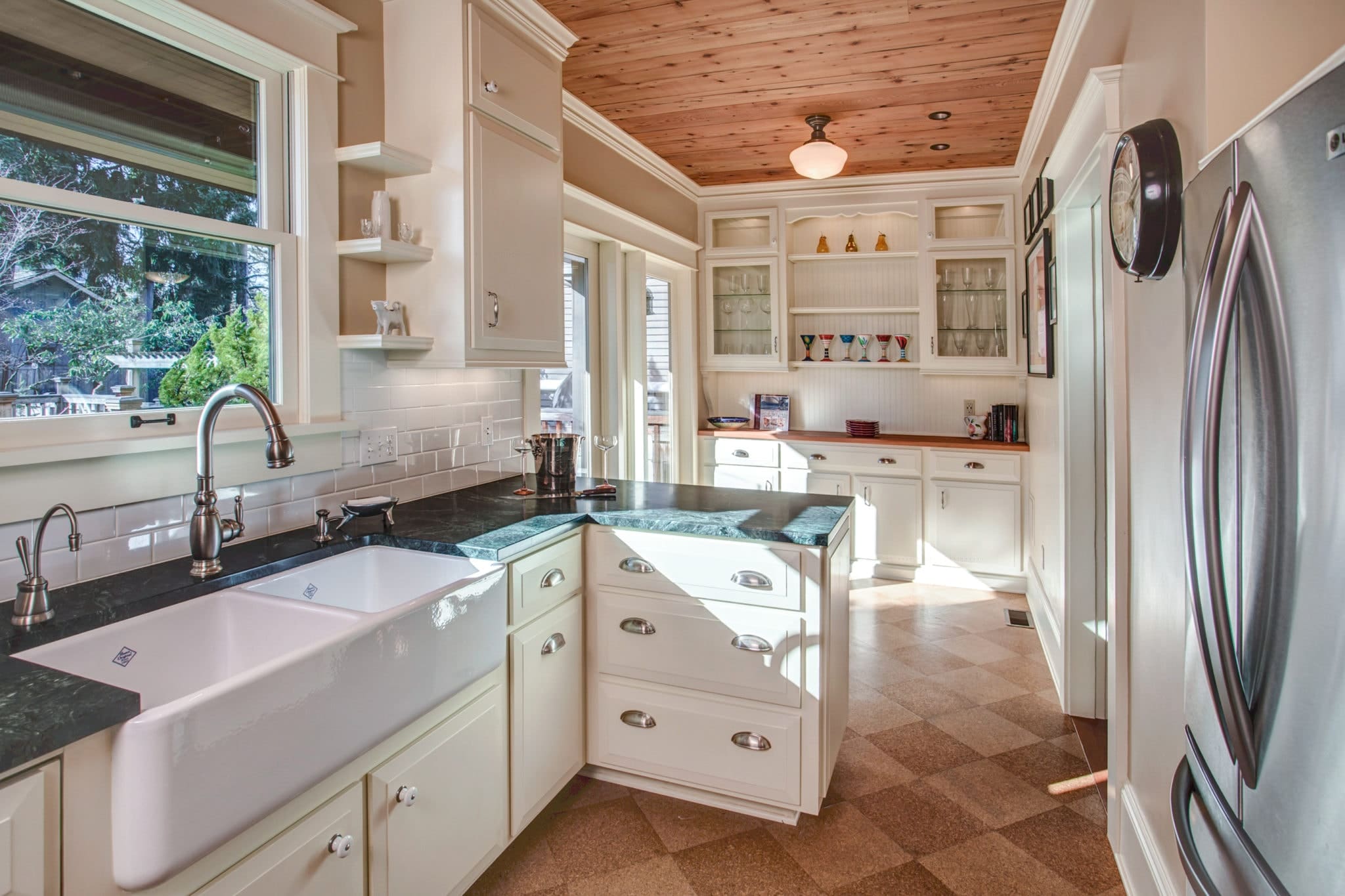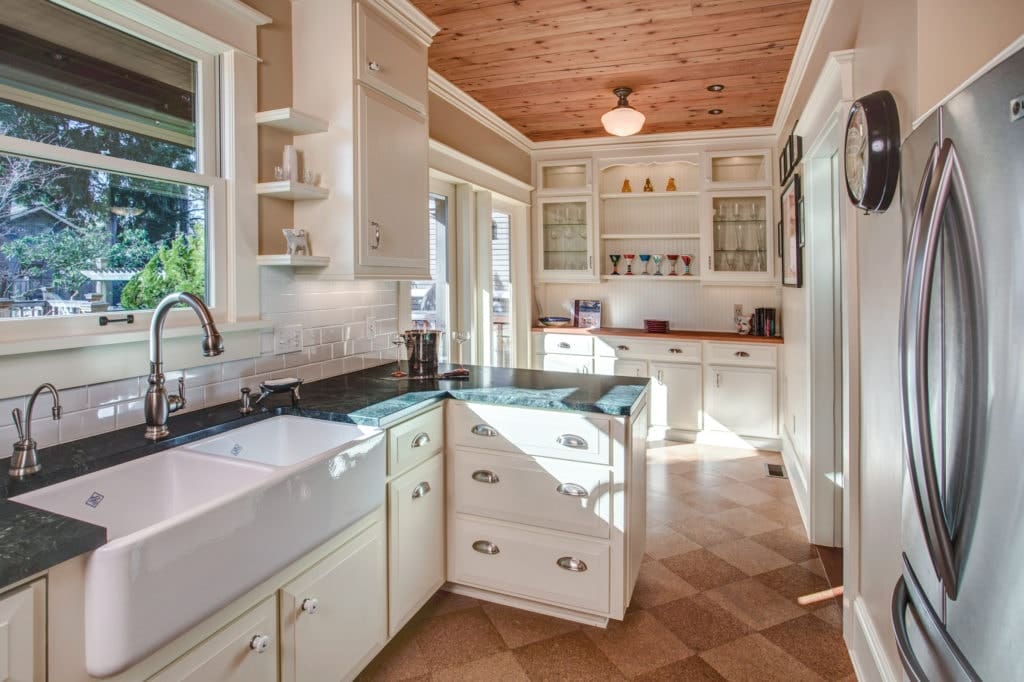 As usual, a Diva's job is to make sure all our listings show beautifully. Being a gorgeous home is often not enough. Especially if we want the home to entice the best buyers possible. Homes must still show well and we also want to make sure there are no "buyer red flags," which we do for every listing. Our main prep work for this particular gem was to help identify some minor repairs that needed to be done and to help restage the home so it would show in its best light and be photo-ready. 
Part of preparing the home for the market is making sure we price the home just right, and our seller Amanda trusted us and relied on our expertise here. Diva Kim made sure she had a thorough understanding of the most recent ins and outs of the Wallingford real estate market. The home was unique. How do you price a unique home during a time of uncertainty? Kim used her over 20 years in the business to land on a price that would not undercut the value of the home and still receive multiple offers. And of course, she got it right!!!! 
Sellers Make a Huge Difference During the Preparation Process
The seller, Amanda, was the perfect Team Diva client. She instantly understood what needed to be done once we had our first meeting. She was willing to do the work to get the house ready (with some help from her friends and the Divas, of course!). We have found that the sellers who participate in the preparation process typically get higher results. It is a true team effort. 
Read more here about our "Fit What's Broken" and "Make It Pretty Process."
Team Diva's Marketing Was the Reason This Home Sold Over Asking While Others Panicked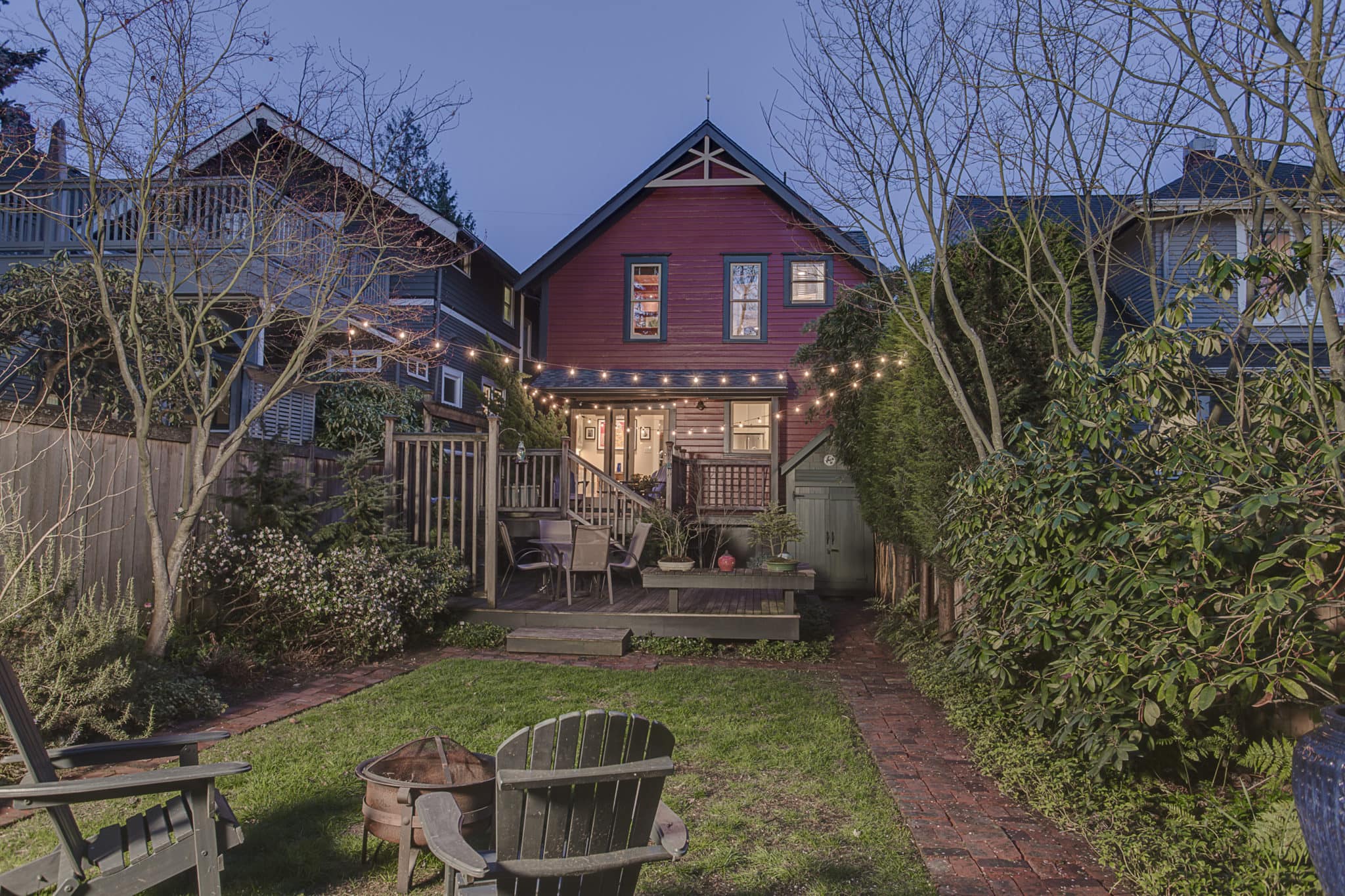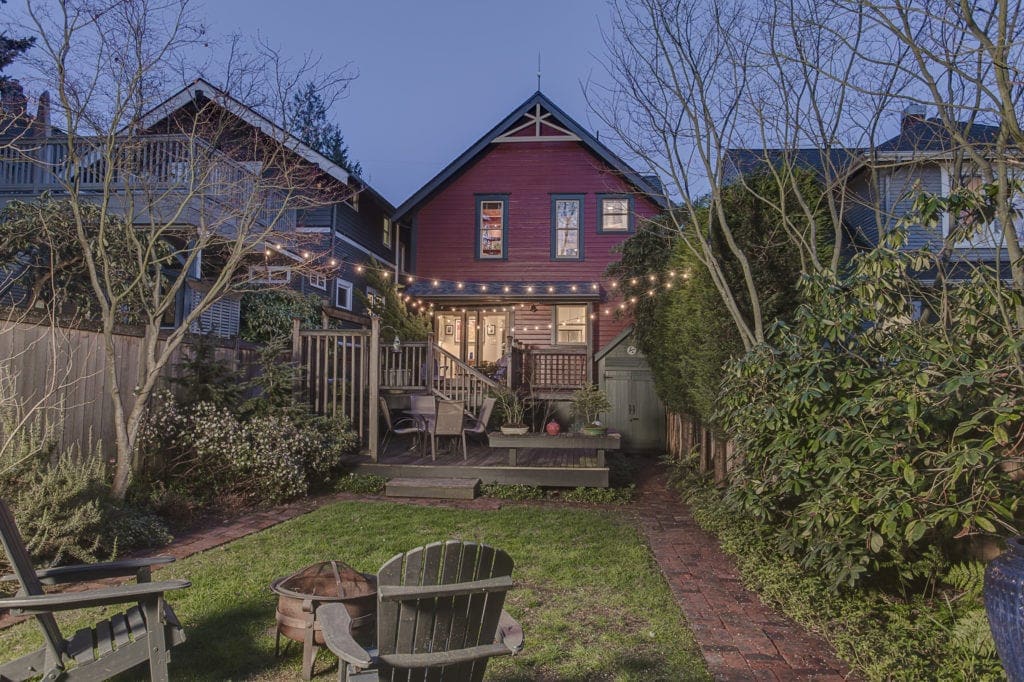 Kim, Michael, and the team went ahead and spent the extra money to get evening photos, backyard shots (see above), videos, 3D Walkthroughs, and more. All of this base content we were able to quickly and easily transform into social media gold. And thank goodness this is already a habit we do for our unique luxury homes in Seattle. 
Early on in the process, we decided to not do any open houses. The risk to the community was to high and we opted out before the Governor's order. We had a plan and we were going to implement it. And poof the Governor's "stay at home" orders and the MLS restrictions came into play. Oh that's right. We already had a plan for this moment. Our digital marketing game is super strong and savvy. A COVID lockdown didn't stop us!
That same weekend we listed the Wallingford Farmhouse we saw other sellers panic and sell their homes to the first buyer. Or listing brokers suddenly drop the prices on their listings. Not our team. Kim knew she had a unique home. And she knew how we were going to make the most of this moment. 
This Historic Wallingford Farmhouse Had Its Own SEO-Rich Listing Page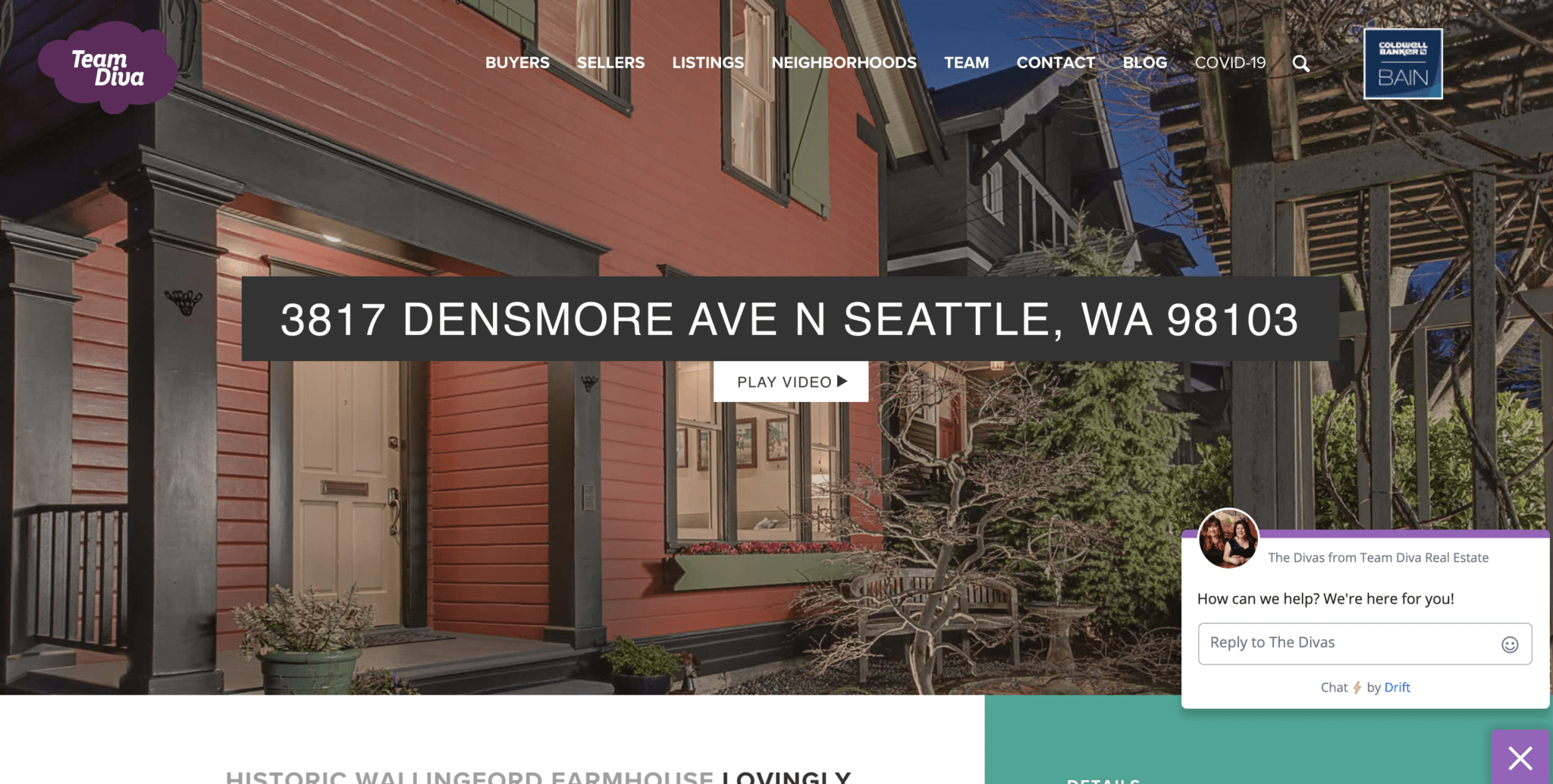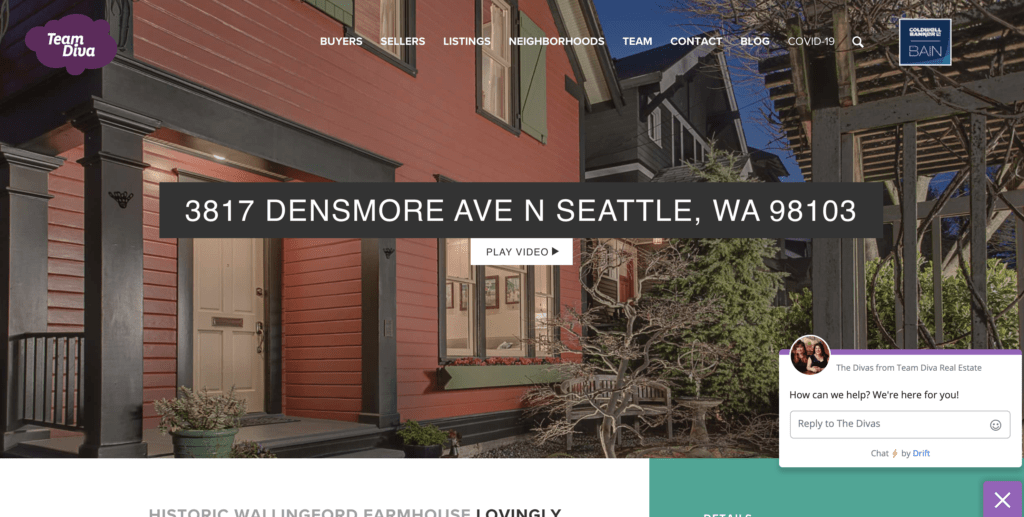 Most listing brokers out there just use the listing template on their brokerage's website. But not Team Diva. We have our own robust website and one-of-a-kind listing pages. Our listing pages have been used as an example emulated by other top-producing listing brokers. Our dynamic, SEO-rich website adds another layer to our marketing. It helps to truly showcase a home's best qualities to home buyers and their brokers. Click here to check out the historic Wallingford farmhouse's listing page. 
Team Diva's Video Highlighted How Stunning The Home Is (And a Dragqueen)
We have been investing in and growing our Team Diva YouTube channel with videos that feature our fabulous listings and the Diva Difference. In this moment of chaos thank goodness, we were not trying to learn the video concept. 
In the video to market the Wallingford Farmhouse, we really demonstrated how easy it is to live and love living here. This video in particular has an extra-special charge to it. Considering we filmed it just as COVID was starting to hit WA state. This was our last "party" video before COVID restrictions set in. We went all out to shine the spotlight on the stunning yard, the remodeled kitchen, and how easy it is to host guests with spaces designed for entertaining. Our seller Amanda was a great sport in letting us host the fun backyard party for the video shoot. She even taught Diva Kim how to saber a bottle of champagne! (We really have the best clients!)
The Blog Told the Story of the Home & Neighborhood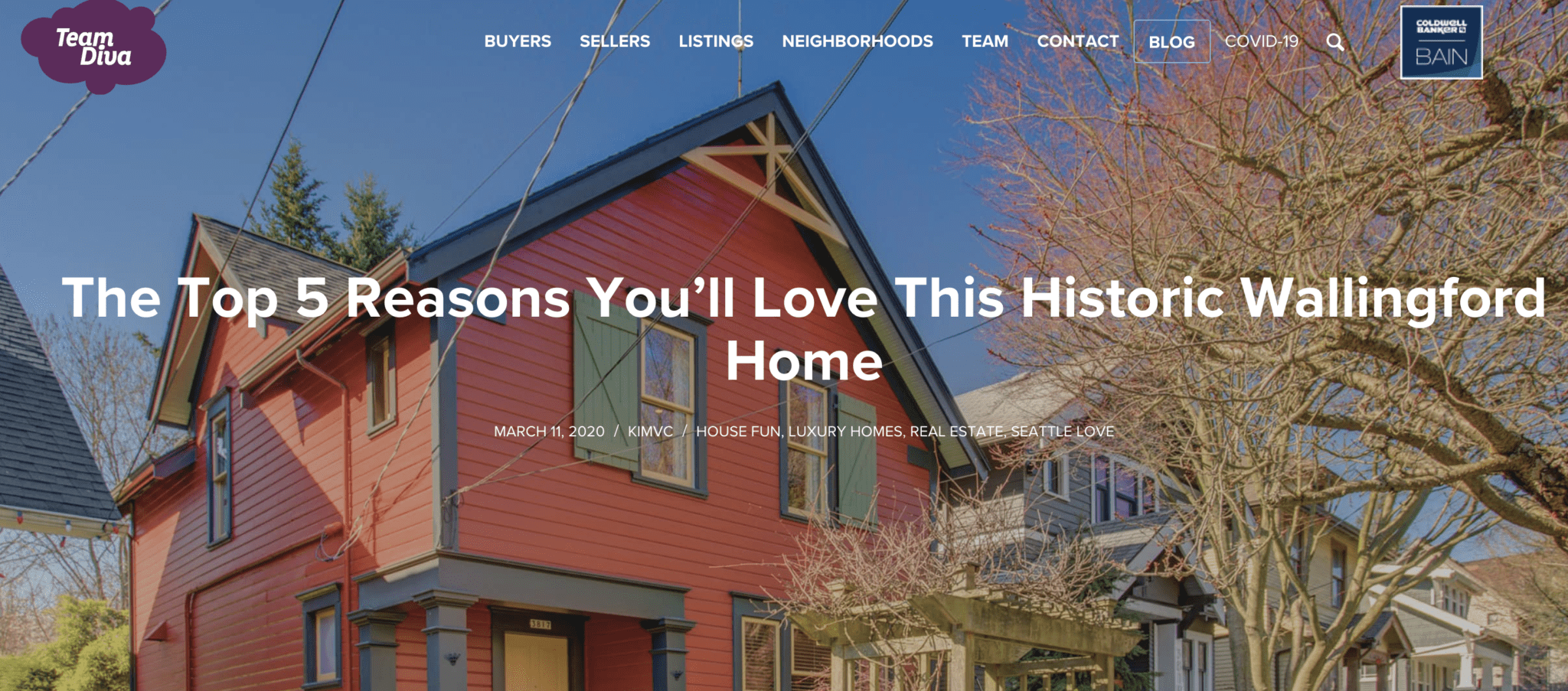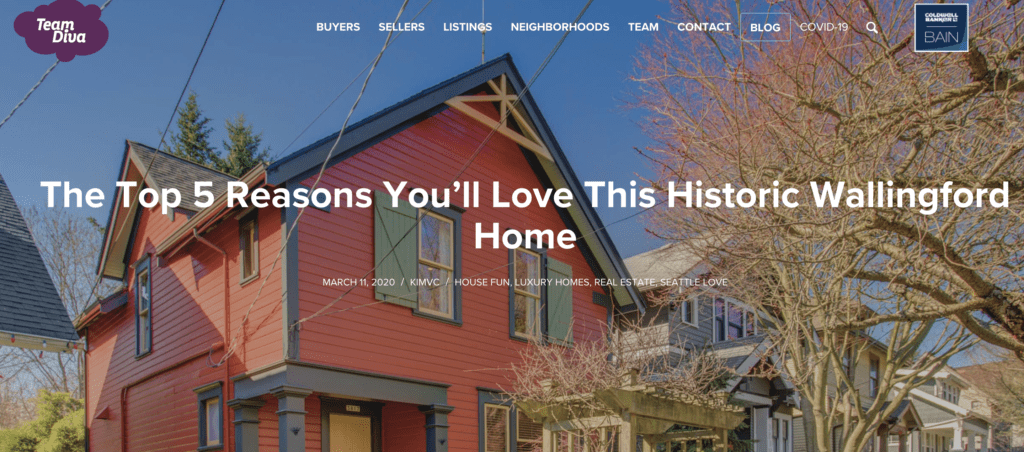 This Wallingford home is no ordinary house. Its story needed to be told—listing remarks were simply not enough! In this blog post titled "The Top 5 Reasons You'll Love This Historic Wallingford Home," we took a deep dive into this home's history (it was built in 1901 so there is a lot to say). We detailed all of the renovations and upgrades that had been done on the home. Featured the incredible backyard and the elegant dining room and we talked about what makes the Wallingford neighborhood so special to us. 
Writing an in-depth blog post to really show off a home's finer points is a truly valuable piece of marketing—it helps to create an emotional connection with potential buyers. More thoroughly conveying the value of a home. VERY FEW real estate agents blog at all much less know how to blog in a way that will capture people's imaginations. 
Marketing to Our Social Media Following on Facebook & Instagram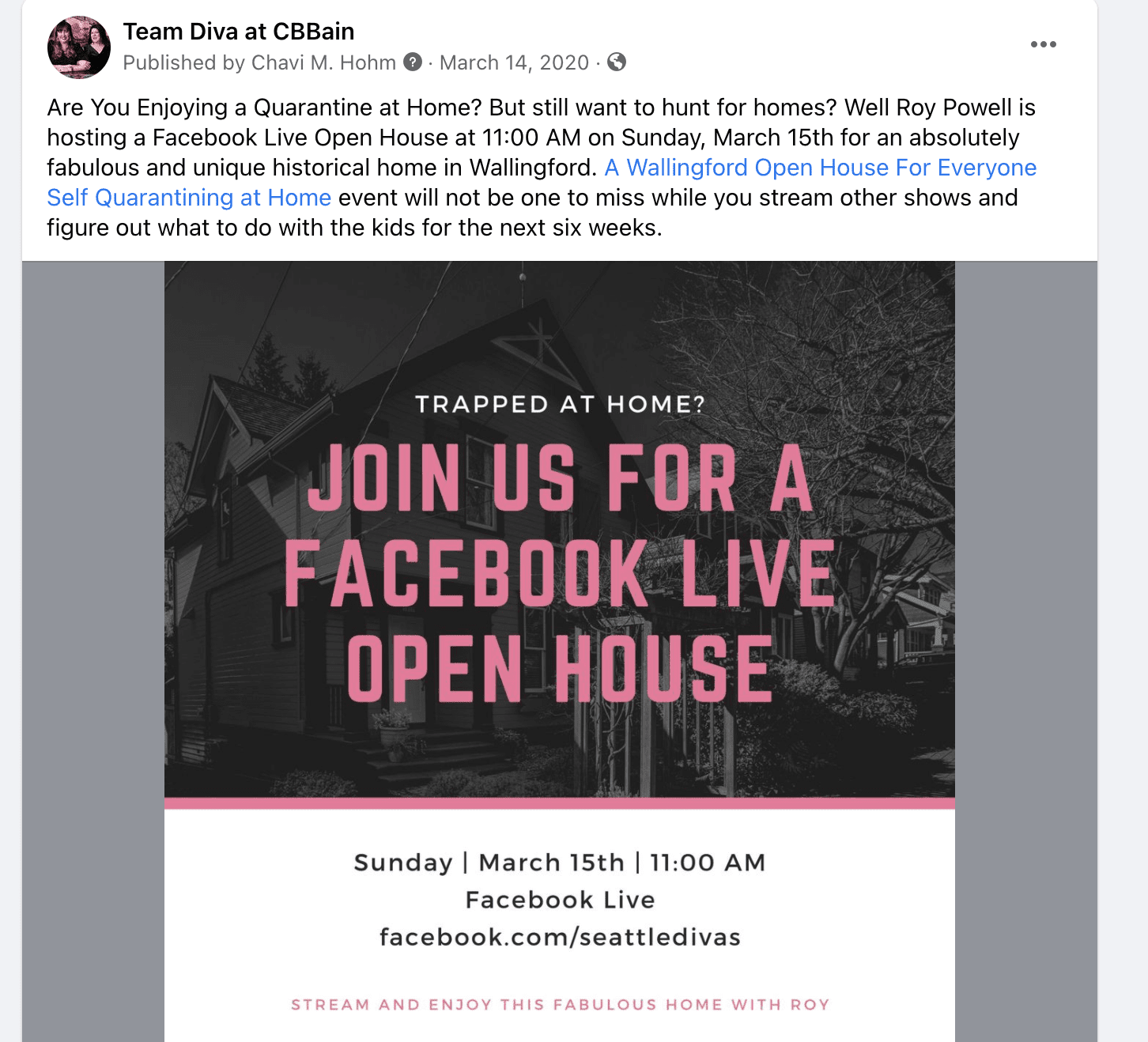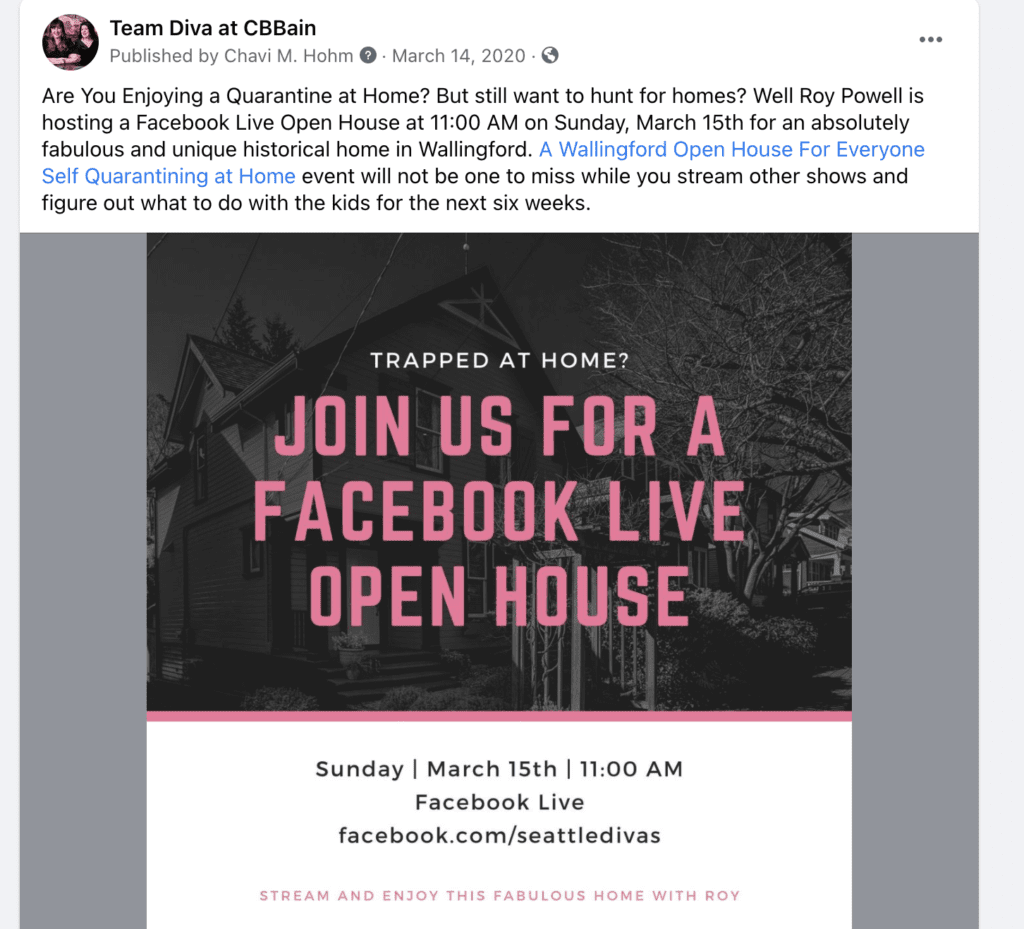 Team Diva has a robust social media presence. We make sure that your home is front and center when you're scrolling through your social feeds. It was fascinating to us that most real estate brokers didn't even have a Facebook business page. But hey…. You make the investment before you need the resources. That is how this world works. 
Social Media Rollout to Get this Wallingford Farmhouse Sold During Lockdown
Our team went into overdrive on social media. Obviously, we utilized Facebook. We also make sure to show off your home on Instagram. The team highlighted the Wallingford neighborhood by posting photos of our favorite businesses in the area. This was important because so many businesses were being closed down. We also used Instagram to promote the Facebook Live virtual open house. And we posted our video on our IGTV channel as well. 
Targeted Email Marketing to Our Extended Network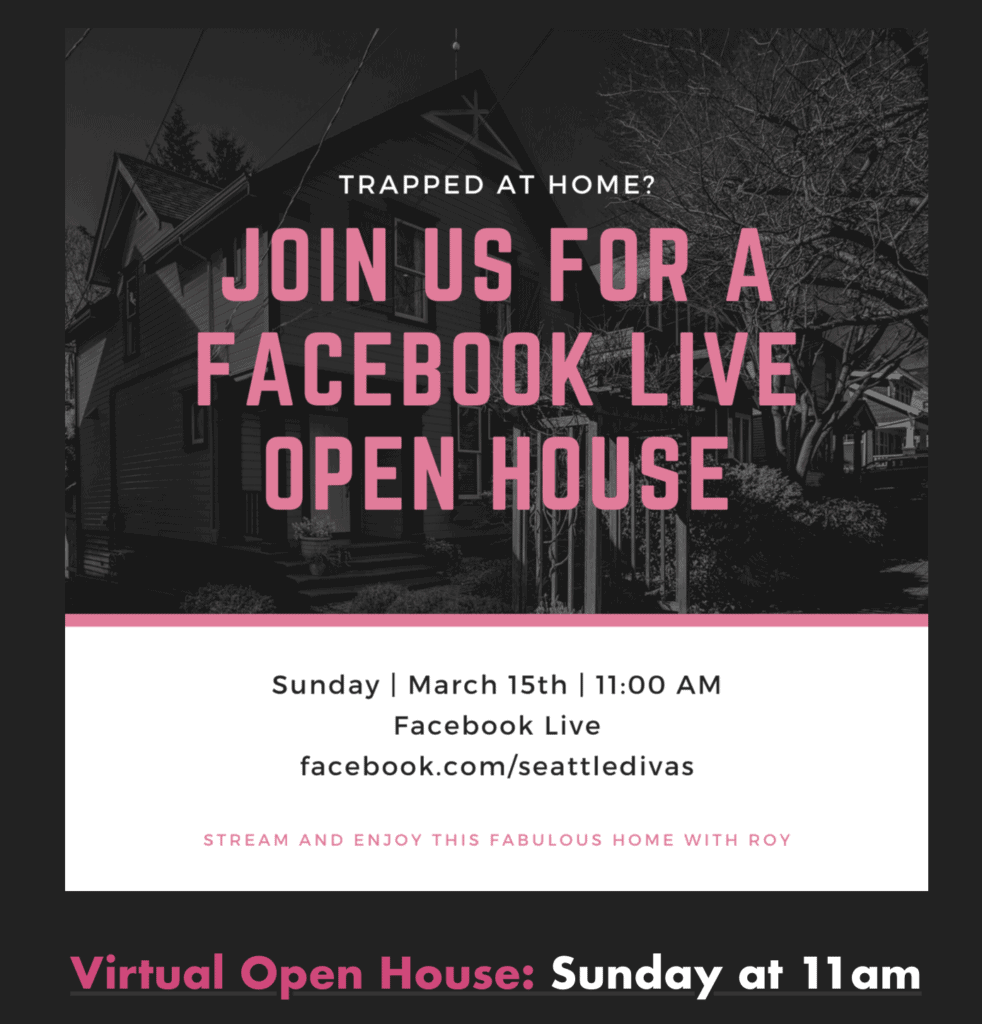 We gave our email marketing a total makeover at the beginning of 2020. Some people may think it's old school, but email marketing is actually still one of the best ways to communicate with our network of people. Especially with prospective agents who have buyers ready to find their perfect home. We're so glad we made this investment—our slick email newsletter design has increased engagement, which has translated to more eyes on our listings. 
The Power of Being the First Virtual Open House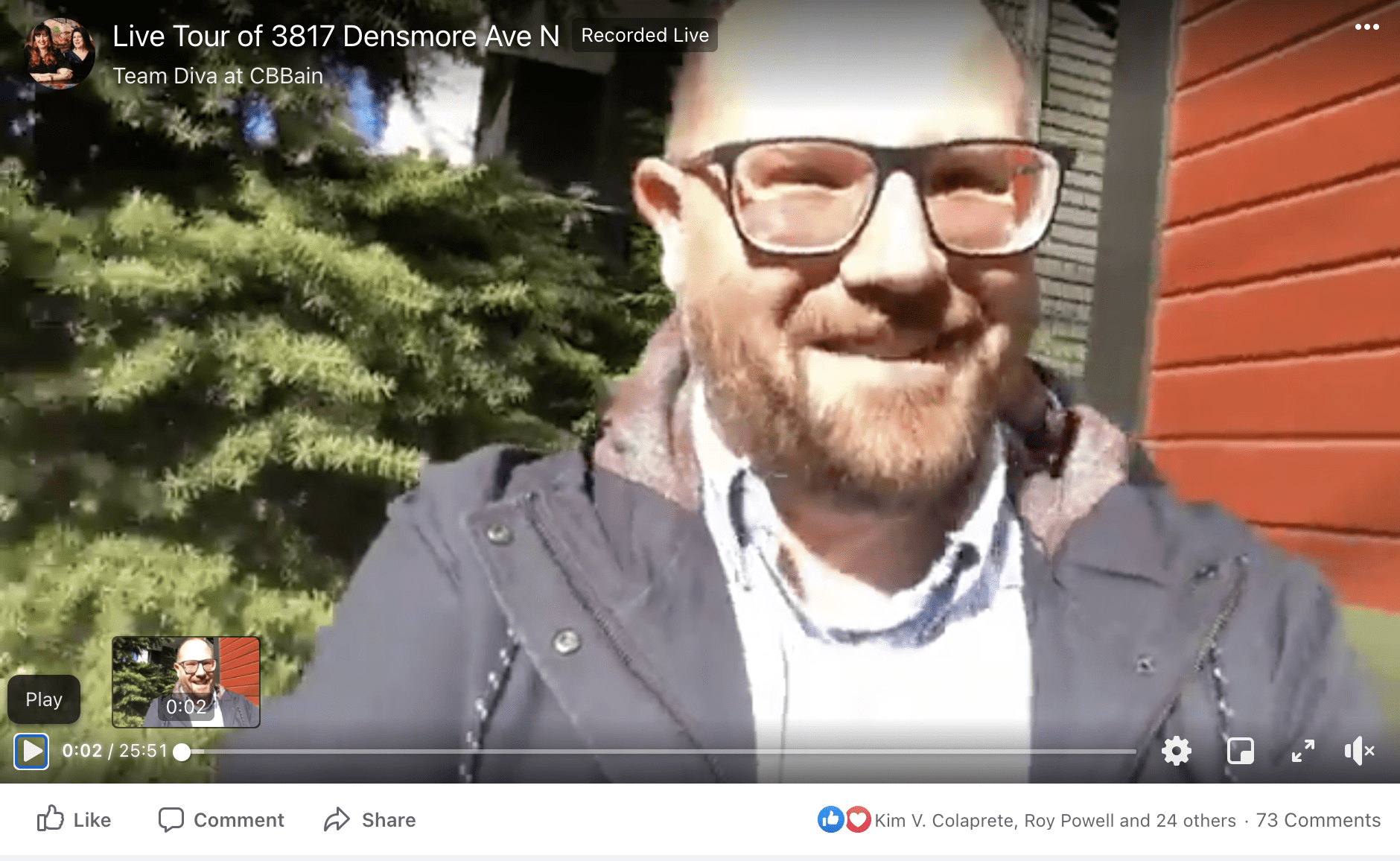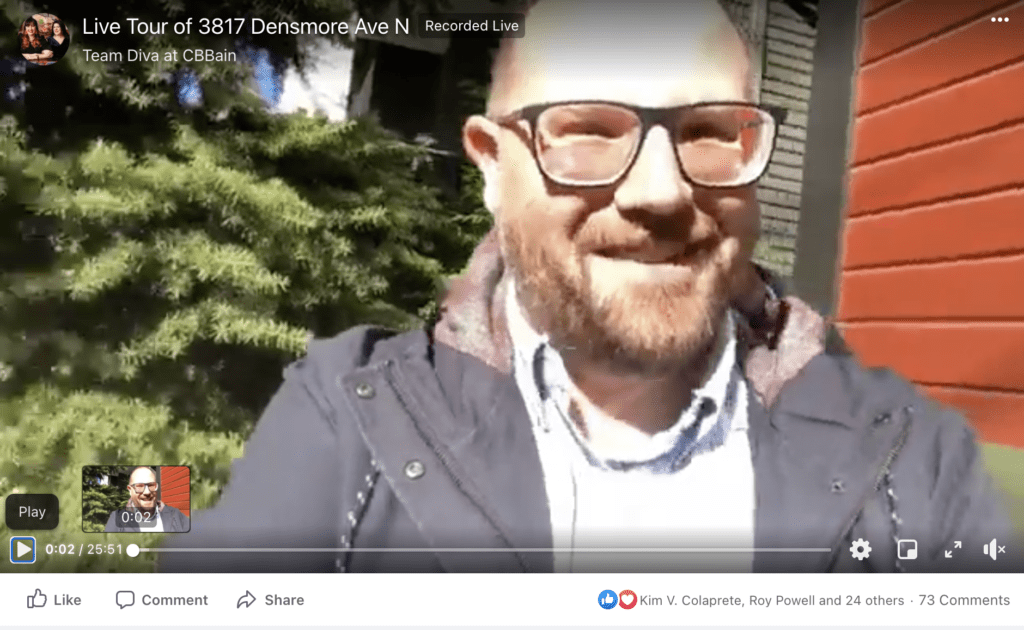 Usually, we hold open houses on our listings to give people the opportunity to tour the home.. This time we chose on our own to pivot quickly. Making the call to NOT do any open houses was a huge fear. In reality, our virtual open house was SO popular—no other agents had done a virtual open house at this point.  Tons of folks logging on to see the home and ask questions. This was our first time doing a virtual open, and it was a huge success! 
Check out Roy at the Facebook Live Tour Here
Our virtual open house was the first of its kind in the industry. We received requests to train brokers and be profiled by experts in the industry. It was a huge honor to be recognized for something we were terrified of doing.
Team Diva Sold this Renovated Historic Wallingford Farmhouse for 12% Over Asking During Lockdown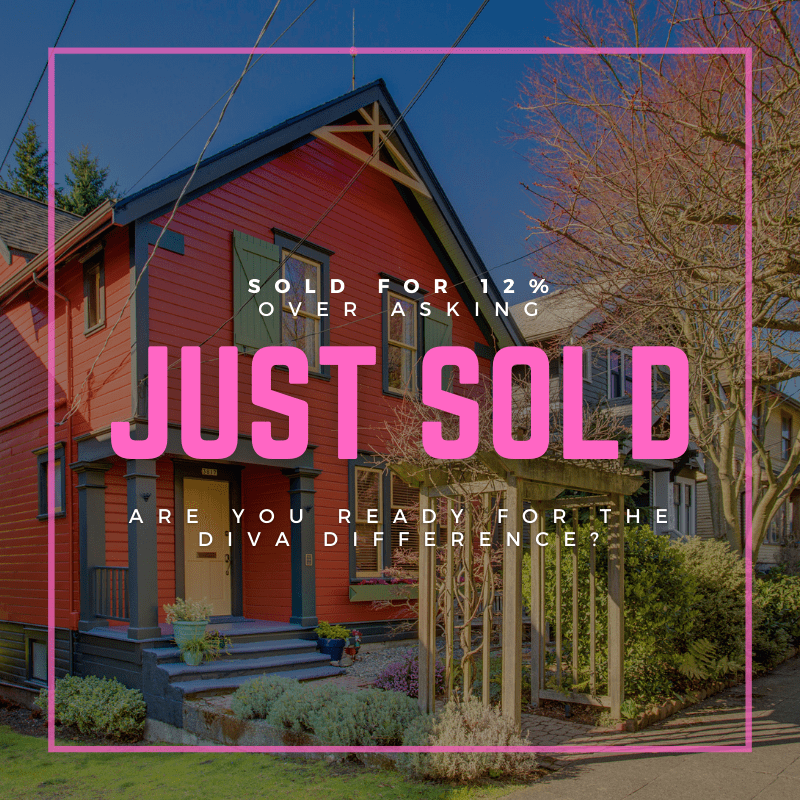 This beautiful Wallingford farmhouse was listed for $1,025,000. Our rigorous plan combined with some last-minute pivots meant that we had a higher result than our competition. 
We received 3 offers on offer review day and sold the home for $1,150,000 which is 12% over asking. Homes similar to ours in the Wallingford neighborhood typically were only selling for 3-4% over asking on average at this time.
Needless to say when we sold this home for this stellar price to some lovely buyers – our seller was super stoked. And so were we. I mean who can resist a stunning yard fit for champagne sabering?
---
How to Sell a Unique Luxury Home in Seattle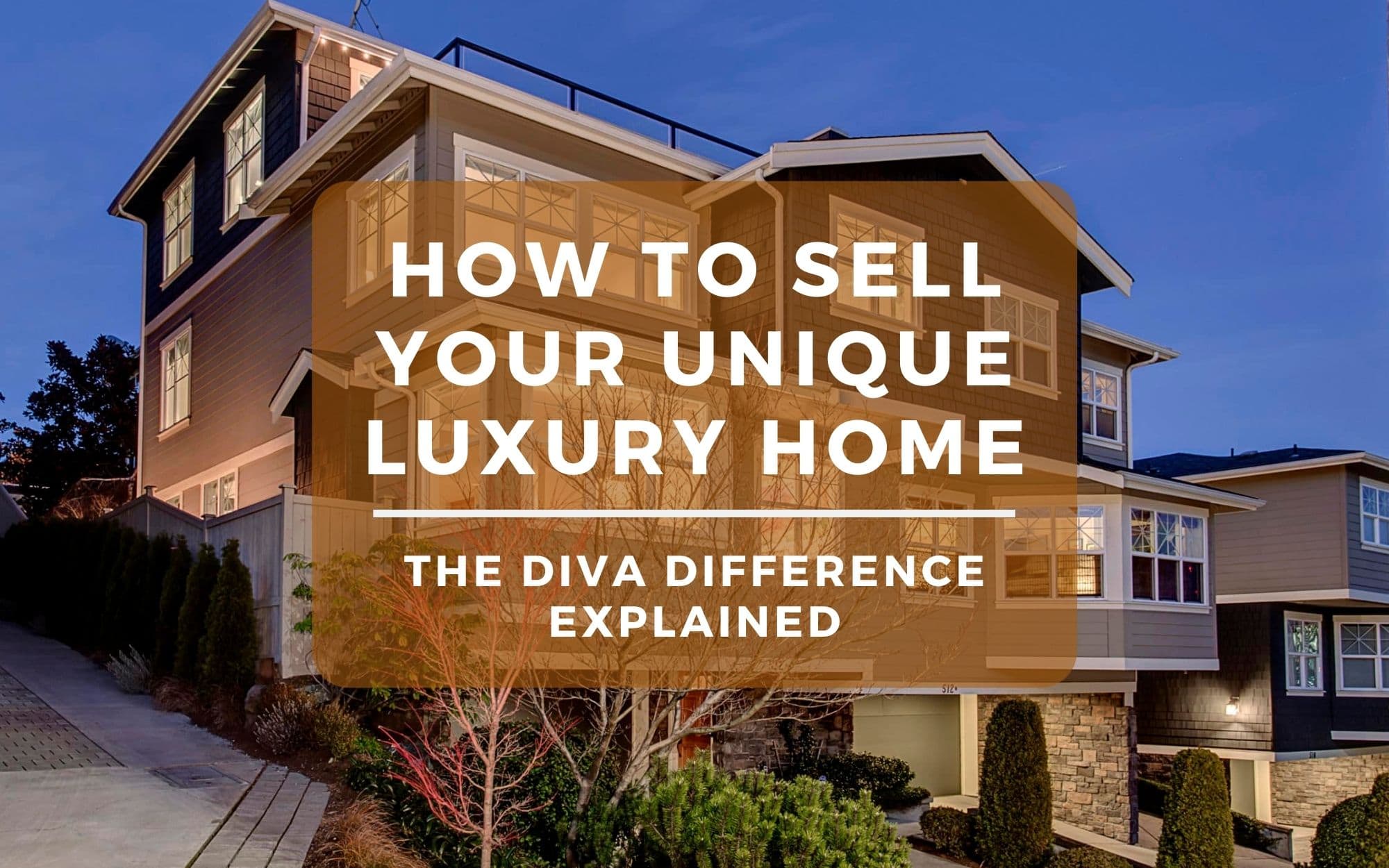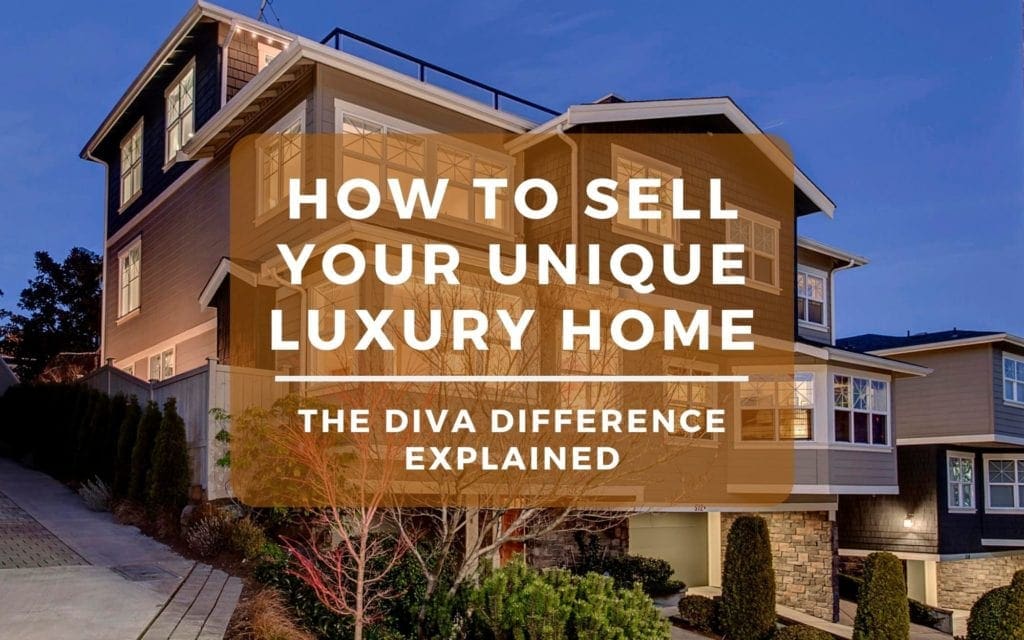 Selling a home in the Wallingford neighborhood in Seattle requires positioning your home to make sure it shines above the rest. Team Diva is specifically adept at understanding how to market unique homes in the area. We know what it takes to use creative marketing processes and relationship skills to make sure our homes sell for more money in Seattle than the average real estate broker. We genuinely care about all of the details that go into selling a home. From the look of each specific room to the creativity of each video shoot. 
Check out the specific steps below:
Learn more about our process here >>
---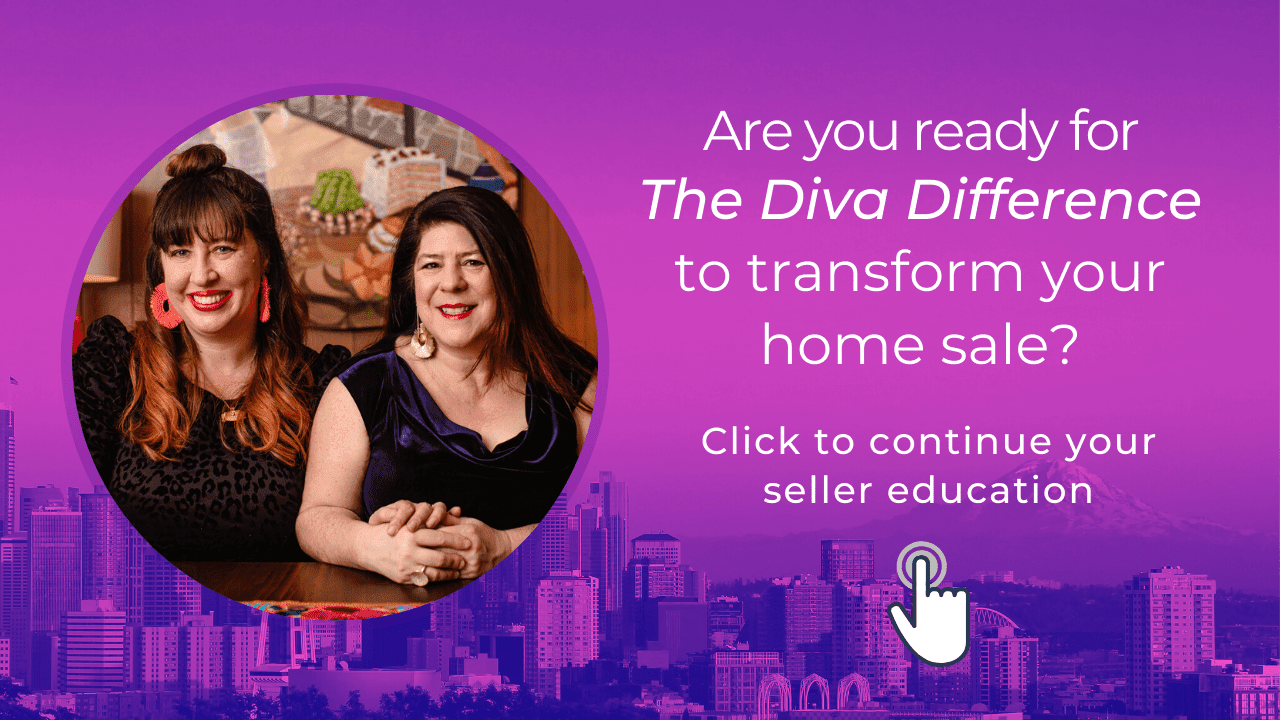 We at Team Diva have been honing our home selling process and marketing prowess for years now.  Understanding the nuances of selling a unique home in Seattle. And in the story of this renovated historic Wallingford farmhouse, we knew how to stage it to make it shine in its marketing. How to pivot when a pandemic arrived and how to get multiple offers. That is the Diva Difference, and we do it better than any other agents in the Seattle Home Selling market.
Did You Know That Team Diva Also Sold These Unique Homes in the Wallingford Neighborhood
Team Diva loves Seattle's Wallingford neighborhood in part because of its many great bars, cafes, restaurants, grocers, boutiques, and picturesque streets lined with charming homes. This historic neighborhood is so much more than eye-catching homes. Though—it's the foundation of an idyllic Seattle lifestyle. Check out our Wallingford neighborhood page to dive to see what we love about this neighborhood. 
Here Are a Few of Our Favorite Homes We Have Sold in Wallingford
Is it time for you to get the Diva Difference for your home? Contact the Divas by calling or texting 206-271-0264 or email at thediva@teamdivarealestate.com.
We are here to help. Our team understands that this process can take a year or two. And we are more than willing to give you a personalized plan to get the ball rolling. Feel free to contact us directly at thediva@teamedivarealestate.com or call/text 206-271-0264.