We all need to work together to flatten the curve, and that means there may only be one lucky buyer who gets to see this sweet Wallingford Townhouse in person. Of course, we are sociable sorts who love showing off our homes at Open Houses. But, you know we also love to show off our listings online, and not just painting a picture with words kind of showing off.
You can see all the virtual goodies for this home on our Team Diva website. Go to the listing page to take a virtual tour from the comfort of home. And check out our lifestyle video below featuring yours truly and my sidekick Handsome Hollis, one half of the Diva Dogs.
We may not be able to capture everything (especially the great neighborhood feel and neighbors that the current owners have come to love), but we can give you some of the lived-in aspects of this truly lovely Wallingford Townhouse. Here are five things that we adore about this Diva Dwelling, including its prime location.
5 Reasons We Love This Wallingford Townhouse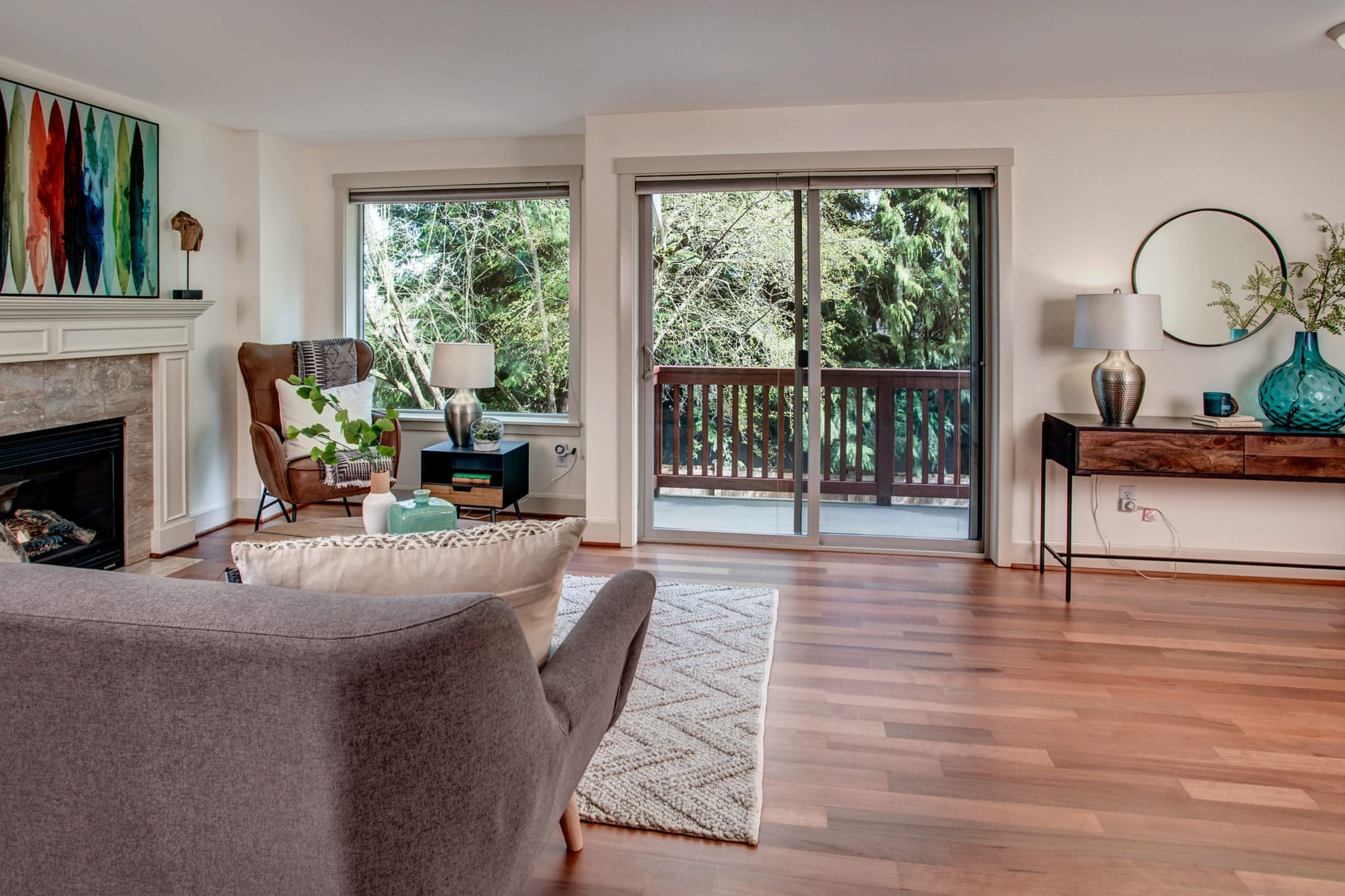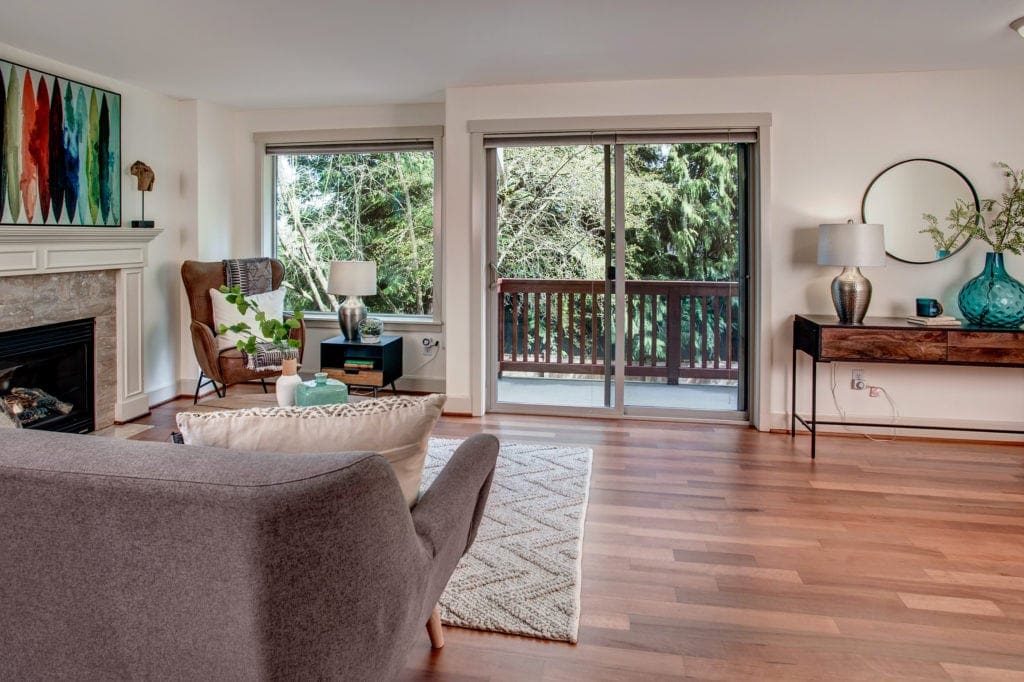 End Unit = Alllll The Natural Light
For those of you who crave light (which is almost everyone in Seattle) and lots of natural light sources, this Wallingford townhome is perfect. Being an end unit means windows on three sides instead of two, like most townhouses. Even on overcast days, this home shines bright with natural light. Add new carpets and fresh paint throughout and this home really gleams.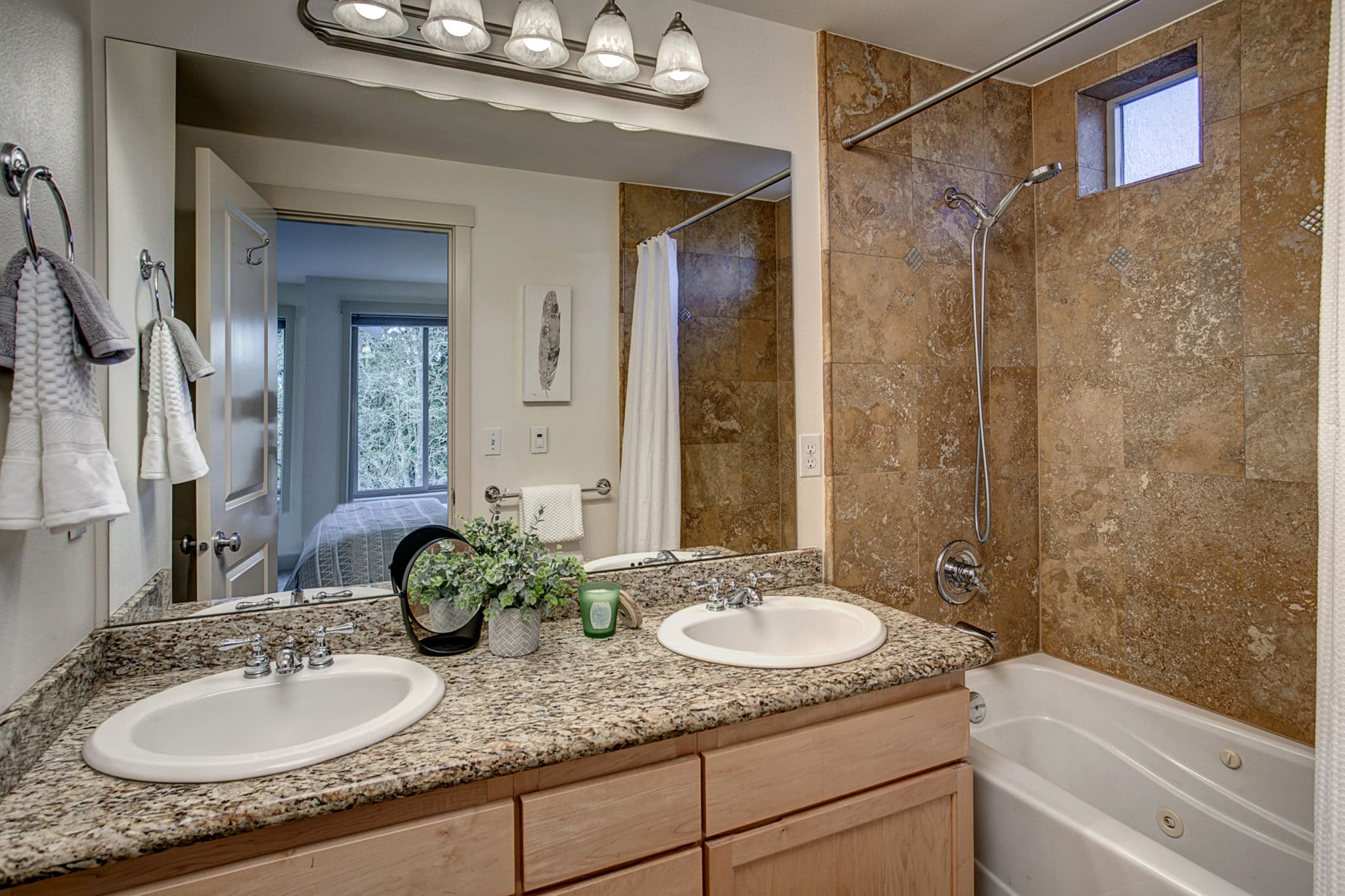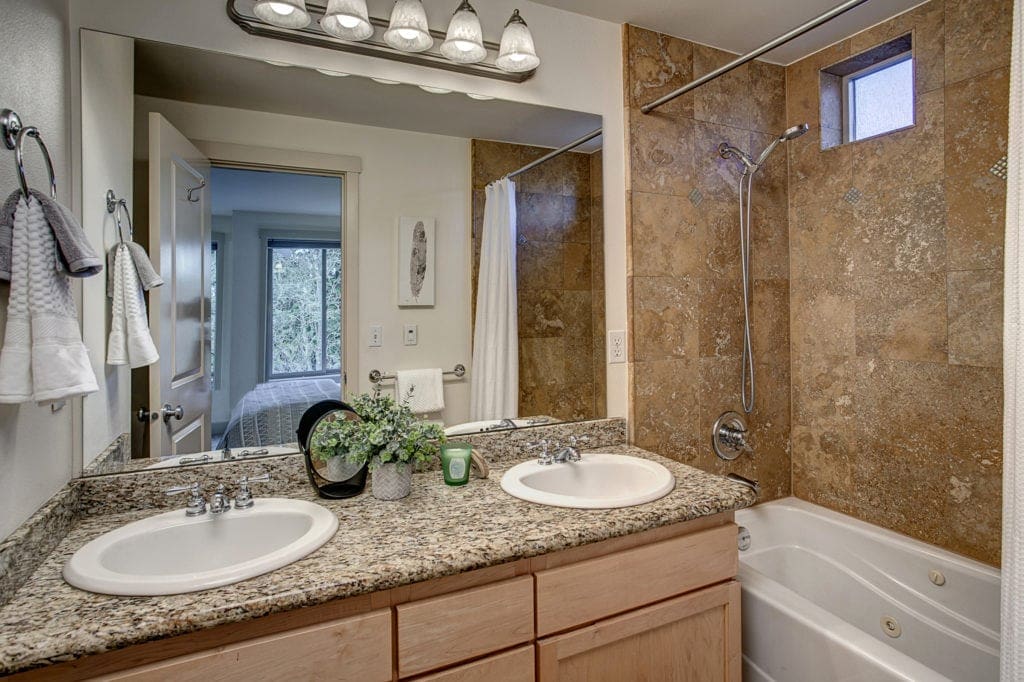 You Get a Bathroom, and You Get Bathroom, and YOU Get a Bathroom
Yes – in this home EVERYONE gets their OWN bathroom. An equal bed-to-bath ratio is rare among Seattle townhomes and even classic detached homes. Not only is there a private bathroom for each of the three bedrooms (including the owner's suite of course), but also a powder room on the main floor. So even your guests get their own bathroom. Not sharing is caring when it comes to bathroom time!
Bonus: When it comes time to run the linens, the laundry nook is conveniently placed, too, with a large LG washer/dryer combo included.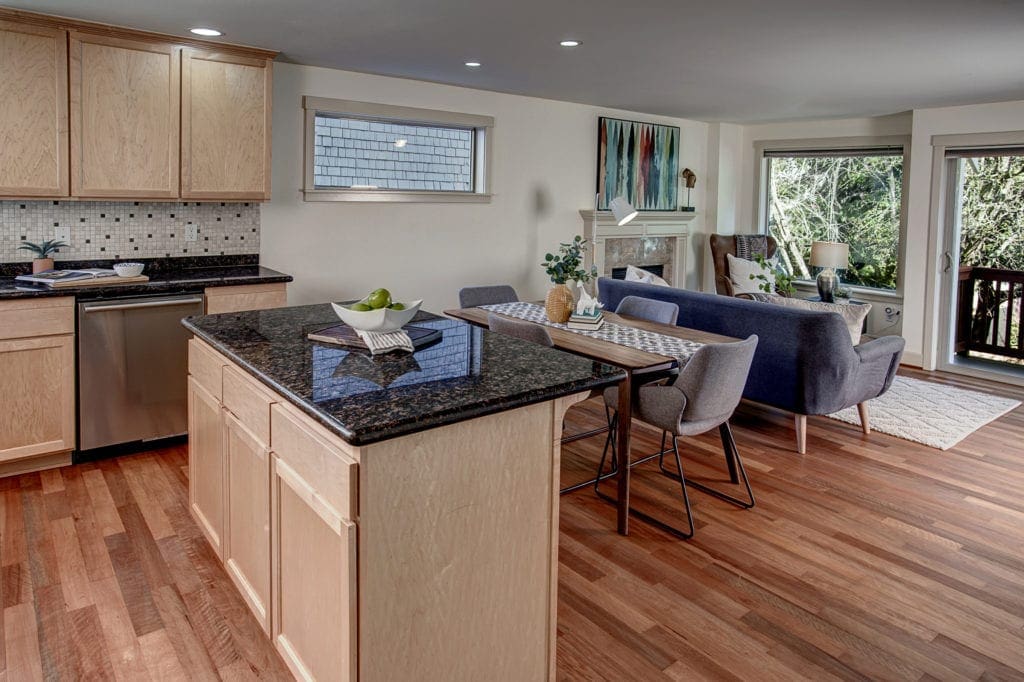 Broader Main Floor Layout
Traditional townhome layouts tend toward a long, narrow design. For some people, this sort of layout has a chic, urban feel, but for others, it seems slightly cramped. This Wallingford townhouse will appeal to folks who want that more open and spacious feel, especially in their main living areas. (Bonus: None of this comes at the coast of storage space. The home has its own garage AND an attic space for storing your seasonal stuff.)
The main floor is just right for formal and informal parties, with a cozy fireplace and a balcony off the living room. Whether you are having a larger gathering with folks spilling outside for evening cocktails or you are enjoying a quiet morning coffee alone (clearly it will the latter for the next few months), this balcony is a perfect perch. And speaking of the great outdoors…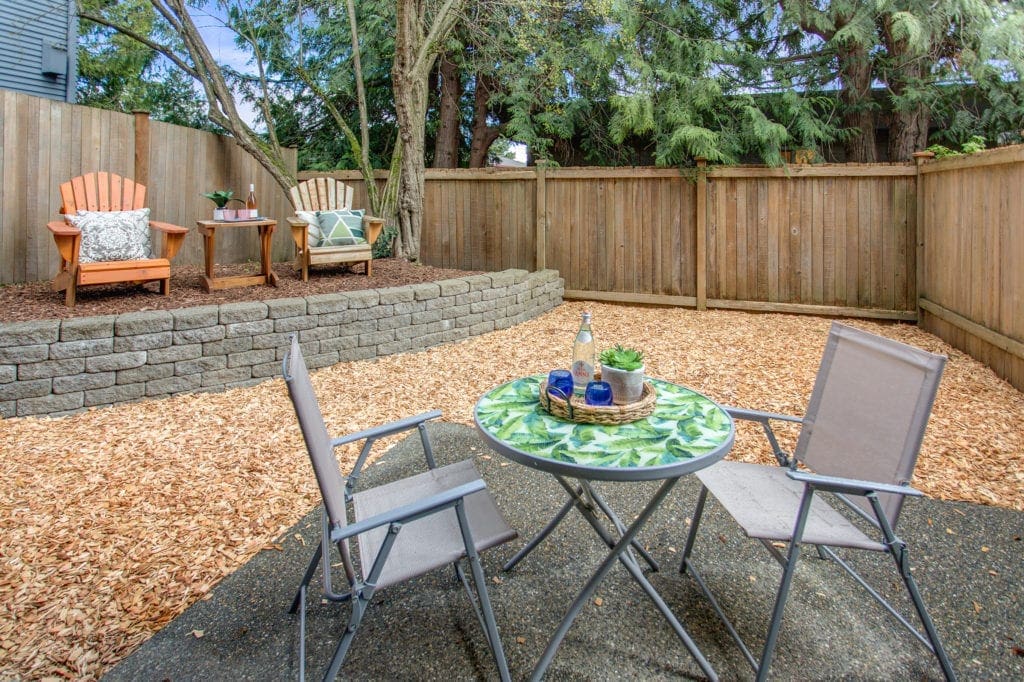 Ample Outdoor Spaces
When we asked the current owners of this Wallingford townhome what they loved most about this home, the first they mentioned was waking up to a tree blooming white flowers in the spring. The second thing was the large yard, with areas for a garden, green space for lounging, and a patio for dining and BBQing. The third thing was the spacious roof-deck, with views of the skyline, including the Space Needle. Not many townhouses can boast three different outdoor spaces, let alone both an actual yard that's not a postage stamp and a private roof deck with a view. This home scores 10, 10, 10s across the board!
So as you can tell, being able to live and move comfortably between the inside and outside is a huge advantage in this home. And for when the time comes – here's what you can do when you are NOT quarantined at home.
View this post on Instagram
The Neighborhood(s)
Talk about a PRIME location. This townhome is on the west edge of Wallingford, within blocks of Woodland Park and a quick jaunt to Fremont. It's no wonder it has excellent Bike and Walkscores (78 and 85, respectively). There are plenty of transit options, too, whether you are heading east to the University District, west to Ballard, north to Greenlake or south to Queen Anne or Downtown.
Of course, you won't need to go far for the necessities or great dining. When fairer weather comes, fuel up for a bike ride or walk on the Burke-Gilman Trail at Fuel Coffee. (And before you hit the trail, you may as well stop by and see the Fremont Troll on the way, too!) Go to Paseo to get some hardy sandwiches to-go for a picnic at Woodland Park, and bring the pooch so they can have a romp at the Off-Leash dog area while you chill.  The main streets in Fremont and Wallingford have too many great dining options and small businesses to list, and oh how happy they will be to see you when the quarantine is over.
Get all the details and a closer look at this great Diva Dwelling on its listing page.
---
Learn More About Buying a Townhouse in Seattle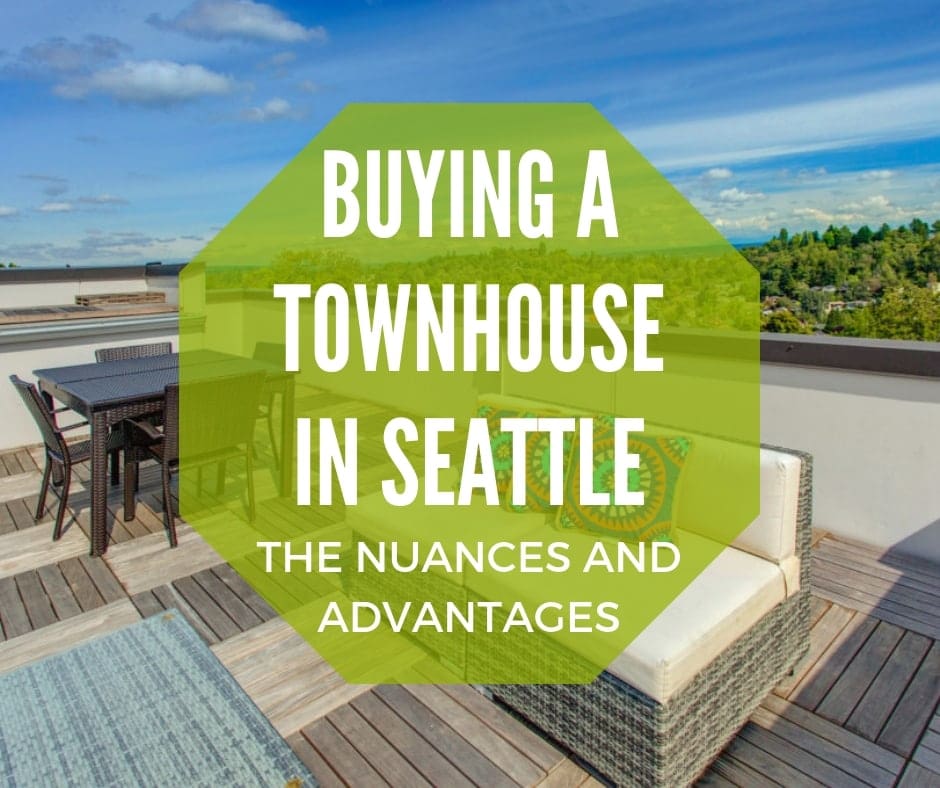 Neither a condo nor a detached home, a townhouse is its own animal in the world of real estate. And to win when it comes to buying a townhouse in Seattle, you need to know the particulars.
Fortunately, buying a townhouse is no more complicated than a condo or detached home. In some ways, it cane be less complicated than either. That may be one reason why they are becoming more common in Seattle, as one answer to our need for greater density. They are especially prominent in Seattle's more walkable neighborhoods, which we love, of course
We have a blog that breaks down the ins and outs of buying a townhouse. Check it out, as well as our massive How To Buy A Home in Seattle Guide, which covers the process for all sorts of properties.
---
Just Listed: Modern Wallingford Townhouse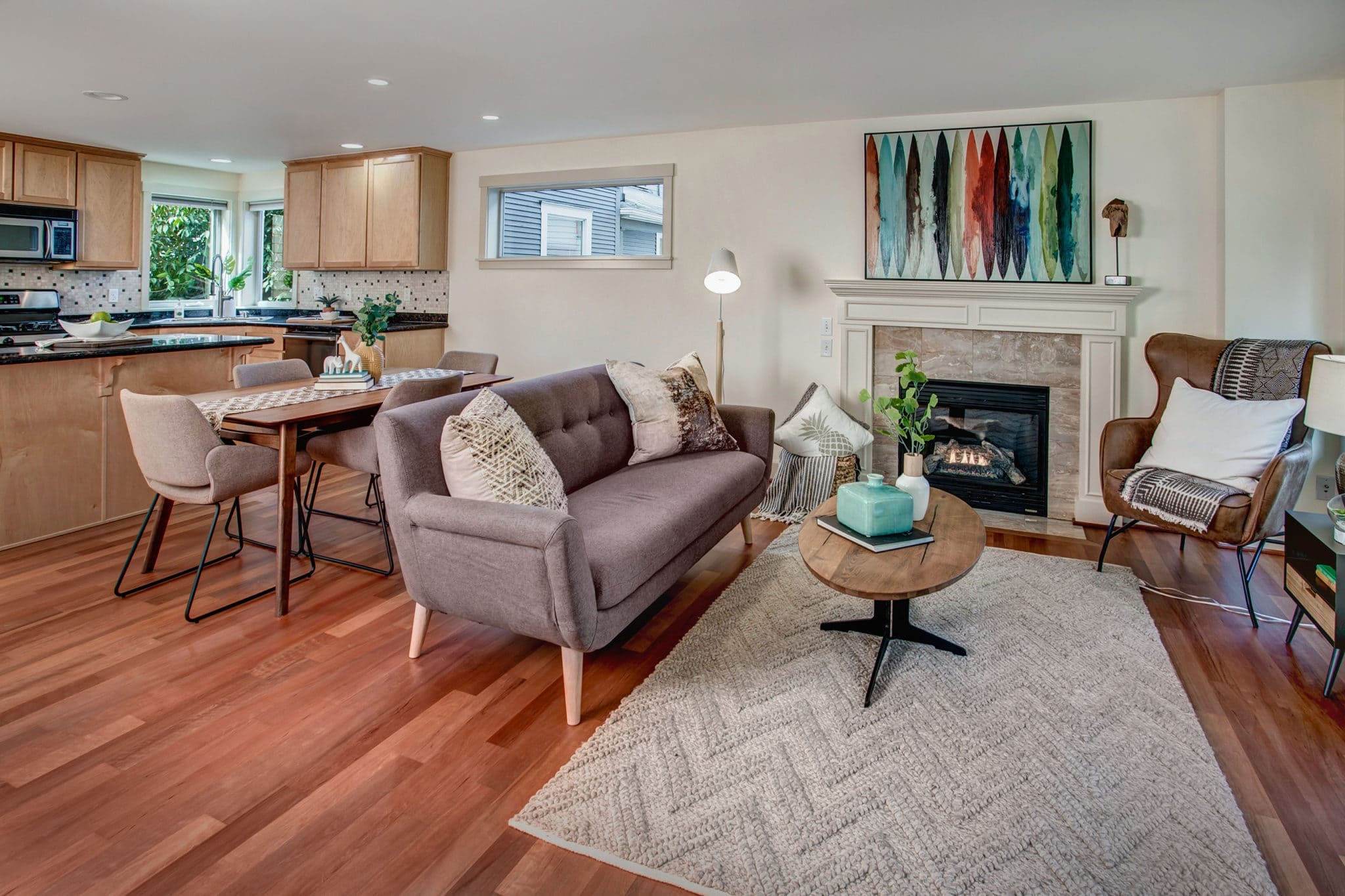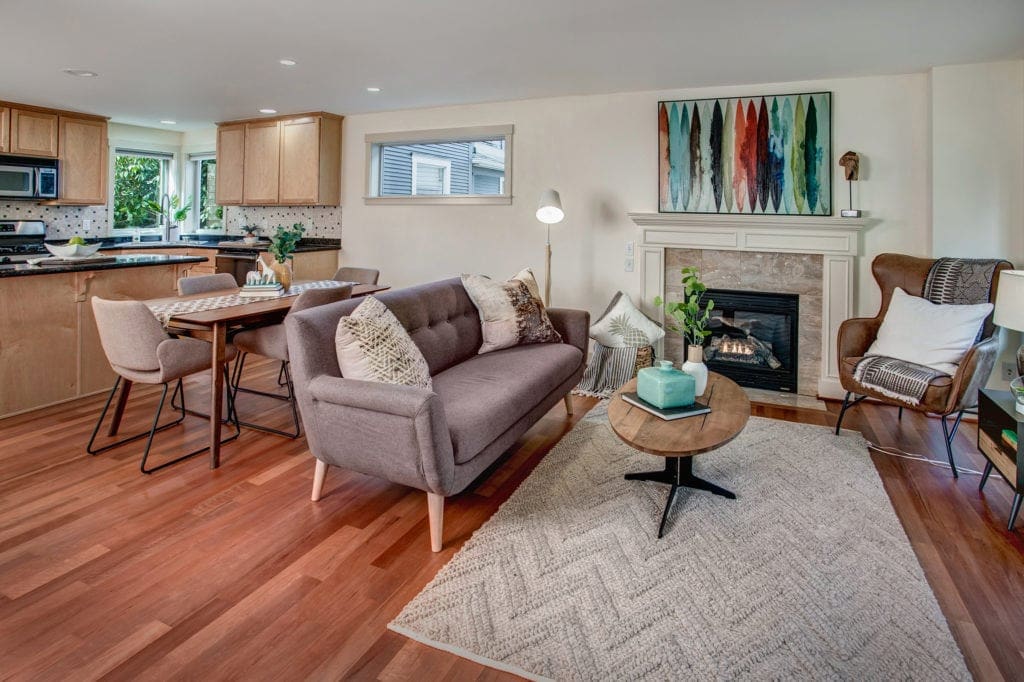 Price: $650,000
Square Footage: 1,300
Bedrooms/Baths: 3/3.25