Juneteenth is on June 19th, and this important holiday celebrates the end of slavery in the United States. Sometimes it is called Emancipation Day or Juneteenth Independence Day. Although this holiday has been celebrated by many in the Black community, Juneteenth is still not known by many in the general public. We are striving to not only bring awareness about this important holiday, but we also believe this should be a national holiday.
Team Diva is giving our employees paid time off for Juneteenth and hope the rest of our real estate industry to do the same!
You heard that right. Our team is taking the day off. And for those team members who are W2 team members, this is a paid vacation day.
Let's dig in and find out why Juneteenth is important to Team Diva.
A Brief History of Juneteenth
Growing up, many of us learned that once the Civil War was over and the Emancipation Proclamation took effect, slavery was over. Unfortunately, this oversimplifies this complicated period of history and is also not true. Although some people who were enslaved were freed shortly after "Freedom's Eve" on January 1, 1863. There were many enslaved people who were not yet free.
According to the National Museum of African American History & Culture's article "The Historical Legacy of Juneteenth," there were still areas of the United States under Confederate control. Enslaved people in these areas were not free yet. Finally, on June 19, 1865 (note this is 2.5 years after "Freedom's Eve"), Union troops arrived in Galveston Bay, Texas and announced that all enslaved people in Texas were to be freed. We encourage everyone to learn more about the history of Juneteenth; we are also still learning ourselves!
Below we are going to dive into why Juneteenth is important to Team Diva and connect with our friend Dave Jones about what this industry can do more in the future.
---
Interview with Industry Leader Dave Jones on a Year of Activism in Real Estate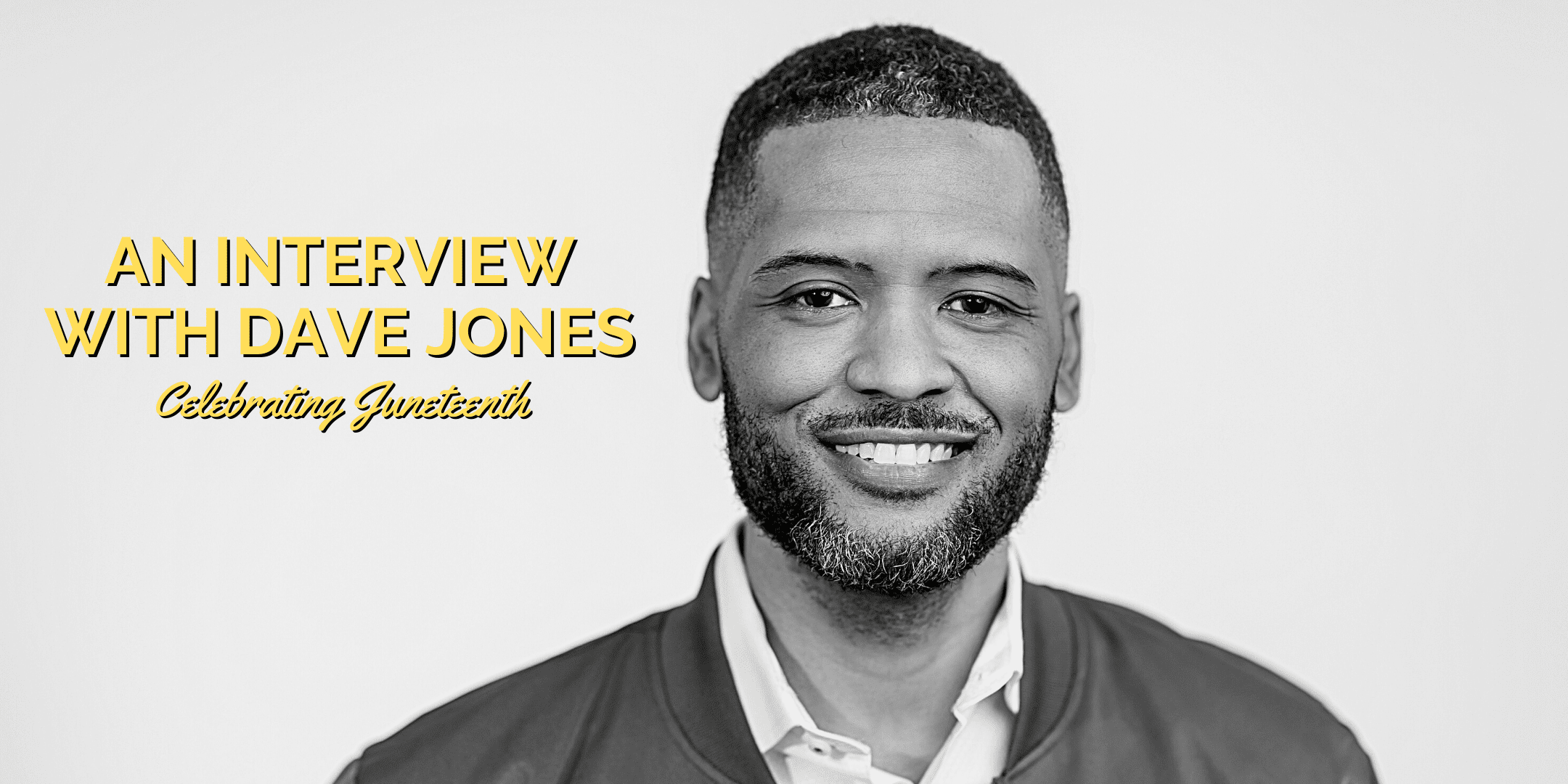 We are grateful for all of the time that Dave Jones, Co-owner of Windermere Abode in Tacoma, Washington, has spent talking to and teaching Team Diva about race, politics, real estate, and more. Right now, we are spending time reflecting on the past year. You can read more of our reflections in our blog post "A Year of Black Lives Matter Activism in Real Estate." 
We asked Dave a few questions about what he would like to change in real estate this past year and how people can take anti-racist actions. We also asked what's on his mind in the Black Lives Matter movement and anti-racist work. Keep reading for Dave's insight, and thank you Dave for sharing with us!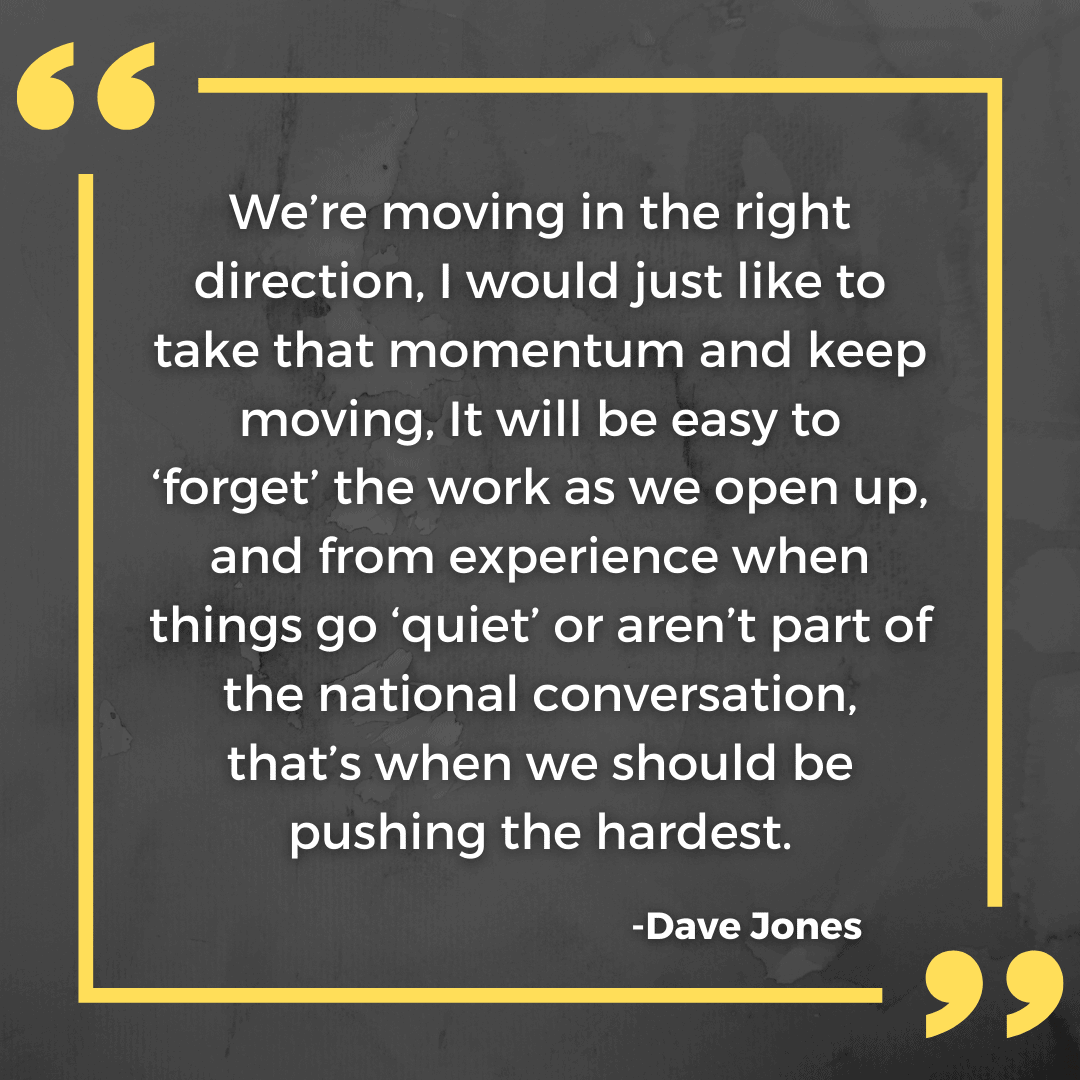 Team Diva: What would you like to see happen or change in real estate in this coming year?
Dave Jones: I would like to see a continuation of last year's efforts to reverse housing inequities, thus decreasing the wealth gap overall. We still have so many areas to address; from lending to appraisal practices, that have not even been tapped yet. We're moving in the right direction, I would just like to take that momentum and keep moving, It will be easy to 'forget' the work as we open up, and from experience when things go 'quiet' or aren't part of the national conversation, that's when we should be pushing the hardest.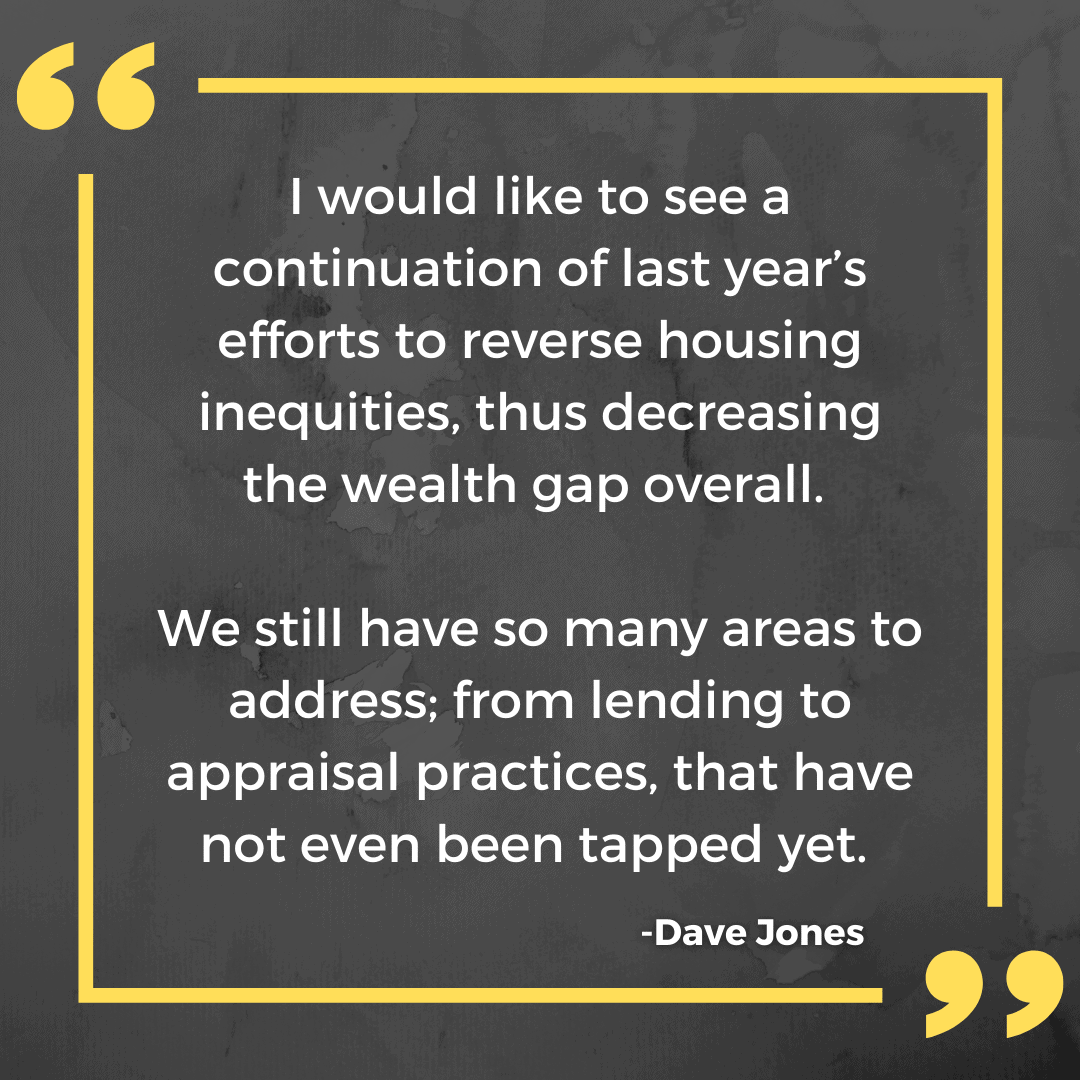 Team Diva: What is a real, tangible way people can take anti-racism action this summer?
Dave Jones: This Summer, I will answer this like I answer most questions I have fielded about 'where to start.' It depends on where you're at. If you have not done the reading or self-reflection part in where you have been, where you are, and how you will move forward as an individual, I say start there. I'm still doing that on a daily/weekly basis, so I think that applies to everyone. So that includes:
Identify your own biases, what are they?
Reading books
Taking inventory on who you hang with, are they all the same as you? Find new people to learn and hang with from different backgrounds
Learn a different culture/subculture (music, movies, art, food, etc.)
Put yourself in a situation where you are the 'minority' in terms of class, gender, race, etc.
Research the history of your community and find the inequities, or learn why your community has the racial and social makeup it does
Team Diva: What is on your mind right now in regards to the BLM movement and anti-racism work, etc.?
Dave Jones: Right now, I will spend some off time focusing on lending practices and appraisal practices, and learning more about how they have impacted our homeownership gap. I believe the realtors are doing some 'heavy lifting' relatively speaking in terms of being vocal about our past wrongs (NAR even made a statement!), however, from my perspective I feel like the lending side has been relatively quiet. Please don't take that statement as me saying realtors have arrived or are 'doing the work,' we are nowhere near where we need to be. Same with other areas we know play a huge role in discriminatory practices over time.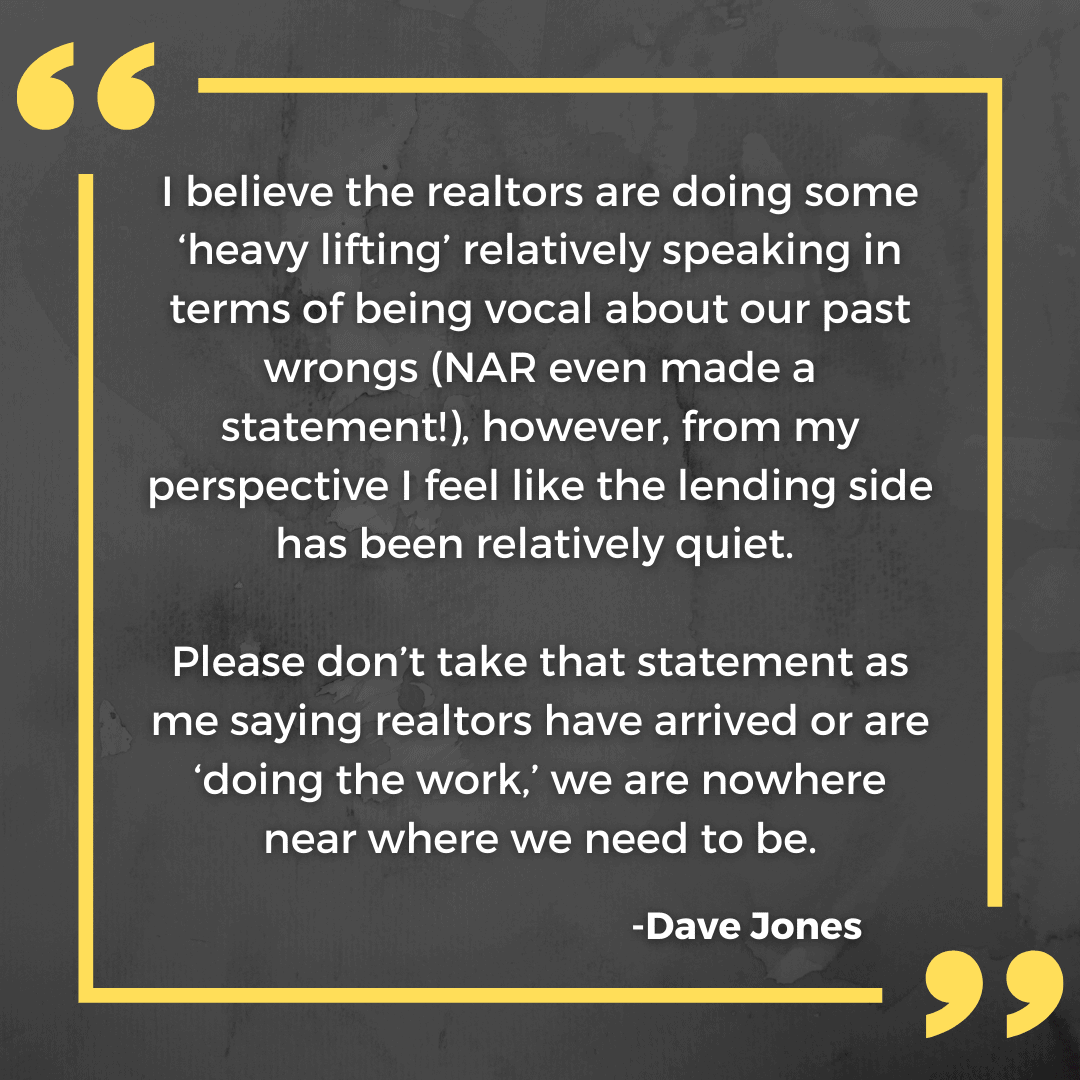 There are so many elements to a real estate transaction that matter and can exacerbate this issue, so if those aren't addressed as well, we're basically running in quicksand because the goal post just moves to another area. That's how white supremacy works; this system is designed to operate and move swiftly. We have to find these holes in real-time…. That's what I'm focused on… finding these things so we don't read about them in 10-20 years.
---
Celebrate Juneteenth with Team Diva
Join the Freedom March on Saturday and Sunday, June 19th and 20th. The event is not only marching for Black Lives but also celebrating Black Graduation. Together we can come together and make Seattle more aware of Juneteenth.
Learning More About Juneteenth From the Northwest African American Museum in Seattle
Have you been to the Northwest African American Museum in Seattle? If not, we encourage you to go see what it's all about. During the week of Juneteenth (June 13-21) this year, NAAM is hosting several events to celebrate and help people learn about this holiday. There are many virtual events, but there are also a couple of in-person events. Click here to check out NAAM's Juneteenth Week schedule.  
Learn More About BLM, Anti-Racism Work, Activism & More  in Our Communities
Thank you to everyone in our Divaland community who took on the long and tedious fight for the true liberation of Black Lives. Tackling racism in real estate is often a very lonely place to be. And it is where much of this work needs to happen. Housing is a human right. Housing is often denied to those with the least amount of resources.