The Seattle Times article "Racist restrictions in old home deeds across Washington state will get expanded scrutiny" by Seattle Times Business Reporter Heidi Groover was published in May 2021. This important article shares some of Seattle's racist history when it comes to real estate practices. Many of Seattle's neighborhoods had racial covenants, and non-white people were legally not allowed to live in certain neighborhoods and homes. While these laws have not been legally enforced since the 1960s, many homes in Seattle still have this racist language in their deeds. 
---
Rocky Flowers Quoted on Racist Restrictions in Old Home Deeds | The Seattle Times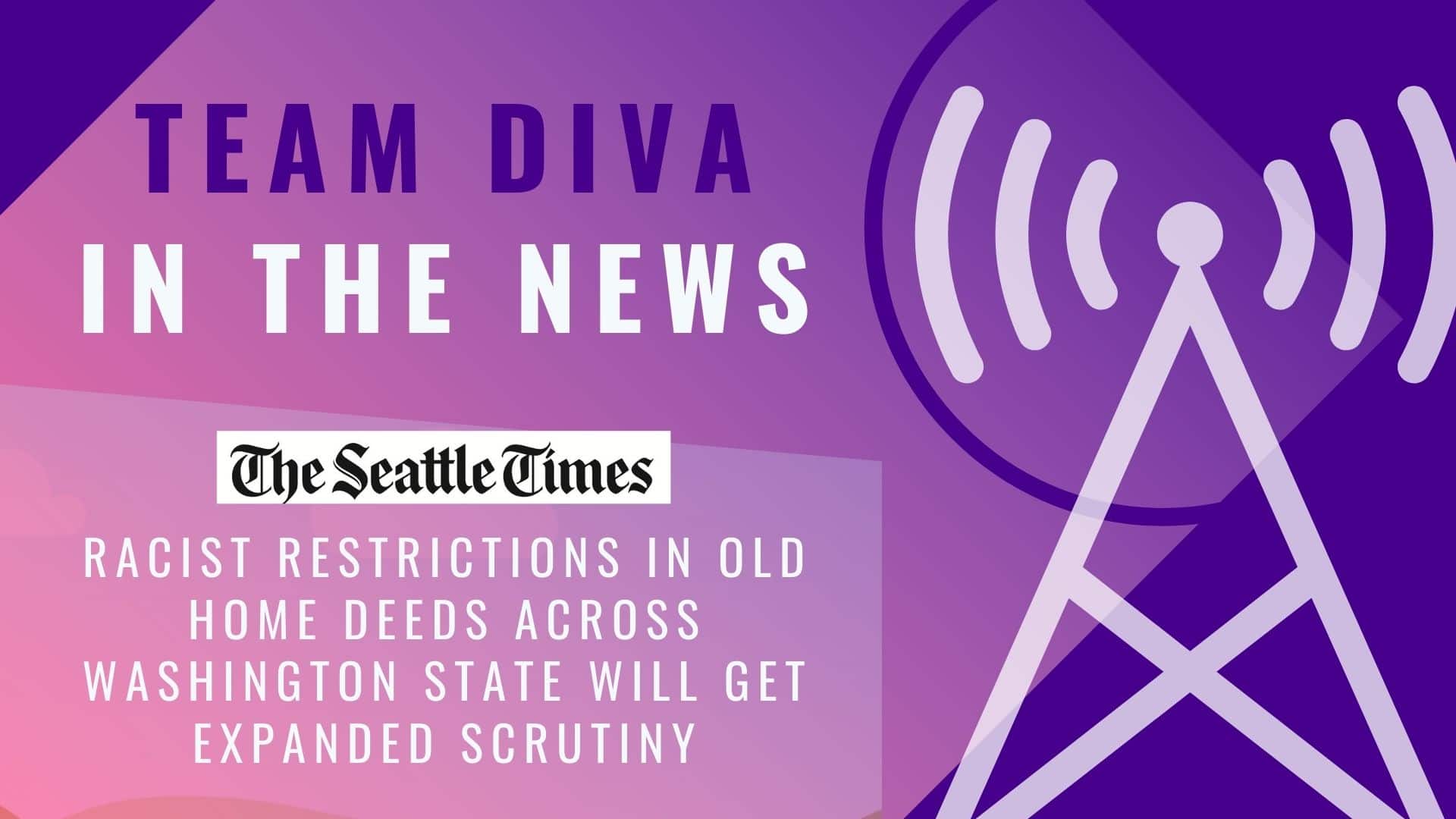 Real Estate Broker Rocky Flowers with Team Diva Real Estate is Black, and in this article Rocky shares his experience and perspective. When reviewing title reports for his clients, Rocky has on occasion found racist covenant language. 
Here are Rocky's featured quotes in the Seattle Times article: 
Finding the language is "a sting," said Flowers, who is Black, "but it's also a reminder." Flowers said he tries to use the language as a "teaching tool" to educate clients and friends.
"Personally, I don't think they should be taken out," Flowers said of the covenants. "Obviously they're not enforceable, but it is a reminder — especially in Seattle — to people buying and gentrifying neighborhoods. It's a reminder to them of the history, why they are able to buy a house, why their family has equity and $100,000 to give them a loan or $50,000, why their family has generational wealth and they are able to gentrify these neighborhoods."
Whitewashing Seattle's Past or Removing a Painful Reminder? 
Rocky has learned through his experience of finding racist language in title reports that many of his white clients were not aware of Seattle's history of segregation. Rocky adds: 
"'The idea that segregation was mild in places like Seattle is really wrong,' he said." 
While homeowners can have the racist language removed from their deeds, it is a reminder of Seattle's very real and painful past of segregation. Many people are under the impression that because we are in the Northwest, people didn't have to worry about segregated housing. But that is far from the truth. 
Seattle's Racist & Segregated Past Still Reverberates Today 
Learning about the past informs our understanding of present day Seattle. As the Seattle Times article points out, "Homes in predominantly white neighborhoods have appreciated faster than comparable homes in communities of color." Redfin even did an analysis that found that the average home in a mainly Black neighborhood is worth $46,000 less than a similar home in a white neighborhood. (This analysis didn't include Seattle because there was not enough data.) However, Zillow did their own study as well, and they estimate that Black-owned homes are valued at 16% less than homes with white owners. 
Much of this is a result of our city's history of redlining. This has deeply impacted the wealth of our Black neighbors compared to many of our white neighbors. You can learn more about redlining in Seattle here. 
Removing Racist Restrictions in Old Home Deeds
Just this month, state lawmakers passed a bill that has empowered UW and Eatern Washington University to look for affected covenants and notify property owners. Researchers at these universities will look through records in several counties throughout Washington. We can expect them to find thousands of examples; in a study that previous UW did, they found racist covenants in around 20,000 properties in King County alone. 
If you do find this language in your title report, you can file a covenant modification. You can find a step-by-step guide for how to do this under the "How to modify a restrictive covenant" section at the bottom of this article.
Racist Language Part of a Larger Issue 
Coldwell Banker Bain Broker Chavi Hohm of Team Diva Real Estate is also quoted in this Seattle Times article. Chavi advocates that we do even more and advocate for bigger change: 
"Why aren't we doing something to create down payment assistance programs for people who lost out on generational wealth?" said Coldwell Banker Bain broker Chavi Hohm.
Thank You to the Seattle Times for Highlighting Rocky Flowers & Chavi Hohm
Thank you again for quoting Rocky Flowers and Chavi Hohm in The Seattle Times article "Racist restrictions in old home deeds across Washington state will get expanded scrutiny" by Seattle Times Business Reporter Heidi Groover. We appreciate the opportunity to speak out about these important issues. 
More information on racism in real estate from Team Diva Real Estate:
If you're thinking about selling your home, get in touch with Team Diva here.