On March 13, 2020, three white police officers broke into the home of Breonna Taylor (a 26-year-old Black woman). These police officers murdered her in the middle of the night while she was sleeping. A grand jury did not indict the offers for Breonna Taylor's death. The murder of an innocent Black person by law enforcement is all too common of an occurrence in this country. Breonna Taylor's death was a reminder and a big wake up call for many people. There is so much work that is left to be done when it comes to racial equity and police accountability. 
---
Looking Back & Pushing Forward: The Time For Polite Conversations is Over 

If Breonna Taylor's death was not enough of a wake-up call, many more people reacted to the murder of George Floyd on May 25, 2020. In June 2020, Team Diva published "The Time For Polite Conversations is Over – Black Lives Matter" on our blog. We called upon the LGBTQ community to actively stand for Black Lives Matter. We reminded fellow members of the LGBTQ community the incredible debt that we owe Black trans activists for standing up for LGBTQ rights. It still disheartens our team to know that Breonna Taylor's murderers are free and many in our community did not take up the call to action. 
What can we do?
Learn From Leader & Racial Equity Consultant Marlon Brown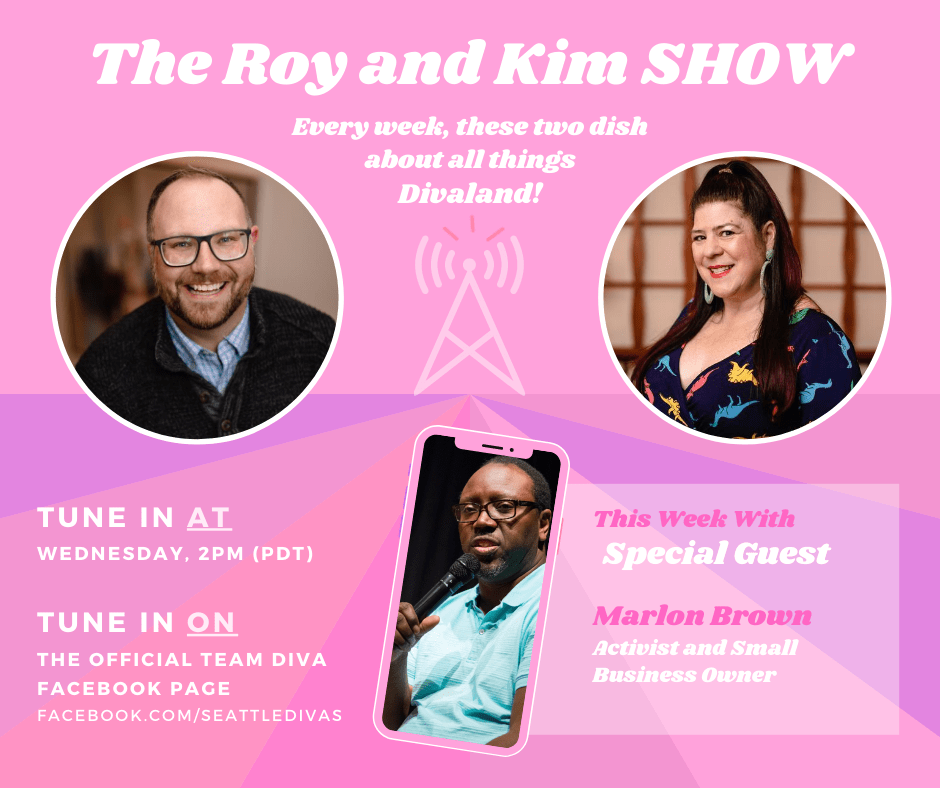 In July 2020, The Roy & Kim Show (a Seattle Real Estate Podcast) hosted Racial Equity Consultant and friend Marlon Brown as a special guest. (You can listen to the podcast episode here.) Marlon Brown is a certified Equity and Social Justice practitioner with Racial Equity Consultants. In this podcast episode he shares with us how we can support our Black neighbors. 
We need to take to heart what leader Marlon Brown is saying about what is happening locally. There is an incredible amount of corruption within the police union in Seattle. In fact, this KUOW article "Seattle cops make up biggest known contingent of cops at Jan. 6 Capitol rally" shares that there were 5 Seattle police officers who attended the insurrection. KUOW also reported that Seattle Police Officers Guild president Mike Salon blamed both "far-right extremists" and "far-left agitators" for the violence at the U.S. Capitol on January 6. His statements have been condemned by city officials. 
Meanwhile our local REALTOR association gave the same racist and corrupt Guild President a platform at their Government Affairs meeting back in December. Apparently, despite many of our best efforts, the roots of racism and white supremacy stay well entrenched in many of our local institutions. 
Facing Seattle's Racist History
Real estate in Seattle has a long, racist history that continues to be felt by so many Black families today. Historically, redlining and racist covenants controlled where Black people were able to rent and buy homes in Seattle. This affected the ability of Black families to build wealth in the same way that many white people were able to. Today, gentrification has driven many Black families out of Seattle altogether. 
Many of the policies that our local REALTOR associations advocate for not only result in gentrification, but in homelessness in our communities. For instance, there has been a massive push to cap the B&O tax for real estate commissions by our state's association's Government Affairs Committee. Those funds go to directly house those most impacted by the Pandemic. And as many of us know the BIPOC community has been most impacted by COVID both economically and through the loss of many of our community's elders.
Actions We Can Take to Honor Breonna Taylor Today
Especially this past year, many people felt called upon to learn more about Black history, support and protest with Black Lives Matter, and support Black businesses. Hopefully you read some books about being anti-racist, too! (If not, we've got a couple of great recommendations in this post. Lots of awesome local Seattle Black-owned businesses are featured, too.) 
In addition to these things, here are actions we can take to continue to fight for justice in our communities: 
Listen to and learn from Marlon Brown. 

Hold our city council accountable. There MUST be more accountability in the Seattle Police Department. The OPA (Office of Police Accountability) is not enough. Police officers continue to be protected by these organizations who refuse to hold them accountable.

There should not be any more police pay raises unless there is more accountability and transparency in the police department. Pick up the phone and call your council person!

Elect a mayor who will hold the police accountable. On November 2, 2021, we will be electing a new Seattle mayor. Pay attention to what is happening in the mayoral race. Vote for (and campaign for!) a mayor who will actually hold police accountable. Use those Democracy vouchers for a Mayor that will actually stand for justice!

Reinvest in local Black organizations and communities.

We specifically highlighted three arts organizations that we have a vested interest in seeing being successful.

And they are CD Forum for Arts and Ideas.  

Retain and expand Black home ownership in the City of Seattle. Look soon for details from Team Diva as we figure out a way to give down payment money specifically to Black/Brown homebuyers in Seattle. We do not know how we can do this legally, but we are working on it.  
Thank you for being part of this journey and hearing our call to action. If you see a white person stuck on why this is important give them a nudge. Let's get to work!
---
Thank You For Joining Us in Honoring Breonna Taylor 
We don't see major headlines in the news right now about Black Lives Matter. However, the urgency to continue fighting for Black lives should be the same as it was during the Summer of 2020 BLM protests that happened in the wake of George Floyd's murder by police. Choose one (or a few) of the actions we listed above to commit to. Learn about Seattle's racist past and present, and join us in better understanding how we can advocate for our Black neighbors.