Queen Anne is one of our very favorite Seattle neighborhoods, and we are thrilled whenever we get to show off this community. Our latest Diva Dwelling is this Delightful Queen Anne Condo. This sweet spot has a long list of things we are loving about it, but one of our top fave features includes all of the natural light that this condo gets. You just can't have too much of that in Seattle! We also love the excellent layout of the unit (layout is super important, especially in a condo!), plus all of the storage, which may not sound super sexy, but we all know how important storage is. This condo also promises quintessential Queen Anne living thanks to the balcony with a Space Needle view (yes, swooooon!), and its Lower Queen Anne location lets you live close to numerous urban joys. 
Let's Tour This Delightful Queen Anne Condo
I'm Kim Colaprete with Team Diva at Coldwell Banker Bain, and in this video, join me and Michael Jouver (also with Team Diva at Coldwell Banker Bain) to tour this Delightful Queen Anne Condo. 
Of course, we are here to show off everything we love about this mod condo! Check out the many strategically placed windows that flood this condo's great layout with natural light, and don't miss all of the smart storage options while you're at it.
The balcony with Space Needle views is especially not to miss, and of course, who can pass up a Lower Queen Anne location like this?! In fact, you'll spot me and Michael hanging out at Hagen in the video tour above, which is one of our fave new places in Lower Queen Anne. The pastries are divine and the coffee is fantastic. Stop by when you're in the neighborhood! 
---
5 Things We Love About This Delightful Queen Anne Condo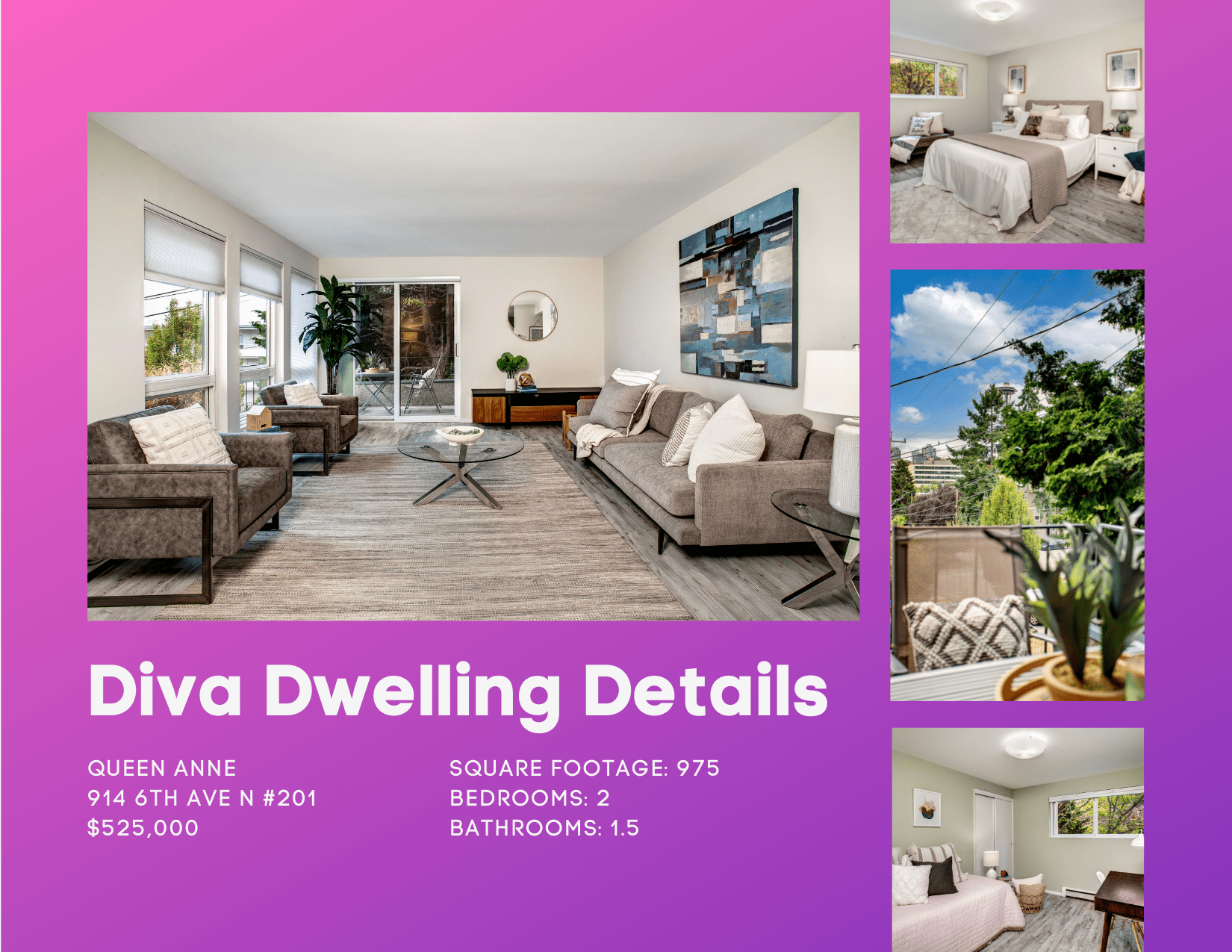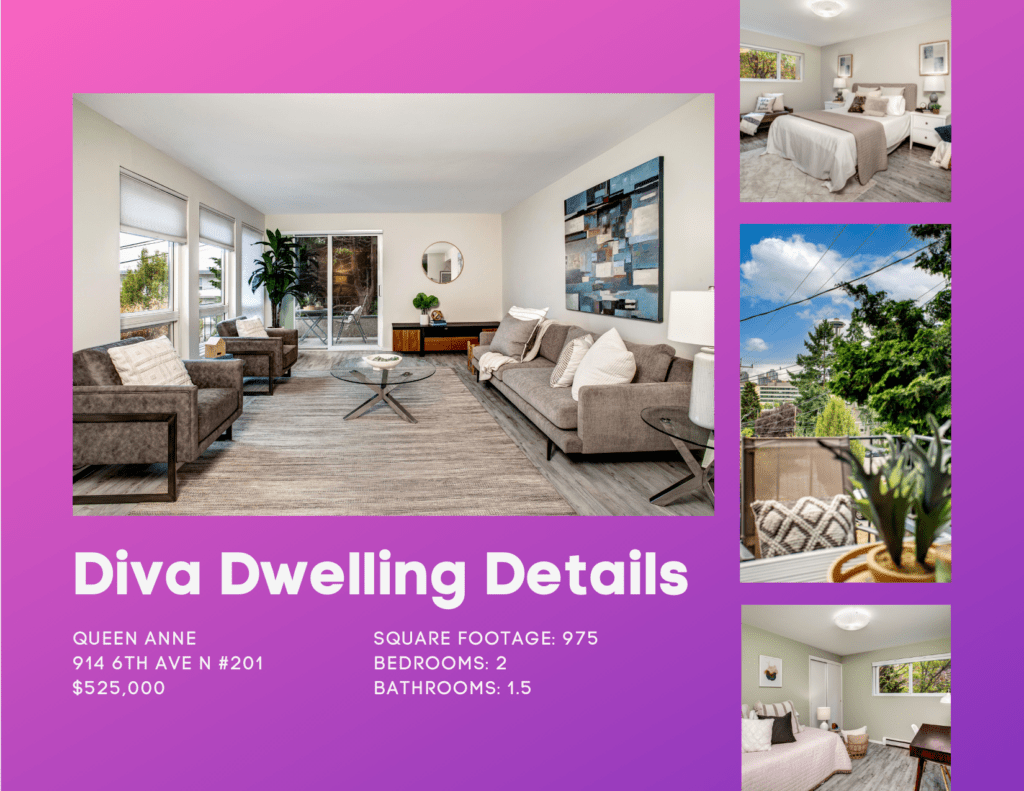 Alright, I'm going to dive into the 5 things I love about this Delightful Queen Anne Condo. Get ready for some pretty pics and an immersive 3D tour, too! 
Windows, Windows, Windows!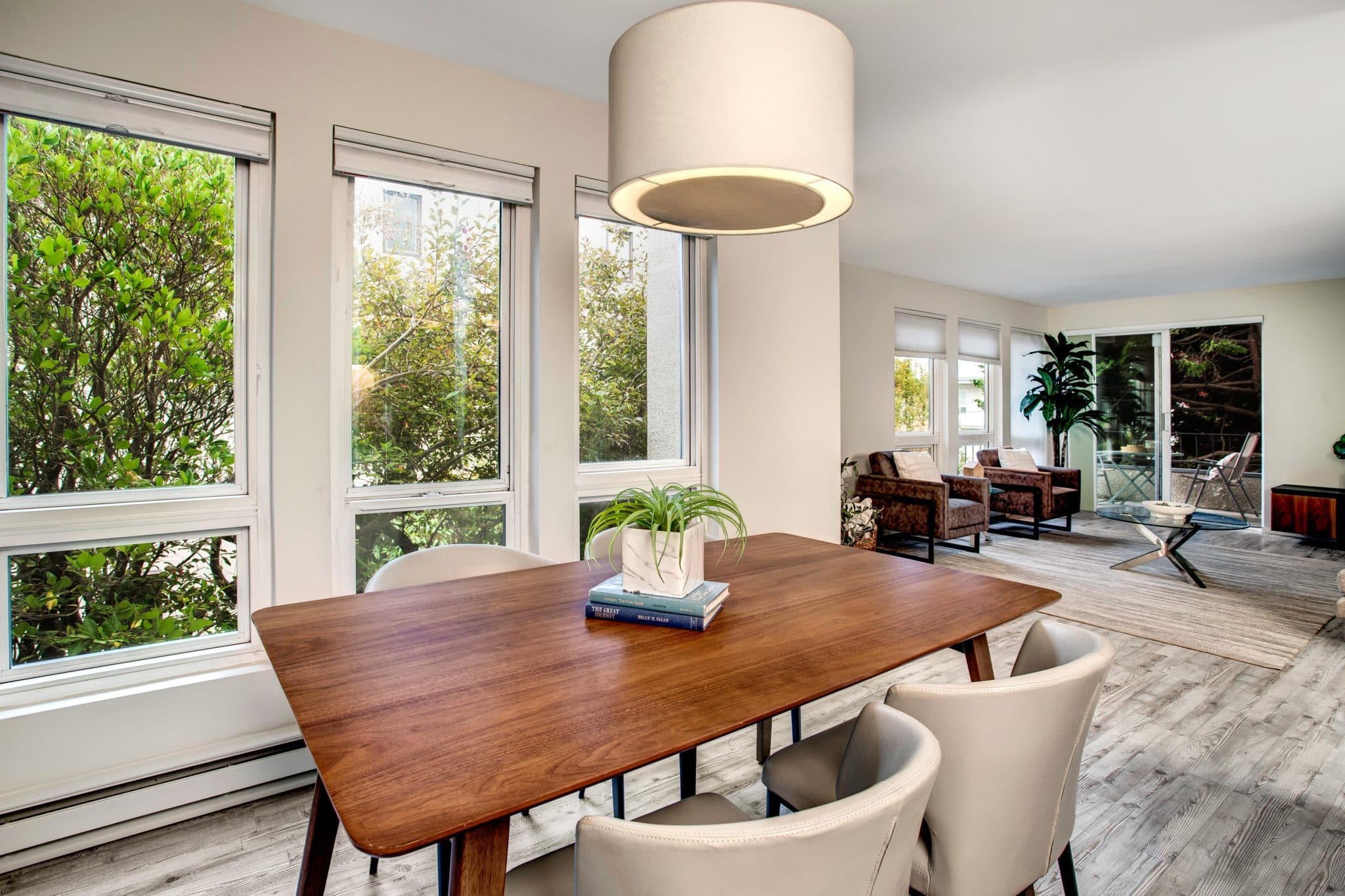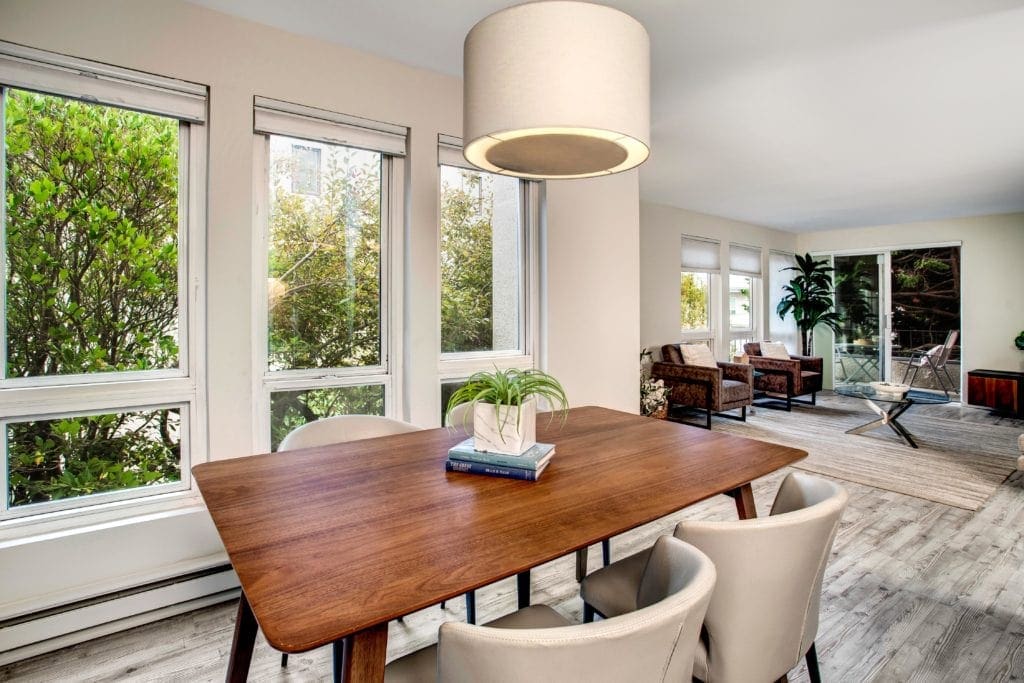 Most of us Seattlites believe that you can never have too much light. Now that the days are getting shorter again, soaking up all of the warm sunshine possible is an absolute must. In this corner condo home, you have windows galore to bring in the light all year long. Plus, there are mature plantings around the building that give this home a lovely treehouse feel. The lovely trees also provide privacy from the street. And with this bank of southern-facing windows that stretch from the dining room into the living room, this delightful Queen Anne condo will feel bright and cheery even on the gloomiest of days. 
This Delightful Queen Anne Condo Offers Great Open Flow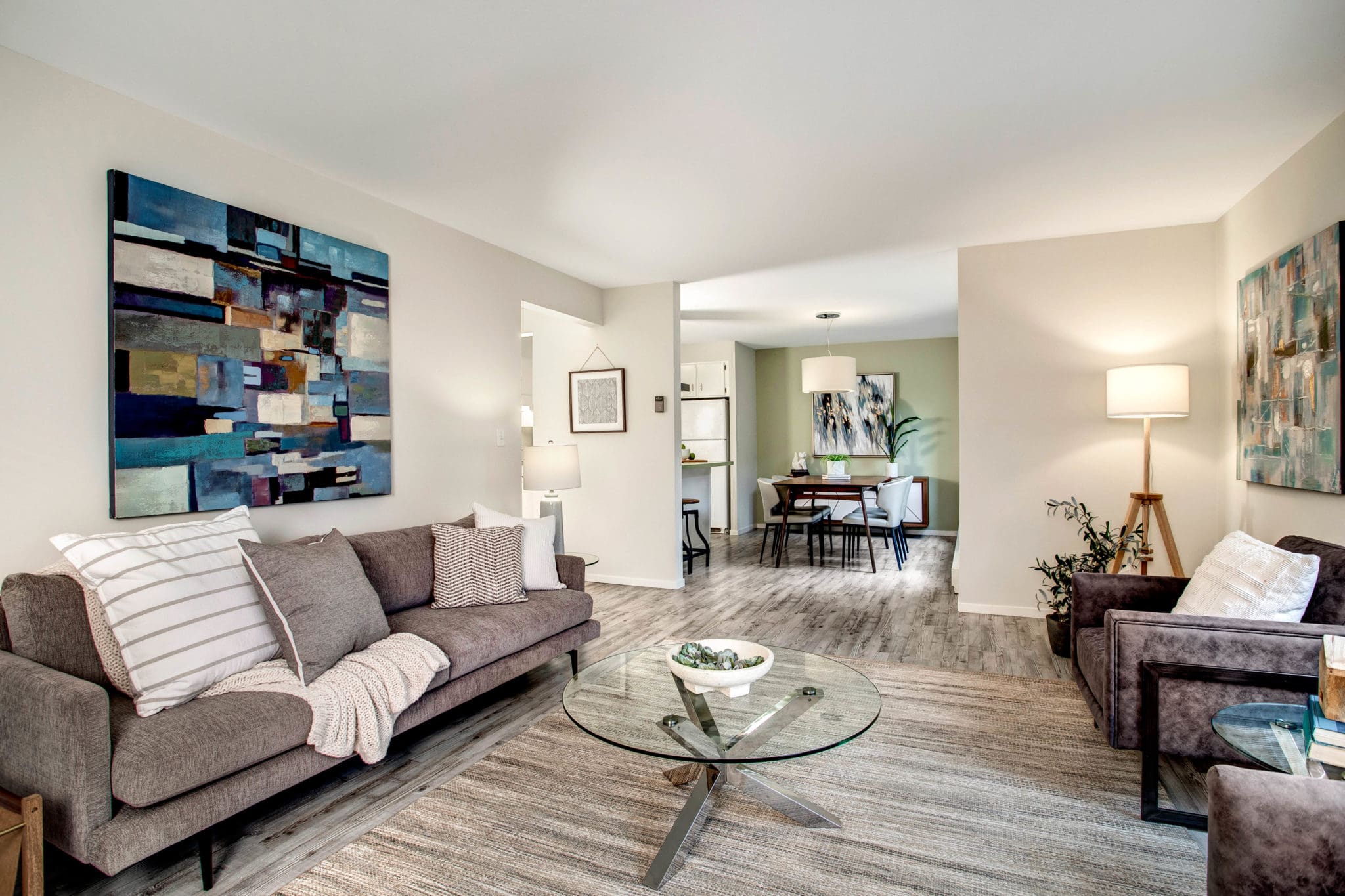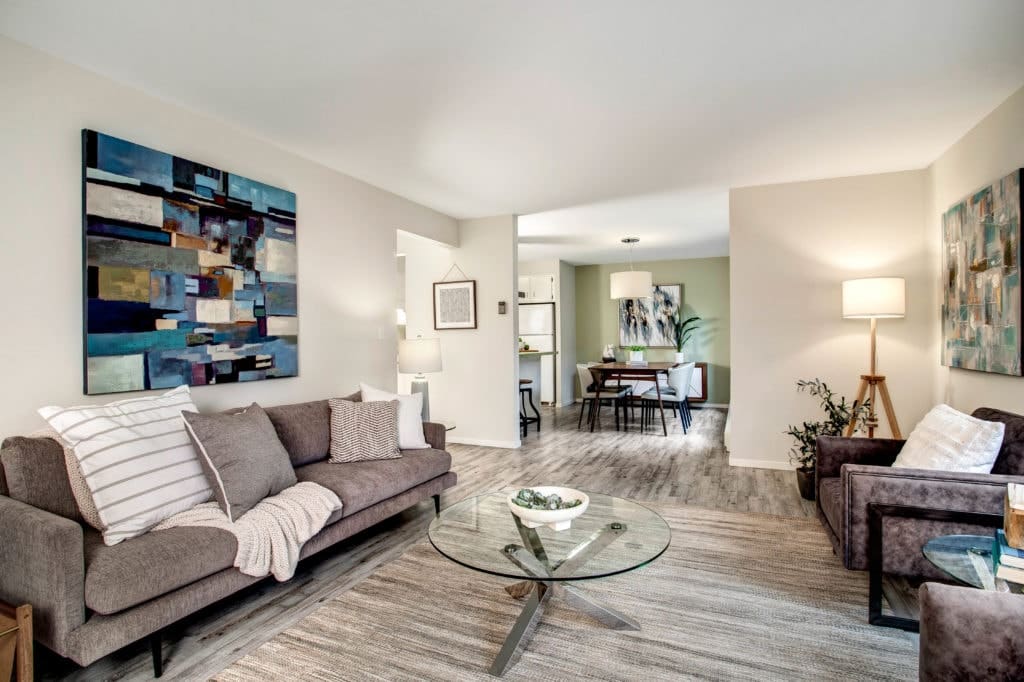 When you are dealing with more urban dwellings like a condo or a townhouse, layout, and flow are everything. A poorly designed space can make 1000 sq ft seem like a cramped broom closet. Well, I can guarantee that you will never feel cramped in this home. The flow is simply ideal. From the entryway to the bedrooms to the kitchen and dining area to the spacious living room… Honestly, it's one of the best floor plans I've seen in a condo in ages. 
This adorable kitchen/dining area is splendid for entertaining and it flows easily into the spacious living room. The space allows you to prep those fancy apps and cocktails and still be able to chit-chat with your guests. Everyone wants to be in the kitchen anyway! And if you're not big on entertaining right now, no problem. You and your special someone can just enjoy all the elbow room that this open kitchen/dining room provides while crafting fabulous dinners for each other.
A Balcony with A Space Needle View is All Yours—Classic Seattle!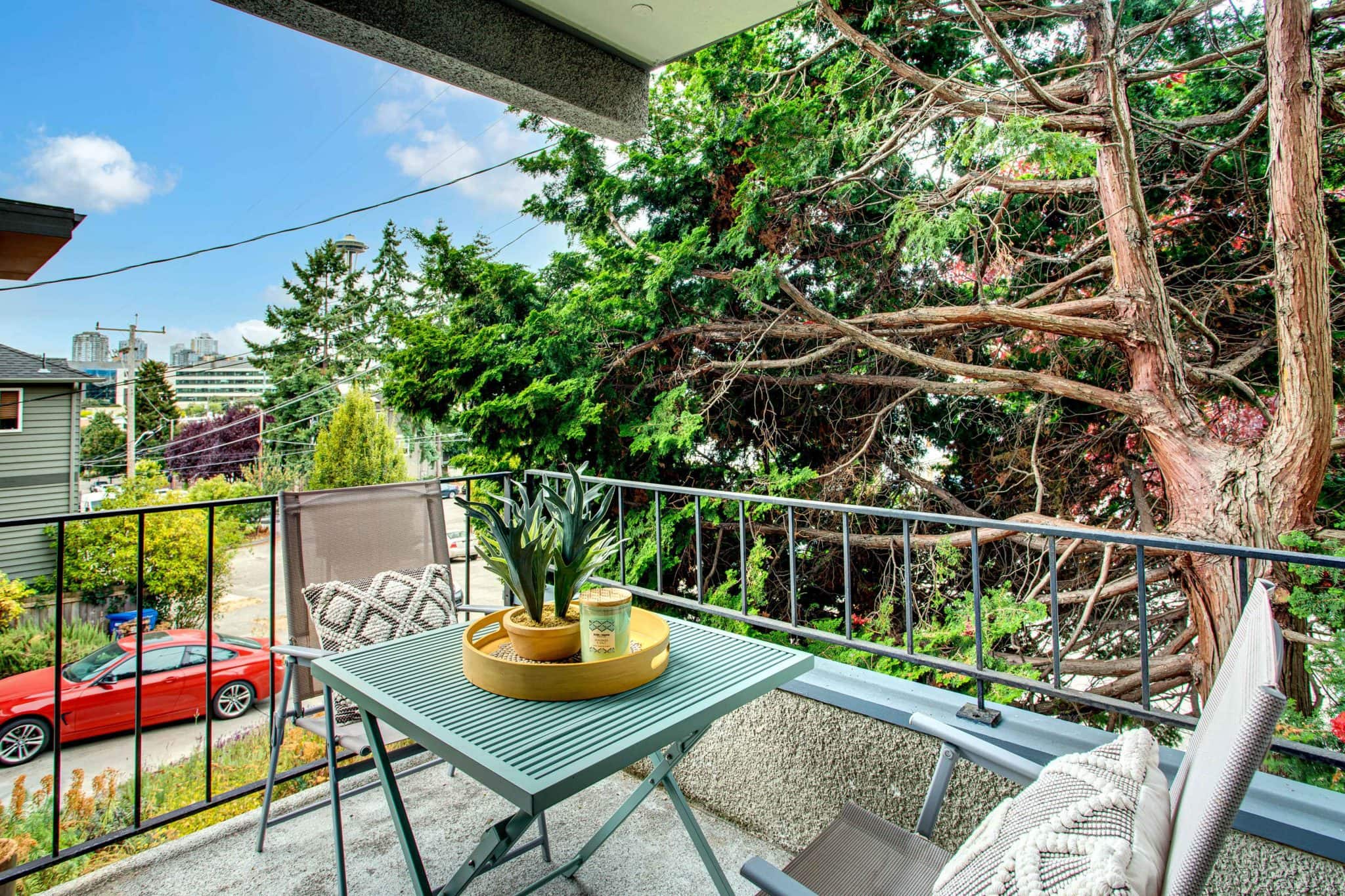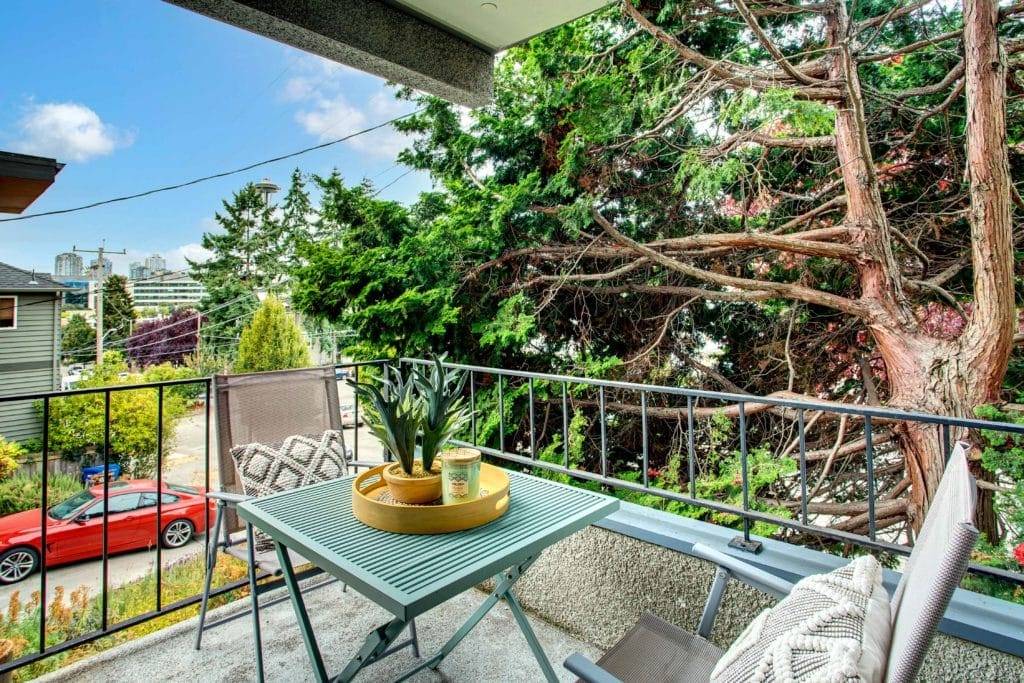 This home also has a lovely balcony right off the spacious living room, so you can enjoy some outside time, anytime. You know this Diva is all about entertaining, and of course, this balcony is great for BBQing. The mature trees keep this terrace super private and quiet. The scenic trees also protect you from the intense western sun, so you can be comfortable sitting out here any time of the day. But wait, there is an extra little bonus—you have your very own Space Needle view! Grab your bestie and an Aperol spritz, then head on out here to watch the sun go down and the Needle light up. Cheers! 
An Abundance of Storage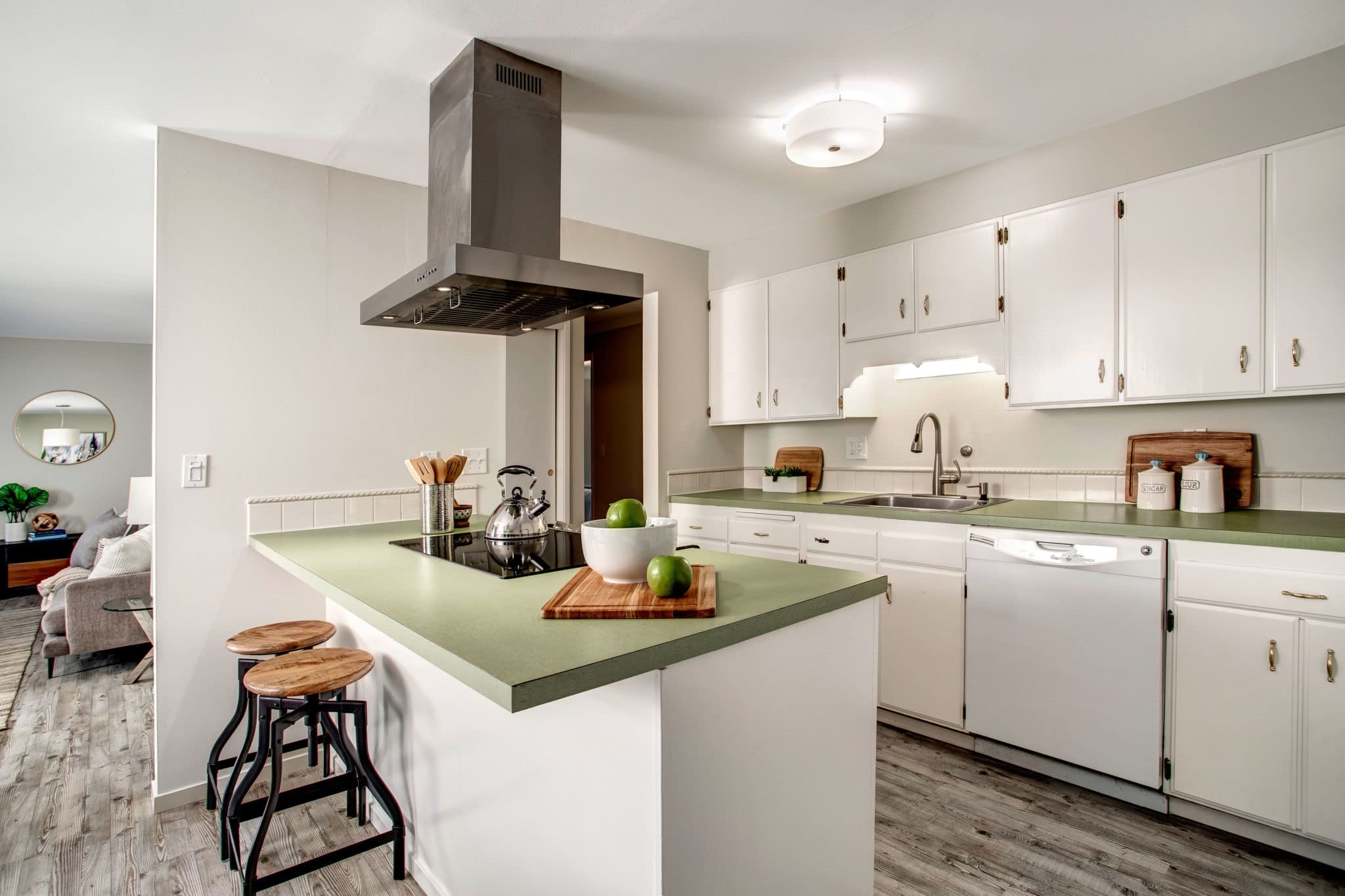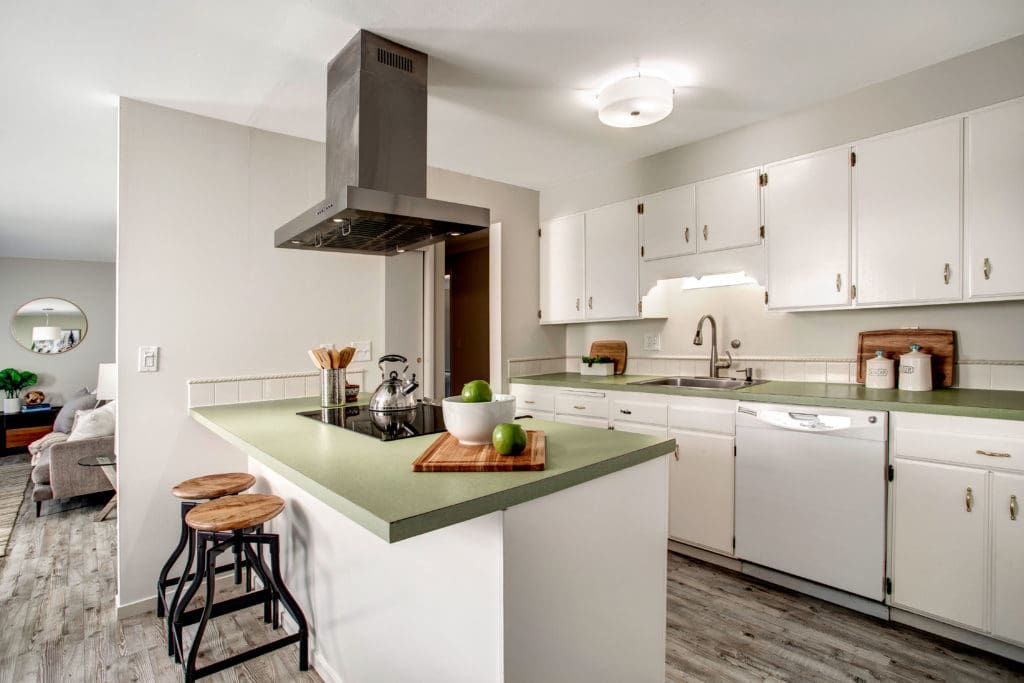 Let's talk about storage. I know, it's far from glamorous. But it is necessary and a must for most folks. Many a condo suffers from a severe lack of storage, except this one. There is so much storage. There are plenty of cabinets in the kitchen, and big closets in the bedrooms. You'll find a huge storage closet in the hallway, AND another closet out on the deck. I hate to say this, but if this condo does not have enough storage for you – you may want to reconsider buying a condo. There is even a place to store your car. Yes, there is a designated parking spot just for you behind the building.
Let's Take a 3D Tour, Too, So You Can Immerse Yourself in this Delightful Queen Anne Condo
Team Diva takes every precaution, and then some, to make sure all of our homes are listed following all COVID precautions. It is our duty to ensure everyone's safety as you enter one of our listings. Feel free to take a virtual tour from the comfort of your couch!
Curious to learn more about our latest safety precautions? Read "Team Diva's COVID Safety Protocols for the Delta Variant" here!
The Joys of Living in Lower Queen Anne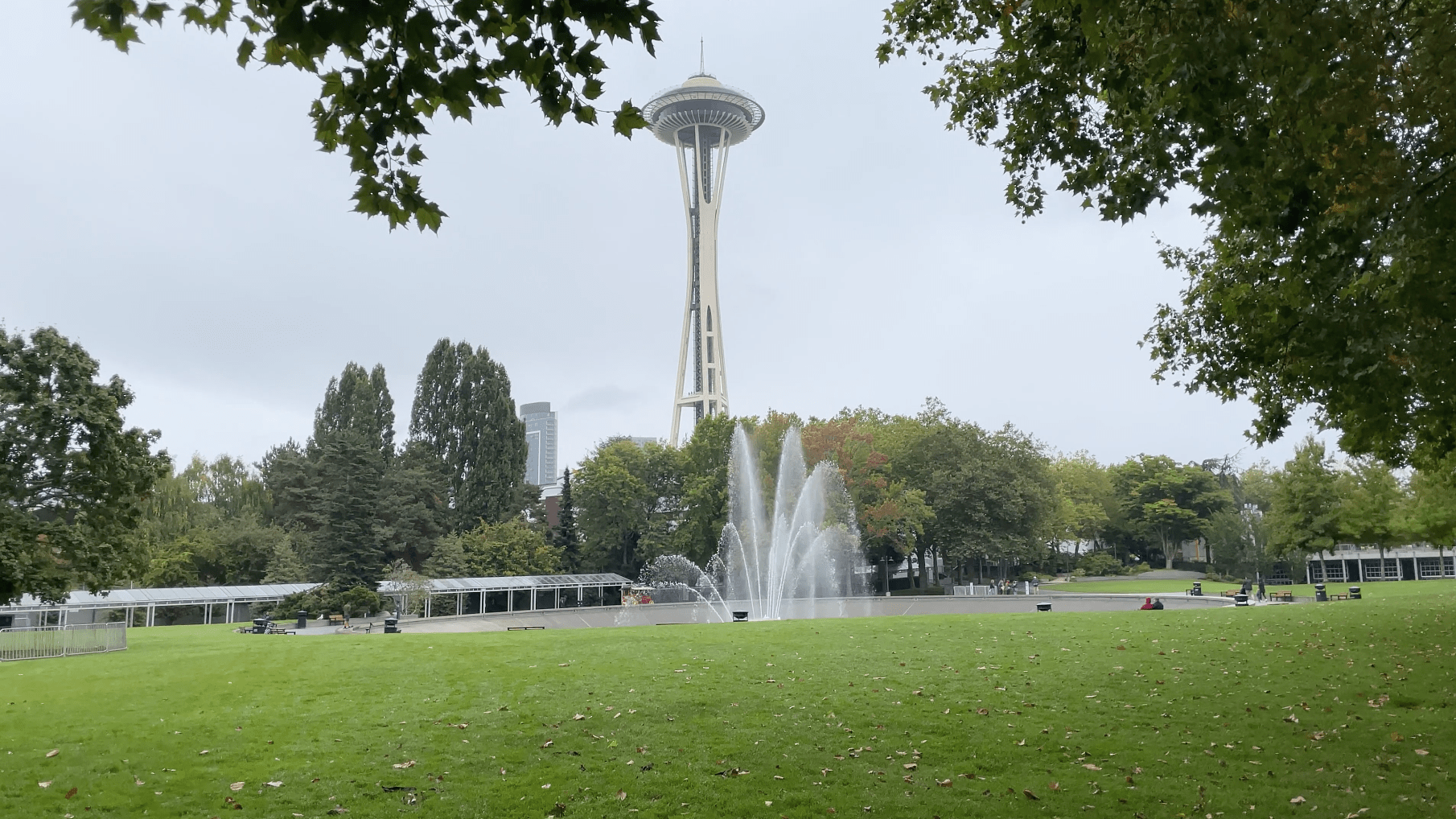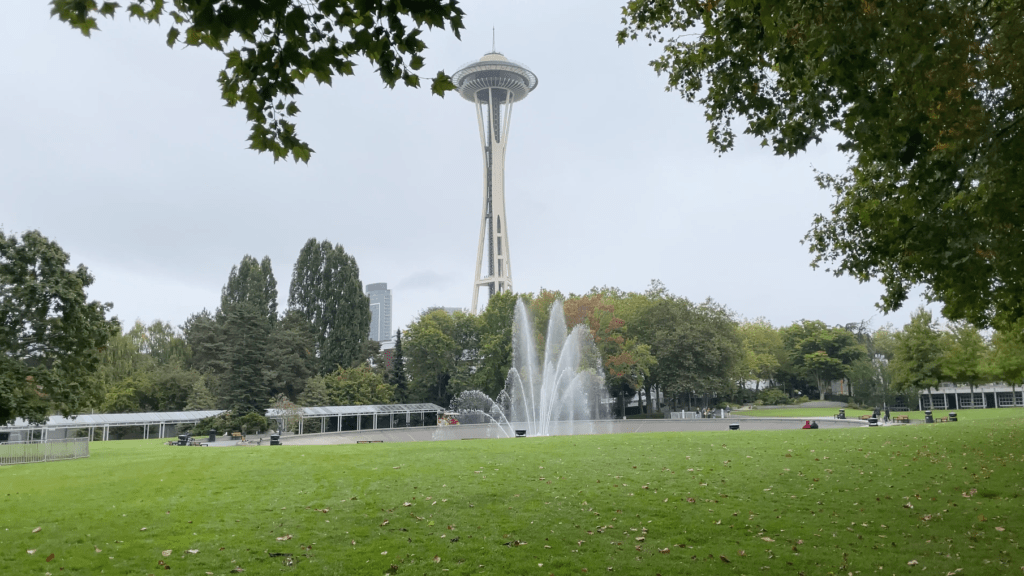 Living in lower Queen Anne offers numerous urban joys. Access to theatre and the arts, amazing coffee shops, great food, and easy access to Downtown and South Lake Union. This neighborhood is also home to a wide diversity of dwellings from fancy view homes, to sleek townhouses, to modern condos, to a bevy of small and not-so-small apartment buildings.
We already chatted about one awesome coffee shop in Lower Queen Anne, Hagen, which is just minutes from this condo. Not far from there is another cool spot, Citizen Cafe, and their patio is open for brunch and dinner. When you want something slightly more upscale, try Ten Sushi or Taylor Shellfish, located just on the west side of Seattle Center.
Speaking of Seattle Center, other than being blocks to the Space Needle you are also minutes to Pacific NW Ballet, Seattle Opera, Seattle Rep, and much more. From Italian festivals to music festivals, there are also loads of wonderful events happening at the Seattle Center. Basically, there are good times to be had year-round living in Lower Queen Anne!
Check out some of the other great homes in Queen Anne we've sold: 
---
Buying A Condo In Seattle: 4 Key Considerations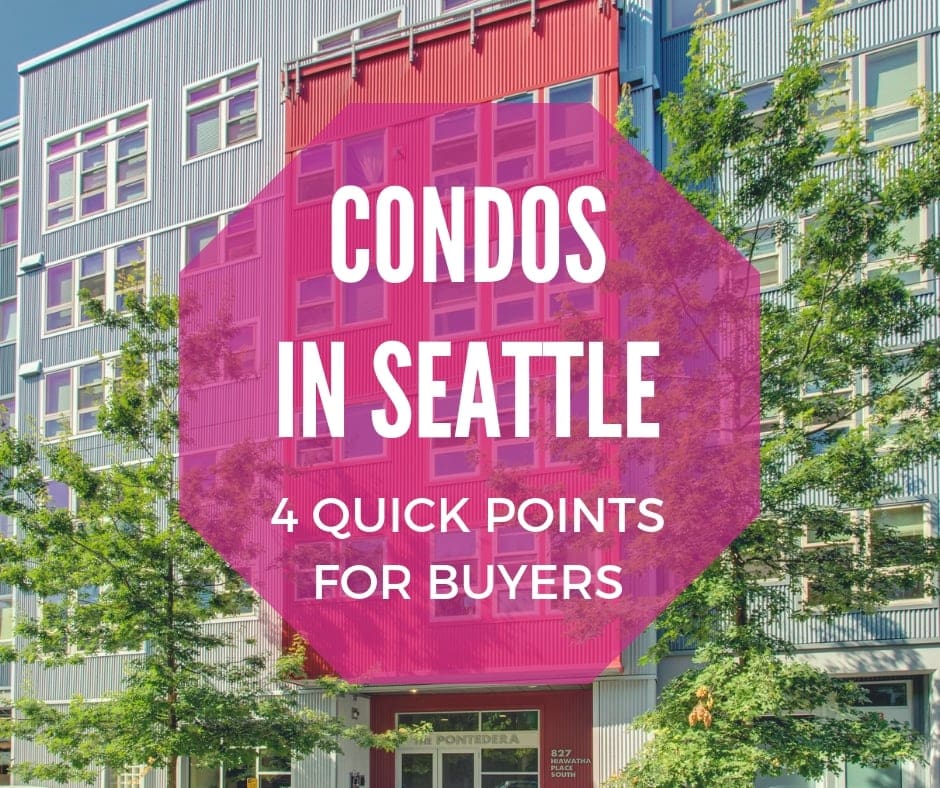 Have you bought a condo before? If not, you should get a little information specific to the process, as is not entirely the same as for a detached home. From identifying your goals to conducting the right inspection, we cover four points that are crucial when buying a condo in Seattle.
Be a Smart Condo Buyer Guide
Identify Your Condo Must-Haves – Rentability, pets, parking, laundry, etc…
Buy in the Best Building in the Best Neighborhood You Can Afford – You are buying into a community. The majority of condo buyers want location above all else. The Bering is literally in one of the nicest locations on Capitol Hill.
Review the Homeowners Documents in Detail – This is extremely important for older buildings. As a community, everyone needs to pitch in and preserve the space.
Do a Home Inspection. Obviously!
This is just a starting point, and we have so much more to share about the home buying process. Browse our Home Buyer page for a comprehensive home buying education.
Check out the whole blog about what to keep in mind here after the jump >
---
Thanks For Touring Our Delightful Queen Anne Condo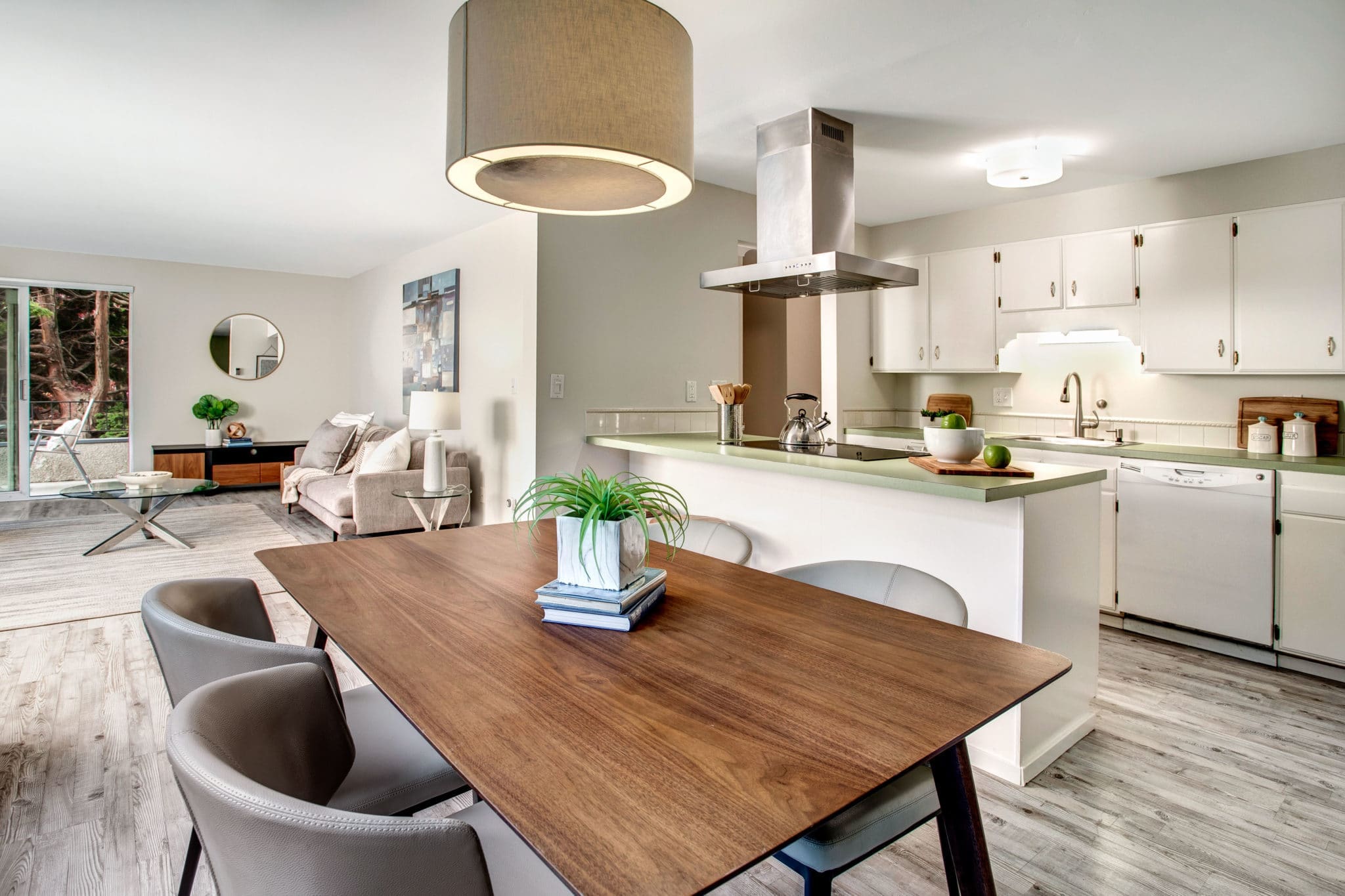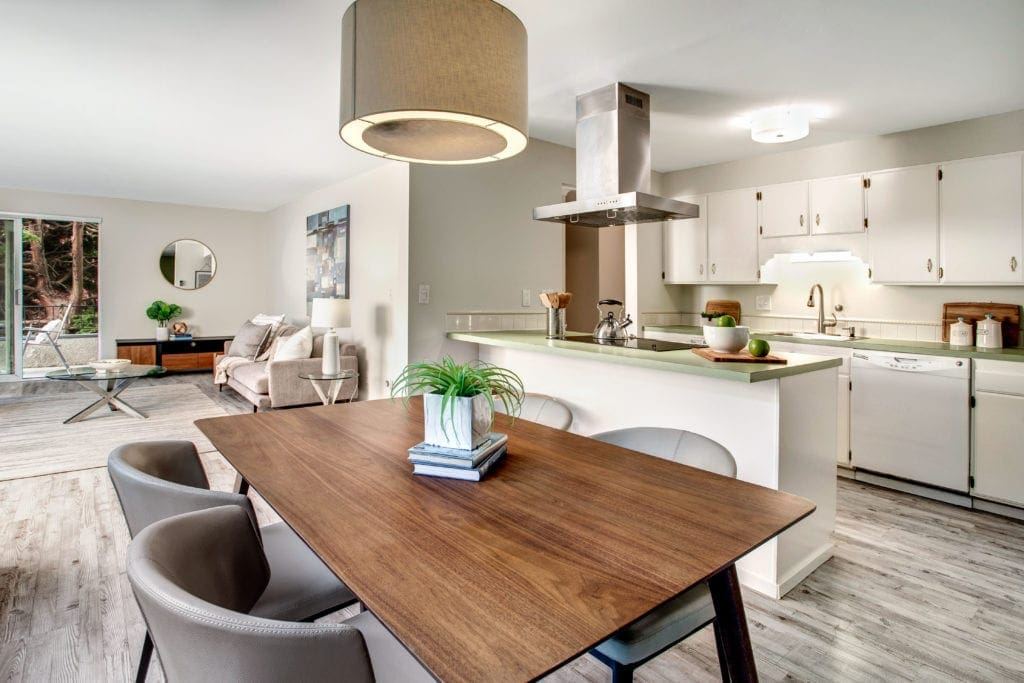 Thank you for taking the time to learn all about this Delightful Queen Anne Condo! I am seriously loving this mod condo's natural light, its great layout, all of the storage, the balcony with Space Needle views, and the excellent Lower Queen Anne location. 
All the Good Details
Address: 914 6th Ave N #201, 98109

Square Footage: 975

Bedrooms: 2

Bathrooms: 1.5

Offering Price: $525,000
Ready to tour this Delightful Queen Anne Condo in person? Contact us today so we can show you this condo's many windows that let in wonderful natural light, the great layout plus storage that maximizes the space, the balcony with Space Needle views, and the Lower Queen Anne location.