When you're heading out for a vacation, would you rather go to the mountains or the beach? Would you rather listen to the waves lap against the shore, or be tucked in among the trees?
I want to share something very special with you today. 
I am so excited to show off my latest Diva Dwelling. This Seattle Mid-Century Home is a stunning alpine getaway where every single day feels like a vacation! Tucked away in the woods and wonderfully close to the beach, this mid-century masterpiece offers that coveted cabin feel. Retreat into wooded seclusion in Normandy Park, yet rest assured you're only 25 minutes into Downtown Seattle. I'm also loving the totally livable layout, the long list of thoughtful updates, and the lofted primary suite. 
Let's Tour This Seattle Mid-Century Home 
I'm Roy Powell with Team Diva at Coldwell Banker Bain. I'm your Southwest Seattle specialist who loves everything mid-century. I have an incredible Diva Dwelling to show you today, and I'm excited to show off this Seattle Mid-Century Home. Join me in this video tour to see exactly why each and every day spent in this home feels like a vacation. 
In this video, I'm sharing the top things that make this Seattle Mid-Century Home so unique. Not only do you get that cozy cabin feel where you're nestled in wooded seclusion, but the Normandy Park location is just 25 minutes to Downtown Seattle. Join me to get a closer look at the livable layout, the incredible updates, and the relaxing lofted primary suite, too! Let's take a look, and I can tell you why every day in this home feels like a vacation. 
---
5 Favorite Things About This Seattle Mid-Century Home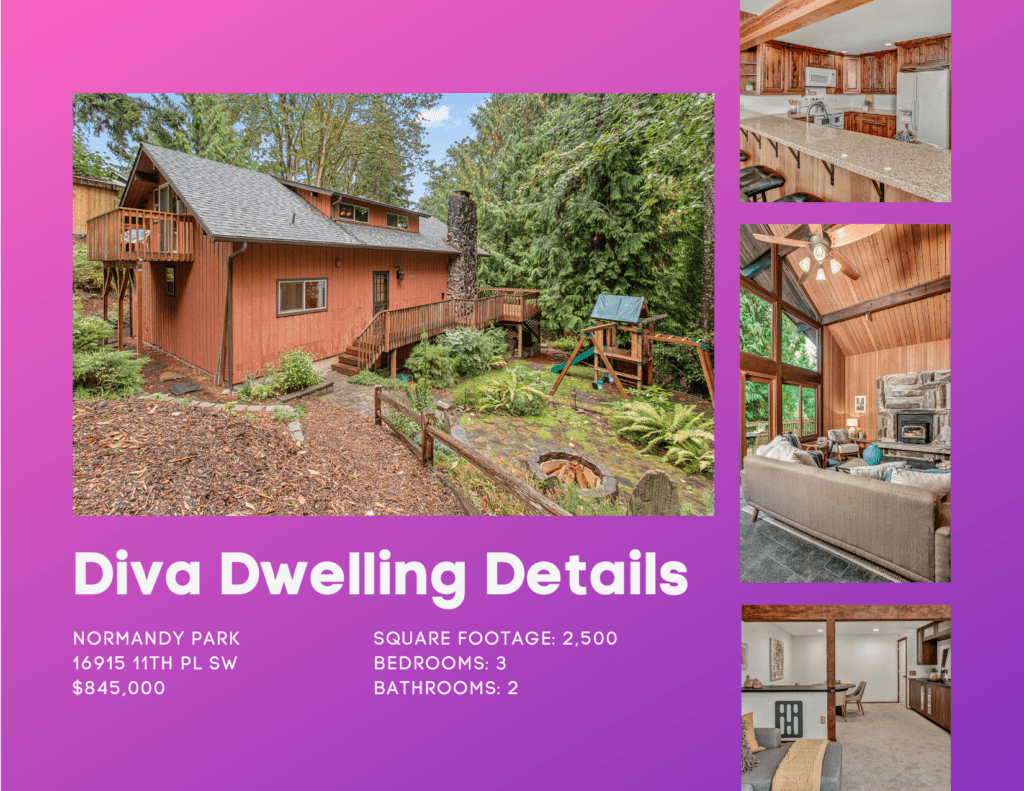 Thank you for joining me on a tour of this Seattle Mid-Century Home. Keep scrolling to see my top 5 favorite things about this Diva Dwelling.
This Seattle Mid-Century Home Has That Cabin Feel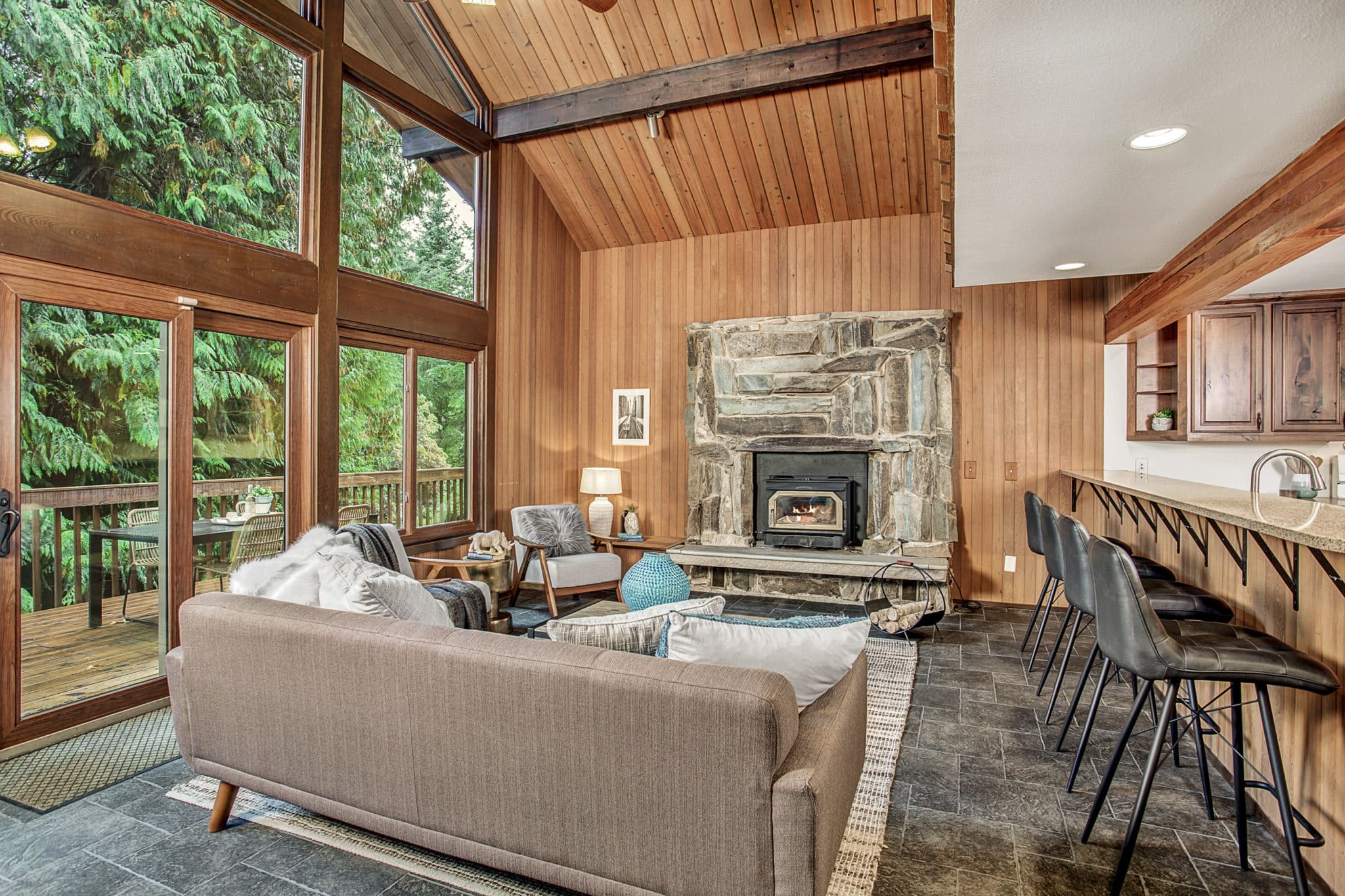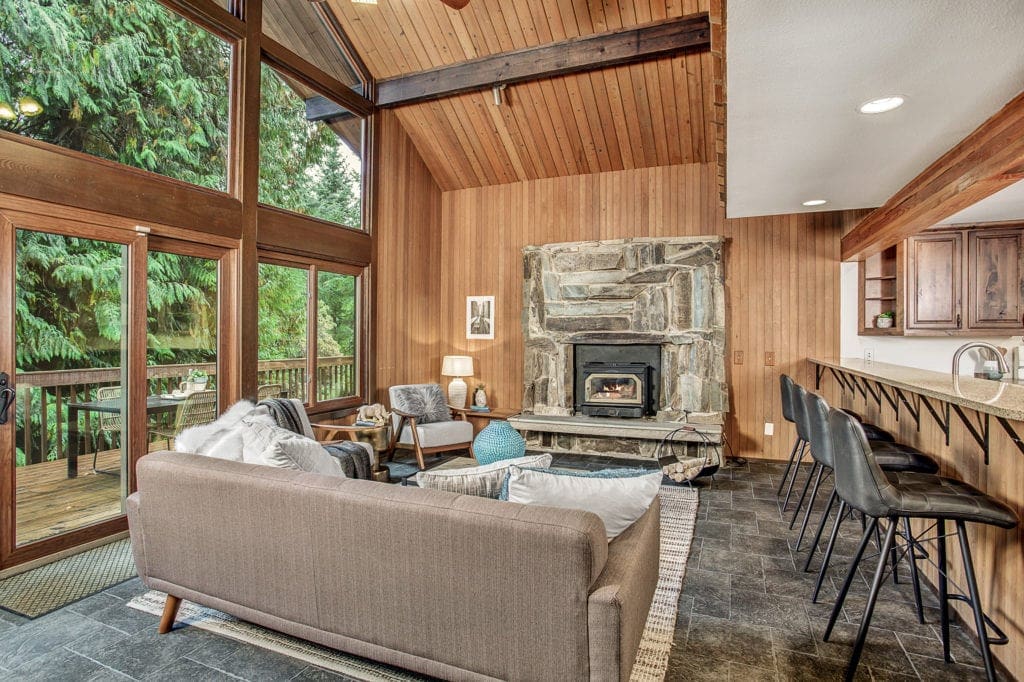 My Diva Dweller clients were attracted to this home because of its notable, stylish, and classic features. From its craggy larger-than-life fireplace to the vaulted cedar ceiling and walls and floor-to-ceiling windows, this home's breathtaking features are ready to sweep you off your feet. Enjoy a two-story view of a sea of trees that change color and dance through the seasons. Sitting on nearly a quarter acre, you have your slice of paradise all to yourself. 
It's immediately apparent why this Seattle Mid-Century Home feels like a cabin you'd head to for a relaxing vacation. And while all year long is a joy here, just imagine what the holidays could be like spent here! In fact, this Diva Dwelling is ready for entertaining; more on that in a moment! 
A Totally Liveable Layout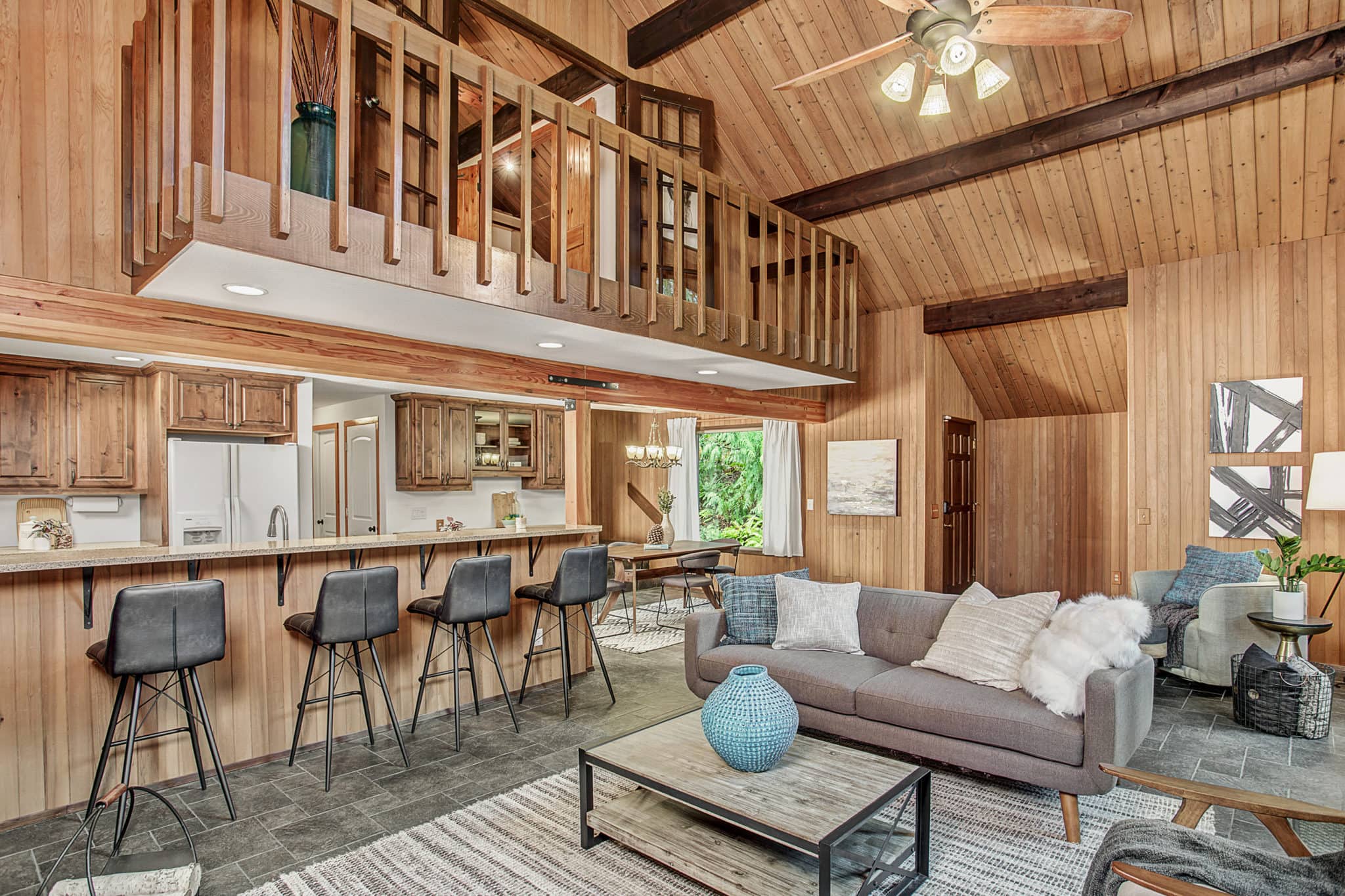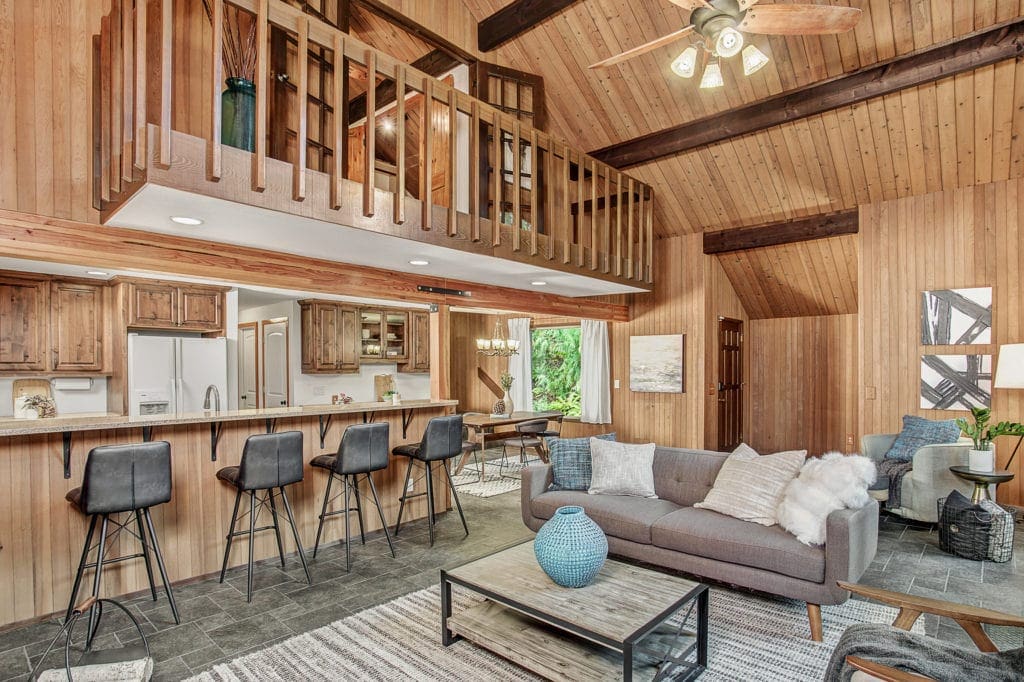 In addition to style and privacy, this Seattle Mid-Century Home also has a surprisingly efficient layout. Open living space connects the kitchen, dining room, and living room together for entertaining on cozy, colorful fall days. This living space also flows out to a 600-square-foot deck off the front of the house, and here you can make the most of our spectacular summer months. Of course, time spent in the peace and quiet of home is completely restful and rejuvenating, but entertaining is a breeze, too. 
When it's time to retire for the day, discover a primary bedroom with a huge ensuite bathroom, plus two bedrooms, and another bath on the main. The lower level provides even more flexibility—there's a huge bonus room big enough for watching movies or playing games with the whole crew. There is even a two-car garage ready for a crafty workbench or two warm and dry cars, plus an extra-long driveway. This past year has really taught me that when you are home all the time you need to have space for hanging out. Maybe that's to play cards, work on a puzzle, or watch a movie. Or maybe it's for a home gym or art studio! Having flexible bedrooms, a bonus room, and garage space gives you versatility + options for it all.
Lofted Primary Suite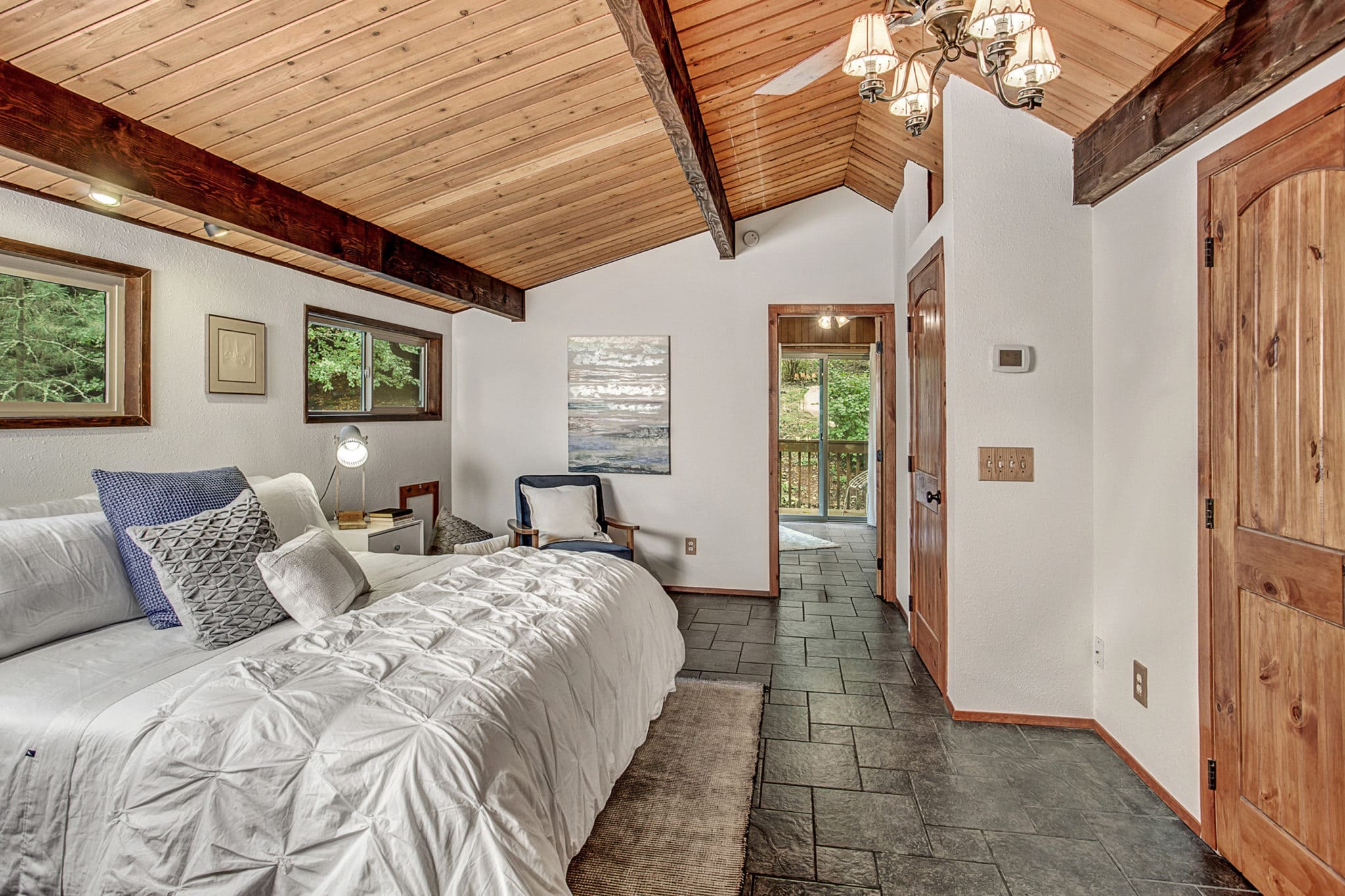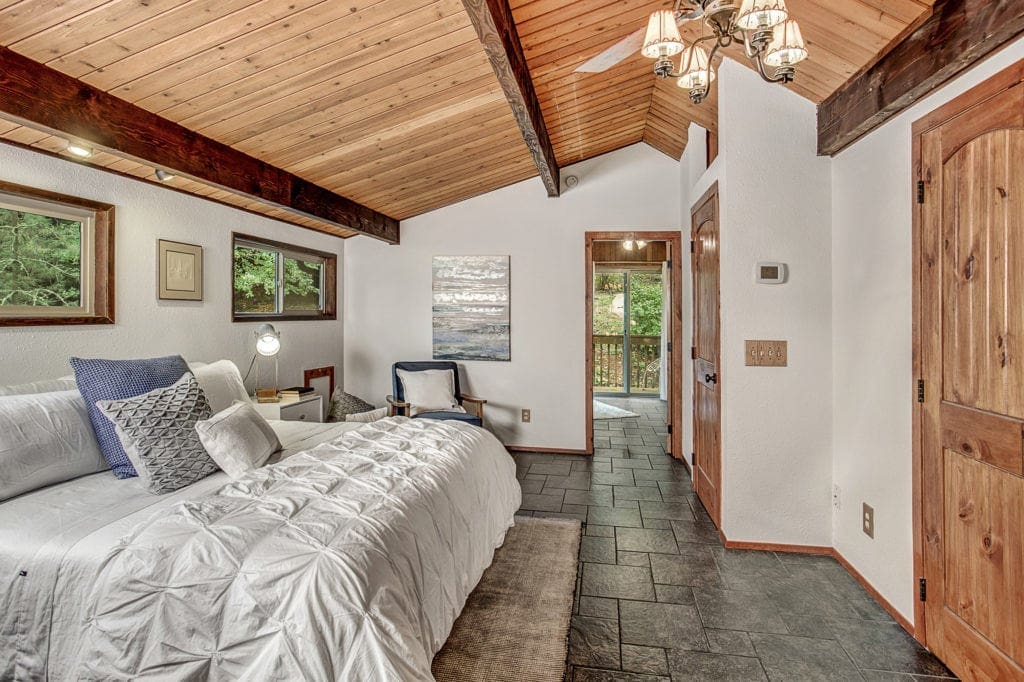 When it's time to drift off into dreamland or take a quick refreshing nap, head to the lofted primary suite. Everything you need to unwind is right here, from the 5-piece spa-inspired bath to the relaxing bedroom. Oh, and there is of course a massive closet. One of the major highlights here is the private deck off the back—there is nowhere I would rather sip coffee and read the morning paper than in this space. 
This Seattle Mid-Century Home Boasts Tons of Updates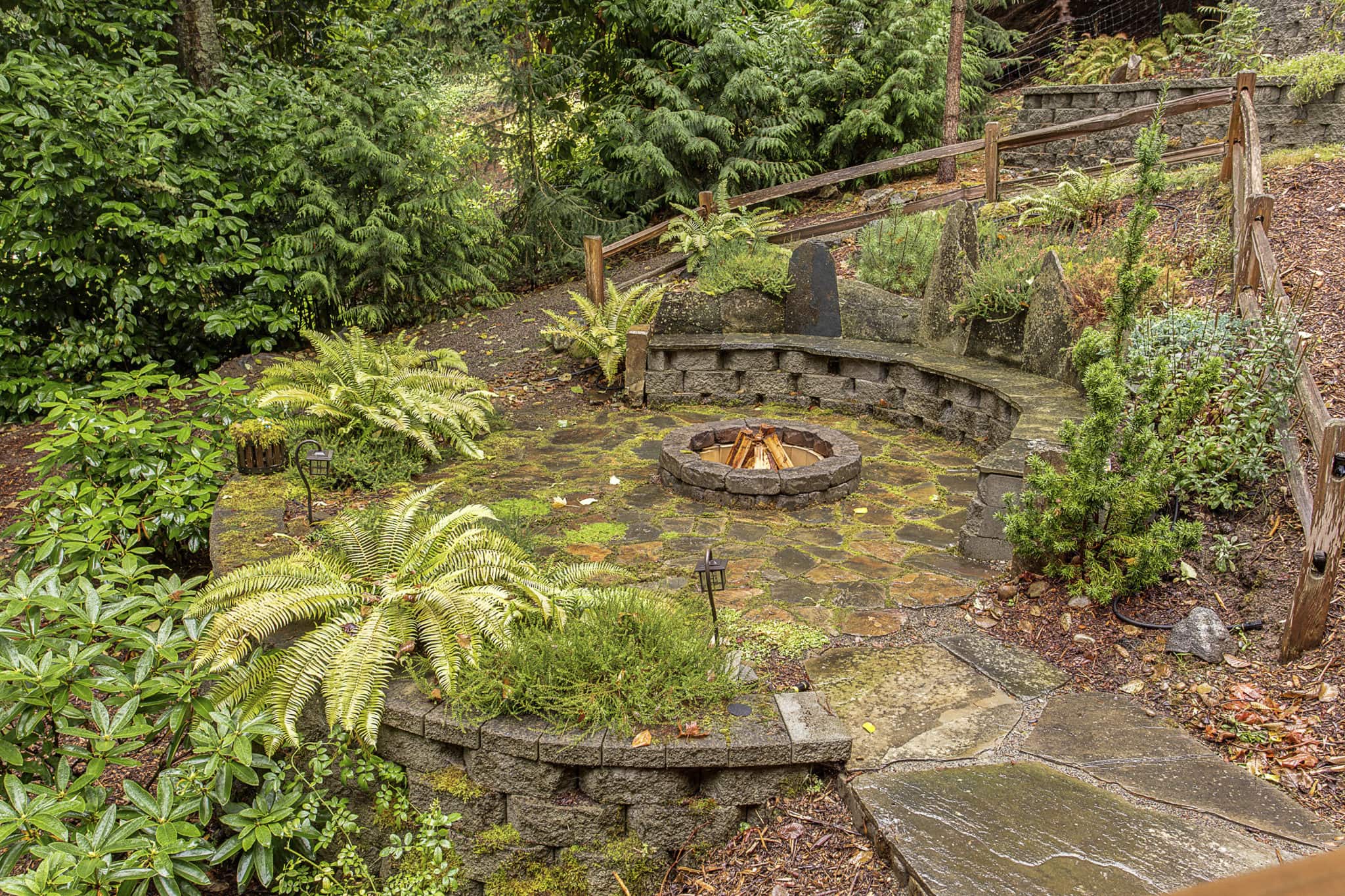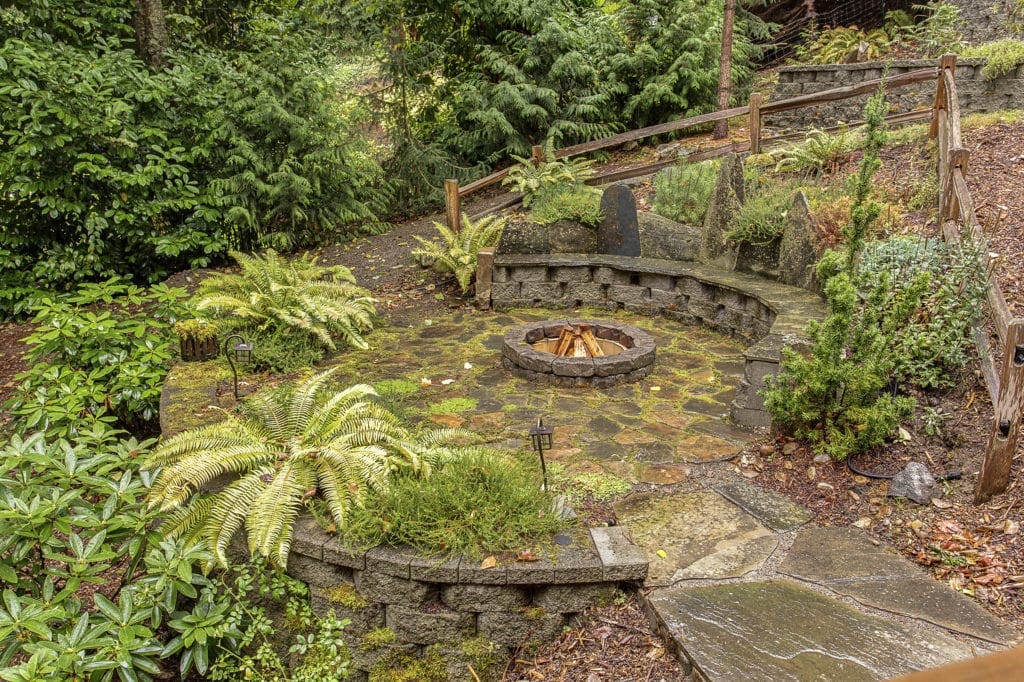 Let's talk about upgrades! What makes this home above and beyond special are the features that my client has added. In their eighteen years of owning this home, they have added some very special features. Heated slate floors throughout the main and upper levels keep this home cozy through the coldest months. A spa bathroom with a giant soaking tub and a private deck overlooking the backyard feels luxurious. Plenty of terraced outdoor spaces for hanging out by the fire pit or growing veggies to cook year-round are yours to relax on. The moment you turn up the driveway, you know you are in for a treat. And this treat can be yours forever. 
Let's Take a 3D Tour, Too, So You Can Immerse Yourself in this Seattle Mid-Century Home
Team Diva takes every precaution, and then some, to make sure all of our homes are listed following all COVID precautions. It is our duty to ensure everyone's safety as you enter one of our listings. Feel free to take a virtual tour from the comfort of your couch!
Curious to learn more about our latest safety precautions? Read "Team Diva's COVID Safety Protocols for the Delta Variant" here!
Enjoy Wooded Seclusion in Normandy Park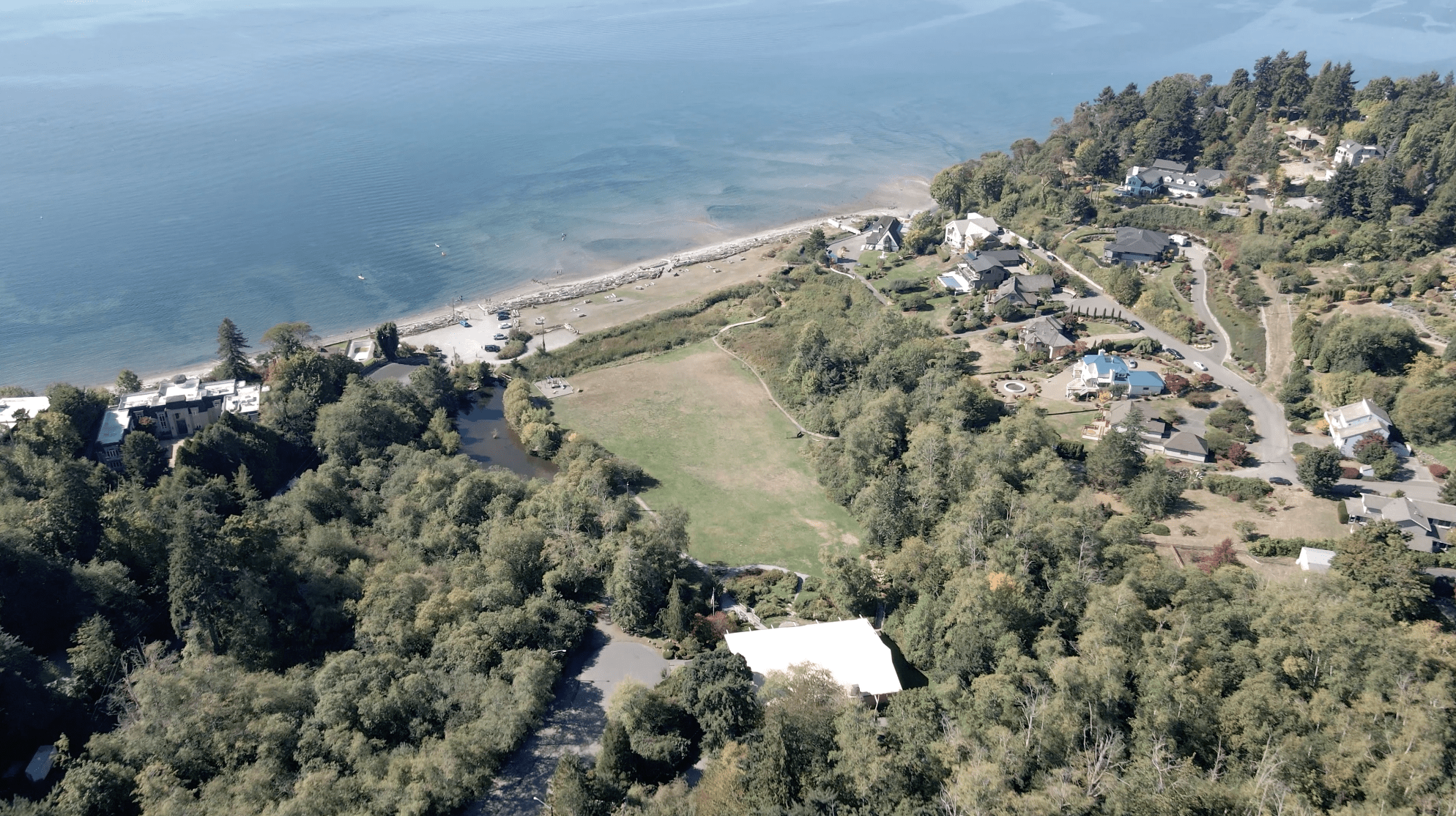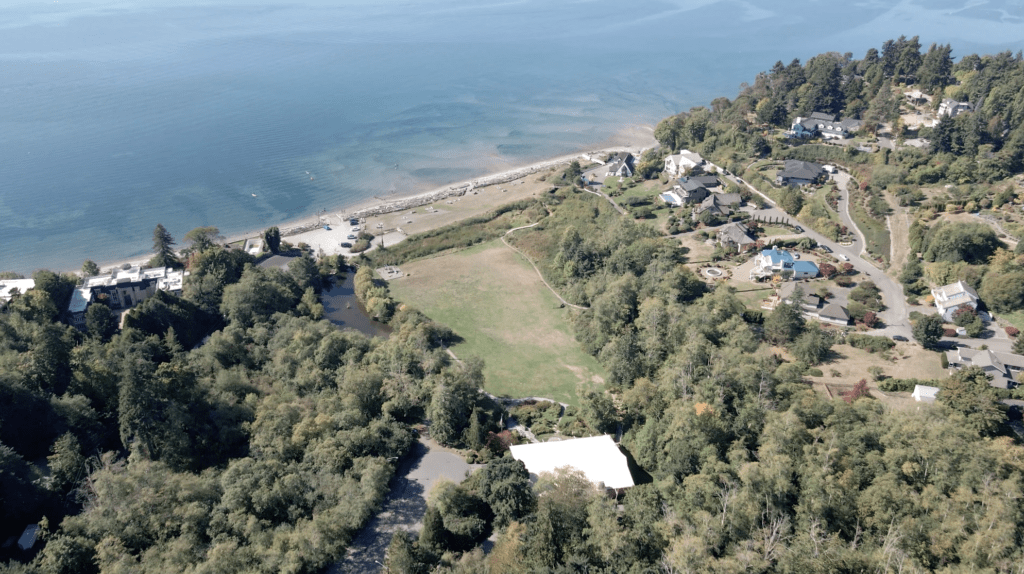 Nearly ¼ acre of land that is all wooded adds to the feeling of being in the middle of nowhere. There is plenty of space to hang out on the giant deck or one of the terraced patios in the backyard roasting marshmallows over an open fire. You really feel like you're miles and miles away from it all! In reality, this Seattle Mid-Century Home is only 5 minutes to PCC & Trader Joe's. It's also only 25 minutes to Downtown Seattle and 40 minutes to Bellevue. Yes, really! 
This Seattle Mid-Century Home is nestled in Normandy Park, which is a really special place just minutes south of the city. Normandy Park is known for beautiful mid-century homes that are tucked quietly into the surrounding tree-packed hillsides. It's also known for its proximity to important things like schools, grocery stores, the airport, and likely your job. Even more importantly for us today, it's also known for the COVE aka Lot A. This neighborhood and some of the residents have special access to a waterfront community area known as The Cove. Under the original plat of 1929, all properties within certain boundaries have equal and undivided rights in an 18-acre beachfront plat known as Lot A. Within that beachfront plat, there are tennis courts, recreation areas, and a venue that you can book for special events. 
---
How to Buy a Home in Seattle: The Entire Process in Brief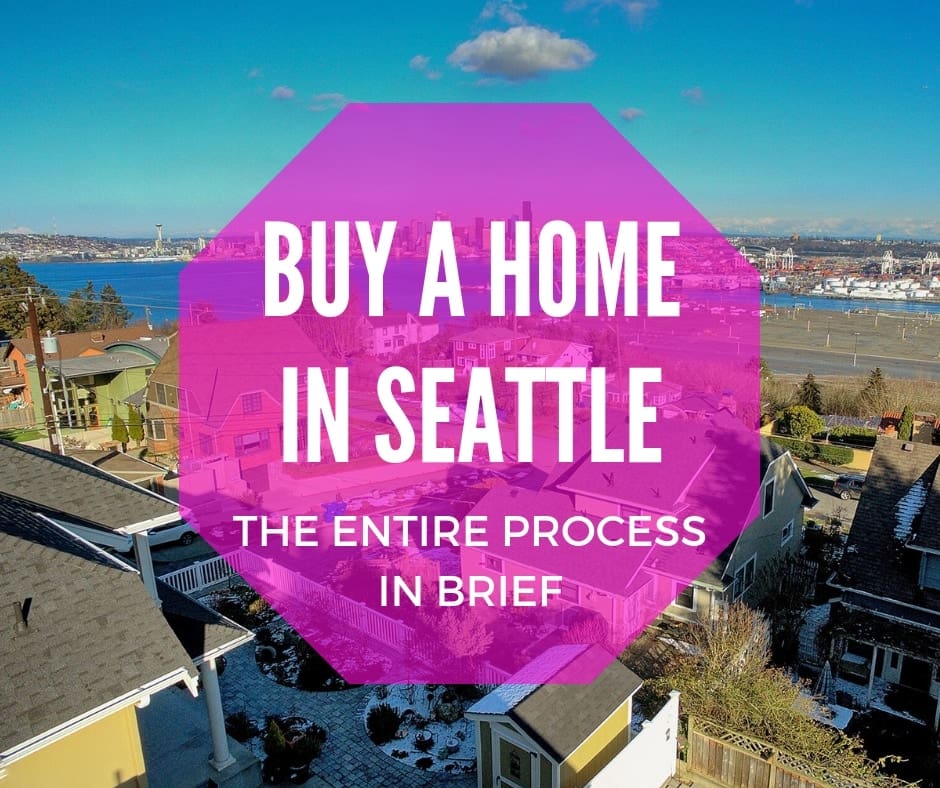 Let's get down and dirty. Owning a home in Seattle is an amazing experience and it can be fun. Do not listen to all of those cranky folks who think Seattle is not what it used to be and a middle-income owner cannot afford to buy a home in Seattle. Strap in, get yourself some strong Seattle coffee, and learn how to be a smart and savvy home buyer in Seattle.
Steps For Buying a Home in Seattle
Find Your Guide: Find an agent that is super savvy and will be your ultimate navigator.
Choose Your Priorities: Size, Condition, Or Location?
Home Buyer Intake Process: Schedule a sit-down meeting with you and your real estate team to dive into what you want in a home.
Financing: Get your financial house in order.
Big Search: The big home search in Seattle
Making an Offer: Know what you need and how to prepare yourself to make an offer.
You Are In Contract: You've signed on the dotted line. Now… the hard work really starts.
Inspecting Your Home: What to look for, how to hire an inspector, and how to respond to the inspection.
Reviewing The Title Report: The title report is often the most overlooked portion of the buyer's review.
Reviewing the HOA/Resale Certificate (for Condos): …Also an overlooked portion of the buyer's review process.
Appraisal Process: Most homes are purchased with a home loan. The appraisal determines the final value by your lender for your home.
Final Loan Approval: All kinds of things can come up during the final loan approval process, so be prepared.
Final Two Weeks of the Process: Walkthrough, inspection resolution, and (for god's sake) do not make a huge purchase on a credit card.
Signing Your Final Homeowner Documents: You made it!
Closing Day: You get the keys and access to your home.
This is just a starting point, and we have so much more to share about the home buying process. Browse our Home Buyer page for a comprehensive home buying education.
---
Thank You For Touring Our Seattle Mid-Century Home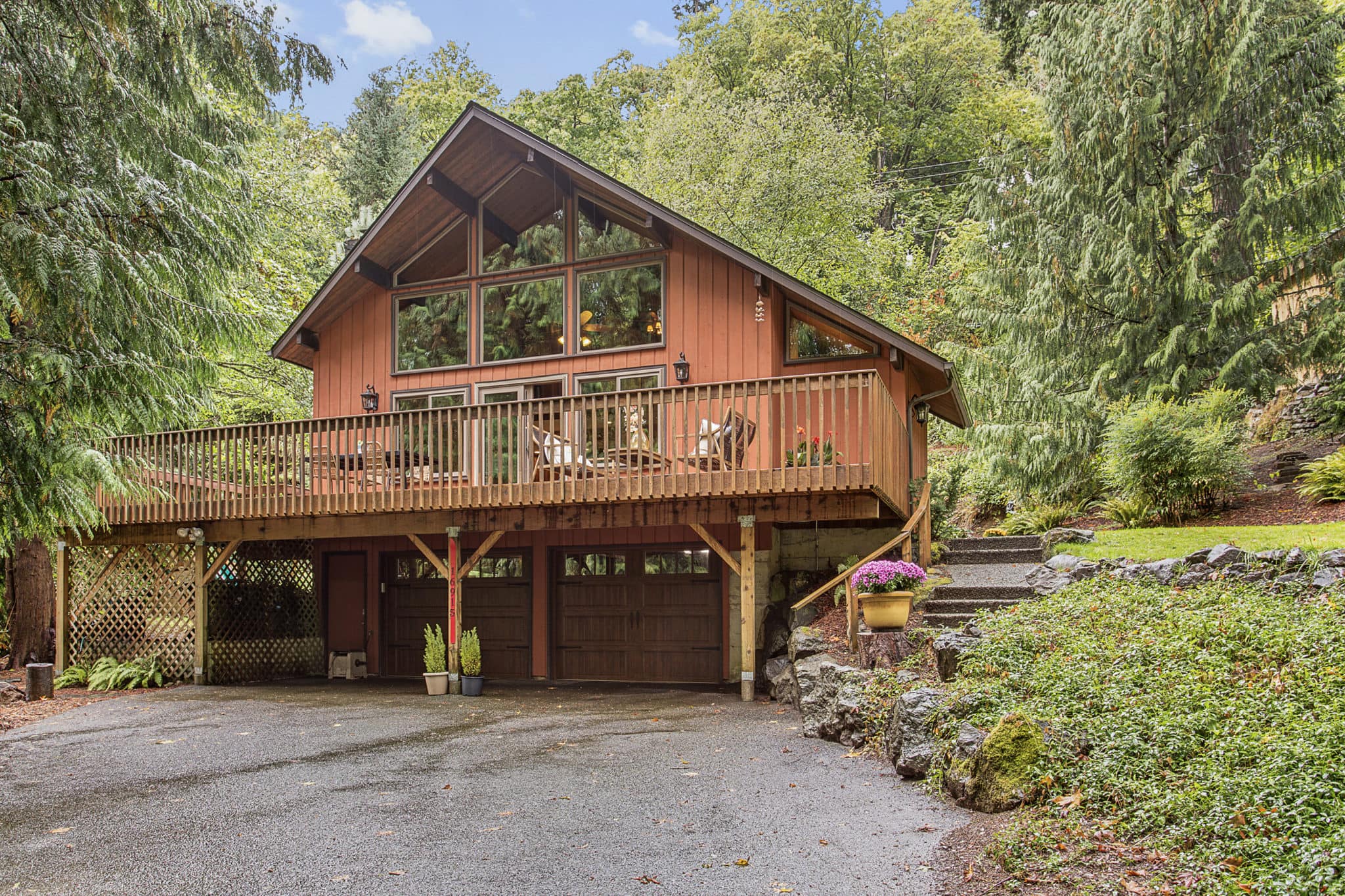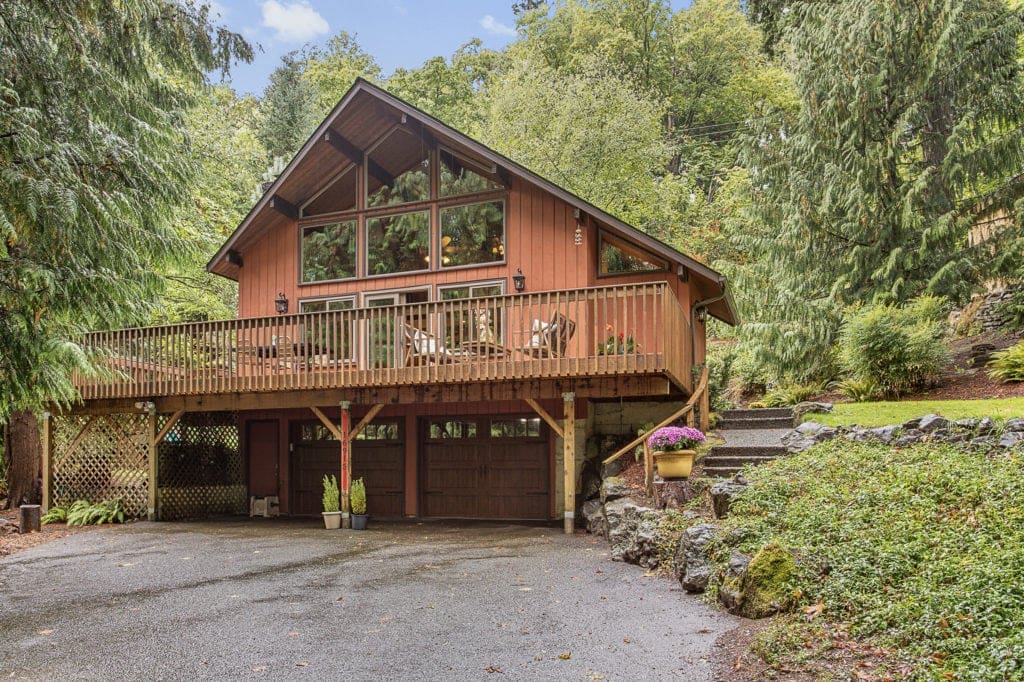 Thank you for joining me on a tour of this beautiful alpine Seattle Mid-Century Home where every day feels like a vacation to the woods and the beach. Not only does this Seattle Mid-Century Home offer major cabin vibes in a wooded setting, but its Normandy Park location is only 25 minutes to Downtown Seattle. I also can't wait for you to see the totally livable layout, the lofted primary suite, and the updated galore. 
All the Good Details
Address: 16915 11th Pl SW, 98166
MLS# 1845965
Square Footage: 2,500 
Bedrooms: 3
Bathrooms: 2
Offering Price: $845,000 
Ready to tour this Seattle Mid-Century Home in person? Contact us today so I can show you this Diva Dwelling's cabin feel, the wooded seclusion in Normandy Park, the totally livable layout, updated galore, and the lofted primary suite.