If you know Team Diva, then you already know that we absolutely love Seattle's Queen Anne neighborhood. Queen Anne is a coveted neighborhood to own a home in Seattle for numerous reasons (more on that in a moment!). But imagine living here in a 2010-built home, outfitted with modern energy-efficient features galore. You're ready to take on the future with ease, but don't mistake efficiency for boring—this home is anything but! 
Spectacular unobstructed views of Downtown Seattle, Elliott Bay, and the Olympic Mountains await from practically every window in this home. And just wait until you see the to-die-for upstairs living space—j'adore! Lovely decks also offer picturesque sanctuaries for relaxation and repose. Yes, at this point we're gushing, but in a moment you'll really see why. 
Tour This Modern Green Queen Anne Home 
As the listing broker, Diva Kim, for this Queen Anne home, I'm here to show you why I'm so in love with this Diva Dwelling. Discover green-built energy efficiency, western-facing views, a to-die-for upstairs living space, decks with even more views, and a glorious Queen Anne lifestyle. 
---
Five Fab Features We Adore in this Modern Queen Anne View Home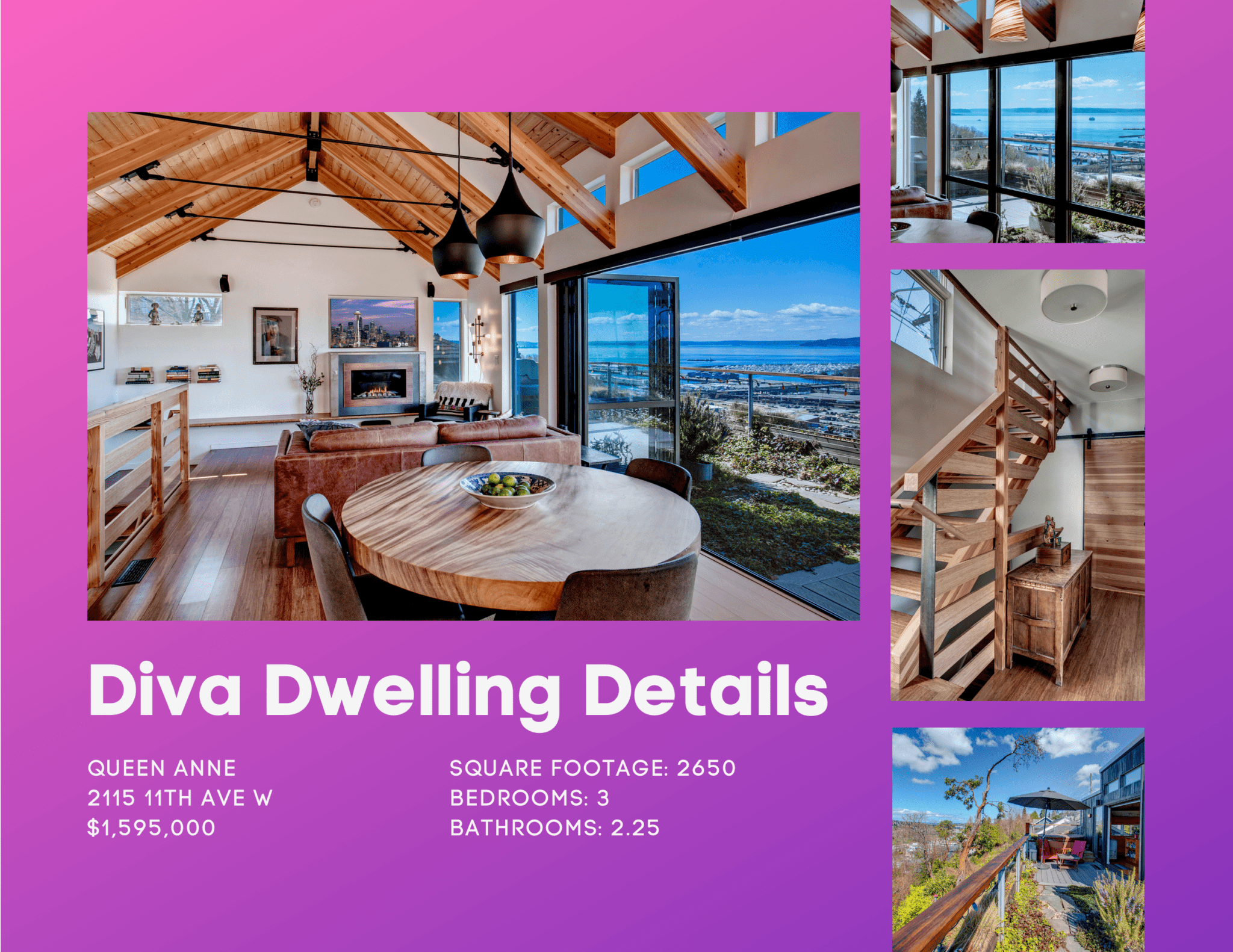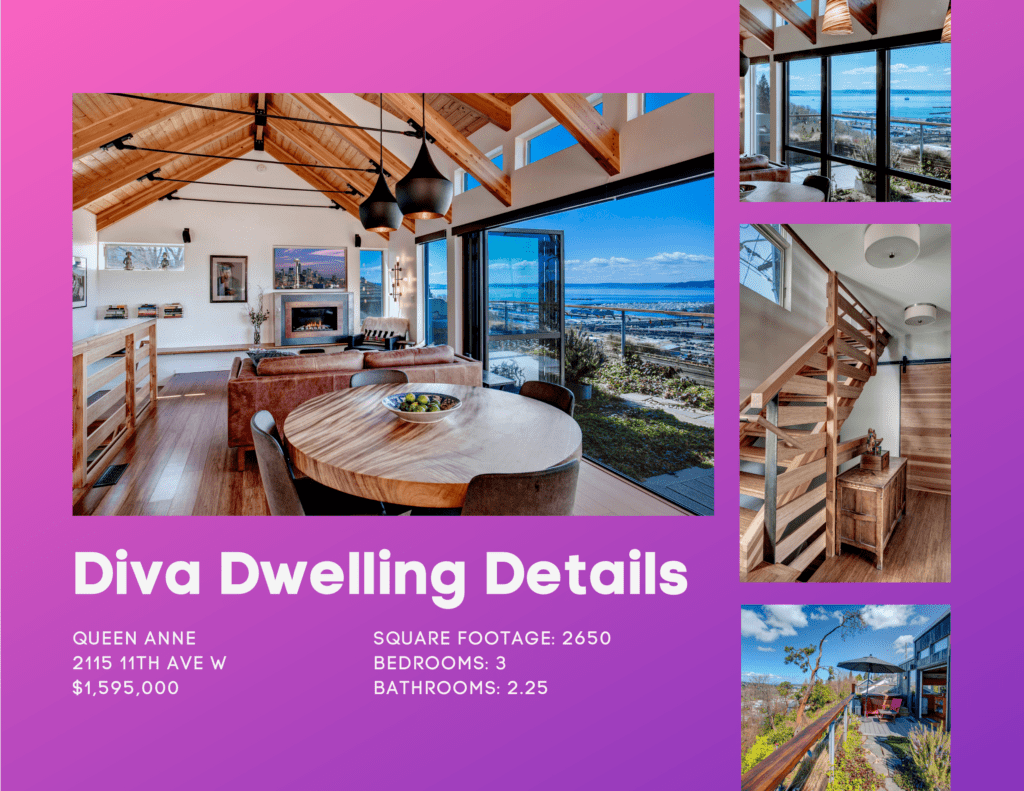 We're so tickled to show off this Luxury Modern Queen Anne Home! Before we dive into our five favorite fabulous features, we want to make sure to point out a few updates our savvy Diva Dwellers have made. Yes, that's right—this home was built to perfection in just 2010, but there are already many updates in the mix.
Updates include a new dishwasher and new washing machine—chores are easy peasy! Cabinets have been added to the garage, ceiling fans are in all the bedrooms, and blinds have been installed throughout as well. New floors in the entry-level and on the top floor were just installed in September 2020. This Queen Anne home also shows off curb appeal worthy of a double-take. The exterior has been painted and the front has been freshly landscaped.
Plus, a newly installed watering system for the garden and deck planter beds offers effortless maintenance.
Alright, let's get into it. Here are the 5 Fabulous Features We Adore in this Modern Queen Anne View Home: 
Green Built to Perfection in 2010

When the original owners built this home in 2010, they spared no expense to create a green-designed modern abode. Beyond being chic and high design, this home also offers the best in energy efficiency. One of my favorite features of this home is the passive solar design. This basically means the home was designed with large western-facing windows and Nano doors to capture the heat of the day. But no worries about being beat by the sun on those blazing hot days—this home is also equipped with electric blinds to keep you cool when needed. 
Some other top features include Energy Recovery Ventilators and Solar Collectors on the roof to augment the high-efficiency gas hot water service. There is also luxurious radiant in-floor heating on all three levels—no cold toes on chilly winter days! You will also find a 1,500-gallon rainwater collection tank in the exterior access basement which feeds the toilets, laundry, and garden beds.  
Breathtaking Sunset and Captivating Storm Watching Views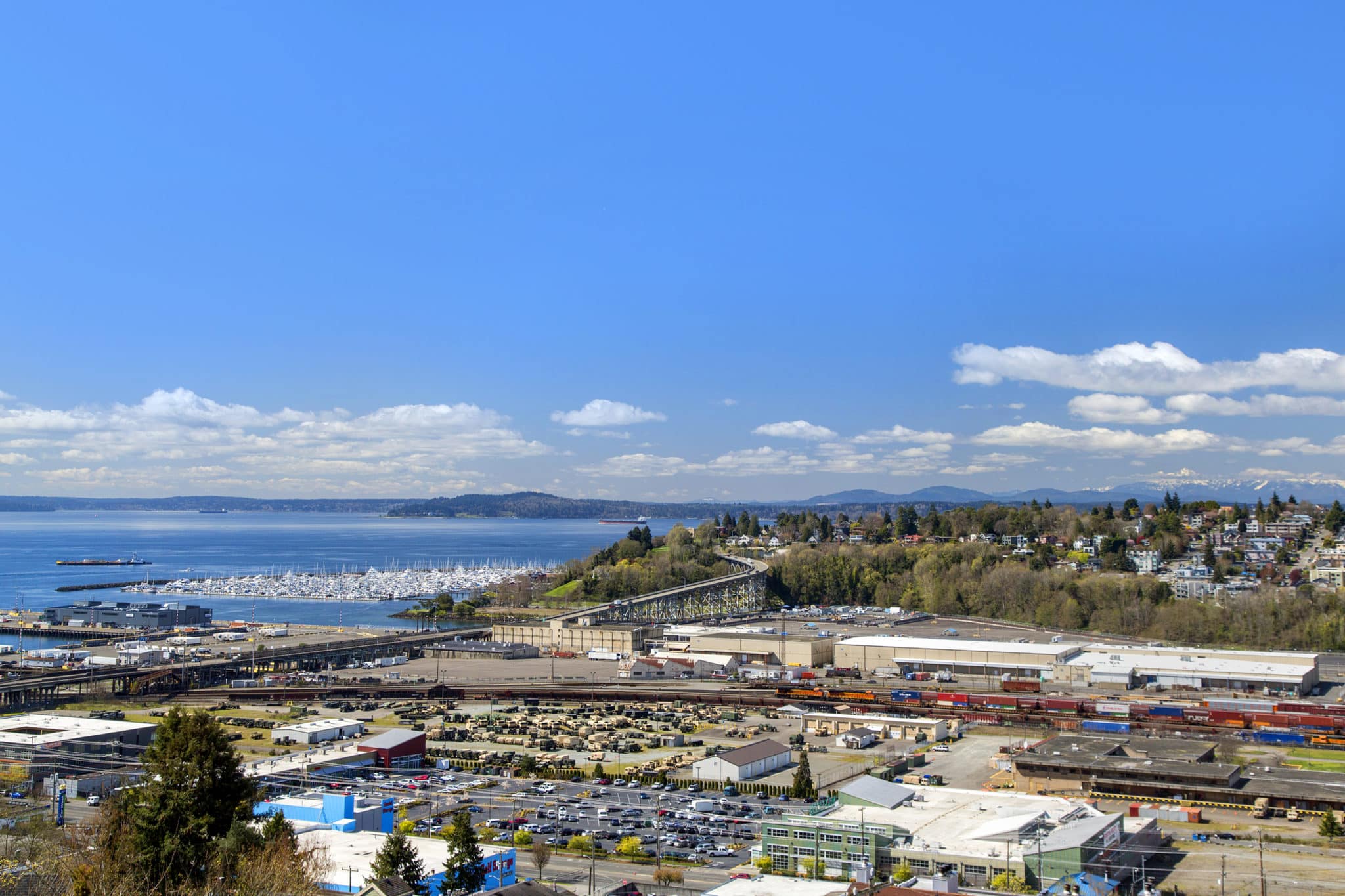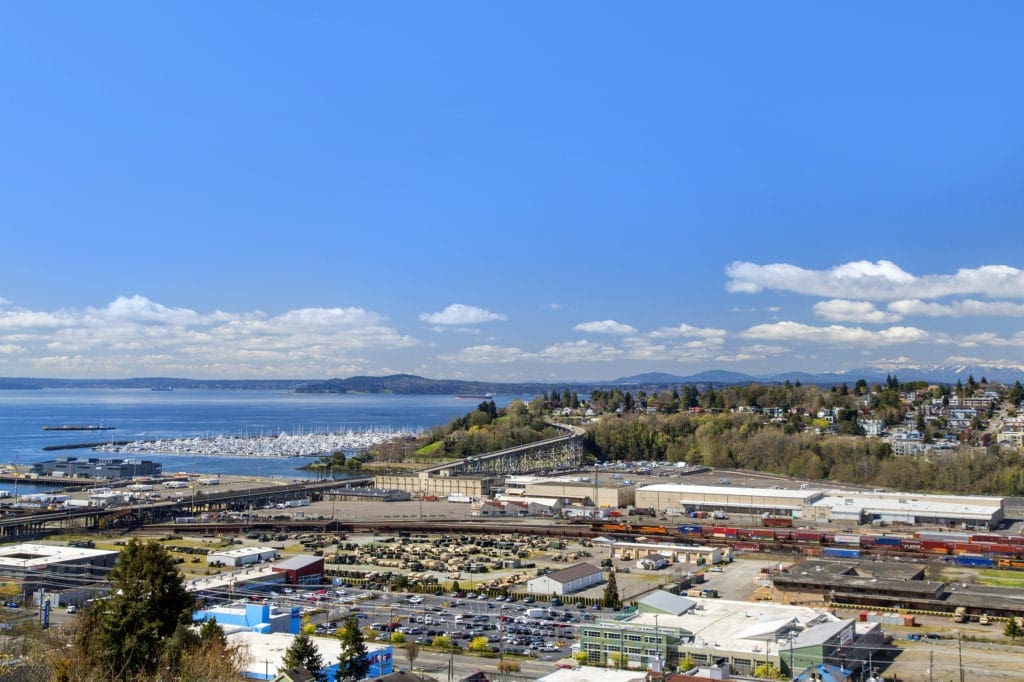 Western-facing windows mean views, views, views. And being tucked up on the western ridge of Queen Anne means unobstructed views of bustling Downtown Seattle, shimmering Elliott Bay, and the majestic Olympic Mountains in the distance. In addition to the dazzling sunsets and magnificent storms rolling in across the Sound, you can admire sailboats, ferries, and ships passing by. 
Just imagine… this is your view every day, from every level of the home and practically every window. During the daytime, watch the sun sparkle on the bay, and at night enjoy the twinkling lights from the Marina and Magnolia just across the way. And these views are yours to enjoy from every level and every window of this home. (Ok, maybe not the bathroom.)
A To-Die-For Upstairs Living Space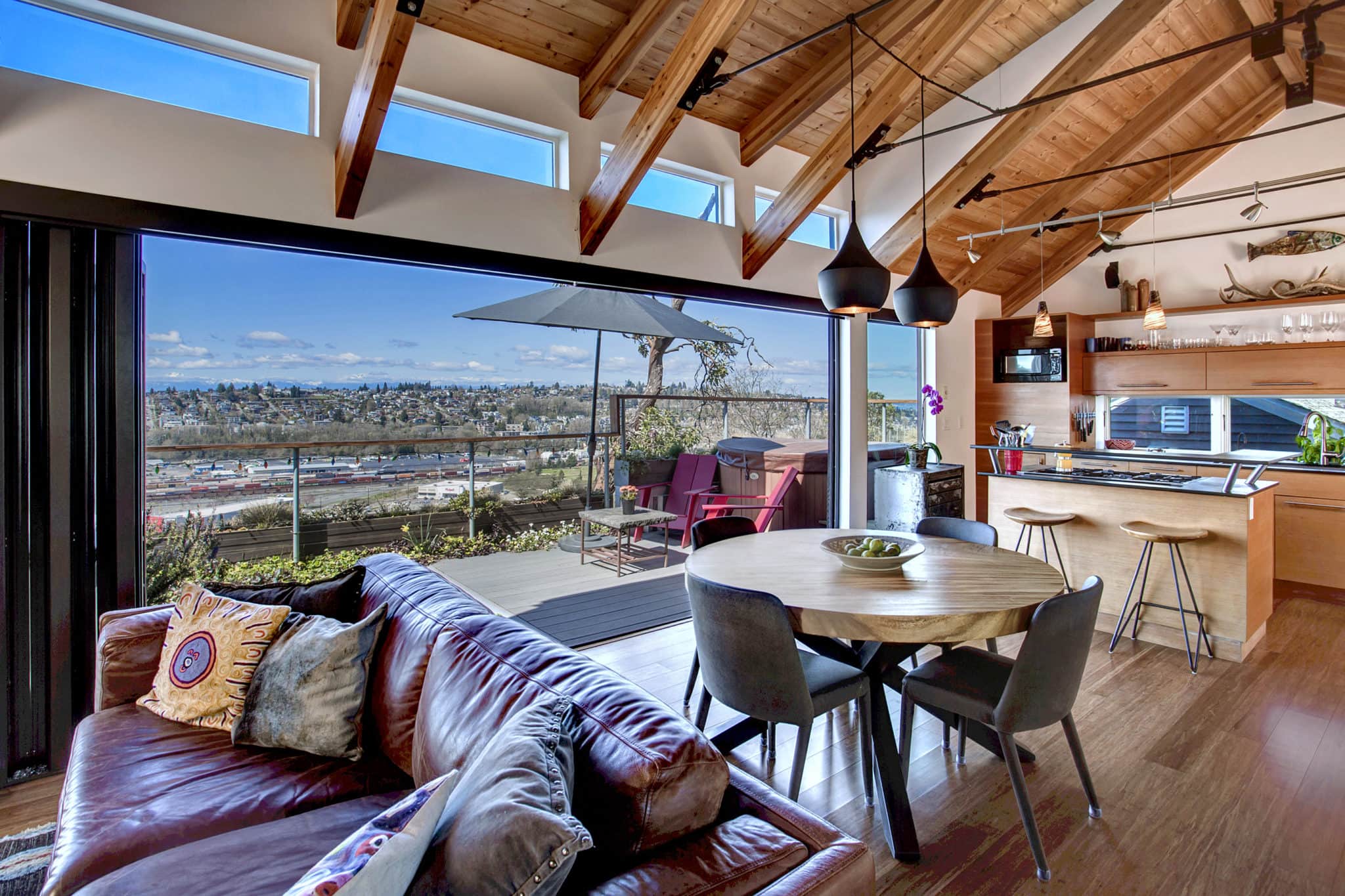 Yes, you can enjoy the view from every level, but the layout of this home is created for you and your guests to enjoy the best views from the top floor. This reverse floor plan means your upstairs living space is where the WOW is. The open layout, vaulted exposed wood beam ceilings, wall of movable Nano doors, and huge green deck area complete with garden, lounge area, and hot tub, create one of the most wonderful living spaces this Diva has ever seen.
Regardless of the weather, there are always brilliant views to enjoy. The open design is perfect for entertaining year-round. Stoke up the gas fireplace and take a dip in the hot tub on a chilly eve. As soon as the weather turns warm, throw open those huge Nano doors and let the outside inside. Enjoy happy hours cocktails, fire up the BBQ, or host a sit-down dinner. And there is one last little secret bit of fabulousness this space has to offer—there is a dumb waiter that goes from the garage straight up to the kitchen. No need to haul those cases of bubbly—champagne or water—up and down the stairs!
And Still More Decks to Enjoy Your Breathtaking Views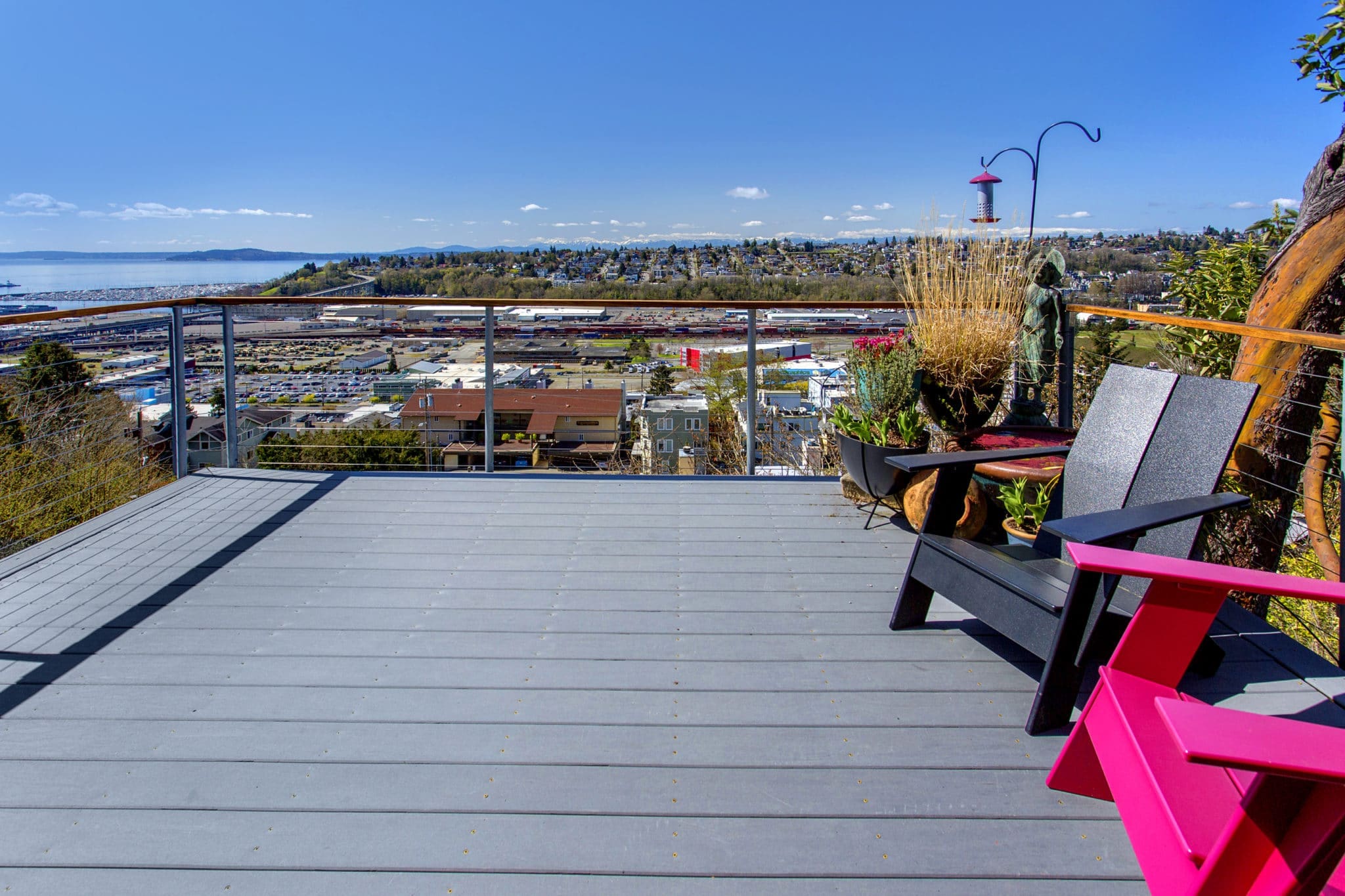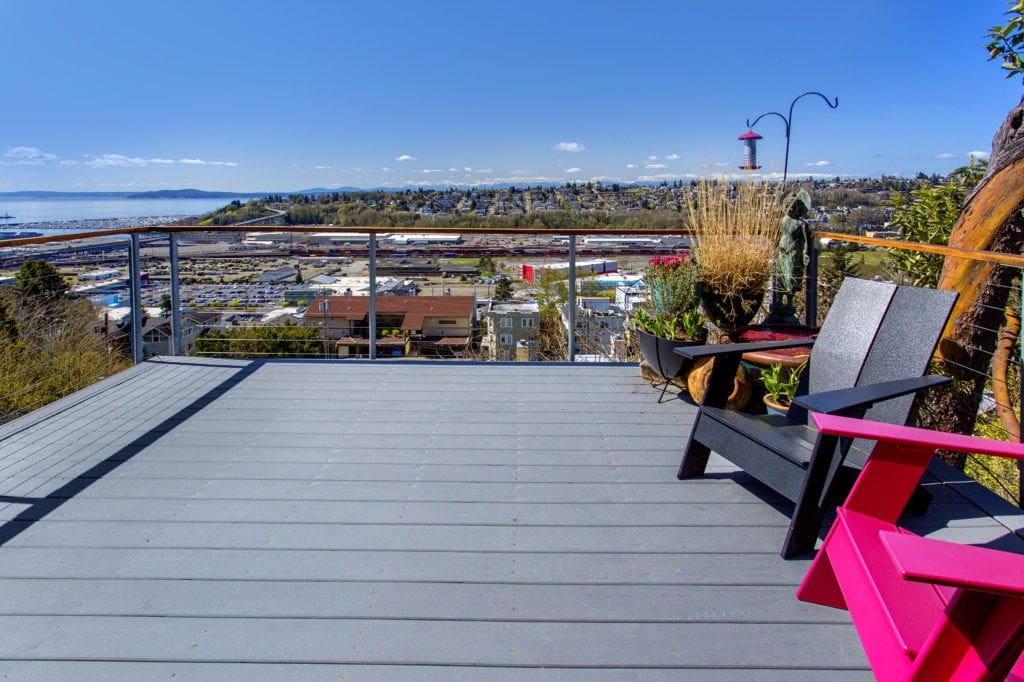 Fabulous as the upstairs deck is, there are still two more decks from which to enjoy your view. While the upper deck offers the best view and a green design for gardening and planting, the main level deck offers a space right off the bedroom for you to enjoy privately. Breathe in the morning air and relax with a cup of coffee before you start your day or wind down with a nightcap or a cup of tea before you crawl into bed. Either way, this deck is all for you to enjoy any way you like. 
And finally, the lower-level rental space has another full covered deck. If you decide to keep this space to use for yourself it would make an excellent rec room, media room, or game space, and you have another outdoor area to enjoy with your friends and family. Or maybe you will choose to rent this space out, as the current owners had been doing. Before listing, this space was being rented for $2,100 a month and has been rarely vacant. It also makes for a perfect Airbnb as well. Having private outdoor space as a feature will always be highly desirable and add value to your rental.
Team Diva is serious about keeping everyone safe. We take every precaution—and then some—to make sure that all of our homes are listed following all COVID-19 safety rules and guidelines. It is our duty to ensure everyone's safety as you enter one of our listings. We always want you to be able to get the feel for a home while staying safe as possible. So take a moment and enjoy this virtual tour from the comfort of your couch! 
That Glorious Queen Anne Lifestyle 
Queen Anne is a coveted neighborhood to own a home in Seattle for numerous reasons. For one, its picturesque tree-lined streets are filled with stunning Craftsmans, Victorians, Tudors, and Four-Squares. Many of these homes are even perfectly maintained in their period style. And there are also many high designed new homes such as this one dotting the landscape as well. Next, it also happens to be nestled just north of Seattle's downtown.
This central location means getting almost anywhere from here is a breeze. It is only minutes east to the main drag, Queen Anne Ave, where you will find a bevy of boutiques, restaurants, and coffee houses, as well as grocery stores, banks, pet stores, and parks. Our Diva Dwellers have especially loved being so close to the #1 bus. This bus route goes all the way through Downtown Seattle to the International District. 
This home is also just a short stroll down the hill to lower Queen Anne, which is the center of some of Seattle's greatest performing arts spaces. Housed at the Seattle Center under the shadow of the Space Needle you will find Seattle's world-renowned Ballet and Opera companies, Intiman Theatre and Seattle Rep Theatre, all waiting to open their doors again once COVID times have passed. The SIFF movie theater at Uptown is just a 5-minute ride on the #1 bus, or a stroll down the hill. Our Diva Dwellers love SIFF's diverse selection of movies from around the globe! 
Check Out All of the Fabulous Outdoor Spaces in Queen Anne
Staying active here and enjoying the neighborhood's natural beauty is also easy. Our Diva Dwellers love their neighborhood's small parks, hidden staircases, and viewpoints. They feel like they keep finding new places in the years they've been here! Oh, and don't forget Discovery Park in Magnolia, one of their faves! This wonderful, wild landscape is only a 10-minute drive away and it feels miles away from the hustle and bustle of the city. 
Check out some of the other fabulous homes we've sold in Queen Anne: 
---
How to Buy a Home in Seattle: The Entire Process in Brief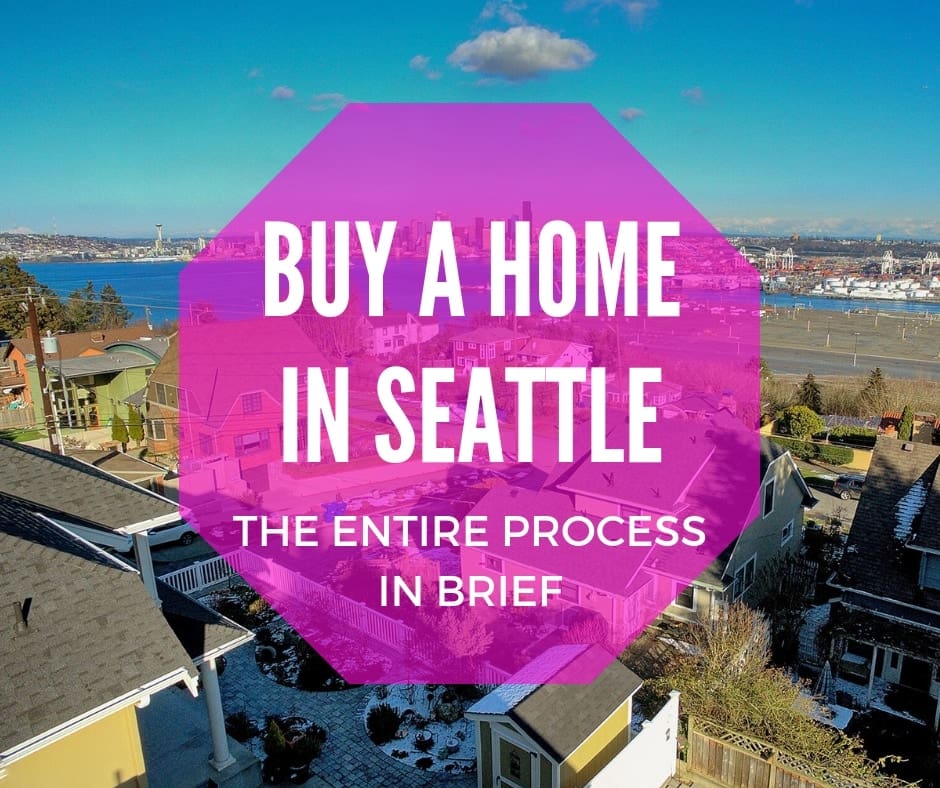 Let's get down and dirty. Owning a home in Seattle is an amazing experience and it can be fun. Do not listen to all of those cranky folks who think Seattle is not what it used to be and a middle-income owner cannot afford to buy a home in Seattle. Strap in, get yourself some strong Seattle coffee, and learn how to be a smart and savvy home buyer in Seattle.
Steps For Buying a Home in Seattle
Find Your Guide: Find an agent that is super savvy and will be your ultimate navigator.
Choose Your Priorities: Size, Condition, Or Location?
Home Buyer Intake Process: Schedule a sit-down meeting with you and your real estate team to dive into what you want in a home.
Financing: Get your financial house in order.
Big Search: The big home search in Seattle
Making an Offer: Know what you need and how to prepare yourself to make an offer.
You Are In Contract: You've signed on the dotted line. Now… the hard work really starts.
Inspecting Your Home: What to look for, how to hire an inspector, and how to respond to the inspection.
Reviewing The Title Report: The title report is often the most overlooked portion of the buyer's review.
Reviewing the HOA/Resale Certificate (for Condos): …Also an overlooked portion of the buyer's review process.
Appraisal Process: Most homes are purchased with a home loan. The appraisal determines the final value by your lender for your home.
Final Loan Approval: All kinds of things can come up during the final loan approval process, so be prepared.
Final Two Weeks of the Process: Walkthrough, inspection resolution, and (for god's sake) do not make a huge purchase on a credit card.
Signing Your Final Homeowner Documents: You made it!
Closing Day: You get the keys and access to your home.
This is just a starting point, and we have so much more to share about the home buying process. Browse our Home Buyer page for a comprehensive home buying education.
---
Thanks for Touring Our Modern Green Queen Anne Home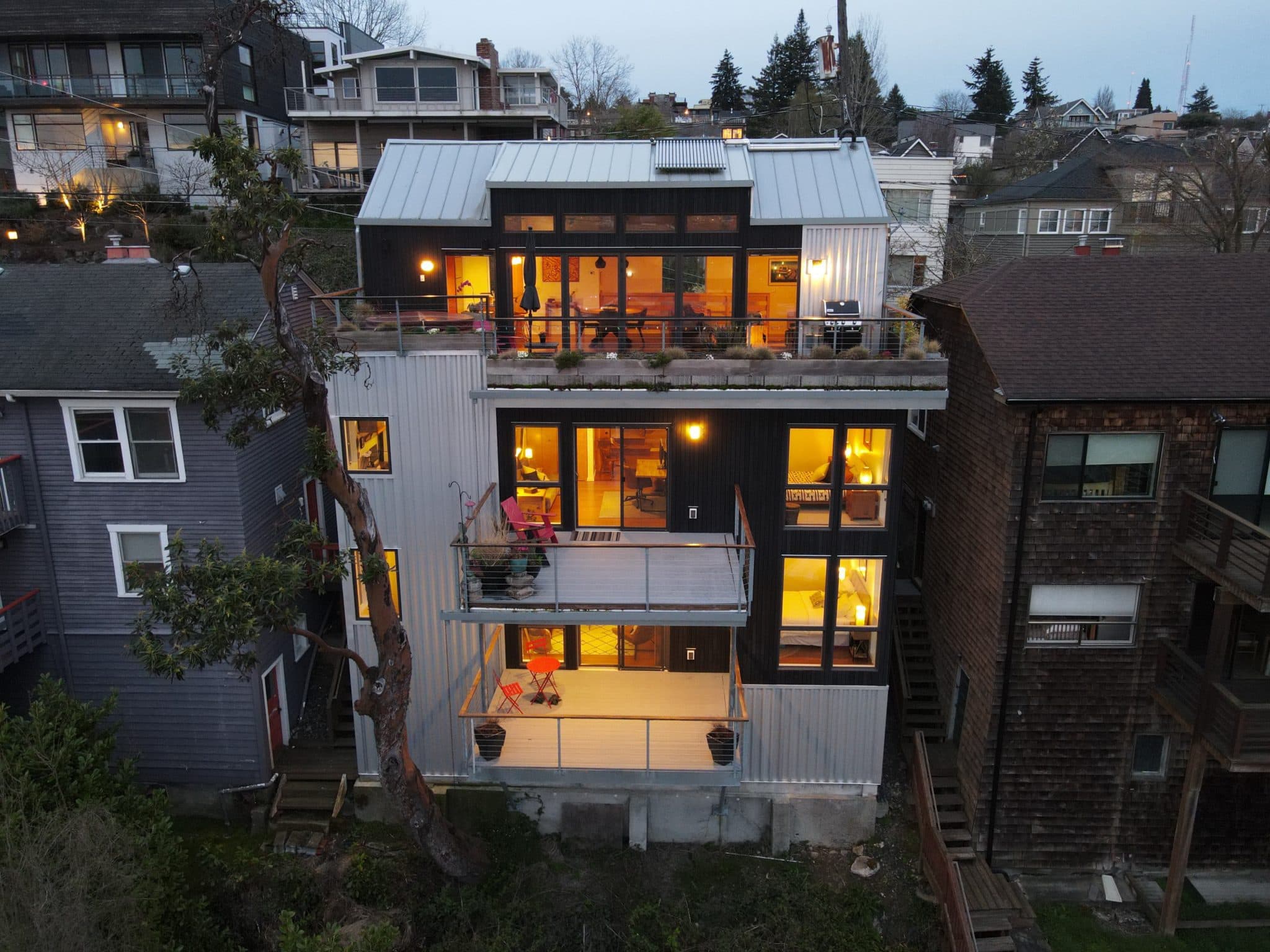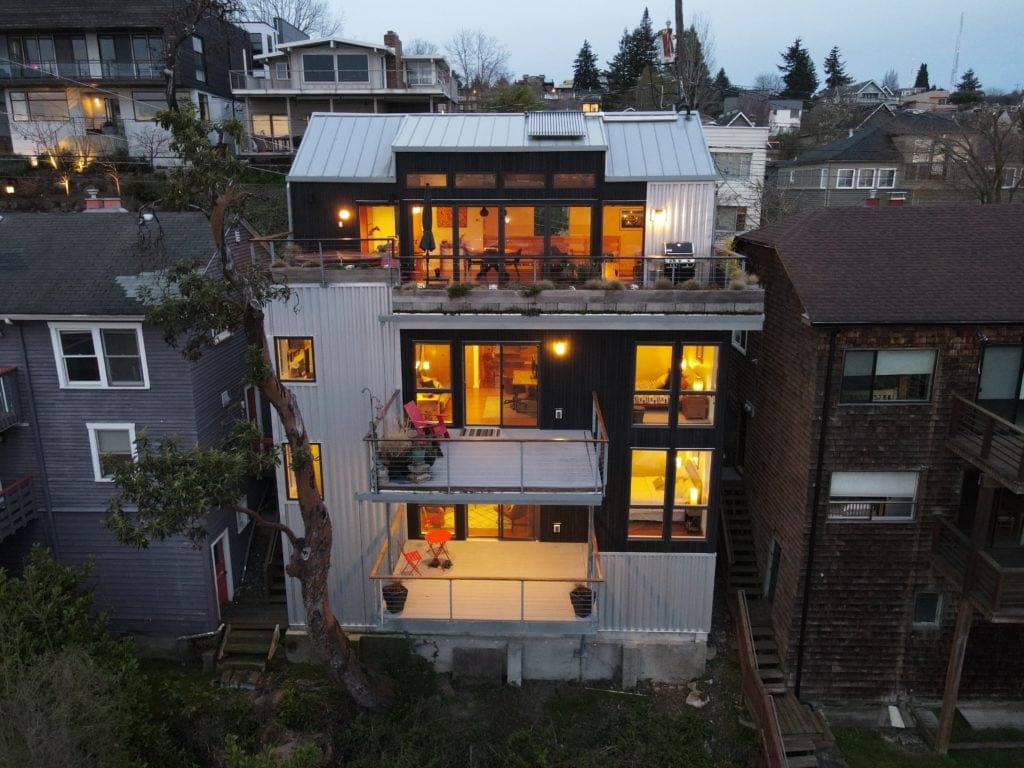 Thank you for taking the time to learn all about our Modern Green Queen Anne Home that's perched on Queen Anne's Western Ridge. We are so enamored by this home's modern green efficient features, its spectacular unobstructed views, the extraordinary upstairs living space, the lovely view decks, and the highly desired Queen Anne neighborhood it's in. 
All the Good Details
Address: 2115 11th Ave W

Square Footage: 2650

Bedrooms: 3

Bathrooms: 2.25

Offering Price: $1,595,000
Ready to tour this Modern Green Queen Anne Home in person? Contact us today so we can show you the 5 features we absolutely adore about this home, including its green efficiency, the spectacular unobstructed views, the to-die-for upstairs living space, the view decks, and the coveted Queen Anne neighborhood the home is in.