Does it get more quintessentially Seattle than a Pike Place Loft Condo? It's one of those things that immediately conjures a map of the city in the mind, like a floatplane over Lake Union, or sailboats idling by the Fremont Bridge. Next on the list is our beloved Pike Place Market. Normally it is a world-famous destination for tourists and the heart of a lot of local farming and artistry. Right now it is really amazing to be able to experience the market without the throngs of tourists.
Dive into this blog with us and explore what makes this Pike Place Loft Condo on the waterfront edge of downtown Seattle so magical. The fact that it is a true historic Seattle loft, the tall built-in shelves with a perfect work from home space, a lofted bedroom, and the oversize kitchen with the custom made island/dining room table. Oh and did we mention that you can have your very own rooftop deck?
Top Five Reasons We Are In Love with this Loft Condo in Pike Place Market
Some might assume that because of its location, a Pike Place Loft Condo would be overly noisy and cramped. This new Diva Dwelling in The Fix turns those assumptions around and takes guests' breath away as they step into it. Here are the top 5 things that we love about this extraordinary home.
 Reason #1 The True Seattle Loft Elements: Exposed Brick, Oldgrowth Beams, and High Ceilings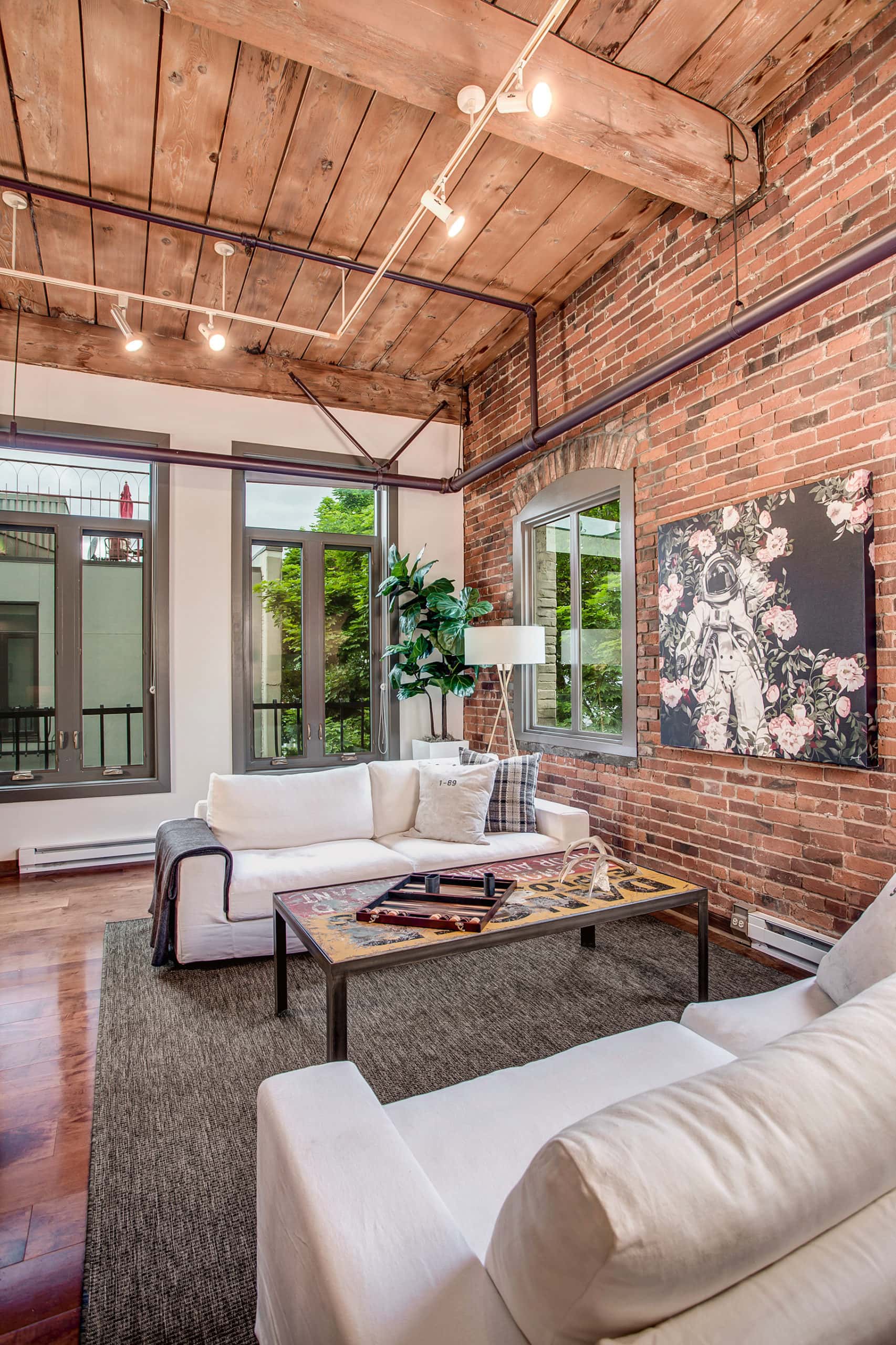 There are very few homes in Seattle that are true lofts. Many of them have lofted bedrooms or layouts but are not actual lofts. This home has the elements that we dream about when we think of an artist loft sanctuary in the middle of the city. First off, the home looks out onto the more quiet side of the historic Pike Place Market.  Second, it has two-story soaring ceilings. Third, it has exposed original historic brick wall (imagine this could be your background for Zoom happy hour). And last, one of our favorite parts of this loft is the old-growth exposed ceiling and beams.
A Few Of Our Other Favorite Seattle Lofts
Team Diva loves listing and selling loft homes in Seattle. They are truly unique spaces filled with history, artistic elements, and everything we cherish about Seattle. Check out a few of our favorite Seattle Lofts we have had the honor of listing over the years.
Reason #2 Stunning At Home Work Space With Two Stories of Built-In Bookshelves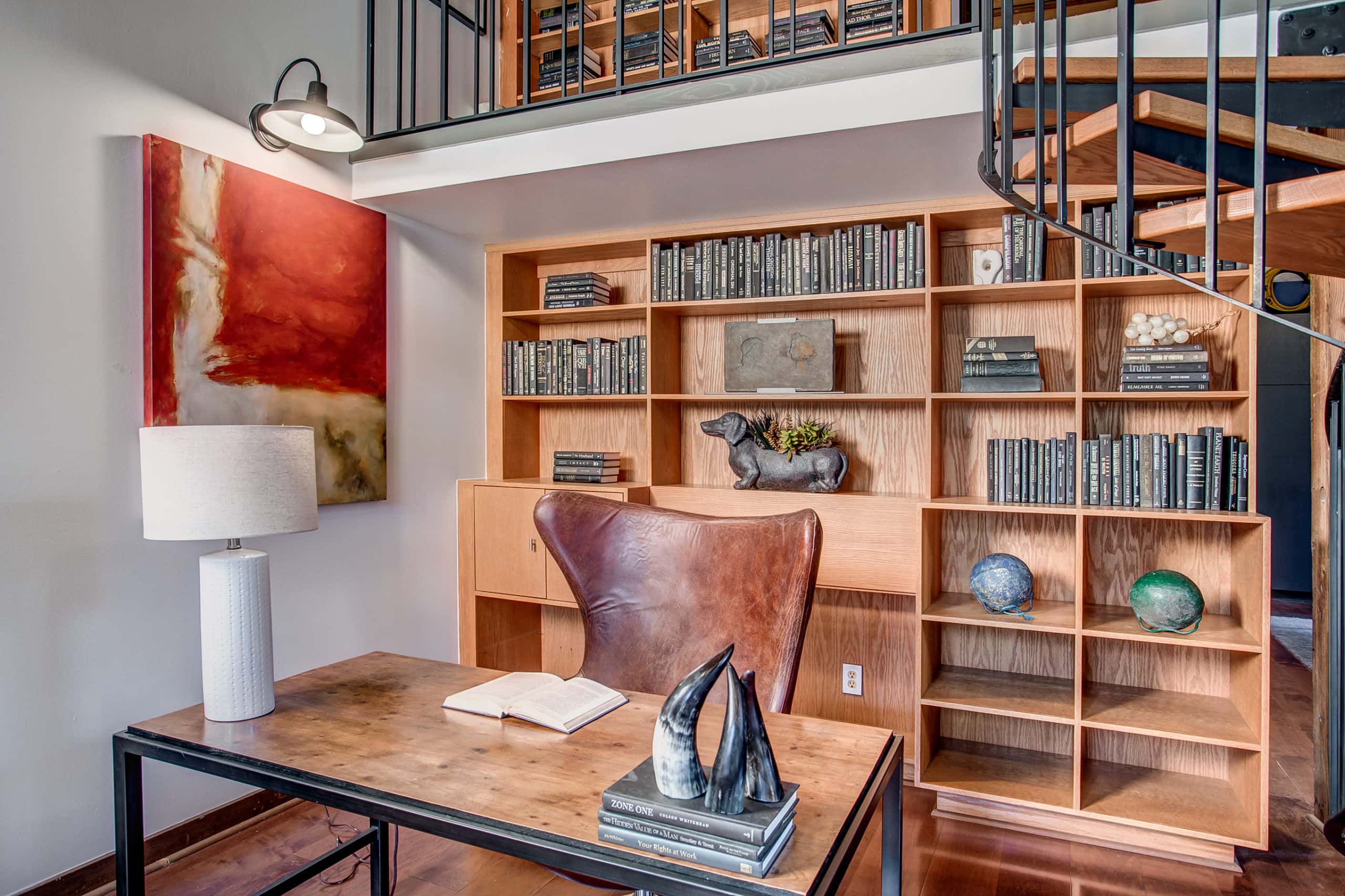 The way we live and work at home has changed permanently for many Seattle homebuyers. Many of us are working from home more and need to keep our spaces productive. And for those of us who love architecture, we prefer inspirational home office spaces. The two-story built-ins that are behind the workspace in the loft in Pike Place Market are absolutely stunning.  They are perfect for providing your collection of books on art and design. Think about your Zoom meetings with this background?
Speaking of that loft…
Reason #3 The Cozy Comfort Of A Lofted Bedroom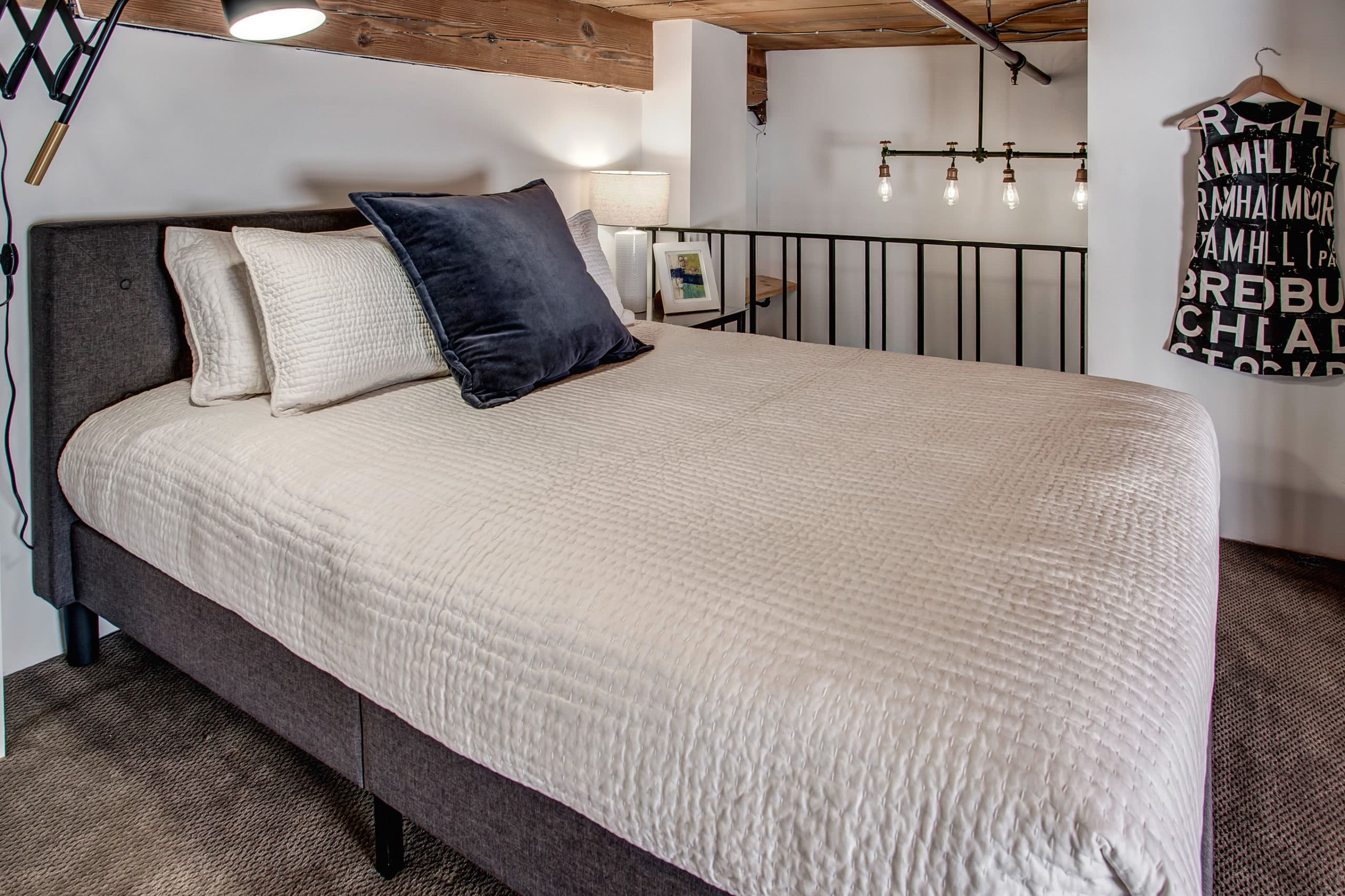 One thing that not everyone likes about some loft condos is the sense that things are TOO open, not homey. Again, this Pike Place Loft Condo strikes that perfect balance. While the main floor living areas provide awesome entertaining opportunities, the loft area is tucked away, with privacy and warmth. Down below: A sophisticated urban panorama. Up top: A cozy next of your own.
Reason #4 The Larger than Life Kitchen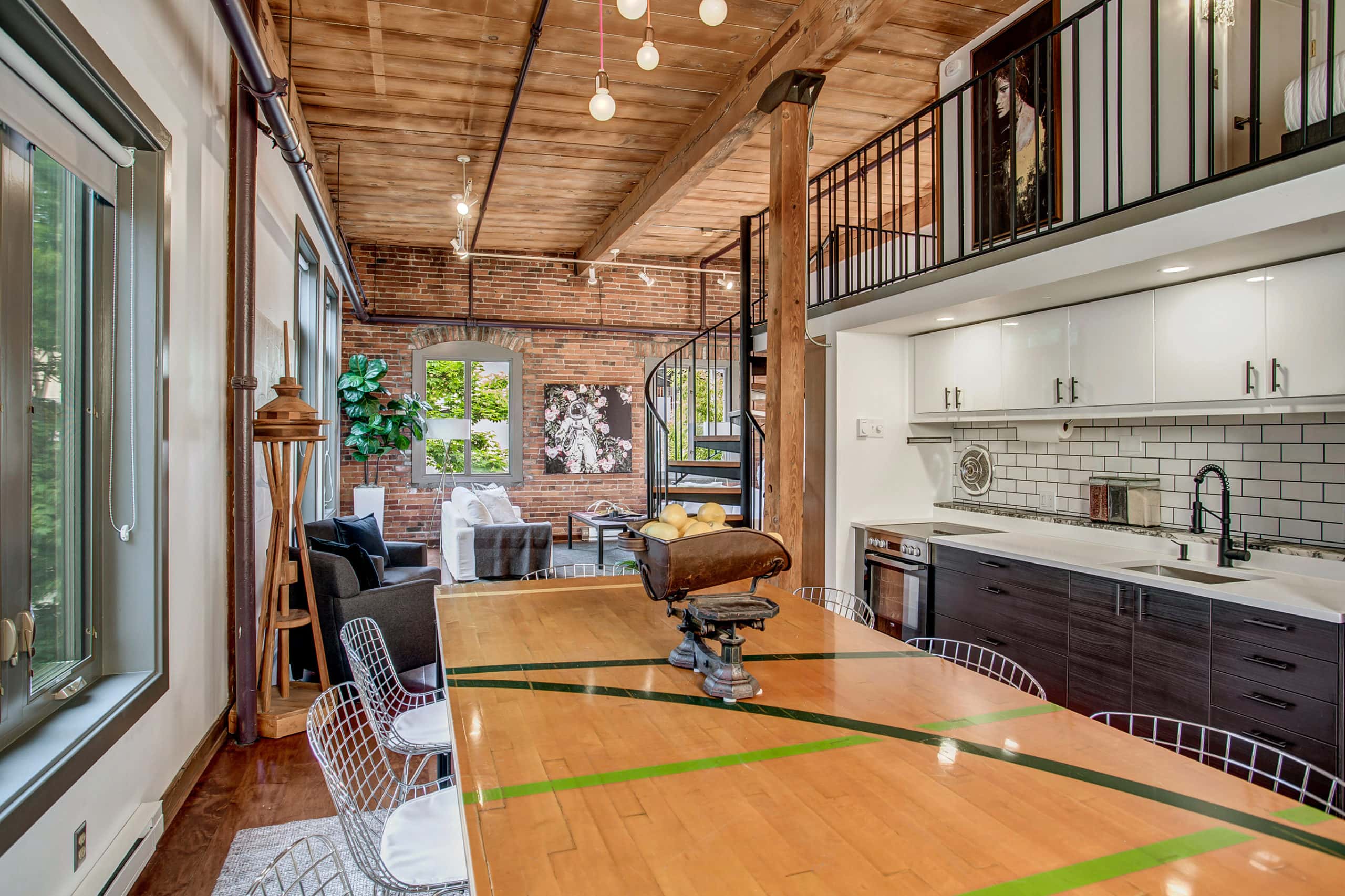 This Pike Place Loft Condo is one of the few condo homes in the area that have an amazing kitchen. This kitchen is perfect for picking up your weekly CSA basket from the Pike Place Market and creating your own jams, baked bread, and so much more. Kitchens, specifically in urban homes are critical right now. They are our collective retreat from working at home all day. And it is a creative outlet for many of us. This home specifically has a custom-built island that can also be used as a dining room table. The Island is made from a reclaimed basketball court. Try to find a kitchen this spectacular in other beige boxes close to this home?
Reason #5 Last But Not Least…The Neighborhood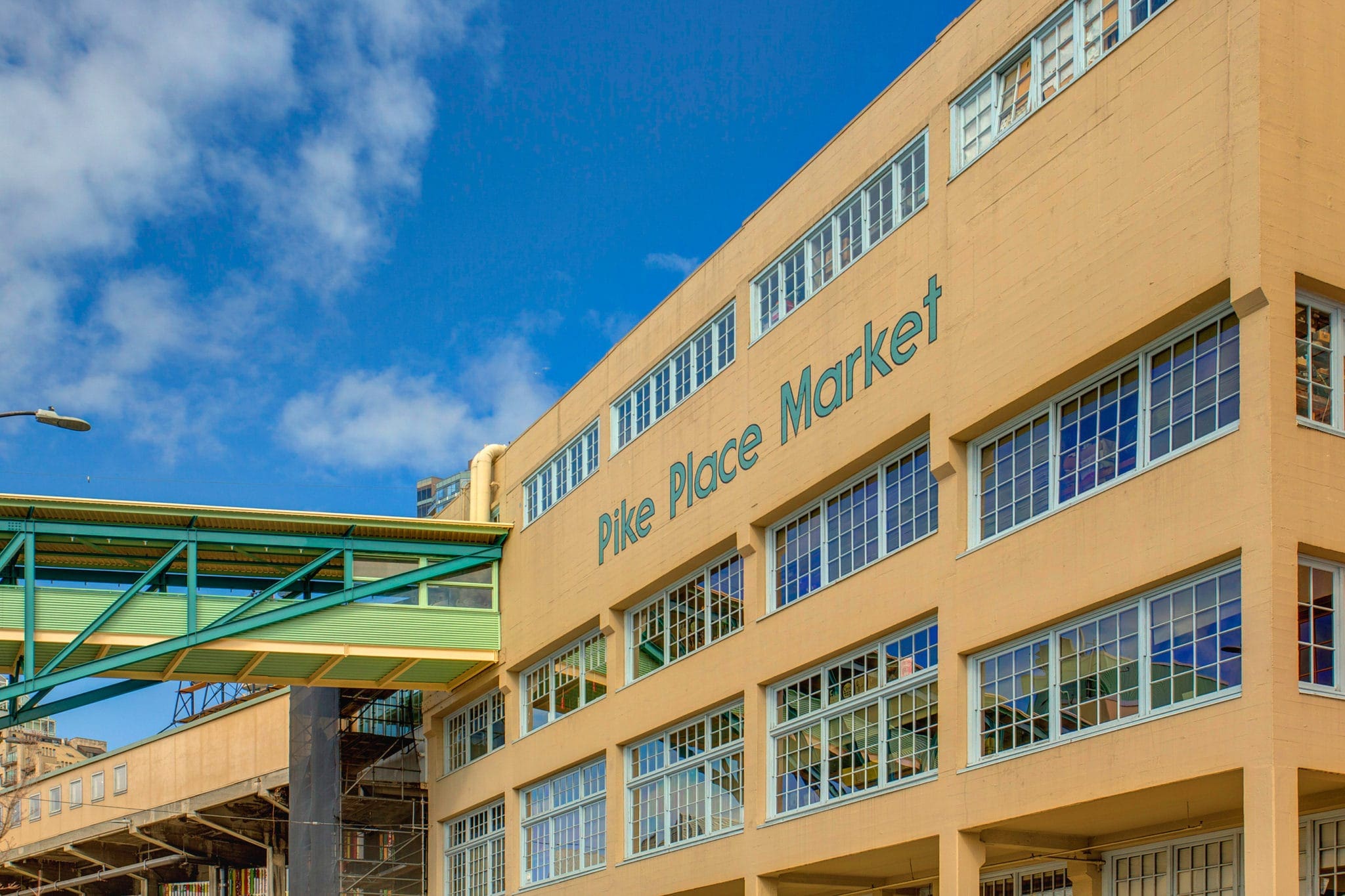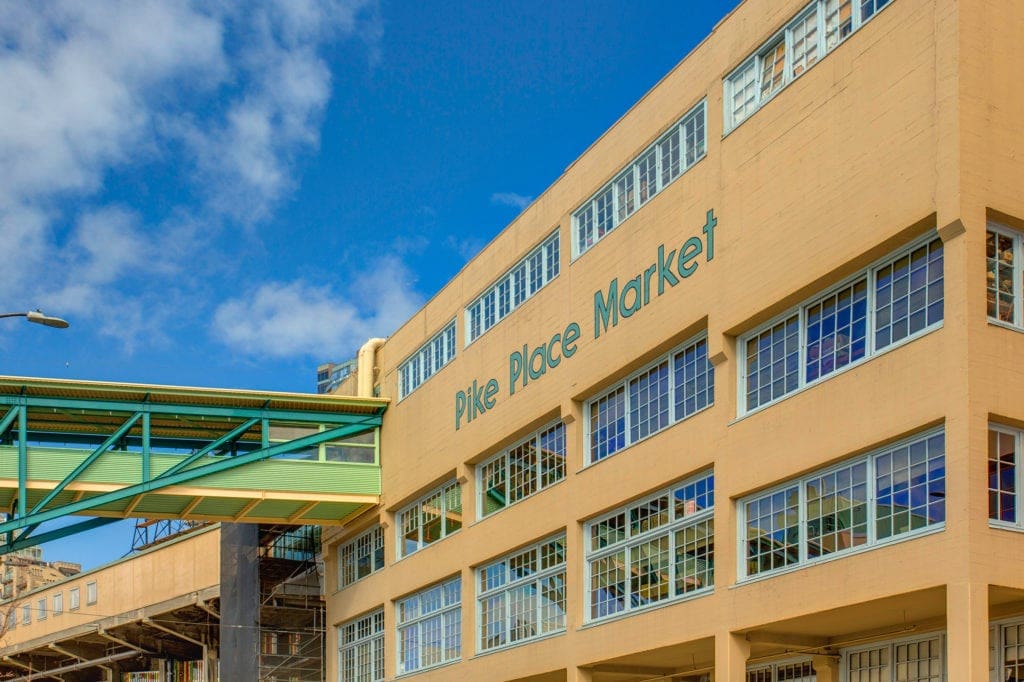 Being by Pike Place means being in the heart of Downtown Seattle, with direct transit options everywhere in the city…AND the islands and the East Side. But more importantly, fine arts, retail and the market itself are right at your doorstep.
You can stroll home through the market and pick up everything you need for a fancy meal, nosh for a night in, or a little spread for a cocktail party. get some extra special imported goodies at De Laurenti's and spruce up the table with a fresh bouquet. If you aren't in the mood to host or just want to get out, you are surrounded by Seattle culinary and nightlife institutions. To name a few: Zig Zag, Alibi Room, Matt's in the Market, and Place Pigalle.
For visual arts, Seattle Art Museum is right there. If you want to see new gallery shows, you don't even have to go south to Pioneer Square, with Traver Gallery, Harris/Harvey Gallery and Patricia Rovzar Gallery downtown on First Avenue.
Want live shows? Showbox, Triple Door, Benaroya Hall (and Octave 9) are right there. In adjacent Belltown, The Moore and The Crocodile are just blocks away. And with the fall of the viaduct and renewed Seattle waterfront coming, there will be even more to explore in the coming years. Living in a Pike Place Loft Condo at The Fix is living in the HEART of Seattle, old and new.
---
Bonus Loft Love – You Own Roof Rights aka Your Own Rooftop Deck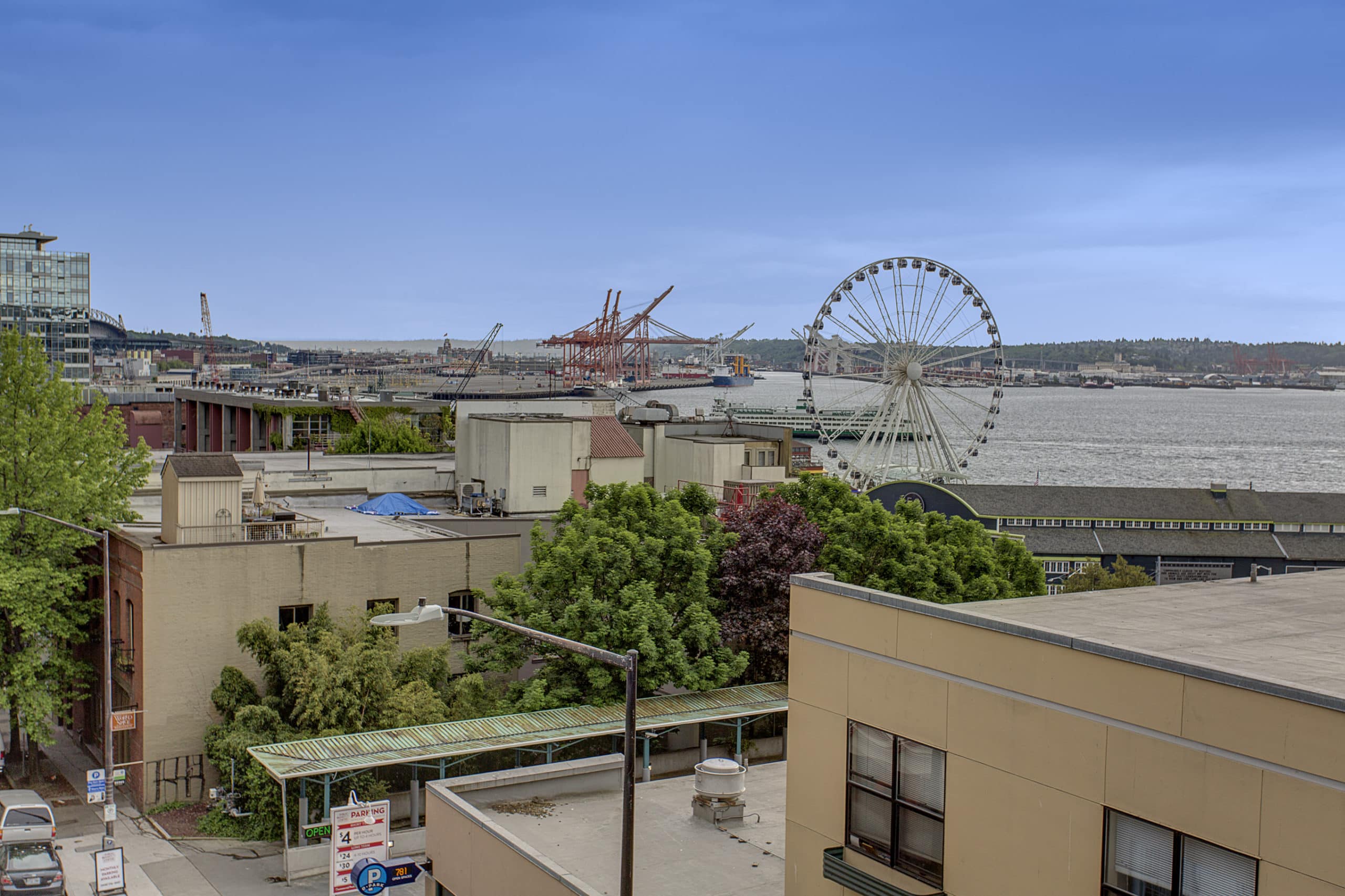 You literally own the access to your own roof. Your neighbor has already built a staircase upstairs and created their own urban oasis. Imagine being one of the first residents to truly enjoy the fact that the Viaduct is down and you have a full view of Seattle's waterfront. And this specific summer it will probably be all yours. Absolutely the best place in Seattle right now.
---
The Layout Of This Pike Place Loft Condo
Get a sense of the gorgeous, open layout of this essential Pike Place loft. See the gallery below.
---
Are You Interested in Owning a Condo in Seattle?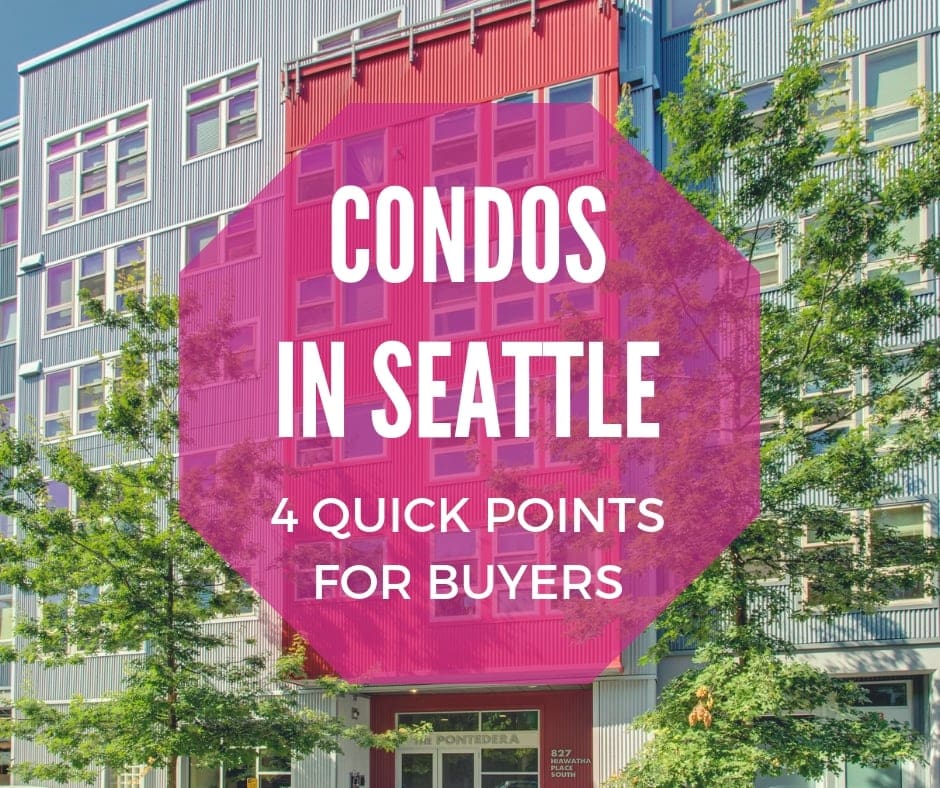 Are you interested in learning more about how to buy a condo in Seattle? In our Blog, we explore top points to keep in mind when buying a condo on in our fair city.
Identify Your Seattle Condo Buying Goals – Location, rentability, pet policy, amenities, etc..
Be Savvy About Your Purchase – Not every building is in good physical and financial health. It is extremely important to make sure your favorite building has solid reserves and a plan for major work.
Review the Condo's HOA and Financial Documents – Many condo buyers skip the part of doing their due diligence and end up with a building that needs a ton of work. Check out our blog about how to review the condo resale certificate and corresponding documents.
Please Do an Inspection – No seriously. Do a freaking inspection! We live in a very wet climate that requires all of us to take constant care of our homes. A home inspection is the only way to discern if you are going to have big issues with your home.
---
Take a Virtual Tour of Our Pike Place Loft Condo
We hope you enjoyed exploring what we love about this Pike Place Loft Condo. A stunning home set in downtown Seattle and steeped in history. If you would like to explore more, enjoy the Matterport tour of this loft allowing you to feel right at home as you wander through digitally.
Home Details
Address: 1507 Western Ave Unit R604
Price: $600,000
Square Footage: 795
Bedrooms/Baths: 1/1
---
Thank you for exploring this space with Seattle loft with us. As you know we love homes that are unique and have a creative edge. Hands down this historic loft home in the heart of the Pike Place Market has those true loft elements like a two-story-tall ceiling, exposed brick, and original old-growth beams. And added bonus the home also has a HUGE kitchen, access to build out your own rooftop deck, an inspirational work from home space, and a cozy lofted bedroom. Everything one needs to win the at working and socializing at home Zoom call backgrounds!