Jane and Steve are both working artist with significant levels of acclaim. Beyond being successful in their artistic endeavors, they are also savvy in business and in real estate. Their vision for creating this Bohemian loft in Pioneer Square did not materialize overnight. It took years of buying, fixing, and selling property for them to accrue the equity to acquire the condo, gut it, and remodel it to perfectly match their lifestyle. This eclectic home also happens to be just around the block from the Good Arts building, where their artists studio co-op, 57 Biscayne, resides, right in the heart of Seattle's historic gallery district.
Buying Up With The Diva Difference
Team Diva met Jane when she was getting ready to sell her previous condo at the Seaview in Queen Anne. Jane purchased the Seaview condo before she and Steve got together. At the time, Steve owned a different loft in the same Pioneer Square building where they now live. In 2014, we Divas sold both Jane's condo and her friends' condo in The Seaview for top dollar. Then in 2016, after Jane and Steve were able to buy their current condo and move in, we Divas made some magic again and sold Steve's loft for 13 percent over asking. Now they were remodel ready!
These sales gave them the capital they needed to buy up and build out this vintage loft space. This home is chock full of individual artistic touches and cool details that complement the building's original elements, dating back to 1890. And between Jane's artist eye and Steve's set designing skills, they have created a truly interesting and intuitive space.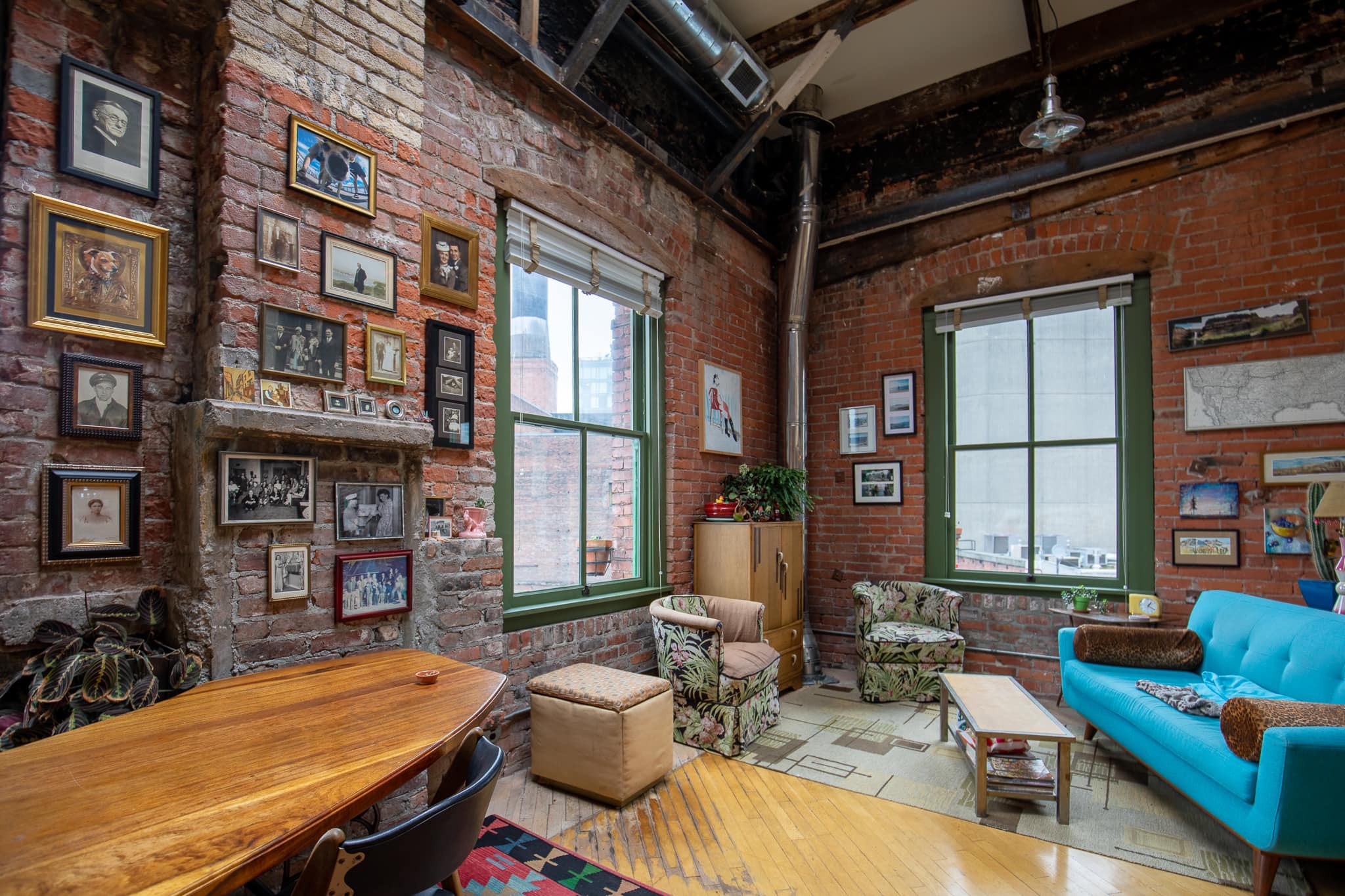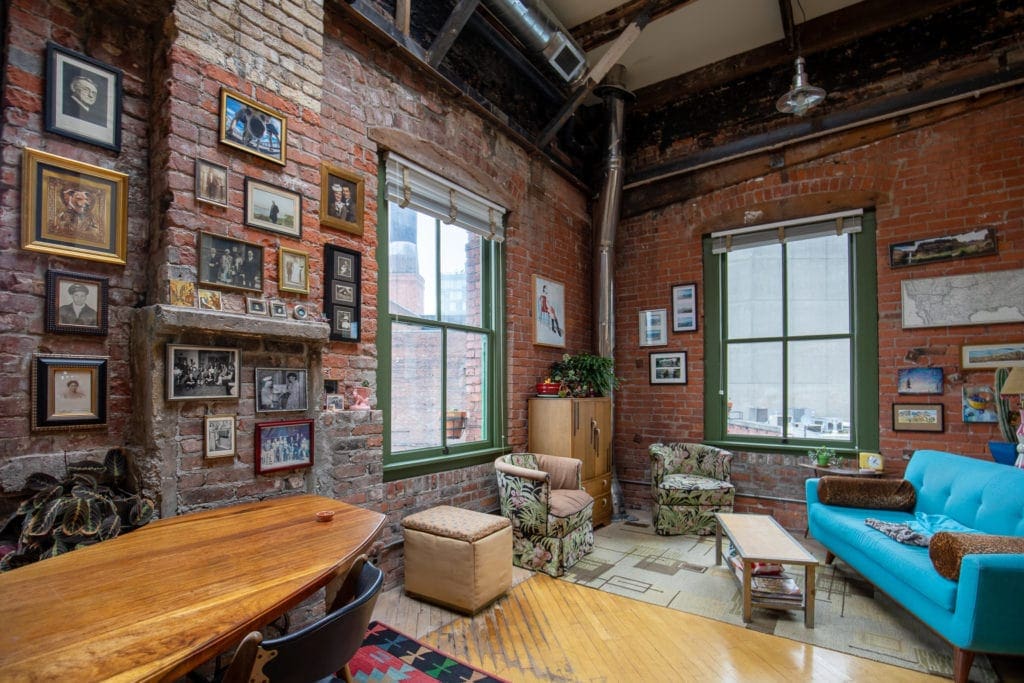 A Personally Designed, Historical Pioneer Square Loft
Not an inch of this space is wasted from the kitchen to the living area to the front storage room (which they jokingly refer to as the "garage" since it is where they store their bikes). The loft's exposed brick walls are home to their ever-evolving collection of art and personal photographs. The custom-forged iron staircase combined with the high ceilings bring drama to this living space while the eclectic furnishings keep the atmosphere cozy, casual, and creative.
Even the little balcony built for two, which overlooks the street below, feels intimate. When they want to enjoy the outdoors with more than just each other they can head up to the rooftop deck, which now boasts a viaduct-free panoramic view of the sound, mountains and Seattle waterfront. The stunning reading area is they place they go to get away from it all. Their library is neatly stacked with custom-built, two-story high book shelves and cabinets in a nook around the corner from the main living area. It's a perfect place to relax with a book and a cocktail while listening to their cultivated collection of vinyl records.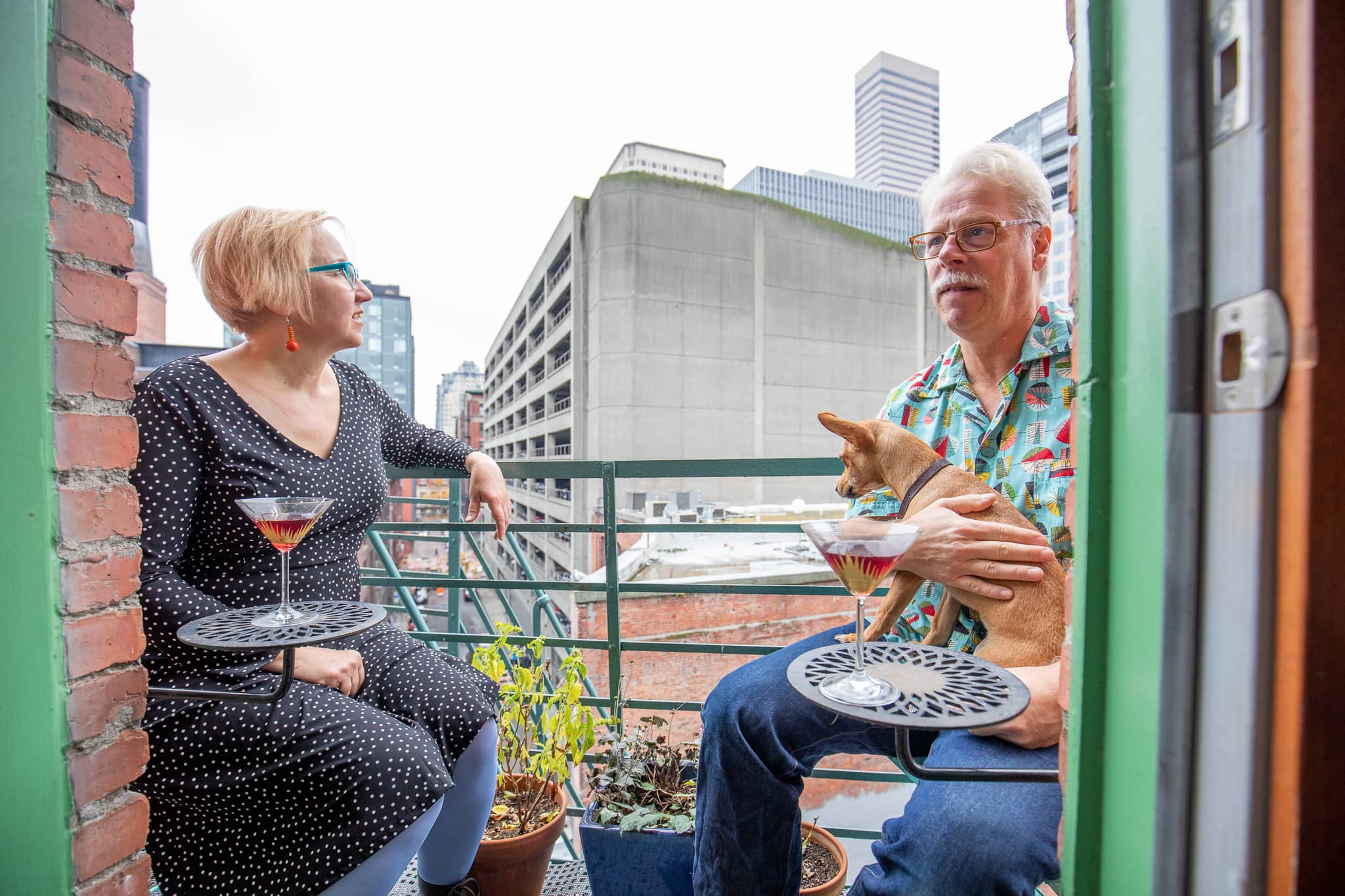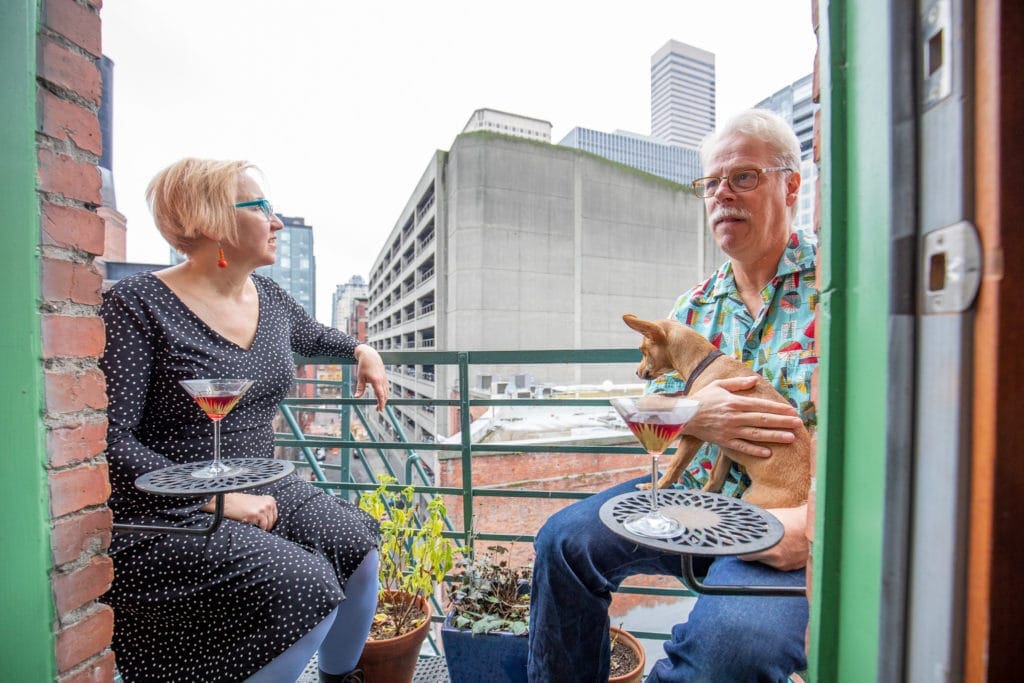 Speaking of cocktails, these two truly understand the art of cocktail culture. Jane is the maven of the Manhattans. She makes her own bitters and brandied cherries, which is why their bar area is so well-appointed with a beautiful vintage bar cabinet and a wall-mounted ice crusher. Take two brilliant artists, a dash of vision, a dram of real estate savvy, stir carefully for a few years and you have the recipe for an intoxicating, dreamy urban lifestyle.
Find more info about Jane Richlovsky and the Good Arts Building here.