The Seattle 2021 Primary Voter Guide is ready for you to reference as you do your own research on who to vote for in the upcoming primary.
Real estate is local. And the politics of real estate is even more local. Over the last several months, many folx from our team and our community have been working to secure more funding to house everyone in our community. And not just those of us who are high earners who can afford to live in this city. The upcoming elections in Seattle and King County will create the foundation for how we want to be as a city and as a community. Are we truly going to take the learnings from the social justice protests of 2020 and create a more equitable community? Or are we going to pretend everything is ok and continue to grow massive disparity between those who are housed or unhoused?
Divaland, the choice is on how we want to show up this August during the Primaries. This is where we really choose our next leaders. We went through and asked our extended community who are involved in homeless issues, racial equity movements, and well-informed Diva Dwellers who want to lead our next phase of this beautiful area.
Welcome to your Divaland Seattle 2021 Voter Guide for the upcoming primary election held on Tuesday, August 3rd. 
Let's dive in and help you fill out those ballots.
How Did We Create Divaland's Seattle 2021 Primary Voter Guide?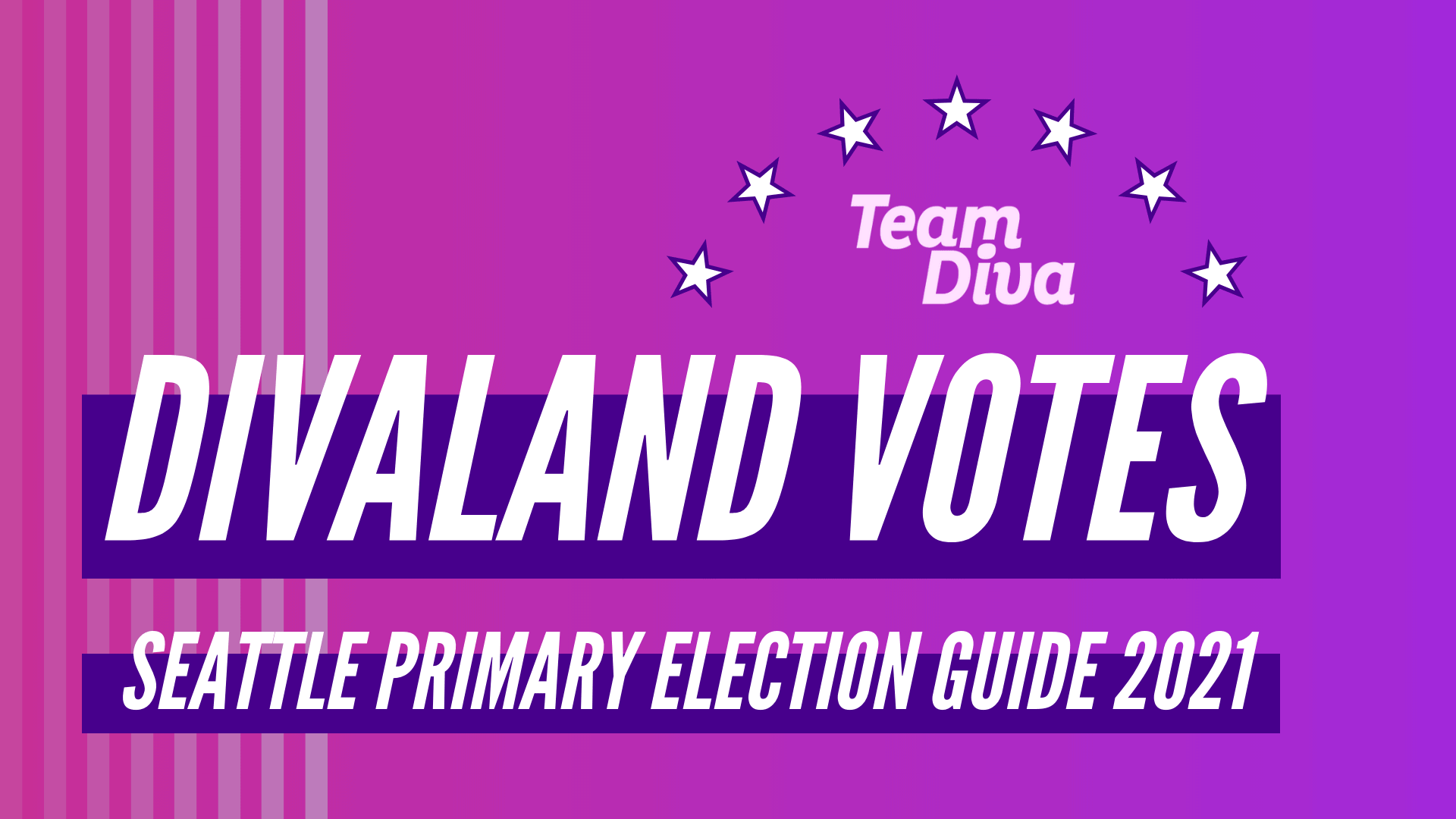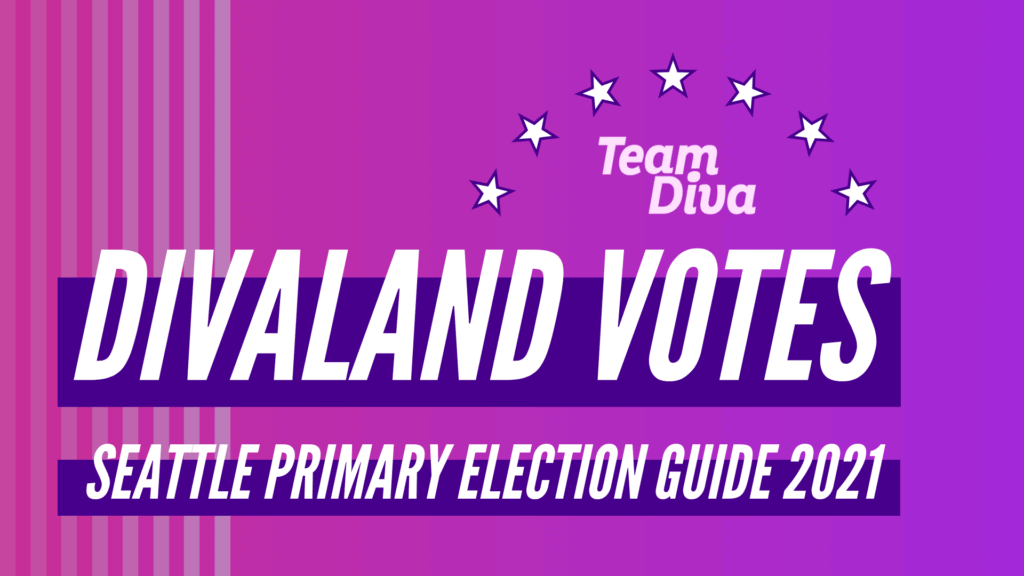 The voter guide we put together is directly from our larger Divaland community. Responses you see below and our following endorsements are the results of this combination of voices.  
Here is the email we sent to get a read on how Divaland is going to vote in the Primary this August 3rd:
"We are putting together our guide for who to vote for in the upcoming Seattle Primary. The REALTORS are super anxious about who is going to be elected to the District-wide positions in Seattle. God forbid we have someone who actually funds permanent housing for folx. Anyhoo a ton of dark money is going to come into these races. Hence I want to make sure we highlight the voices in our larger community and rally folx to the primaries. 
Would you mind sharing your thoughts and or who you are thinking about voting for?
Port of Seattle 

King County Council – Dow or Joe?

Seattle Council Position 8 – Retain Mosqueda?

Position 9 – Nikkita or someone else?

Mayor's Race – Who are your top two?"
Thank you to everyone who responded and helped us put together this guide for our upcoming election.
---
Seattle 2021 Primary Voter Guide As Told by Divaland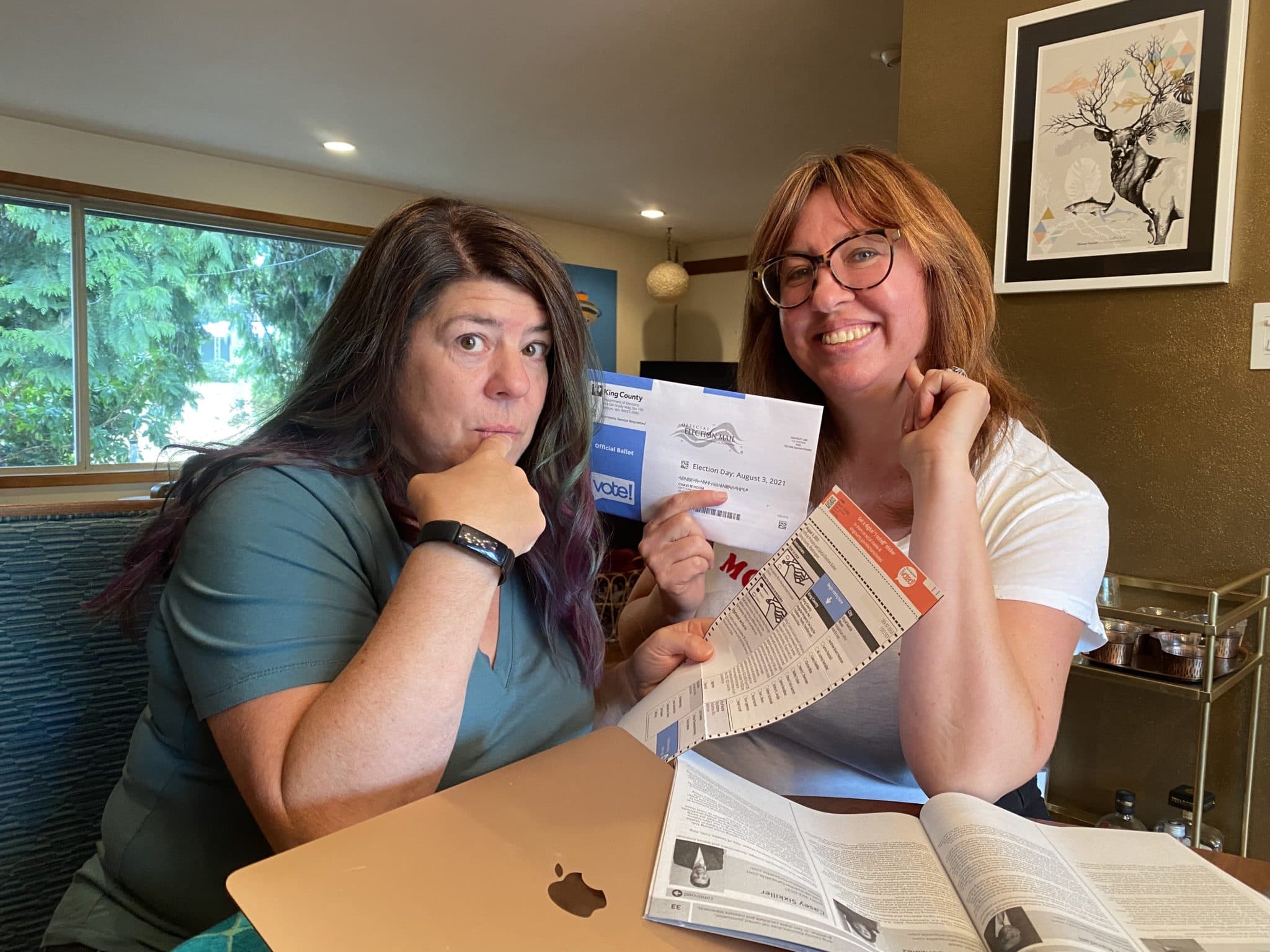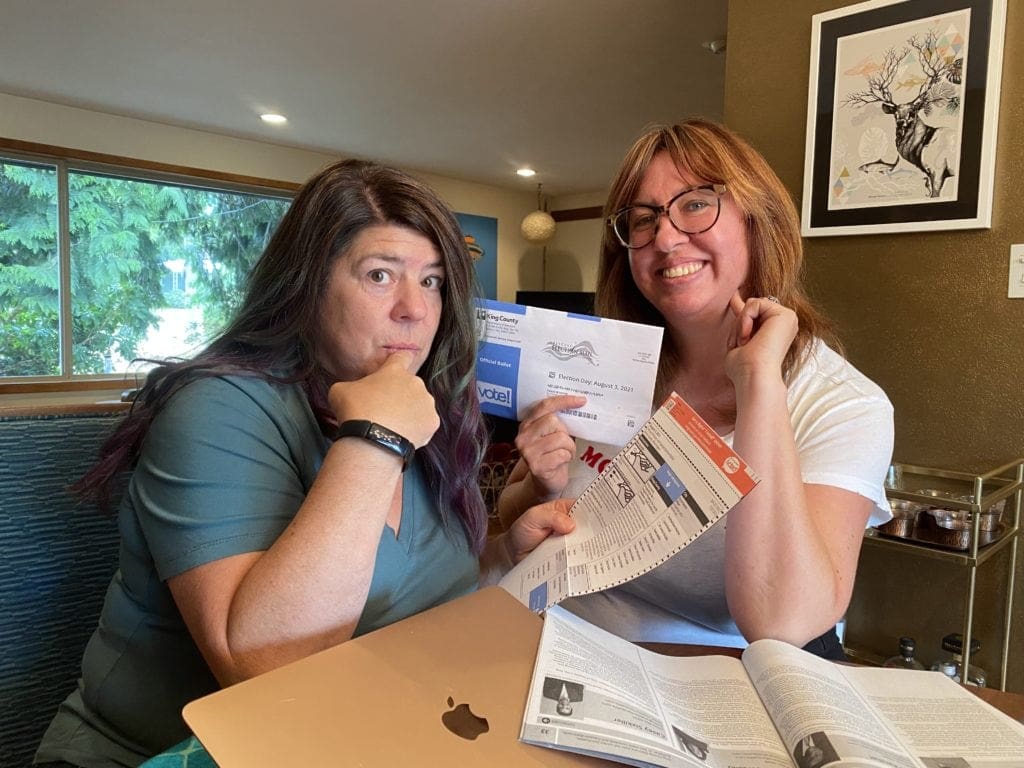 Below is our Divaland Seattle 2021 Voter Guide (The Primary Edition) as told to us by many wonderful and super informed Seattle and King County residents. Obviously, Kim and Chavi always reserve the right to come out strongly for specific candidates. The fascinating thing is that Divaland pretty much aligned with our top choices.
Port of Seattle – Everyone Still Needs To Do More Research and We Love Hamdi Mohamed
Overall the majority of Divaland is still super undecided on who to vote for at the Port of Seattle. There is one person who is a standout candidate and we will definitely be donating to their campaign. Hamdi Mohamed has an incredible amount of experience and a truly moving life story. And unlike other folx who are running for the Port, she actually has an amazing understanding of Port issues. We will still be doing our research for the other positions.
Seattle Mayor's Race – Lorena Gonzalez and Andrew Grant Houston
Lorena Gonzalez hands down have an intense amount of experience. She knows how to listen and step by step enact change. It is slow and tedious. But change does happen. She is also one of the smartest people around the budget in the city. None of the people who are running have the experience needed to enact community-driven funding of social services, except for Lorena Gonzalez. Ms. Gonzalez has proven that she is willing to go to bat to re-imagine police funding and how we do community policing in this city. In addition, Ms. Gonzalez understands and has the experience and willpower to enact budgets that are truly representative of our modern-day needs. There are a lot of people that we both really love who are in this race. Both of the Divas will be voting for Ms. Gonzalez for Mayor. 
Meanwhile, Andrew Grant Houston captured all of our hearts when they were on our show this last Spring. He knew in detail the issues we have at hand and he has a scorched earth perspective to transforming our local governments. And frankly, we are not going to lie we might need a scorched earth approach. Regardless, Seattle needs a detailed plan, experience to enact it, and a "go big or go home" approach to solving our city's many inequities. Several Team Diva members (including Diva Dude Michael) are voting for Andrew Grant Houston.
No Seattle 2021 Primary Voter Guide Would Be Complete Without Some Shade
Whatever you do, do not vote for Bruce Harrell. Mr. Harrell was Council President when writing policy to defund city services for affordable housing and push a police force forward in response to the homeless crisis. How the hell is he going to solve a crisis he is the direct root at creating in the first place? Second, anyone from Mayor Durkan's camp is trash (looking at you Casey Sixkiller). They had years to work through solutions for this city and the result is that there are fewer people of color living in Seattle, we have an affordability crisis, and our artist community has been decimated by the Pandemic.  
Seattle City Council District 8 – Retain Teresa Mosqueda 
Universally everyone said to keep Teresa Mosqueda for the district-wide position. She is an extremely effective city councilperson. And is a constant fighter for those who have the least amount of influence in our city. During the Pandemic she was key in passing hazard pay for grocery store workers. In addition, she has racked up endorsements from unions to The Stranger. Keep being an awesome Council Person Mosequeda and thank you for your service.
Seattle City Council District 9 – Nikkita Oliver and Brianna Thomas 
Last summer during the BLM protests we were all present when the Mayor came out of a fortified city hall (which is our city hall we pay for). Nikkita Oliver asked the crowd to listen to a visibly shaken Mayor while the crowd shouted for the People's Mayor was pretty intense. The amount of grace and empathy expressed at that moment made me (Chavi) realize that I should have voted for Nikkita back in 2017. Empathy was what our city needed. And instead, we saw kids beat up all summer long by an over militarized police department and a Mayor who clearly was upset that this moment was disrupting her climb to the Governor's mansion. Nikkita has a unique perspective in the city of Seattle that needs to have a seat at the table. 
Meanwhile, Brianna Thomas has racked up endorsements by many Black leaders that we know and love. She is also a woman of color. And she has been Lorena Gonzalez's top person for the last five years. The boring political experience gets actual shit done. Over the weekend we connected with some Diva Dwellers who personally know and have seen Ms. Thomas in action. Hands down she has the most experience working through a complicated city budget and making progress for those who are most in need. In addition, Ms. Thomas has racked up a ton of union endorsements. 
In the Diva household, we will be splitting our vote for these two awesome humans. 
King County Executive – Dow Constantine or Joe Nguyen?
Our Seattle 2021 Primary Voter Guide is feeling a little mixed on who to vote for King County Executive. On one hand, you have an older white dude running their third term who was able to guide us through COVID. And on the other hand, you have someone who is a young person of color who has a fresh perspective on government and how it should serve the people. Divaland is evenly split between these two candidates. 
Quotes from Divaland for the Seattle 2021 Primary Voter Guide
I like Dow in the "lumbering bureaucrat" way. He's boring in all the ways I wish more politicians were boring. I don't agree on swaths of his platforms, but feel he's been a good "even keel" in politics which we could use more of. – Michael K.

Joe is my soul choice. He has been an amazing state rep for our district and for the needs of White Center residents over the past few years. He's a younger man of color, born and raised right in the neighborhood, and has a lot of progressive, change-focused energy that lights me up. His downsides all fall in his lack of experience in politics as a relative newcomer to the game, but you don't get that experience without being in an office like this. – KT
The bottom line is that Dow has done a lot of good during his tenure. He has a team of amazing people around him that would not necessarily transfer to a new executive. That chaos could be tough in the middle of a pandemic recovery. And at the same time, Dow really effed up the Youth Jail and did not listen to the community. 
On the other hand for those of us who are knee-deep in truly working towards equity, we have to center the fact that old white guys always have more experience. And the only way a younger more diverse group of politicians and community leaders will be able to rise up is if we make way for them to shine. The in-between states will be uncomfortable. Change is all about living with discomfort. (Also! Check out our interview with Joe Nguyen here!) 
---
Get Involved and Help Fund These Campaigns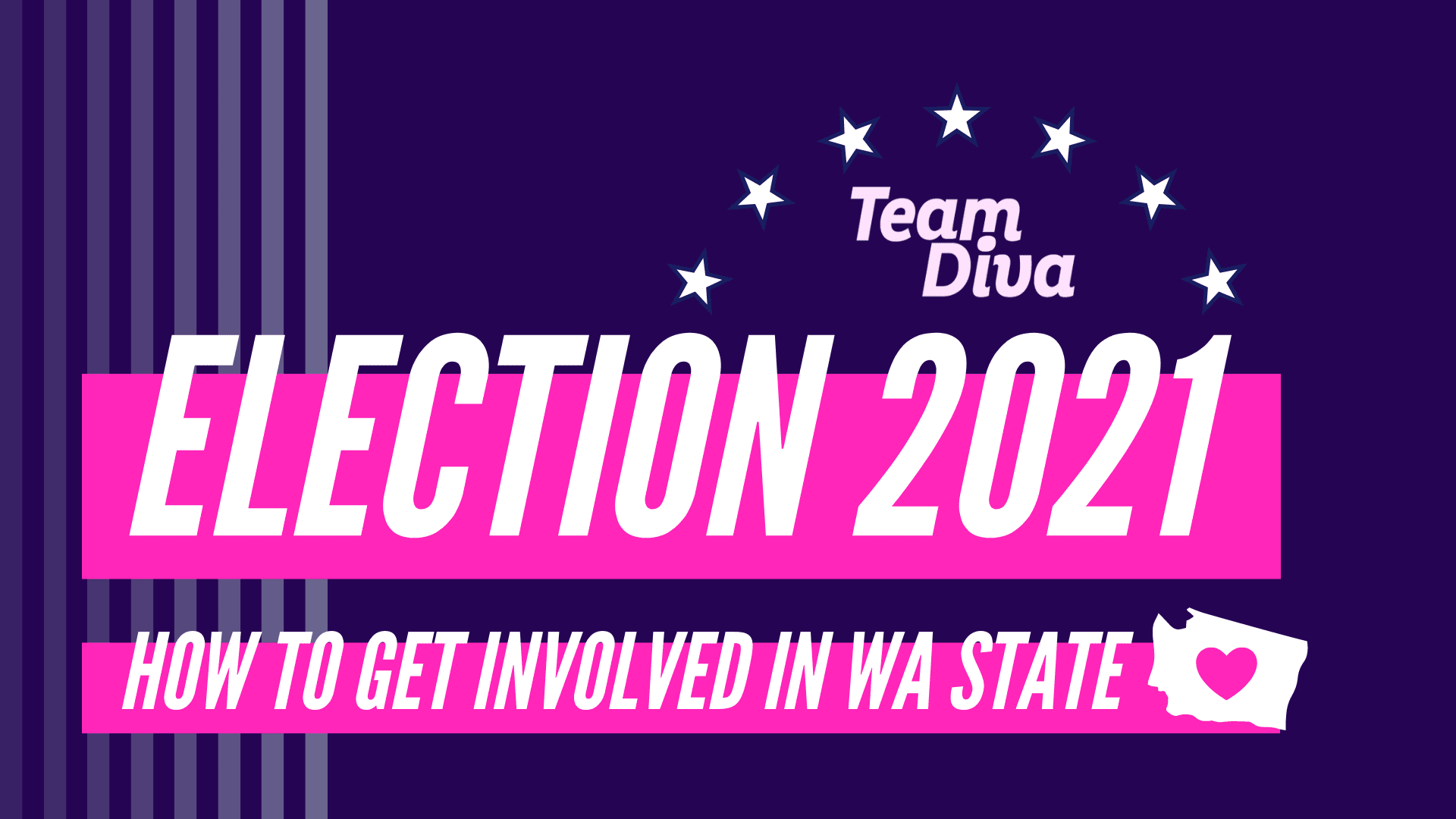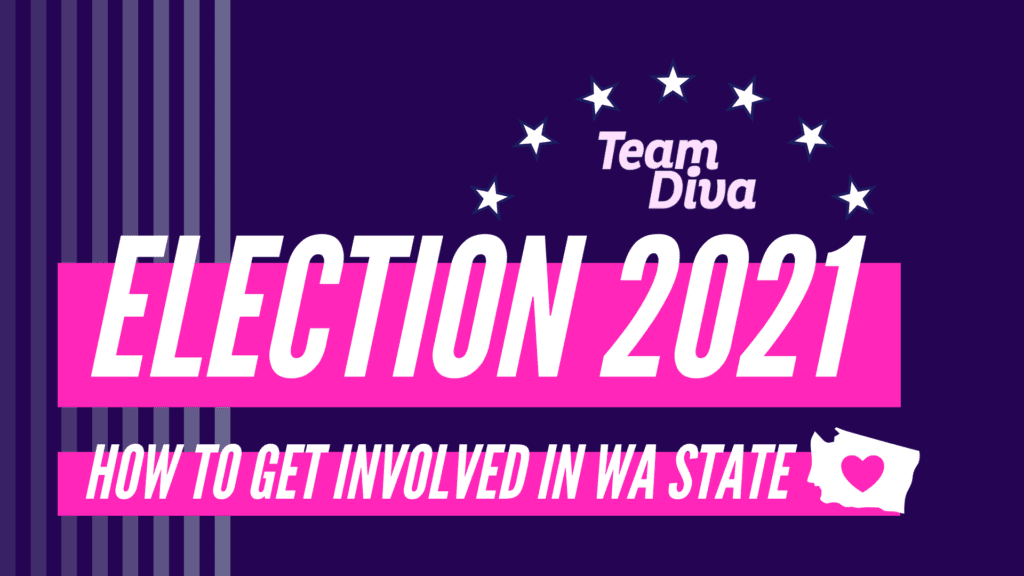 There are a couple more races that the Divas are watching closely. We have an opportunity to really do something about how policing is done in our county. Our entire team remembers clearly the moment a King county sheriff Sargent shook the hand of an anti-LGBTQ protestor at Drag Story Hour in Des Moines. Basically, his action endorsed this violent protestor. Many of those anti-LGBTQ protestors went on to grow up to be full-on insurrectionists. At that moment many of us knew that the police are not our friends nor do they have the larger community's needs in their minds when they approach policing. This is our first real election where any of us can have a say in how we approach affordable housing and policing. Please check out and donate to the following campaigns.    
City Attorney – Invest in Community with Nicole Thomas-Kennedy 
Some might call Nicole Thomas-Kennedy's platform radical but we think it is wildly practical. Thomas-Kennedy is an abolitionist and is not shy about calling out the fact that "Police, prosecution, and jails have failed at creating public safety." What we're doing now regarding policing and prison is simply not working. We think most people could agree with that statement. 
Nicole points out that the City Attorney's Office only prosecutes misdemeanors (aka low-level crime), and city prosecutors get to decide who to criminalize. Of course, this is never applied equitably across communities. And people who are poor, unhoused, BIPOC, and disabled are disproportionately prosecuted. 
An example of a low-level crime might be someone who steals a sandwich because they have food insecurity. Or it might be someone who is charged with trespassing because they are experiencing homelessness. Prosecuting people who are trying to get their basic needs met does nothing to help anyone. As Thomas-Kennedy also points out, there is no reason why our community members should not have their basic needs met. Especially in the richest country in the world and in one of the most prosperous cities! 
Abolition isn't just about getting rid of policing. It's about creating systems that support communities and addressing the root causes of poverty and homelessness (for starters). Thomas-Kennedy promises to "refocus the civil division of the office to go after large scale harms: wage theft, corporate landlords, and oil companies that destroy the environment." Learn more about Nicole-Thomas Kennedy here. 
Kent Mayoral Race – Dawn Bennet
Kent is a city south of Seattle, and this community is closely intertwined with Seattle. As more people are priced out of Seattle, they head to places like Kent which has seen massive growth in the last few years. Many of our struggles are one and the same. If you are a Kent voter we are here to advocate for Dawn Bennett for mayor. The platform that Bennet is advocating for is one that directs energy and funds towards communities that are too often underserved. 
One of Bennet's priorities is of course COVID-19 recovery and protections. She is also a big advocate for affordable housing (and yes the REALTORS are clutching their pearls on this race). Ms. Bennet's policies are exactly what we need to see in a modern-day candidate. She supports people transitioning out of homelessness, addressing the long-term impacts of old redlining policies that still affect communities today, and much more. Bennet is also an advocate for police transformation. Bennet believes that Kent should follow the lead of other cities to redefine the job of a Kent police officer, use unarmed public workers to respond to situations when applicable, bring real accountability to law enforcement, etc.
In other words, why isn't Ms. Bennet in Seattle and part of our Mayoral race????
Dawn Bennet's platform also covers budget management to eliminate wasteful spending, driving sustained job creation, and supporting small businesses. Supporting families, providing educational support, ending homelessness, and addressing traffic and infrastructure concerns are all included in Bennet's important list of priorities for when she is Mayor of Kent. We encourage you to read more about Bennet's extensively outlined platform here. 
And if you are not in this district PLEASE donate to Dawn Bennet's campaign. Ms. Bennet will have a lot of dark money coming to defeat her. Supporting her race is supporting a truly grassroots effort to enact change in our own backyard. 
---
Seattle 2021 Primary Voter Guide | Vote by August 3rd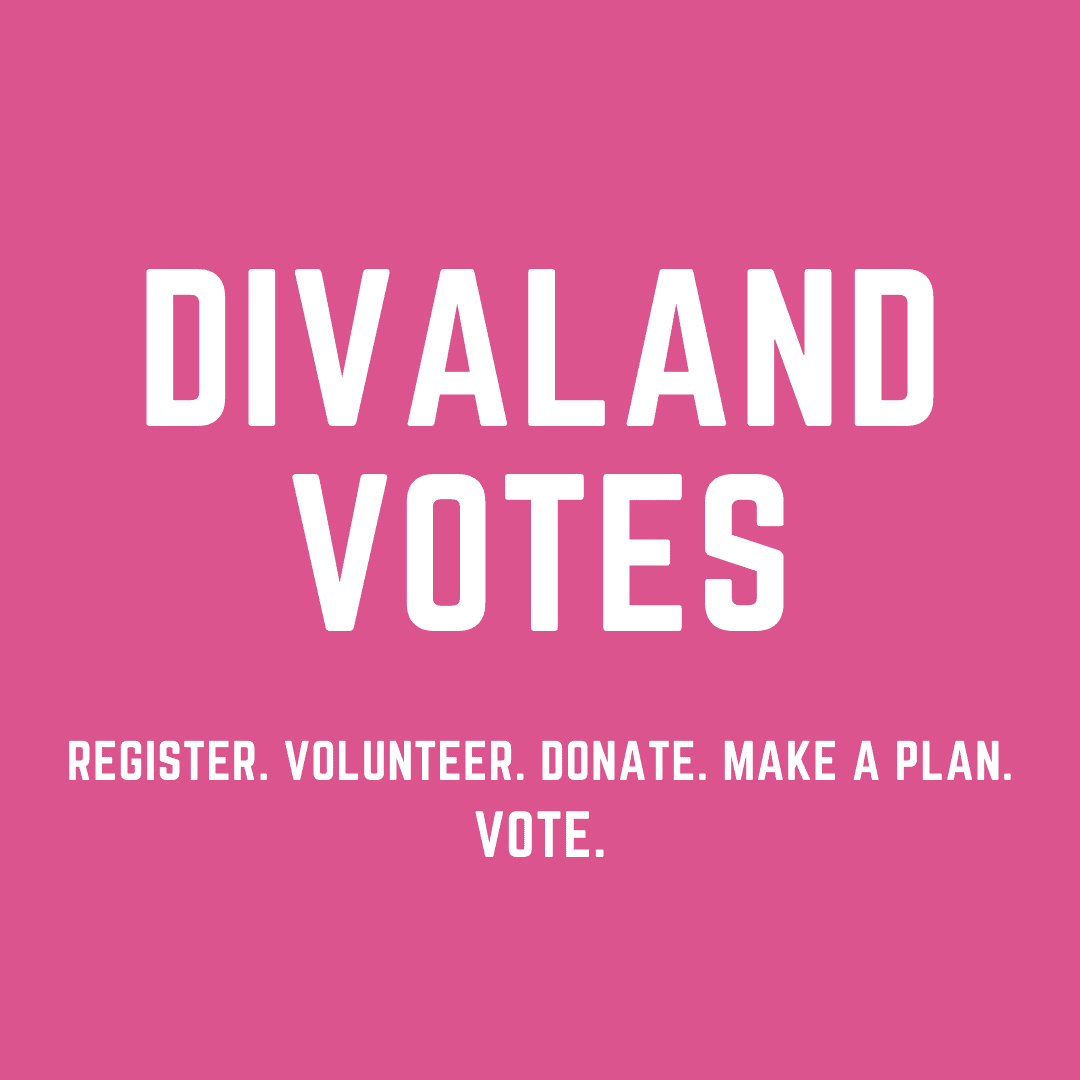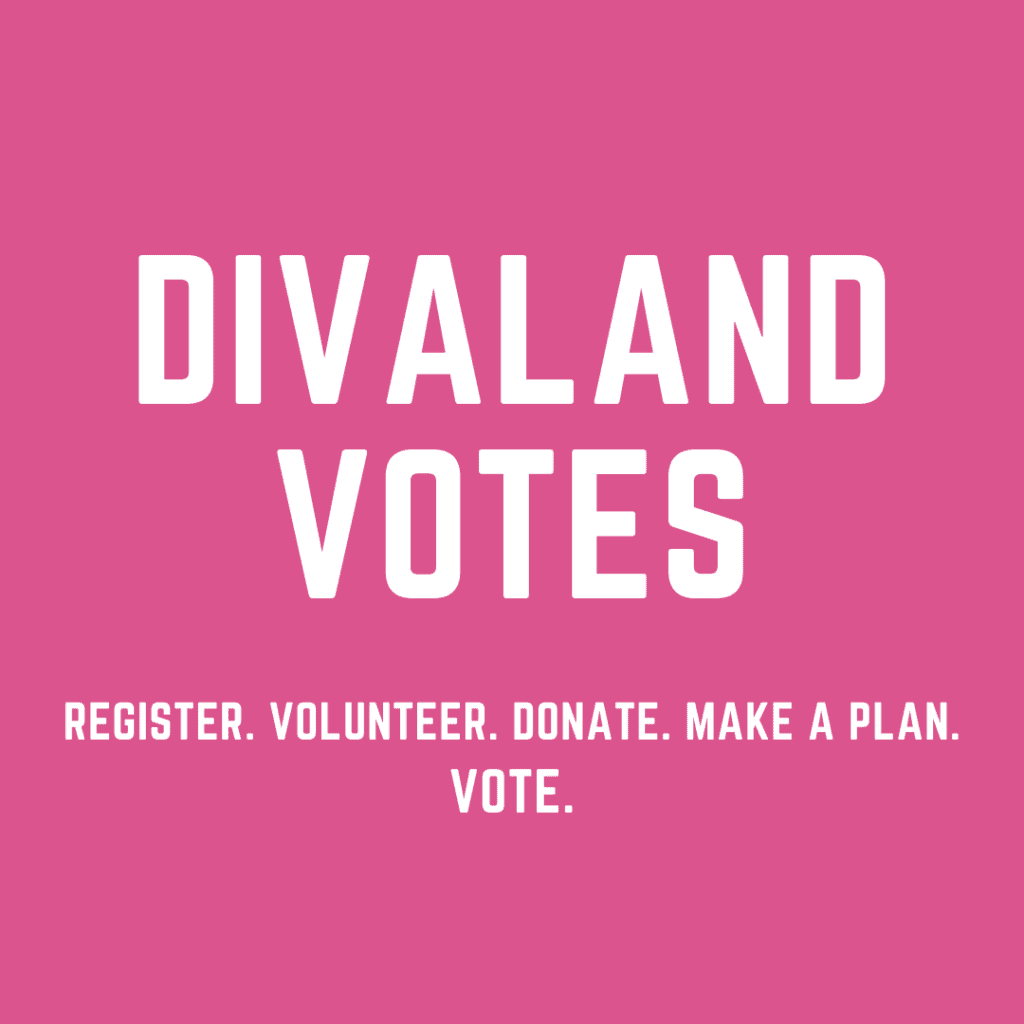 Thank you for reviewing our Seattle 2021 Primary Voter Guide. As many of you know real estate and elections are both super-local issues. What happens at the local elections has a direct impact on the neighborhoods we live in, the schools kids go to, and how we use transit in and around this city. A perfect example is that there is an insurrectionist on a school board in South King County. How did this happen? Elections have consequences!!!!! 
Speaking of consequences, the Seattle/King County primary elections are where the real juicy bits of local politics happen. Who is able to inspire and raise local support? Which candidate has secret PACs working for them behind the scenes? What endorsements are coming from the more conservative wing of the REALTOR party and why? Are we prioritizing landlords or those who are unhoused in our public policies? It is a lot. 
More Resources for Your Own Personal Seattle 2021 Primary Voter Guide
Throw a Voting Party

– Honestly, we are excited to see each other in person. Get your friends together and vote local like a badass diva. We wrote this blog years ago but it still feels relevant. 

Center Affordable Housing in Your Decisions

– Years ago we did a talk about affordable housing. Looking back at this blog and the content from the talk it is super sad to see how few politicians have the Diva balls to get shit done. 

Black Lives Matters in this Election

– The leadership we choose this election will be in charge of negotiating the police union contract, choosing the next king county sheriff, and reimagining how we support the community in our funding. Choose the person you think is going to do the most on these issues. 
Thank you for doing your part, Seattle and King County, aka Divaland. The Seattle 2021 Primary Voter Guide was created by some of our most politically active Divaland members. And it was written by Chavi and Alyssa. Just in case you need even more resources on how to vote check out the bottom portion of a blog we wrote during the last Mayoral Primary election in Seattle. 
Now get out there and vote using our Seattle 2021 Primary Voter Guide as a reference point!