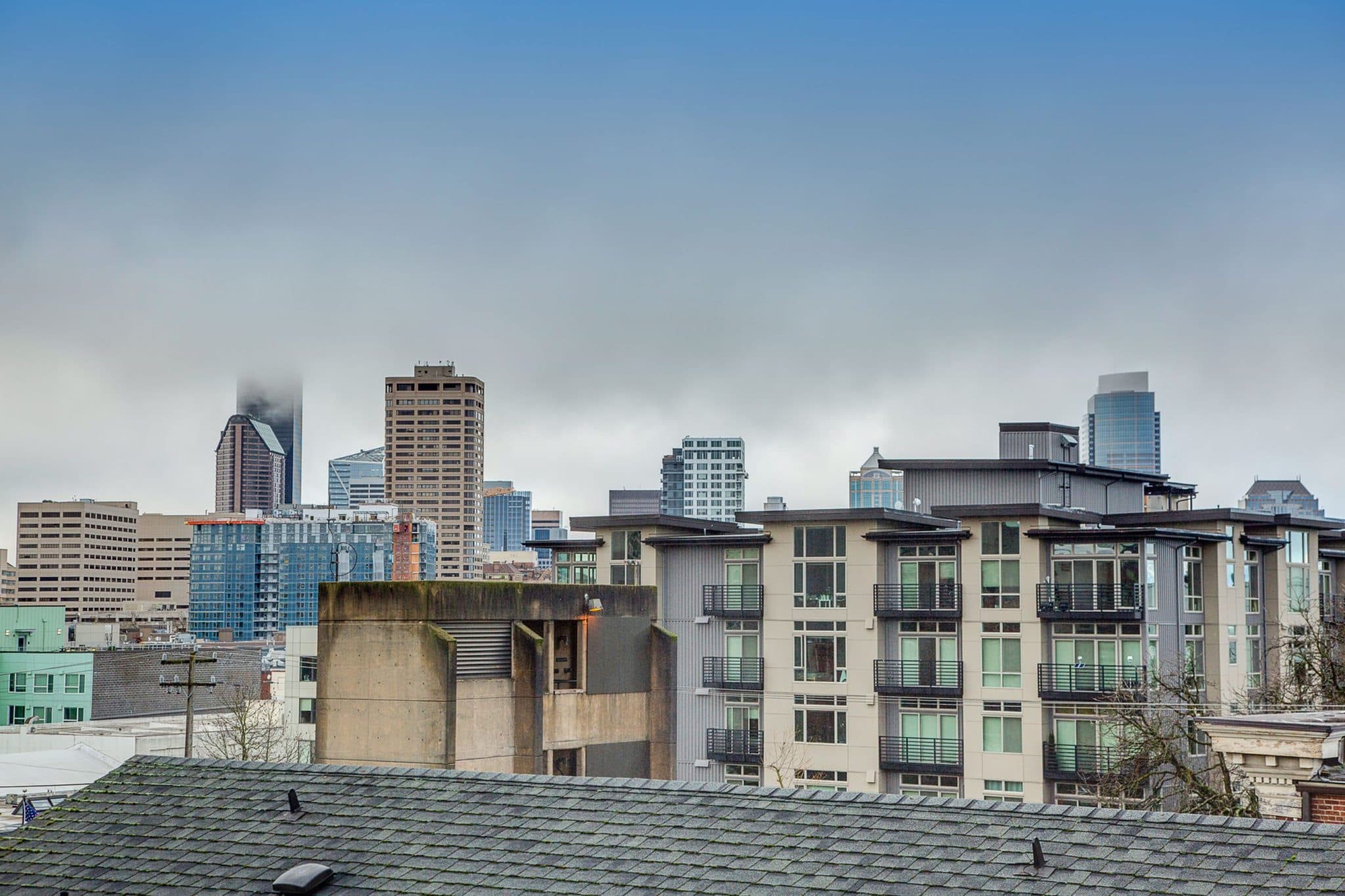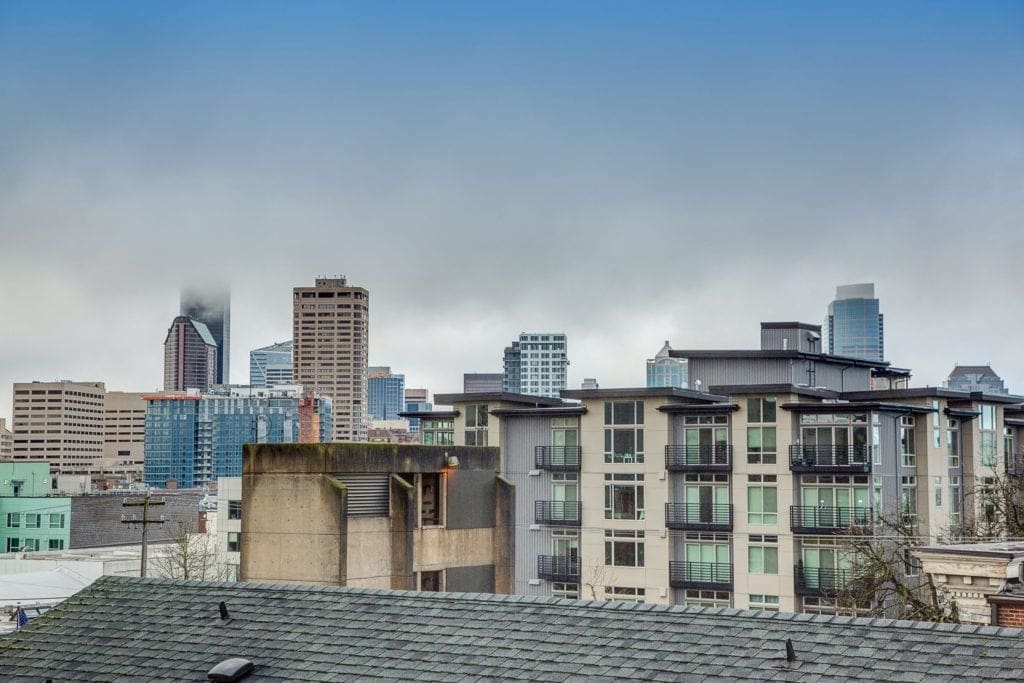 First, here are some numbers to consider regarding the record low inventory of Seattle housing:
Single Family Homes are averaging at $811K in sales as of last year.
Condos are averaging at $535K.
The average rent for a -bedroom apartment is $2,200/month.
The Social Impacts of Poor Housing Policy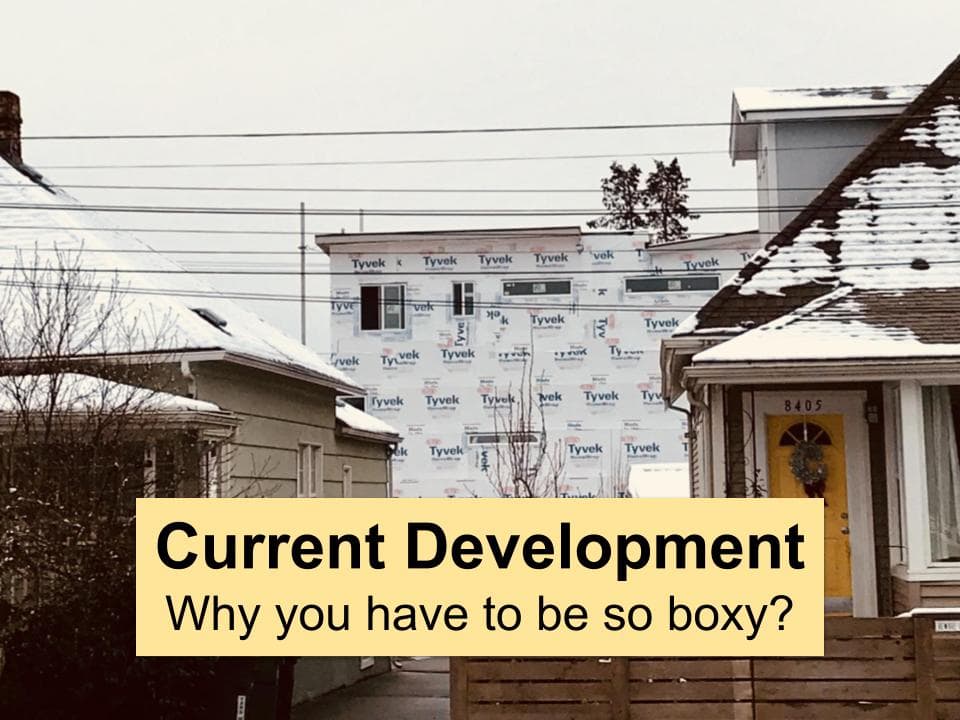 This isn't just making home ownership an impossible dream for most people in Seattle. The negative effects extend into the city's culture, as it displaces poorer residents and gentrifies neighborhoods. The results include:
A more homogenized population, especially regarding race (70% of us are white).
Less arts, culture, and creativity overall, as creative minds of all stripes are forced out by rising prices.
An unfair burdening of south Seattle neighborhoods by upzoning.
That last point is connected with Seattle's shameful history of Redlining. Racist covenants and discriminatory lending (some of which persisted openly into the 1970s) banned people of color from purchasing in most Seattle neighborhoods. The neighborhoods where they could purchase were often underserved by Seattle services and faced discriminatory policing as well.
These same neighborhoods that were stigmatized are now being rapidly gentrified. Other, whiter neighborhoods have pushed back against upzoning. Instead of spreading the increased density of the city more evenly, formerly redlined neighborhoods are expected to absorb the majority of it.
Seattle Has Solutions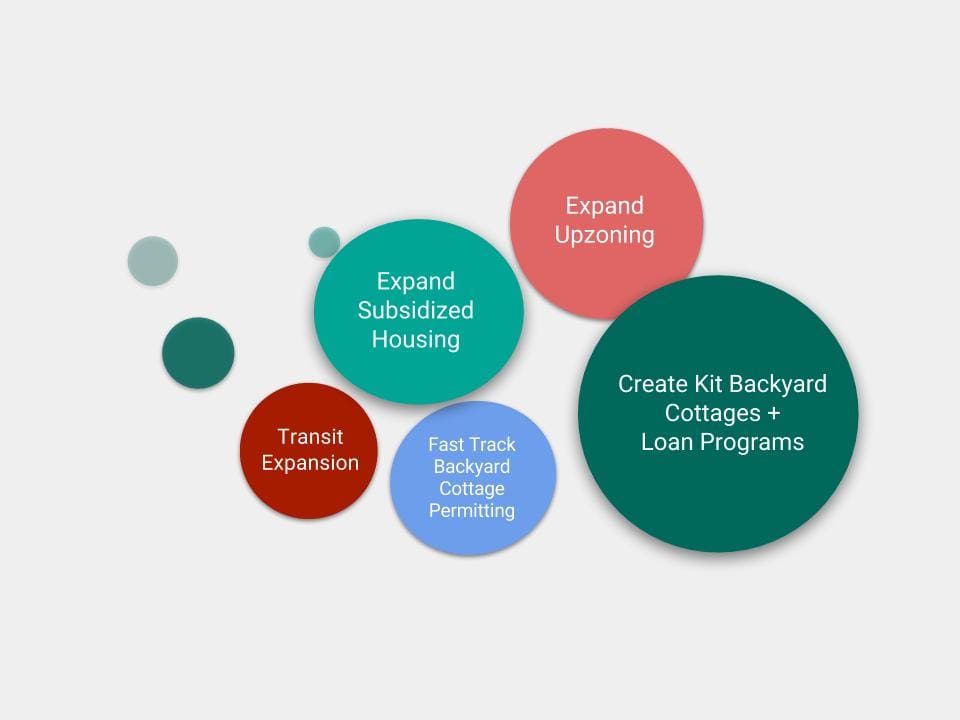 The city of Seattle still owns A LOT of land. If even a small amount of it was leveraged to create more subsidized housing, we could see some long-term alleviation of this crisis. Meanwhile, we need to expand transit and upzoning, rather than concentrating the latter in the south end.
Part of the problem is that a lot of new construction is rather boxy and unappealing. Residents in north Seattle have argued consistently that upzoning would damage "neighborhood character" (and they generally get their way). Those arguments persist. If we are to diversify Seattle's housing inventory quickly to make room for the many newcomers (and keep long-time residents here), we need a number of strategies.
The bottom line is that Seattle has to solve Seattle problems. Olympia and the other Washington are not coming to our rescue!
Here are Some Ideas That We In Seattle Should Consider:
Expand Transit – Specifically in West Seattle and Rainier Valley. If we are going to continue to redline our zoning, let's at least support the population in these neighborhoods. Seattle needs to do a better job of providing services to the entire city, not just its noisiest, north-end Seattle neighbors. 
Public and Private Backyard Cottage Alliance: Create a Public and Private Partnership to Build a Pre-fab Backyard cottage and a corresponding loan program. Pay by increasing the B&O tax and real estate excise tax.
DADU/ADU/Backyard Cottage Permit Streamlining: The process is burdensome and bulky at the city level. Let's streamline the system. Requirements regarding new sewer lines (versus tie-in with an existing sewer line), parking, and overall lot sizes need to be overhauled ASAP.
Subsidized Housing: The bottom line is that we need MORE subsidized housing. Right now, having only 7% of housing as income-qualified apartments means that we are leaving a lot of people out in the cold—literally. Our question is: Where the hell are our housing levy dollars going? Why are they not going directly into developing existing Seattle and King county owned land for affordable housing units?
Expand Upzoning:  Seattle should not be zoning based off of neighbor lawsuits. Unfortunately, the reality is that the richest among us are determining the policy of housing with lawsuits. Sarah Anne Lloyd of Seattle Curbed perfectly captures the issue in an article from this last fall.
"Still, six percent of the city's single-family zones—which includes about 10,000 homes—are going to experience changes. And many of those who want to preserve single-family zoning aren't happy. Unhappy enough, as Erica C. Barnett at C is for Crank reports, to plan a lawsuit against the city, including the West Seattle Junction Neighborhood Association (JuNO), the Seattle Displacement Coalition, and Seattle Fair Growth."
One option that I am endorsing wholeheartedly is to fast-track the permitting of backyard cottages and even create loan programs to assist homeowners to implement this program.
Building Cottages in the City Should Be Easier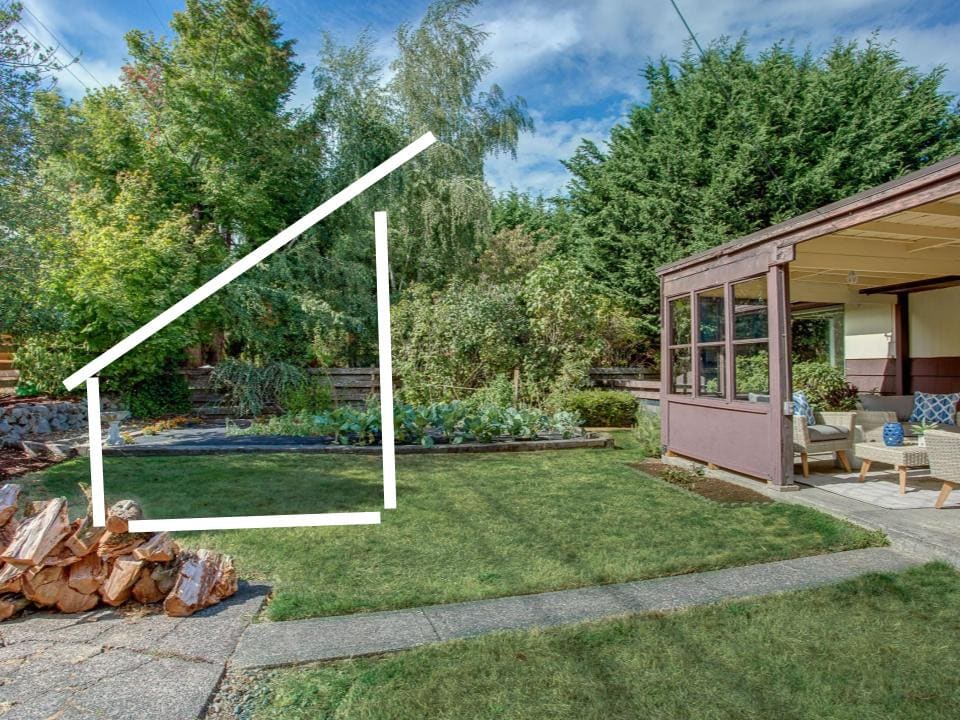 Kit cottage homes add housing inventory without redeveloping existing homes extensively. Cottages can help some homeowners stay put, who would otherwise need to move to a larger home. For others, having it as a rental property could alleviate rising property taxes that might otherwise force them out.
In addition to helping homeowners, Seattle newcomers who rent a cottage are more quickly integrated into the community than they would be in big, boxy apartments. With the right incentives, these cottages could also be affordable housing options for low-income residents.
There's a problem, though: Getting these things built is not easy right now.
Part of the problem with Seattle's history of redlining is common throughout the country: Families affected by racist, classist policies have not been able to accumulate wealth, which gives them less leverage when facing major market changes, rising taxes, etc. Homeowners in less wealthy neighborhoods are unlikely to have the funds to pay the high permitting fees and construction costs. Even homeowners with more equity can be deterred by current policies.
To address these issues, we would need to change policy and encourage the development of kit backyard cottages. If Seattle were to institute a loan grant program for qualified homeowners, some revenue would need to be raised.
Propose a Seattle Cottage Levy as Part of a Housing Initiative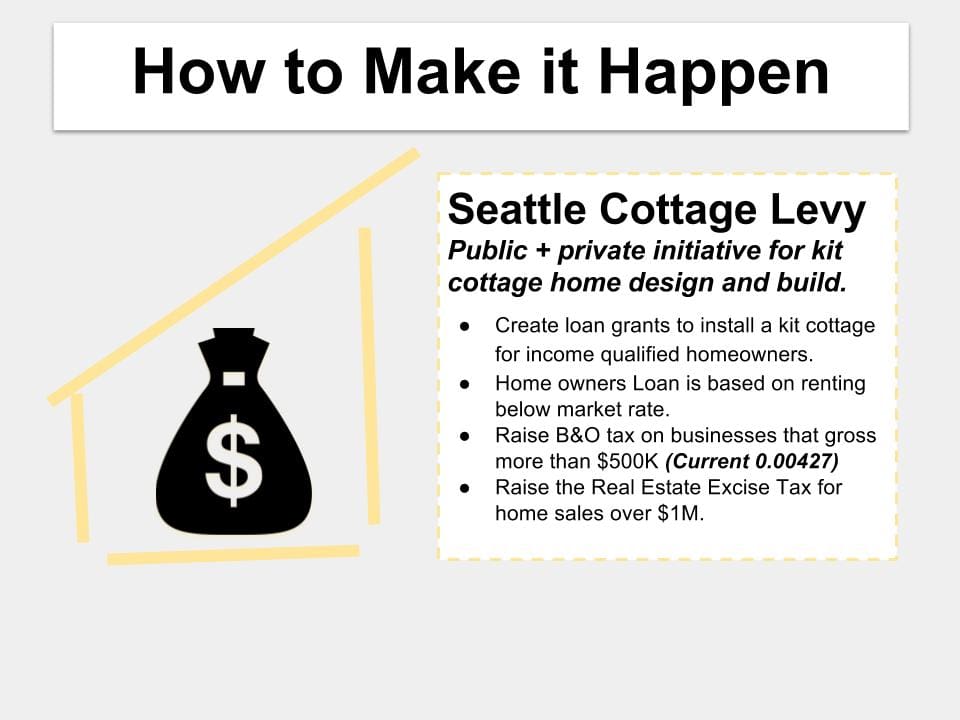 A cottage levy in Seattle would be a public and private initiative to encourage kit cottage homes. Its implementation would create loan grants for income-qualified homeowners to install a kit cottage on their property. The loan would be contingent on the homeowners agreeing to rent at a below-market rate or for an elderly parent.
To raise the funds, I would suggest raising the B&O tax on businesses that gross more than $500K. The rate is currently 0.00427. Even an increase to 0.01 would fund this levy and more programs (preferably other housing initiatives). I also suggest raising the Real Estate Excise Tax for home sales over $1M.
To put this in perspective. The bulk of our revenue dollars in this city is coming from homeowners even though they are fast becoming a minority of residents. We do not have an income tax. But we can tax businesses. It is not fair that homeowners carry the burden for services in this city while the businesses that are creating density issues do not contribute their fair share! 
The Benefits of a Coordinated Housing Initiative
The benefits far outweigh the costs. Cottage construction diversifies housing stock in a city that is intent on holding onto its unusually high percentage of Single-Family Homes. It doesn't just preserve abstract numbers; it preserves families and communities. As newcomers are integrated into existing neighborhoods, one sees the city mature rather than simply go under new management.
Newcomers Integrated Into Seattle's Neighborhoods

Families With Aging Parents Have Solutions

Increases Different Types of Rentals in the City
Increases Density in a Way that is Fair

Diversifies Seattle's Housing Stock

Big City With a Big City Mindset
Seattle can be a big city with a big city mindset—and, ironically, part of that should be thinking small when it comes to new housing.