Things are dire, but no one is giving up yet. We should be celebrating the rights we all still hold dear with a voting party, because it matters. Every. Vote. Matters. People still alive today saw others die for voting rights. National women's suffrage is not even a century old in this country. And we are living through the worst case scenario that happens when people don't vote: an anti-democratic maniac coming to power.
We expect the GOP (AKA Cult 45) to turn out heavily for these midterms. We have to turn out in force, too, if we have any hope of providing a check to Trump's power grabs. If you have the time, energy, and space to host a voting party, now is a great time. It doesn't take much to set one up for success, but here are some tips.
How To Throw a Great Voting Party
1) Choose a Themed Cocktail
This time of year, you just can't go wrong with a classic Manhattan. And in this case, it's especially apt, because the majority of Manhattan HATES Trump passionately. Incidentally, we found a variation on the Manhattan dubbed The Ballot Cocktail by a California mixologist for the 2016 election. Find that recipe here, even though we still prefer the classic.
Of course, if you want to go blue, there is always Blue Curacao. In fact, there is a fruity Blue Curacao drink called the Blue Wave, and you know we're all hoping for that. Find that recipe on Difford's Guide.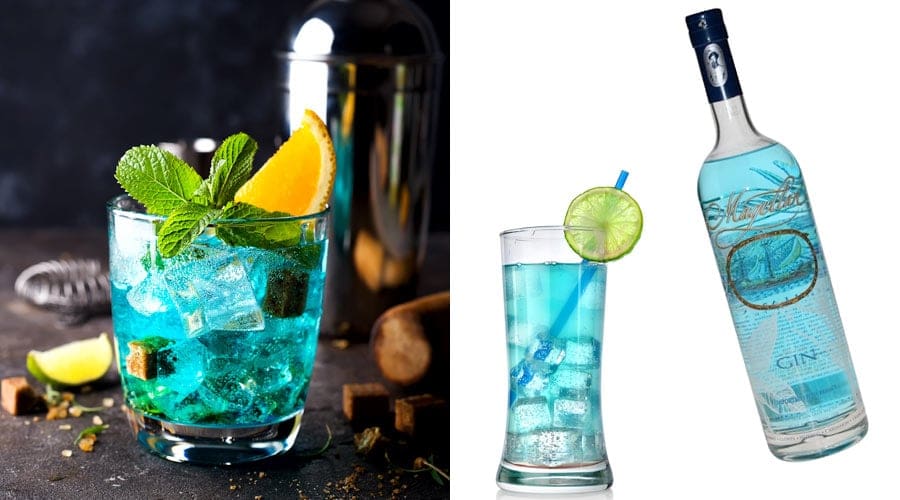 Maybe people love blue, but not so much the curacao. If so, look for some Magellan Gin, whose natural blue hue comes from its infusion with Iris Flowers. It's a spicy, floral gin that works well up or in a good old G & T. Alternatively, find some blue umbrella or flag garnishes to dress up any drink.
Lastly, if you want a true blue cocktail, you can infuse any clear spirit with Butterfly Pea Flower Tea. This will impart a soft, herbal flavor and vivid blue to any clear substance. Note: If you add acid, such as lemon juice, the pH will change and so will the color…to magenta! We really don't want things turning red right now, do we?
2) Offer Buffet Style Food
A salad, a casserole, a cheese plate, some bowls of nuts and chips, a big pot of hearty stew—these are simple things that can be thrown together quickly before guests arrive. You don't need to get fancy at your voting party, because the core of it should still be the issues and actually voting. (Still, you definitely need food if people are imbibing.) It's also best to avoid finger foods that are especially messy, because your ballots need black ink not BBQ sauce.
Easy recipes for a voting party buffet to inspire you
We'll be throwing our voting party the Sunday before election day, which has worked well in the past, too. 9-to-5ers have had their Saturday to chill and won't be getting wound up before the work week begins again. And Sunday just feels like a day to indulge in baked goodies, so if guests want to bring something, you can tell them to bring desserts. No need to vote on a favorite, but maybe one will emerge after people take a little slice from an array of cakes, pies, brownies cookies and more.
Speaking of everyone getting involved and doing research…
3) Provide Resources for Voter Education on the Issues
There are several important initiatives this year, but it's not an especially long ballot. Some are no-brainers for us, but some require further reading. We'll share some of our hot takes at the end of this guide, but here are two resources to help you get educated.
The Progressive Voters Guide – Fuse Washington's annual guide offers their endorsements for statewide ballot measures and every legislative district.
The Stranger – A comprehensive, profane, informative list of endorsements for all races and measures.
People can easily find these online, but you may want to print out specific sections or other articles that you find helpful. Naturally, on the trickier ballot measures, we recommend reading the actual proposals in depth. It's great if your voting party is attended by interpreters of legalese, too.
4) Set Some Rules of Engagement Before The Debate Starts
It is natural for people to come to different conclusions based on their own experiences. They might even come to the same conclusion, but have very different, opposing reasons for it. Politics is messy, and the climate is so tense in our country that some people are expecting a Civil War. The last thing you need is for your living room to turn into a mini Antietam.
That isn't likely, of course, because even with diverse friend groups, we generally have more in common than we think, especially when we can get off the screaming of social media and meet face to face. Still, make it clear to guests that at this party, no one is shamed for their vote. People can debate vociferously, but save the rage for the actual sociopaths running the country.
5) Make Sure You Have Voting Supplies Available
We LOVE mail-in ballots so much. This year, it got even easier and accessible for those of limited means to vote. The postal service will deliver ballots even without a stamp, but stamps support the postal service (also being eyed for attack by Trump) so we'll be attaching them all the same. We recommend having a sheet at your voting party just in case. Of course, if you live near a ballot drop box, you can just hand deliver the group's ballots after the party. (Don't wait until the next day! Imagine what a nightmare it something happened to them.)
Naturally, the guests need to bring their own ballots if they want to participate with the group. If they simply forget and you have a good printer at home, they can download and print a replacement ballot through WA State's MyVote system.
And we don't expect everyone to have a pen with them, so have a fresh pack (black ink is best) ready to go. (If you are pulling from the mug or bin of them in the kitchen or office, test them first. It's so annoying to be handed a pen that has dried up.)
---
We hope your voting party is a huge success and that we all have reason to party even more on November 7! Cheers, Divaland!