I'm excited to share this exceptional Modern North Beacon Hill Townhouse, and there are so many reasons to fall in love with this beauty! One of this Seattle townhome's major highlights is its fabulous, private rooftop deck. This home also has an ideal layout, which isn't always easy to come by in townhomes. The floor plan includes tons of storage (always a win) AND a spacious garage (double win, especially in Seattle). And of course, the North Beacon Hill neighborhood is one of my faves—there's excellent transit, destination dining, and plenty of green space. 
Let's Tour This Modern North Beacon Hill Townhouse
I'm Roy Powell with Team Diva at Coldwell Banker Bain, and in this video, I'm sharing a personal tour of this Modern North Beacon Hill Townhouse. I cannot wait to show you exactly what I love about this Seattle townhome. 
This home's exterior and its surrounding amenities are just as special as its interior offerings. Entertain with ease no matter the season—the huge rooftop deck offers instant vacay vibes, and the flowing layout in the main living area is ready for a crowd at your holiday party. But this townhouse isn't just all show—it also takes functionality seriously and there's tons of storage AND a garage. 
Thanks for following along! If you'd like to see more of our home tour videos, be sure to subscribe to the Team Diva at Coldwell Banker Bain Youtube channel. 
---
5 Things We Love About This Modern North Beacon Hill Townhouse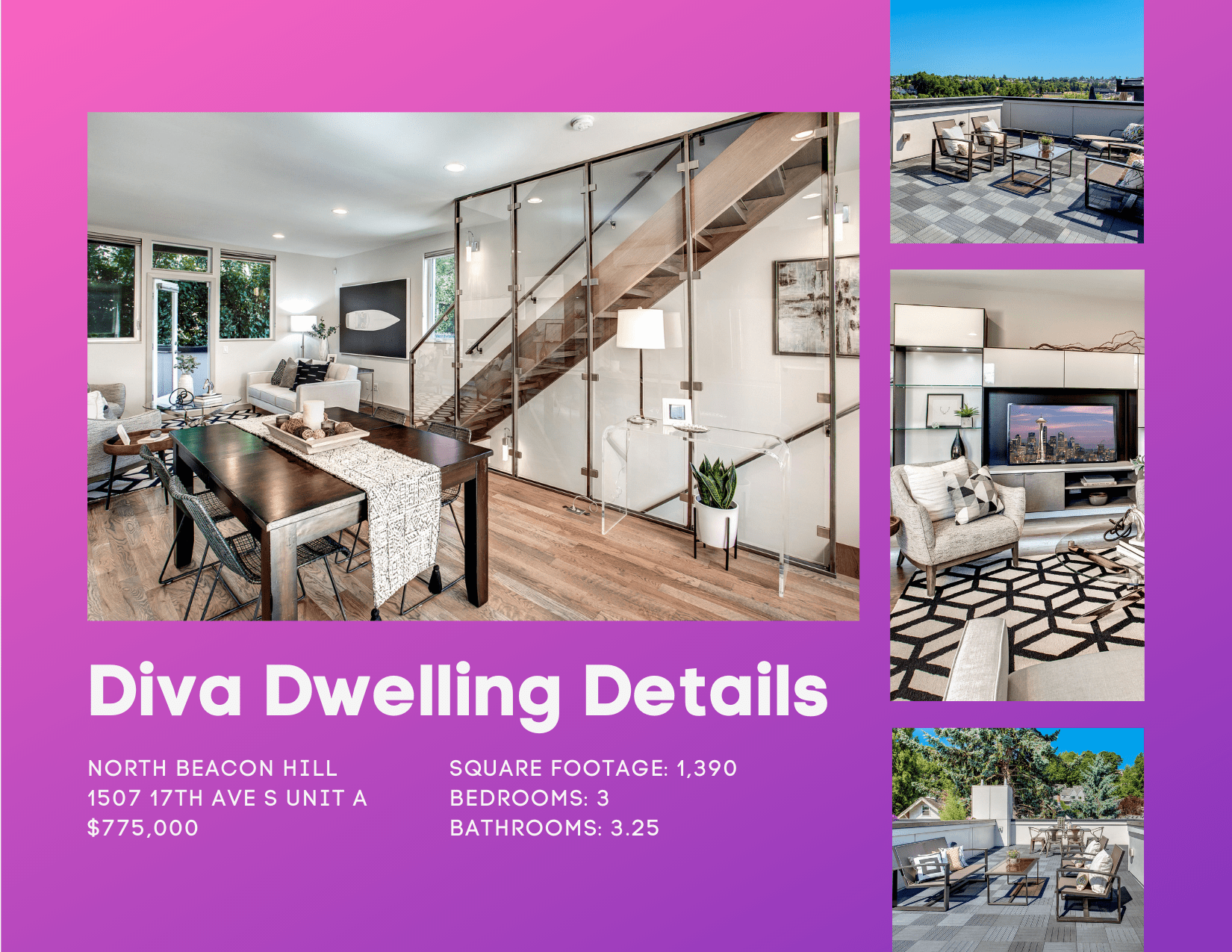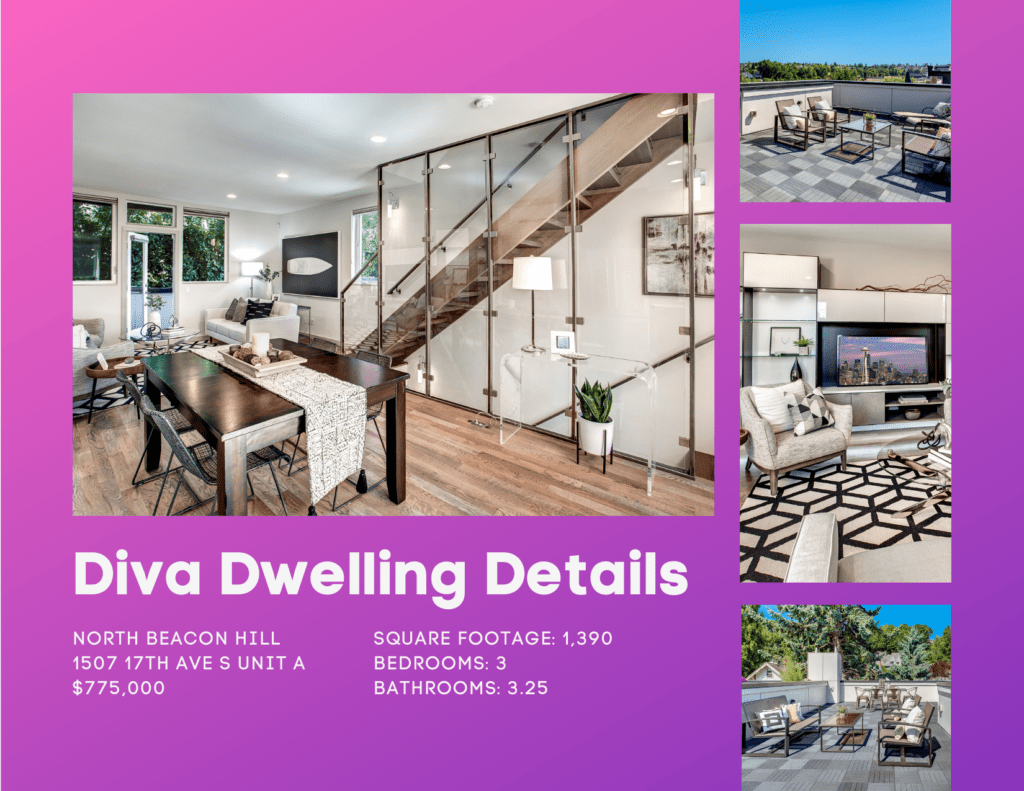 Thank you for joining me on a tour of this Modern North Beacon Hill Townhouse! To take a deeper dive into exactly what makes this Diva Dwelling so special, keep scrolling! 
Gigantic, Secluded Rooftop Deck with Views, Views, Views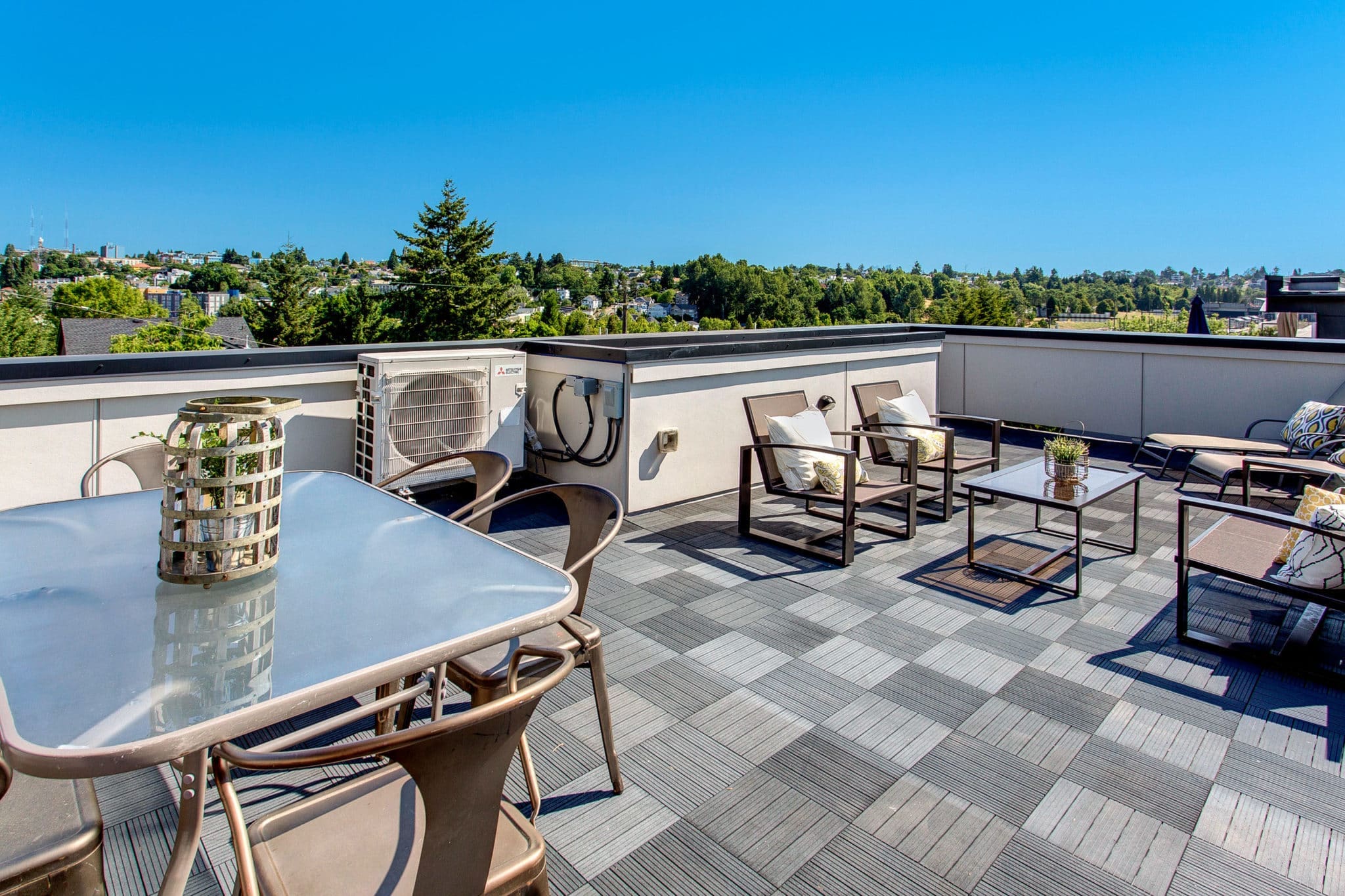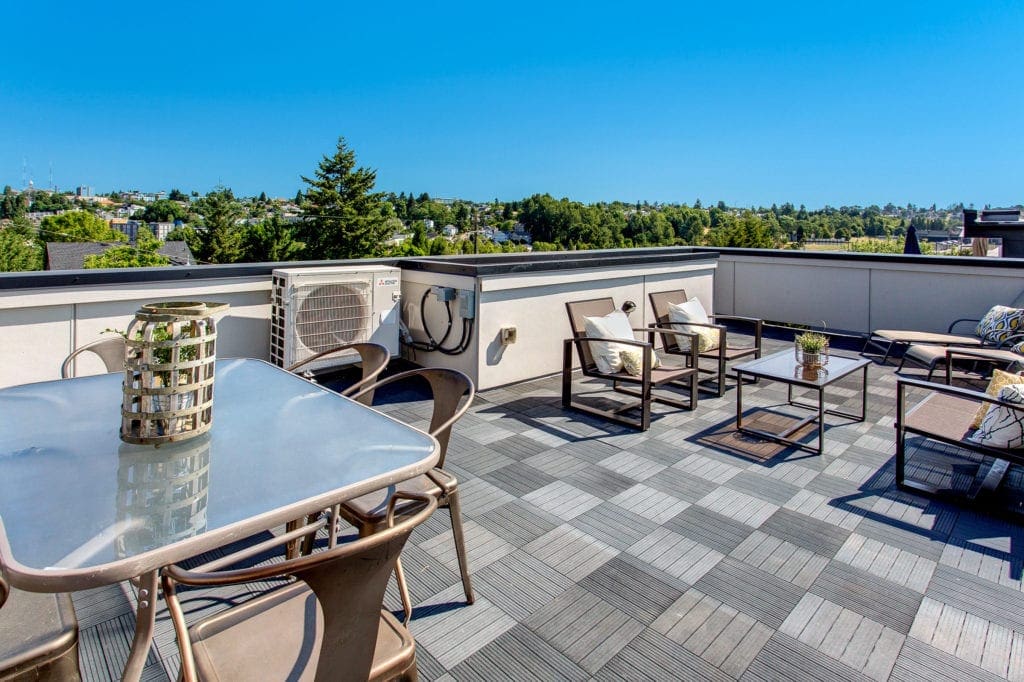 Summer is made even more fabulous in Seattle by having private outdoor space, and a rooftop deck is one of those coveted home features! This deck is my absolute favorite space in the home. Not only is the layout gigantic, but it's private and secluded. This deck is truly an extension of the home, adding some well-loved square footage to your lifestyle. Set up an outdoor dining set that's ready for al fresco dining, and create a living area with a comfy outdoor couch. Set up lounge chairs ready for sunbathing and soaking up as much vitamin D as possible, and string up some twinkle lights to create a magical atmosphere. The cherry on top with this outdoor space is that it even comes with spectacular views of Mt. Rainier. Swoon! 
Layout Perfection Promises Easy Living & Entertaining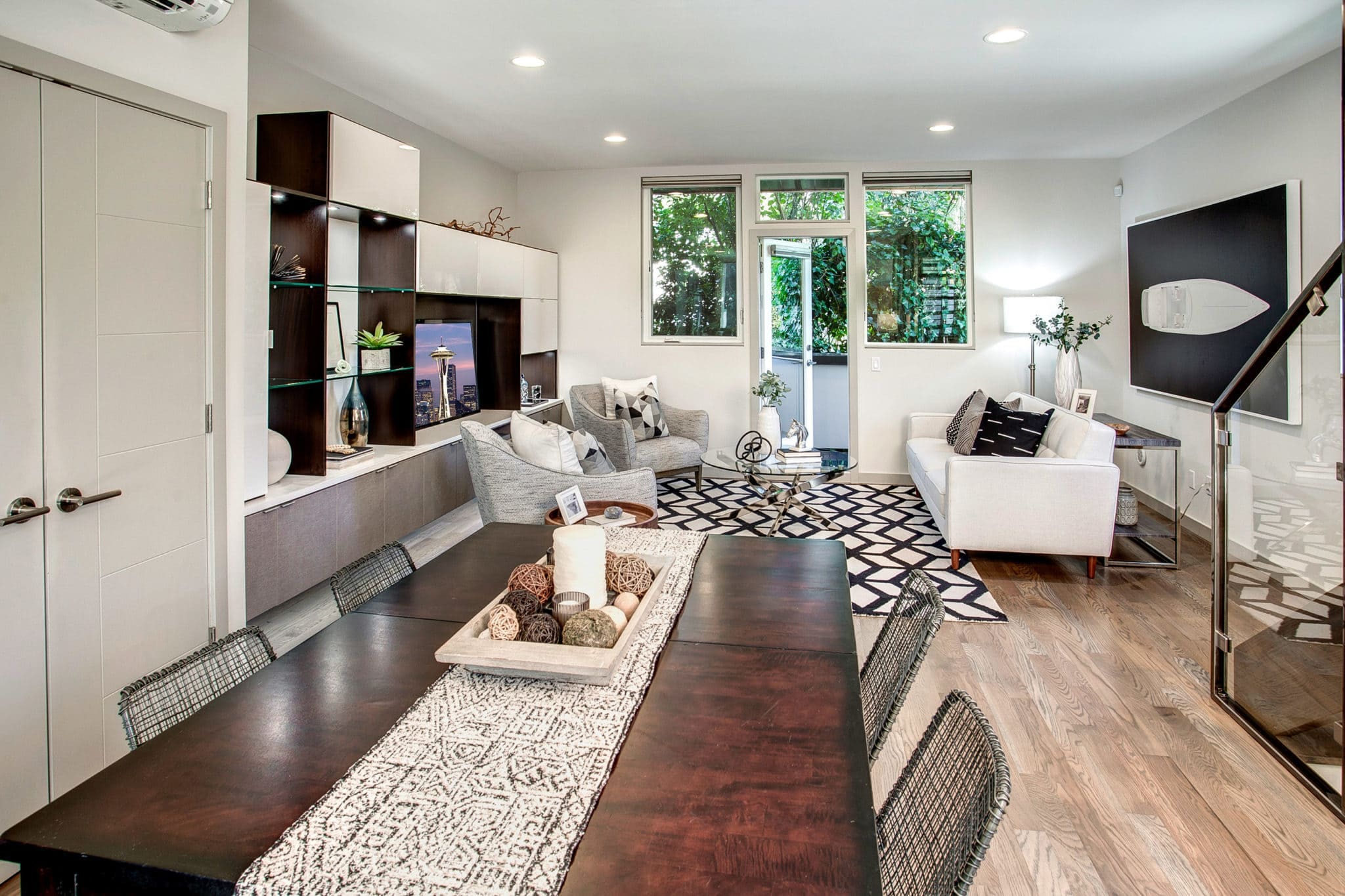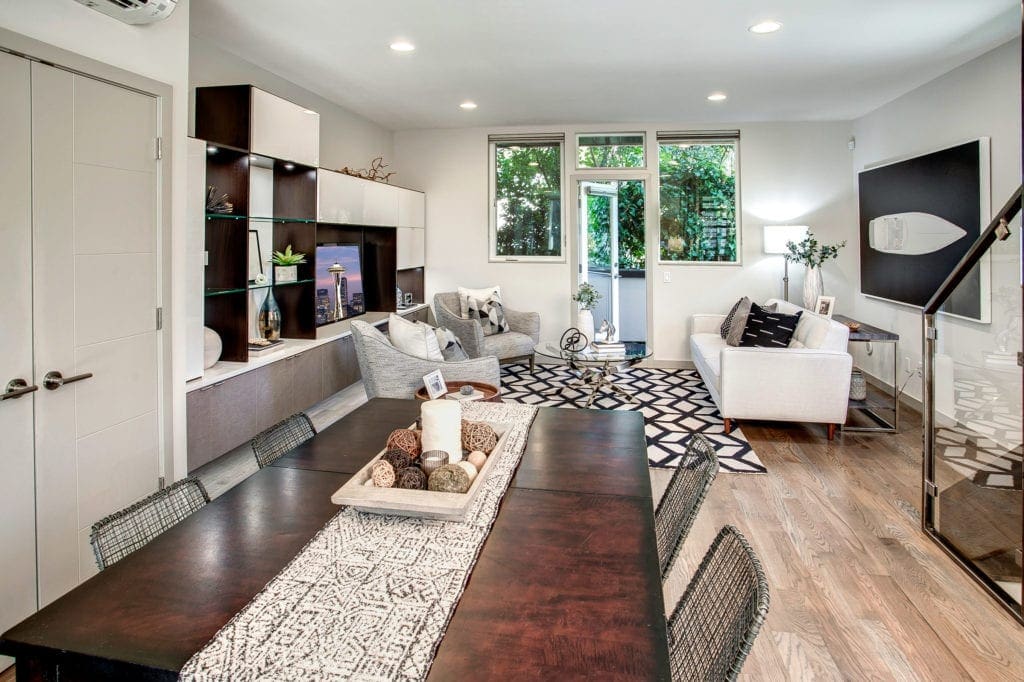 Let's check out the living room and kitchen next. This spacious level is exactly what townhouse dreams are made of. The living room (which features amazing built-ins, more on that in a moment) flows directly to the dining area and over to the open kitchen. (Also, the kitchen even has a pantry!) You may not notice it at first glance, but there is also a private balcony through here which opens up space even more. This layout would be perfect for big gatherings with friends, or just an easy-going hang out with your partner. 
One additional detail I love about this space is the open stairwell. Every townhouse has a stairwell, but many hide them away and close off space. I love this one because it is open, making it a part of the airy and spacious living area.
One last thing I want to say about this layout is that my clients *loved* having 2 bedrooms on the top floor and one bedroom and bath on the first floor. This was awesome for having guests stay over so they can be part of the home but still have privacy. During the pandemic, this extra space converted into a perfect home office.
Tons of Storage Promises Top-Notch Functionality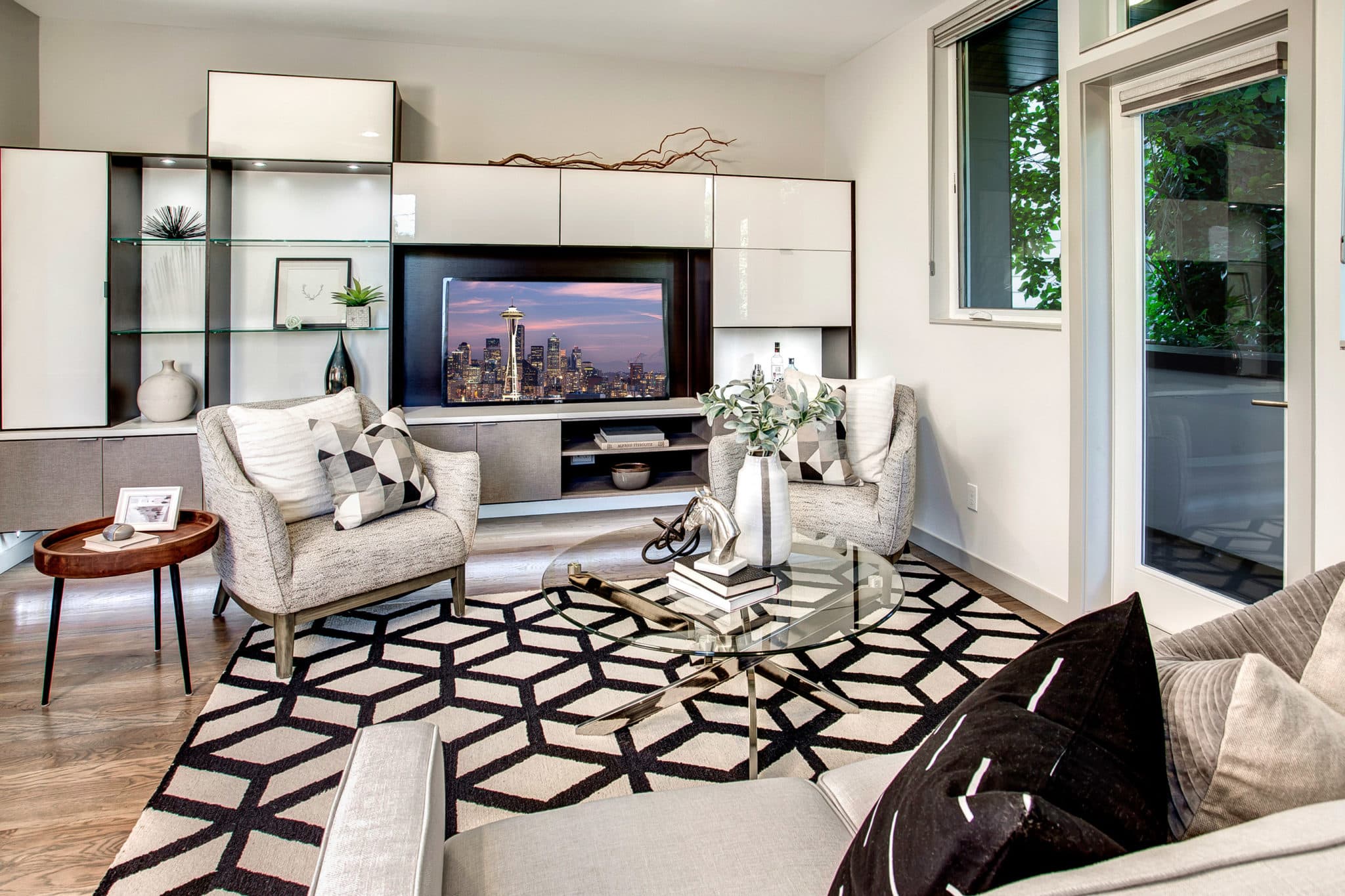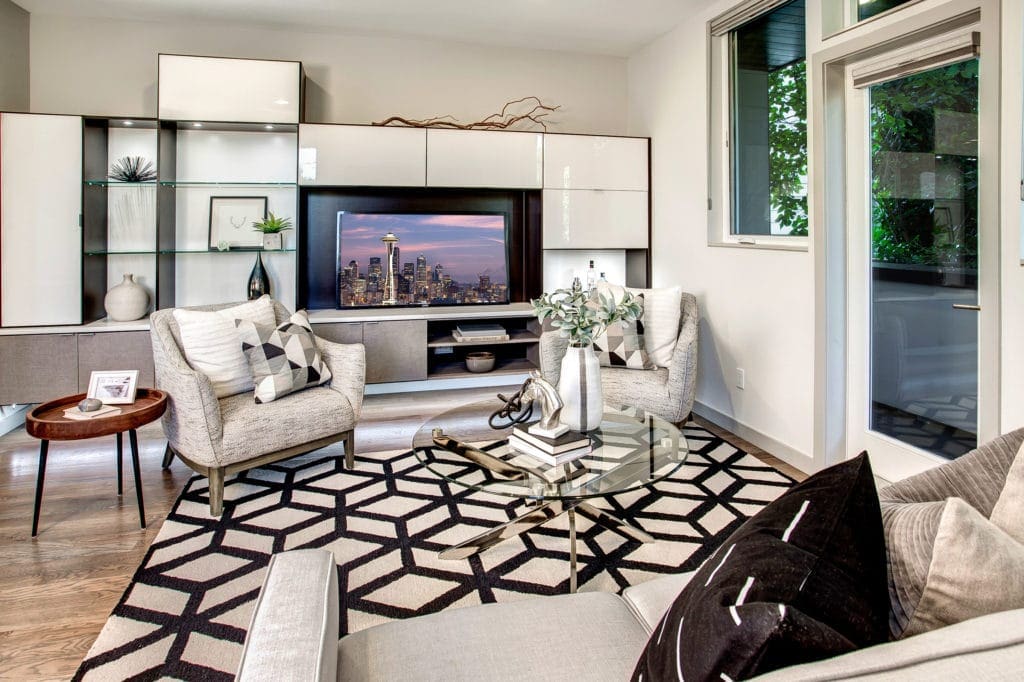 Two things that every townhouse buyer covets are a functional layout AND storage. These are practical matters that every home buyer should consider. This home offers a ton of storage, from spacious closets in each bedroom to a custom built-in in the living room. The built-in offers even more ways to store all the goodies you want to keep close by but out of view. 
A Spacious Garage is a Rarity in Seattle, But This Townhouse Delivers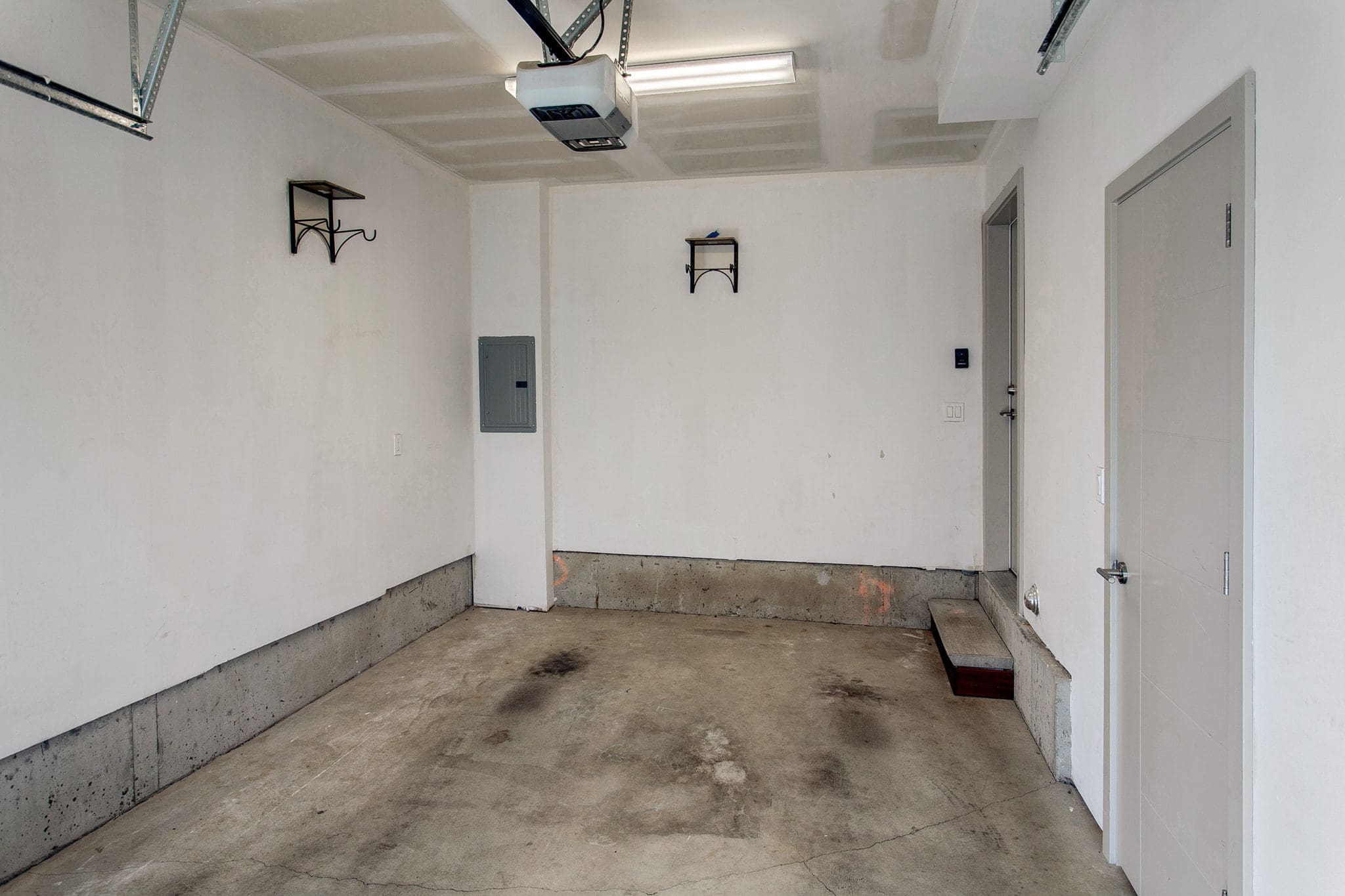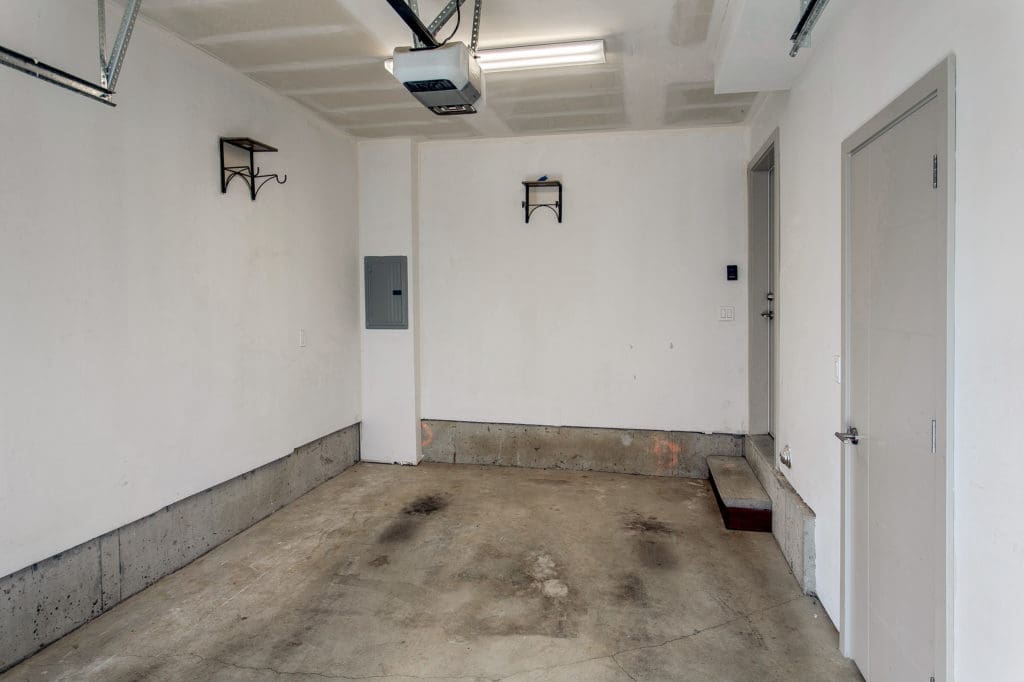 If all of that wasn't enough, there is a spacious garage as well. It's hard to find garages in newer builds these days—trust me! This garage makes urban living easy by guaranteeing a parking spot in this busy, historic neighborhood. I'll tell you now, this house has more storage and a better layout than most townhouses around Seattle… maybe I should buy it for myself. 😉 
What's it Like to Live in Seattle's North Beacon Hill Neighborhood?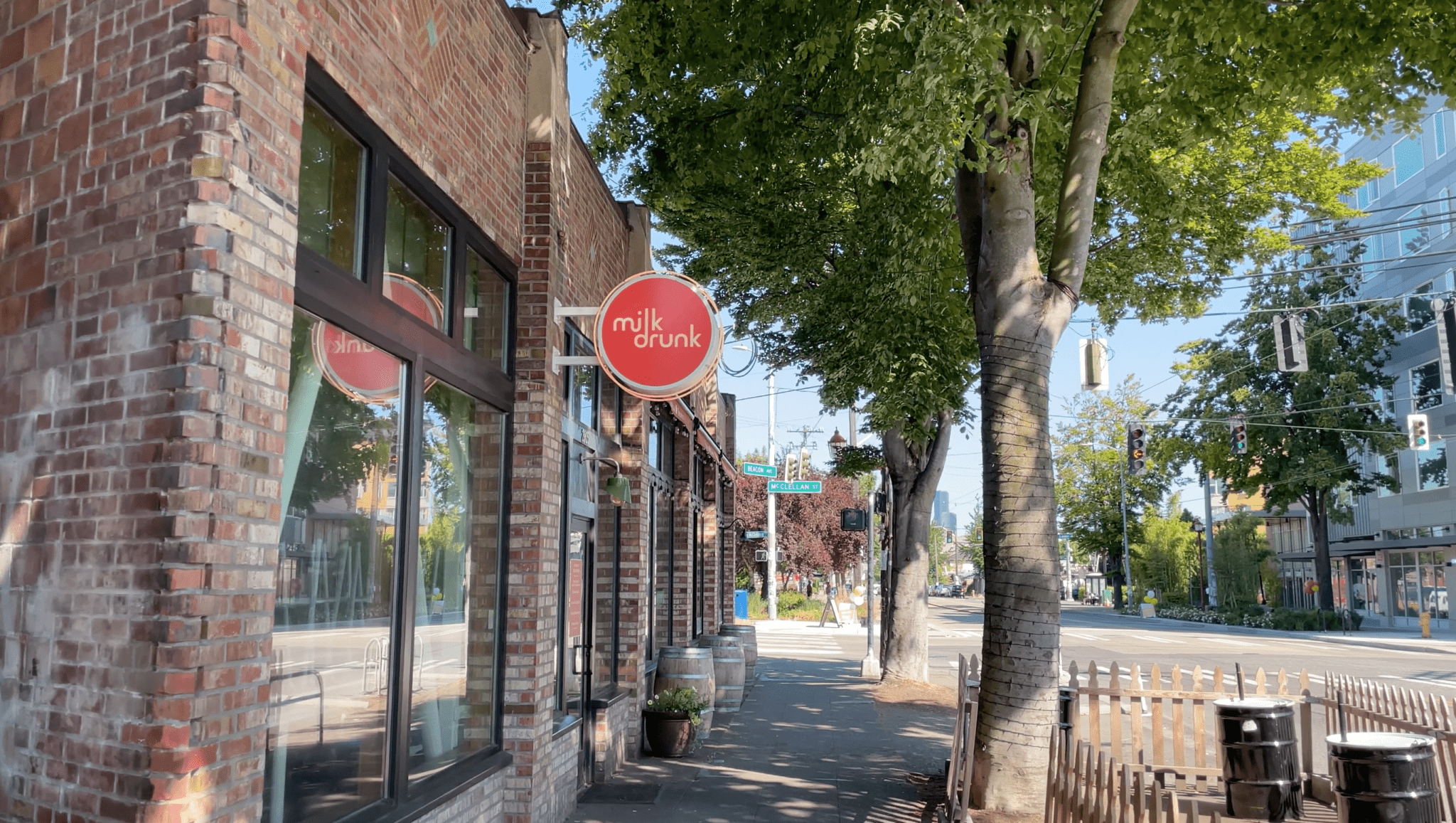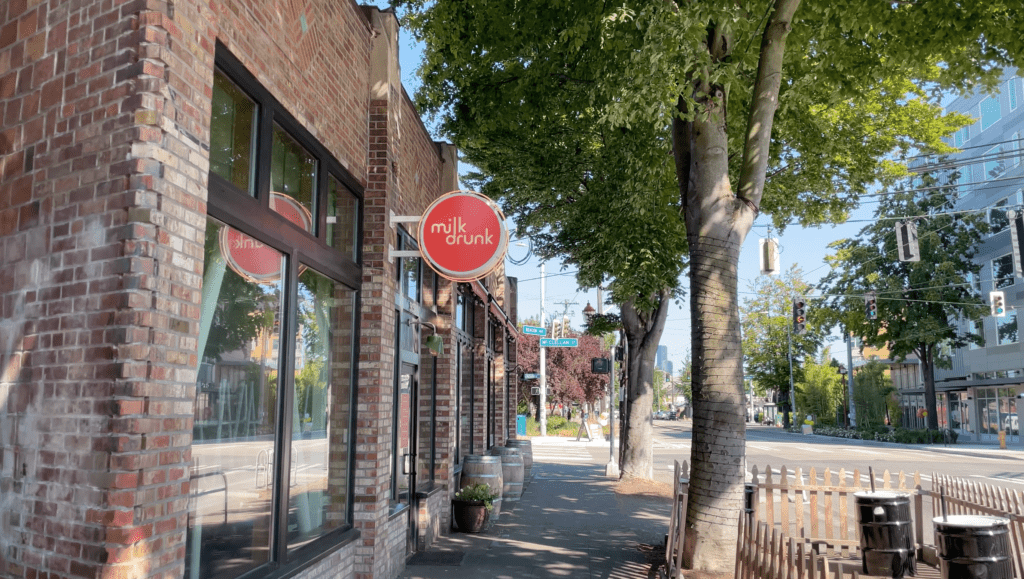 When I say that North Beacon Hill is a neighborhood that has it all, that is an understatement! This townhouse is a commuter's dream. Whether on foot, transit, or bike, it is easy to access Downtown Seattle for work, I-90 for trails, and soon the light rail will connect everything in an even more seamless way. You truly can get to most parts of the city in 15 minutes from this location. Despite the ease of access, the townhouse still has a neighborhood feel. The townhouse is right across the street from the bike/pedestrian trail that connects to Metro and Sound Transit Light Rail – Eastlink that will open in 2023. In addition, the Beacon Hill light rail station is only a ten-minute walk up the street where you will also find the Red Apple, El Centro De La Raza, and all of the great bars and restaurants along Beacon Ave S. 
There are old neighborhood standbys to support and new bakeries and eateries opening up regularly. Head to Milk Drunk for rave-worthy soft-serve, grab a beer and a hearty meal at Perihelion Brewery and enjoy award-winning cuisine at Musang. I also love Oak for its laid-back vibe and vegan options, Victrola for excellent coffee, and Homer for exquisite Mediterranean cuisine. And there are even more dining options to explore—this is only the beginning. It's so easy to spend a whole weekend exploring the city and then grabbing a beer and a bite without ever getting in your car!
Check out some of the other great North Beacon Hill homes we've sold: 
---
Learn More About Buying a Townhouse in Seattle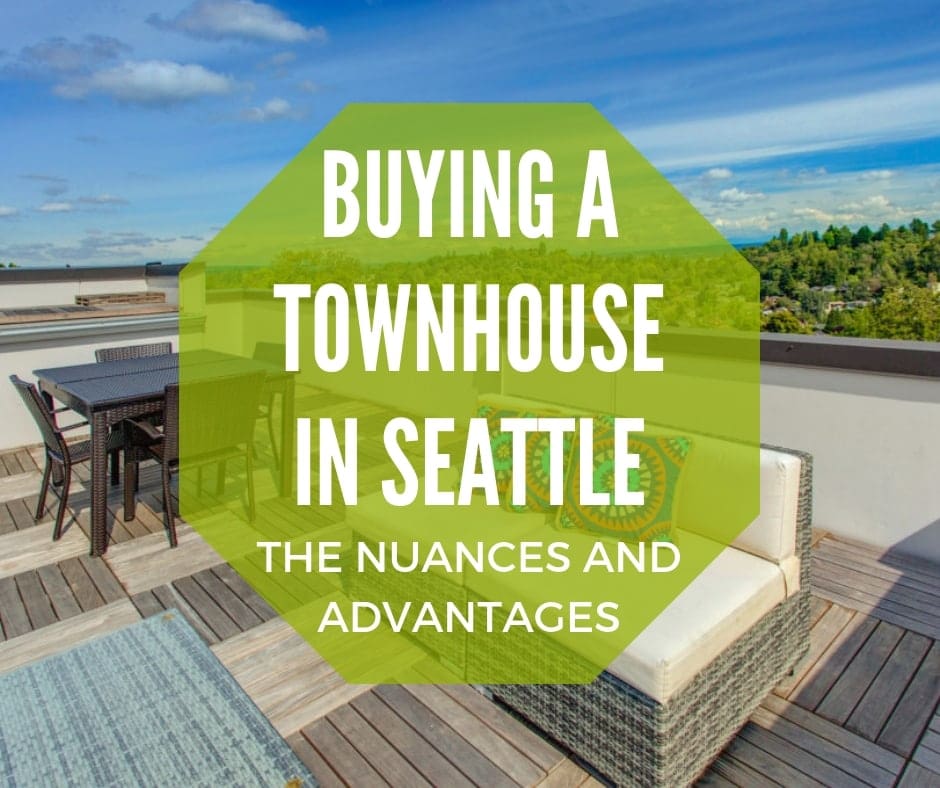 Neither a condo nor a detached home, a townhouse is its own animal in the world of real estate. And to win when it comes to buying a townhouse in Seattle, you need to know the particulars.
Fortunately, buying a townhouse is no more complicated than a condo or detached home. In some ways, it can be less complicated than either. That may be one reason why they are becoming more common in Seattle, as one answer to our need for greater density. They are especially prominent in Seattle's more walkable neighborhoods, which we love, of course
We have a blog that breaks down the ins and outs of buying a townhouse. Check it out, as well as our massive How To Buy A Home in Seattle Guide, which covers the process for all sorts of properties.
---
Thank You for Touring Our Modern North Beacon Hill Townhouse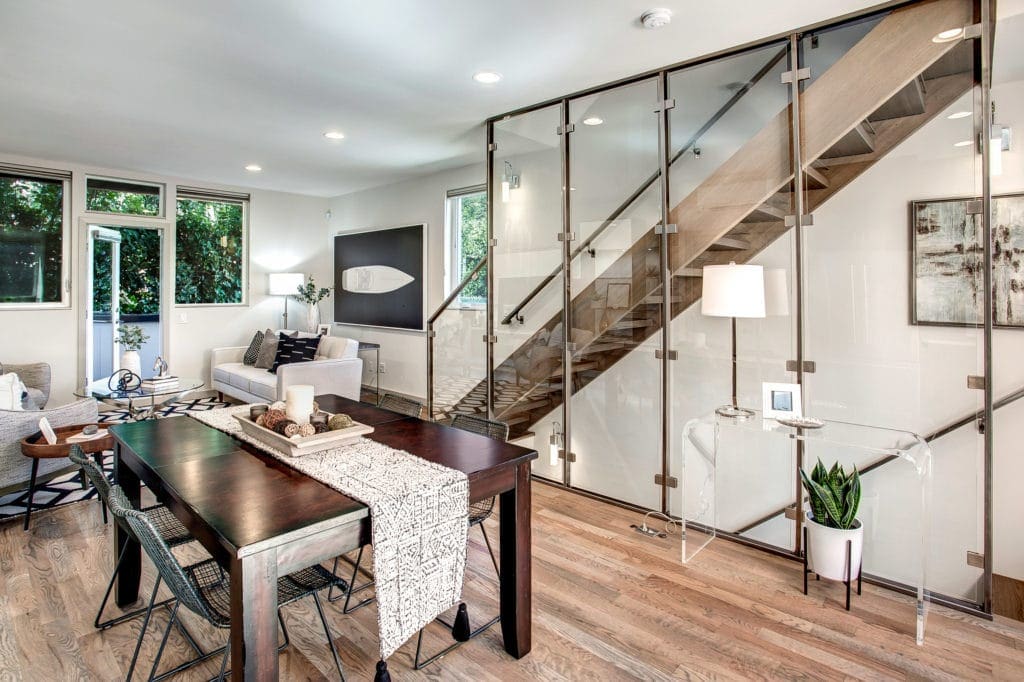 Thank you for taking the time to learn all about this Modern North Beacon Hill Townhouse! I am thrilled to show off everything I am loving about this Diva Dwelling, from the inside out. Of course, there's the huge, secluded rooftop deck with views of Mt. Rainier. This townhome's layout is also expertly designed—the main level is ready for easy living and entertaining, and 2 bedrooms upstairs and 1 bedroom on the lower level is a coveted townhouse layout. 
All the Good Details
Address: 1507 17th Ave S #A Seattle, WA 98144

MLS# 1806789

Square Footage: 1,390

Bedrooms: 3 

Bathrooms: 3.25 

Offering Price: $775,000
Ready to tour this Modern North Beacon Hill Townhouse in person? Contact us today so I can show you how this 2017-built home offers fabulous living spaces both inside and out,  and top-notch functionality thanks to storage and a garage all in the fantastic North Beacon Hill neighborhood.