We've put together this 2021 guide to holiday lights in Seattle to go along with the awesome postcard we sent out to Divaland. If you are here because you were sent the postcard (pictured below!), thanks for popping by! Here you will find a numbered list that corresponds with all of the numbers on your postcard map. We've got all the details for each of the holiday light locations below. 
---
Where to See the Best Holidays Lights in Seattle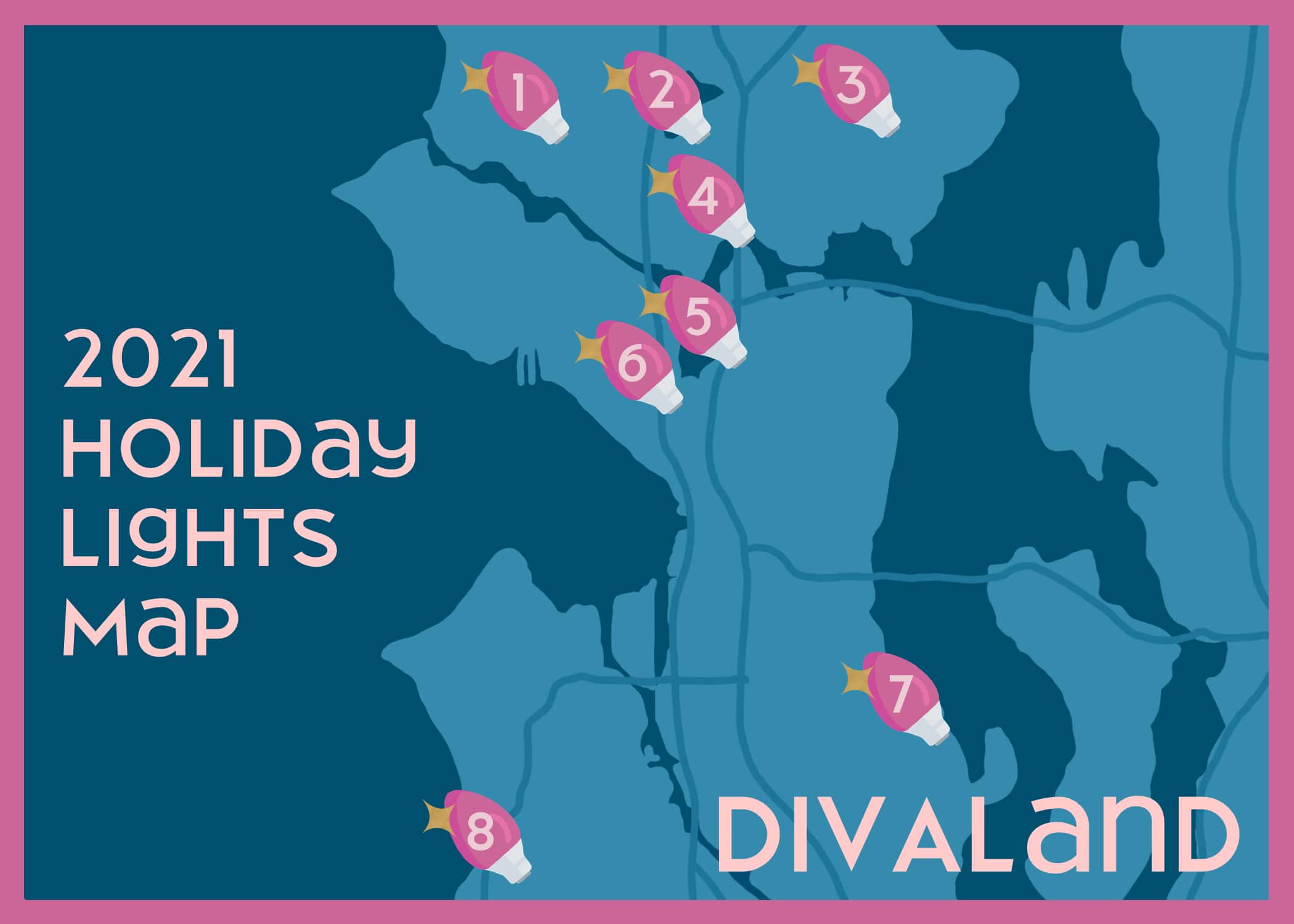 Prep a hot toddy (if you are walking), grab your hot cocoa, and go for a wintry adventure to see some lights around Seattle. We have put together the very best list of lights around town. You will love the magic of touring these fabulous lights around this city. 
1 – Olympic Manor Holiday Lights
Located in the area that includes NW 75th to NW 100th Seattle, WA 98117 in North Seattle, this entire Seattle neighborhood goes ALL OUT for the holidays! You just might have to wear sunglasses when you stop by! Visitors are totally blown away by the holiday spirit (and hundreds of thousands of lights!) that fill up this neighborhood every year around Christmas. Some people drive through the neighborhood and some people just park a few blocks away and walk-in. It gets crowded! Check out a bunch of pics from previous years here. 
More Info Here: Olympic Manor Neighborhood Holiday Lights  
2 – Disco Vinnie's Music and Light Display
Disco Vinnie's Music and Light Display is located at 6212 9th Ave NW, Seattle, WA 98107 in Ballard. DJ Disco Vinnie is known for many things. We all know him in Divaland because of the epic party vibes he brought to Tue and John's wedding. You can find DJ Disco Vinnie DJing in the community, officiating LGBTQ+ weddings, and bringing the sparkle during the holidays. You will find this big sparkle house in North Seattle with the music going. Let's just say Disco Vinnie is certainly known for having one of the fanciest, brightest, most brilliant houses on the block during the holidays. Click here to check out a video of Vinnie's house last year… it's pretty spectacular. 
More Info Here: Disco Vinnie's Music and Light Display
3 – Candy Cane Lane in Ravenna
Candy Cane Lane in Seattle's Ravenna neighborhood is a classic, must-see light display if you've never been. Candy Cane Lane is located on NE Park Road right off of the main drag of Ravenna Boulevard at the cross street of 21st Ave NE. It's a curved road of 20+ 1920s era homes that are not only super charming but are totally transformed during the holidays with lights galore and cute Christmas decor. You can simply drive through Candy Cane Lane, and although the attraction is free, typically the neighborhood asks for a canned food donation. 
More Info Here: Candy Cane Lane in Ravenna 
4 – WildLanterns at Woodland Park Zoo
Located in Seattle's Phinney Ridge neighborhood, the Woodland Park Zoo is home to one of Seattle's most impressive holiday light displays. From November 12, 2021, to January 30, 2022, the wild lanterns light festival offers a completely immersive and memorable experience to punctuate your holiday season. The festival is brand new this year and shows off "wild places" from around the world. Take a look at a few of the event's preview pics here. 
More Info Here: WildLanterns at Woodland Park Zoo
5 – Christmas Ship Parade of Boats on Lake Union
On December 10, 2021, a cherished annual tradition visits Seattle's shores again: the Christmas Ship Parade of Boats! Many people like to book a spot on the "official" Argosy Cruise ship, but it's so popular that it's already been booked up for a while now. No worries though because that's not the only game in town. It's a parade, remember?! People decorate their boats in Christmas lights, meet up in Lake Union, and then parade through the Fremont Cut. Join the parade, or like most people, watch from many places onshore. 
More Info Here: Christmas Ship Parade of Boats on Lake Union
6 – Seattle Center Luminata
All season long, Winterfest brings festive happenings to the Seattle Center from November 26 – December 31. This includes Luminata, which is an annual tradition of decorating the trees at the Seattle Center in lights and other specialty light features. This includes a fabulous light and music display at the International Fountain each evening at 6 pm. If you're attending one of the other Winterfest events, make sure you leave time to stroll through the Seattle Center to take in the seasonal sights! 
More Info Here: Seattle Center Luminata
7 – Lakewood / Seward Park Mega Holiday House 
The Diva's favorite holiday house is an older craftsman home in the Lakewood / Seward Park neighborhood of South Seattle. This family goes all out for the holidays. There are reindeer leaping. A vintage Santa Claus sits on top of the roof. Even the garage is decorated. The best thing about touring this Seward Park home is the fact that the entire neighborhood gets in on the action. It is so beautiful. 
More Info Here: Located at 5103 S Alaska St Seattle, WA 98118
8 – Menashe Family Home Light Display in West Seattle 
Located at 5600 Block Beach Drive SW, the  Menashe Family Home Light Display has become a Seattle holiday light mainstay. I mean just look at the photos here. It's actually kind of shocking! This home goes big every single year in honor of the holiday season—the Menashe family puts up over 300,000 lights! So trust us when we say that you can't miss this blinding display. After all, it's not often you get to see such an extravagant light display on someone's home. Stop by sometime Sunday after Thanksgiving through January 1 to see this home in it's true yuletide glory. 
More Info Here: Menashe Family Home Light Display in West Seattle 
---
Enjoy The Holidays in Divaland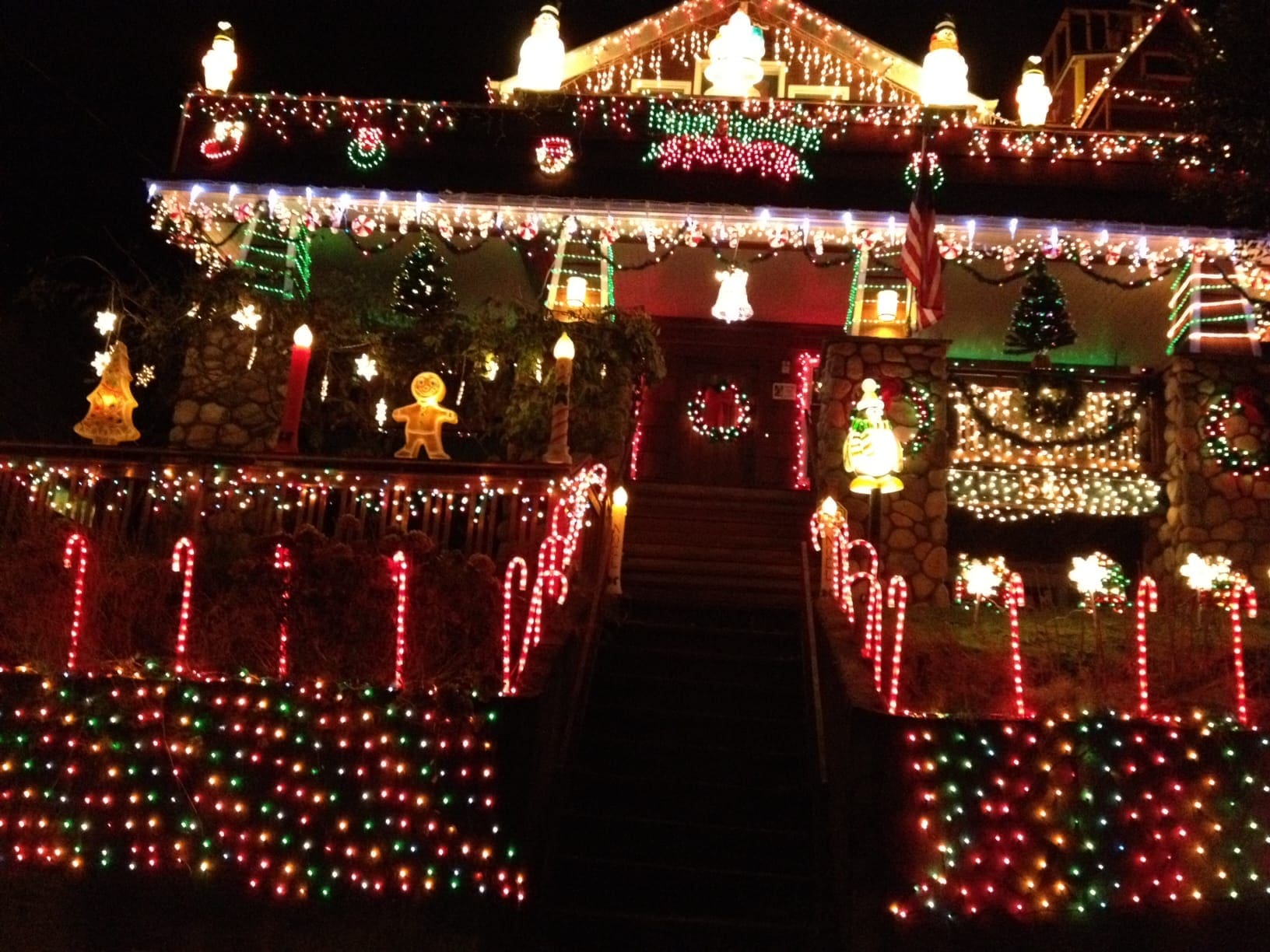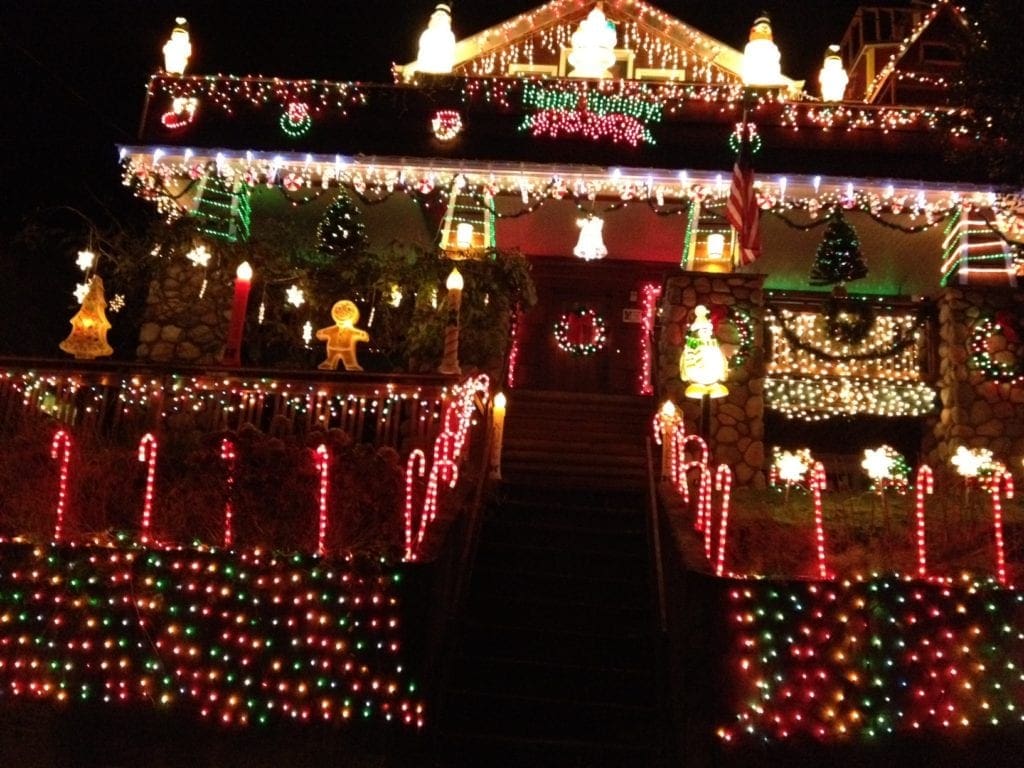 Thank you so much for enjoying your holidays with Team diva and letting the light in this season. Want to know how we are all enjoying the season check out each of our team member's "What Brings Me Joy This Season Guides" below.
What Brings Team Diva Joy This Holiday Season
This holiday season we wanted to share how our team finds Joy shopping local, seeing great holiday shows, and enjoying dinner out with good friends and family. Here are each of the team members' favorite things for the Holiday season: 
Thank you for enjoying our map of Holiday Light Displays. Now go out there and fill this season with joy!