Chavi's favorite things during the holiday season will leave you feeling rested, rejuvenated, and restored. This Diva knows exactly what this year calls for—holiday facials that'll leave you glowing, tinctures from Sugar Pill, and treasured time with friends. Keep scrolling to check out Chavi's savvy seasonal tips for unique ways to make the most of the holidays in Seattle this year.
---
Chavi's Favorite Things This Holiday Season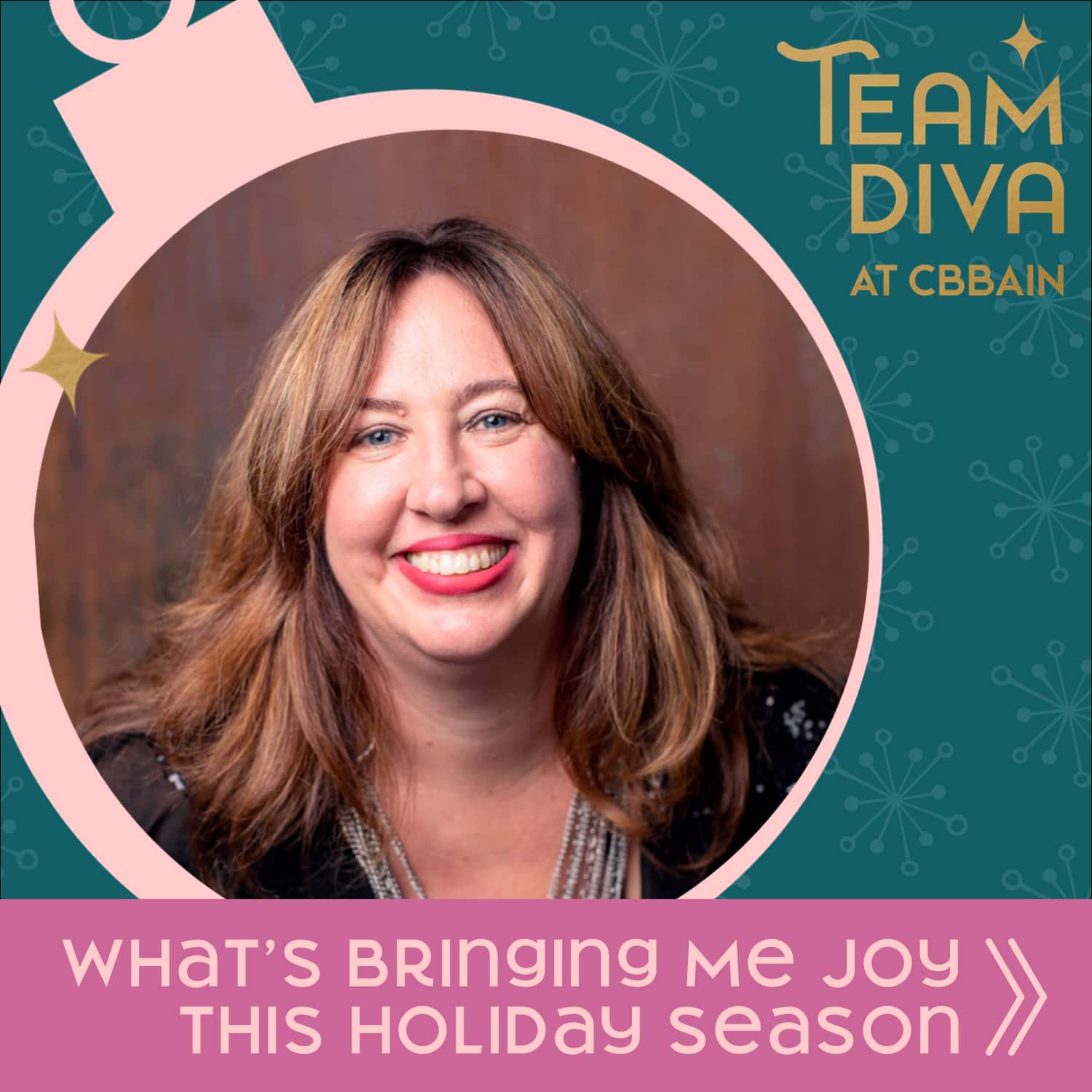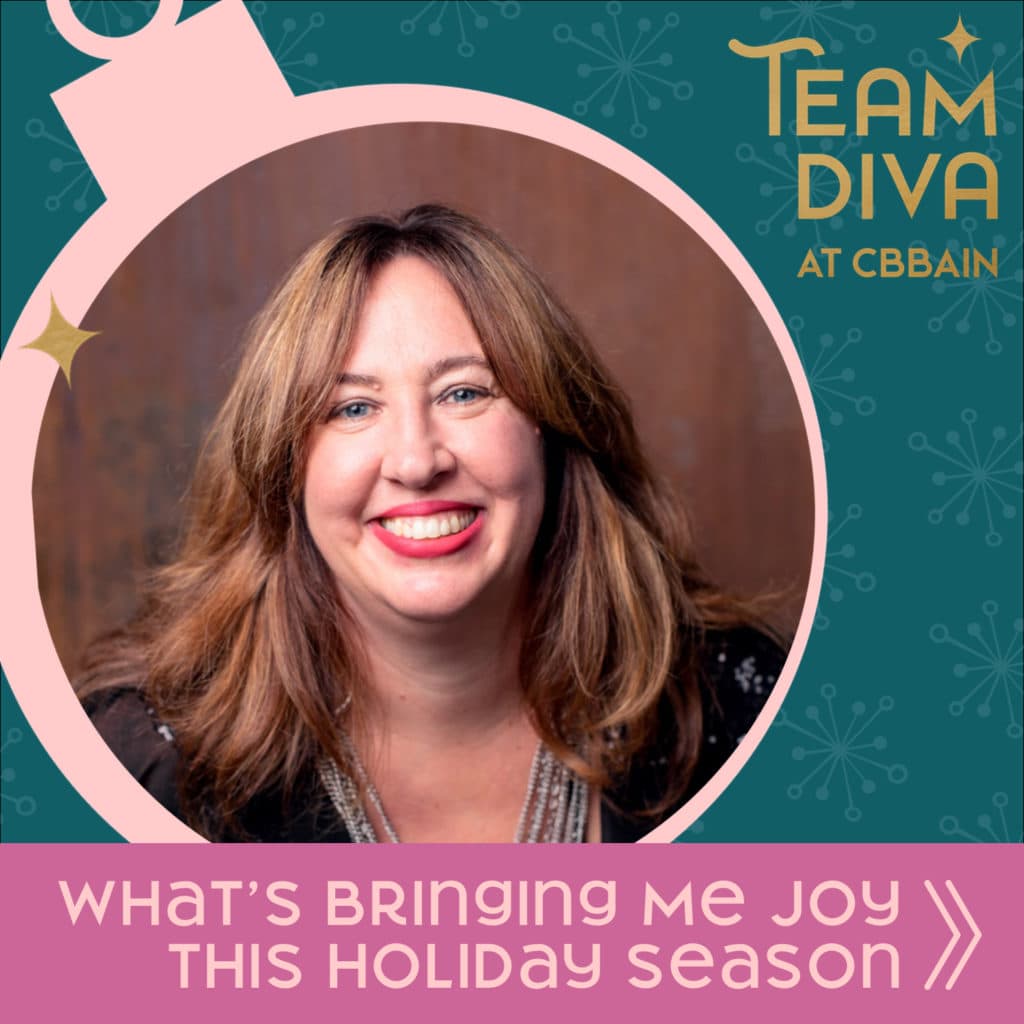 The holidays for Chavi are all about gathering family (Friend/Family) together and rejoicing in the garishness of all the things. This means tacky holiday sweaters, baking cookies, getting together with all the people. Later in the season, you will find Chavi at the Lake House decompressing from the previous year. Long walks on the beach and watching the storms roll in. Perfect to start 2022 off with a bang.
Where's your favorite place to go for self-care?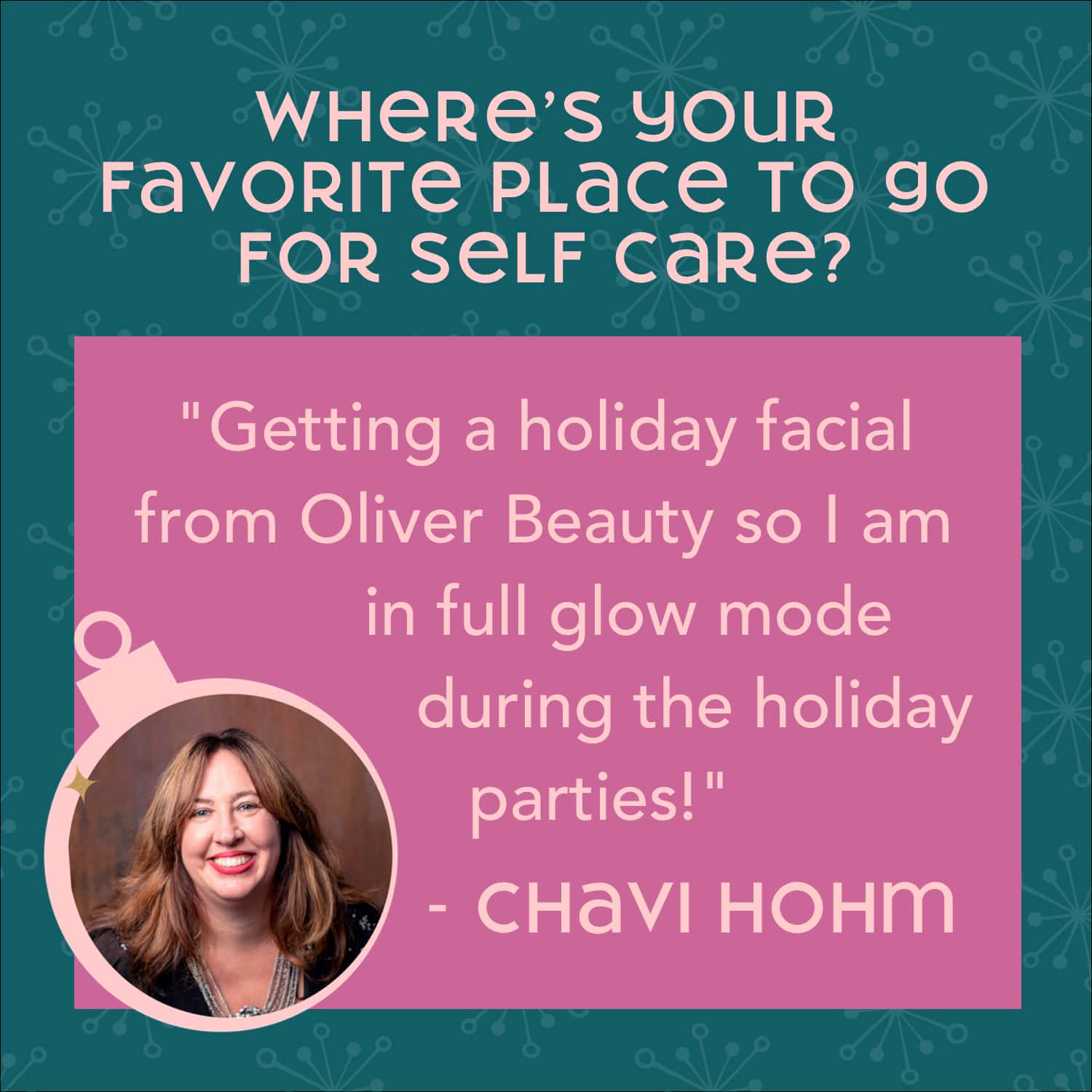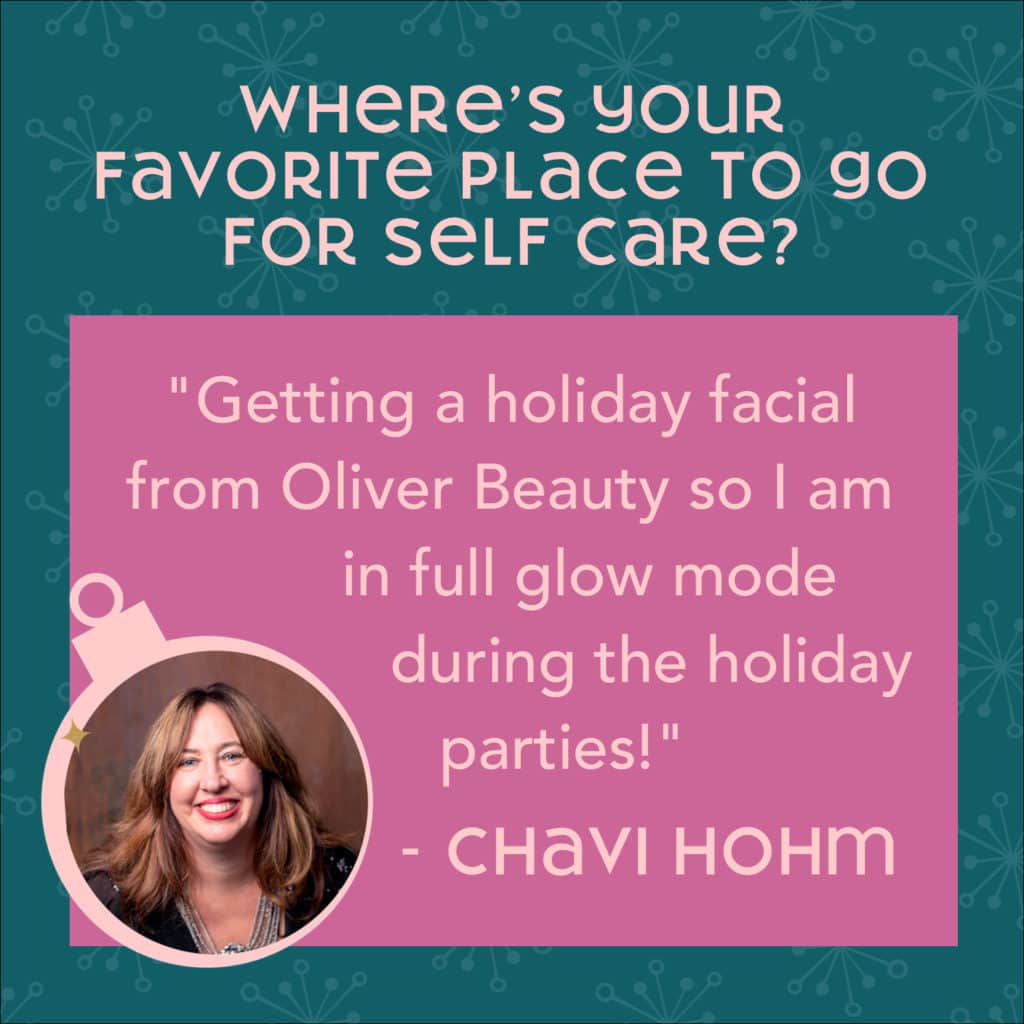 Getting a holiday facial from
Oliver Beauty
so I am in full glow mode during the holiday parties. Chavi also really enjoys taking cold winter walks with Hollis the dog through local parks. It is really lovely to soak in the changing season.
What's your favorite holiday show?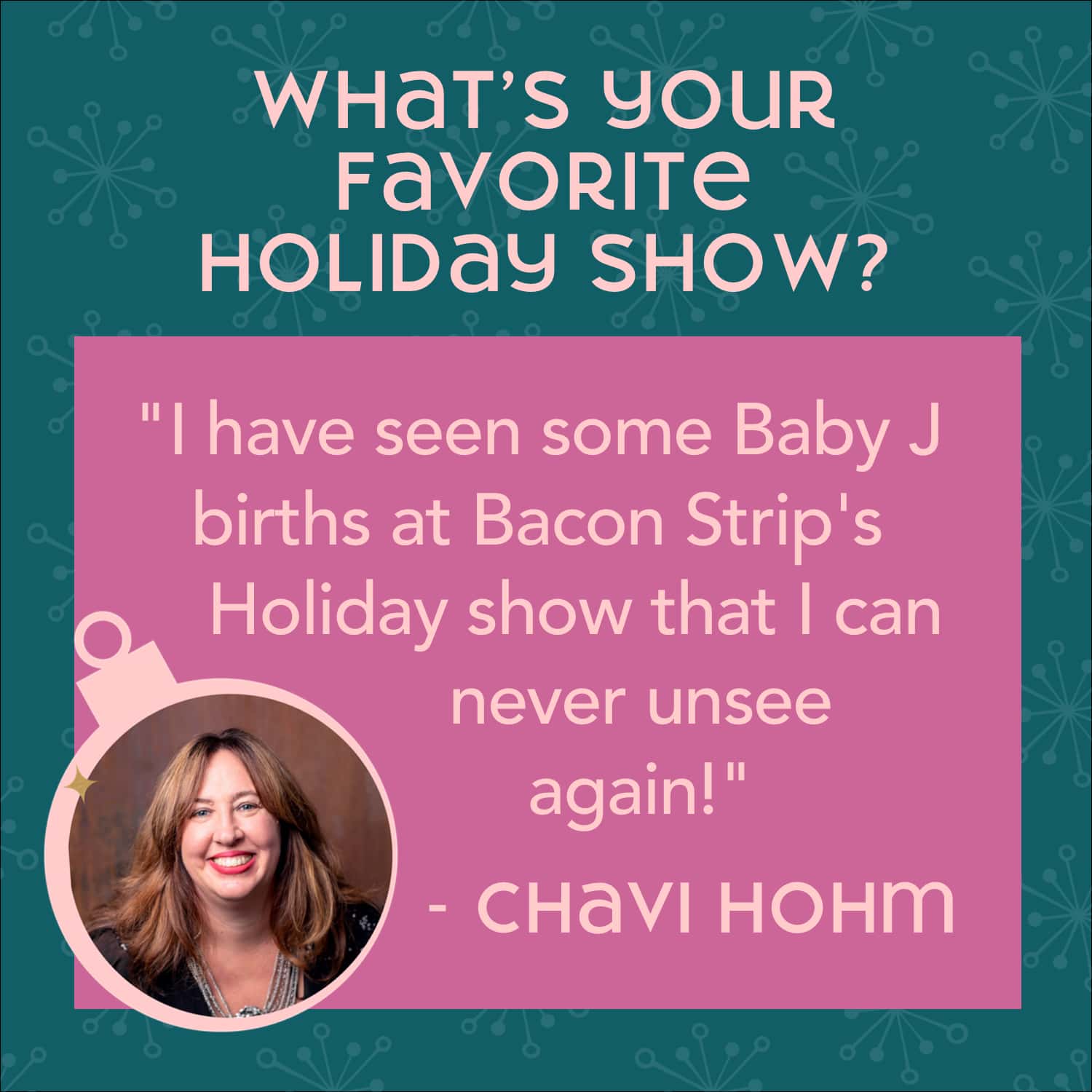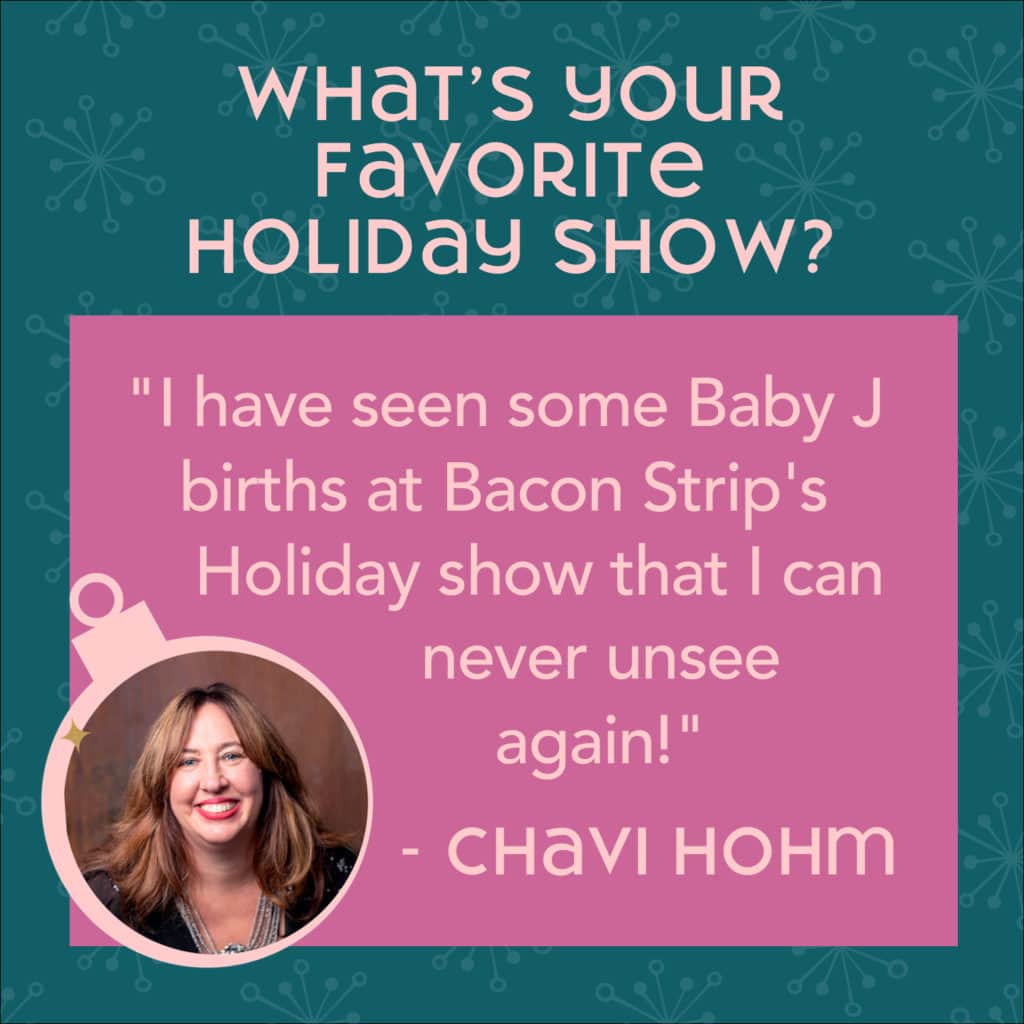 I have seen some Baby J births at Bacon Strip's Holiday show that I can never unsee again! Honestly, experiences are so important during the holiday season. It is also an incredible time for all of us to give back to the artist community here locally. What they make now sustains many organizations throughout the year.
One of Chavi's favorite things during the holidays (and all year round, really!) is heading to Capitol Hill for some shopping.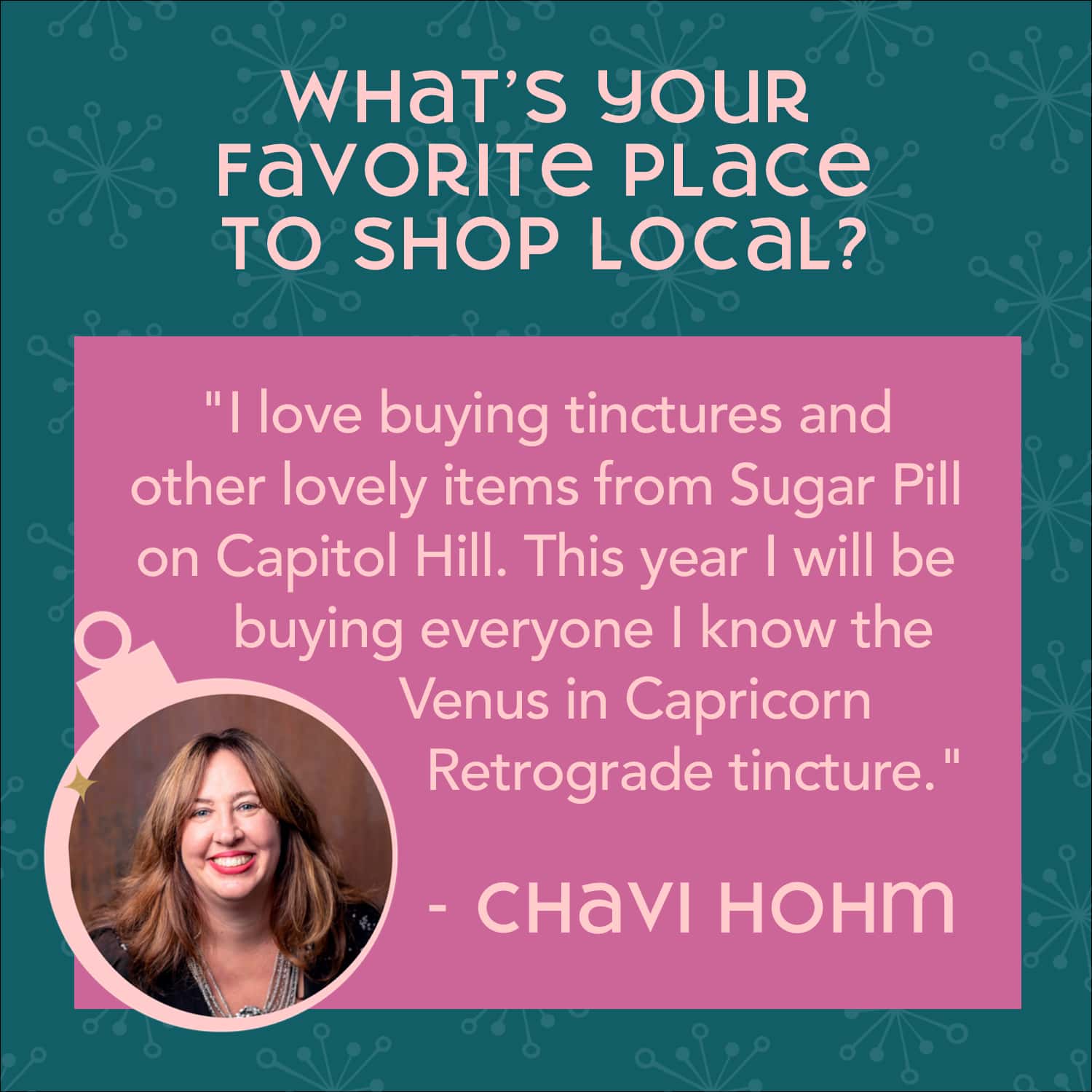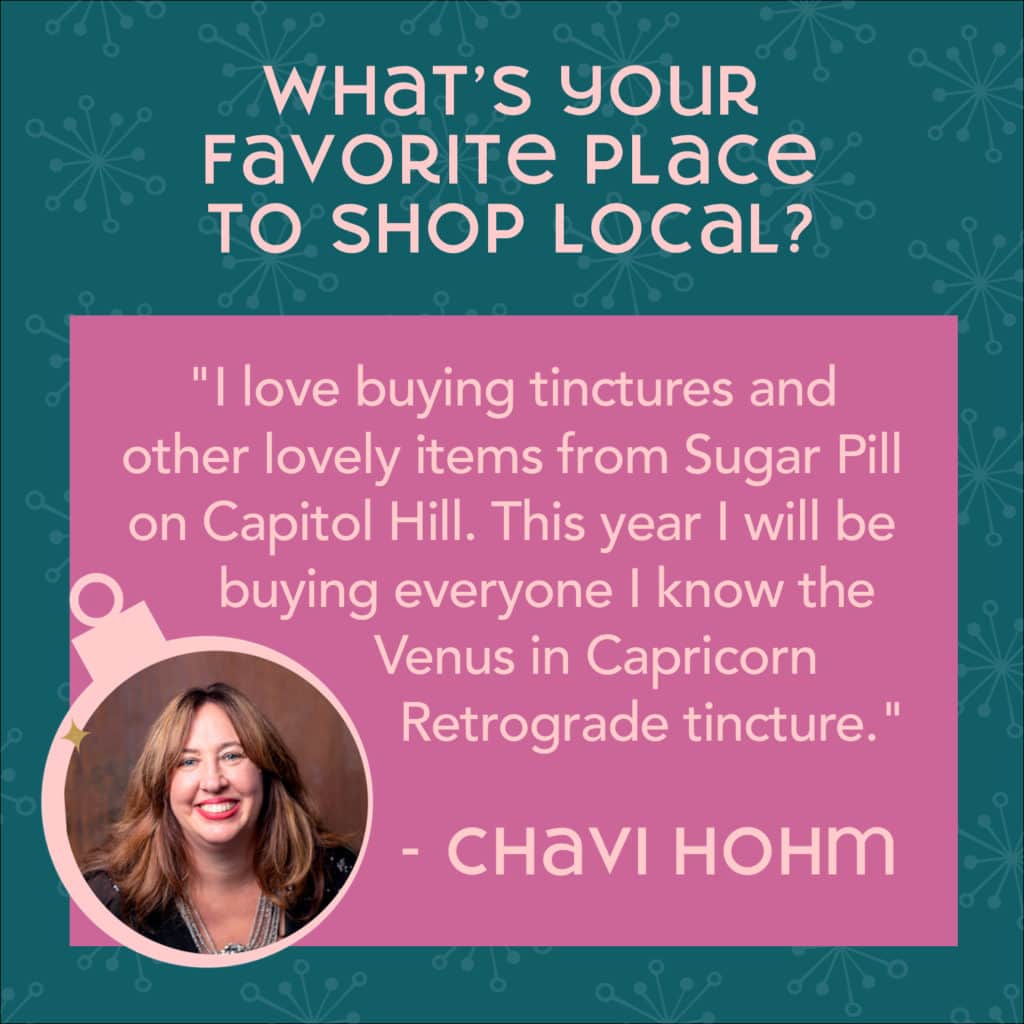 I love buying tinctures and other lovely items from
Sugar Pill on Capitol Hill
. This year I will be buying everyone I know the Venus in Capricorn Retrograde tincture. It was created in collaboration with our astrologer Stephanie Gailing and Sugar Pill owner Karen Shwartz. Starting on December 19th Venus will go retrograde. For many people, this will be a shock to the system as they re-evaluate their personal relationships. Thankfully Karen created a tincture that I honestly think will be the best self-care item of the Holiday season. Read the whole
write-up here on Stephanie's website.
Favorite place to go for food + drinks during the holidays?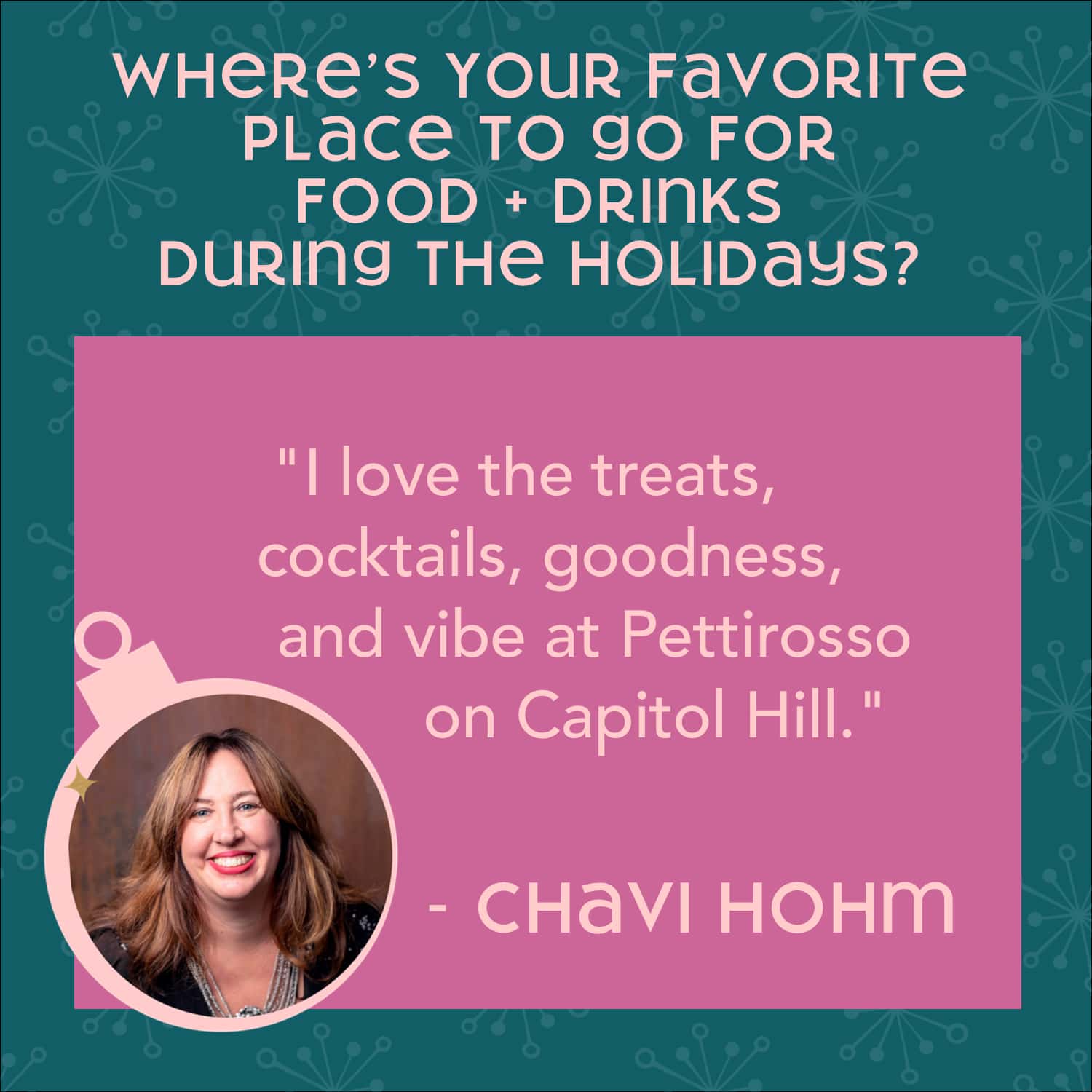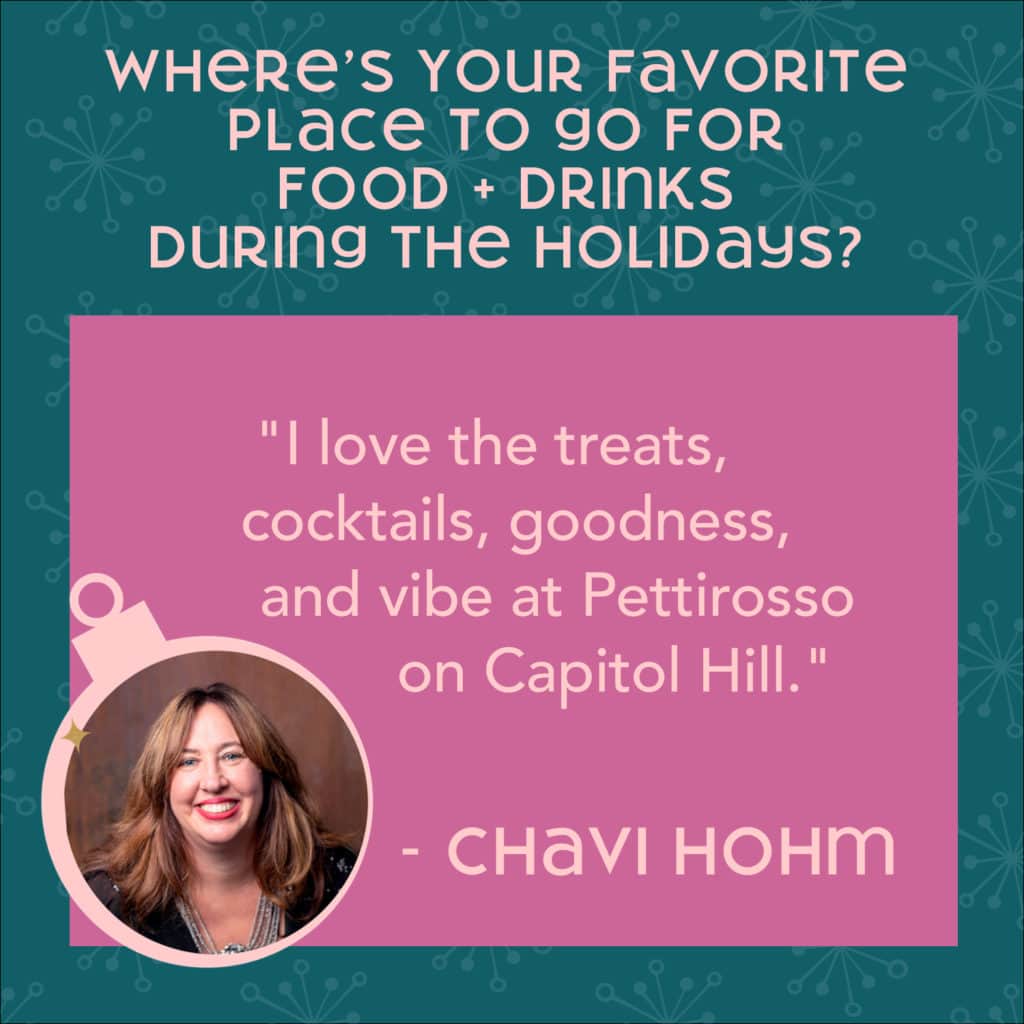 I love the treats, cocktails, goodness, and vibe at
Pettirosso on Capitol Hill
. Right now they are making some epic pumpkin treats. I also love the fact that it is a women-owned business that has been through everything and is still radiating out goodness.
What brings you joy in Seattle during the holidays?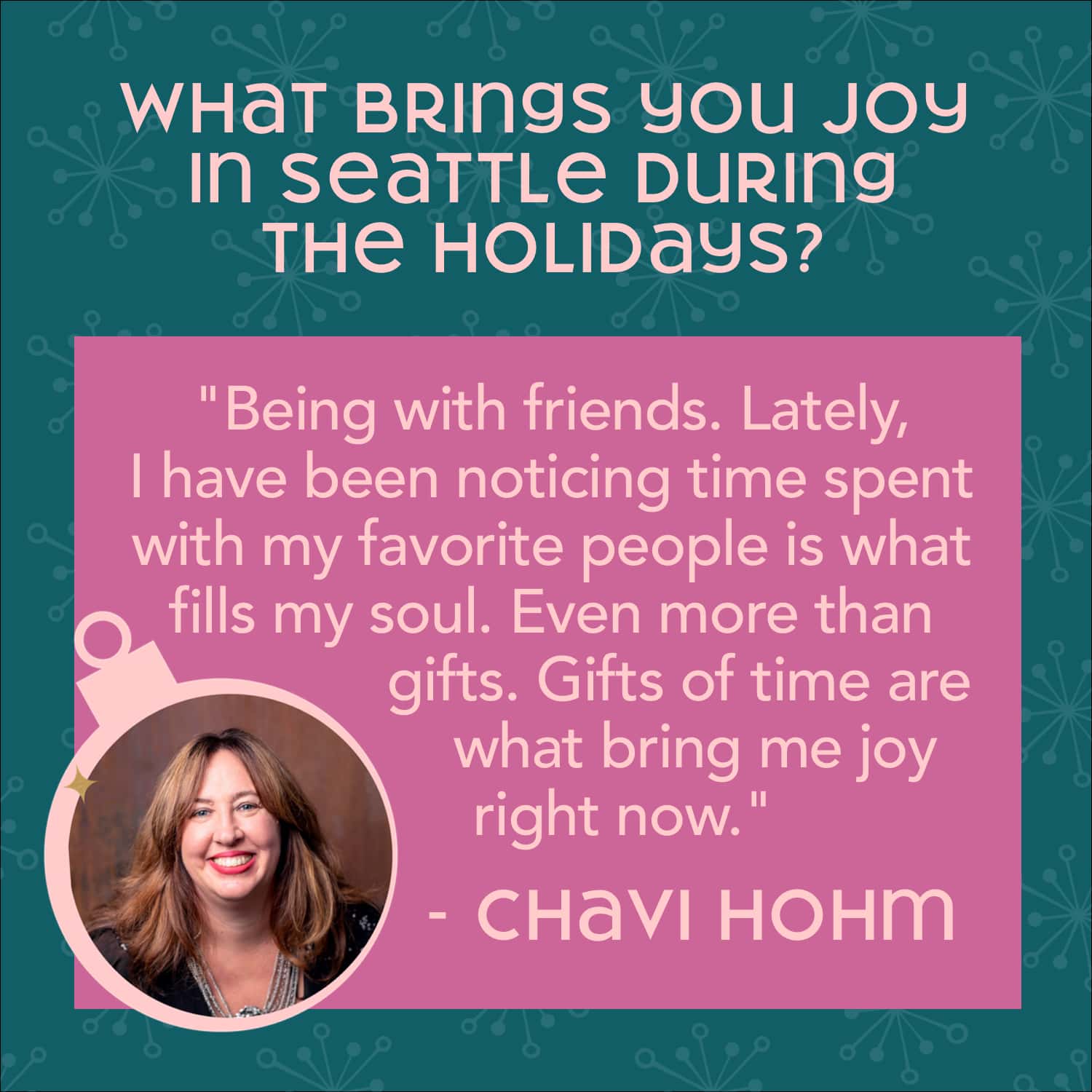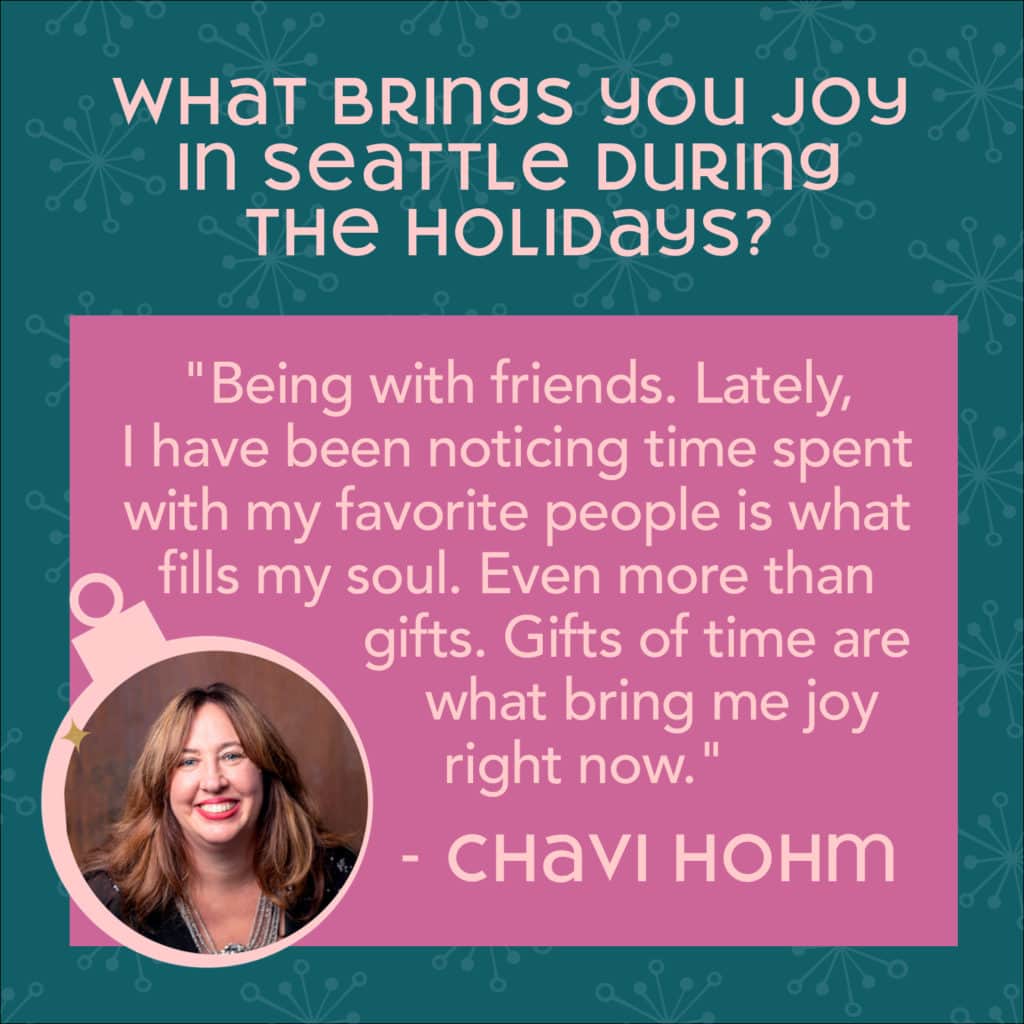 Being with friends. Lately, I have been noticing time spent with my favorite people is what fills my soul. Even more than gifts. Gifts of time are what bring me joy right now. I plan on spending the last part of the season with as many of my favorite people as possible.
One of Chavi's favorite things is checking holiday lights!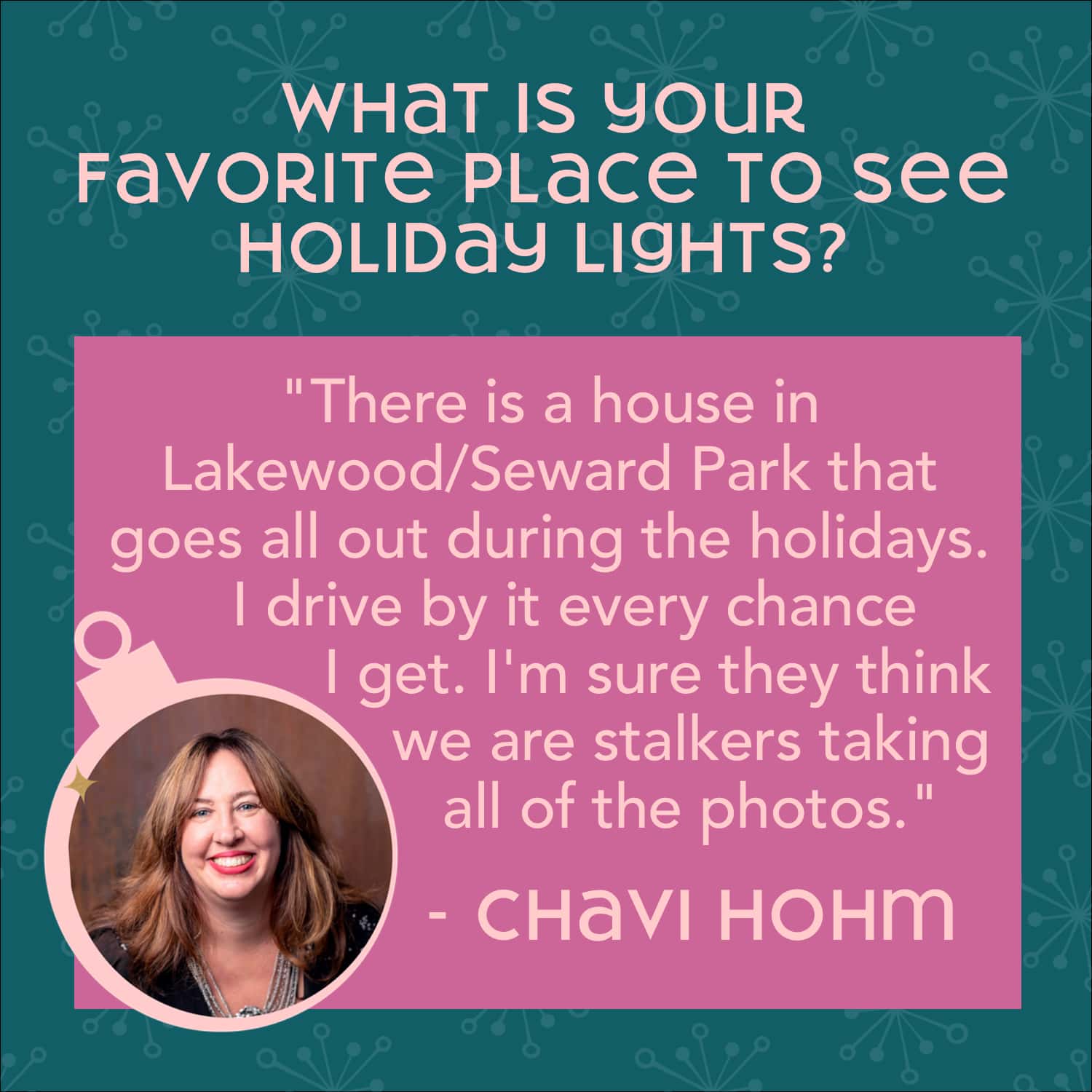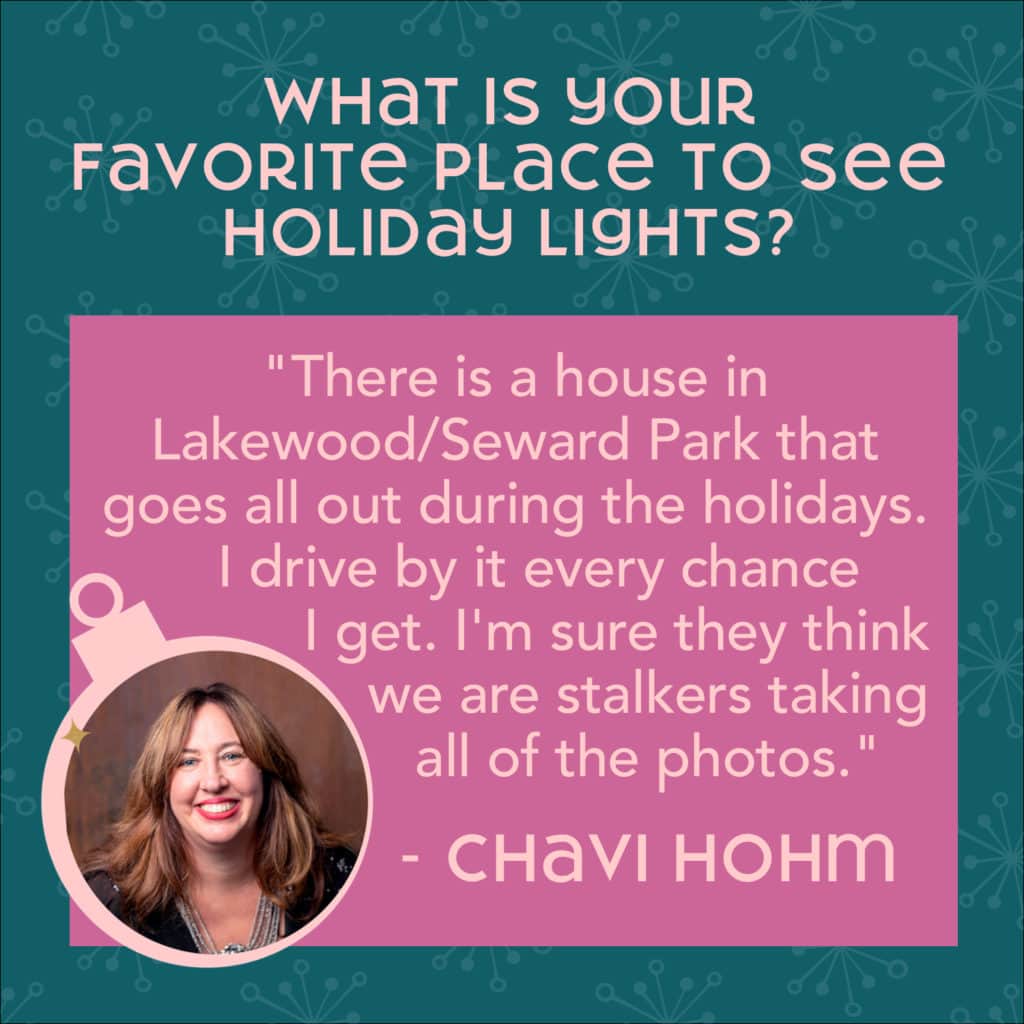 There is a house in Lakewood/Seward Park that goes all out during the holidays. I drive by it every chance I get. I'm sure they think we are stalkers taking all of the photos. I really loved the whole list of places to go to enjoy all of the lights in our blog
Team Diva's Guide to Holiday Lights in 2021.
---
Thank You For Checking Out Chavi's Favorite Things This Holiday Season
2021 has been challenging in so many ways, so Team Diva has decided to spend this season focusing on some of the things bringing us joy. For some of us, this means spending extra time on self-care, taking in a fun holiday show, or shopping at a local small business we love.
Want to see what's bringing other members of Team Diva joy this season? Browse our latest blogs right here:
Happy holidays everyone and let us know what brings you Joy this holiday season.