The fantastic design and features of this Judkins Park Townhome really set it apart from other townhomes in Seattle. It truly feels like a detached home, thanks to its fantastic design, expansive gardens, and additional flex space. And no, we don't mean its actual two-car garage, but rather an actual separate suite.
There is so much to praise in this home, so let's get right to it. Here is a virtual tour of our five favorite features at this new Diva Dwelling.
Our Top 5 Features Of This Judkins Park Townhome
A Judkins Park Townhome That Lives Like a Detached House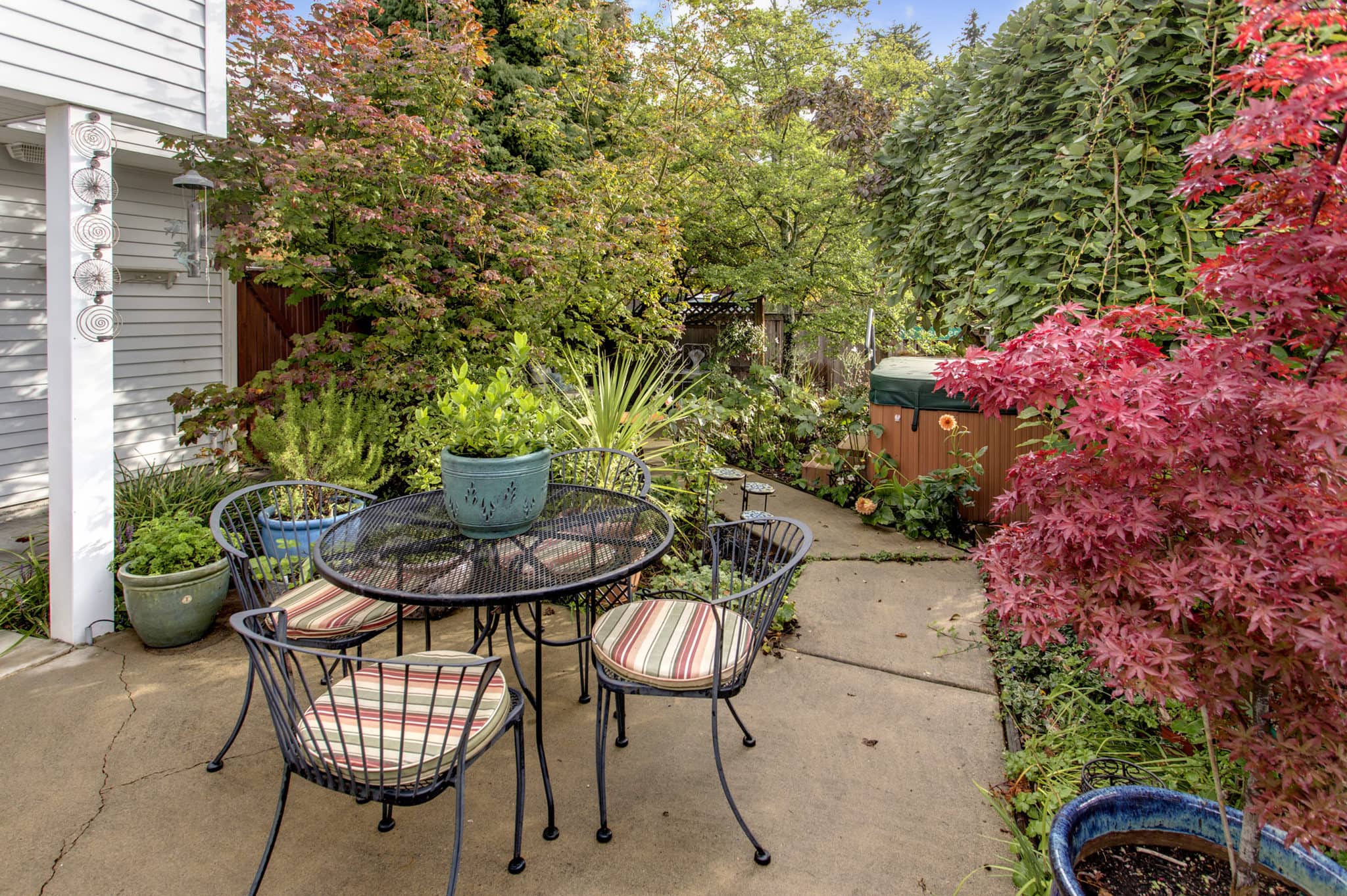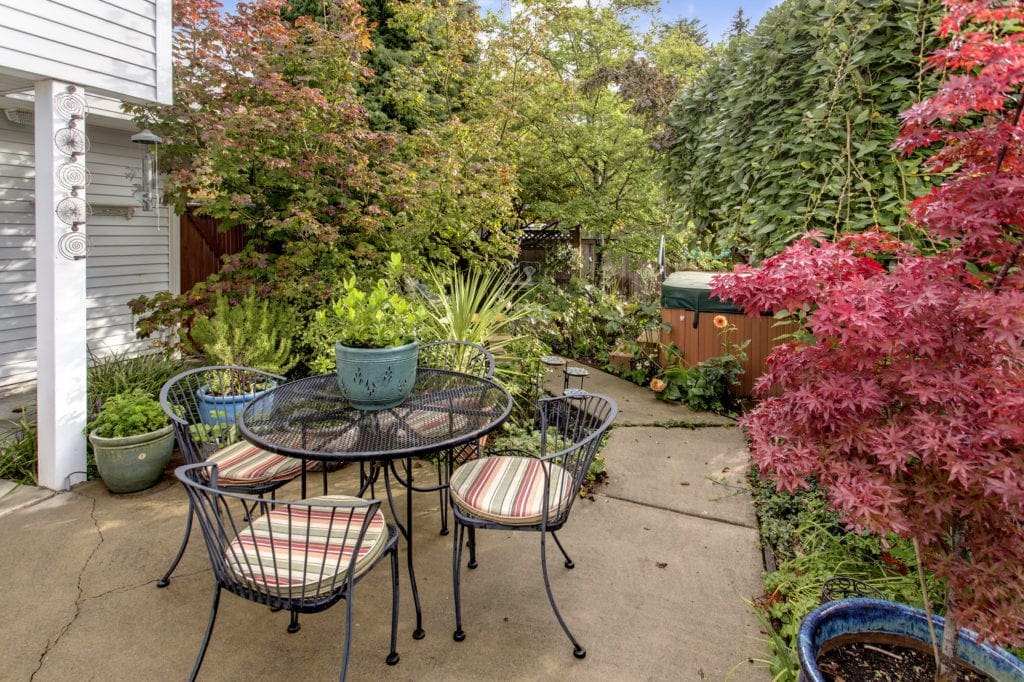 Townhomes in Seattle have proliferated since the late 1990s and for good reason. They are usually concentrated in urban dense walkable neighborhoods, easier to maintain than your average single-family detached home, and larger than a condo. But not all townhomes are created equal. Some are dark, lack privacy, or have tiny yards if any.
This Judkins Park townhome has none of the downsides and all of the benefits. The moment you leave the driveway and walk in the gate, you almost forget that you are in a townhouse. Its corner lot offers tons of privacy and a lush yard, and the main living area upstairs gets plenty of natural, southern light year-round. You'll get territorial views of the Olympic mountains beyond the skyline, and the aerial antics of hawks and the occasional eagle.
Bright Open Living Space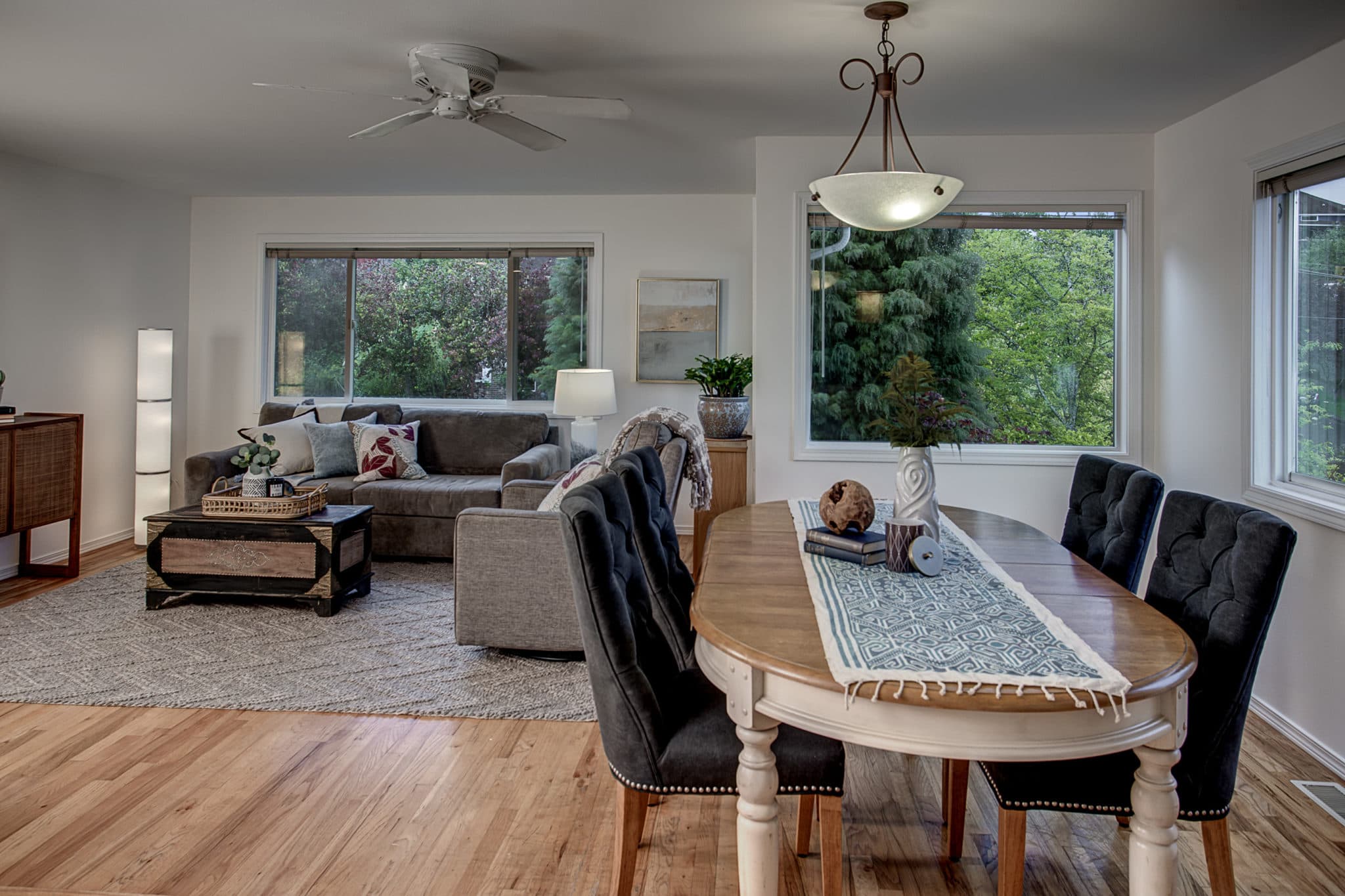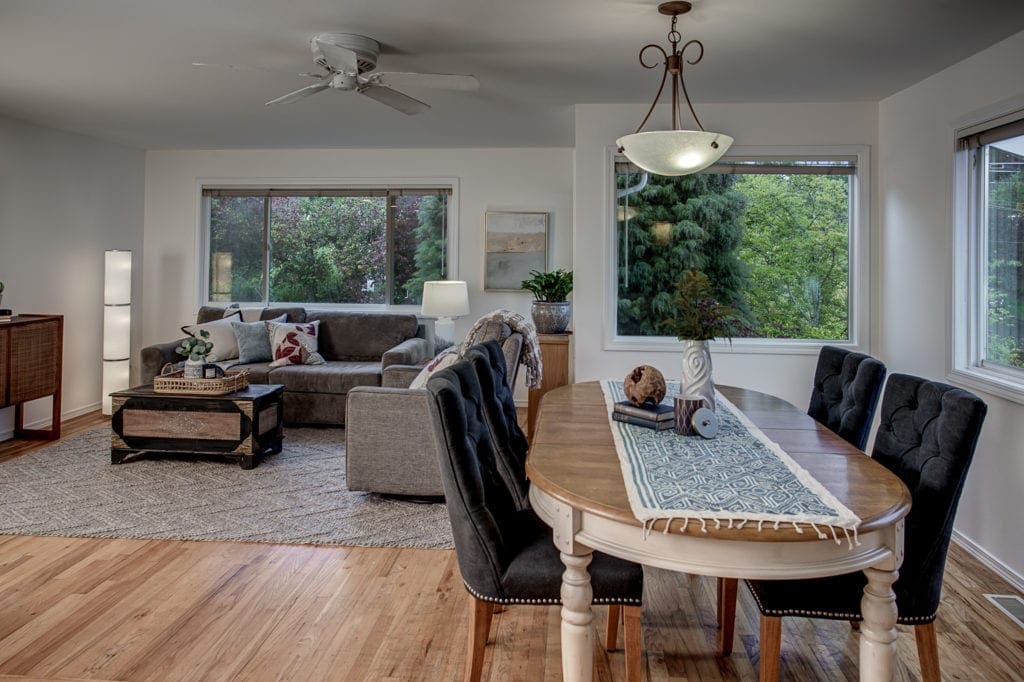 Speaking of open bright living spaces, you will love the layout and flow of this Judkins Park Townhome's living area. The openness of the living room, dining room, and kitchen area keep everything bathed in warm light, enhancing the beauty of the reclaimed hardwood floors (also on the top floor).
The kitchen doesn't take up a lot of room in the space but is still large enough for you and your bestie to work together on cooking up a feast. And while we may only be dining with a small quarantine crew now, the dining area is large enough to accommodate a grand dinner party in time.
This main floor living area is wide and airy, but if you want private spaces, too, don't worry. This home has plenty of places to sneak away inside and outside.
Private, Lush, Landscaped Yard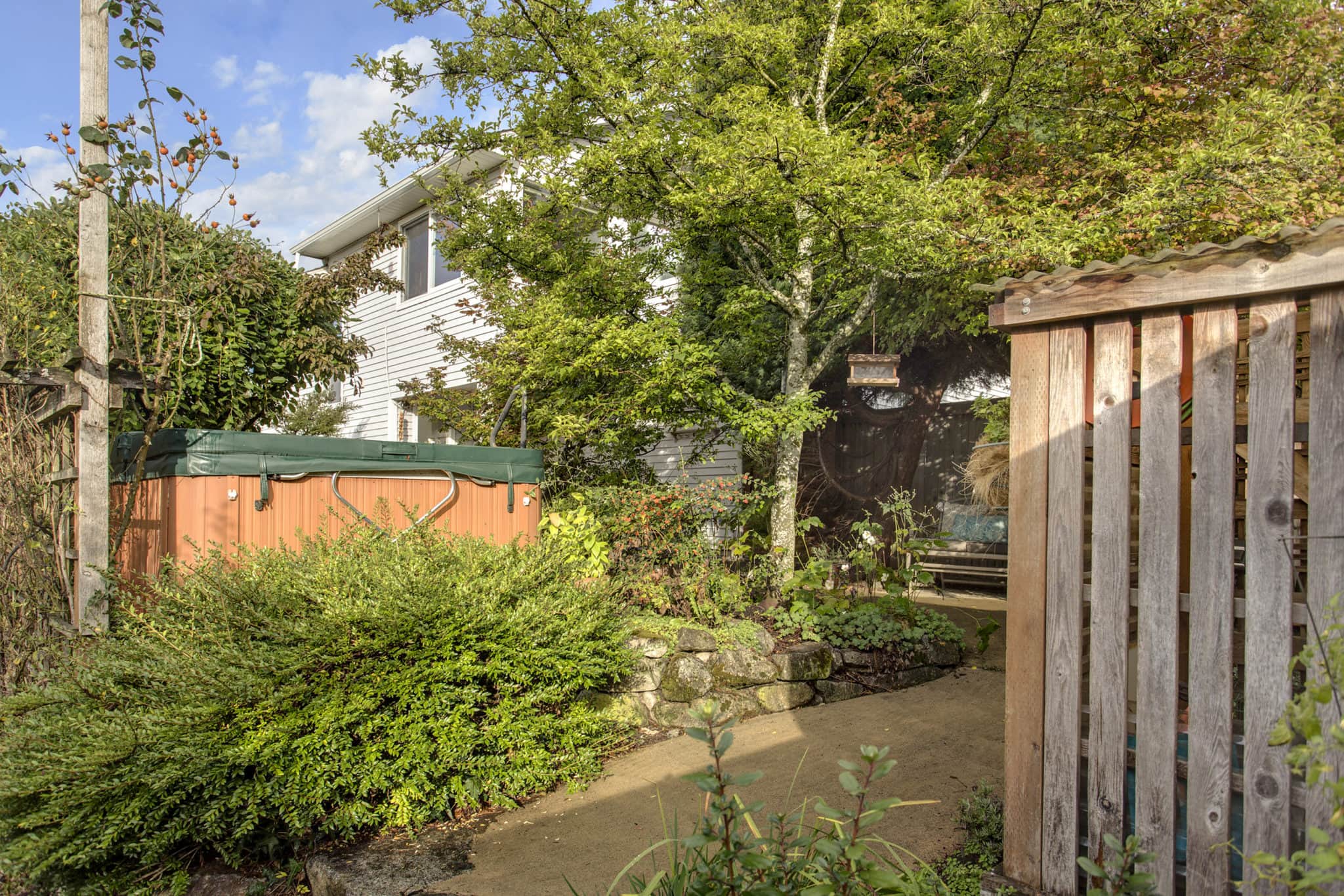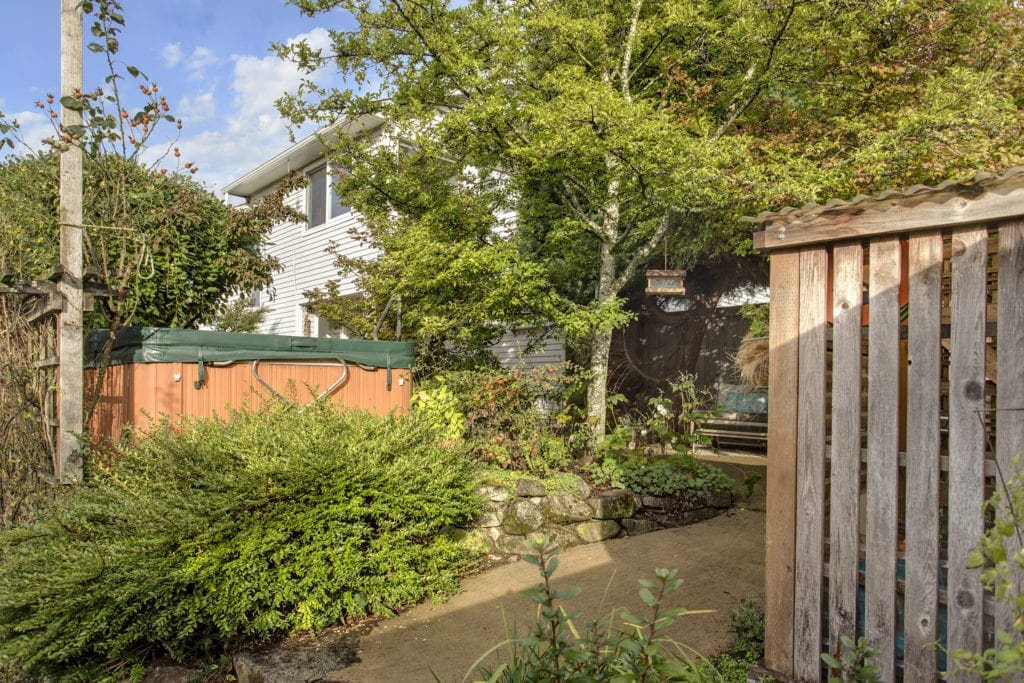 Visitors would never guess that this yard was connected to a townhome. Such a garden is uncommon in most urban homes, let alone in a townhome. The fenced yard of this south-facing corner lot offers sun and privacy: a perfect place to relax, play, and entertain.
The current owners have created quite a beautiful sanctuary around their Judkins Park Townhome. They dine al fresco and soak away the stresses of the day in a hot tub surrounded by greenery, or fall colors. Maple trees and ornamental plum abound, giving splashes of vivid color amid evergreen plants. And there is still more green space to relax, or perhaps turn into a thriving veggie garden. You can keep all your tools in the extra-large outdoor storage shed and additional garden tool shed.
Among all this lushness and custom rockery, there is also a path around the back which leads to a small lower garden, and the private patio entrance to your downstairs living space or potential rental unit.
Fabulous Flex Space or Rental Unit – You Decide!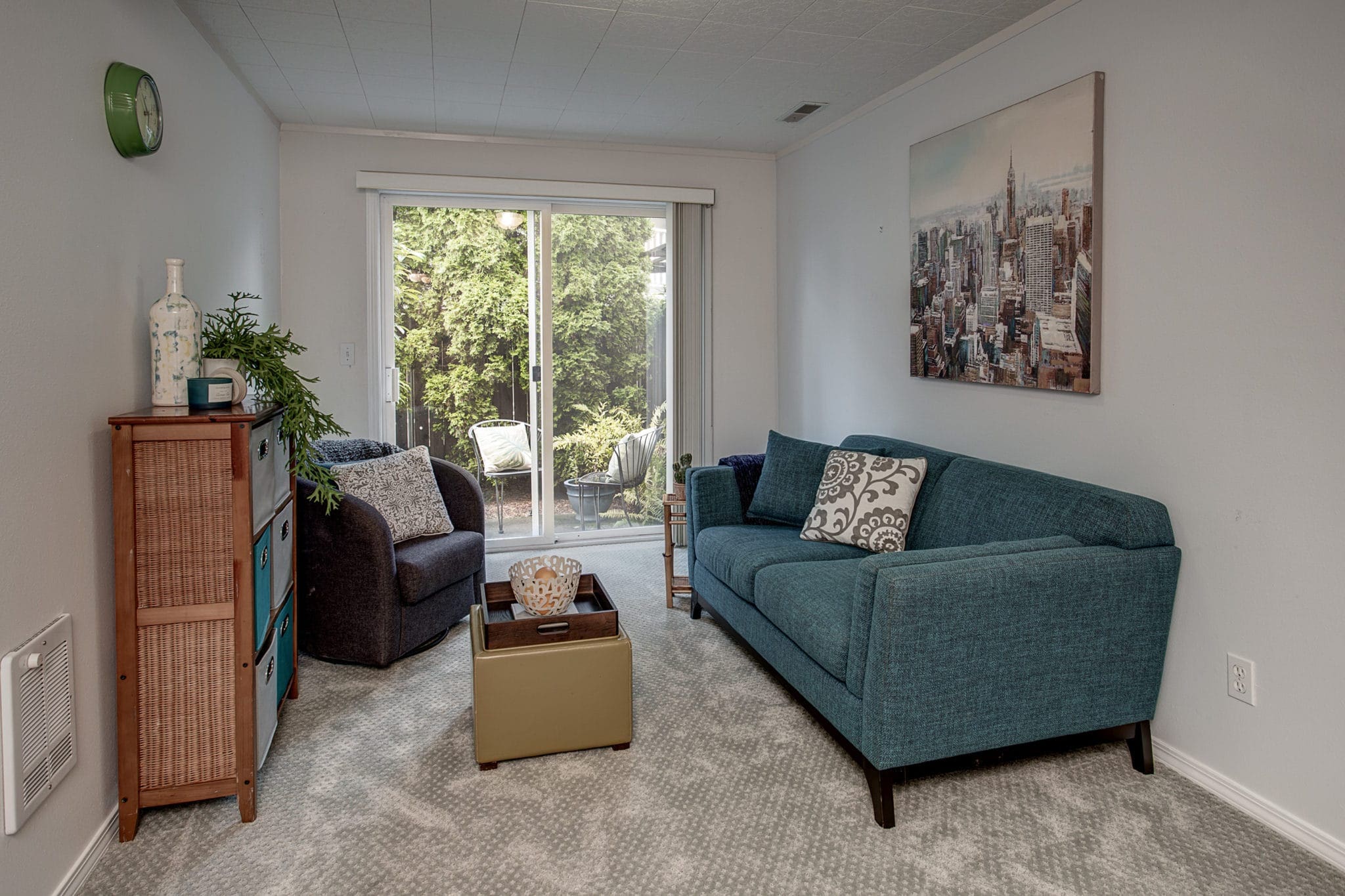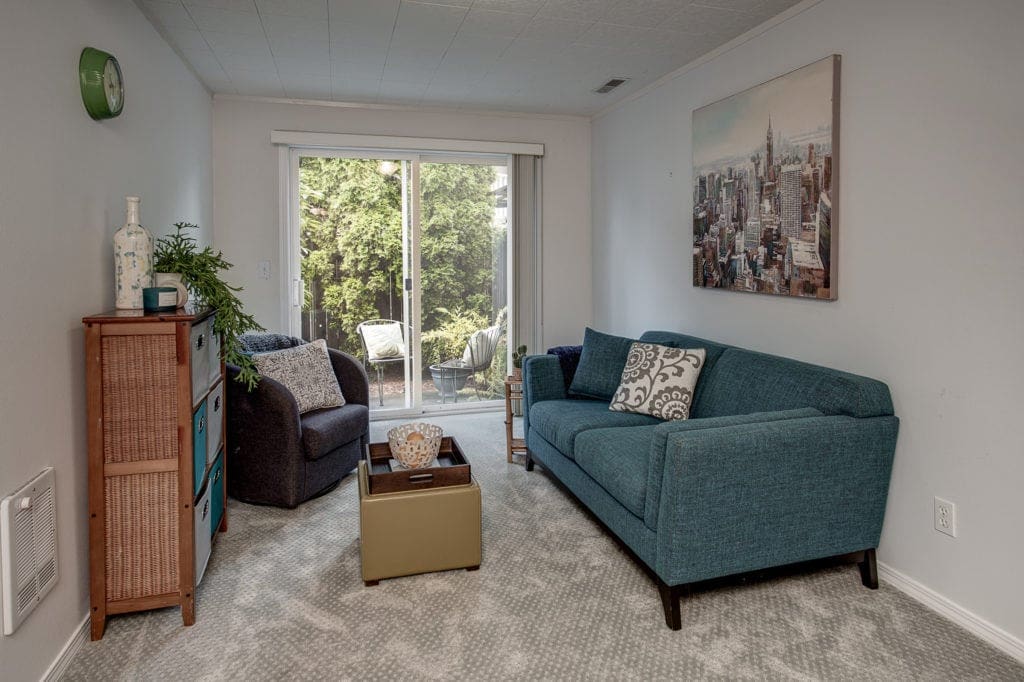 In the past few months, flex space has become a highly valued commodity, regardless of where you live. Folks are working from home, kids are being homeschooled, and businesses are evaluating the need for massive office spaces. Hence, having a place in your home that offers the creativity of use is key.
Sneak downstairs in this Judkins Park Townhome and you will find the perfect set-up for flexibility: a fully equipped mother-in-law suite. This separate living area has a kitchenette, bedroom and bath, and private entrance.
How would you use it? Would you keep it as another bedroom and TV/game room, or convert it to an office space with an entrance for your clients. Naturally, you could treat is a revenue source, as a possible rental or Airbnb. Whether you need extra breathing room or extra income, having a self-contained space within the home is a coveted advantage these days.
Bonus: Speaking of money, this is a good time to mention that this townhome has solar panels on the roof, which cuts electricity bills, too!
The Joys of Judkins Park Neighborhood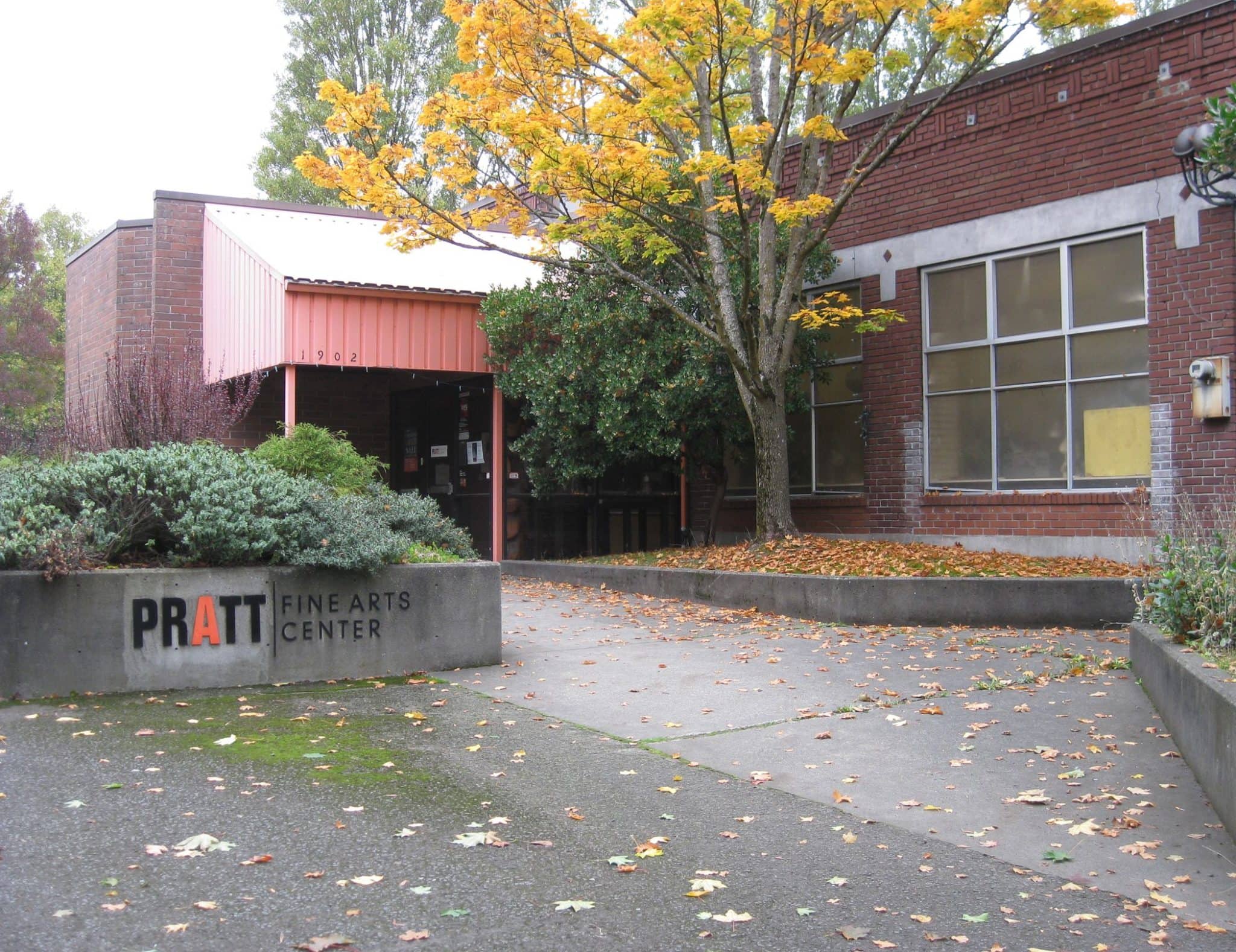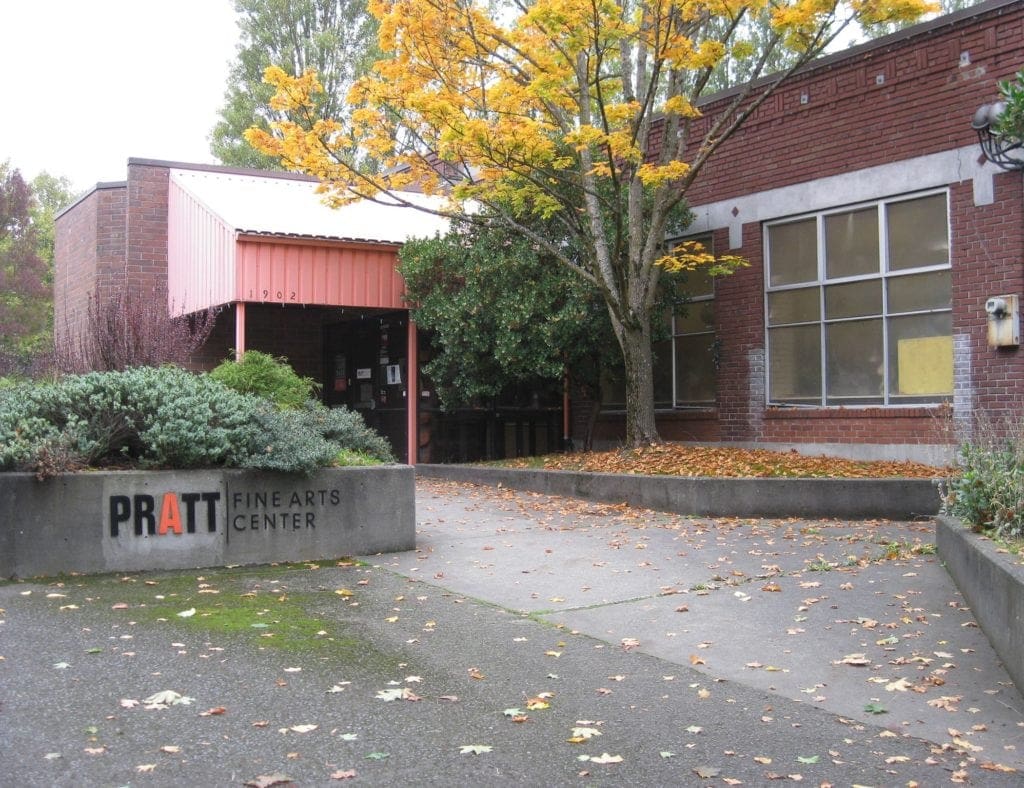 Judkins Park is a special gem of a neighborhood. It's packed with a diversity of homes, from quaint 1920s craftsman cottages to mod eco-friendly townhomes. This area has seen some major transitions in the past few years and will be home to one of the newest stations and stops for the Link Light Rail line, running from Seattle to Bellevue. Besides offering future ease of access to the Eastside, you are also just minutes to I-5 and a quick bike ride or jaunt down the hill to the International District.
Some of the sellers' favorite spots that they enjoyed frequenting while loving here are Big John's PFI, which offers a wide selection of international ingredients and cheeses, Pratt Fine Arts Center for events and classes, and of course, Judkins Park itself. With six blocks of green space and playfields, it is an optimal gathering place for outdoor community gathering.
---
More About The Neighborhood: Judkins Park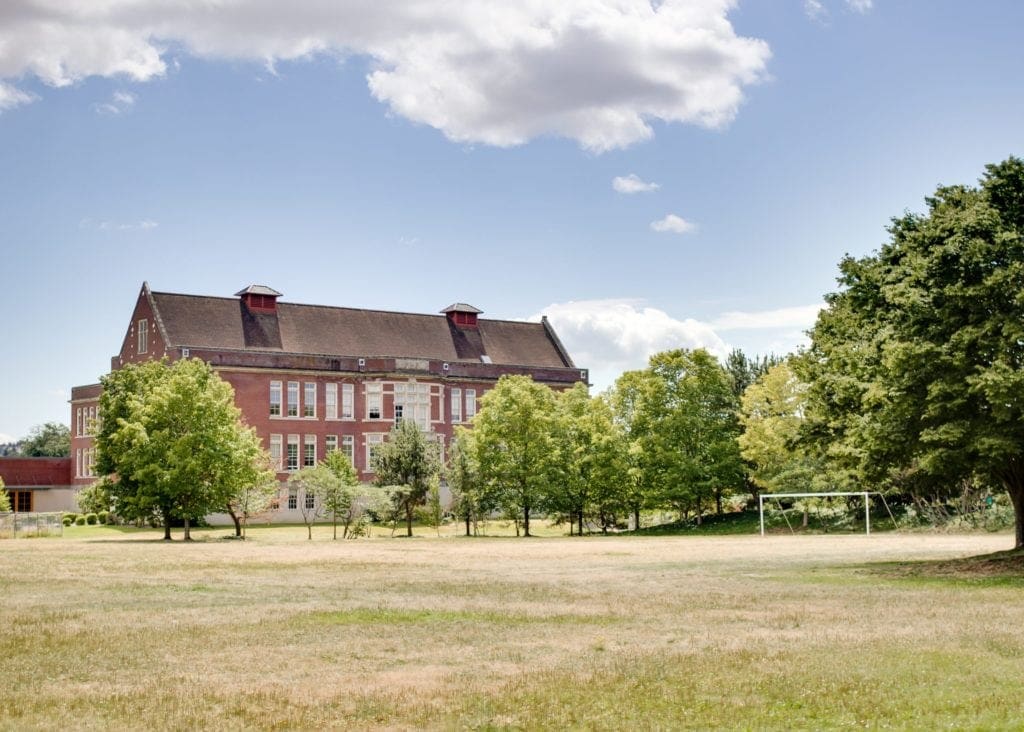 Judkins Park is a small, mostly residential section of the larger Atlantic neighborhood. Development in this area and the neighboring Central District has sped up intensely in recent years. This has included road improvements and increased transit access, making it very easy to take buses to Capitol Hill, First Hill, the University District, and Mount Baker. The nearby Mt. Baker Light Rail even has home-to-station access using the Via App.
In other words, it's super easy to explore more of Seattle from this Judkins Park Townhome, but its exceptional walk score comes from attractions all within the neighborhood itself. For instance, it's near The Northwest African American Museum and Langston Hughes Performing Arts Center for cultural outings. We can't wait for more programming to return to these institutions after the pandemic ends. They are doing truly important work in our city.
There are brewpubs like Standard Brewing, great seafood (and awesome poke) at Seattle Fish Guys, and great happy hour and date spots like Reckless Noodle. And for active type, the Seattle Bouldering Project is a world-class rock climbing gym.
Explore more on our Seattle Neighborhood page for Judkins Park.
---
Buying A Townhome In Seattle: The Nuances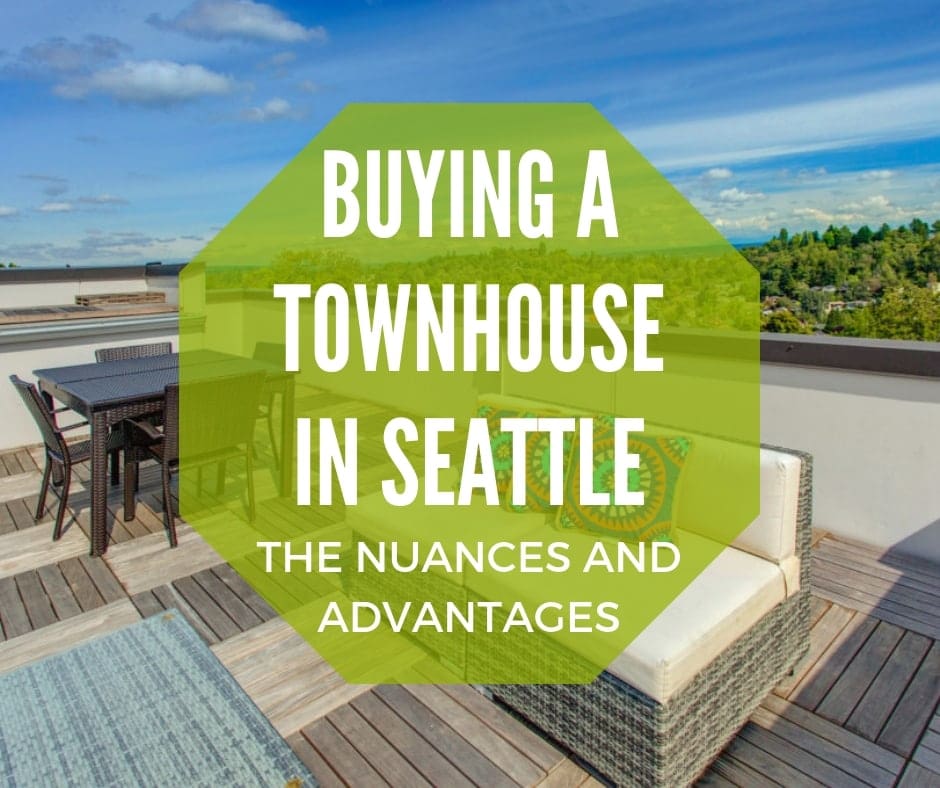 Buying a townhome in Seattle is just like buying a Single Family Home from a process standpoint. That said, read our blog post on the nuances of buying a townhome so you can complete the transaction confidently. There are additional things to review at certain stages, such as the joint maintenance documents found in your title report.
Our Seattle Home Buying page will let you read up about lots of other related topics, so continue your homebuyer education there.
---
Take A Virtual Tour Of This Judkins Park Townhome
Address: 839 19th Ave S
Square Footage: 1,970
Bedrooms: 4
Bathrooms: 3
Offering Price: $799,000

Thanks for touring our newly listed Judkins Park Townhome. If you want an in-person tour, reach out. We can't wait for you to see its gorgeous living areas, gardens, fabulous flex space, and neighborhood, all in a townhome that feels like a detached home.