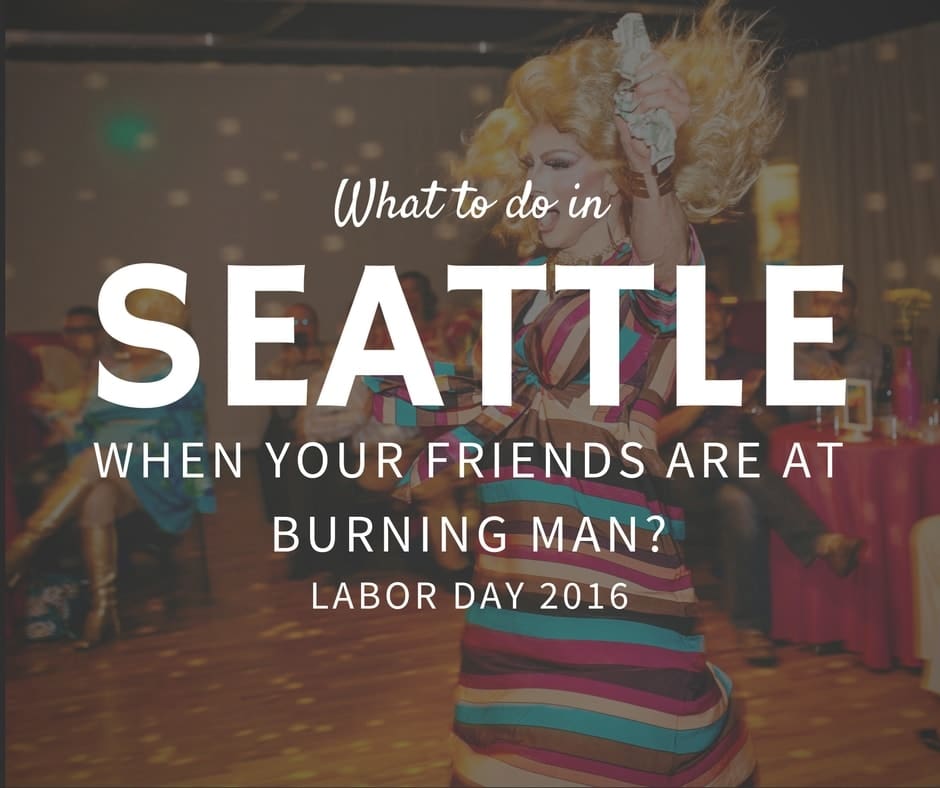 Burning Man 2016 has begun. Soon we'll be seeing the dusty, semi-nude shenanigans of friends on social media. For those who can't be lured to the desert by the festivities (or who just can't afford the trip), there is still plenty of art, music and hedonism to be had here in Seattle. Here are twenty activities
1. Attend First Thursday Art Walk in Pioneer Square
There will be plenty of visual art to see at the galleries in Pioneer Square. Some especially unusual events include a colorful installation by artist Casey Curran at METHOD Gallery and an installation in the former Lusty Lady by artist Amanda James Parker. "Dance with the specters of Seattle's salacious history" (to borrow a phrase from the event page), before or after checking out Seattle Art Museum, which has free admission during First Thursday.
2. Dance Your Butt Off at the Monkey Lofts in SoDo
We love the Monkey Loft year-round, but it's especially great during the summer, thanks to its great deck in the heart of SoDo. On August 31, it will host Paradise Sunset Sessions, which will be a great night of music for those who want to kick back with a cocktail and enjoy the weather, or get on the dance floor and dance until the sun goes down.
3. Bare Your Butt at the Nude Beach in Madison Park
You don't have to go to Black Rock City to go au natural in public. Denny-Blaine Park and certain parts of Madison Beach both draw crowds that sunbathe in their birthday suits. Best of all, you can actually go for a swim in the lake when you get too hot…something one can only dream of in the desert.
4. Get a Rejuvenating Mud Wrap at Banya 5 in South Lake Union
When it rains in the desert, it pours, and it turns quickly into a mud flat…and then just as quickly back into desert when the rain passes, leaving everything caked in dry mud. There's nothing quite like that here in town…but if you don't like feeling crusty, that's just fine. Instead, harness the relaxing, rejuvenating power of mud all over you with a Botanical Mud Wrap at Banya 5 in South Lake Union. It will leave you feeling soft and lovely from head to toe.
5. Bike the Burke-Gilman Trail
Bicycles are a popular mode of transportation at Burning Man. Though, the roads are much wider (and, again, dustier) in the desert, we have awesome bike trails. The Burke-Gilman Trail is among the most popular. Leading from Ballard, through Wallingford and the University District, all the way to Bothell. We recommend it in this case because it passes by Gasworks Park, which has some of the best views of the city across Lake Union. Not only that…
6. Fly a Kite at Gas Works Park in Wallingford
Up through the atmosphere, up where the air is clear—go fly a kite. Kites of all shapes and sizes are a frequent sight at Burning Man, where the same winds that bring dust storms make for wild conditions. Gas Works Park is one of the best places in Seattle to fly a kite, especially its aptly named Kite Hill which catches breezes from all directions. Best of all, no dust.
7. Bouldering in at SBP in Atlantic
Different camps at Burning Man offer various scaffolds to climb and physical activities. Stretch your limbs at the Seattle Bouldering Project in the Atlantic neighborhood. The massive indoor space has climbs for visitors of all levels, meaning even a complete novice can rise to new heights, rain or shine.
8. Aerial Acrobatics at Emerald City Trapeze in SoDo
Swings and acrobatic activities are also found at camps throughout Burning Man. For those who aren't bothered by heights, there is plenty of opportunity to get your feet off the ground at Emerald City Trapeze Arts. Check out their many options for classes, including Flying Trapeze for Beginners.
9. Walk the Dog at the Olympic Sculpture Park in Belltown
Large-scale sculptural installations are one of the major photo-ops at Burning Man, and fortunately we have some of our own. Grab the pooch and take a walk through the Olympic Sculpture Park and adjacent Myrtle-Edwards Park, between Belltown and Interbay. It's a great a way to get fresh air, fantastic views of the sound, and a little culture in one trip.
Labor Day weekend brings the return of one of Seattle's longest-running music and arts events: Bumbershoot. With multiple stages featuring national and local performing artists, beer gardens and a visual arts exhibit (and of course the giant fountain in the middle of Seattle Center), there's something for everyone, especially if you enjoy energetic crowds.
11. Pick up a Lover at Kremwerk or Neighbors
Bumbershoot brings in crowds from all over. And plenty of them will want to get lucky. We've all heard the tales of psychedelic sex at Burning Man. The Unofficial Bumbershoot After-party at Kremwerk on Friday, September 2 seems a good place to potentially get lucky. (Just $5 cover with a Bumbershoot wrist band, and it's pretty close to Seattle Center.) Out-of-towners also love Neighbors in Capitol Hill on weekends, so it seems like a good place to look for Mr./Ms. Right-Now.
12. Labor Day Luau at Stash Pot Shop in Ballard
Burning Man for its "mind-altering" experiences. Again, we don't have to leave town to get altered in Washington state, thanks to legal pot. One of the biggest shops in the city, Stash Pot Shop in Ballard, is hosting a luau on Sunday from 12-4. Enjoy some recreational substances and chill over the long weekend (hopefully under some luau-worthy weather).
13. Chill with the Chant at Compline in North Capitol Hill
Between raves and dust-storms, a good chill area is essential at Burning Man. For many locals, Compline services at St. Mark's Cathedral have been a weekly oasis of calm for years and years. (The choir celebrates its 60th anniversary this year.) You don't need to be religious to enjoy the soothing Gregorian chants and other live music. You can bring a blanket and pillows and lie on the floor with your friends, though. The music start at 9:30 pm, every Sunday.
14. Mindfulness Meditation at the Frye Art Museum in First Hill
Maybe you prefer a more personal and quiet form of meditation. On the Playa at Burning Man, people often go to the Temple for their meditation time. In Seattle you have lots of options, and the Frye Art Museum has a weekly, registration-free Mindfulness Meditation program. Every Wednesday, from 12:30 to 1pm, you can pop in and meditate, then see the shows. The Frye (and this meditation series) is always free. This is your last weekend to see several of the current exhibits (but the beautifully meditative exhibit of work by Vilhelm Hammershoi is fortunately up through September 25).
15. Have a Bonfire at Golden Gardens in Sunset Hill
Last but not least…BUILD A FIRE. The eponymous, climactic end of Burning Man is a grand bonfire. We don't recommend trying to match anything of that scale, especially with a burn ban in effect in Eastern Washington. However, a good bonfire on the beach at Golden Gardens seems a perfect way to say farewell to summer. And unlike Burning Man, you'll actually be able to huddle close to the fire with friends and toast some marshmallows. It may not be as much of a spectacle, but it sure sounds good to us.
Happy summer!