2021 Election Endorsements Time! This year it was tough. Typically we are more moderate in our choices (by Seattle standards). But this year we need a radical change in our policies to deal with huge inequity in our city. This is it! We have to change. 
How Did We Choose Our 2021 Seattle Election Endorsements?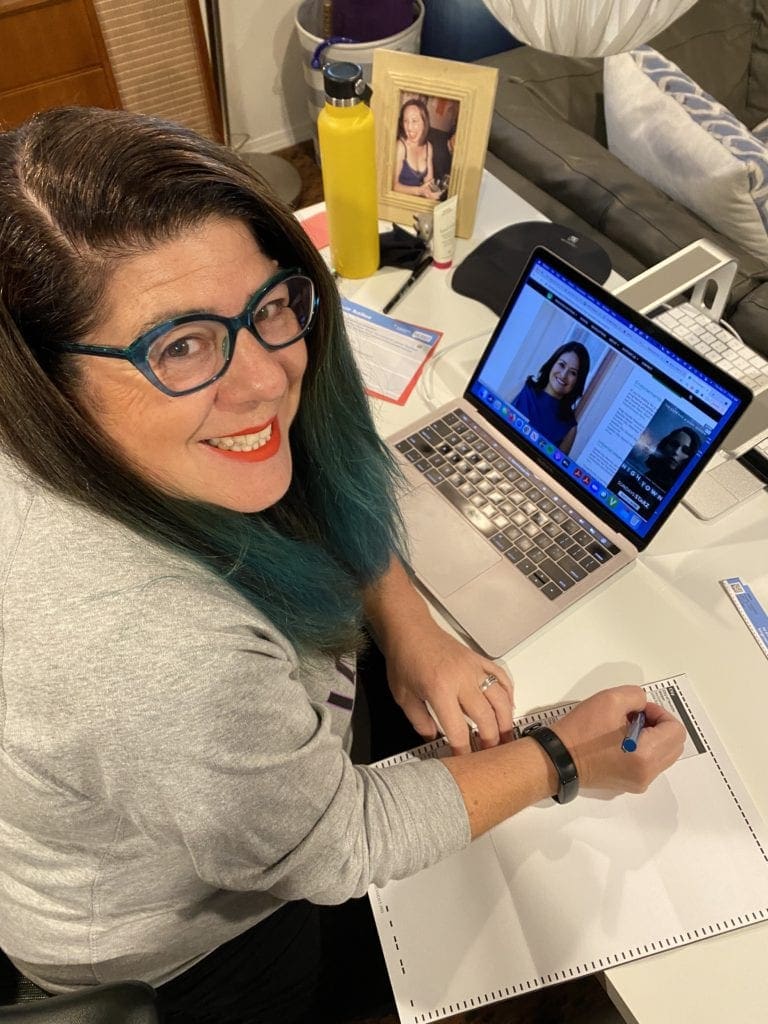 When we are deciding who to vote for and endorse as Team Diva, we take several things into consideration. Over the last four months, we had in-depth conversations with leaders in our city. Specifically, we have talked about which candidates have the capacity to implement positive change in our city. Kim and Chavi consulted with long-time political advocates who are Diva Dwellers (aka our amazing clients). Secondly, we consult with leaders in the Black Lives Matter community who are working on equity issues in our city. And we also ask the opinions of those who are working on housing the unhoused people in our communities. Aka our local homeless communities. And of course, we learn from our teammates of color. 
The Lense We Chose Our 2021 Seattle Election Endorsements
Housing Affordability for Renters and First Time Homebuyers
Permanent Housing for the Homeless
Police Accountability
Correcting Generations of Inequity for our BIPOC Neighbors
It's also super important to Team Diva that the people we vote for have real experience in the community or in political office. The people we are endorsing have proven track records for getting the job done. (And btw, pretty much everyone we endorsed in our "Seattle 2021 Primary Voter Guide Prepared for By Divaland" went on to the general election. We've got your back!)
The Divas know that not everyone is going to agree with our choices. We only ask that you read through the blog and consider our team's and communities' perspectives on the upcoming election in Seattle. 
Below we are going to get into why this election is so important and give you in-depth information about each of the candidates.
---
Seattle Choose Your Future and Vote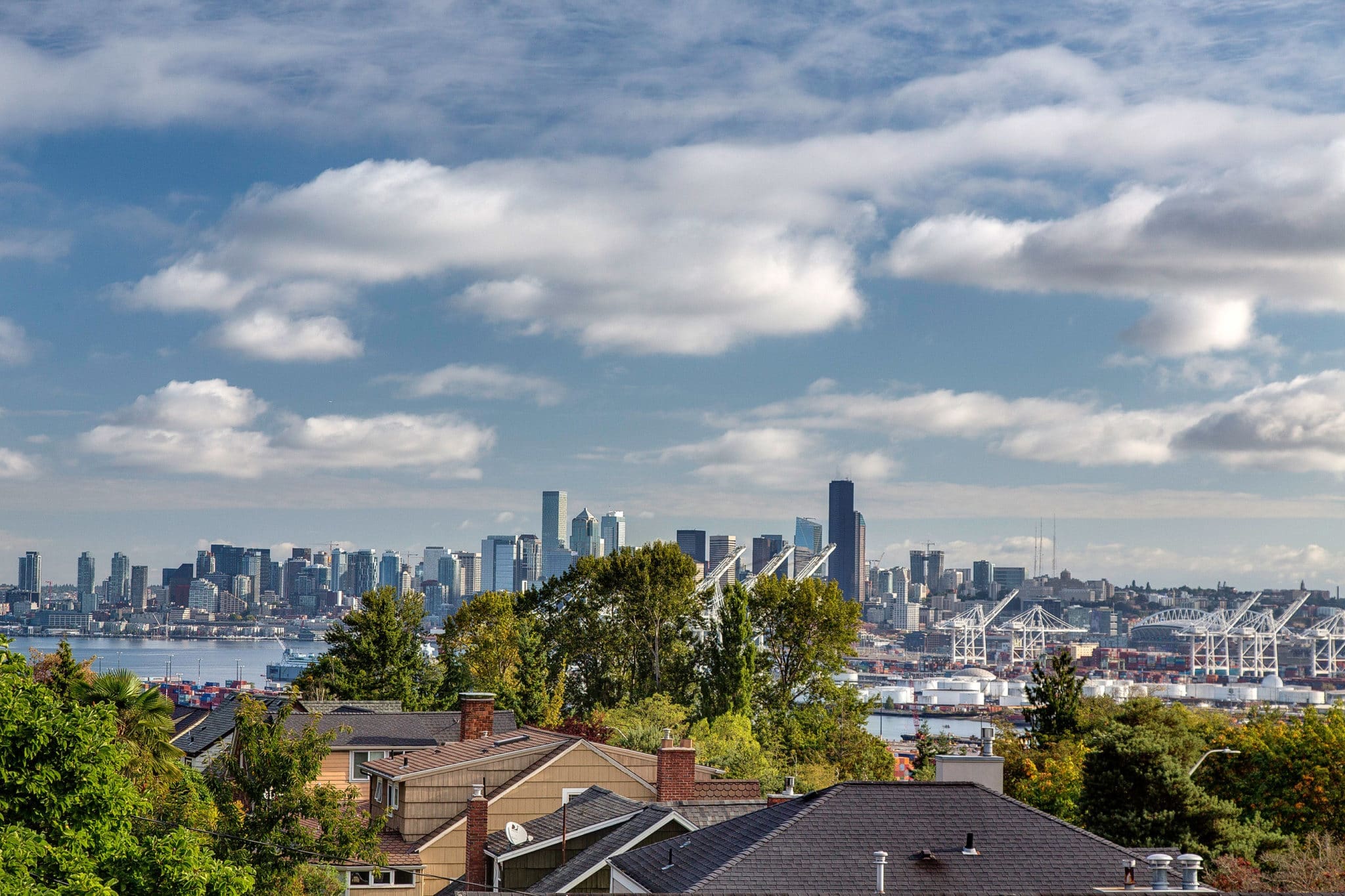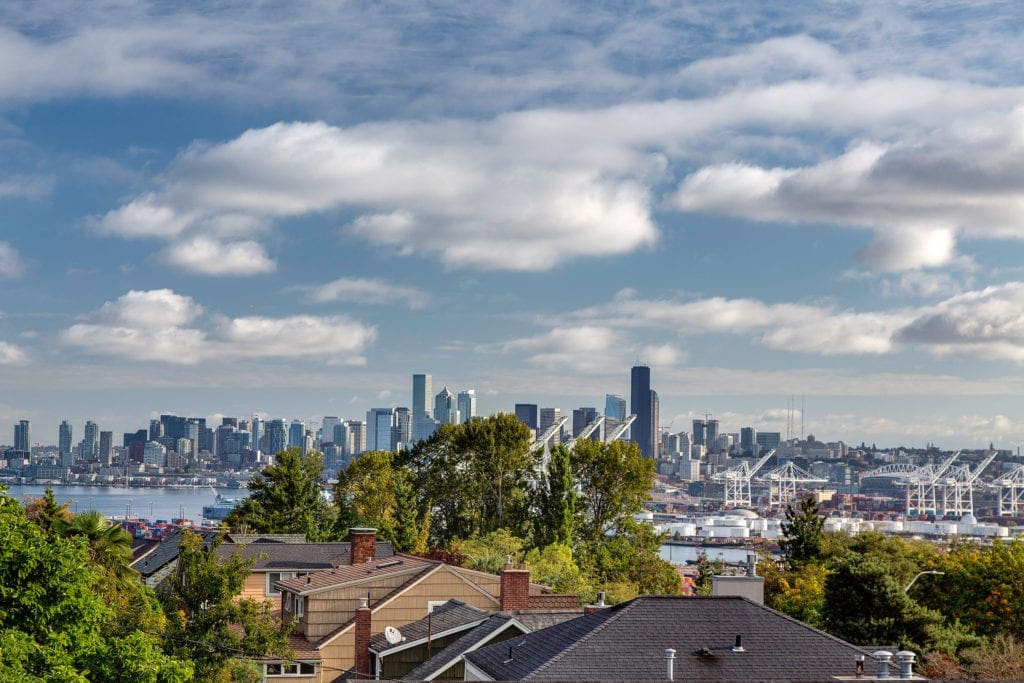 The election at hand is about the difference between incremental change that has been tested in this city since the 1990s. OR It is about choosing a path for this city where we actually care about our citizens who have been left out of this slow change. Of course, this most frequently includes unhoused folx, people of color, students, renters, and middle-class homeowners. The issues are huge in our city. We trust that all of us want to see our citizens fully housed. We trust that we all want to feel safe in our homes and eliminate the reasons why people are forced into crime. And most importantly, we want to have faith that if someone is having a mental health issue, they will get the care they need and not end up shot killed by the police. 
Team Diva Endorses The Following Amazing Candidates for 2021 Seattle Election
Welcome to your Divaland 2021 Seattle General Election Endorsements. Remember, the general election is being held on Tuesday, November 2, 2021. Get your ballots in on time (or early)! 
Lorena Gonzalez – Seattle Mayor 

Teresa Mosqueda – Seattle City Council District 8

Nikkita Oliver – Seattle City Council District 9 

Nicole Thomas-Kennedy – City Attorney

Michelle Sarju – School Board District 5

Brandon Hersey  – School Board District 9 

Ryan Calkins – Port Commissioner Position 1 

Hamdi Mohamed – Port Commissioner Position 3 

Toshiko Hasegawa – Port Commissioner Position 4
Below we are going to dive in-depth into why we are supporting these candidates.
---
Team Diva's 2021 Seattle Election Endorsements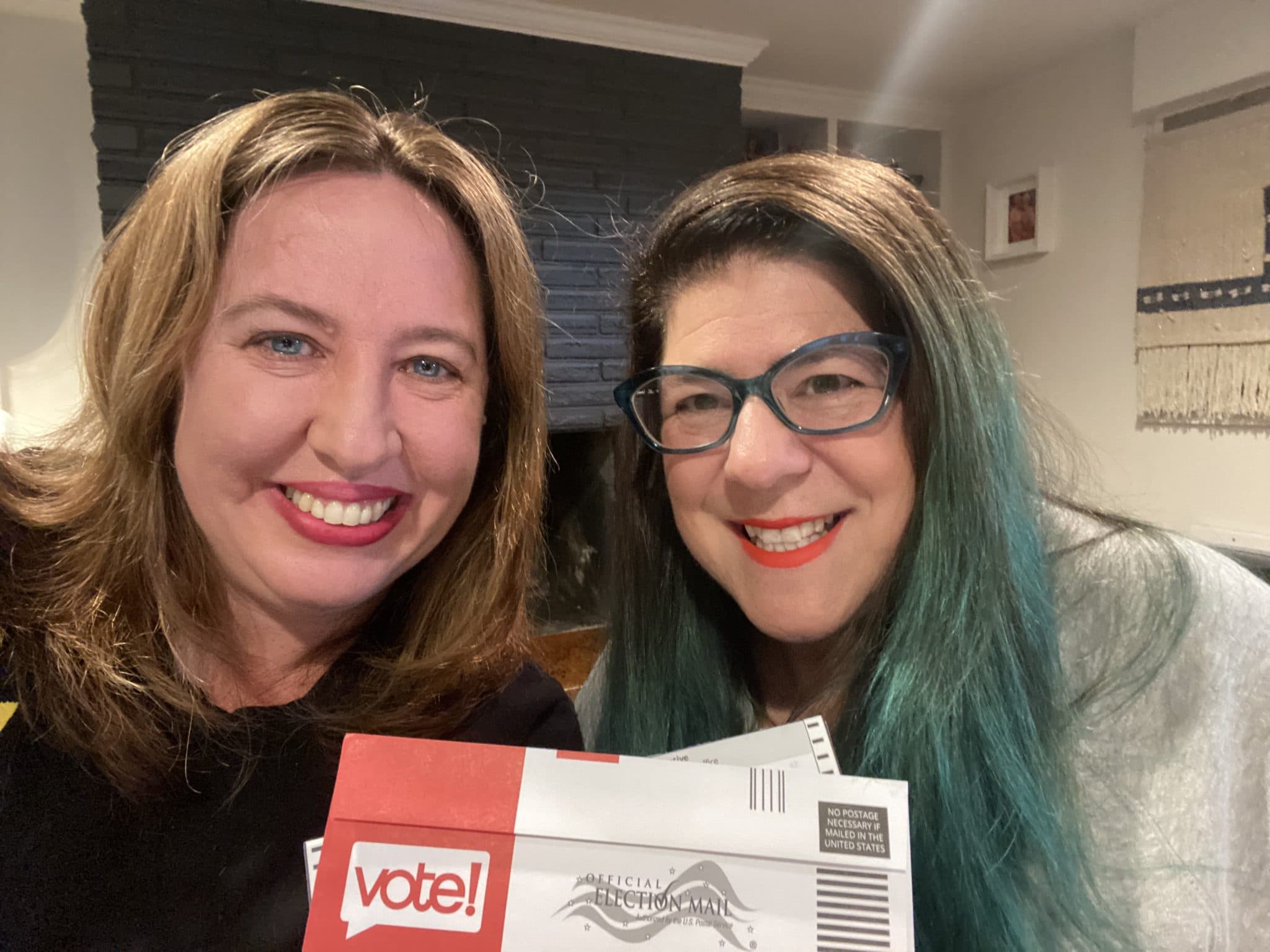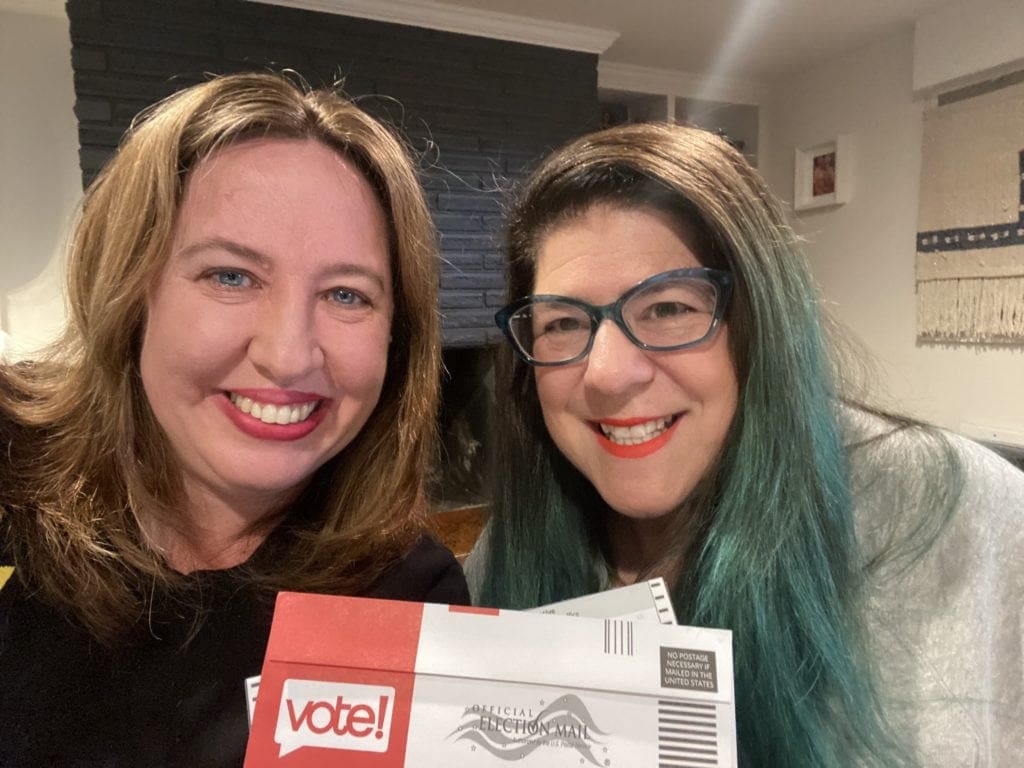 Let's dive in and help you decide the future of Seattle. Team Diva strongly endorses the following amazing candidates: 
Seattle Mayor – Lorena Gonzalez
Team Diva is excited to vote for Lorena Gonzalez for Seattle Mayor. Lorena Gonzalez is one of the smartest people we have to address the budget in the city. She also has the experience needed to enact community-driven funding of social services. Ms. Gonzalez has also proven that she is ready to re-imagine police funding and how we can embrace community policing in our city. But enough from us.
Our friend Molly shared her own valuable perspective with us as to why she will be voting for Lorena Gonzalez for Seattle Mayor: 
Quote from Divaland for the Team Diva 2021 Seattle Election Endorsements
"I work, in part, on homelessness in my job so I've seen the frustrating paralysis that is our response to this growing problem up close. At the beginning of the Durkan administration, McKinsey (not exactly a left-wing advocacy group) conducted a study of our region's challenges on this issue. Their report said we needed a whole lot more affordable housing. Much, much more than had been contemplated up to that point.'
"The report also said clearly that the rise in homelessness is attributable to the rising cost of living. Jenny Durkan pretended this report didn't exist. Politicians like her and Bruce Harrell like to point at a drug-addicted person on a sidewalk downtown and tsk tsk about the bad choices that person made rather than be honest with us and themselves about what it's going to take to solve this issue." 
"Lorena Gonzalez understands what drives people into homelessness and has a plan to actually address it, starting with her support for changing our zoning laws, which prevent us from building affordable housing in multiple neighborhoods throughout the city. These laws have their roots in racist redlining and are a major reason why Seattle (and many cities like us) are so unaffordable."
"These laws harm everyone, but up to now, no mayor has dared to take this on because of political blowback. What blowback, you ask? Here's one example – the mere threat of a zoning change got residents of Wallingford to organize an attempt to make their entire neighborhood a 'historic district' to prevent any affordable housing from being built there. Seriously. So having a candidate who is running on making this change is rare. And it's an uphill battle but with your support, this potentially transformative change for our city could be made." 
– Molly 
Seattle City Council District 8 – Teresa Mosqueda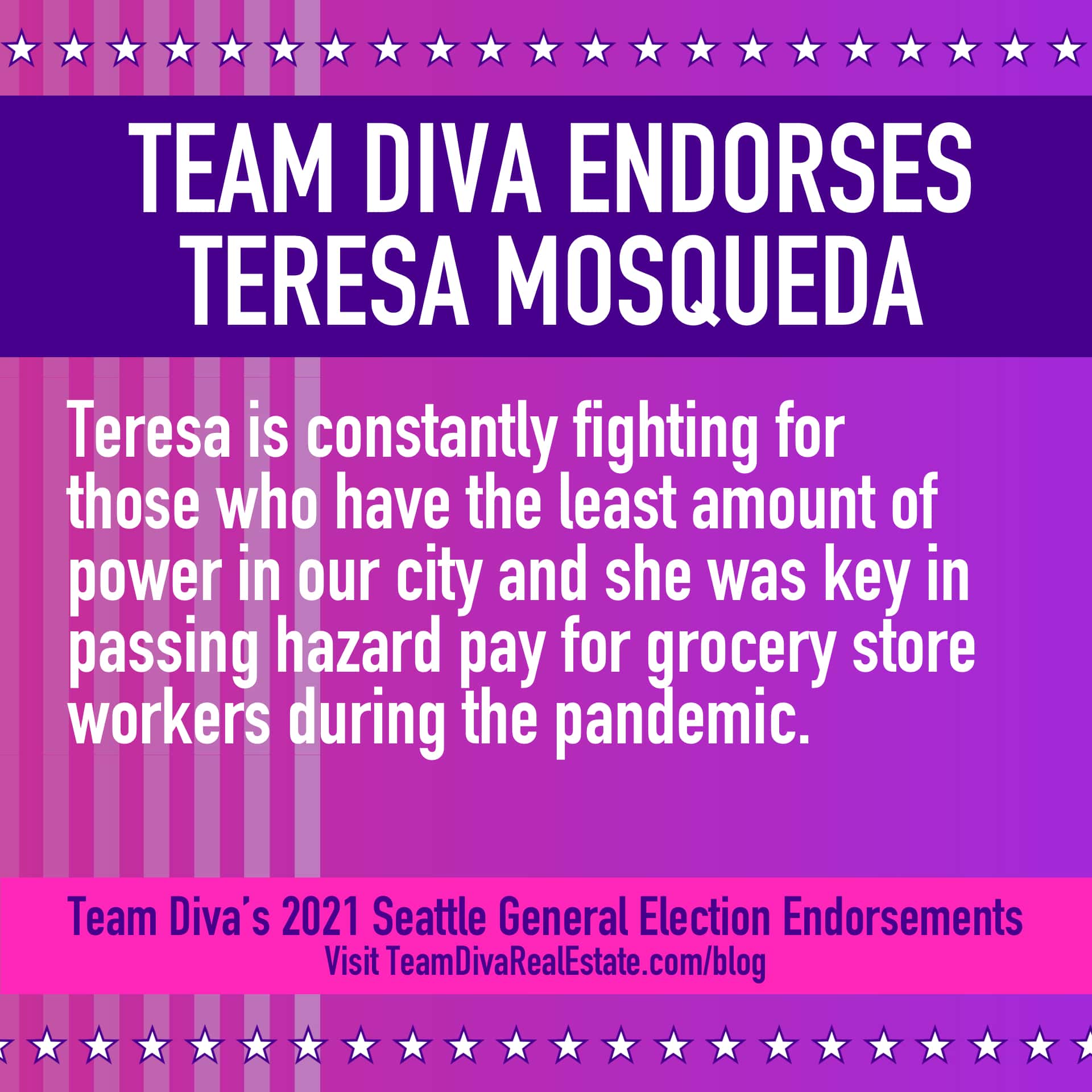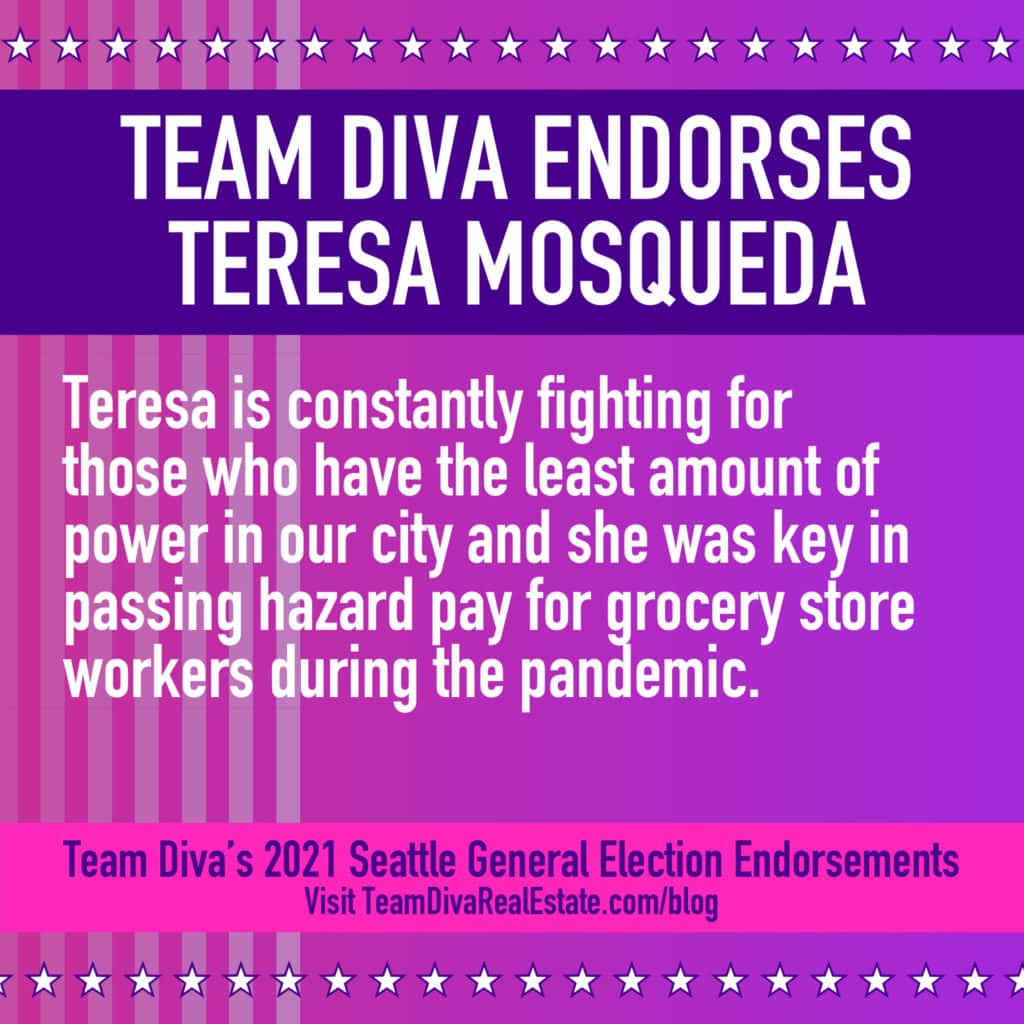 We strongly urge voters in Seattle District 8 to retain Teresa Mosqueda. She has been and is an extremely effective city councilperson. In addition to constantly fighting for those who have the least amount of power in our city, she was also key in passing hazard pay for grocery store workers during the pandemic. Teresa Mosqueda also has several endorsements from important organizations, from unions to The Stranger. Thank you for all of your hard work, Council Person Mosqueda! 
Seattle City Council District 9 – Nikkita Oliver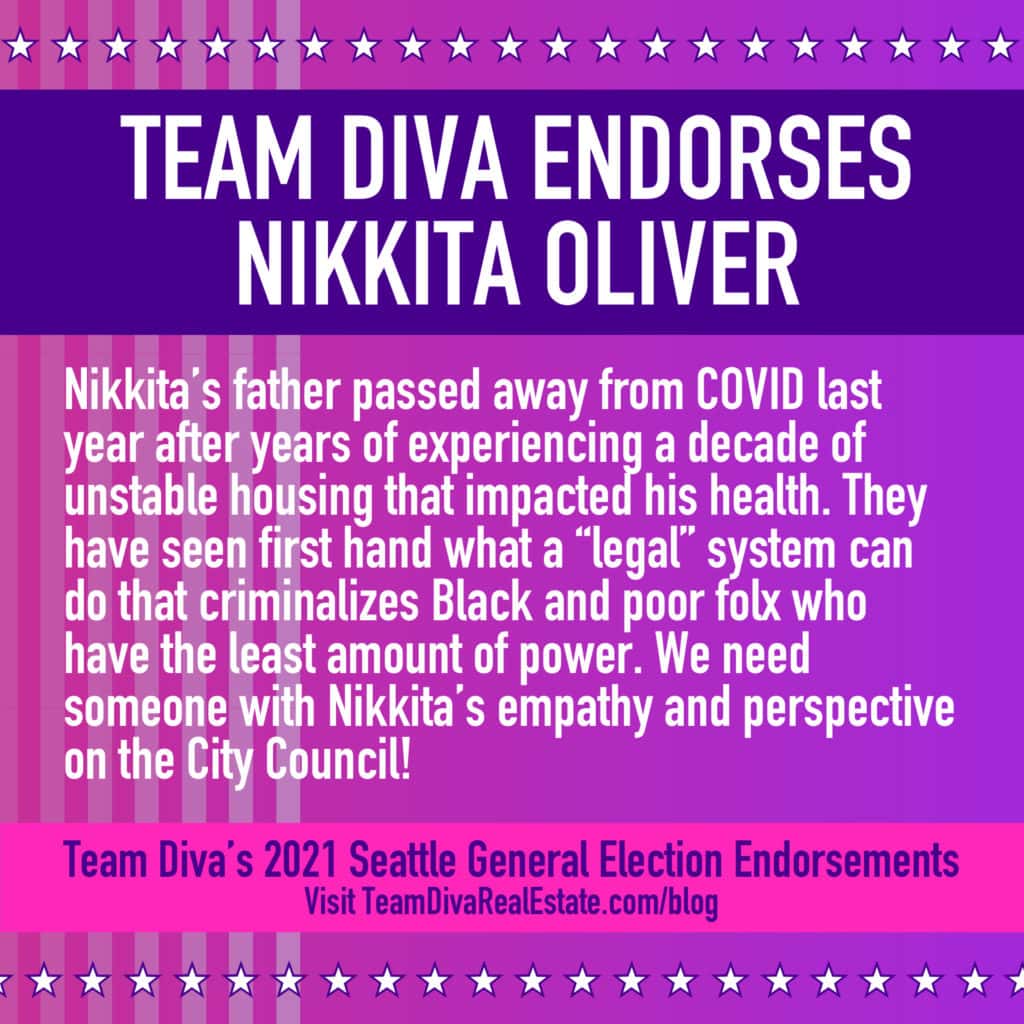 There are two experiences in Nikkita Oliver's life that shaped their political views more than any other. The first was watching their father struggle to pay child support. Not because he was a "deadbeat" dad, Oliver said, but because the cost was just too high. The punitive measures that followed, including jail time, destabilized him. This caused him to struggle with homelessness for the better part of a decade. He died in December of COVID, and Oliver believes his lack of consistent housing accelerated his decline.
Nikkita's firsthand experience both personally and in their community work gives us a lot of confidence in Nikkita. We also saw Nikkita's leadership throughout last summer's Black Lives Matter protests. One example that sticks out is when the Mayor came out of a fortified city hall (which is our city hall we all pay for). Nikkita Oliver asked the crowd to listen to a visibly shaken Mayor while the crowd shouted for the People's Mayor. It was a pretty intense experience. Nikkita showed so much grace and empathy in this moment. It is representative of how they show up again and again. Nikkita has a unique perspective in the city of Seattle and needs to have a seat at the table. 
We recommend reading "Seattle's District 9 race: How Oliver and Nelson's visions diverge" via Crosscut. Also, make time to read "The Urbanist's 2021 General Endorsements"; this guide does a good job of articulating the reasons why Sara Nelson's policies are antiquated. 
City Attorney – Nicole Thomas-Kennedy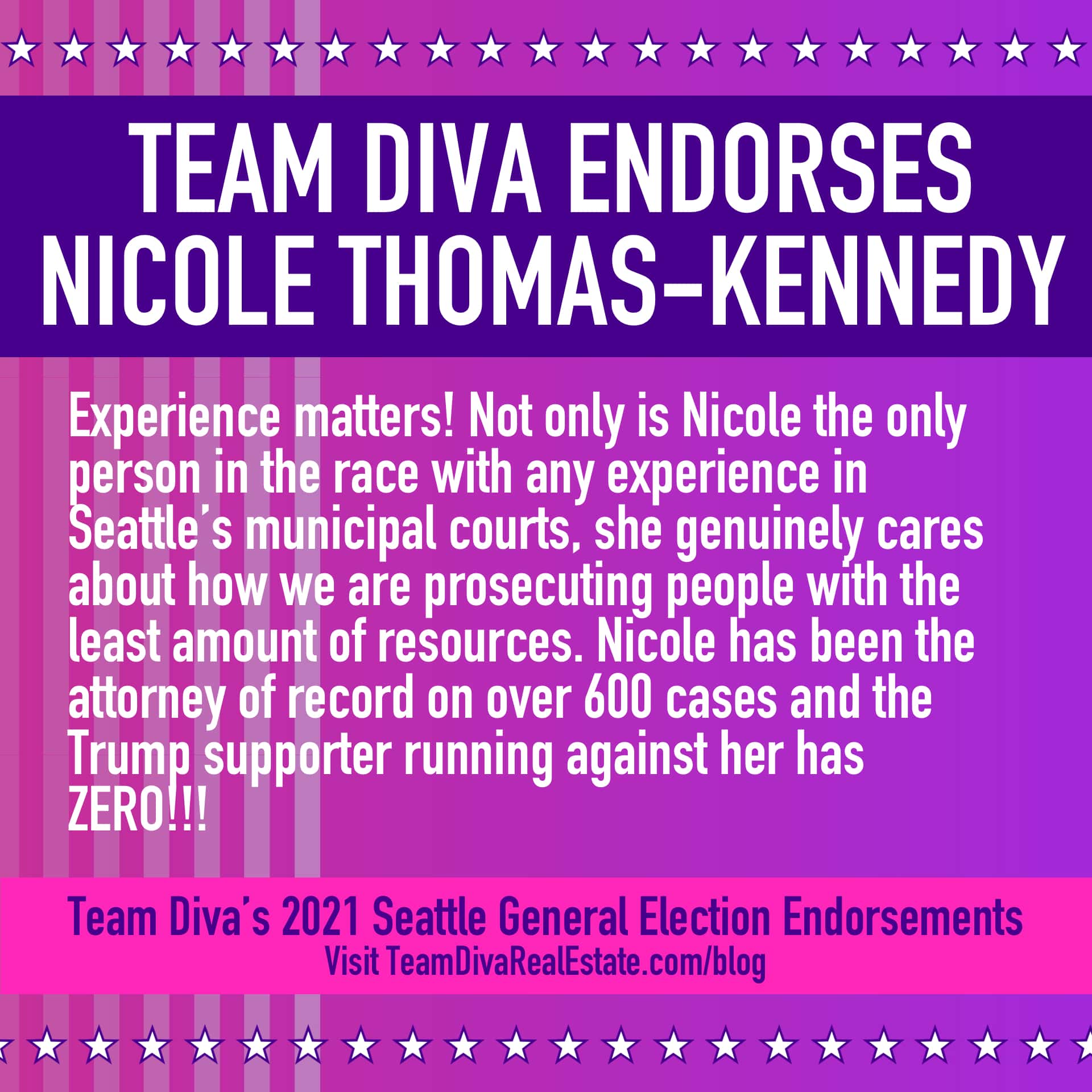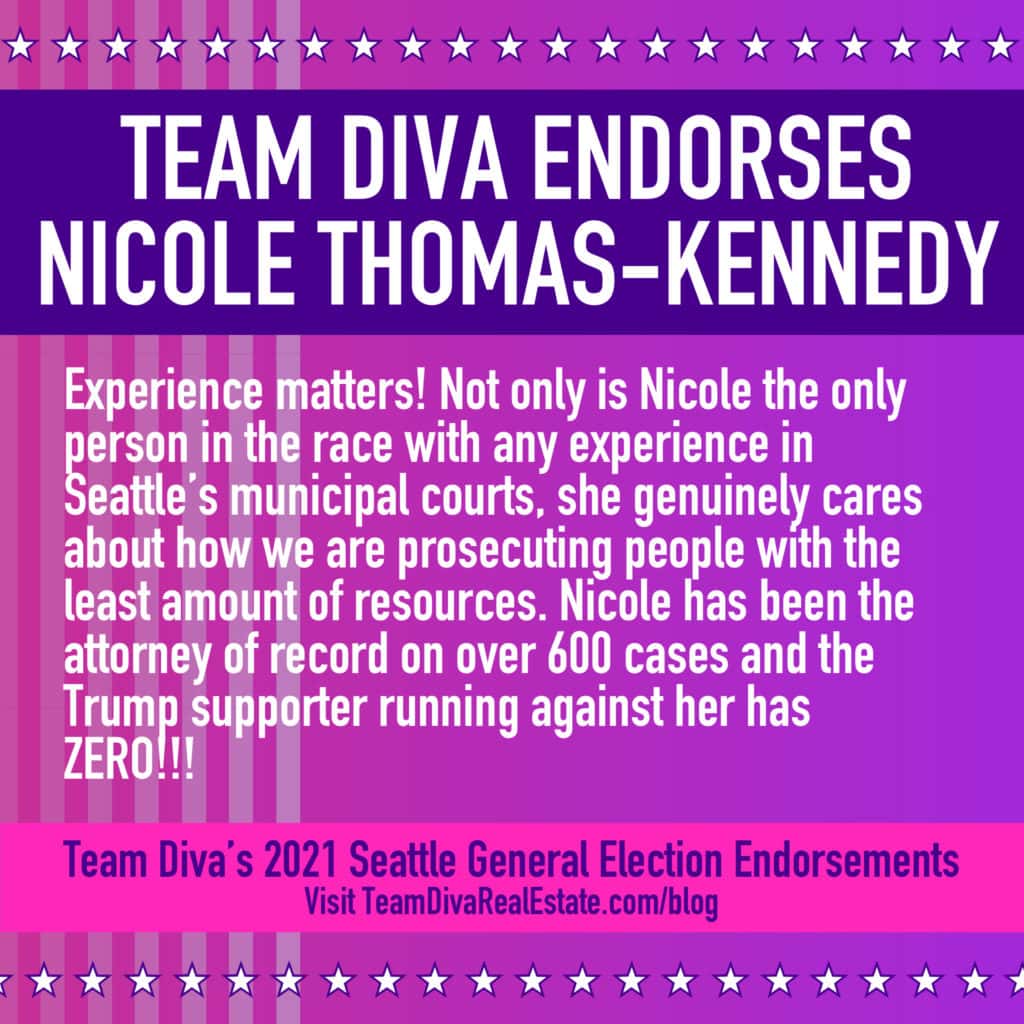 Nicole Thomas-Kennedy has gotten a lot of attention in recent weeks (both good and bad). Her platform might sound radical at first but we think it's wildly practical. Thomas-Kennedy is an abolitionist. She is not shy about calling out the fact that "Police, prosecution, and jails have failed at creating public safety." What we're doing now regarding policing and prison is simply not working. We think most people could agree with that statement. 
The City Attorney's Office only prosecutes misdemeanors (aka low-level crime). City prosecutors get to decide who to criminalize. Of course, who gets prosecuted for misdemeanors is never applied equitably across communities. And people who are poor, unhoused, BIPOC, and disabled are disproportionately prosecuted. 
There is much to say on this topic. That's why we did an in-depth interview with Nicole Thomas-Kennedy on our blog. Thank you Nicole for taking the time to sit down with Team Diva! Click here to read "Team Diva Endorses Nicole Thomas-Kennedy for Seattle City Attorney." 
School Board District 5 – Michelle Sarju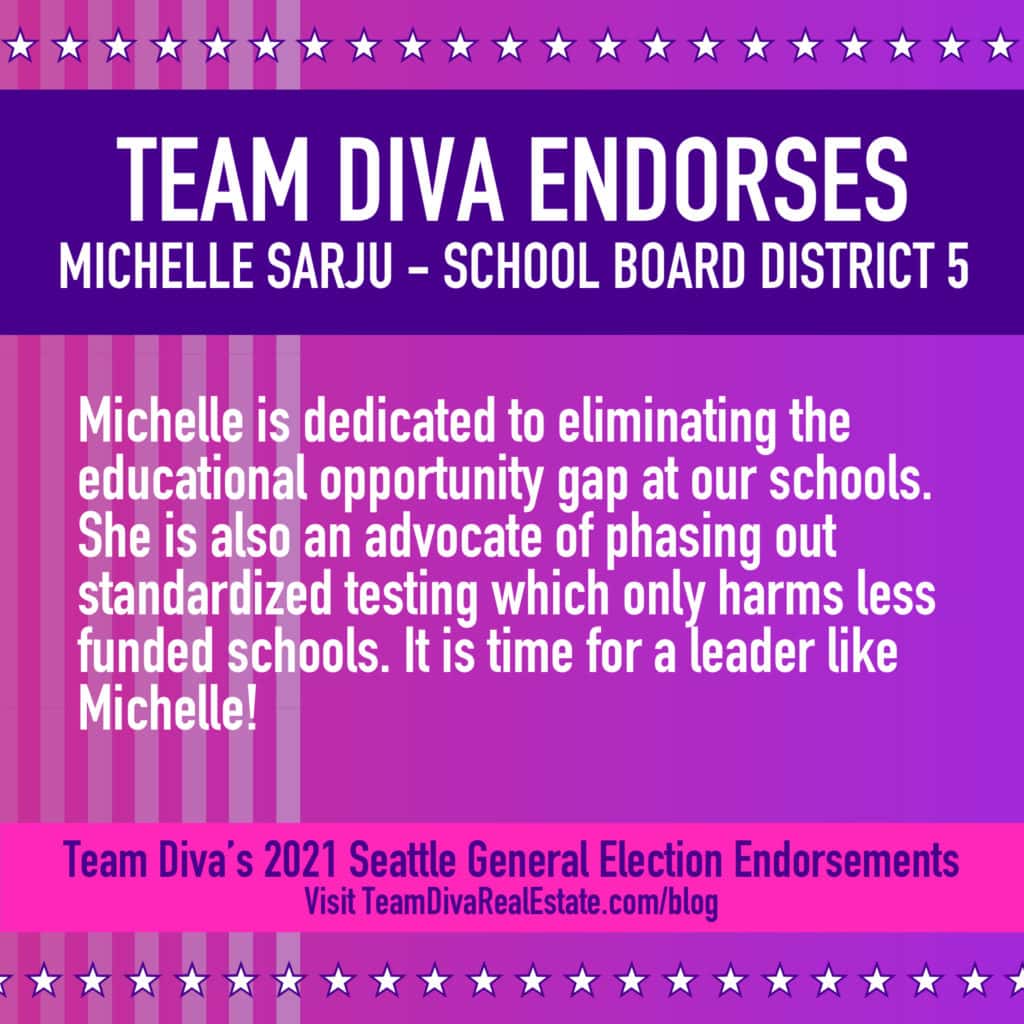 Michelle Sarju has a long list of impressive endorsements, and it's no surprise when you learn more about her vision and platform. Students and teachers of Seattle Public Schools need more help than ever due to the added pressures of the pandemic. Michelle Sarju has a detailed plan for how to help teachers, staff, and students recover and re-integrate after this long season of COVID. Not only does this include vaccination plans, but it takes emotional and mental health into account as well. Michelle Sarju is also dedicated to eliminating the educational opportunity gap. She is also an advocate of phasing out standardized testing. 
School Board District 9 – Brandon Hersey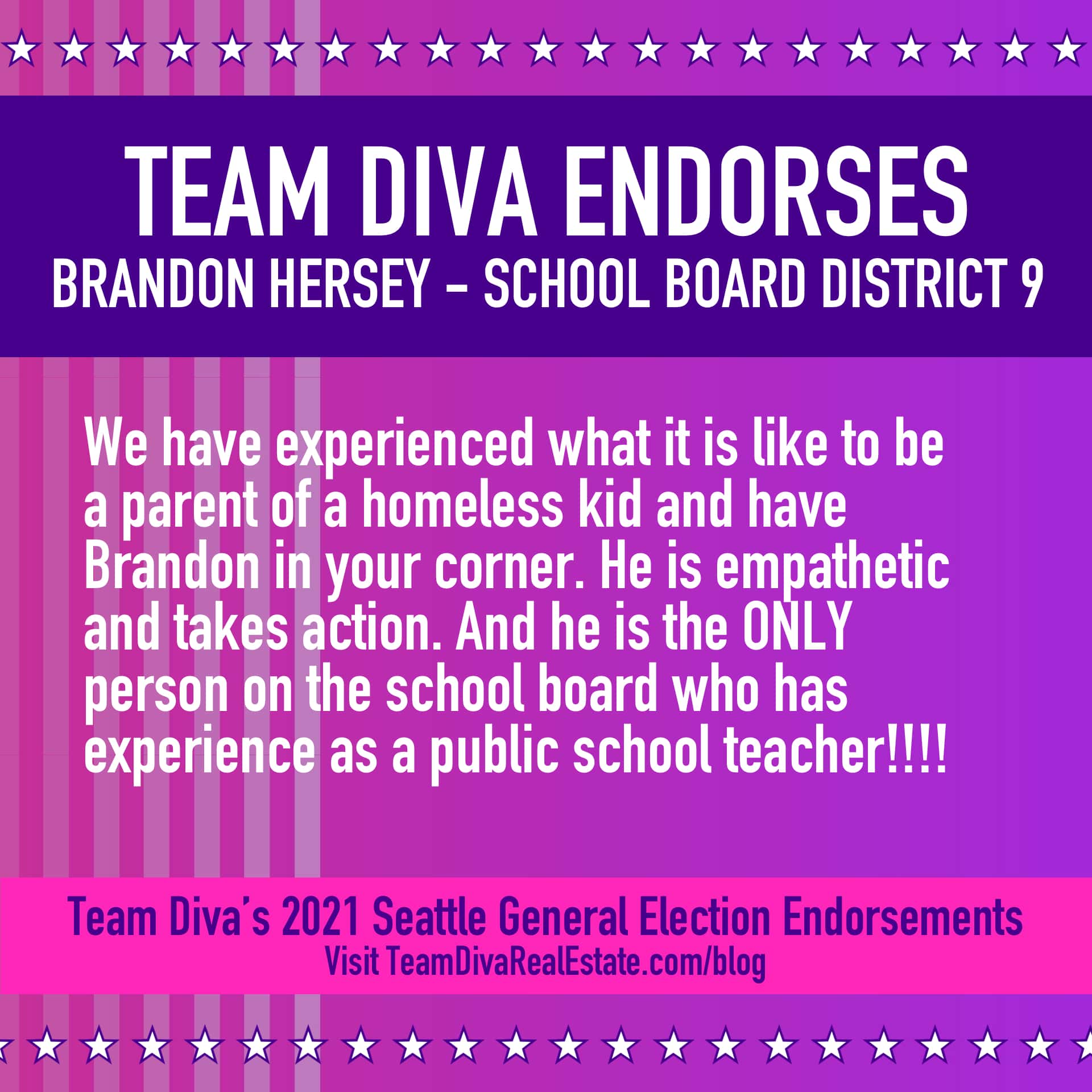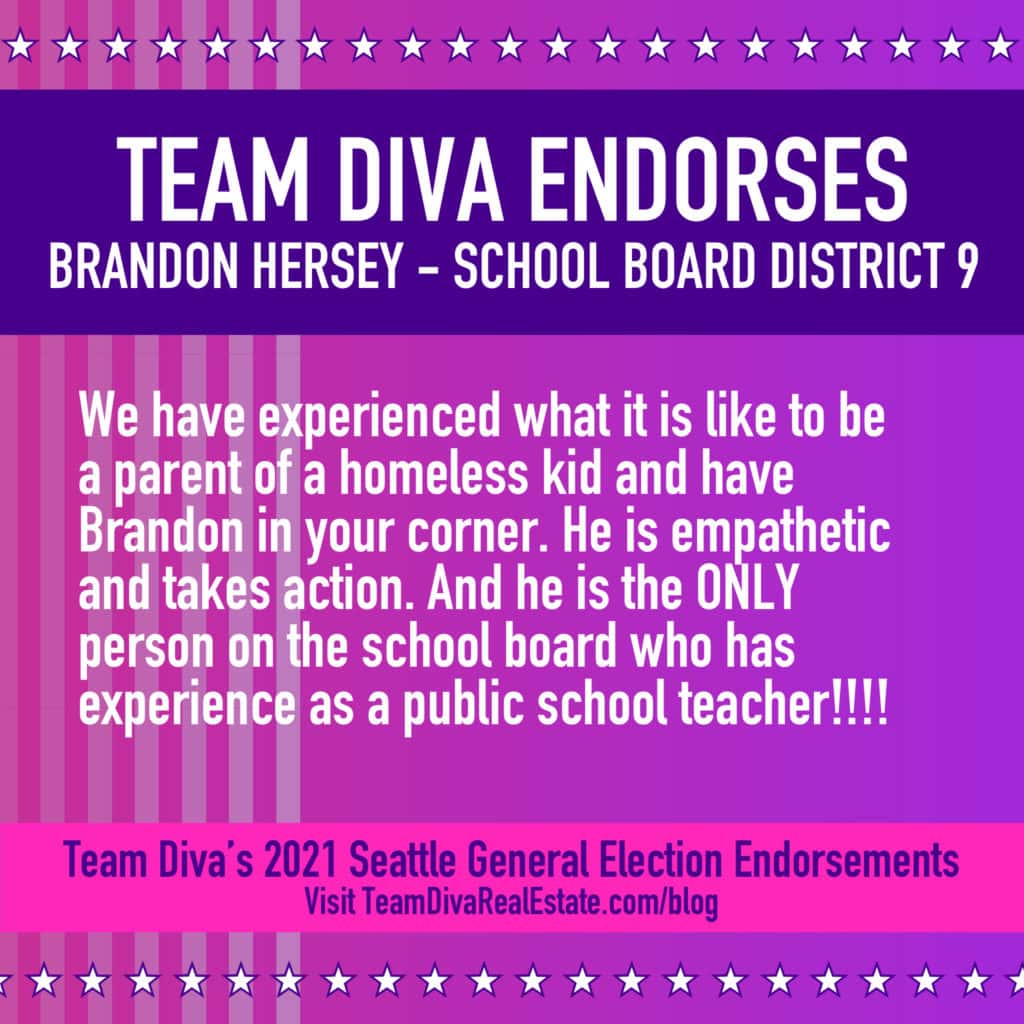 As The Urbanist points out, Brandon Hersey is the only active teacher and the only serving Director with any K-12 experience. It's absolutely essential to retain someone with "real life" experience in this role. Hersey has proposals to help the district address systemic inequalities. We support Hersey in taking steps to make big changes in Seattle Public Schools. 
In addition, the Divas' niece is in Brandon's district. At the start of COVID kids who were tagged as homeless (including the Diva's niece – long story), we saw firsthand how the district treated kids with the fewest number of resources. Brandon not only picked up the phone when we called to advocate for kids in the least funded schools in our district. He took action. This is what we need in our schools!
Port Commissioner Pos 1: Ryan Calkins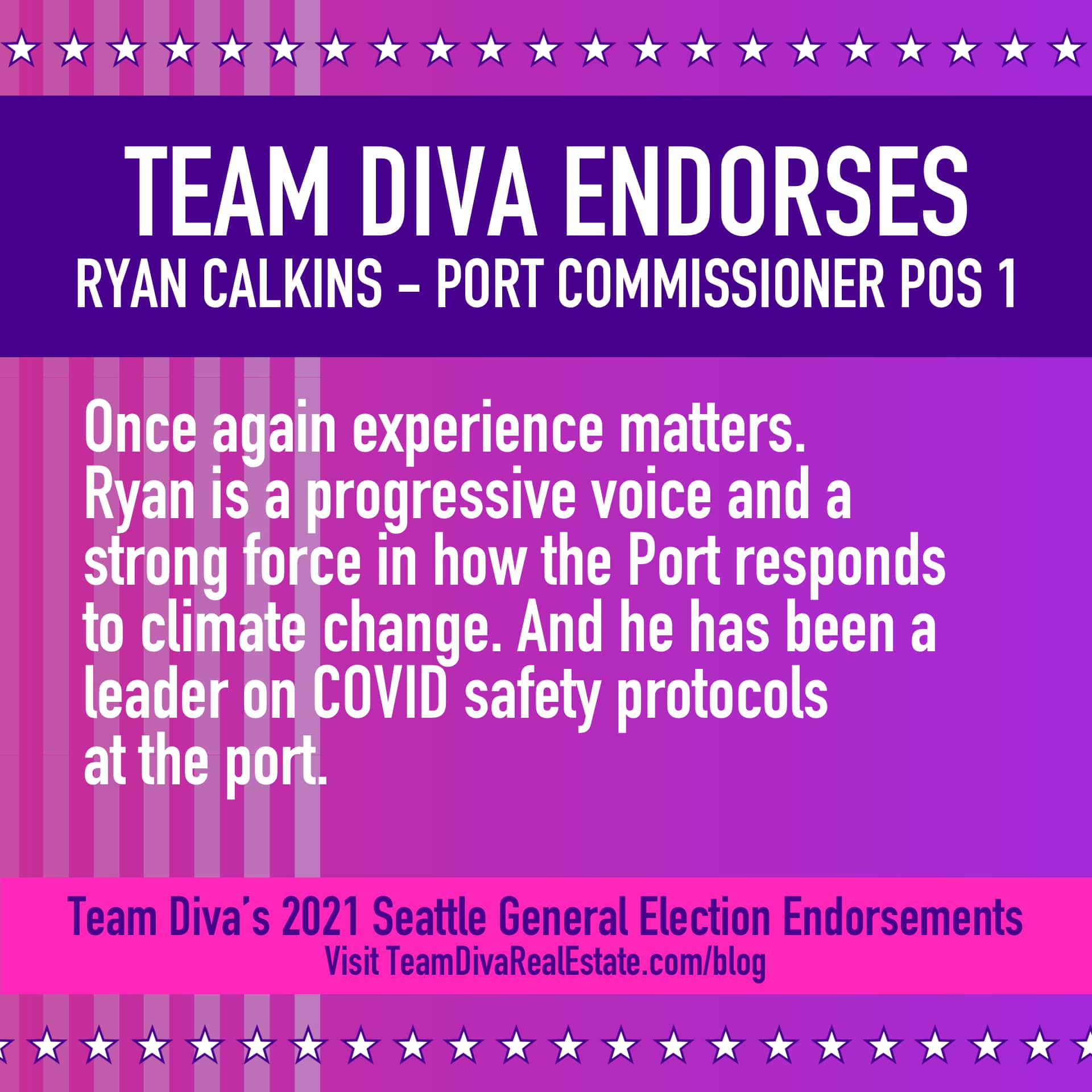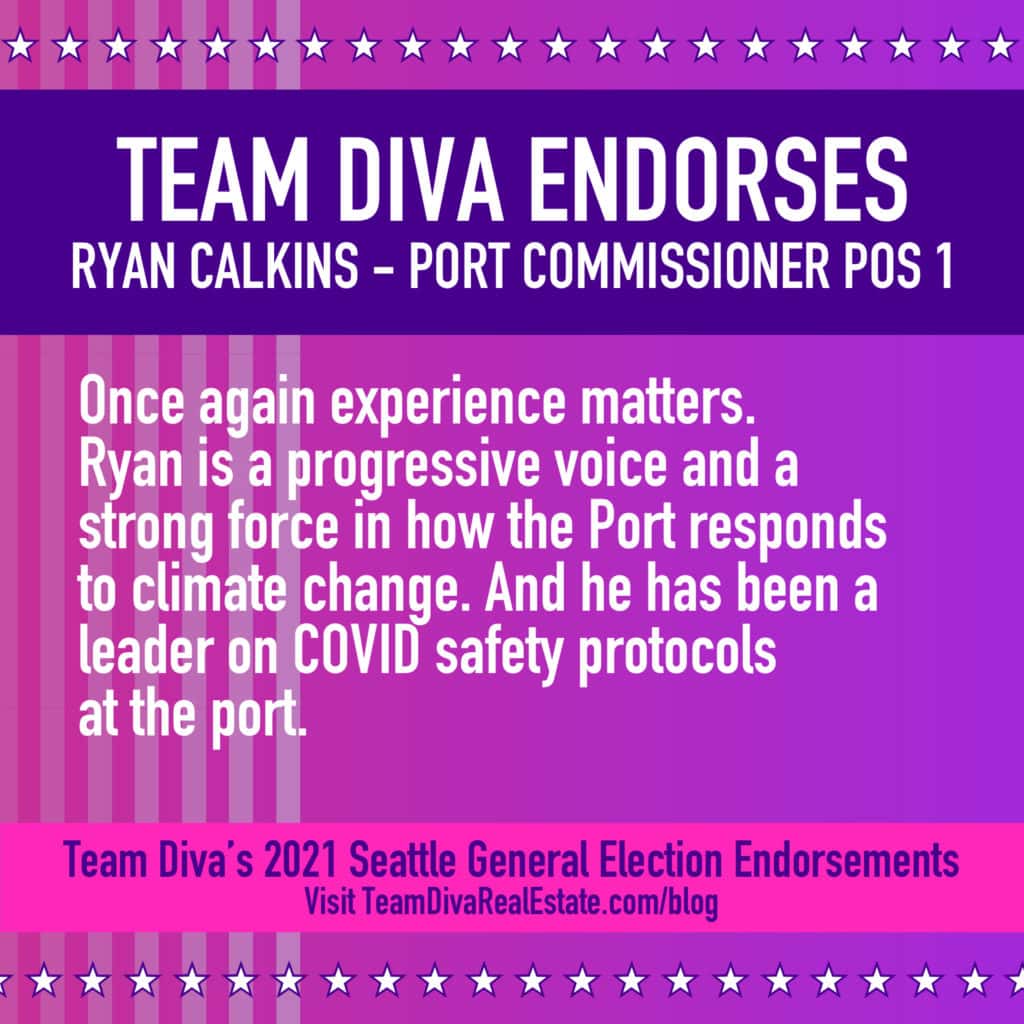 We encourage voters to retain Ryan Calkins in Port Commissioner Pos 1. He's been a progressive voice and a strong force in how the Port responds to climate change. Calkins has a strong list of endorsements, and we are especially impressed by his dedication to the environment and social justice. Calkins has also been committed to building community, restoring Port-impacted areas, and safety during COVID-19. 
Port Commissioner Pos 3: Hamdi Mohamed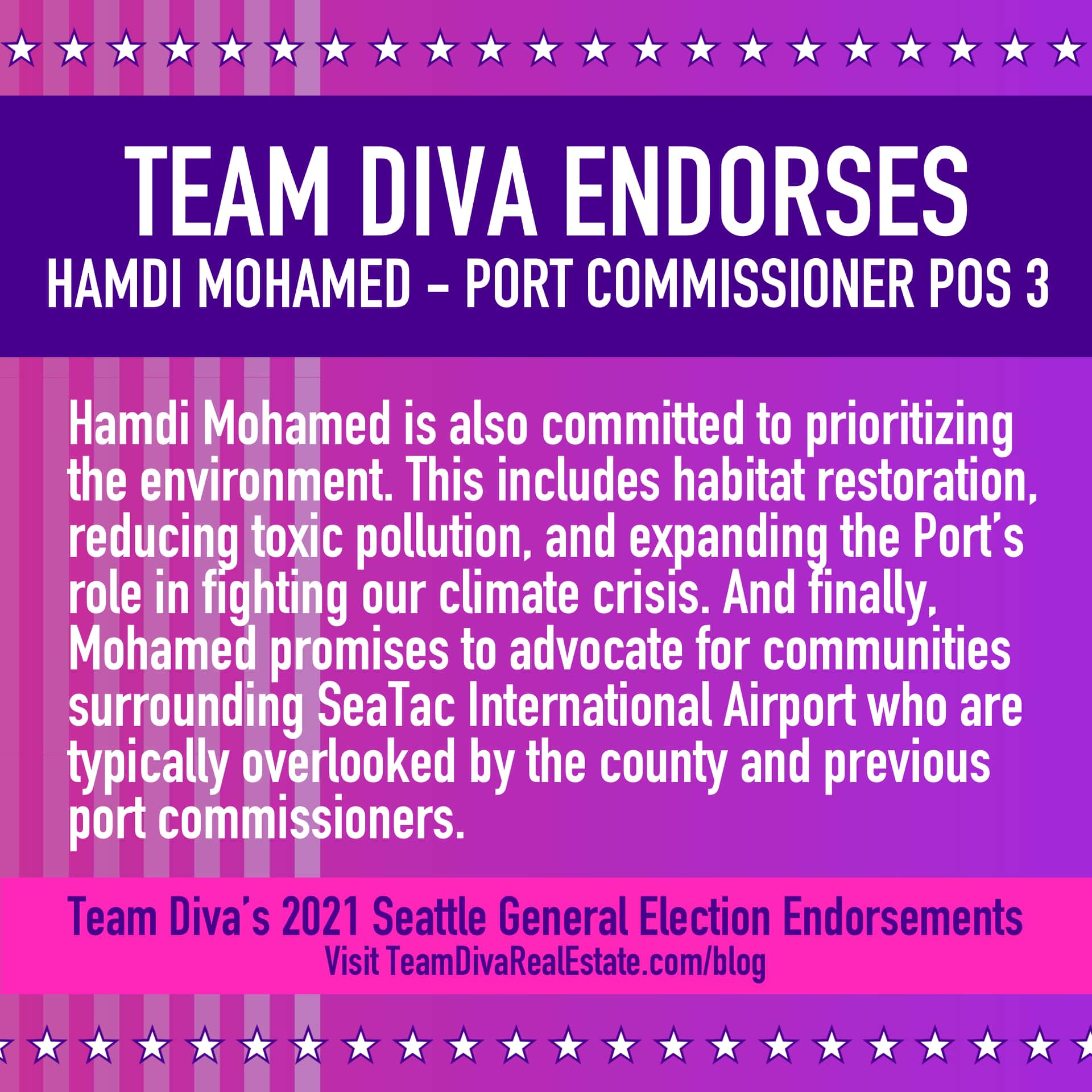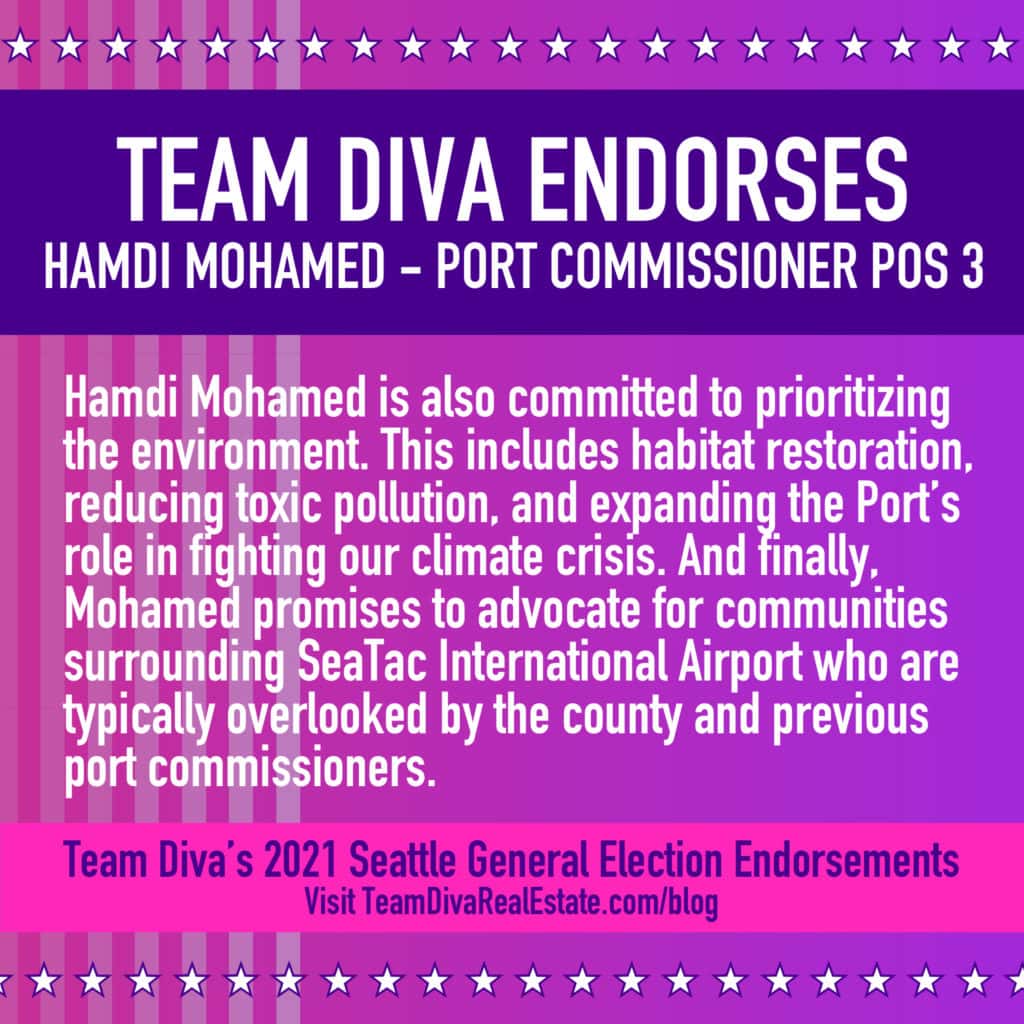 Hamdi Mohamed has a large breadth of experience and several endorsements. She is well poised to take on the role of Port Commissioner Pos 3. Her vision includes focusing on economic recovery after the pandemic and stabilizing small businesses. Hamdi Mohamed is also committed to prioritizing the environment. This includes habitat restoration, reducing toxic pollution, and expanding the Port's role in fighting our climate crisis. And finally, Mohamed promises to advocate for communities surrounding SeaTac International Airport. 
Port Commissioner Pos 4: Toshiko Hasegawa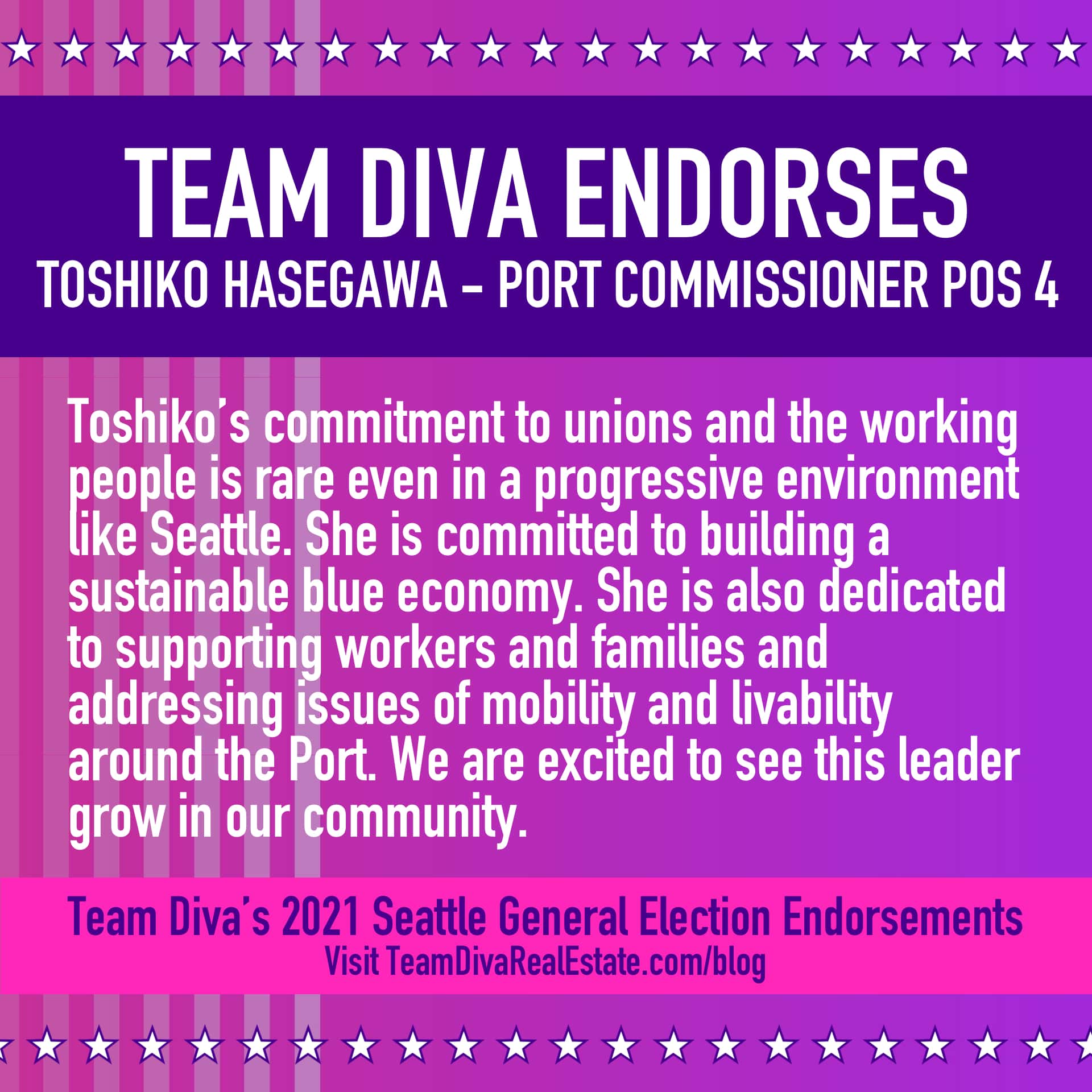 Toshiko Hasegawa brings experience working in both government to create policy and with communities to amplify the voices of those in need. Once elected to the role of Port Commissioner, Toshiko Hasegawa is committed to building a sustainable blue economy. She is also dedicated to supporting workers and families and addressing issues of mobility and livability around the Port. Toshiko Hasegawa also has *several* endorsements from unions, top politicians, and organizations as well. 
---
More Voting Resources for the 2021 Seattle General Election Including More In-Depth Endorsements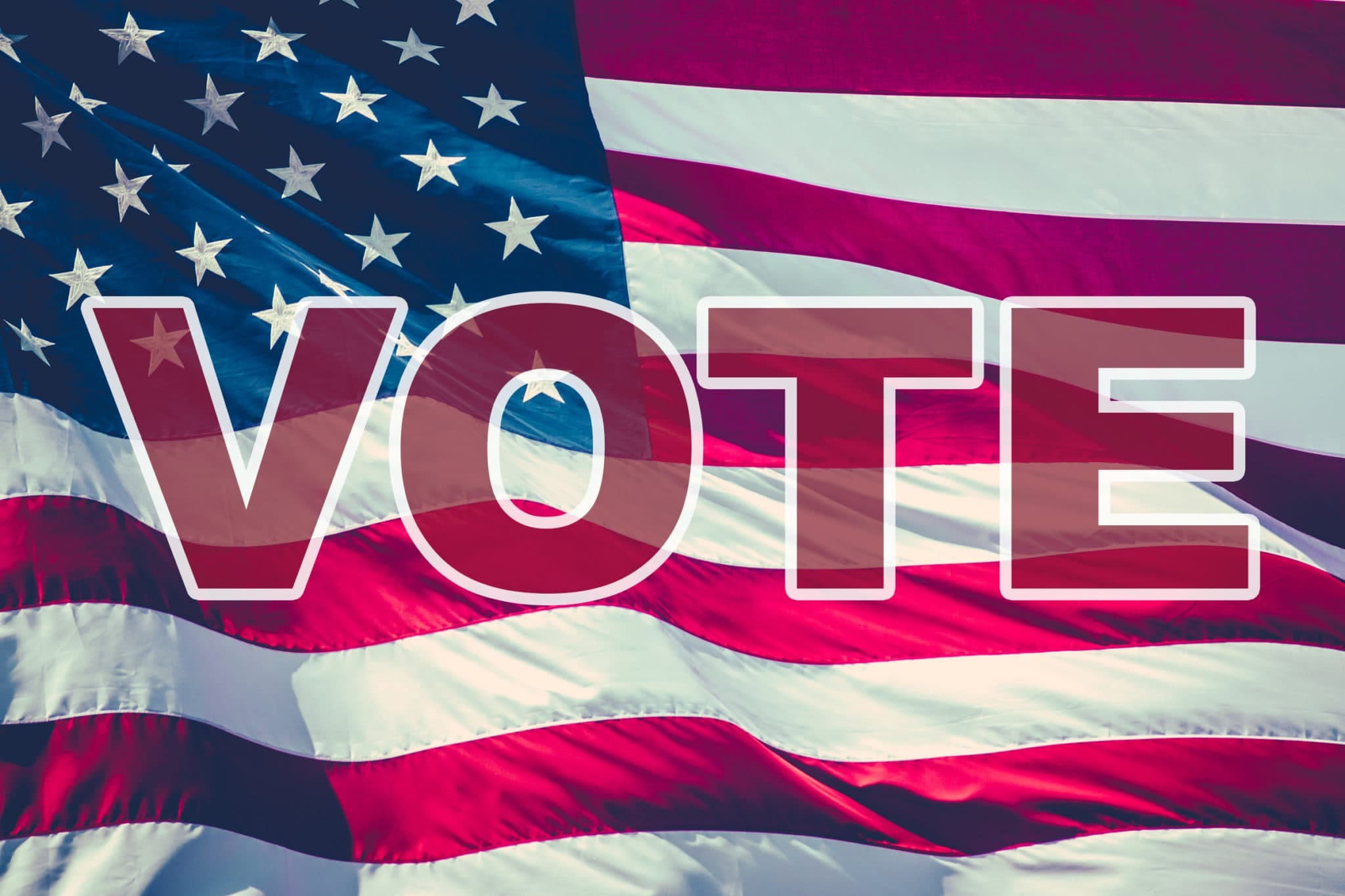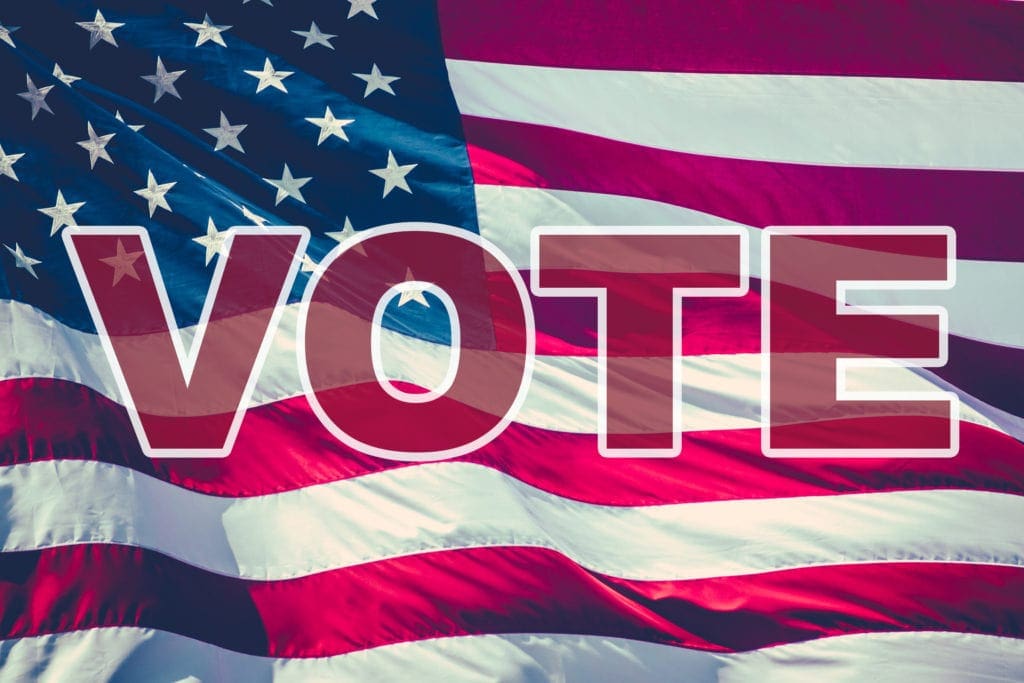 Once again our 2021 Seattle Election Endorsements are here for you to think about and consider. We obviously do not expect you to vote exactly like the Divas and the rest of the team. However, we do expect ALL citizens in our city to be engaged in finding solutions to our overwhelming homeless issues. And we NEED to fight for Black Lives. As a company, we are often heartbroken by the lack of resources available for first-time homebuyers. Punting these issues to the legislature or big business does not work. And we have had over 20 years trying this method. And guess what the damage has been done by years of neglect.
More Resources for You As Consider our 2021 Election Endorsements
Now get out there and vote on or BEFORE November 2nd. Thanks for reading our 2021 Election Endorsements.