Seattle's quirky First Hill neighborhood is one of my very favorite areas of the city. I'm especially thrilled to show off this Chic First Hill Condo not just for its neighborhood, but for its not-to-be-missed features as well! Beautifully updated spaces, including a remodeled kitchen, have all been expertly curated; the sellers are artists, and their stellar taste and focus on details shine through every space! This corner unit also gets light from all angles, and it really lives like a small home (vs. a condo). This Seattle condo is so cool and super chic—I can't wait to show you around.
Let's Tour This Chic First Hill Condo 
I'm Kim Colaprete with Team Diva at Coldwell Banker Bain, and in this video, join me to tour this Chic First Hill Condo. We're beginning the tour at Boon Boona, a hip, African Coffee Roasting company based in Renton and recently opened here on First Hill right next to the 12th Ave Square Park. I'm excited to show you everything I love about Seattle's First Hill neighborhood, but that's just one of the many benefits of living in this Chic First Hill Condo. 
In addition to the excellent Seattle location, this condo shows off beautifully updated spaces and a remodeled kitchen. Oh, did I mention the sellers are artists? Impeccable taste shines through every space, which makes this Diva Dwelling so wonderfully unique! This condo is also an end unit, meaning you get light from all angles. Once you step inside, you definitely will definitely feel more of a home vibe than a condo vibe. Tour with me and see why!
If you enjoyed our tour of this Chic First Hill Condo be sure to join our Divaland community by liking and subscribing to our YouTube channel. 
---
Top 5 Faves of this Chic First Hill Condo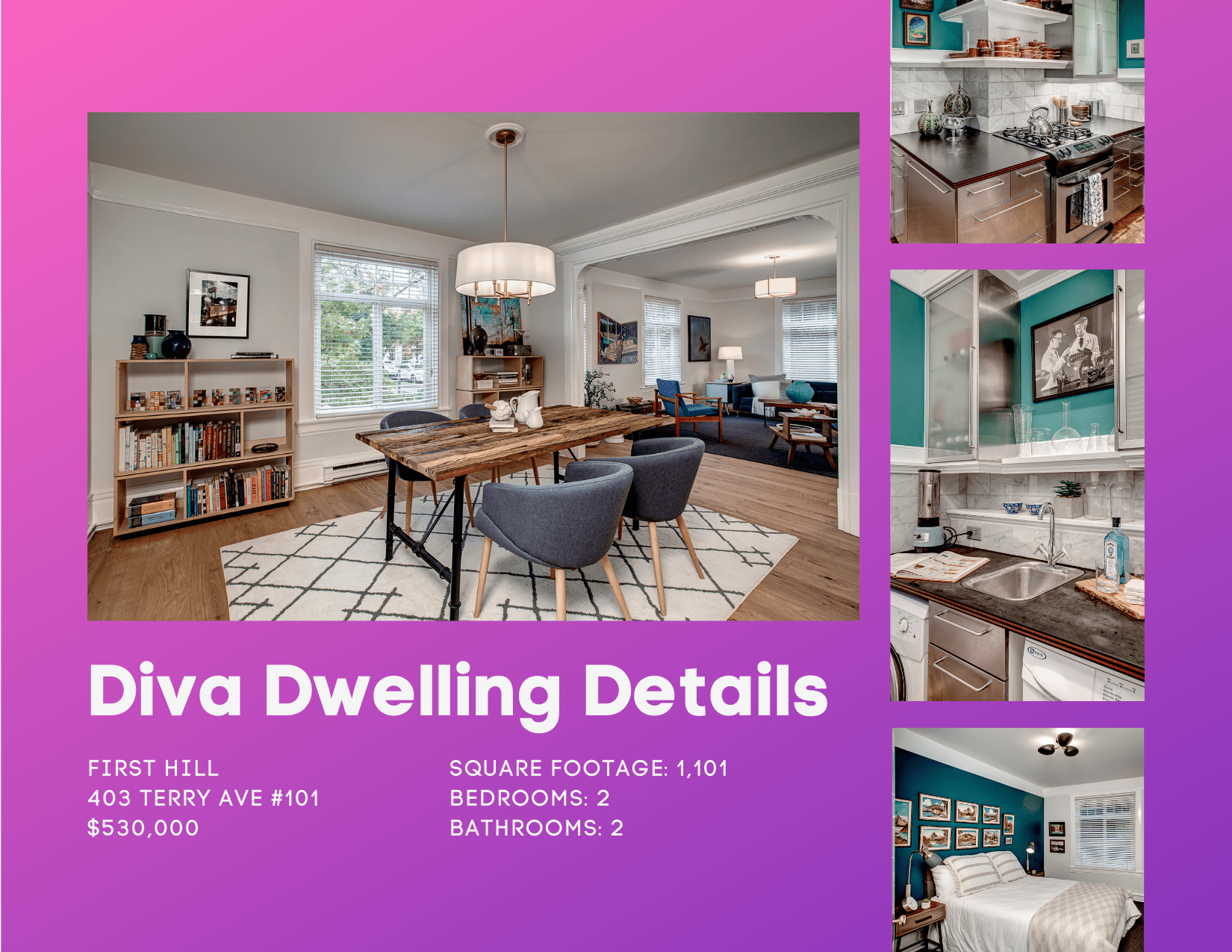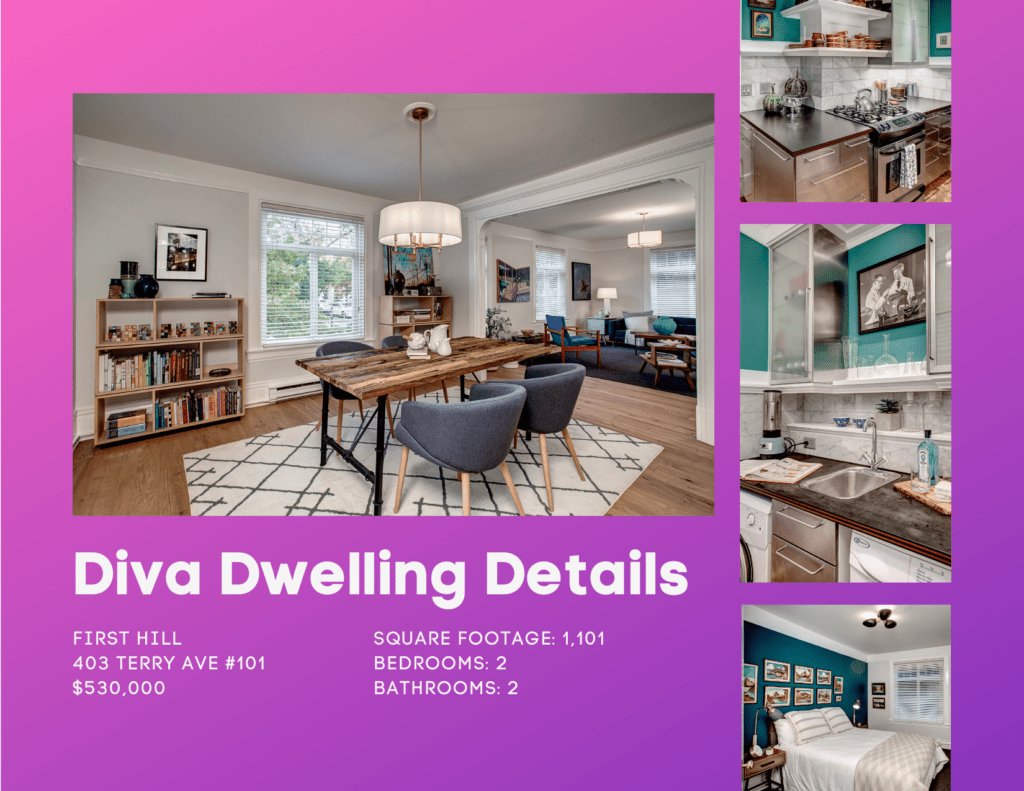 Thanks for joining me for a tour of my top 5 favorite things about this Chic First Hill Condo! Sit back, relax, and get ready for some pretty pics and an immersive 3D tour, too.
Beautifully Updated Spaces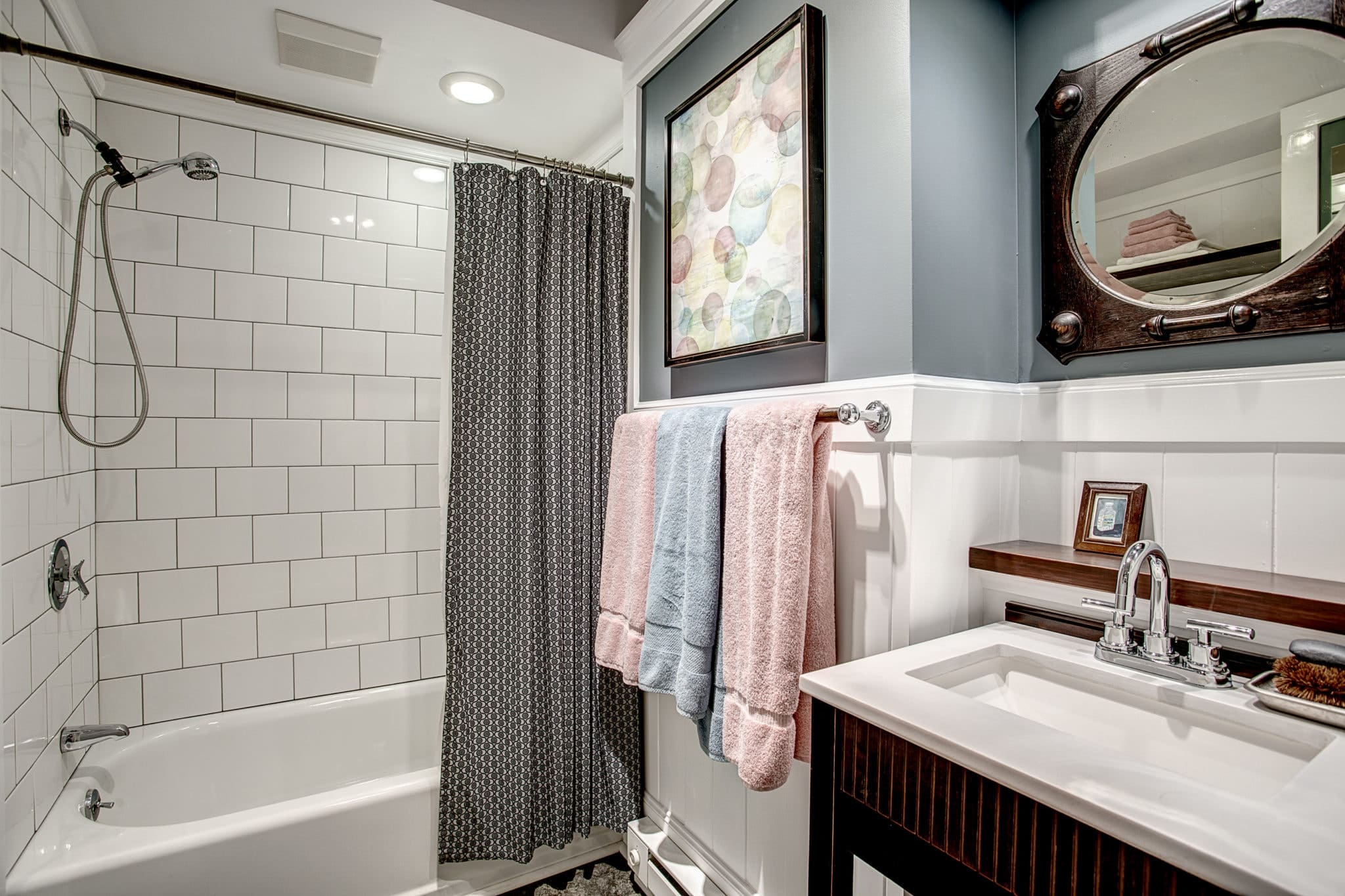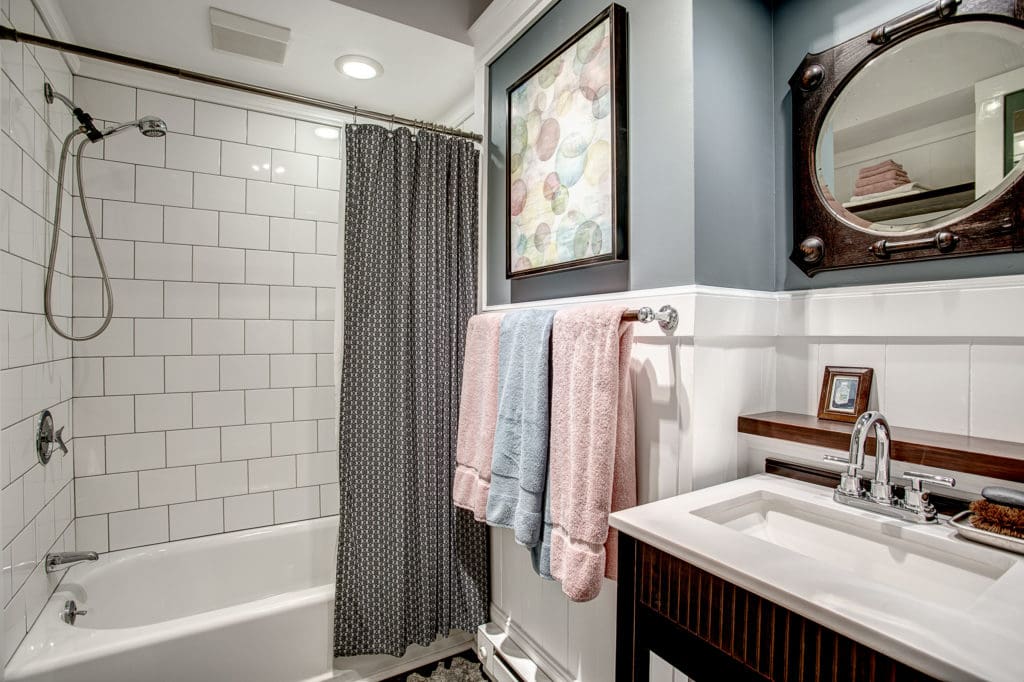 It doesn't take long to notice that this condo is fabulously chic. Our clients who own this home are local artists and they have absolutely amazing taste. This charming condo is in excellent condition. The kitchen remodel alone will win your heart. In addition to the fact that my Diva Dweller clients swanked up the kitchen, they also made many other wonderful upgrades to this home. 
First of all, they updated both bathrooms. (There are new shower valves for starters.) This home has two full bathrooms and two bedrooms. There is a full bath between the two bedrooms, and there's another adorable full bath tucked in the hallway. It's perfect for when you have guests. The sellers also added beautiful crown molding throughout the space and brand new stunning Swedish Oak floors in the hallway, living room, and dining room. Beyond all that, this home has been recently repainted, and, personally, I think the colors are divine. You can always trust an artist to know how to use color in a home! 
Lives Like a Home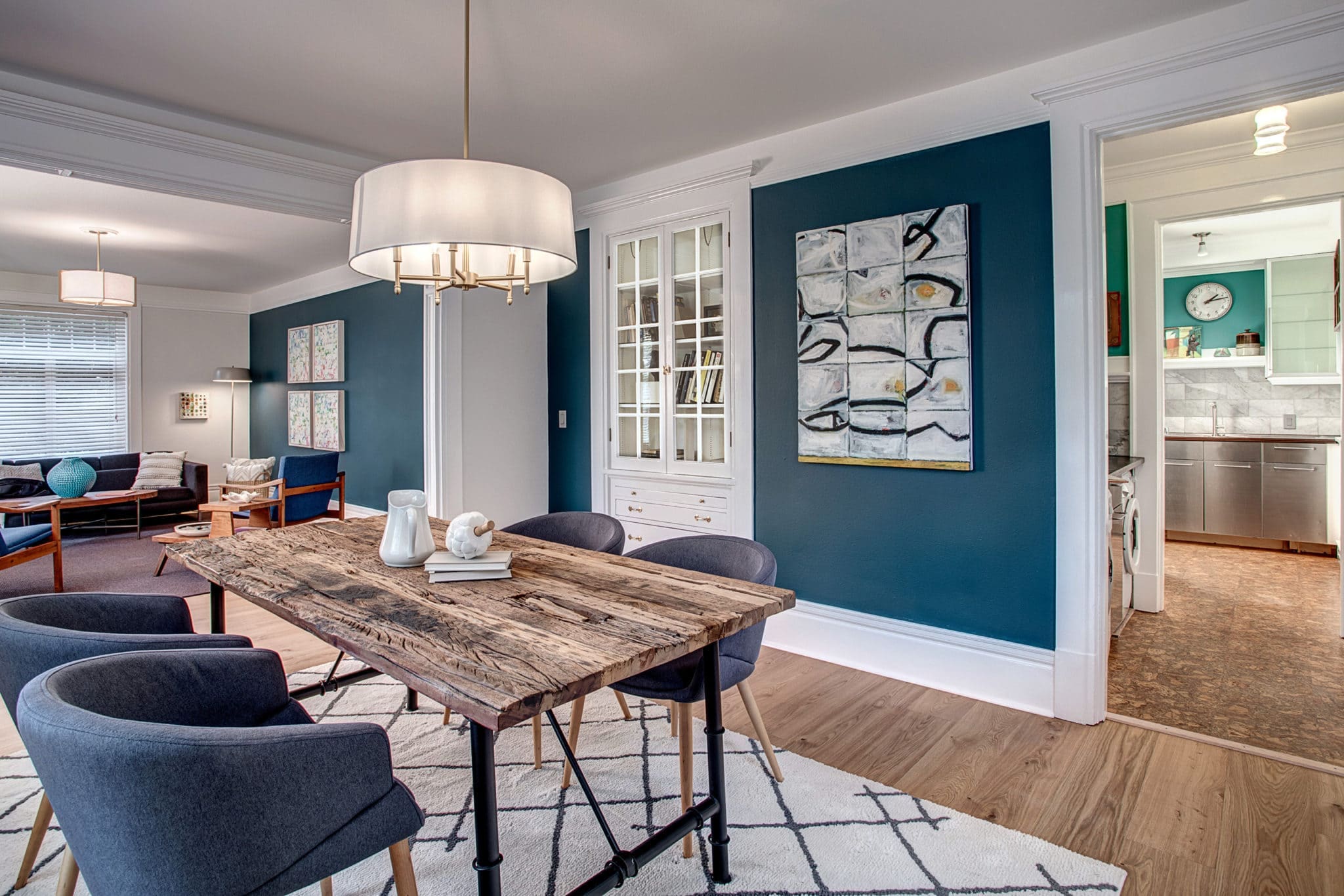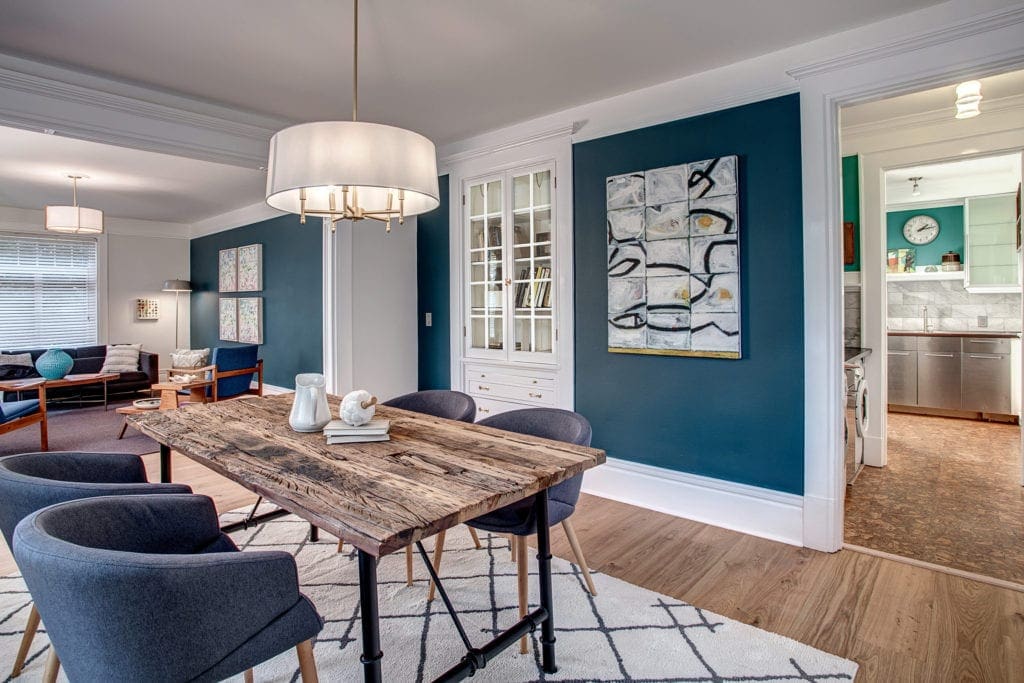 I truly love the layout of this place. It feels much more like a small home than a condo. For starters, it's so rare that you find such a huge dining room in a condo. This room is so big that one of the owners was actually using this space as his art studio! Talk about creative use of space. And I just love that the original built hutch is still here and is in great condition. It adds so much charm to this room. Plus, it's a great place to show off your favorite art books, or your grandma's china, or, if you're a Diva like me, your (growing) collection of mid-century art pottery.
The dining room also has plenty of extra space for a buffet. And, if you run out of space in here, well there is still the expansive living room, the spacious kitchen, AND the Butler's pantry as well. There is no lack of space or storage in this home. I should also mention there are also brand new light fixtures in both the living room and dining room. And speaking of light…
Corner Unit Means Light From All Angles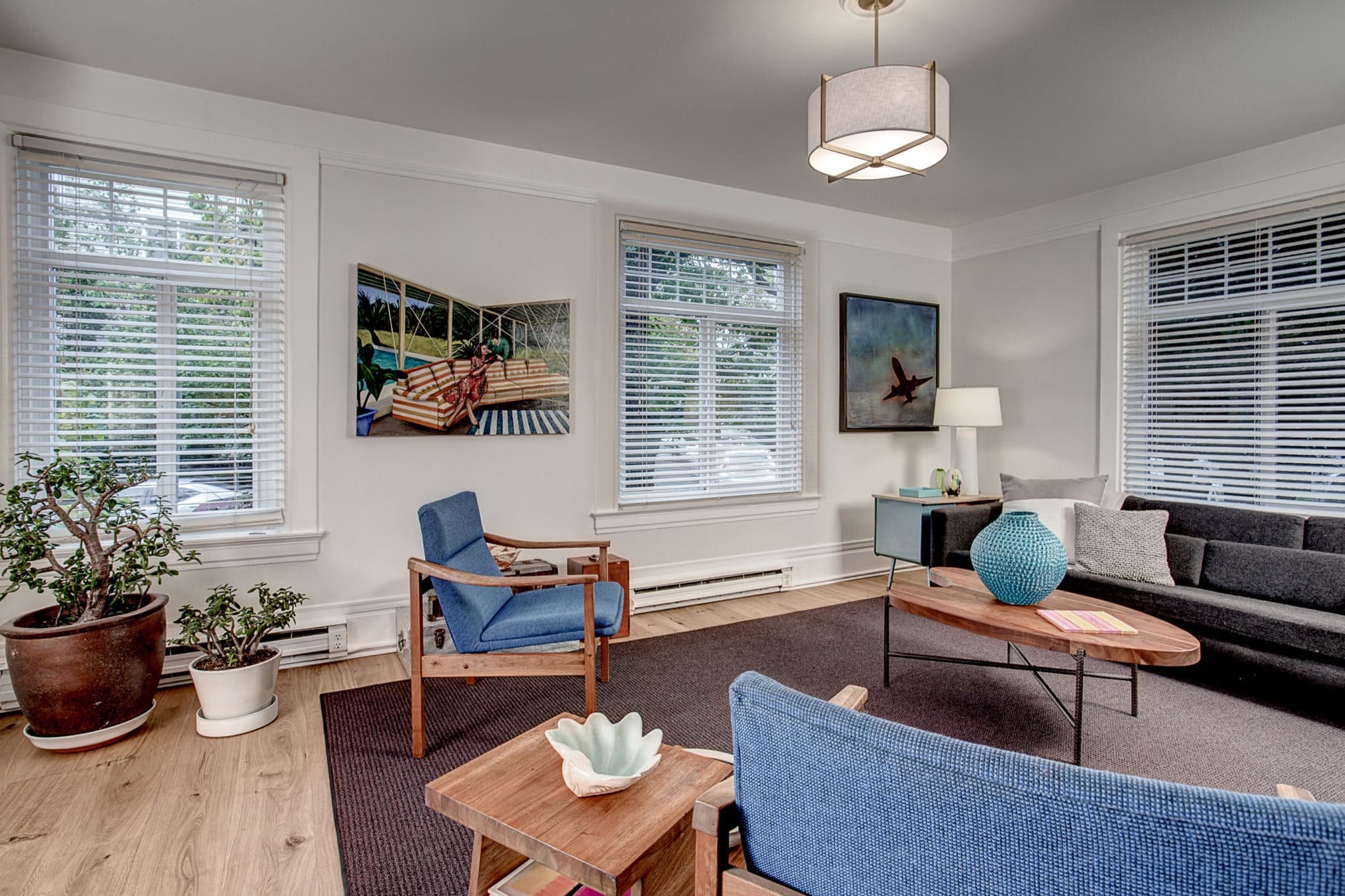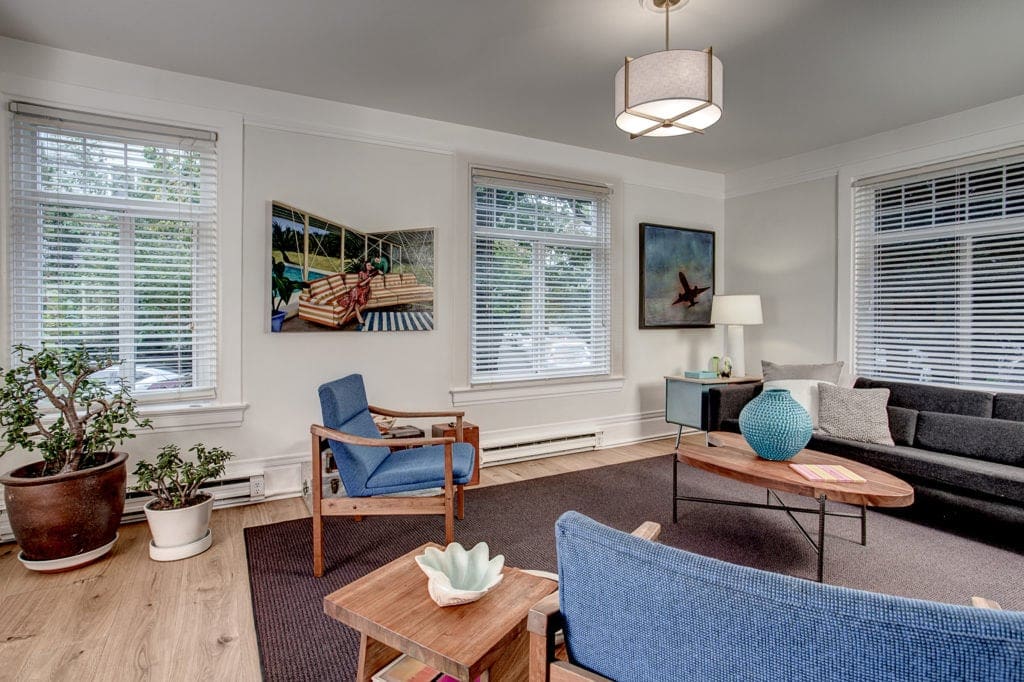 When I did the walk-thru of this condo with my folks, I even debated whether or not we needed an overhead light in the living room. The days when I've been here and it's been sunny, the light streaming into this living room has been so wonderful. Even on an overcast day, this condo is filled with natural light.
The layout of this condo is quite special. The design of this building allows for this home to fully span the length of this wing. Meaning you have only one wall shared wall, and most of that is the entryway to the home. Instead of two open walls of windows as with most corner homes, you have three! Basically, there are windows all around the home. That's pretty rare in a condo – at least one priced under $1 million. And, because there are also lower-level garden condos in this building, these first-floor homes sit above street level. Which means added privacy for the owners.
Can We Talk About This Kitchen!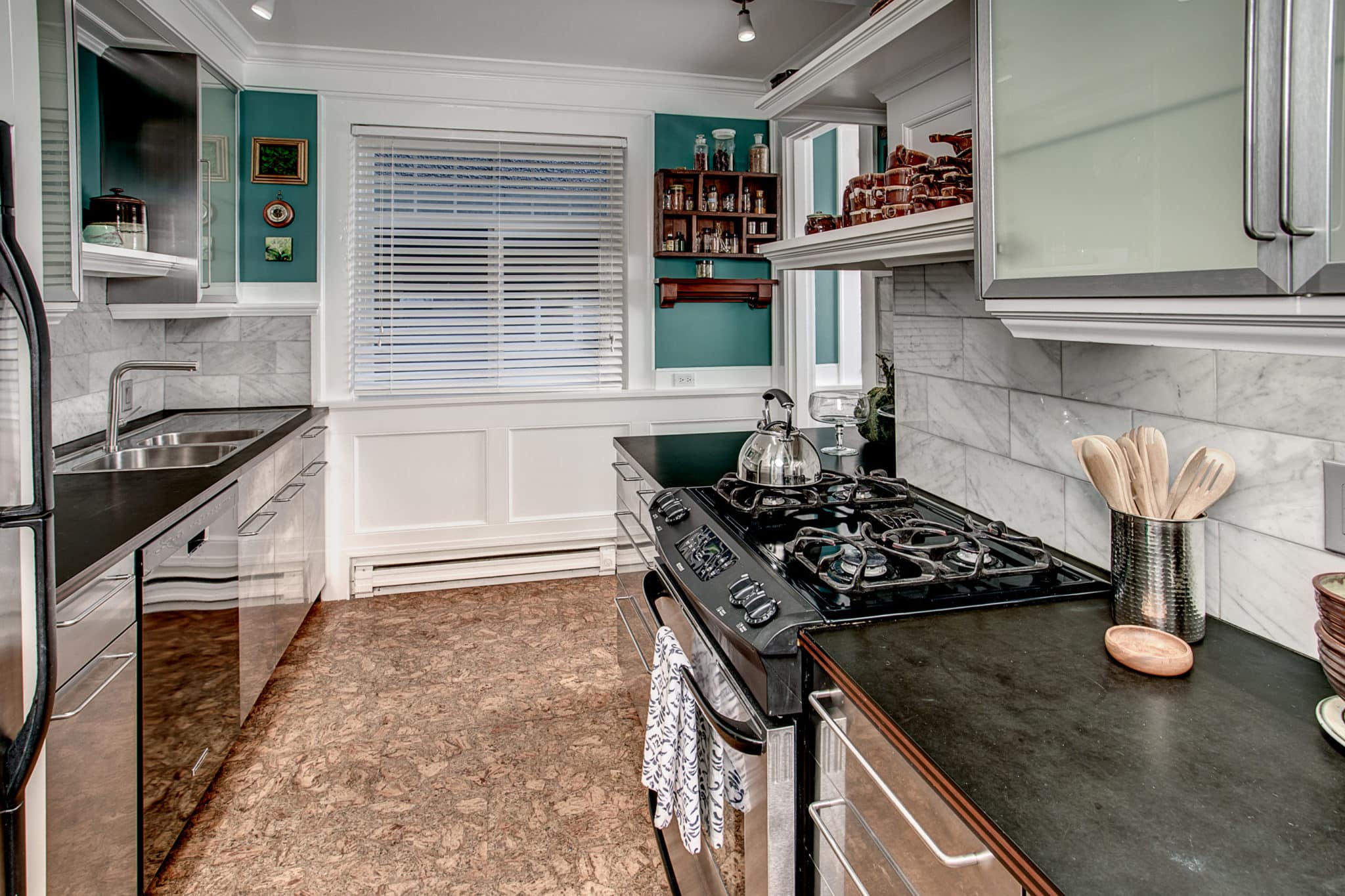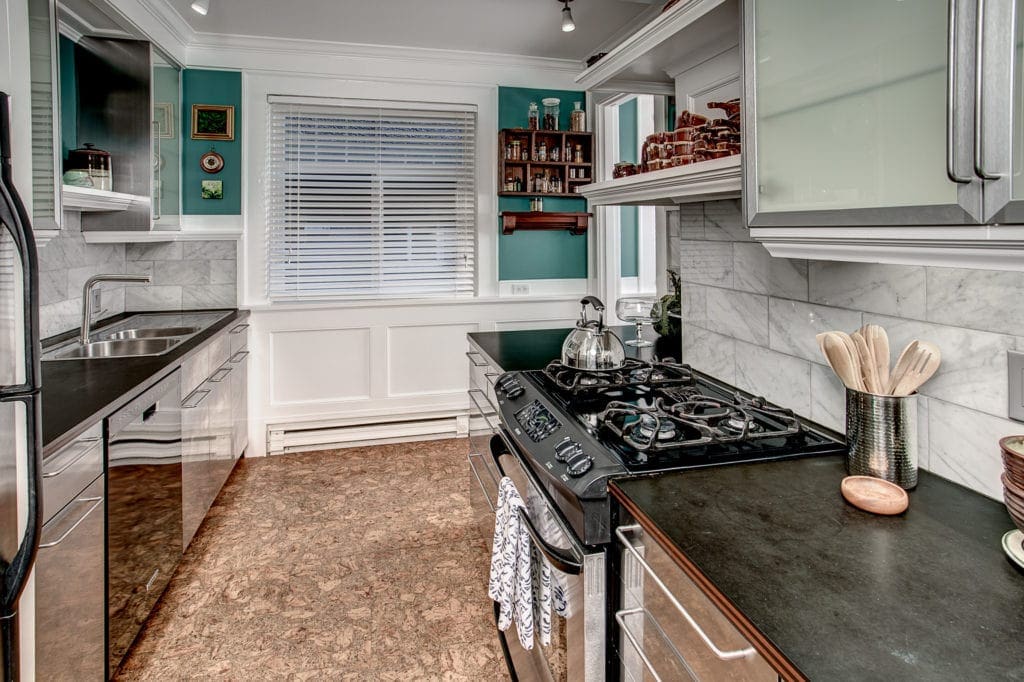 I know I have mentioned the fabulously remodeled kitchen more than once. This kitchen has been completely re-imagined with bespoke cabinetry, open shelving to show off the owner's own handmade art pottery, stainless steel appliances, eco-friendly Richlite countertops, and more great lighting. Often condo kitchens, especially in vintage buildings, can feel cramped or claustrophobic, but not this kitchen. The high ceilings in this condo help to make this space feel more open, but it's also an incredibly well-organized kitchen. You can tell the folks who remodeled this space actually cook!
Especially when it comes to living in a condo, having a well-organized kitchen space is beyond important. Plus, there is even a serving pantry for MORE storage and a wet bar. The laundry units are tucked away under the counter leaving plenty of storage space above. It's the perfect place to stash your booze, your champagne flutes, and your retro cocktail shaker collection. Every Diva needs a well-stocked cocktail bar! 
Let's Take a 3D Tour, Too, So You Can Immerse Yourself in this Chic First Hill Condo 
Team Diva takes every precaution, and then some, to make sure all of our homes are listed following all COVID precautions. It is our duty to ensure everyone's safety as you enter one of our listings. You can also feel free to take a virtual tour from the comfort of your couch!
Curious to learn more about our latest safety precautions? Read "Team Diva's COVID Safety Protocols for the Delta Variant" here!
Quirky First Hill Neighborhood 
Did I mention how much I love First Hill? It's so convenient to get pretty much anywhere from here. You can easily hop on the streetcar, the Link Light Rail, or one of many buses—the transit access is amazing. And the Walk Score is 94. You don't really need to own a car to live here. Not only are you close to many transit options, but you're easily within reach to several of Seattle's destination neighborhoods including the International District, Pioneer Square, Downtown Seattle, and Capitol Hill (particularly the Pike/Pine Corridor). 
Swedish Medical Center is right around the corner as well, and Frye Art Museum is blocks away. There are also parks aplenty nearby! Our Diva Dwellers loved spending time over at Horiuchi Park where they have a garden plot or biking down to Pioneer Square to do a gallery walk. Seattle University campus has amazing gardens and is a great place to walk the dog. It's also close to Harborview Park, which is a kind of hidden gem with an amazing view of the skyline. If that's not enough green space for you there even are more pedestrian-friendly areas coming to the neighborhood—Terry Ave and Terrace Street are both slated to become Green Streets in the future. How cool is that!
Beyond the transit and parks, this neighborhood is home to a few of Seattle's iconic spaces. The Sorrento Hotel is practically around the corner and autumn is the perfect time to cozy up in the Fireside Room with a good cocktail. Stop in for a drink after touring this Chic First Hill Condo. And in case you didn't know, The Sorrento is renowned as one of the most haunted places in Seattle. With All Hallows Eve on the horizon, who knows – you may run into one of their famous ghosts while you sip your hot buttered rum! 
There are also tons of other non-haunted dining spots in this neighborhood. Some of ours sellers' and my favorite spots are Ba Bar, Café Presse, Retro Coffee, QED Coffee, and, of course, Vito's. Vito's is another iconic Seattle spot known for its great lounge entertainment and the infamous Cougar Room. And, they make a mean Chicken Parmesan – just like Nanna Colaprete used to make. 
---
Buying A Condo In Seattle: 4 Key Considerations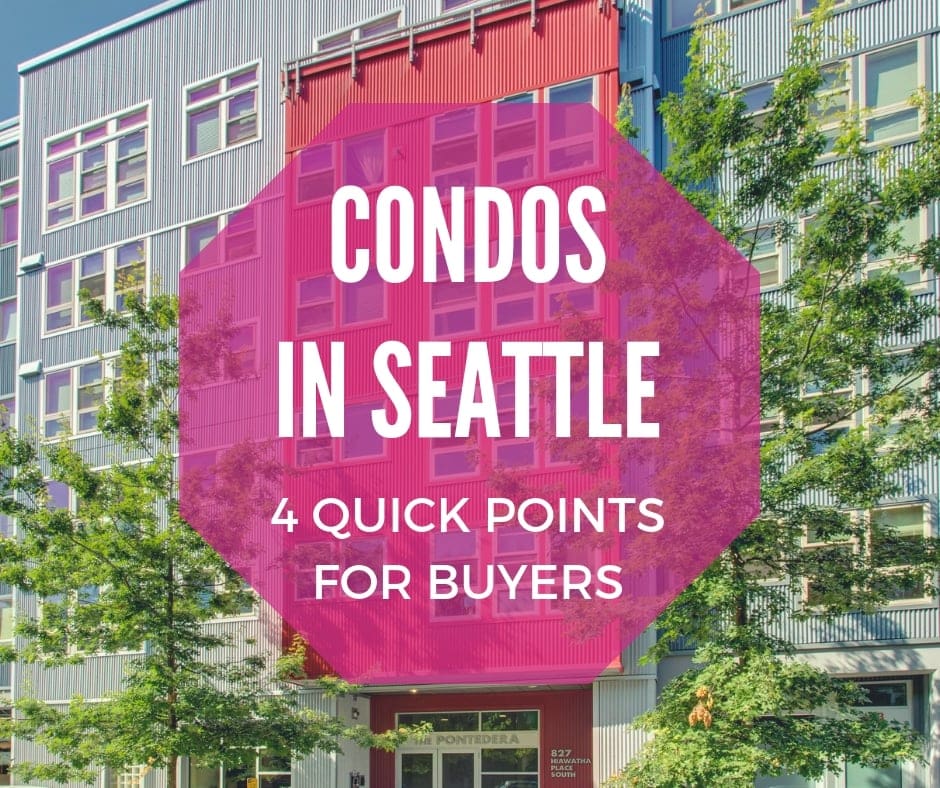 Have you bought a condo before? If not, you should get a little information specific to the process, as is not entirely the same as for a detached home. From identifying your goals to conducting the right inspection, we cover four points that are crucial when buying a condo in Seattle.
Be a Smart Condo Buyer Guide
Identify Your Condo Must-Haves – Rentability, pets, parking, laundry, etc…
Buy in the Best Building in the Best Neighborhood You Can Afford – You are buying into a community. The majority of condo buyers want location above all else. The Bering is literally in one of the nicest locations on Capitol Hill.
Review the Homeowners Documents in Detail – This is extremely important for older buildings. As a community, everyone needs to pitch in and preserve the space.
Do a Home Inspection. Obviously!
This is just a starting point, and we have so much more to share about the home buying process. Browse our Home Buyer page for a comprehensive home buying education.
Check out the whole blog about what to keep in mind here after the jump >
---
Thanks For Touring Our Chic First Hill Condo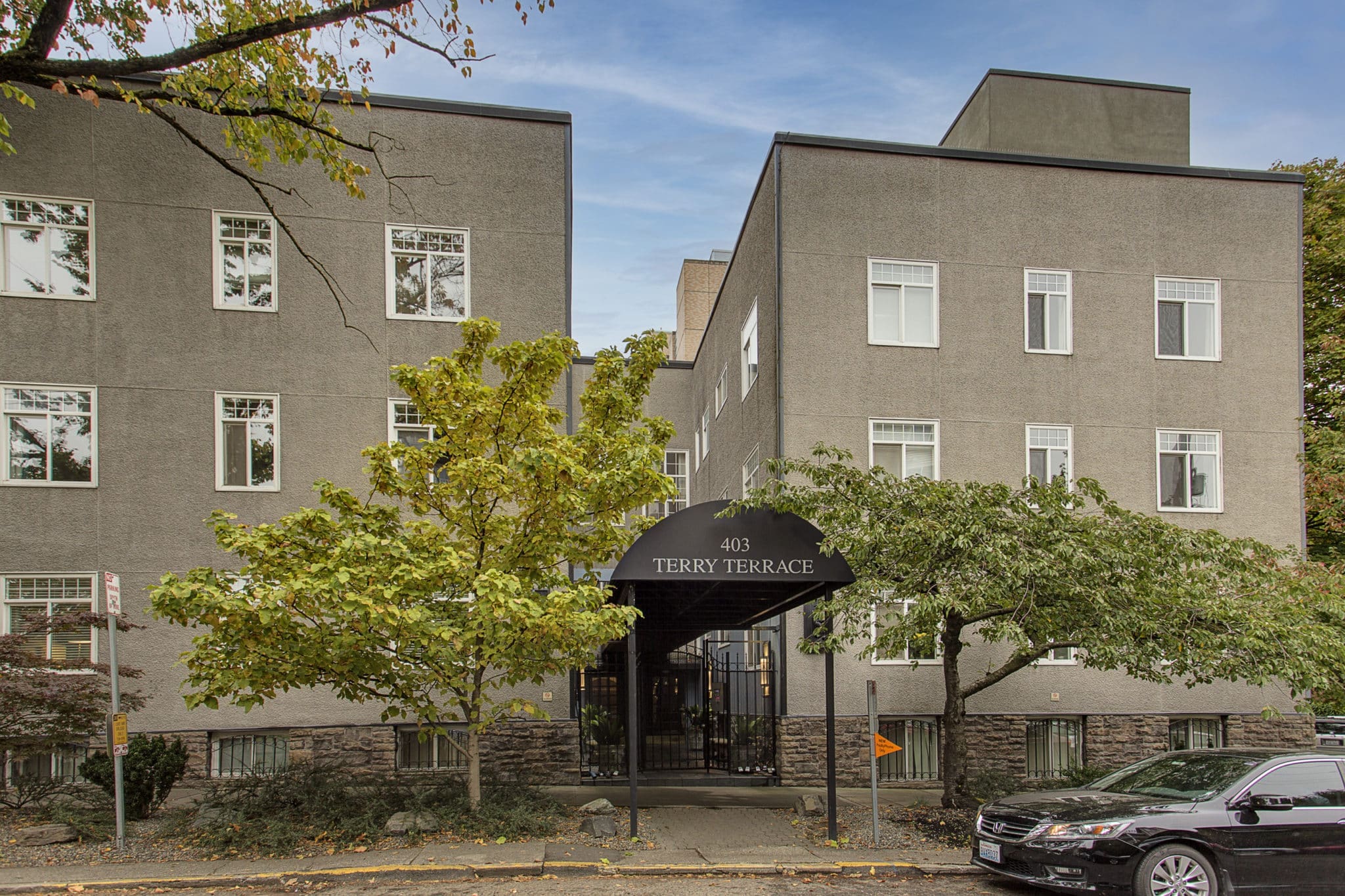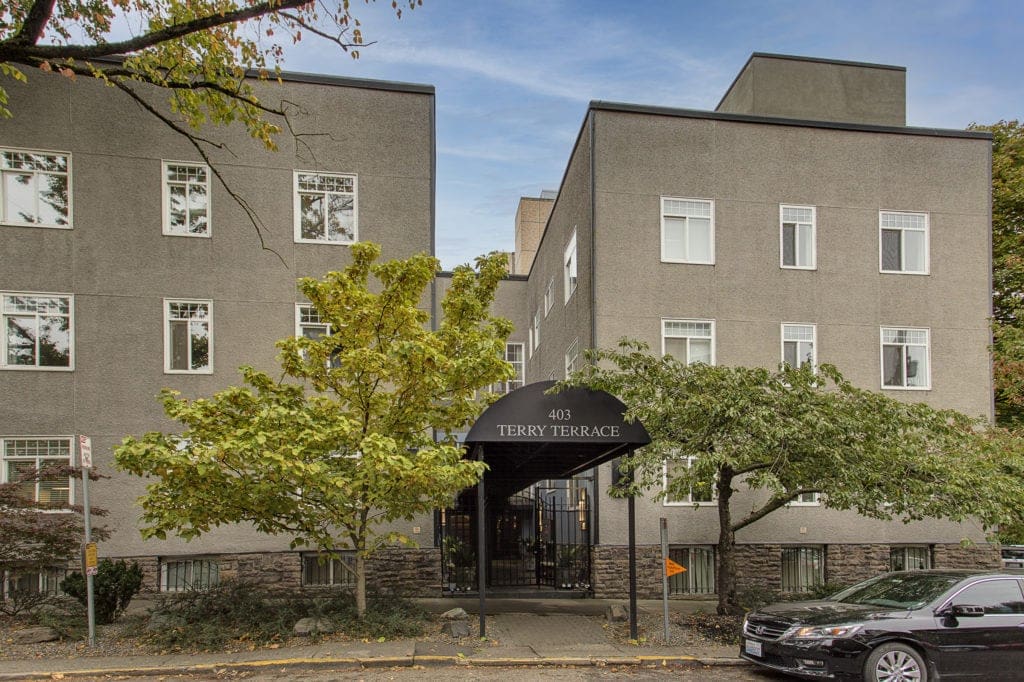 Thank you for taking the time to learn all about this Chic First Hill Condo! I love Seattle's First Hill neighborhood, and I'm also loving this condo's beautifully updated spaces and the remodeled kitchen. I also can't get over how this condo lives like a home (a rarity!), and all of the great natural light it gets since it's a corner unit. 
All the Good Details
Address: 403 Terry Ave #101

Square Footage: 1,101

Bedrooms: 2

Bathrooms: 2

Offering Price: $530,000
Ready to tour this Chic First Hill Condo in person? Contact us today so we can show you this condo's beautifully updated spaces, the remodeled kitchen, and Seattle's quirky and cool First Hill neighborhood.