We aren't anti-holiday here at Team Diva. Not in the least. We can't wait to see all the cute photo ops from Diva Dwellers taking their families to events like Winterfest at Seattle Center. But you don't have to be a Grinch to want some variety in your schedule, especially if you don't have kids yourself. Seattle has a lot going on year round, but in December the big annual holiday events can drown out the rest. We're here to boost signal for the good stuff.
Here's are some of the happenings that offer something different this December, for a more holistic holiday experience. They include some very special public events that are completely unrelated to the holidays and that you absolutely won't want to miss.
---
Dance
T.U.P.A.C. Premieres The Urban Nutcracker, November 30 – December 2
Tacoma Urban Performing Arts Center (T.U.P.A.C.) provides community classes and pre-professional classical ballet training to deserving but under-served youths. This Friday is the world premiere of a new work, The Urban Nutcracker. Take a trip south, and see a new spin on the much adored (and VERY hyped) holiday classic. There are matinee performances on Saturday and Sunday, too, for those who want a great weekend activity in Tacoma. Read more and get tickets online.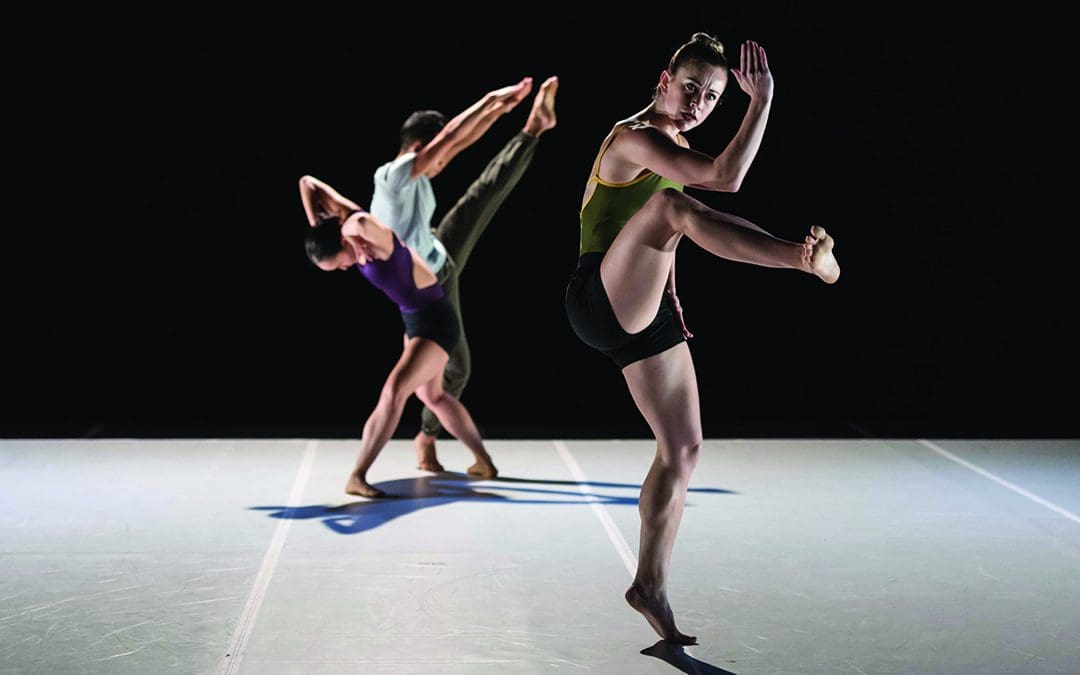 Occurrence #6 at Spectrum Dance Theatre, December 6-8
Spectrum Dance's Studio Series continues with the second of three productions, Occurrence #6.  This intimate and immersive work is modeled on what Merce Cunningham called an Event: a performance that mingles "complete dances, excerpts of dances from the repertory, and often new sequences arranged for [a] particular performance and place." Come get absorbed in a world of pure movement. Read more and get tickets online.
Spectrum's artistic director Donald Byrd is also participating in the next event on our list…
Merce 100 at Velocity Dance Center, December 14-16
People aren't just celebrating the holidays this December. 2018 is Merce 100, an international, yearlong celebration of Cunningham's 100th birthday. In the Seattle Artists Respond to Merce showcase at Velocity Dance Center, eight of the region's hottest contemporary choreographers present works inspired by Cunningham.
In addition to the three-night showcase, Cunningham Company dancer Silas Riener will also present an afternoon workshop open to all on December 15. Read more and get tickets online.
---
Open to the Public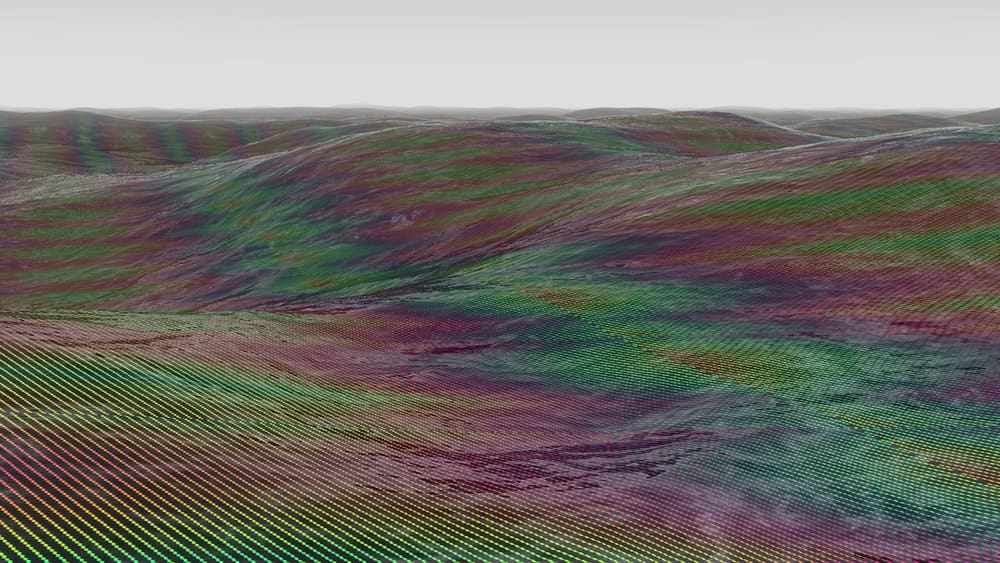 Let There Be Light, December 7-9 and 14-21
It looks like the holiday light decorations have some serious, surreal competition this year when it comes to overall spectacle. Using a 222-ft tall surface, the artists participating in the Let There Be Light series will present the largest video art exhibits Seattle has seen to date. Two artist duos will present site-specific tributes to the Seattle Waterfront projected on the Pier 86 Grain Terminal in Centennial Park. (In Interbay between Queen Anne/Magnolia).
On December 7, see the opening viewing party of the first installation by SIGNALS (Rick Silva and Nicolas Sassoon). The party runs from 6-8pm, and it's free for all ages, and the exhibit stays up two more nights. The second exhibit by Hexagon Misfit (Chris Rojas and Craig Winslow) opens December 14 and runs until December 21. It ends with a closing party, also free and open to all ages, from 6 to 8pm. Read more about the artists and their vision for this special event online.
Grand Opening of The Opera Center (!!!), December 15
After years of planning, fundraising, demolition and construction, Seattle Opera's brand new Opera Center makes its debut on December 15. Next to McCaw Hall in Seattle Center, the beautiful new space seeks to transform how our community connects with opera. The opening weekend pulls out all the stops, with lecture, performances, and interactive costume display and a Verdi singalong. Free and open to the public. Read more online.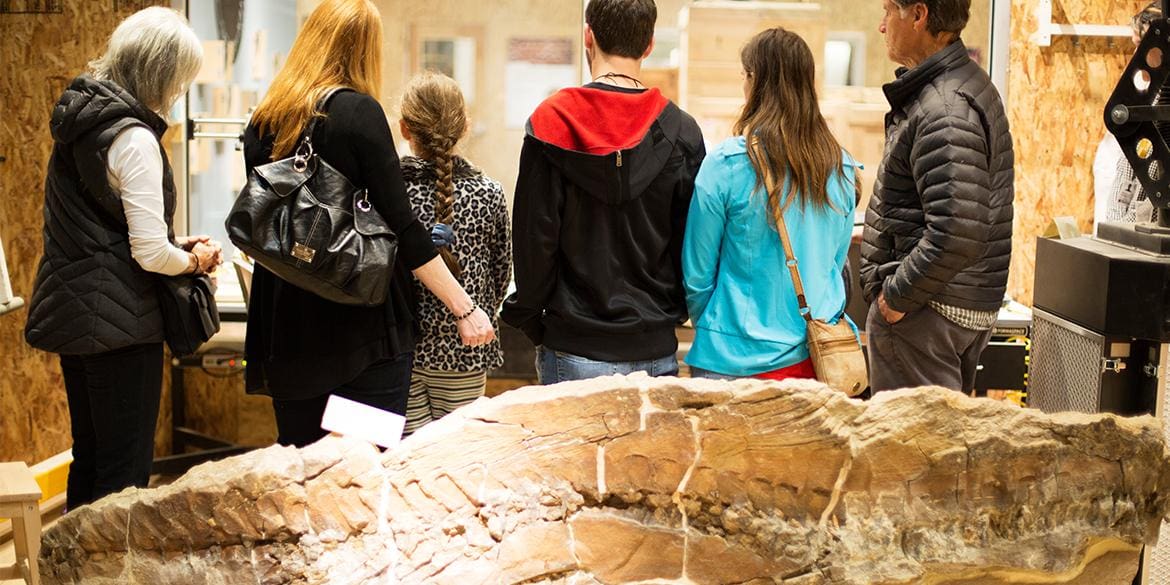 Final Free Week at The Burke, December 26-30
The Burke Museum in University District closes on December 30…but not forever! They will reopen in Fall 2019 at The New Burke, and to celebrate the big move, admission is free for the final week. There will be special activities, too, including three daily events:
11am – 1pm: Meet paleontologists and get a closer look at fossils being prepared in the Testing, Testing 1-2-3: Work in Progress paleontology labs
11:30am: Storytelling of "How Mouse Moved the Mountain."
2pm: "Tiny Talks" with Burke staff and volunteers about their latest research and recent (re)discoveries of stories, revealed in the moving process.
Read more and see the exhibit list online.
---
Art Collecting
December Art Market at Daybreak Star Indian Cultural Center, December 1, 2, 15, and 16
Support local artisans and an important cultural asset and shop at Daybreak Star's December Art Market. Modern and traditional arts, jewelry, and foods from local tribes will be available. Salmon lunch, frybread, and Indian tacos are available for purchase, with proceeds benefiting the center's Sacred Circle Art Program and Elders program for Native American Elders in the Seattle area. The market is open 10am to 4pm each day. Read more online.
Art Under $100 at Seattle Design Center, December 8
If you want a little something for your walls or shelves (or a totally unique gift), check out Art Under $100 at Seattle Design Center. This one-day-only event features work from over 70 artists, and nothing is over $100. The event is free and open to the public from 2pm to 8pm on Saturday, December 8. However, if you want to get in before the crowds, you can donate to South Park Arts (minimum $20) for an early access VIP experience from 1 to 2pm. You'll enjoy complimentary champers and chocolate while you peruse ahead of the crowds. Get VIP access online.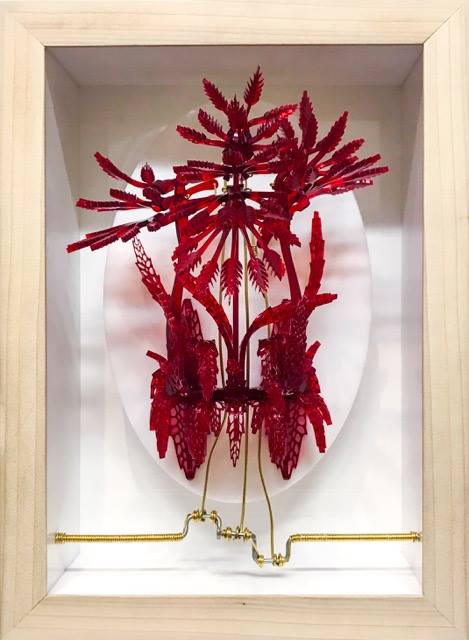 Out of the Box at METHOD Gallery, December 12
Last year, METHOD Gallery in Pioneer Square pivoted from being a commercial gallery to being a year-round exhibition space for unique installations. Instead of relying on traditional sales, they rely on parties and benefits, and their next one is super cool. 26 artists, many of whom have exhibited at METHOD, have created new works for a silent auction. The stipulation is that they had to start from a simple wooden box.
Whether they filled it, deconstructed it, used it as a frame, etc varies with each artist. You can see the full collection on December 6 during First Thursday Art Walk. You can take a piece (or two) home by coming for the silent auction of December 12, from 6 to 8pm. See a rad, creative display by some of Seattle's best artists, and support this unique local arts space. RSVP on the Facebook Invite.
---
Offbeat Markets
Queen City Holiday Market at CD Senior Center, December 1st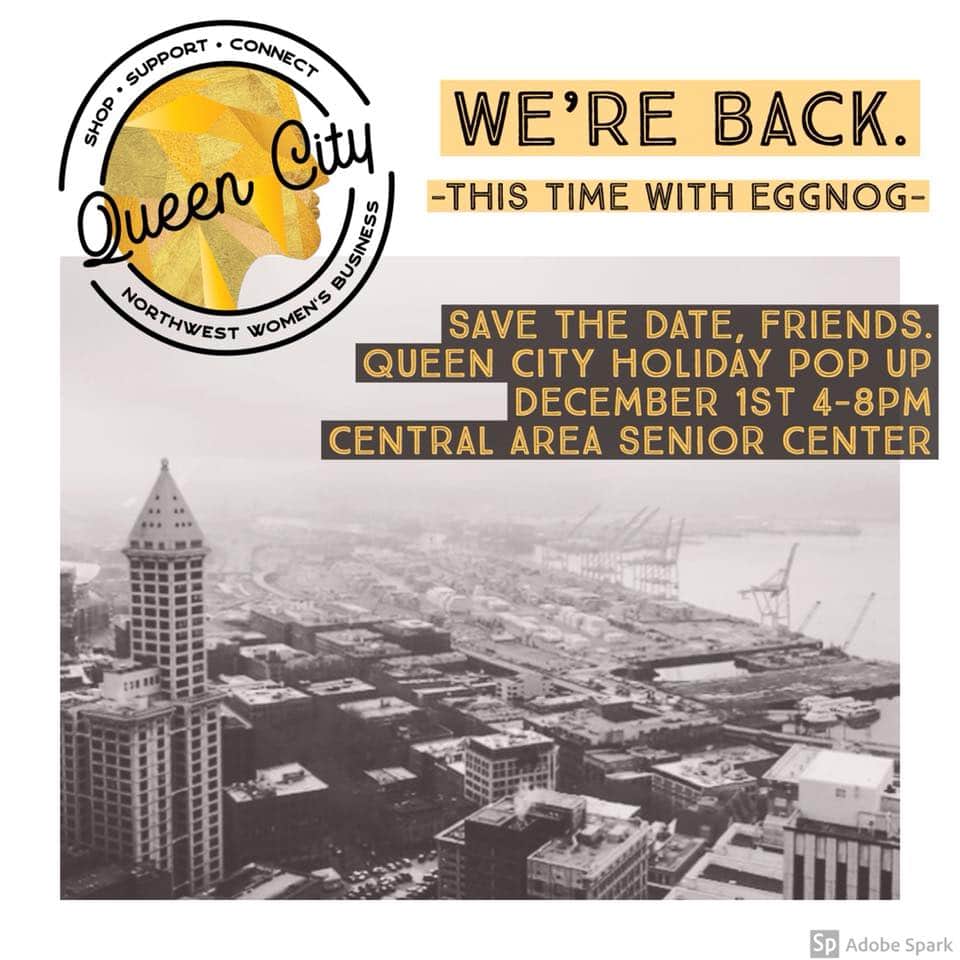 Diva Dwellers Maddie and her crew have created a rad alt market dedicated to interesting finds. The event not only promotes women-owned business but all of the drink proceeds directly go back to the Central District Senior Center. Senior centers are one of the most underfunded section of our community. It is important to support our seniors in the Central District specifically considering how gentrification is the new redlining of our generation. More info here.
Holiday Book Flood Pop-Up at the Nordic Museum, December 1-9
The Jólabókaflóð (Yule Book Flood) tradition in Iceland sees a slew of new books published just before the holidays. Books and chocolate are favored gifts to keep one happy and cozy during long, arctic winter nights. The Nordic Museum in Ballard brings this tradition to Seattle with a special pop-up shop curated by Seattle-Reykjavik Sister City Association and Fantagraphics. Get some good reads and see the exhibits in Seattle's newest (and possibly prettiest) museum. See the official site to plan your trip.
Winter Solstice Night Market at Magnuson Park, December 7 and 8
It may be a few weeks before the actual solstice, but the Winter Solstice Night Market is right on time for holiday shopping. Over 100 pop-ups by local artisans and vendors will fill the hangar at Magnuson Park. It's open to the public, all ages, and the suggested donation is only $1-$5.
And for the adults, the Market is also hosting a Beer and Music Fest, featuring over 30 local and regional breweries. You can hop in for $5 and bay cash at the bar, or get 8 beer tokens for $25 advance, $35 at the door. (And then make sure you don't drive home yourself.) See more and get tickets online.
Another Damn Holiday Gift Show at Cloud Gallery, December 13
This queer creative bonanza tells it like it is. There are so many holiday pop ups, but we had to give this one a shout out for a few reasons.
It features all queer, all subversive creatives Kerstin Graudins, John Criscitello, Mary Anne Carter, and Jordan Christianson.
It's happening during Capitol Hill Art Walk (the second Thursday each month).
It's happening in Cloud Gallery, above Frame Central, which is conveniently by one of our favorite places to shop year-round, Retail Therapy. (Once upon a time, it was also Team Diva HQ, and the original venue of Divas Take the Hill.)
Get some great goodies, see some new art, and take a trip down memory lane in one evening. Perfection. Facebook invite here.
---
Music and Theatre
Bacon Strip and The Christmas Variety Show at The Palace Art Bar, December 1 and December 22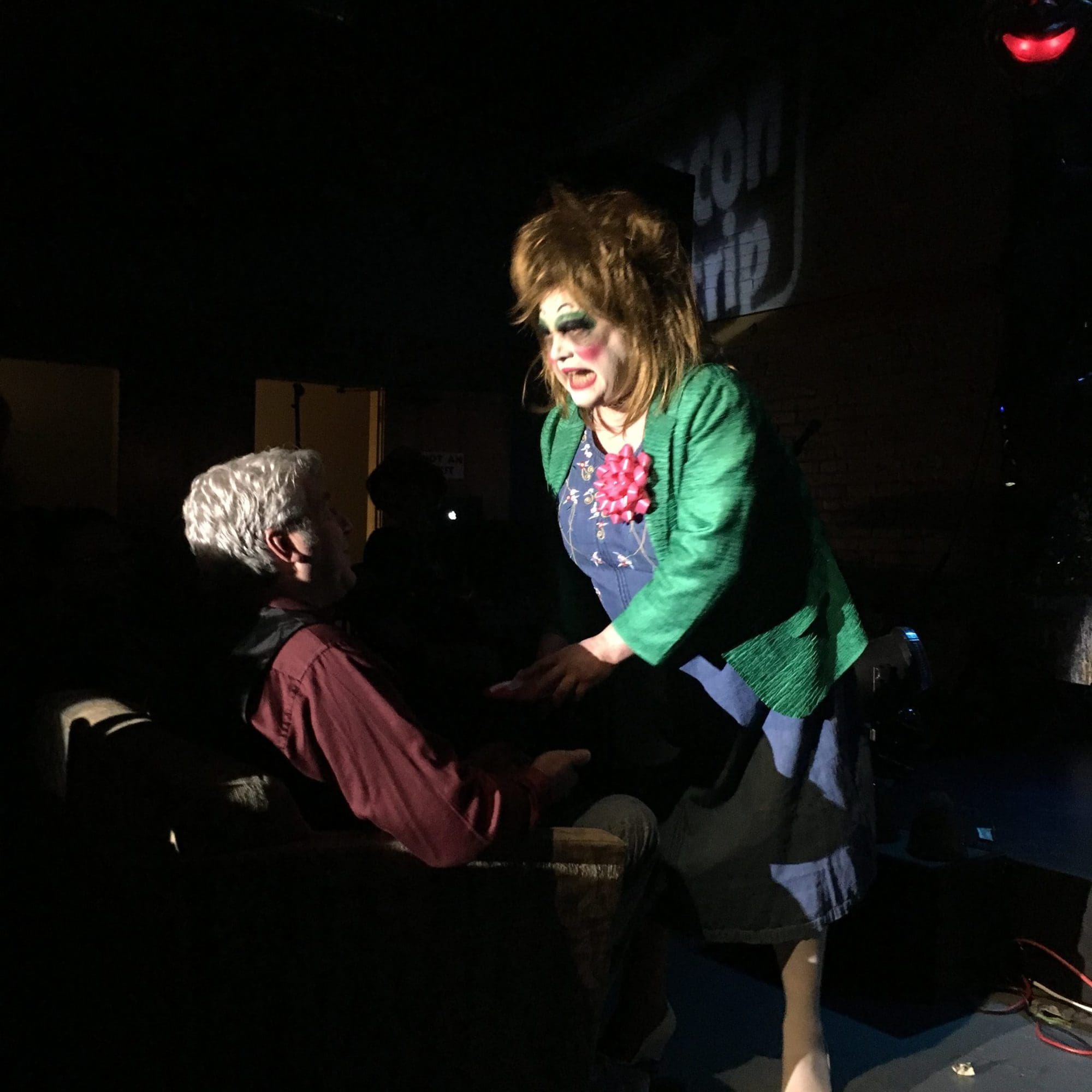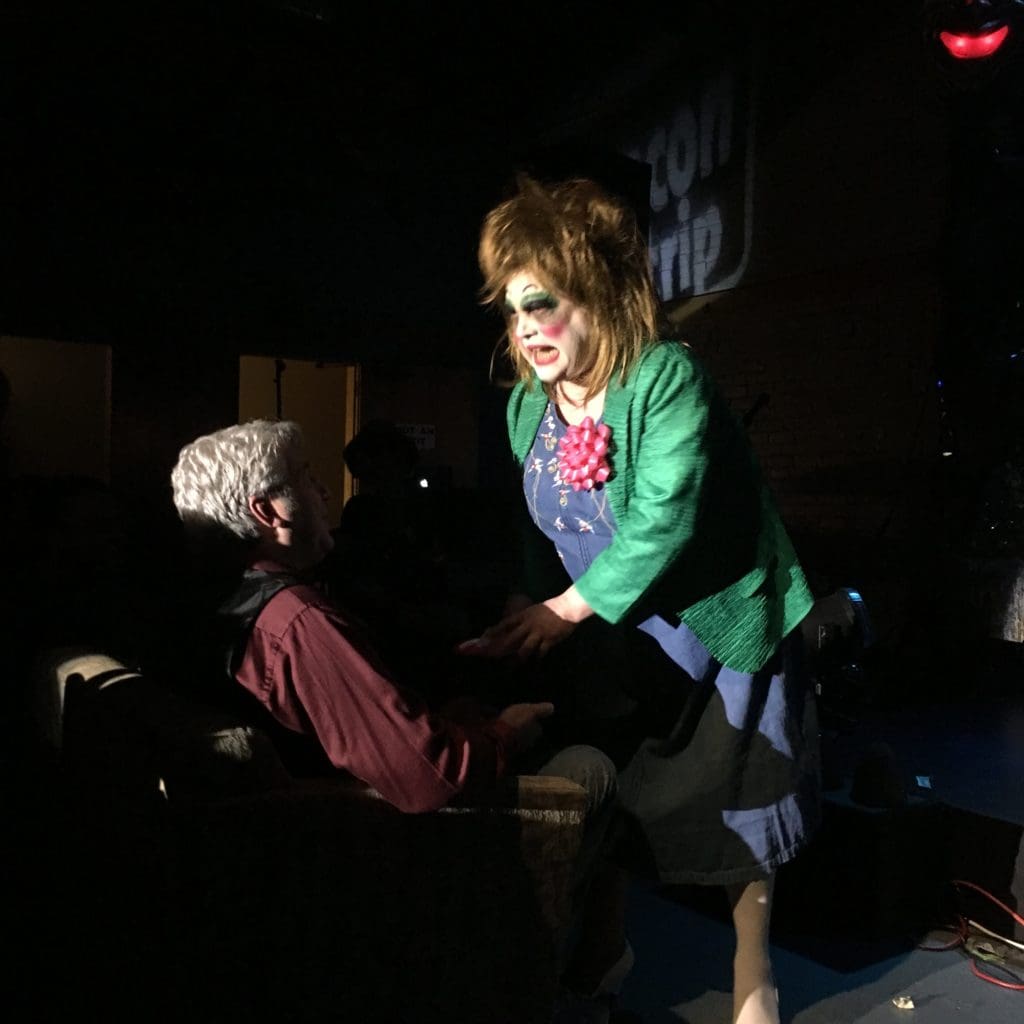 Our most beloved drag cabaret Bacon Strip kicks off Advent on December 1 with a raucous, festive, meaty mix of Seattle talent. Hosted by Sylvia O'Stayformore and Honey Bucket, this year the holiday special is one-night-only at The Palace Art Bar, so don't miss it. Featured performers include reigning Miss Bacon Strip Old Witch, James and Kerry Darling, Kara Sutra, Stacey Starstruck, Suga Bear, Irene Dubois, and our very own DonnaTella Howe. Get tickets in advance online, because this will surely sell out.
Then, on December 22, Sylvia hosts another Christmas show at The Palace. Christmas Blessings will feature veteran performers of Bacon Strip, Theatre TBD, Spiritus Live, Dr. Sketchy Super Queer Comedy, Seattle Playwrite Salon, and more. This event is a fundraiser for reconstructing the Palace to become the nightclub we have been waiting for in Seattle. So feel free to indulge in your seasonal generosity. Read more, RSVP and donate online.
The Moth at Fremont Abbey Arts Center, December 6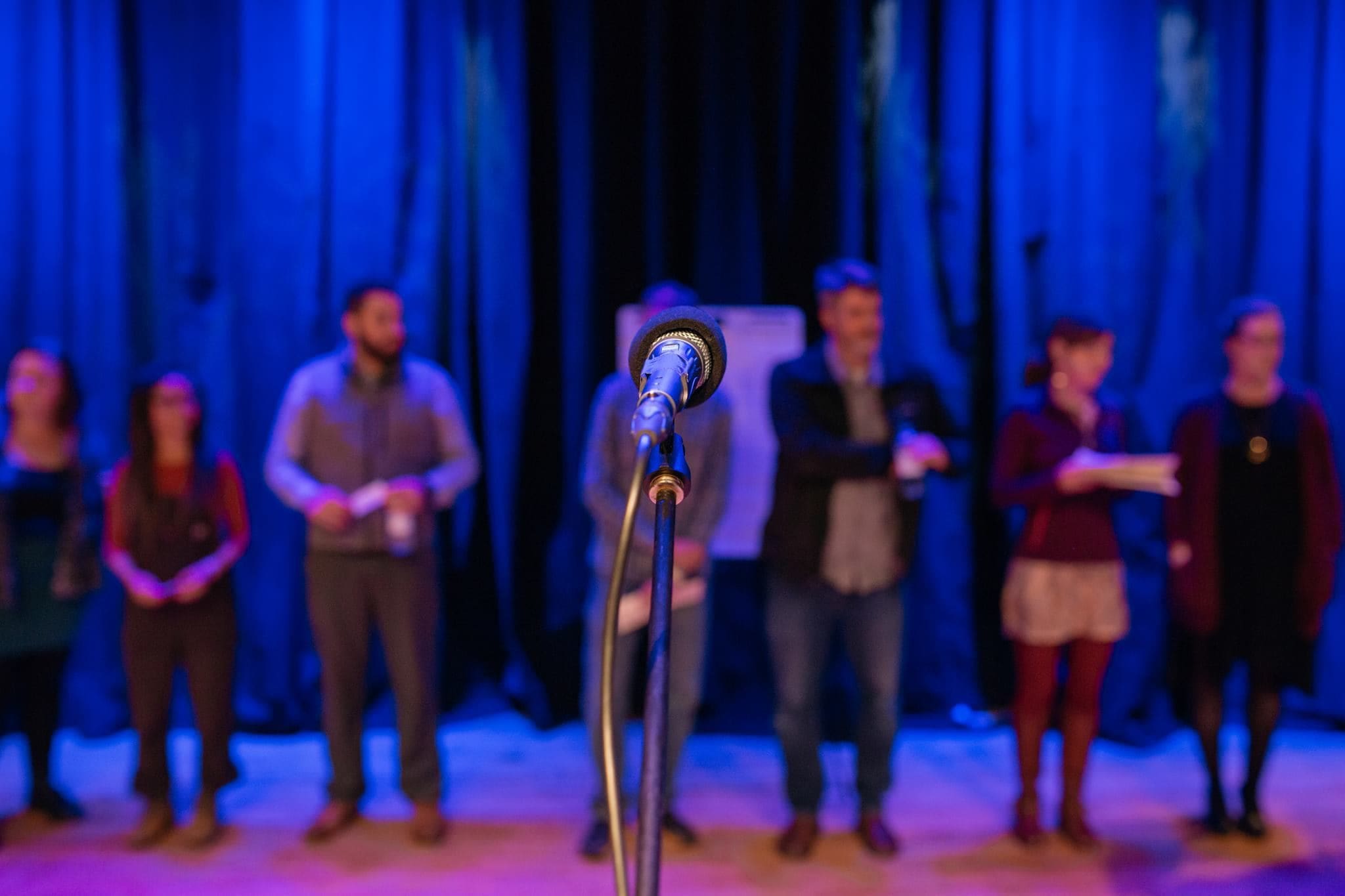 The wildly popular storyslam series, The Moth, returns to the Abbey Arts Center in Fremont. The theme this time: Instincts. Participants will prepare a five-minute tale involving animal instincts, intuitions, premonitions, etc. Come to listen, or come to share. Doors at 7 pm and storytime at 8 pm. These things always fill up, so don't come late if you want seating. Get tickets online.
12 Minutes max at BASE, December 16-17
The title of the 12 Minutes Max performance series tells you just about all you can know to expect. Every piece is under 12 minutes, but it can be dance, theater, music, multimedia, whatever. These are new works, and sometimes pieces of works in progress. It's a platform for emerging and established artists to try new things with limited technical elements.
This edition at BASE (in the Equinox Studios Complex) in Georgetown is curated by Veronica Lee-Baik and Pol Rosenthal. It features Naomi Bragin, Hope Goldman, Ankita Das, Allison Burke, and our Miss Texas 1988 (AKA Almost Miss Bacon Strip 2018). General admission is $12. Get tickets online.
Electronic Blankets For Winter Solstice at The Chapel Performance Space, December 21
Last but not least, on the actual Winter Solstice, go deep in electronic soundscapes at the Chapel Performance Space in Wallingford. The showcase features PNW sound and visual artists. Enjoy some borscht with your ambient soundscapes and trippy visualizations. It's a long night at the end of a long year, and the holidays are still in high gear. Make it a cozy one to remember. Sliding scale donation of $5-415 at the door. Opens at 6:30 pm with music beginning at 7 pm. See the lineup on the Facebook event page.