The Portage Bay neighborhood is more of an idea than a place to Seattleites who don't live there. For most of us, it conjures up images of rows of Tudor and Craftsman homes on quiet streets, sloping to the eponymous bay at the northeastern bend of Lake Union. And because of the Portage Bay Cafe, the mention of it may also conjure images of busy brunches with bevies of yoga pants. (In fact, there is no Portage Bay Cafe in the Portage Bay neighborhood.)
This summer, we recommend seeing Portage Bay—the neighborhood and the body of water. Then you won't just have an idea of the place, but also an idea of why its residents gladly call it home. This roundtrip is doable in a few hours on foot, or even faster if you take a bike (and you don't mind walking the bike up a hill or getting an extra boost from an electric bike!).
A Morning Stroll Along Fuhrman and Boyler
Portage Bay (the neighborhood) is really just a sliver among larger Seattle neighborhoods. Eastlake to the West is narrow, but much longer. You can walk briskly from the north tip of the neighborhood (by the University Bridge) to the southern end (beneath the Portage Bay Viaduct) in about ten minutes. To the north is the University District. Go a little further south and you are in Montlake, with a spacious waterfront park at the southern bend of Portage Bay (the water).
If you make the loop around the bay, we recommend starting and ending in this neighborhood. You can find street parking, or come by transit. Walk along Fuhrman Avenue and Boyler Avenue to see the water and the rows of floating home communities. And if you want to get some fuel for the day…
Brunch at Little Lago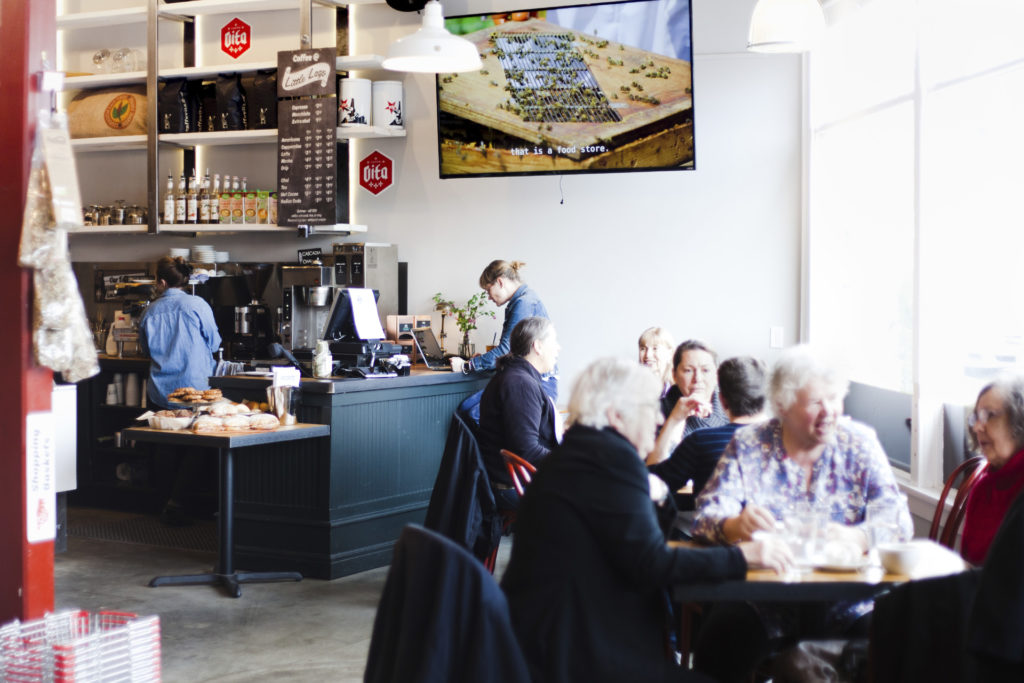 One of the most charming local markets in Portage Bay is Little Lago. It sells fresh baked goods and deli meats and makes fantastic sandwiches from both. If you want to sit down with a group, you can also order pizza, starting at noon. (And for residents, they also stock regular grocery items and artisanal goods.) Naturally, you may want some coffee for your stroll, and they have that, too.
Little Lago is right at the bend where Fuhrman and Boyler run into each other, smack in the middle of Portage Bay, so it's a great place to consider your home base for your roundtrip adventure.
Go Counter-Clockwise Through the Parks in Montlake
View this post on Instagram
Montlake is famously adjacent to the Washington State Arboretum, whose wetland trails run through islands by the neighborhood's western shores. But that isn't the only green space here. On this trip, stick to the parks along Portage Bay. There is the one south of the bay, where you will also find the Montlake Community Center and Playfields… always a popular spot in the summer. And just northeast of there, you'll find West Montlake Park, where you can pick up the Lake Washington Ship Canal Waterside Trail.
This trail will pass under the Montlake Bridge, and that will take you the East Montlake Park. There you can get views of Lake Washington (maybe even hop across to Marsh Island by the vast clusters of lily pads). But this trip is about Portage Bay, so when you are ready, climb up and cross the Montlake Bridge and then descend back down to get another view of the Montlake Cut.
A Little History About the Montlake Cut and Portage Bay
View this post on Instagram
Seattle's logging history changed the landscape in ways people don't even realize today. What is now the ship canal that connects Lake Washington to Puget Sound (via Lake Union) was once a log sluice. Before that, the Duwamish groups living closest to it called the area "Carry a Canoe" (translated from the Lushootseed "sxWátSadweehL"). Thus, it was an area of "portage," where canoes, then logs, then coal trams moved between lakes.
Migrant Chinese workers were often the first group to be hired to do hard manual labor, such as building railroads and digging canals. The initial digging at The Cut was no exception. Locks were constructed on both sides and a log flume was carved out.
All of this changed when The Cut was deepened and widened in a major terraforming feat, begun in 1909 and completed in 1916. The canal allowed for such an outflow of water that Lake Washington's levels dropped nearly 9 feet. This reduced flooding in the Duwamish River valley to the south, but it also dried up surrounding wetlands. It also wiped out two salmon runs, stranding an entire generation on the drying riverbed of the Black River, a former outlet for Lake Washington.
So when you walk by the canal, as serene and relatively short as it may be, you are seeing generations of labor (and countless dirty deals, to be sure). You are also seeing what gave Portage Bay its original name, and a manmade creation that forever changed the waterways of the region.
Head North through the U-District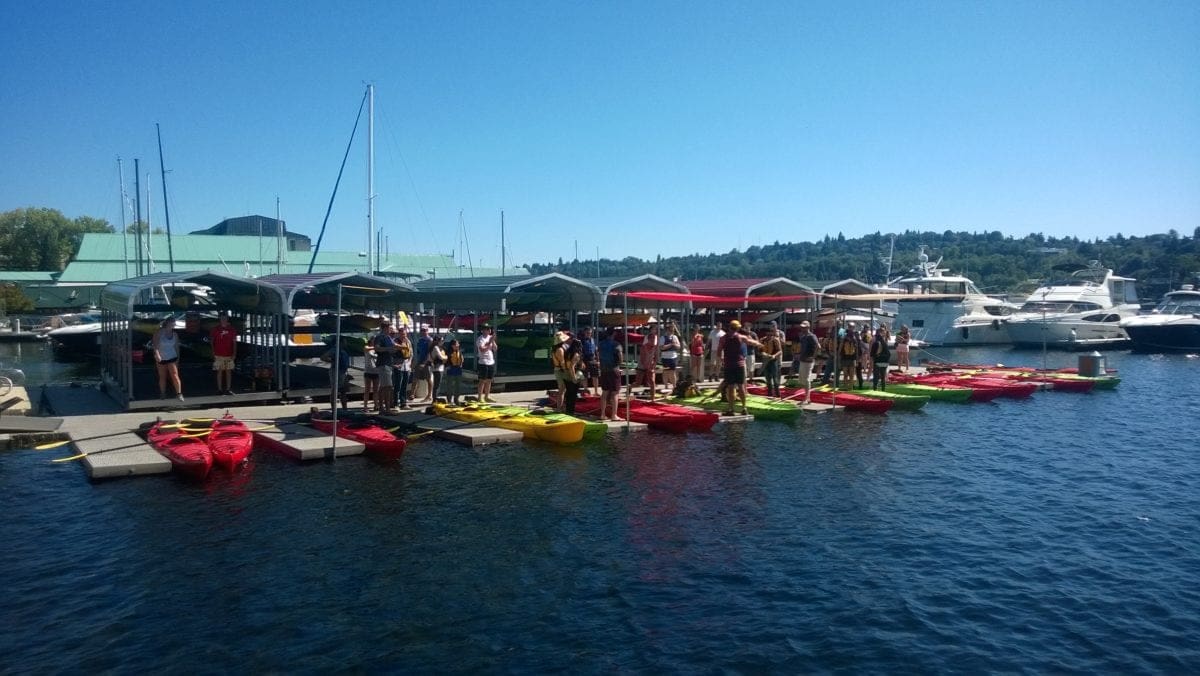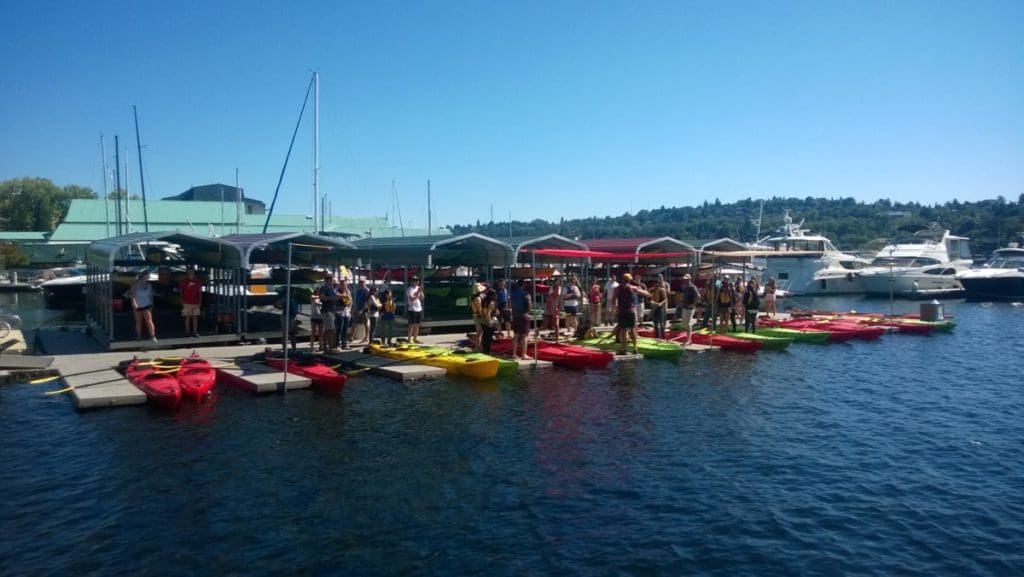 The history lesson is done! Now take the trails west along the north end of Portage Bay. You'll eventually run into some winding streets by UW's School of Oceanography. Keep heading north to two more green spaces: Portage Bay Vista and Sakuma Viewpoint. The latter is a small space, indeed, but it's a popular one, thanks to the Agua Verde Paddle Club. There, you can grab a bite to refuel, and if you are a real athlete, you can take a break from walking to go paddleboarding on Portage Bay before completing the loop around it!
You are in the home stretch, so if you have the energy for it, we highly recommend it.
Head Up to the University Bridge to Close the Loop
View this post on Instagram
You aren't far from the University Bridge, but you need to go a little further north to actually get on it. Take Boat Street west and it will eventually bend up and meet Pacific Street, and from there its just a short jaunt west to the pillars of the University Bridge. Head north uphill, and you can see the Wall of Death, and (less threateningly) the Peace Park, where you will find Sadako and the Thousand Cranes.
Sadako is a life-sized bronze sculpture of a girl holding a single paper crane, but she is almost always draped with colorful garlands of paper cranes made by locals. The artist Daryl Smith memorialized Sadako Sasaki, a survivor of the Hiroshima bombing who died at age 12 from leukemia. While hospitalized, she set a goal of folding 1,000 paper cranes, which became a symbol of tragedy, but also of peace.
The Peace Park itself was initiated by activist Dr. Floyd Schmoe (1895-2001), using proceeds from his 1998 Hiroshima Peace Prize win to clean and develop the lot with the help of hundreds of volunteers. The park was inaugurated on the 45th anniversary of the Hiroshima bombing, August 6, 1990.
We are coming up on that anniversary again, so take a moment to see Sadako and pray for peace (if you are so inclined), before heading back across the bridge.
Grab a Bite and a Drink to End the Day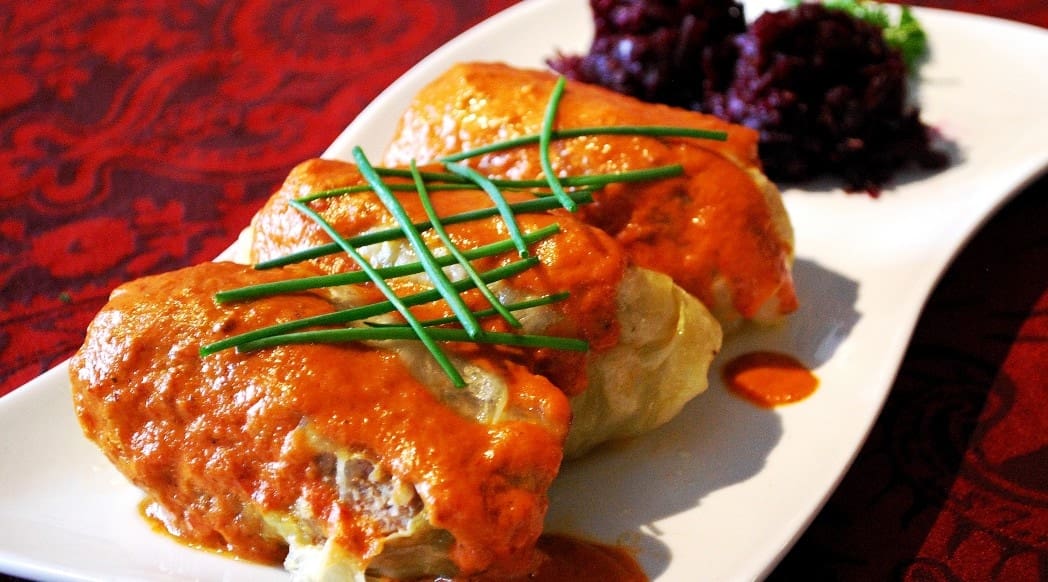 It's going on 10 years since the original Red Robin closed. The vacant lot where it once stood is just at the south end of the University Bridge.
But worry not! There are other places to grab a bite to end your journey around Portage Bay! Sebi's Bistro on the corner is a great, family-owned eatery serving eastern European food, especially Polish delights. There aren't many places to get this kind of food in town, so don't miss the chance to try it. (The Pierogi…YUM!)
If you crave lighter fare and don't mind being a little more spendy, go a little bit further up Eastlake Ave to Sushi Kappo Tamura. It's still just a quick walk back to Portage Bay, and the quality of the food is incredible.
Congrats! You made it around Portage Bay, getting your exercise and a peek at local history along the way. This is what Summer in Seattle is all about!
---
Tour Our Portage Bay Place Floating Home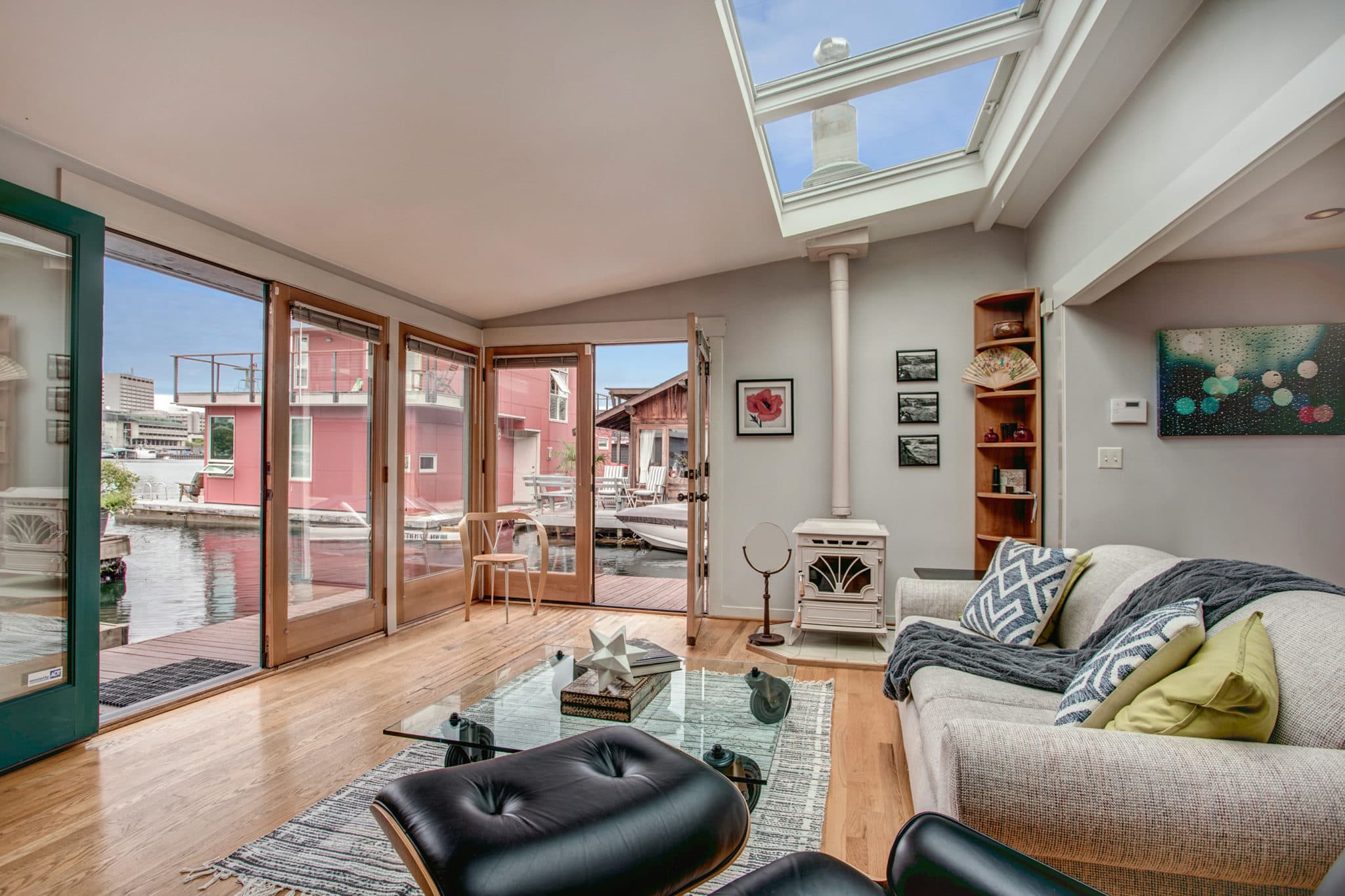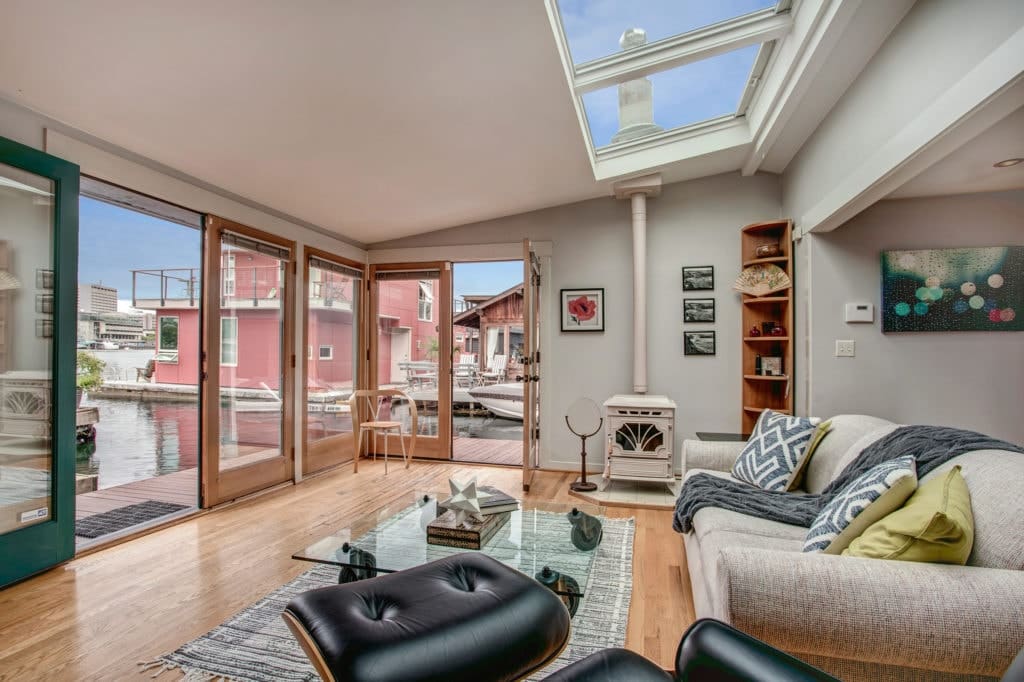 Relax in your living room or on your private dock and watch the boats go by in the vibrant community of Portage Bay. Go for a boat ride from your private dock boat slip attached to the home. Feel the light beaming through the skylights throughout the year. This floating home presents the perfect living arrangement to be right on the water. There are many options for updating, adding an additional floor or building a completely new floating home in this wonderful condo community. Welcome home!
Home Details:
Address: 3146 Portage Bay Place E #F
Price: $890,000
Bedrooms: 1
Bathrooms: .75