We have taken a good look at all the major issues to create our Divaland's 2019 Seattle Voter's Guide. And for sure, the city council race is the one everyone is most keyed up about.
Last night, we had dinner with two of our favorite political junkies at a neighborhood restaurant. At dinner, we had a long chat about how the state and local elections are more important than anything that happens in Washington. Want to do something about the environment? Want to do something about gun control? Want to do something about the homeless issues? Want to get big corporate money out of our government? Vote Local Every Election!
Vote Local Every Election!
We felt compelled to do a Divaland 2019 Voters Guide because the local city council races have gotten crazy. Out of the blue, we are seeing dark money being filtered into the race by Mom's For Seattle (no they are not moms and they are merely a PAC to play on people's fear about homeless issues and still protect huge development interests by large corporations). Mom's for Seattle does not care about actual working moms in Seattle. There is also a huge influx of money coming in from Amazon and Tim Burgess PAC for rich people.
To be blunt – WE HAVE NEVER SEEN THIS MUCH OUTSIDE INFLUENCE ON THE CITY COUNCIL!!!!!  
Code Red
In our 2019 Seattle Voter's Guide, we'll go district by district, looking at who we endorse and why. We'll also look at those two initiatives on the ballot at the end. But first…
2019 Seattle Voters Guide – Why Are the Seattle City Council races so intense this year?
If you live in Seattle, you know that the city is facing major growing pains and a homelessness crisis. The Seattle City Council has been blamed for a lot of the problems, but the dysfunction is not theirs alone. It extends to the mayor's office, the police, other municipal services, Olympia and reactionary (and NIMBY) coalitions, as well.
A lot of the opposition to Seattle City Council incumbents has been framed as a referendum on this dysfunction. It started in the primaries and continues in the final weeks of campaigning. Some of the candidates seemed to base their entire campaign on hostility to the homelessness (cause people living in tents down the street from our office have an effing choice). They were buoyed by local groups that share this hatred and disdain, such as Safe Seattle and Moms for Seattle.
Safe Seattle continues to use its online platform (mostly FB) to demonize homeless individuals and families, often with outright lies. Moms for Seattle is a little more shadowy, funneling bad-faith mailers and big bucks into the confusion. But even more, neutral parties are getting swept up in this hysteria, thanks to KOMO's now-infamous "Seattle is Dying" segment. It's a hot mess.
How are we choosing whom to endorse for Seattle City Council for our 2019 Seattle Voters Guide?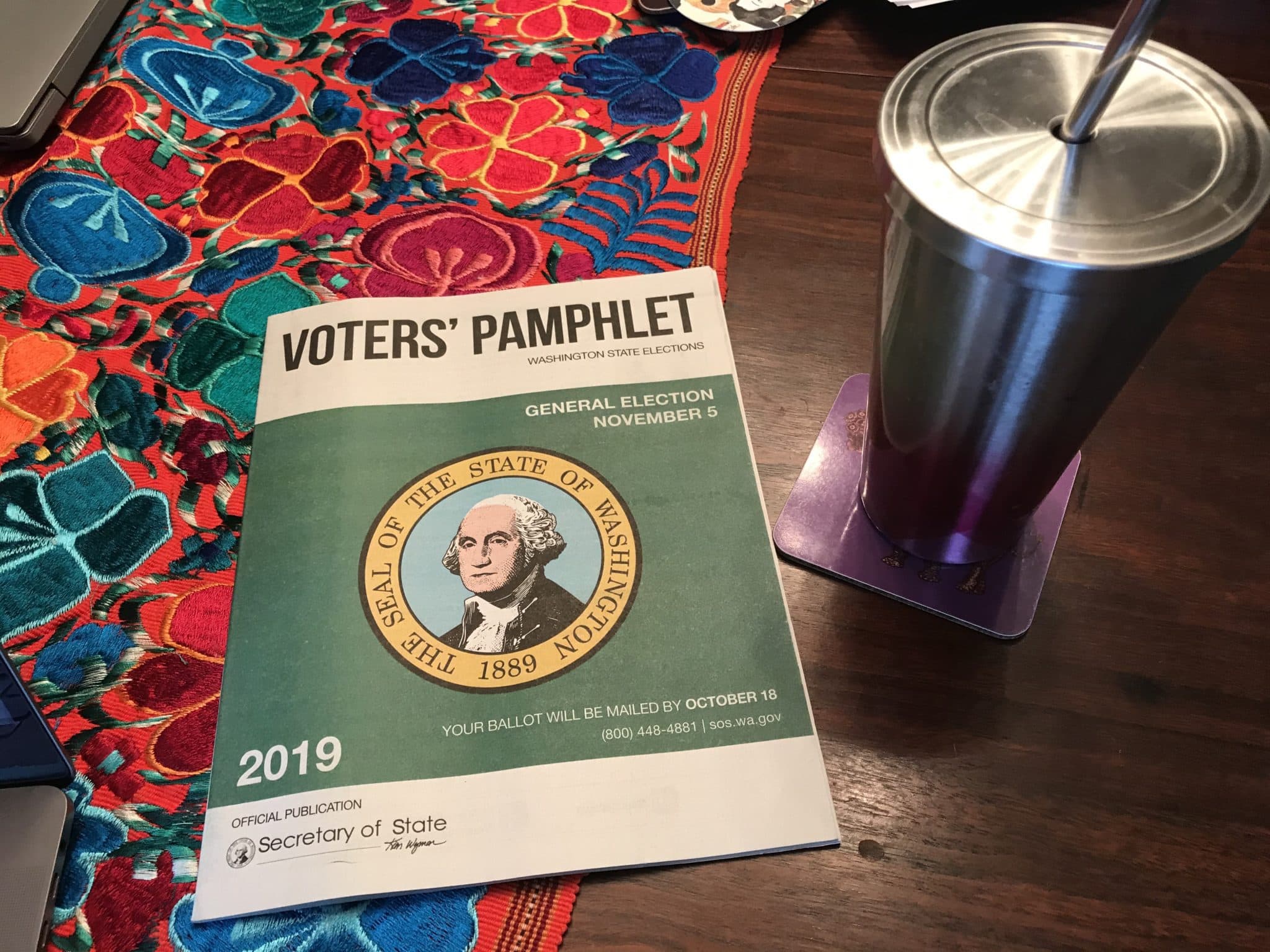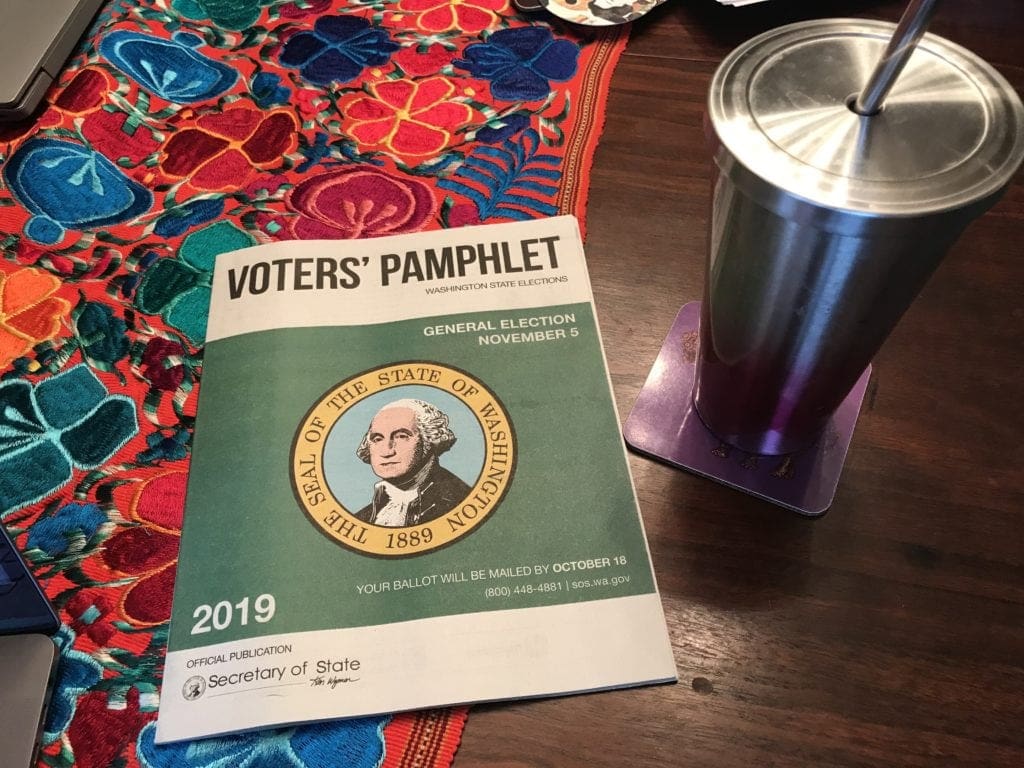 The problems that face Seattle are sometimes self-inflicted, and sometimes part of national trends. E.g. income inequality, lack of mental health services, medical bankruptcy. All of these contribute to our homelessness crisis, exacerbated by a steep rise in the costs of living. How do we as a city mitigate that when our state has THE MOST regressive tax-structure in the nation?
Housing and infrastructure are at the heart of so many hot button issues facing the candidates. Here's a quick breakdown with our thoughts:
Urban Density In all Neighborhoods Not Just South Seattle
For one, Seattle could be creating better conditions for density that don't merely privilege developers with tax breaks. We could be lowering the barriers to the creation of tiny homes and cottages. We could be up-zoning in more neighborhoods.
The latter one is cause for a lot of red flags for folks who want to maintain "neighborhood character." Not everyone worried about this is strictly NIMBY; some people just want stricter design standards for multi-family housing. But everyone agrees that with density comes a need for better infrastructure. As a result of this behavior, up-zoning is being pushed into neighborhoods that have long been the brunt of redlining and gentrification (aka Delridge and South Seattle).
Increased Transit Access
Transit was perhaps THE hot issue in past elections, especially before the Light Rail expansions were settled. Since then, crime, addiction, and homelessness have captured the city's attention, though transit remains a key issue. It's not just about access; it's also about the environment. But like many infrastructural problems in Seattle, access issues often break along lines of class and race. As does policing…
Policing
As with everything else on this list, Seattle City Council alone isn't calling the shots alone when it comes to policing. Seattle's mayors have been more joined at the hip to SPD, including the former prosecutor and now mayor, Jenny Durkan.
Seattle City Council ratifies pay increases, funding for improved facilities, and future Seattle Police Officer Guild contracts. Meanwhile, SPOG has been fighting against federally and locally mandated accountability for years.
Our biggest issue with policing is the over-policing of black/brown neighborhoods and the fact that the city has thrown hundreds of thousands of emergency fund dollars at SPD for encampment sweeps and added patrols. 
But even SPD readily admits that they are not equipped (nor trained) to be social managers for the thousands of people living in Seattle without stable housing. This is one of the major stressors causing a morale problem at SPD, making hiring and retention of officers more difficult. But the more glaring issue is a lack of trust in the department to be fair and…well, not gun down people of color.
Affordable Housing and Homelessness
This is THE top issue for this election, so we are highlighting it last before diving into our Voter's Guide endorsements.
Building as much subsidized affordable housing units as possible needs to be a top priority for the council!
Rent control is out cause it is not legal in our state.
We need to stop the sweeps, create safe camps, get those people into subsidized homes, and get them access to housing. Any candidate that is pro sweeps is welcome to do a walk near our office where thousands of dollars a month are spent on sweeps only for our neighbors to come back. It breaks our heart and it is useless! 
There are MANY services addressing homelessness as the multifaceted problem that it is, but they don't receive much municipal support. Seattle City Council can't end the homelessness crisis on its own. Grassroots efforts, here and in Olympia are vital.
Rent Control Is Not Legal In This State – Get Effing Over It!
Overall we ended up endorsing a lot of candidates who support rent control. However, making one's central "affordable housing" action around rent control is stupid and a waste of time. It is super frustrating because this is a lose-lose issue. Washington State Does Not Allow Rent Control. And Olympia is not friendly to Seattle Bruh! We challenge everyone who wants rent control to think more creatively about getting more subsidized affordable housing units, build more tiny home villages, and infill housing to market ASAP.
—
Are you ready to make some waves happen ? Dive into the 2019 Seattle Voter's Guide below. Our hope, with your support, that the new Seattle City Council will include a balance of big ideas and strong planning. However the votes shake out, we know it won't be perfect, but here are our top choices for our 2019 Seattle Voter's Guide.
---
The Divaland 2019 Seattle Voter's Guide – Seattle City Council
Time to review the final endorsements for our Divaland's 2019 Voter's Guide. Grab a beverage, get out your ballot, and make some election magic happen.
District 1: Lisa Herbold vs Phillip Tavel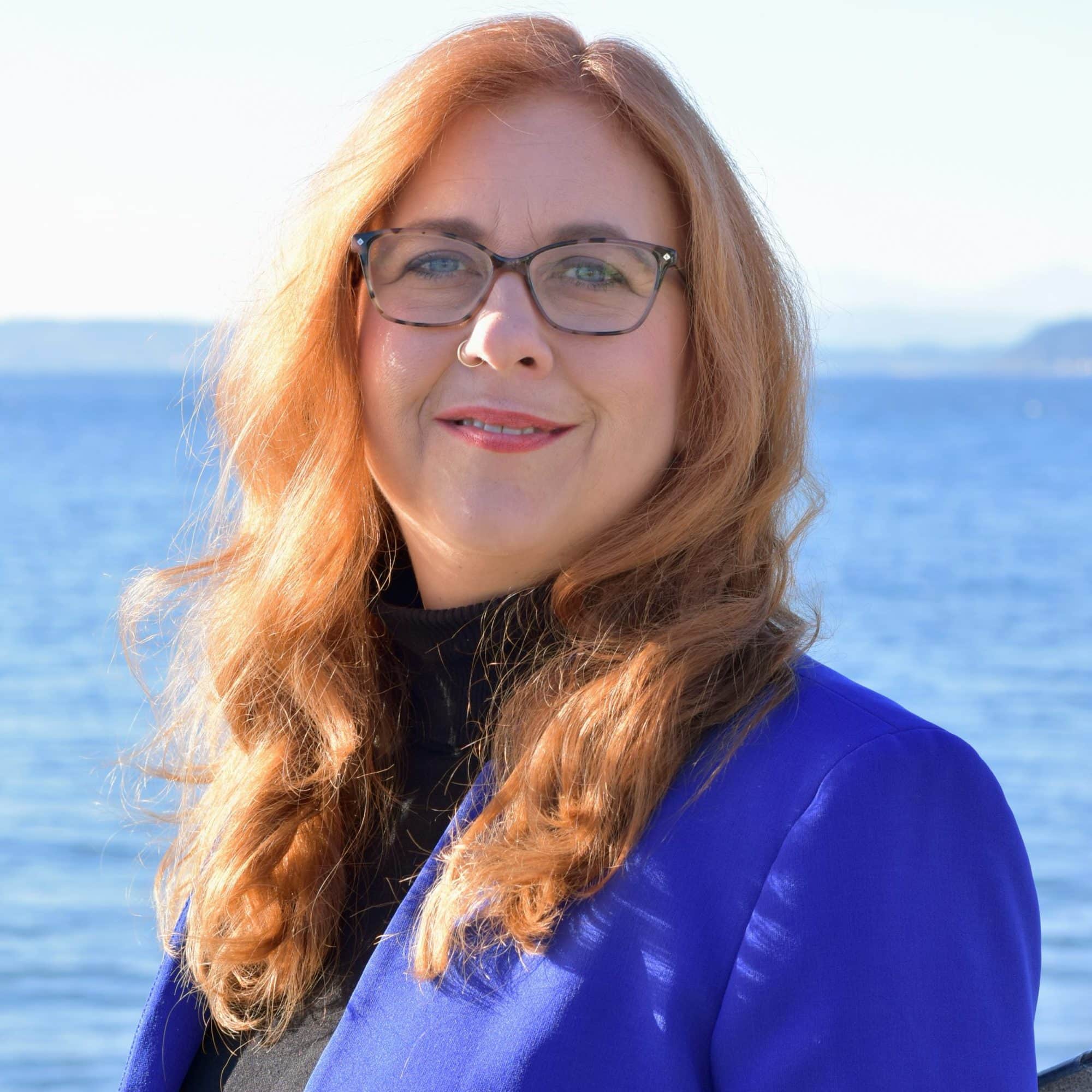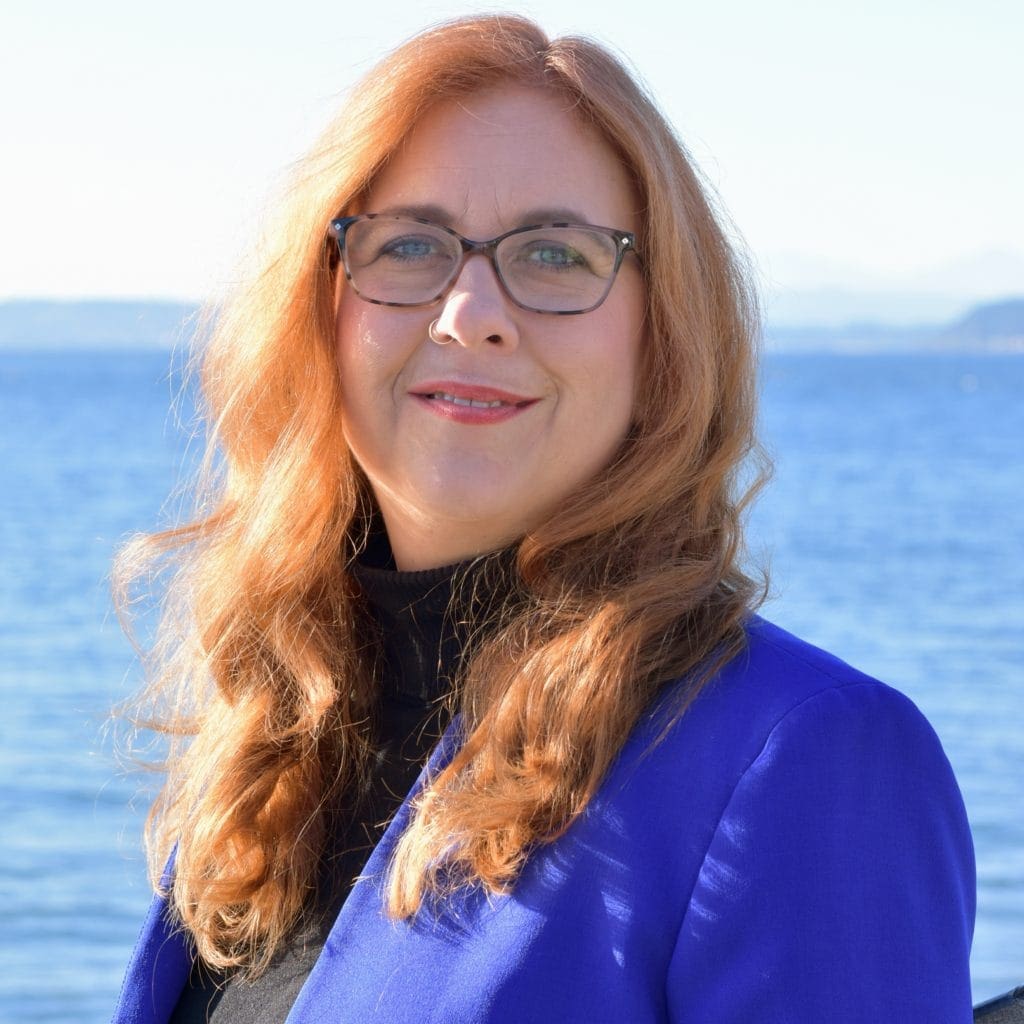 Divaland's Endorsement – Lisa Herbold
Lisa Herbold is the incumbent AND she's who we are endorsing—along with many progressive orgs and labor groups. On paper challenger, Phillip Tavel looks somewhat similar, but there are some key differences.
For one, Herbold is willing to explore safe injection sites as a step in connecting people with treatment. Tavel is not. Herbold believes that landlords should not be able to discriminate by turning away renters with adequate income. Tavel isn't sure.
Herbold isn't exactly a progressive star on the council, but she seems to be doing her best specifically for her district while staying open-minded about citywide issues. We endorse Herbold.
District 2: Tammy Morales vs Mark Solomon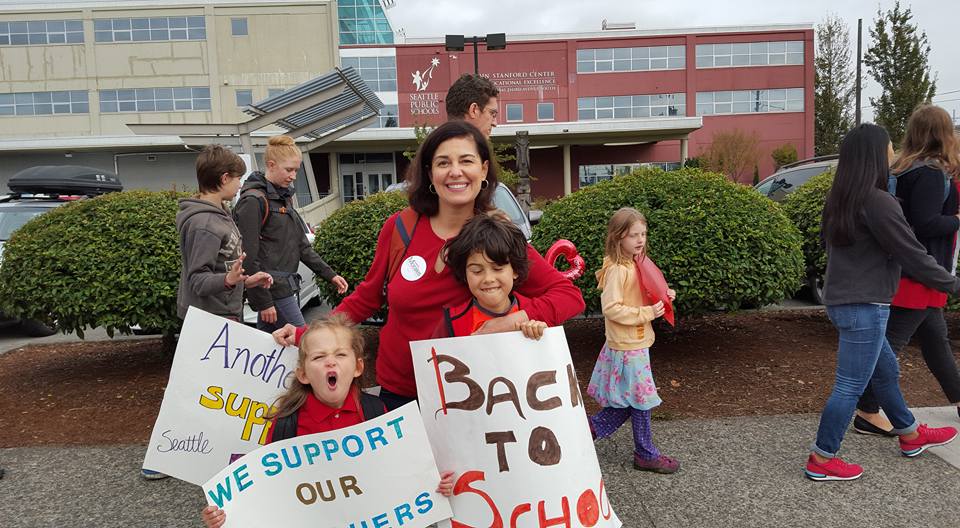 Divaland's Endorsement – Tammy Morales
Tammy Morales is back on the ballot after a really close race and loss in 2015, and we are here for it. We made a mistake and should have endorsed her before. At the time she seemed new in our neighborhood. Meanwhile, she has been in the weeds, doing community work, being a strong advocate for young people, and really understanding the complex issues that Rainier Valley is dealing with. We also think that Tammy is one of the smartest policy wonks on the ballot right now.
Because we live in District 2, we have interacted with both candidates over time. Mark Solomon comes across as a good-hearted and earnest, and we hope he continues his advocacy for safer communities. It is a little concerning that Solomon is only canvassing our neighborhood of Seward Park also known as the Gold Coast of Rainier Valley.
We like Morales because she has articulated many times the legacy of segregation and ongoing racism in Seattle. South Seattle is her stomping ground, and she sees it firsthand. For her, affordability isn't an abstract and recent issue; it's been a decades-long divide between north and south Seattle, following from redlining in the last generation.
In creating a budget for these challenges and others, Morales thinks our corporate giants should be paying more, but Solomon demurs. In fact, he's taking big bucks from an Amazon-backed fund advocating against them paying back into the city they are reshaping. For all the talk about change, Solomon is definitely more for the status quo and corporate control. We're voting for Morales.
District 3: Kshama Sawant vs Egan Orion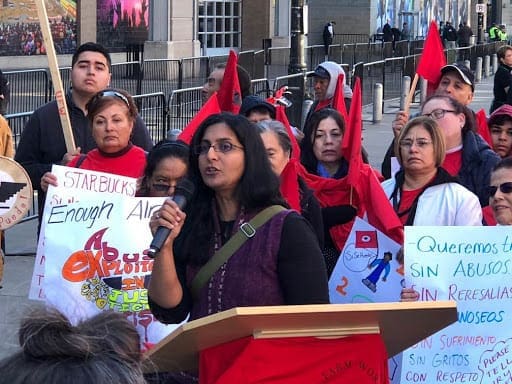 Divaland's Endorsement – Sawant and Work To Keep Her Accountable
Oh lord! This is the big one. Incumbent Kshama Sawant has made national news as a self-declared socialist on the city council of one of America's most capitalistic cities. She's been polarizing from the start, and even some of our radical-leftie friends are not fans. And yet, when faced with a choice between her and Egan Orion…well, there's no choice at all. It's Kshama all the way.
Orion's campaign has been like watching a bad parody of white gay privilege in action. When stumped by basic questions about accessibility and safety, "ride-share" seems to be his default answer. He has done everything he can to suggest Sawant is a wrench in the works while he himself offers nothing but big-biz platitudes. (And if you see his strangely-conservative-for-a-"progressive"-candidate donor list, the reasons why are clear. He is TOTALLY in their pocket.)
Also, being good for BIG business does not mean good for small business. Quite the contrary. We can probably say nothing quite so pointed as Alex Kostlenik, owner of 20/20 cycle. Her op-ed on the Capitol Hill Blog titled "Egan Orion: I believe he aims to deceive" says it all:
Egan ran the Capitol Hill Chamber of Commerce into the ground and it was swift and breathtaking. Four months, people! Then he jumped ship and now he wants you to put him in our Council Chambers.
It's a no from us. We endorse Kshama Sawant. And people need to push Sawant to be a better advocate for getting sh!t done. It might not be 100% of what super liberals want but at least it is something.
District 4: Alex Pedersen vs Shaun Scott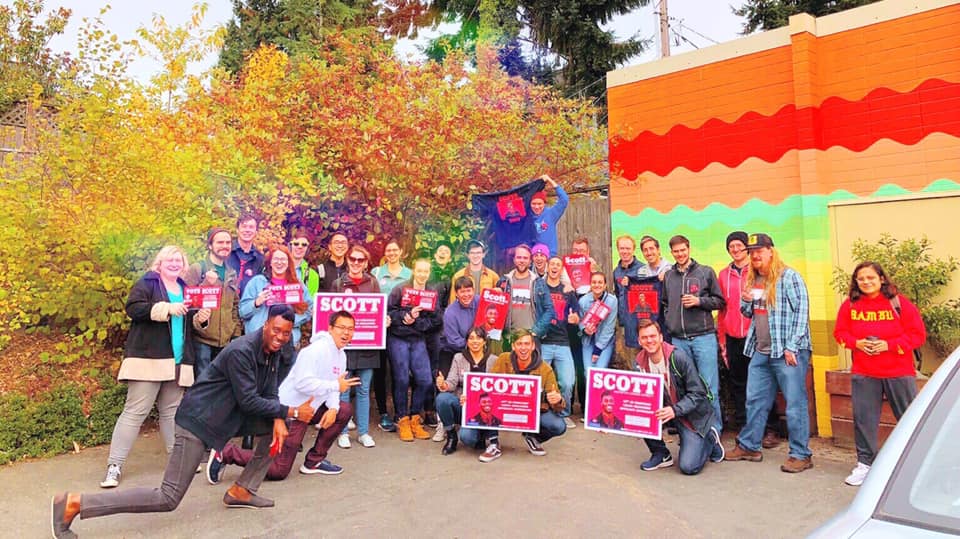 Divaland's Endorsement – Shaun Scott
Until last week, going by the campaign materials we had seen, this was a toss-up. But in the last week, we have learned that Shaun Scott has come to win and work hard for our city. He's been pointed about demanding that Seattle Police Officer's Guild outline a real plan for getting out from under federal investigation. Scott is in the same district where Seattle Police officers shot and killed a Charleena Lyles a pregnant black woman in her home in front of her kids.  And he has also made some compelling remarks about the affordability of broadband internet services, a necessary utility that is prohibitively expensive for many students and low-income workers. We endorse him.
To be honest, we were leaning toward Scott anyways. Challenger Alex Pedersen is close to Tim Burgess, whose bad-faith, developer gladhanding, cop-worshipping leadership on the council for years was disastrous. But we wanted to give him a fair shake, not wanting to assume guilt by association entirely.
But it has become clear that Pedersen is precisely the conservative pedigree that steered Seattle into our quagmires as the city grew. Like Solomon and Orion, he's totally suckling at Bad Corporate Citizens big glass teats. Meanwhile, Shaun Scott showed up to a Police Guild Q&A wearing a Black Lives Matter hoodie and giving no fucks. Policy-wise, he knows we need more density and better taxation structures, and he will press for both. Get Shaun Scott on the City Council.
Team Diva will be knocking on doors for Shaun Scott. He is the future of leadership we need in this city!
District 5: Ann Davison Sattler vs Debora Juarez
Divaland's Endorsement – Debora Juarez
Let's cut to the chase here: incumbent Debora Juarez is the only rational choice. Because, Divaland, there is a good kind of crazy…and then there is Ann Davison Sattler crazy.
You may have heard about Sattler's plan to round up thousands of homeless people and put them in "FEMA-style camps" (her words) inside an abandoned Sam's Club in the North End. No tenable budget for services, security or even basic hygiene. Basically just an indoor concentration camp for the poor.
All her "nice white lady" posturing about community is sinister as hell in light of this. Juarez has proved herself a consistently progressive and approachable council member. We endorse Debora Juarez.
District 6: Dan Strauss vs Heidi Willis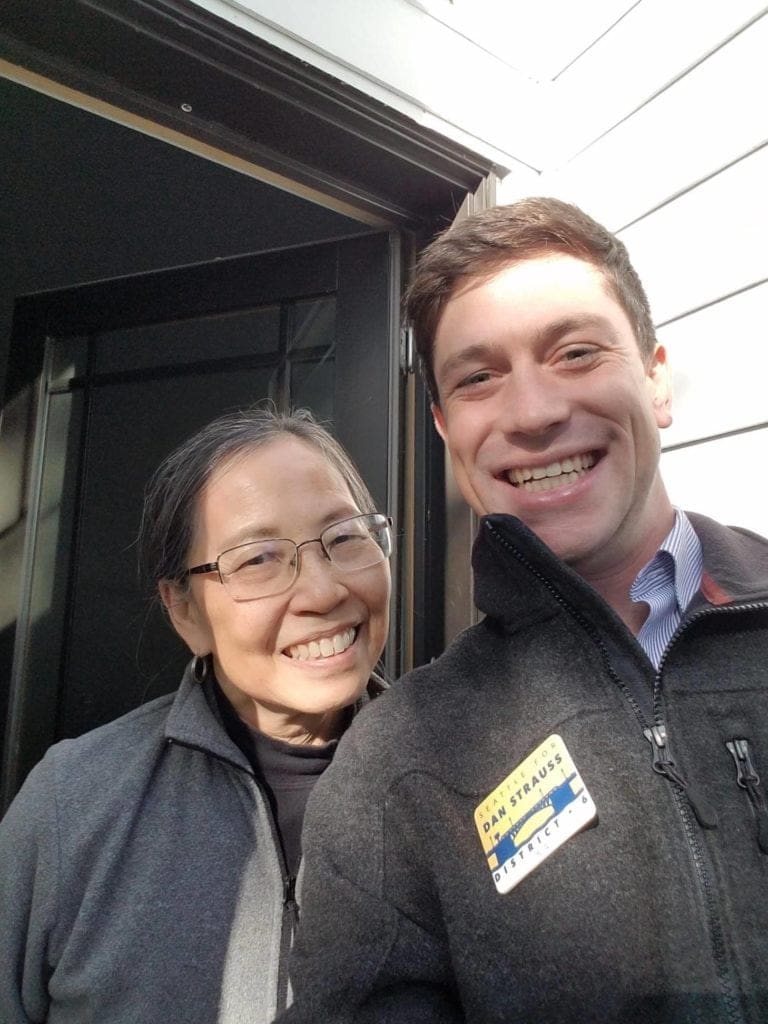 Divaland's Endorsement – Dan Strauss
Years ago, Heidi Willis was on the Seattle city council. It was a different time, and we're fine letting that be her legacy in local governance. We're endorsing newcomer Dan Strauss.
Strauss is a Ballard native and endorsed by some of our favorite orgs. Planned Parenthood, the Alliance for Gun Responsibility and FUSE Washington to name a few. He also got the nod from former state rep and mayoral candidate, Jessyn Farrell (who is awesome). In her words:
Dan has been fighting for progressive values and policies as long as I've known him. His vision, his work ethic, and his experience will make him a great council member, and I'm proud to support him.
We're in. Vote for Dan Strauss in District 6.
District 7: Andrew J Lewis vs Jim Pugel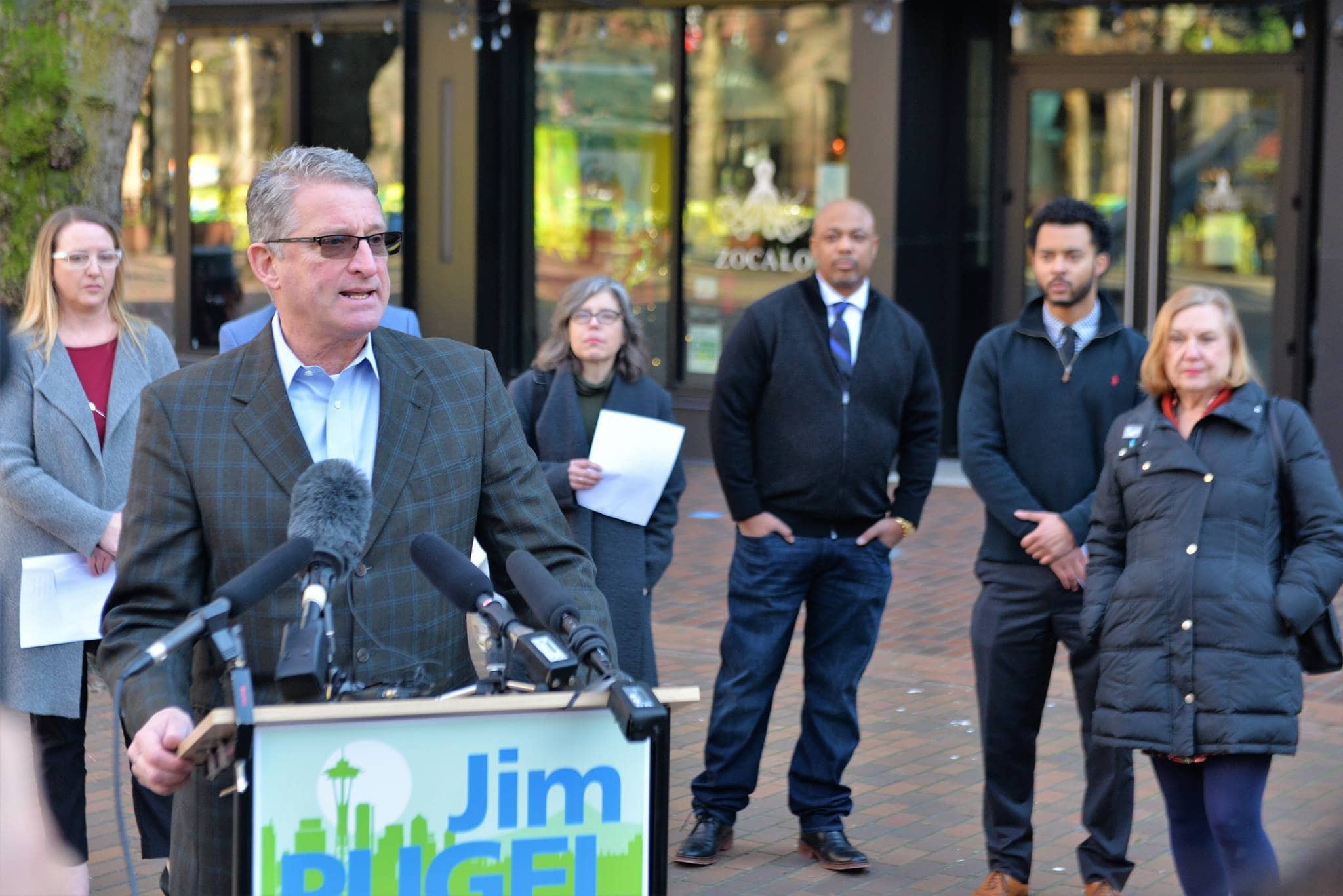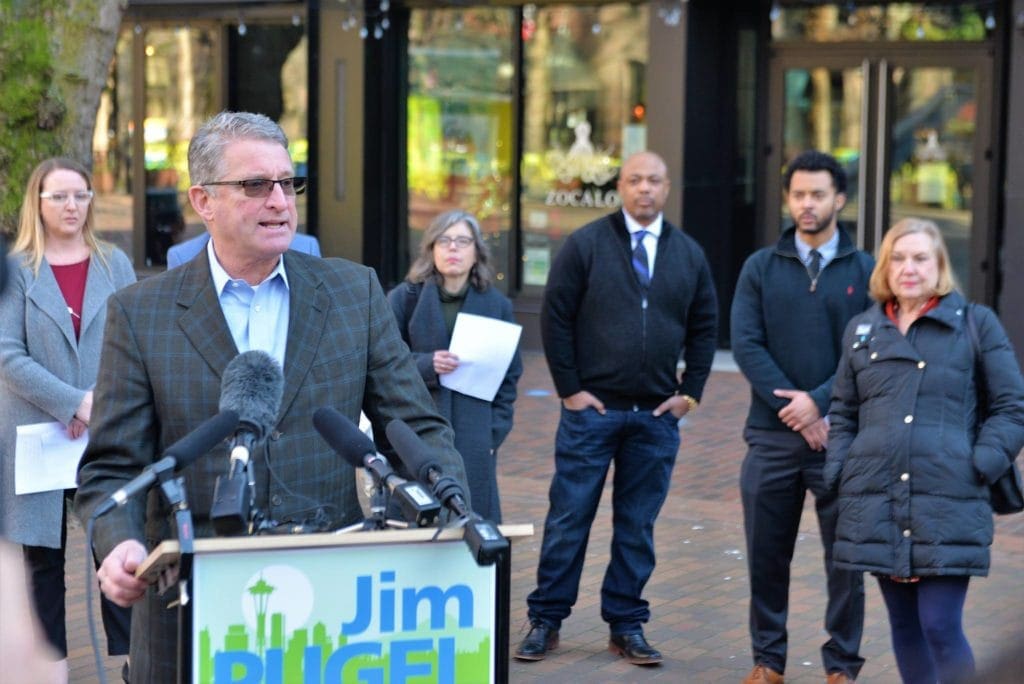 Divaland's Endorsement – Jim Pugel
This one is not an easy call to make. Both candidates work in the justice system: Andrew J Lewis is a young city prosecutor, and Jim Pugel is a veteran officer and former interim Police Chief. Both come across as sincere and earnest candidates.
As a young renter, Lewis is more down with density than Pugel. He is also very vocal about our regressive tax structure at the state level, and he talks at length about it…something he can do nothing about at City Hall. Go to Olympia, young man. Seeing as he and Pugel are both parts of the justice system, their positions there count for more to us. Both seem to understand that we need reform in our to justice system to include a more compassionate approach to addiction. Pugel has a track record of supporting such programs, so we're endorsing Pugel.
Pugel may be just what the council needs to restore a sense of trust as negotiations under the consent decree proceed. The real thing that won us over was the endorsement from Lisa Daugaard, one of Seattle's leading advocates for justice reform. Daugaard says:
Jim is nationally and internationally known as an architect of police diversion to high quality public health interventions, reducing the flow of human beings into cells and courtrooms while actually improving public safety and public order. He's on the cutting edge of public policy on issues of justice and crime reduction, and we're incredibly lucky that he's willing to help Seattle take these evidence-based approaches to scale.
We see Pugel as a complement to the younger, more radical voices we also want on the council. We're endorsing Jim Pugel in District 7.
---
The 2019 Divaland Voter's Guide for State and County Elections
That's it for the city council. Now a whirlwind tour of the other issues on the ballot…
State Referenda and Advisory Votes
Referendum 88
APPROVE. It is high time we finally legalize affirmative action in Washington State. In 1998, Washington voters made affirmative action illegal. It's embarrassing that it has taken over 20 years to correct it. Hopefully, we make the right choice this time.
Initiative Measure No. 976
NO. This is another conservative turd torpedo from Tim Eyman, the infamous anti-tax wingnut who has made garbage initiatives into a cottage industry by which he pays himself. We'd tell him to take several seats, but he just got busted stealing one from Office Depot, so instead, he should probably just go away.
Senate Joint Resolution 8200
APPROVE. Common sense legislation regarding state intervention for local natural disasters.
And allllll the advisory votes…
MAINTAIN. You only have to bubble these in because Tim "The Chair Troll" Eyman got an initiative passed requiring voter eyes on every tax-related piece of legislation. And with the Republican anti-tax bloc in Olympia, you can believe these bills amount to less than the bare minimum.
County Votes
In this section, we're focusing on the races that we feeling really strongly about. If you want help deciding with other races, we trust the endorsements from FUSE Washington's Progressive Voter's Guide.
Vote Julie Wise for King County Elections Director
Her challenger Mark Greene has run many times. He keeps losing for good reason.
Vote Claudia Balducci for King County, District #6
Oh look, she's being challenged by Bill Hirt again. This guy hates light rail. And that's it. He has no other real policy besides that. Bye, boy.
Vote Jim McDermott for King County, District #8
We gave challenger Michael Robert Neher a chance for a hot minute because he has organized for NARAL in the past. But nope. Another bad campaign with "FEMA-style" camps for the homeless. He and Ann Davison Sattler should form a party: The "Three Names and No Ideas" Coalition.
Fred Felleman for Port of Seattle, Position #5
His challenger, an attorney from Bellevue, had never even attended a Port of Seattle event until the primaries. Ha Ha No.
---
That's it for our 2019 Seattle Voter's Guide!
Do not forget to mail your ballot or drop it in a designated ballot-box by November 4, so you are not rushing at the last minute on election day, November 5. Make sure your vote counts, Divaland!