Understanding how to get pre-approved for a home loan in Seattle should be easy. After all, you can't swing a purse these days without hitting a real estate professional or seeing a bunch of online lenders promising super-low rates and low-cost loans. Unfortunately, many of these online companies benefit from an uninformed and uneducated home buyer. Home buyers who end up working with some of these lenders find that they are hit with higher fees and rates than promised and are left wringing their hands hoping their loan will close on time or at all. In this guide on how to get pre-approved for a home loan in Seattle, we are going to break down all the steps. And we also have a freebie guide you can use when it's time to find a loan consultant and get pre-approved!
First, What Does It Mean to be "Pre-Approved" for a Loan on a Home?
Being "pre-approved" for a home loan means that a bank/ financial institution has formally reviewed your financial information and determined that you have: the income (minus debts) to buy a home, savings in case something happens to that home, and a credit score that proves that you have a history of paying your debts (credit cards, student loans, etc..) on a regular basis.
Most homebuyers need a lender to give them money to buy a home. Meaning you are getting a home loan. Banks are under extremely strict guidelines on who qualifies for a home loan based on their credit scores, the amount they have to put down on a home, and the condition of the home. A good lender will walk you through the entire process and give you the guidelines you need to get pre-approved. This is going to include your finances and the types of homes that qualify. Yes, a home also needs to be lendable aka "approved" for a loan.
We wrote a blog a while ago that will provide you with some extra information as you start the process of getting pre-approved for a loan and creating generational wealth by owning a home. Check out "Getting Your Mortgage Financing In Order for a Home Purchase."
Steps on How to Get Pre-Approved for a Home Loan in Seattle
Pro-Tip: Talk to your favorite real estate professional and find out who they prefer to work with for a lender. Typically these lenders are more adept at dealing with local market factors or unusual home lending situations.
Let's dive into the guide below.
---
The Full Guide on How to Get Pre-Approved for a Home Loan in Seattle
The first step to purchasing a home is the pre-approval process. In today's volatile lending market being pre-approved is a must. What does being pre-approved really mean? It means that based on your loan application, financial status, and credit scores a lender has given a true commitment to financing your loan up to a certain price. In general, once you are pre-approved, you are almost certain of getting a loan provided there are no major changes in your financial status (i.e. loss of a job or lower credit scores).
Step 1: Interview Two or Three Good Mortgage Consultants
First off – what does it mean to be a "good" mortgage consultant? A good loan person is no different than a good Realtor. They have an online presence, they have reviews on tested sites like Yelp or Google, they provide consumer-focused information on their site, and they work regularly in the market where you are purchasing a home.
Here are some tips to help you find a good mortgage consultant to interview:
Ask your favorite Team Diva team member. We have tried and true local loan consultants that we work with regularly who will provide you with top service – just like Team Diva!
Who did your bestie, work cohort, and/or Auntie Kat use? A recommendation from a friend or family member is huge and should be highly trustworthy.
Check out lenders who have been reviewed. Go to your local Yelp/Google sites and see which mortgage consultants have legit reviews.
Good questions to ask a Mortgage Consultant:
What type of programs would you recommend to be a winner in this market?

Can you explain the process?

How quickly can you close?

What are my down payment options?

Are you providing me with a pre-qualification approval or am I fully approved through underwriting? What is the difference?

What are all of the closing costs I can expect?

Communication – How best can I communicate with you during the process?
Download our How to Get Pre-Approved for a Loan in Seattle Guide below for our full list of questions.
Pro-Tip: Submit only three applications for an initial pre-approval. Your credit will be dinged if you have more than three lenders pull your credit.
Step 2: Choose the Loan Person/ Lender Who is Going to Be a Good Fit For You
Let's clarify some terminology before we get into the weeds. A "Lender" is a bank or institution that is funding the loan. A Mortgage Consultant (also referred to as a mortgage broker, loan consultant, loan officer, or mortgage loan originator) is the person at the lending institution who will be helping YOU get your loan. Every mortgage consultant is a bit different in their style and communication. Find one that is the fit for you. And do your real estate professional a favor and use a loan person who works for a reputable, and preferably local, lending institution has plenty of experience, and comes highly recommended.
Storytime! We once had a client who got their pre-approval from one of those big box stores that sell paper towels, food, and coffins. And guess what? Right before closing the lender would not approve the loan. Why? The client was never actually pre-approved. The moral of the story here is to choose a lender whose parent company also doesn't sell paper towels.
Check out a VERY old blog by your fav Divas that has a list of questions when you are trying to choose an awesome lender. Getting Approved For a Mortgage Like a Smart Diva Dweller.
Step 3: Know the Difference Between Pre-Approved and Pre-Qualification for a Home Loan
The majority of big online lenders and credit unions will tell you that you are "pre-qualified" for a home loan WITHOUT ever actually looking at your financials. Meaning you can tell them how much you make and your credit score and BOOM – they will prequalify you for a home loan. Which means absolutely NOTHING. Being "pre-qualified" does not actually mean you can buy a home. Being "pre-approved" for a home loan means that a licensed mortgage consultant has verified and reviewed your entire financial file to make sure the bank will give you a loan.
Pre-Qualified Means On the Surface Your "Stated" Financials Qualify You For a Home Loan
$200,000 for a downpayment
760 credit score
$90,000 income
Pre-Approved for a Home Loan Means a Lender Has Reviewed At Your Entire Financial File
Being pre-approved means that someone has actually asked for your documents to prove you can buy a home. So let's take the same scenario above show how you would not be pre-approved for a home loan.
$200,000 for a downpayment – but the funds are a gift from your grandfather and he has to sell a house to give you this money.
760 credit score – But your partner that you are buying a home with has a bankruptcy on their file.
$90,000 income – but this is a new job that you have only been at for 3 months.
Check out our blog "What is the difference between being pre-approved vs. pre-qualified for a home loan" for more specific information.
Step 4: What is Your Credit Score?
Finding out what your credit score is critical to getting pre-approved for a loan. Credit scores (along with downpayment and type of home loan) determine what your mortgage rate will be for your home loan. Another factor that influences your mortgage rate is your debt-to-income ratio. For instance, many new doctors have a ton of school debt but are high-income earners. Each person is different. Hence talking to a lender is always the best first step to buying a home.
In general, a credit score can range from 350-850. Below are the general credit score ranges to buy a home in Seattle
Best Credit Score To Buy a Home in Seattle
The best score to have to buy a home with a home loan in Seattle is 740 or higher. A home buyer's credit score of 740 or higher generally has lower interest rates when buying a home.
Minimum Credit Score to Buy a Home in Seattle
Generally, the minimum credit score you need to buy a home is 620. There are programs that a good loan consultant can talk to you about to help you achieve homeownership with a low credit score. Ask for a referral from Team Diva and we can get you connected.
What if my Credit Score is below 620? Can I Still Buy a Home in Seattle?
Our team is dedicated to helping people who are non-traditional homebuyers achieve homeownership. Some of our team members have worked for years with a client to help them get their credit in shape to buy a home. In 2019 we had a client who had a medical bankruptcy on her credit. We worked with her to buy a home using a down payment assistance program and an FHA loan. Now our friend and her daughter have housing stability. Let's talk so we can help you get on the path to homeownership.
Step 5: Understand How Much You Need for a Down Payment for a Home Loan
You can buy a home in Seattle with as little as 3% down for a downpayment. Your mortgage rate and closing costs will be significantly higher than those who are putting down more money. And unfortunately, anyone who puts down less than 20% has a pesky mortgage insurance fee. Ugh!!! Once again talk to a loan consultant and find out what the best option is for you.
Downpayment Amounts to Buy a Home in Seattle
Ideal Downpayment – 20% of the Purchase Price
Conventional Home Loan – Minimum of 3% of the Purchase Price
FHA Home Loan – Minimum of 3.5% of the Purchase Price
VA Home Loan – ZERO Down (VA loans are a benefit for military veterans)
Rocky did a video and a blog recently about "How Much Do I need for a Downpayment on a House in Seattle?" that goes over the amounts you need on average for a downpayment in Seattle.
Step 6: How Much Do You Need for Closing Costs for a Home Loan?
We all know you need money for a downpayment. You also need additional money for the home inspections and for the loan's closing costs.
Below is a quick breakdown of what might be included in your lenders' closing costs for a mortgage.
Loan Origination Fee
Loan Processing Fee
Escrow Fee
Title Insurance Fee
Property Taxes
Homeowners Association Fees
Buy-Downs (costs if you are buying down the mortgage rate)
Mortgage Insurance (cost if you are buying a home with less than 20% for a downpayment)
Buyer Brokers Fees (if you are buying a for sale by owner or when the seller does not agree to pay the buyer's real estate broker)
Misc. Administrative Fees
Can The Seller Pay Your Closing Costs?
Yes!!!! And this totally depends on the market. The sellers have been paying closing costs now that we are in a more stable market. But in a multiple-offer market, the seller is not going to pay for anything. The seller can pay up to 3% of the purchase price towards your closing costs. And in a few instances more.
Pro-Tip: Make sure your lender gives you a breakdown of your closing costs when they are quoting your interest rates. Specifically, look to see what the lender is charging for a buy-down in order for you to get that amazing advertised interest rate. 
Check out our blog "What Are Closing Costs?" for more detail.
Step 7: Come Up With a Savings Plan for Your Down Payment and Closing Costs
Let's get real! The majority of us need to save for a downpayment for a home. There are some great resources out there on how to save for your downpayment to buy a home. Here are the best ideas we have seen clients use and no it does not include cutting back on your avocado toast (we all need to eat a healthy breakfast while we are house hunting!)
Team Diva's Best Ideas for Saving Extra Cash for a Downpayment for a Home
Pay Off High-Interest Debt. Credit cards are designed to keep us dependent on spending money we do not have. Pay off your high-interest credit card as fast as possible. From then on use that money to start saving for a home.
Drive Used Cars – Cars are a depreciating asset. They will never earn you money. Yes, it might feel great to have a brand-new car. But it will feel even better to have that cash for your own home.
Minimize Your Budget – I know it is lame. Who likes to budget? No one!!! The reality is that we all spend way more on dumb things because we are not being conscious of how we use money day to day. Download a budget app and keep close track of what you are spending money on. Do you need to eat out for lunch, can you shop the sales, etc… What can you do to minimize your personal budget?
Side Hustle – Consider taking on a side hustle gig for a short amount of time and dedicating the extra money to your downpayment. We all have skills we are unaware of that can help us with our long-term goals.
Washington State's Downpayment Assistance Program
Very few people know but there is a downpayment assistance program in Washington state. Team Diva will be advocating for more funds for this vital program. We have seen firsthand how this program has changed the trajectory for families in our community as they build generational wealth for their families using this program. Let us know if you need us to find you a lender who does this program.
Here are some other areas to consider when looking for money to use for your downpayment.
401K or Retirement Savings
Investments
Gift Funds From a Family Member
Stocks and Bonds
Step 8: Get Your Credit Scores in Tip Top Shape to Get Pre-Approved for a Home Loan in Seattle
It's not uncommon for most buyers to be unaware of their credit scores or credit history. Your scores are a major determinant in getting a mortgage.
Below are some quick tips for improving your credit scores before you apply for a loan:
Avoid applying for any new credit cards or increased limits on current cards.
Pay off and/or close out any unused credit cards.
Make sure all bills are paid on time!!!
Never go over 30 days past due on any accounts.
Cleanse any old accounts. You might still be on a credit card or banking account with a former partner. Make sure you are removed from these old accounts.
Keep a low balance on all active credit accounts.
Do not apply for any loans that are not related to your home purchase (i.e.: car loan).
Talk to a mortgage broker before opening an account at a debt consolidation service and if you already have an account – consider closing it if at all possible. Many of these services are very helpful to those struggling to manage their debt. Unfortunately, debt consolidation services are viewed poorly by lenders and can knock down your credit score by a considerable amount.
Step 9: Gather Your Financial Documents
The more prepared you are the easier it will be to get your file processed as fast as possible. Below is a breakdown of all of the financial documents you need to get pre-approved for a home loan.
The Basic Documents Needed to Get Pre-Approved for a Home Loan in Seattle Are As Follows:
Two most recent pay stubs.
W2s for the last two years.
Federal tax return for the last two years.
Last two months of bank statements.
Any long-term debt information (credit cards, auto loans, student loans, other mortgages, etc.).
Statements on other investment portfolios (retirement accounts, stocks, bonds, mutual funds.).
Pro-Tip: Create a Google Drive or Dropbox folder with all of the lending documents. This way you can easily access them through the process. Trust us! You will be asked for many of these documents while going through the underwriting process.
Self-Employed Friends – Ugh! Unfortunately, you will have an extra long list of documents. Talk to the lender and get working on your 1099s and Profit and Loss Statements.
Other Potential Documents Needed for a Home Loan:
Rental Income: You will need two years of tax returns and your rental agreements if you are using income from rental properties to get pre-approved for a home loan.
Gift Funds: Talk to a lender about the best way to document money you are receiving from a family member or a friend to purchase a home.
Step 10: Make Sure You Are Pre-Approved Through Underwriting
The best mortgage consultants make sure you are pre-approved through underwriting before giving you the go-ahead to go buy a home. This means that they have taken your file and submitted it to the underwriter in their department. An underwriter not only is the final approver of your home loan. But they are also looking at the condition of the home via the appraisal report. The biggest hang-up in the home buying process is the underwriter. The majority of online lenders or big banks have their underwriters decentralized from the main person you are working with.
Pro-Tip: Your real estate agent will have recommendations on the best mortgage consultants to use for your home purchase.
Talk to your favorite real estate professional and find out who they prefer to work with for a lender. Typically these lenders are more adept at dealing with complicated market factors or unusual home lending situations. We have had complicated situations where the buyers owned a home in a foreign country and the underwriter needed those documents. And they needed them translated into English. Yikes!!! A good loan person can problem solve issues and quirky situations as they arise.
---
Download Our Guide on How to Get Pre-Approved for a Home Loan in Seattle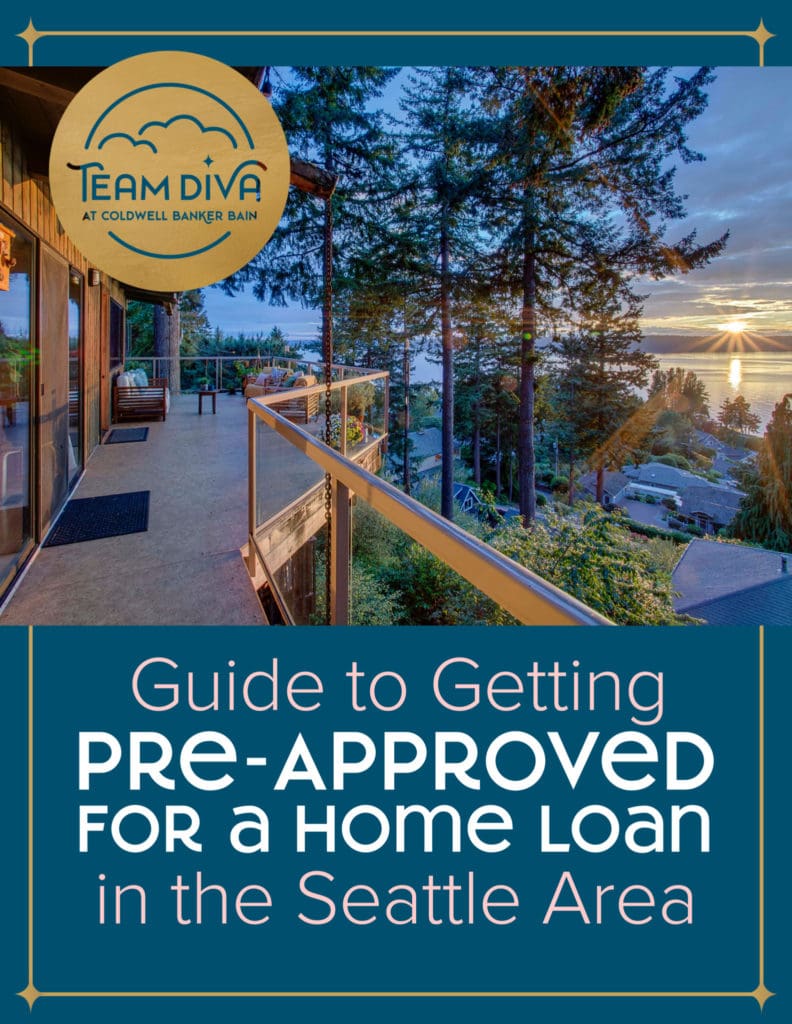 The following link will take you to our Buyers page. Once you are on the page look on the right side. And you will see a link to download the free guide. The guide goes into detail on how to Get Pre-Approved for a Home Loan. Take the guide with you and use the questions when you interview your potential lenders.
---
Here Are More Resources on the Home Lending Process
Below you will find links to years of blood, sweat, and tears of home lending content. Specifically, there is content below to help you get pre-approved for a loan. Dive in! Or Diva in as we like to say!
---
Now You Know How to Get Pre-Approved for a Home Loan in Seattle Like a Savvy Home Buyer
The people who are winning in this market are those who are the most educated about the process. We strongly recommend watching Kim's video, reading this entire blog, and downloading the guide. All of this will make sure you have the tools to make a smart decision for the most important part of your home buying journey.
Re-Review The Steps on How to Get Pre-Approved for a Home Loan in Seattle
Pro-Tip: Talk to your favorite real estate professional and find out who they prefer to work with for a lender. Typically these lenders are more adept at dealing with local market factors or unusual home lending situations.
We are here to help. Our team understands that the process of buying and/or selling a home can take a year or two. And we are more than willing to give you a personalized plan to get the ball rolling. Feel free to contact us directly at thediva@teamedivarealestate.com or call/text 206-271-0264.