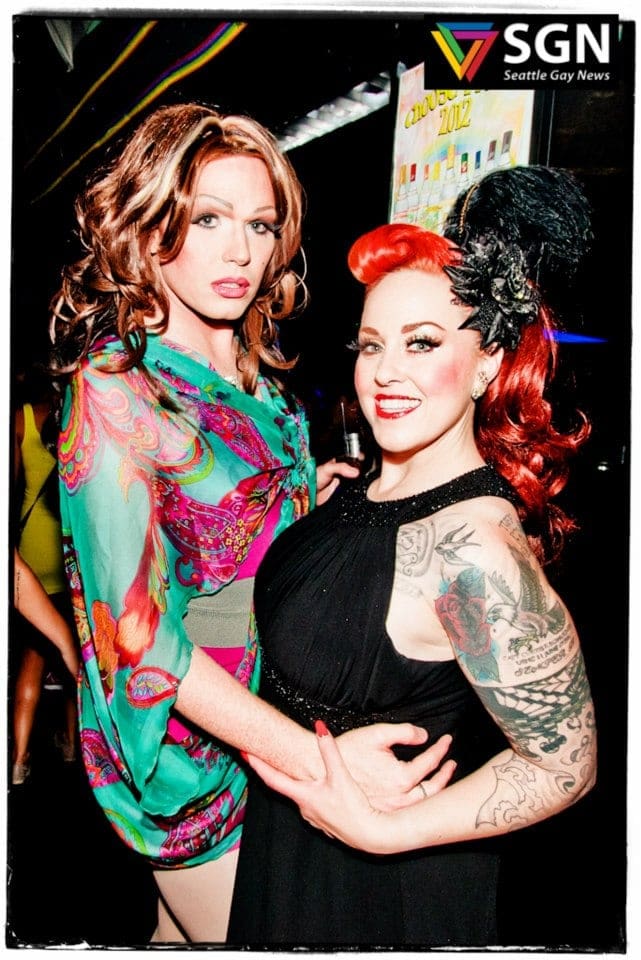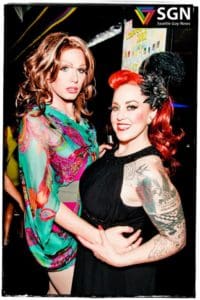 Team Diva is once again proud to announce that our resident divas, Miss DonnaTella Howe and Miss Kitty Baby Burlesque will be shaking what they've got at the kickoff for Velocity Dance Center's NEXT Fest NW Real/Time. These two ladies have been working it like the true divas since day one and always give it their all for their audiences. Sexy, sassy, and stylish, these gals know are always a cornerstone of any Diva event.
DonnaTella Howe has been a Diva pal and resident performer for quite some time now. Having met her at the annual Chez Diva Halloween Bash, we knew she would fit into the posse perfectly. She fit in so perfectly in fact that DonnaTella (AKA Michael) is one of the Team Diva family's newest Diva Dwellers! DonnaTella Howe is one of the central cast members of the Lashes Cabaret show at RPlace. She has been a full time cast member of their weekend show since 2008. Most recently we had the pleasure of seeing her work it like a Diva at the crazy hilarious Queen's Brunch that takes place every third Saturday of the month in Columbia City.
Shortly after meeting DonnaTella, she introduced us to Miss Kitty Baby. Ever since then, we have been diehard fans of this sassy, sexy, sailor gal. Not only is she just a hoot to watch, but she does it all for charity, donating all of her burlesque earnings to supporting elderly burlesque legends and troops overseas through her own organization The Pinup Angels. As she peels off those pom poms and twirls those tassles, everyone in the room just goes crazy for her. We are proud to have her back for yet another Diva event.
We know we are super stoked to be having Diva crowd favorites Miss DonnaTella Howe and Miss Kitty Baby back for more. They have always been some of the biggest crowd draws and never leave the audience disappointed. You just have to come and witness the showstopping energy that these two emit to really understand. So what are you waiting for? Come check them out in one placenext week to celebrate Velocity Dance Center's kickoff for NEXT Fest NW 2012!
Event Details:
Date: December 6th / 8-11PM
Location: Velocity Dance Center (1621 12th Ave)
Tickets: $15 online / $20 at the door