Tell us Donnatella's schedule in Seattle for Pride Month 2018.
This weekend, I'll be at the Volunteer Park Pride Festival on Saturday followed by an appearance at Purr from 9-11 pm. Next week is when things get really busy. On Friday, June 15, I'm hosting DonnaTella Against Humanity: Jurassic Everything Edition at Gamma Ray Games. On June 17, it's JurYasssic Park, a Jurassic Park themed drag show at Unicorn. Sparkle Leigh is hosting and we're raising funds for PFLAG.
Between those events, I'll be officiating a wedding that Saturday. Many of you in Divaland will know John and Tue, as they have run the photo booths at our events for years and John has been filming our listing videos for some time now. We're so thrilled for them and I'm so honored to be the one to make it official and in their new Diva Dwelling!
On the big Pride Weekend, I'll be appearing at the rooftop Pride Kick-Off Party at Frolik at Motif Hotel, Friday the 22nd. On Saturday, during Capitol Hill Pride, I'll be performing at Julia's at 1:30 pm for Julia's Day of Drag, and then at 2:30 pm I'll be at Seattle Humane's Doggy Drag Contest with Gaysha Starr. Sunday is completely open this year, which I'm honestly looking forward to. I may go down to Seattle Center earlier on and take it all in properly for once as typically I've shown up after being in the parade or announcing it. There might be some block party hopping later in the day closer to home. We shall see!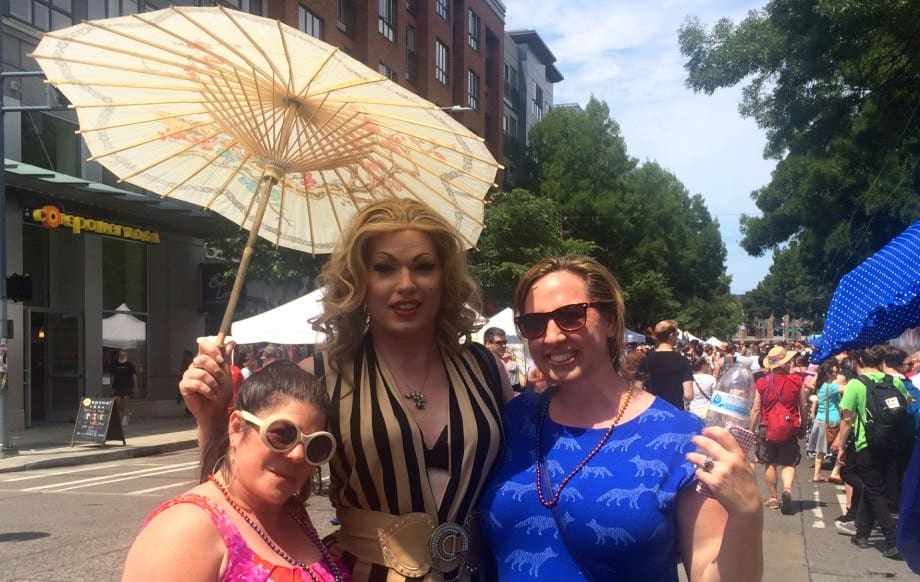 What tips do you have for staying cool and keeping your makeup from running while dashing between events in the sun?
Hydration is always key! It's a fun time to party and hang out, but pace yourself in the booze department and make sure you enjoy some water or other good hydrating beverage.
I've managed to survive makeup-wise by just staying as cool as possible as I move about events. Carry a hand fan or get a little plug in one that you can use with your phone or battery pack. I have both at all times! I overheat when I perform so that's the worst moment, but being able to fan and dab off sweat afterwards certainly keeps me together.
Wandering or working the festivals, I'll enjoy the shade of the big trees at Volunteer park as needed. Make stops at Bait Shop or even QFC to enjoy some free AC and a beverage. Or when I'm close to home, I just take breaks and get out of as much drag as I can to let my body breathe and cool off. Also, a good time to just hang with my guests and cohorts.
What app on your phone will be getting the most play this month do you think? 🙂
Certainly not one associated with meeting anyone lol. I'll be too busy and I've sworn those apps off! I'd like to think the 'old fashioned' way of meeting someone can happen. We shall see.
I'm still playing Jurassic World: The Game and Pokemon Go. The newest that I'm into but not 100% on is Jurassic World: Alive. Which is akin to Pokemon Go in how you play it. Certainly different, but I'm honestly not fully sold on it just yet.
Uber, Lyft, or Taxi?
Ha. I feel like a door was left open here. I haven't called for a taxi in a long while. Lyft I've not used unless you count an Uber driver who also drives for them. So yes, Uber is it when I need it. If I can swing it, I'll gladly walk where I need to go, or I've noticed that Car2Go actually costs less than Uber in some cases—so I'll just drive myself if it all works out.
What's your go-to simple drink when you are in a crowded bar?
Vodka soda or a whiskey ginger. However, making those stops to Bait Shop, I'll get one of the frozen cocktails, like the Painkiller.
What event are you most excited to attend that you won't be performing at yourself?
The festivals. Even though yes, I'm hosting Volunteer Park and parts of Capitol Hill Pride, I have far more time to wander around, smile and wave, take photos and visit with anyone and everyone. Being in drag and taking the time to just be out and about feels like you're a Disney princess or some other character, when they pop out and are taking photos with kids and such. It just feels wonderful when someone wants to celebrate a moment of Pride with you, and the sight of you makes them happy and excited. It's just a neverending cycle of joy that, having created DonnaTella Howe, I get to share in.
---
Excited for Pride? Get more info in our comprehensive Pride Event Guide.