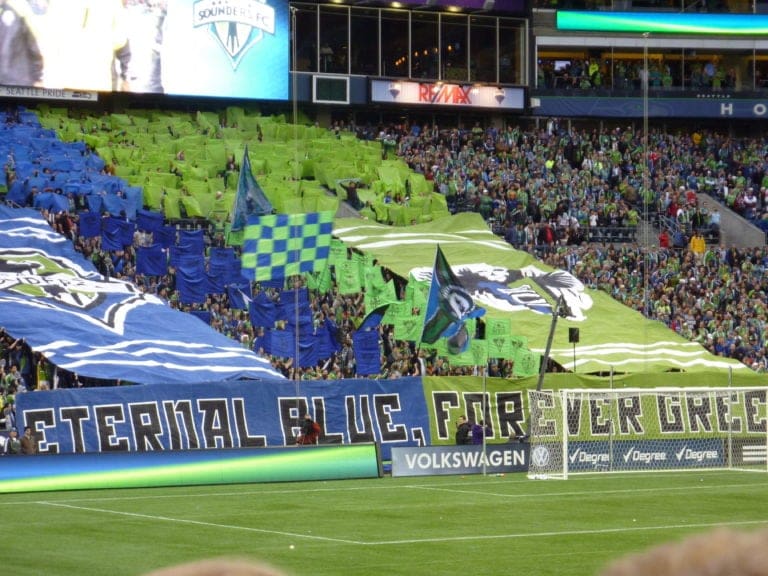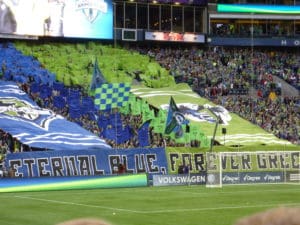 Anyone who knows me knows this – I love the Seattle Sounders! Not just an I'll wear the jersey, catch a few games, watch the rest on television kind of love. It runs deeper than that. I am a season ticket holding, ECS card carrying, blog reading, song singing, scarf raising fan of the Sounders. From March 'til November, I live and breathe footie…Sounders footie! And there are 36,000+ fans like me, cheering for a Sounders victory at every game.
The following video conveys a fraction of the passion we Sounders fans have:
Why do I love the Beautiful Game? Soccer/Football/Futbol/Footie is the world's game…the great equalizer. Anyone can play. The sport doesn't require expensive equipment, just a bit of land and something to use for a ball. This is reflected in the makeup of the players. The Sounders have players from the DR Congo,Ghana, Columbia, Cuba, Switzerland, Sweden and from right in our own back yard. Soccer is a universal language, connecting people from all over the globe, creating a way to communicate when words aren't available.
The pure athleticism of the game is beautiful in itself.  I ask you how can you resist the actual play. Depending on the position, players can run an average of ten miles per game (less for the goal keeper, of course). On top of that, they are tackling, dribbling, controlling and shooting the ball. And those shots…well, see for yourself: Inaugural Season Goals.
Most importantly, I love the Sounders because of the effect they have on the community. Recently, Forbes announced that Seattle is the most miserable sports city in America. Ask any Sounders fan if they are miserable…I guarantee the answer is NO! We are passionate about our team, proud of our players and excited by our victories, and our passion is expanding throughout the city. This city has embraced the sport and a new sense of community is being created. People meet up to watch matches at their neighborhood pub. Strangers will see someone wearing a Sounders jersey and strike up a conversation, or simply greet them with "Go Sounders!" I've made some of my best friends through our mutual love of the game, people I would never have met if it weren't for the Sounders.
Sounders Favorites
Favorite Player: Osvaldo Alonso (midfielder)
Favorite Game: Tie between the Inaugural Game and 2010 US Open Cup Final
Favorite Goal: Roger Levesque's first minute goal against Portland in the 2009 US Open Cup tournament
Go to a game! Support the Boys from Seattle! Cheer for scissor kicks and hat tricks! Join the Sounders Nation!
Sounders 'til I Die!
Diva Kaz