Bacon Strip is every Divaland's favorite monthly outing. And this month it is extra special. This will be the first big event for many of us since Orlando. In fact it will be Chavi's first outing since the big surgery. This month's theme is the Story of Gay Pride and will feature the newly crowned Miss Bacon Strip Queen Dan'l.
Sylvia is breaking the norm and starting a tradition within the Bacon Strip universe. Gay "herstory" pageants. She is celebrating drag history in pride by visiting how drag queens and fringe performers have always been there to move forward the rights LGBTQ people and allies. Always the radicals, delinquents, queers, queens, femmes, sissies, crazies we have always found a reason to be gay and joyous. Come join the Bacon Strip Family as we pay tribute to the progression of pride through the eyes of Drag! This month's assignment for the girls is to do two songs that represent The Story Pride to them.
This month you can enjoy the talents of: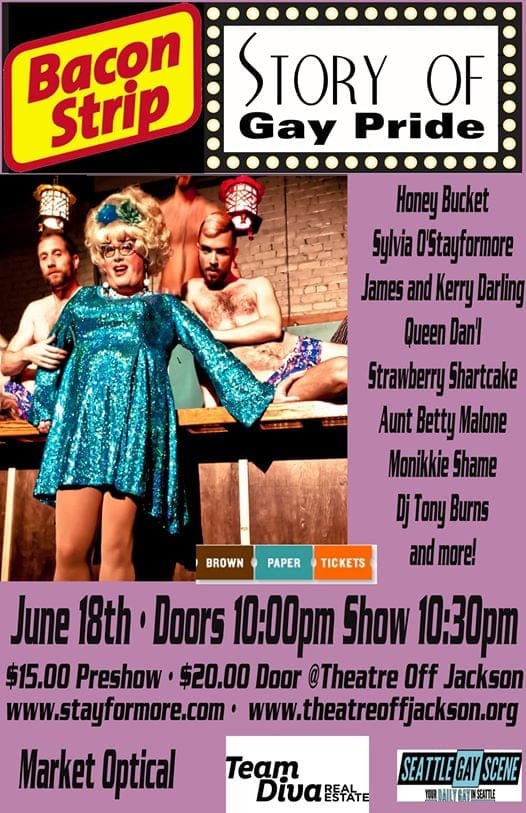 Honey Bucket
Sylvia O'Stayformore
James and Kerry Darling
Queen Dan'l
Strawberry Shartcake
Aunt Betty Malone
Monikkie Shame

With our Meat Man Deo, Stage Stud C-Mac and DJ Tony Burns spinning the hits!
Details: Bacon Strip is a Seattle staple and one we love to take in and witness all of the off the wall hilarity that ensues down at the Theatre Off Jackson.
Day: Saturday, June 18th
Time: Get the good seats by showing up at 9:00 PM (show starts at 10:00)
Location: Theatre Off Jackson (

409 7th Ave S, Seattle, WA 98104)

Ticket Prices: $15 and you can nab them at Brown Paper Tickets
Save some dollars for tipping and get your tickets ahead of time at BrownPaperTickets.com.