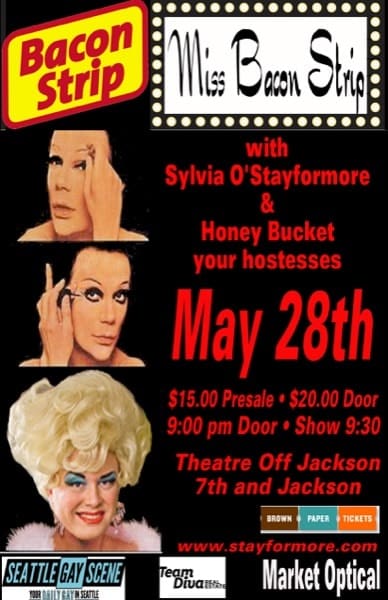 Summer isn't even officially here yet, but Team Diva (and Seattle in general) is in full PARTY mode, with events happening almost every day. Make sure you leave room on your dance card on May 28 for one of the funnest, funniest, draggiest extravaganzas of the year: Miss Bacon Strip the Unpageant!
From the name alone, you can gather that this is not the usual beauty pageant. Seven performers will vie for the title of Miss Bacon Strip (and $100, and a bouquet of bacon roses) with their wildest, wittiest looks. This year's contestants are:
The judges panel is its own rogue's gallery of drag hellions and divas: Latrina Bidet, Jackie Hell, 2015 Miss Bacon Strip Cucci Binaca, Danial Hellman aaaaand Kim and Chavi from Team Diva Real Estate! As always, the evening will be hosted by Sylvia OStayformore and Mizz Honey Bucket, with assistance from their meat man Deo (serving bacon, naturally), stage stud C-Mac, and the Darlings James and Kerry, while DJ Tony Burns keeps the music going.
It all happens May 28 at Theatre Off Jackson. Ages 21+. $15 advanced tickets. Get tickets online.