The intoxicating aroma of bacon and hairspray will soon fill South Park Hall. Seattle's favorite drag cabaret, Bacon Strip, holds its annual Miss Bacon Strip competition there this weekend, and we can't wait! We won't just be in the audience this time: Kim and Chavi are part of the Celebrity Judge Panel.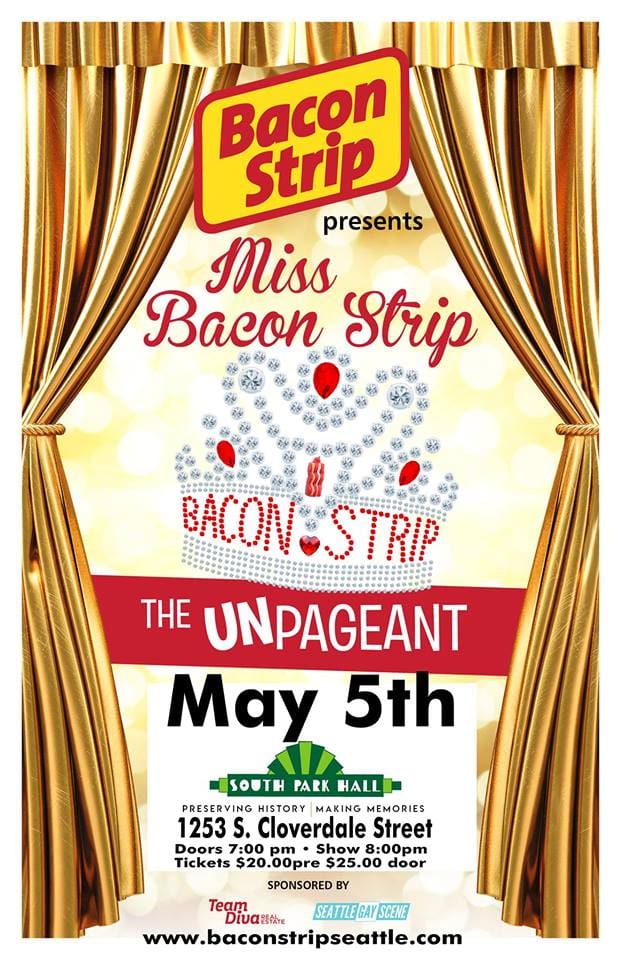 There are few shows as consistently, outrageously funny (and sexy!) as the long-running drag-stravaganza Bacon Strip, hosted by Sylvia O'Stayformore and Mizz Honey Bucket. This special show will draw a larger crowd, so they are switching the venue to South Park Hall. Get to West Seattle this Saturday, May 5, because you won't want to miss this hot, hilarious mess crowing the next Miss Bacon Strip.
For those who don't know the drill: Bacon Strip features multiple acts from a slew of local drag performers, many of whom run on the edgier side. Expect filthy songs, twisted attire, and surreal performances…and of course complimentary bacon served by hot go-go boys.
This time, the performers will be competing with each other for the title of Miss Bacon Strip. The queen who takes the crown also receives a luxurious new wig designed by Seattle drag legend Coco Vaughn, $125 and–in the words of the producers–"the unlimited fame this title provides." Watch out for the Paparazzi, gurls!
Miss Texas 1988
Old Witch
Glitterous
Suga Bear
Irene Dubois
She
Baby Guuurl
Celebrity Judges
Scott West
Michelle Braasch
Aleksa Manila
and the Divas themselves, Kim V. Colaprete and Chavi M. Hohm
Jams will be provided by DJ Tony Burns while you drink and mingle during intermissions and before and after the show. You won't want to miss this. So join the Divas and their posse to give one last royal wave to the reigning Miss Bacon Strip, Strawberry Shartcake, as she passes the crown on to one of these fabulous new queens.
Doors at 7pm and the show starts at 8pm.