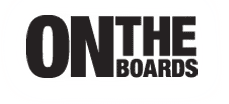 The Divas have been long-time supporters of On the Boards.  As unrelenting art enthusiasts, they will do anything to ensure high-class, unique works to be developed and presented in the Seattle area.  On the Boards does just this.  For over 30 years, On the Boards has been introducing audiences in Seattle to both international works of art as well as unique locally developed art by Northwest performance artists.
On the Boards sponsors a host of well-worth-it performances and events throughout the year, come the winter rain or the summery shine.  For example, On the Boards' two programs, the Inter/National and Northwest Series, bring artists from around the world and around the area, respectively, in order to showcase beautifully produced performances.  Each month, the organization sponsors the program "12 Minutes Max," in which local artists can present short works as well of works-in-progress to the community.  Finally, OntheBoards.tv allows online viewers to experience high-quality art in the comfort of their own home.
Overall, On the Boards has and continues to offer wonderful exposure for Seattle audiences by Seattle artists.  If you want to donate like a Diva and are also interested in supporting On the Boards, keep up with what shows are happening and/or feel free to donate here!