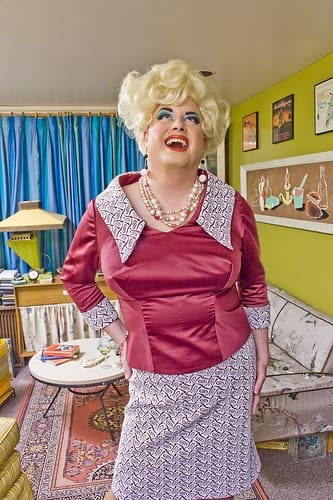 Divas Take the Hill is bigger than ever for its 5th anniversary. After all, five years of celebrating local small businesses and nonprofits deserves a special celebration, even as we prepare for the days of celebration for Seattle PrideFest 2015 at the end of June. Hostesses DonnaTella Howe and Miss Kitty Baby will share the stage with some of Seattle's most beloved entertainers, including burlesque star Jamie von Stratton, DJ Tony Burns and—today's featured queen—hostess-with-the-mostess and Tupperware connoisseur Sylvia O'Stayformore. Sweetheart Sylvia's has delighted Seattle audiences for years and years, and—perhaps thanks to all that trusty Tupperware—her wit is as fresh as ever.
Sylvia O'Stayformore's long, fabulous career has made her a local celebrity in countless drag shows, brunches, fundraisers, benefits, cabarets, radio shows, movies, weddings, premiers, openings and plays, and currently the producer of one of Seattle's most successful nights out, Bacon Strip SPECIAL. She has had national attention, including being chosen as OUT Magazine's hottest drag queen in America of the moment in 2003, and delights crowds throughout the region with her traveling cabaret, Blue Plate Special. She can also be seen at Columbia City Cabaret, entertaining residents at Sno Valley Senior Centers, Rainbow Bingo in West Seattle and more.
Sylvia loves Dionne Warwick, bad boys with big hair, long rides on her Vespa, thrift-store road trips to the coast, late night poetry shows, social networking and Tab & Seven.
Let's have a chat with our Sylvia!
What is your least favorite word? Diet
Most favorite? Hellowouldyoulikearefill

If you could spend a day with a celebrity, who would it be? Pound Cake, my drag mom, and we would go thrifting and sit on the porch drinking coffee and listening to Patsy Cline.
What are you most proud of? The Italian, my friends and my fur babies, Lizzie and Bella.
—
Make Sure You Join Us at Sylvia's Bacon Strip on Friday and Saturday right after Divas Take the Hill.
Don't miss the party! Divas Take the Hill is Thursday, June 18 at 12th Ave Arts in the heart of Capitol Hill. Get your tickets online.