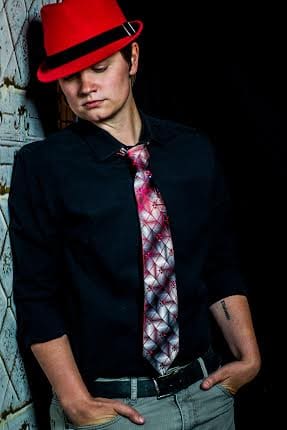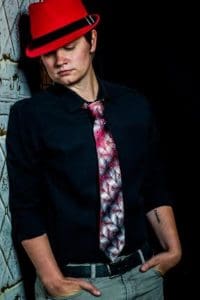 Divas Take the Hill is fast approaching, and we are so excited about all our featured performers. We've already introduced our hostesses, DonnaTella Howe and Miss Kitty Baby, Next up…the irrepressible Al Lykya. I had the immense joy to meet Al Lykya for coffee last week. This fab DIVA is dedicated to bringing new versions of strip tease to drag king burlesque and making the drag queens take note of this King.
Learn more about Al Lykya
Al Lykya is Seattle's dreamy, dimpled drag king stripper. Utilizing his background in dance, theater and the art of drag, Al Lykya strives to challenge your ideas about gender and stretch your definition of masculinity.
With dimples that will bring a flush to your cheek and a tightness to your pants, Al Lykya can be seen hosting and performing regularly throughout Seattle at monthly shows, including Debauchery at Neighbors and Revelry at Naked City Brewery.
Earlier this year, Al had the honor of performing in Guardians of the Sexy: A Geeky Celebration of Burlesque at Emerald City Comic Con. He has most recently returned from his burlesque festival debut in the FIERCE! Queer Burlesque Festival as well as his international performance debut in Victoria, BC. The "Douchebag with a Heart of Gold" specializes in drag, boi-lesque and nerdlesque. Al Lykya, not just a name, it's a promise.
You seem like the person to ask: How many licks does it take to get to the center of a tootsie pop? I would say each tootsie pop is unique, and I would lick as many licks as it takes to get the center of each one. 😉
What is the best compliment you have ever received? I don't know if it's the best compliment, but one audience member recently told me I made her pee her pants a little. So, achievement unlocked!
What is on your perfect pizza? My perfect pizza is probably every meat pizza topping plus pineapple and garlic. Kinda weird and really heavy, I suppose.
What are you most proud of? One of the things I'm most proud of is that through drag and other performance, I have been able to find community and live as my authentic self. Drag and performance has allowed me to not only enjoy the high I get from entertaining folks, but to explore gender and gender identity for myself, on and off stage.
—
Don't miss the party! Divas Take the Hill is Thursday, June 18 at 12th Ave Arts in the heart of Capitol Hill. Get your tickets online.