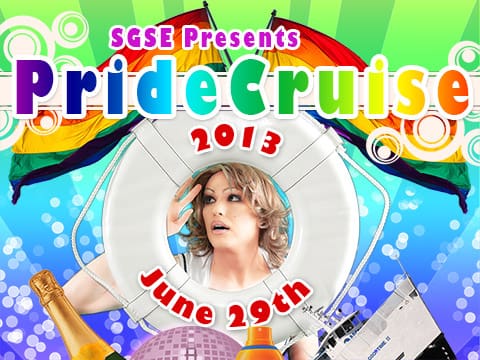 Following today's monumental Supreme Court decisions to overturn DOMA and the dismissal of the Prop 8 case, this year's Pride festivals are looking like they are going to be one for the history books. But with Washington winning it's fight for marriage equality earlier this year and our beloved hometown star, Jinkx Monsoon, winning RuPaul's Drag Race, Seattle Pride is bound to be one insanely fun affair! In true Pride fashion, we have compiled a list of what promises to be some of the best Pride events this city has to offer – make sure you get out and get your Pride on!
Pride Cruise hosted by our dear Miss DonnaTella Howe
All hands on Deck! Get down to your skivvies and soak up your share of the sun! The summer's best pride cruise is here and will set sail on June 29th! Join DonnaTella Howe as she leads an entourage of Seattle's finest queens whom will christen the ship with just the right amount of sass in a series of scandalous drag shows. Featuring DJ Tony Burns.
Capitol Hill Pride Festival
Make an appearance at the annual Capitol Hill Pride Fest and get your Pride on! A community festival celebrating diversity and community pride, we welcome everyone and anyone to come nibble, dance, and celebrate in the liveliest neighborhood Seattle has to offer.
Gender Blender featuring our favorite and America's Next Drag Superstar, Jinkx Monsoon!
This is the big gay sucker punch of the year as all varieties of people come together to raise money for our community in this drag filled dance-party concert love-fest! The Diva's mother of the brides – Robbie Turner – will be merging Tuck with Gender Blender – raise thousands of dollar bills for our beneficiary, Gay City Health Project, our local free HIV testing and awareness center. Come enjoy the antics of RuPaul favorites, Jinkx Monsoon, Alaska, and Honey Mahogany!
Men at Sea
The epic daytime boat party returns! Join us on The Islander Champagne Cruises for a afternoon out on the water, cruising all around Seattle and dancing in the sunshine. Bring out your best swimsuits and dance the day away.
Queer Carnival
After the boat party, make your way up to FRED Wildlife Refuge for a night of circus tricks, party tricks, and cheap tricks, at a burlesque affair surely full of strippers, aerialists, and knives. Insane visuals in this party box will be provided by Luxe Collective and an appearance by RuPaul favorite IVYYYY WINTERS will be sure to blow your mind.
Wild Rose Pride Parties
The gals from Wild Rose will be partying all weekend in the lovely and luscious Bush Gardens. Filling all four floors with bars, beer stations, photo booths, games, and even a CA$H Grab Machine, this party looks like the perfect beach party.
The Cuff Pride Parties
Everyone's favorite dirty rabbit and RuPaul's best squirrel friend, The Lady Bunny, will be headlining all weekend with a DJ set and performance for Friday, June 28, and then she will be emceeing at The Cuff's outdoor Pride Beer Garden on Sunday, June 30. She will be joined by Two Divas and One Stud – the divine Crystal Waters and the equally divine Stacey Q will provide the required dose of divadom while Dominic Pacifico will provide the necessary studliness.
Seattle Pride Fest


Equality is alive and well on its way, so come celebrate it with us on Sunday June 30th at Seattle Center. Now with FOUR stage plus a silent disco, this year's celebration is worthy of all the gains in equality we've won over the last year. Join us immediately following the Downtown Pride Parade for a celebration like none other. You won't want to miss it!
And for all you Bears out there, be sure to give out all of your bear hugs this weekend…
The 2 Bears 'Bear Hug' from Rollo Jackson on Vimeo.