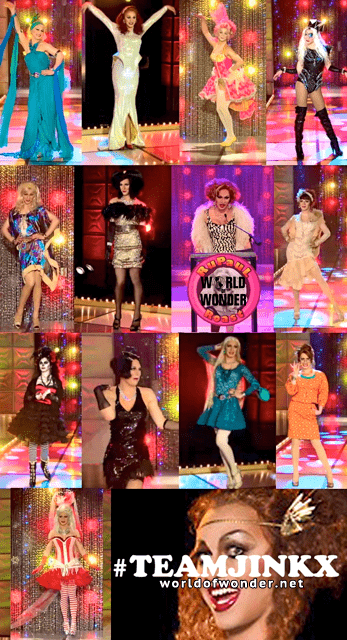 She did it! Our hometown Diva and dear friend, Jinkx Monsoon, has made it to the Final Three of RuPaul's Drag Race, Season 5! Now it's our time to make sure Mama Ru makes the right decision and sends Jinkxy home with the crown and the title of America's Next Drag Superstar!
We met Jinkx in 2009 at the holiday show at the Bacon Strip, known for it's irreverent and campy take on the traditional pageant-y drag show. Since that moment, we knew she was the epitome of star quality and pure talent. Not only was she able to convince you that she actually is a woman, but she can make you ache from laughter, shake it out on the dance floor, and bust out some powerful vocals worthy of the stage – a true quadruple threat. Since we met her, Jinkx has only become more and more talented. She has been a performer at our very first Divas Take the Hill, been the hostest of Le Faux at Julia's on Broadway, and starred in a ton of local shows like RENT and Hedwig and the Angry Inch. She was even named Seattle's Best Performer by the Stranger in 2011. And now she's selling out her infamous Vaudevillians show in the Big Apple over and over again! This girl is a true Diva to the core.
Because we know how incredible Jinkx is, it has been absolute torture watching her get bullied by so many of the catty pageant queens on the show. But just as can be expected, Jinkx showed what it truly means to be a classy lady, taking it all in stride, adapting to meet the challenges, and staying true to herself. She has really succeeded in showing the world who Jinkx Monsoon is and why she deserves to be America's Next Drag Superstar!
Now it's out turn to make sure that she takes home the crown. Get on every social media platform that you know of and make sure RuPaul knows that the world wants Jinkx Monsoon! We here in Seattle are rooting for you Jinkx!
Vote for Jinkx on the RuPaul's Drag Race Facebook page!
Tweet #TeamJinkx to @RuPaulsDragRace with the hashtag #DragRace
Also check out the RuPaul's Drage Race Tumblr, Instagram, Pinterest, World of Wonder, and Get Glue