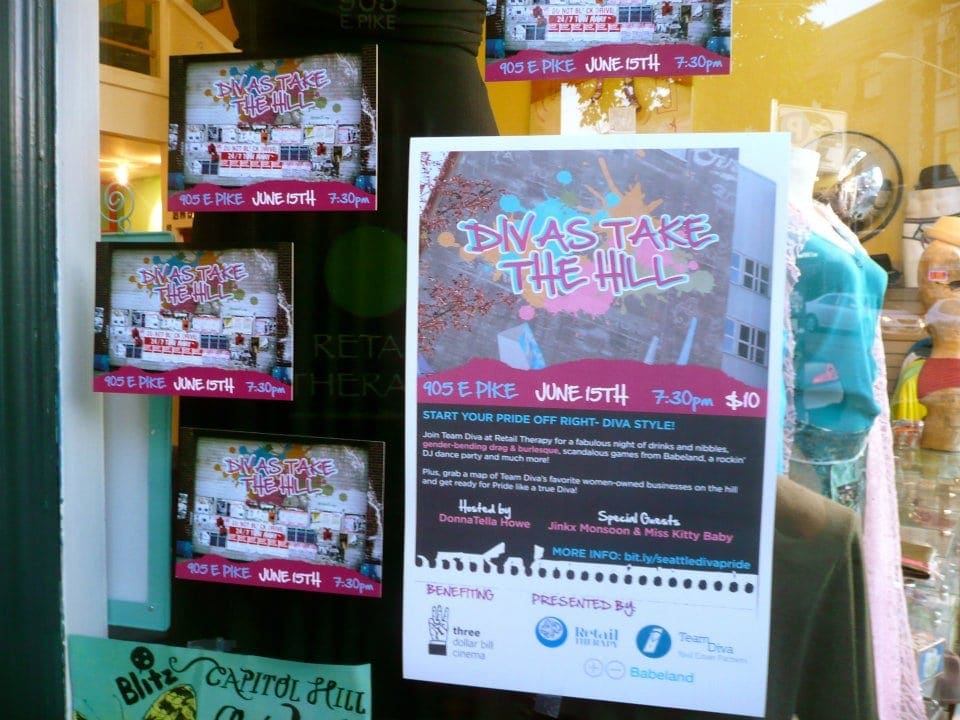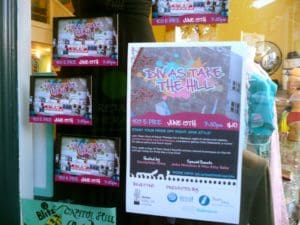 Over four years ago Kim and I started Divas Take the Hill with Retail Therapy and Toys in Babeland. We started Divas Take the Hill as a way to drive business back to the Hill after a very long winter of recession and give back to the community. You have to remember that back in 2011 it looked like the recession was never going to end. But guess what we always have? Champagne, glitter and pink drinks. Let's throw a party!
The very first Divas Take the Hill was held inside Retail Therapy. It was far from organized. But it was awesome in several respects. Chris Clem was interviewed to become part of the team on that day. I got to park Miss Kitty's car where she had the AM radio going to an oldies station. DonnaTella hosted her first big time show before winning Miss Gay Seattle. Oliver did my makeup for the first time and showed me that just because your are a lesbian doesn't mean that you can't still be Super Femme. Jinkx Monsoon performed and spilled a cocktail on Chris and some dresses. The Saturgays were created that night! So many good memories. Check out the photos for yourself >
Earlier that month of our first Divas Take the Hill, we saw Jinkx Monsoon perform at Sylvia O'Stayformore's Bacon Strip. Not only was I in awe of Sylvia's show but I could tell there was unbridled talent in Jinkx. We were lucky enough to have her perform on our rickety stage before she launched into all kinds of goodness. Since that moment we have always tried to find new talent to bring to our Diva Dwellers. This year we are bringing Dani Terrill (found in the dance community) and Deja Nouveau (also found on the Bacon Strip stage). As you know, our hunt for new talent keeps us invested in Seattle's arts community.
Fast forward to 2014. The DivaHQ is now inside Retail Therapy where Jinkx, Miss Kitty, and DonnaTella changed in their costumes. Chris Clem is graduating from college on Sunday and has had a direct influence on our success. DonnaTella is now one of Seattle's top Drag Queens. Miss Kitty is pure purrfection and has been named top stripper for years now because she is that good. Sylvia is not only one of my performing icons but is now a Diva Dweller. And best yet, the Divas and our Dwellers have given away over $20,000 towards awesome non-profits all over the city.
Yeah – Kim and I sell houses. But Team Diva is about community. We live and breath this city of Seattle. We love its cultural underbelly. We are always on the hunt for new talent to assist to the next level. And tonight I will sit with Mrs. Diva and my fellow July Leos Miss Kitty and Sylvia to watch some of the best talent this city has to offer at Divas Take the Hill!