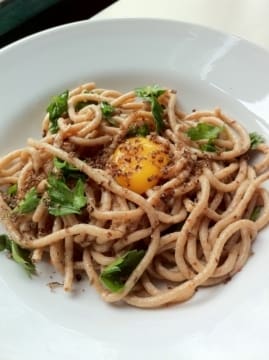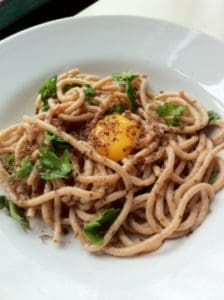 Seattle is blessed with good clean resources making it easy for us to find locally made and produced food products year-round. One of our favorite Eat Local food fanatics is Chef Mike Easton. Chef Mike just recently opened  his very own lunch time spot in the
Pike Place Market
called
Il Corvo Pasta
. A signature of Chef Mike is his obsession over local Seattle grown ingredients and the time he takes crafting pure goodness. Below is an excerpt from
Chef Mike's blog
. Every day he releases his special on the blog with tantalizing shots of pasta infused with just harvested local ingredients.
Chef Mike's Il Corvo Pasta:
Il Corvo is a cozy little location, actually located
Inside
Procopio Gelateria
, on the Seattle Hill Climb in the Pike Place Market. Actual address is
1501 western ave, suite 300
.  Opened 11-3 Monday through Friday.
Ever since returning from my culinary studies in Italy years ago, I've had a passion for the craft of handmade pasta. I've always been amazed at the nuance of flour from different grains (farro, buckwheat, semolina, ect..) and the infinite textures and shapes that can be achieved with just rudimentary tools -the way they perfectly pare with seasonal ingredients and sauces, gives me my daily inspiration.
Other Diva Eat Local Passions
Art of Gluten Free Baking: Jeanne Sauvage is a local Gluten Free food blogger. She is in the process of writing her first cook book. The Divas find Jeanne's writing refreshing and delightful and makes all of us want to switch to a Gluten Free lifestyle.
Delancy Seattle: Ok – We know everyone has raved about Delancy for a while but it took us some time to make the trek, wait in line and final taste local perfection. Our first bite into the preserved lemon and clam pizza was full body awakening. Its as if every sense had exploded. It made us thankful to live in Seattle!
Seattle Farmers Market: Get out there and create your own Eat Local dish with ingredients found at your local farmers market. Send us a photo with the recipe and we will include it on our Spring/Summer Seattle Eat Local Blog posts!