Yes, Easter may now be known for pastels and bonnets, but it was once a raucous fertility festival. To put it bluntly: Easter was for making children, not sending them on egg hunts. Archeologists have found decorated eggs dating back to the Neolithic era, and no one knows exactly when that tradition became linked with Eastertide. It's been a long time, though, and from the start, Easter was full of adult activities.
Nowadays, Easter activities are more focused on the kids. We may be grown up, but the seasonally appropriate merrymaking can be more fun than ever for your inner-child. Here are some pointers on having the best (and booziest) Easter for adults.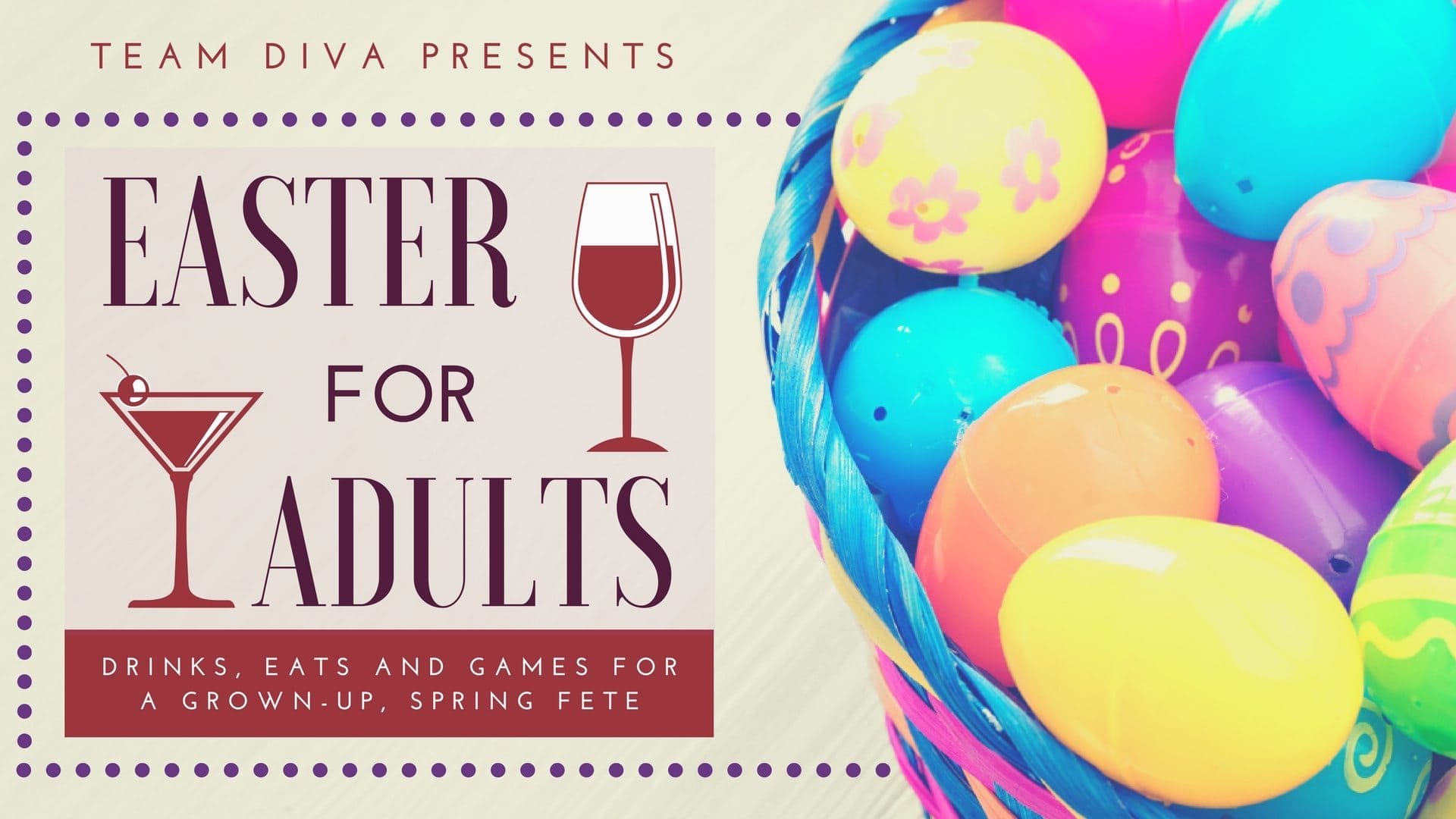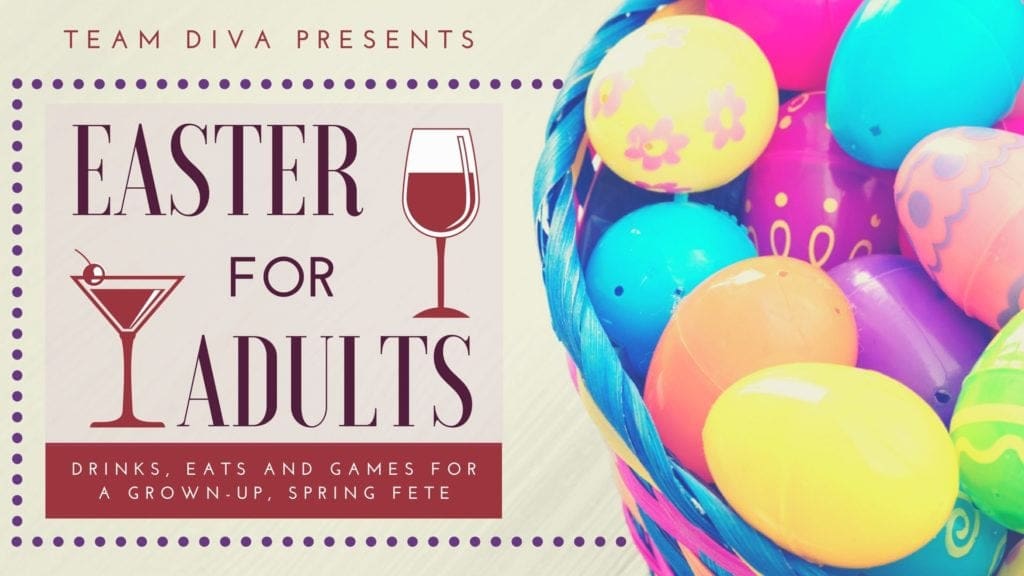 Get Your Locale Prepared
Not all of us have a great yard suitable for a proper egg hunt, but hopefully you have room enough to entertain. One alternative is to reserve a picnic facility at a Seattle Park. You should do this well in advance (and then hope that the weather is suitable). The advantage is that these spots generally come pre-manicured, although you may want to scout around early on in case an impolite pet owner has left something they should have bagged.
Have your own yard?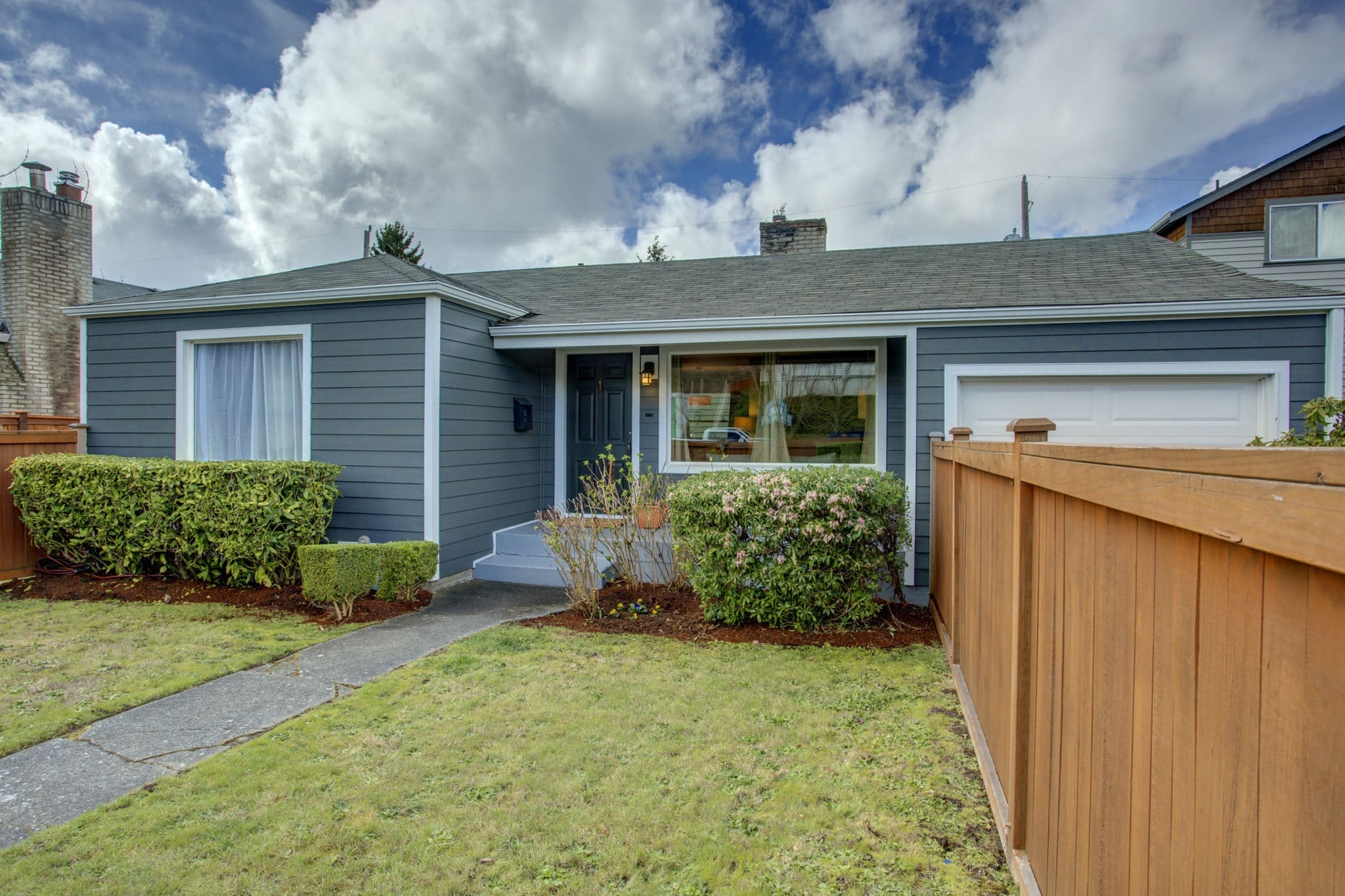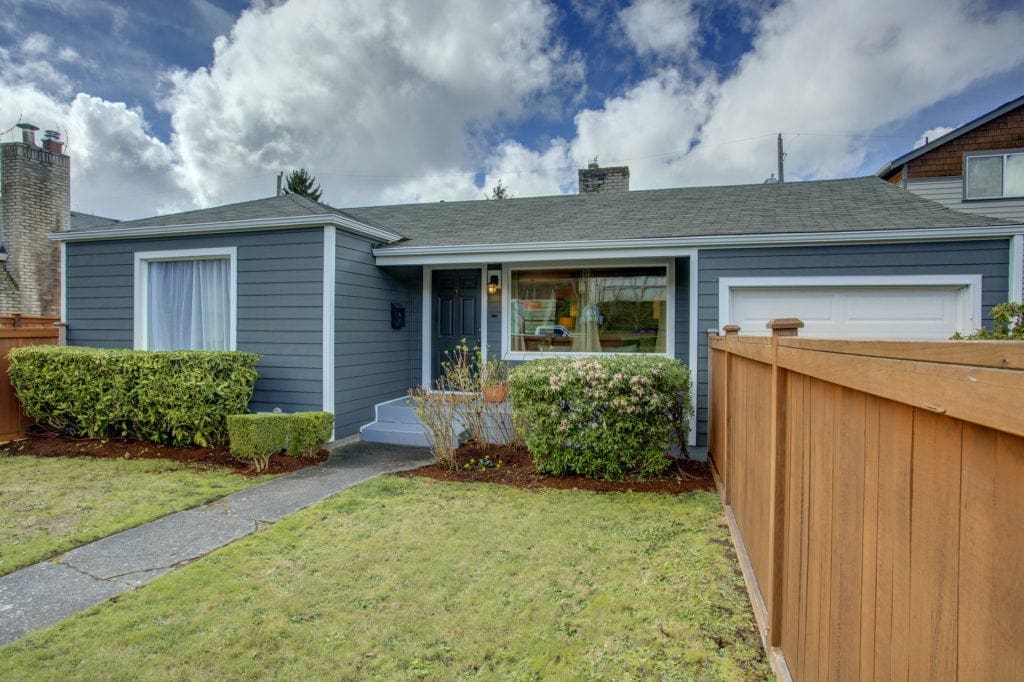 Great! It's spring, so hopefully, you've already cleared the debris from winter and planted new flowers. If not, preparing for Easter is a perfect motivator.
Prune any unsightly or dead foliage or uneven branches on bushes.
Rake up debris from those strong winds.
Start weeding…the dandelions are already coming out! (And remember, if you have good soil and don't use weed killer, those dandelion greens are all-natural, edible, and loaded with nutrients.)
Get your bare-root plants in the soil so they can be ready to leaf out with the warmer weather. (And maybe create markers so your guests don't wander over them.)
Bonus: Want to see the ideal home for an Easter party? Our luxurious listing in Woodinville will give you entertainer envy.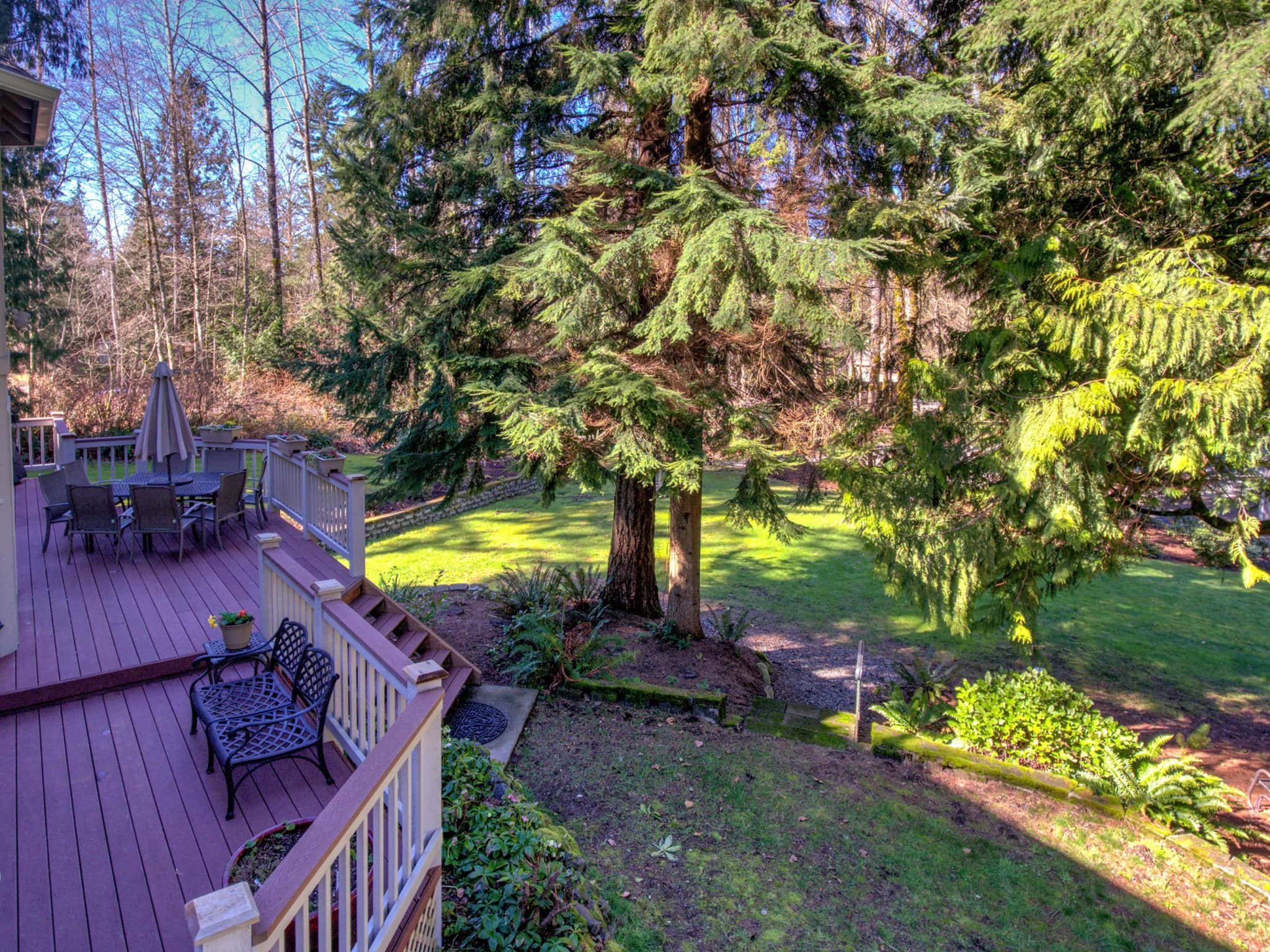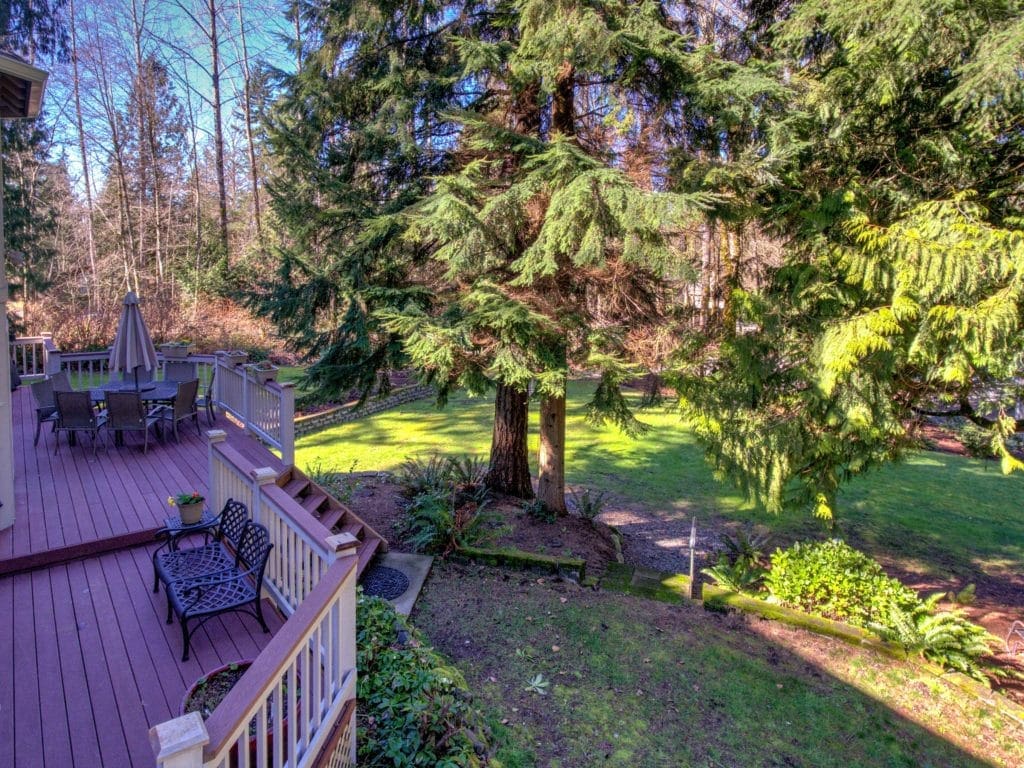 It comes with its own chicken coop, so your Easter eggs will be abundant and from your own little homestead. The organic garden is already providing delights to add to your feast. And of course, the beautiful grounds are the perfect place for the most amazing Easter Egg hunt ever. Maybe next year you'll be the one hosting here, right?
Decorate: Get Funky With Your Eggs
Unimpressed with the usual store-bought dyes? There are countless other ways to decorate eggs, including using temporary tattoos, creating an ombre with various dye intensities, or spray-painting the plastic varieties. House Beautiful assembled a wide array of concepts in a gallery. See the 40+ designs here and get inspired. If you want to go a natural, traditional route, Martha Stewart Living has you covered with its easy, natural egg dye recipes.
One of the most beautiful ideas on the House Beautiful list is the Robin's Egg style from Honestly Yum, which blends old and new techniques. Dyeing eggs blue by using red cabbage is an old tradition, but adding flecks of edible gold paint makes them especially luxurious. Make a big batch and offer them to guests as beautiful, edible (and nutritious) party favors.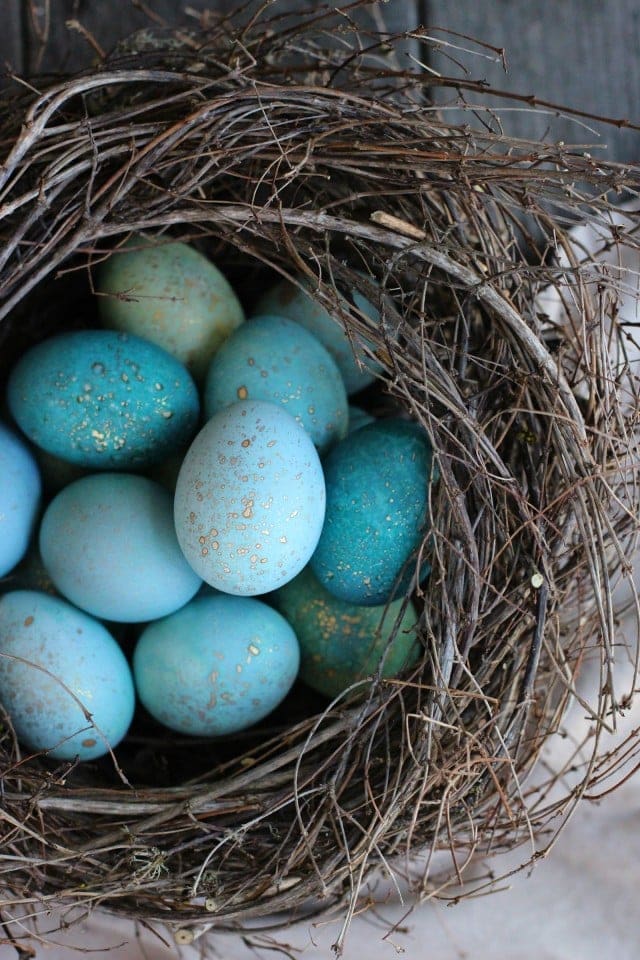 Drink: The Classic Cocktail du Jour – Corpse Revivers
Easter is all about the return of spring, greenery and life. The name comes from the Germanic goddess of spring. The maiden goddess Persephone annually returns from the underworld at this time in Greek myth. This made it an apt time to celebrate the Resurrection in early Christian communities. With all this talk of rebirth, what better classic cocktail to serve at an Easter Brunch than the Corpse Reviver?
The Corpse Reviver cocktail family developed in the early 20th century. Their name comes from their "hangover cure" status, making them a popular brunch cocktail year round. There are many variations on the theme, but the two oldest remain the most popular. They are easy to prepare. For both, just measure the ingredients into a mixer with ice, stir, and strain into a chilled glass.
Some may consider it a sacrilege to serve a Corpse Reviver on the rocks. Ordinarily we'd agree, but it is a good way to keep your guests from getting blotto before dinner. Just a thought.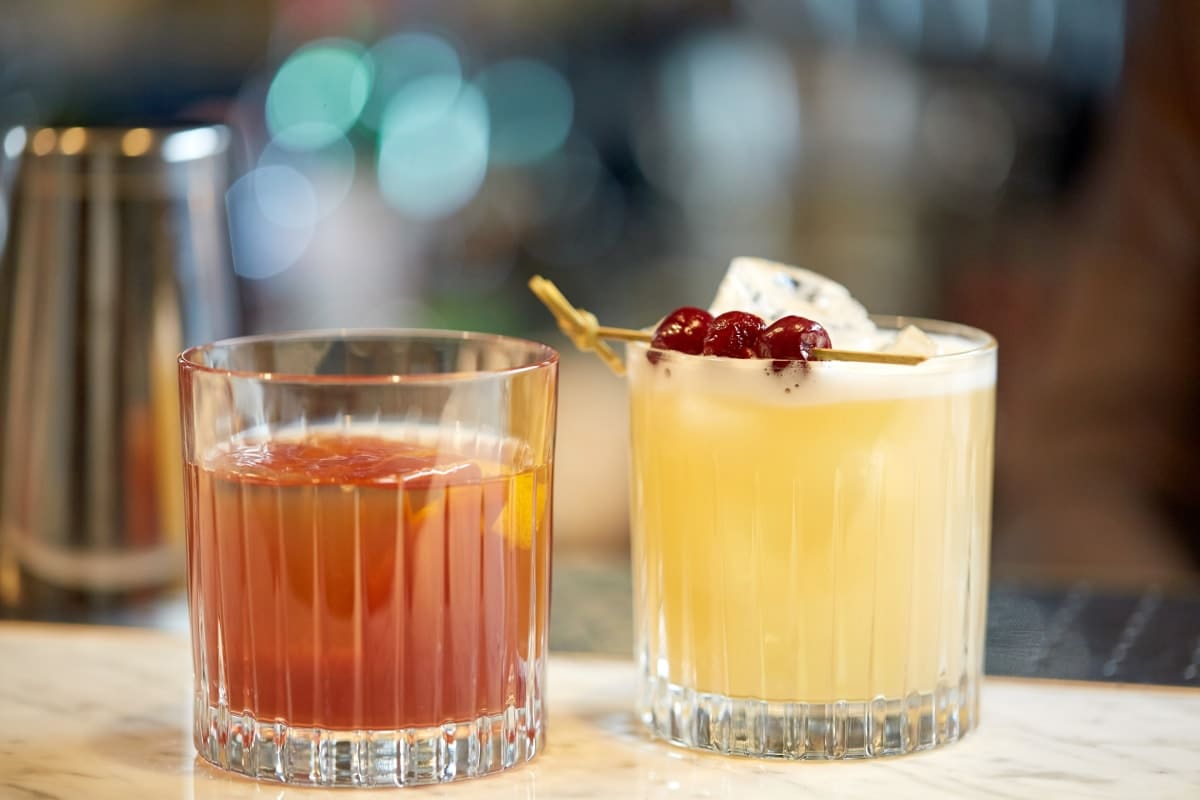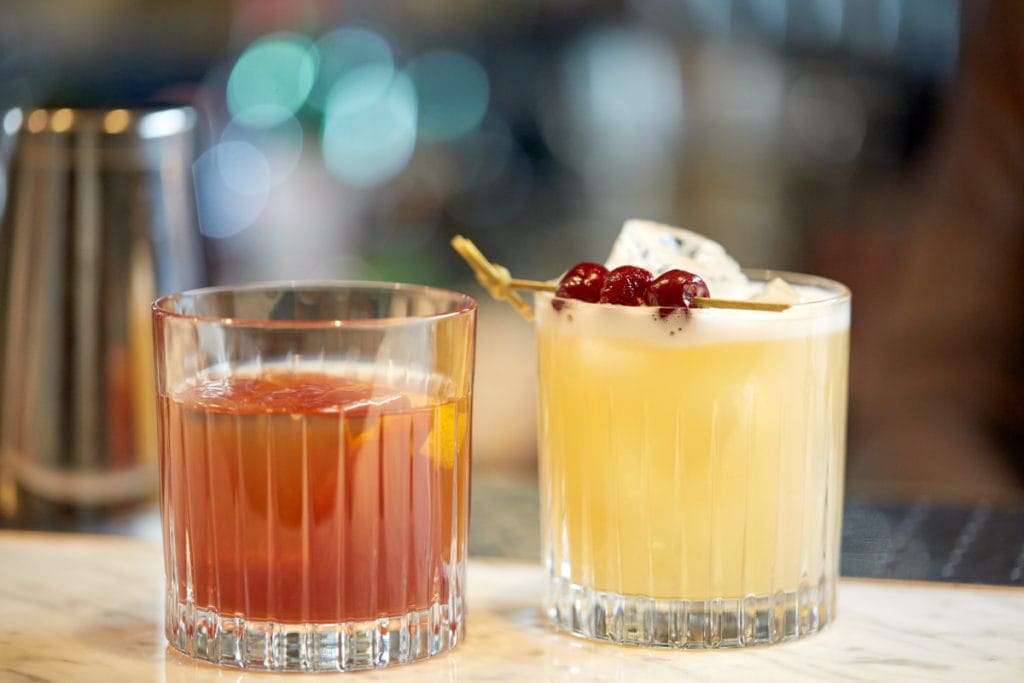 Corpse Reviver #1: Cognac Base
2 parts cognac
1 part apple brandy or Calvados
1 part sweet vermouth
Corpse Reviver #2: Gin Base
3/4 ounce gin
3/4 ounce lemon juice
3/4 ounce Cointreau (curaçao)
3/4 ounce Kina Lillet or Cocchi Americano
1 dash absinthe
Eat: The Best and Booziest Dirt Cups Ever
Dirt Cups: These classic spring treats delight kids and adults. They are easy to assemble, too. Make some pudding. Crush some cookies. Get your favorite garnishes, gummi-worms, and go! If you have a lot of guests, consider setting up a Dirt Cup dessert bar. You can prepare starter cups with a worm or two in each. Put toppings in bowls, and guests can customize their cups as they please.
But wait…why not make them even better with a few shots of alcoholic deliciousness? You can booze up the original recipe!
Boozy Gummi Worm Garnishes
The essential ingredients here are classic gummi worms. Put a bunch of them in a container, cover them with vodka, and let them soak overnight. (Technically, you can use a different kind of booze and add some flavor, but it will be subtle with all the flavors already packed into the gummis.) For maximum booze absorption, two days soaking is better. They'll REALLY have a kick by then.
Boozy Chocolate Pudding
The base of most dirt cups is a rich chocolate pudding or mousse. We found a recipe for a non-fussy, boozy version made with instant pudding, milk and Irish Cream on Liquor.com. Read the recipe online and watch the video below.
https://www.youtube.com/watch?v=0uDiXA3GKbk
Booze-Soaked Brownies
Instead of pudding, you can always make your favorite brownie recipe, crumble up the pan, and mix it all up with cognac or a dark, sweet liqueur. Layer brownie bits and pudding in the cups for a parfait-style cup. IT'S SO GOOD.
Get Some Premium Toppings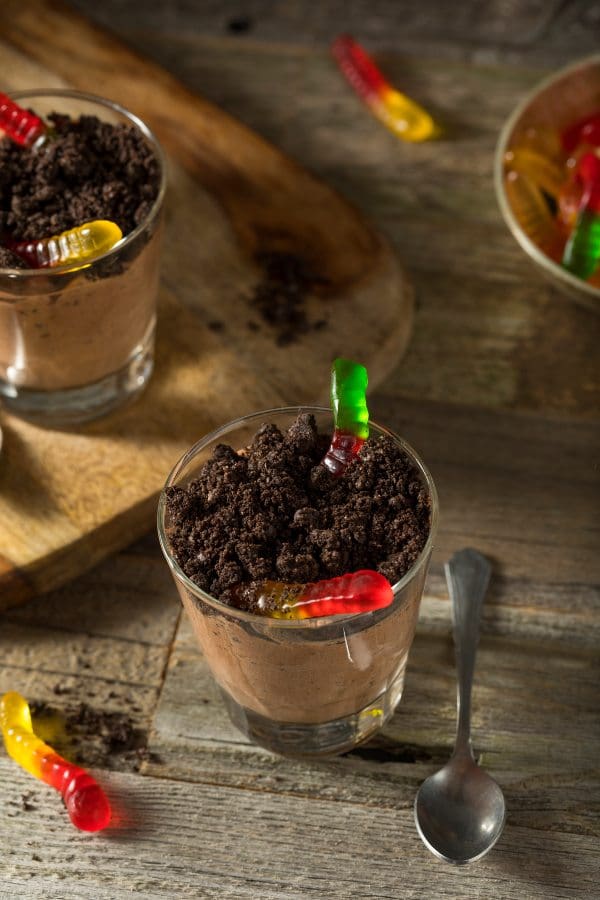 Dirt cups ready for garnishing…or eating!
The fun part of making Dirt Cups is emulating all the rich, muddy goodness that we loved to play in as kids. Here are some suggestions to customize your creations.
Pebbles, Rocks, Crystals
Chocolate covered nuts
Chocolate covered raisins
River rock candy
Rock candy crystals
Fudge chunks
Bark, Soil, Twigs, etc
Granola
Cookie Crumbs (Oreos are common, but consider sugar cookies, peanut butter cookies, molasses cookies, etc.)
Chocolate Shavings
Toffee/Brittle chunks
Chocolate Bark
Pretzel Pieces
Kinoko no Yama cookies (mushroom shaped cookies…get them at Daiso or Uwajimaya)
Actual Plant Goodies
Fresh mint sprigs
Edible flowers (like pansies and nasturtiums)
Seeds (pumpkin, sunflower)
Dried berries, cherries, or raisins
To finish it off, you can top it off with some seasonal candies, like a Peep or candy eggs.
Bonus: If you are a crowd of chocoholics, we found a Dirt Cup Cocktail recipe for you, too. It's a bit fussy to prepare one or two at a time, so make a big batch and set it aside in a chilled container. You can just ladle it into glasses and top with the whipped cream and garnishes.
Play: Sylvia O'Stayformore and Adult Easter Egg Hunts
And yes there should be PLAY at Easter. Frankly, in our world, it is on par with Thanksgiving just more colorful. Speaking of spring flair and big hair.
Bucket-O-Blessings Easter Special "He is Risen."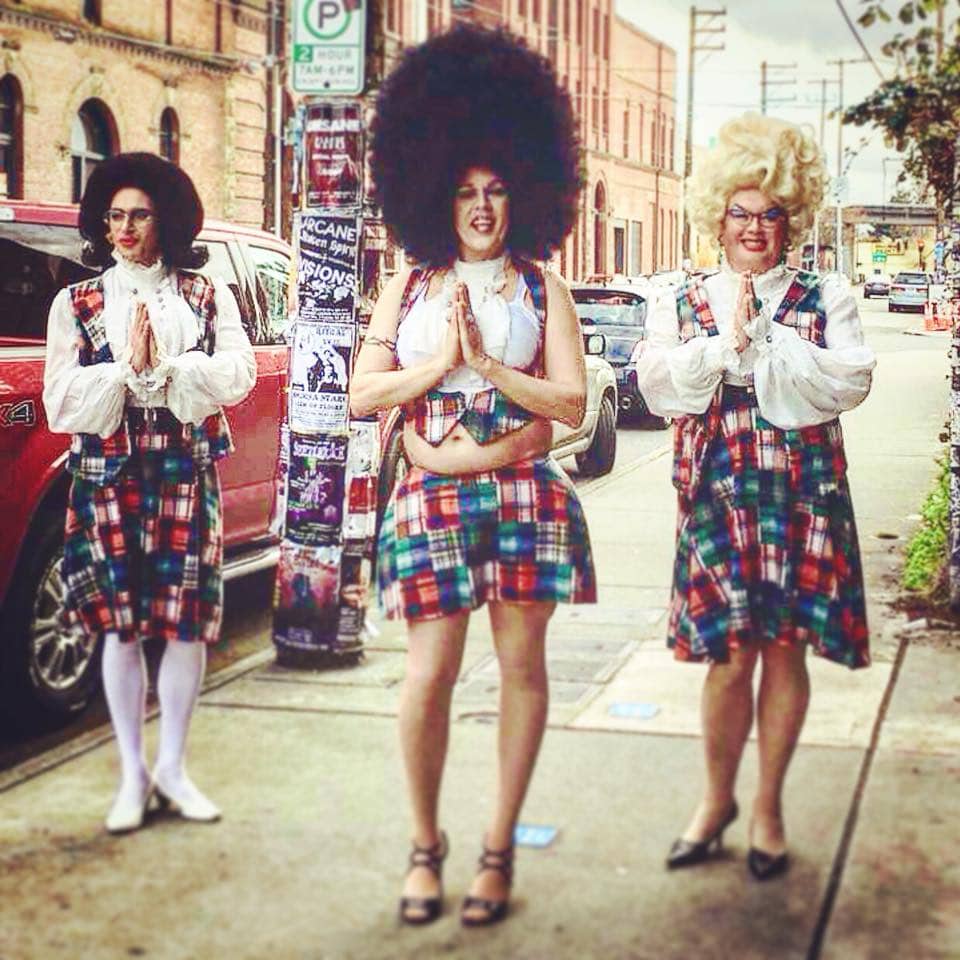 Bobbi Jo Blessings, Sylvia O'Stayformore, and Honey Bucket sat down and had some coffee at the Conservatory in Georgetown. These ladies formed Bucket-O-Blessings a drag queen semi-religious singing group. We hope that you can find time to send some thoughts and prayers to welcome "Bucket-O-Blessings."
Come join us for a very special Easter Special "He is Risen" in the South End at the Royal Room April 1st. Bucket O'Blessings is bringing Christian hits of today, visitations from the past, flannel board presentations, creepy puppet shows, and so much more.
The Details
April 1st at 5:00 pm
At The Royal Room.
5000 Rainer Ave S.
www.theroyalroomseattle.com
Suggested $20.00 love gifts to the Church of Blessings
and www.stayformore.com
Adult Easter Egg Hunt – A Very Diva Easter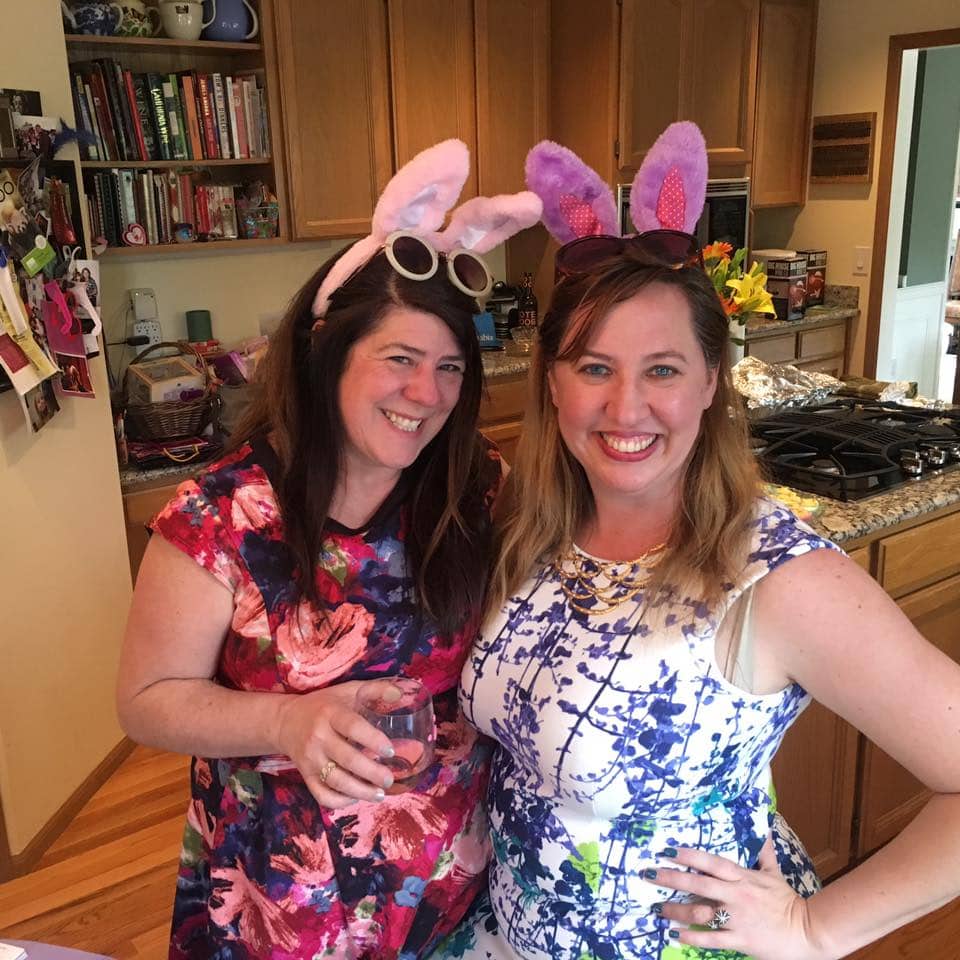 Fun things come in small eggs. There are lots of ways to run an Easter egg hunt for adults. You can make it competitive, where there are fewer or no limits on how many eggs a guest can claim. You can make it more egg-alitarian, where each guest can claim only one egg.
In the latter case, you can tape the eggs shut and ask that guests not open them until everyone has one. This gives them the chance to trade eggs if they want to.
In the case of a competitive egg hunt, you may need to establish more rules of your own for safety reasons. (And to keep people from getting angry with each other. After all, some adults get immature really fast when there is a competition.) Instead of putting prizes directly in eggs, you might consider creating a color-coded point system that they can use to redeem prizes at the end.
Prizes
Naturally, this can vary a lot depending on the size of your group and how much you want to spend. You can always go with classic candy (wrapped truffles, yum!) or go more extravagant. Maybe you'll just want have a few real prizes, while the rest have funny duds.
Dud Prize Ideas
Cheesy costume jewelry from a dollar store
Hand written fortunes
Clipped coupons for adult products
A tea bag
Confetti
Premium Prize Ideas
Cash (woohoo!)
Lottery Tickets
Movie Ticket Vouchers
IOU for a happy hour beverage
Gift certificate to a favorite shop, restaurant, or spa
A voucher for a grand prize
Even when people have vouchers for grand prizes, you can keep the element of surprise by concealing the goods in boxes or bags. You can let people choose which package they open (and say which voucher gets to pick first, second, etc.). Perhaps you'll want to put a nice bottle of wine in one, a bottle of fragrant hydrosol in another (spring!), and a bottle of prune juice in yet another. Always keep them guessing!
Have a Happy Easter, Divaland!