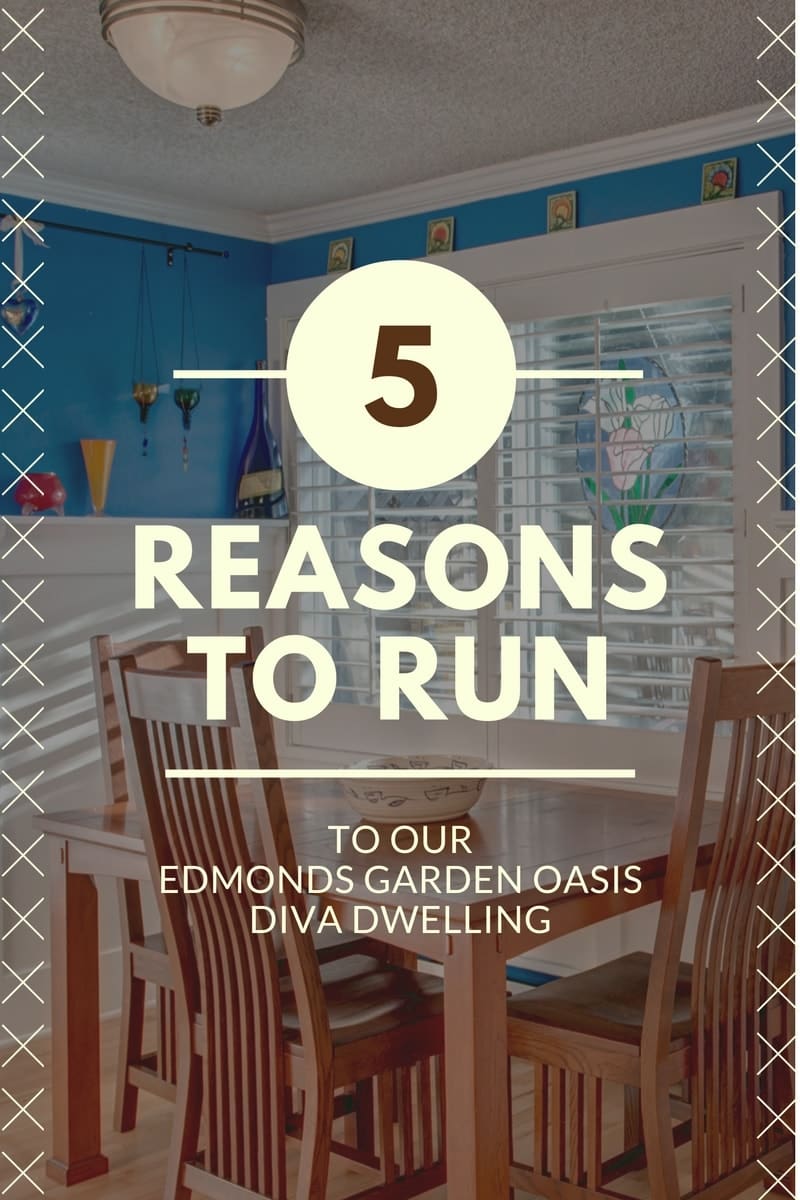 Dorcas has met an amazing community of women through the Seattle Women's Chorus who have been super excited about her big move to Team Diva. As many of you know Dorcas just moved to Edmonds and are part of a growing group of Mo's moving out of the city. Dorcas Bean's darling friend was in need of making the next big move. Diva Kim, Dorcas, and the team worked hard to help our Diva Dweller prep for the sale and make this Diva Dwelling Spectacular.
Below are "Top Five Reasons You Need to Run to this Edmonds Garden Oasis" written by Dorcas Bean the Real Estate Queen.
But first, watch the most adorable video of all time!
Reason 1: Location
A jewel in the Emerald city's crown, Edmonds features many amenities for residents and visitors as well as continued growth in employment opportunities even keeping ahead of its population growth. An active arts and cultural community. The strong sense of civic pride widely shared in the community. There are numerous well-kept residential neighborhoods, a viable economic base, and active, involved neighbors throughout. The Edmonds Center of the Arts hosts an array of top performers, located near many fabulous downtown Edmonds restaurants. Edmonds offers art, shopping and dining with a historic feel dating back to the late 1800s. Situated near the sound- four different beaches, waterfront parks, and ferry rides are mere moments away.
Reason 2: Master Suite
Enjoy a spacious master suite complete with its own closet space and bathroom. Peace and quiet surround you living within this complex of friendly, considerate neighbors. If the patio is your outdoor oasis, the master will be your ultimate getaway at home to snuggle up and relax with a book or movie. Enjoy some self-care and pamper yourself in the master bath after a day at work or working on your garden.
Reason 3: You Have a Real Outdoor Space
This patio offers privacy and outdoor space for you or even your furry friend to get outside and relax. Complete with garden space and a small pond. Do a little vegetable gardening in the raised beds or have your friends and or neighbors over for some BBQ and cocktails. Space is not a problem with the additional raised area and plenty of space for a table and chairs. Fencing surrounds your private oasis with new additions. Install a doggy door in the sliding door for easier access allowing your pet to head outside as they wish.
Reason 4: Storage
Whatever storage needs you may have, this home offers plenty of options. The gigantic hallway closet with mirrored doors opens the space more allowing for light to reflect throughout. Create a pantry, coat closet or even a linen closet possible with adding any organization system. The options are endless with so much space. Store other household essentials in the laundry room. Utilize the closet in the second bedroom/den for guests or work from home needs. Are you still wondering about extra space for nonessential or seasonal items? There's a storage room for that! Head out to the back end of the complex to find your own storage space. Out of sight and out of mind until necessary.
Reason 5: The Commute
Right across the street from the complex is a bus stop that will take you to other buses and transit hubs that offer many options to get you where you need to go. The Sounder Train Station, Metro and Snohomish bus transit hub and Kingston ferry terminal are all two and a half miles away. Whether you work in and around downtown Seattle, over on the Kitsap peninsula or beyond there are options to get you there that won't require a car.
Now for some gorgeous photos of our Edmonds Garden Oasis: