Divas Take the Hill 2016 Recap – Pride Kick Off Party
Divas Take the Hill  is Team Diva's biggest event and it is how we help to kick off Seattle Pride. This year Divas Take the Hill seems a little extra special. All of us at Team Diva are overwhelmed by the events in Orlando. Writing this post, seeing the video, and checking out the event photos reminded our team that you can't keep Divaland down. And you sure as hell cannot keep Pride from being Diva-licous.
First and foremost we would to thank everyone that came out for the show and helped support PSKS's programs for homeless youth (many of them who identify as GLBTQ).
Altogether a grand total of $6,060 was raised.
Much needed funding to help continue the amazing services and resources supporting LGBT homeless youth & young adults.
This was definitely one Divas Take the Hill for the books with Team Diva. Diva Chavi had surgery the day before the event and missed out on this year's festivities. Throw in the fast-paced paced business of helping buyers, sellers, and renters, it became clear that Team Diva was going to need some more help to make Divas Take the Hill happen. It came in the form of Drag to the Rescue. Sylvia O'Stayformore, the Italian, and their pal Shawn stepped up past what help they'd been providing to take over completely and ensure that everything would run smoothly.
The Performers Wowed and Wowed some More

Hosted for the second year by the ever fabulous Miss Kitty Baby and the nicest person in the drag world DonnaTella Howe. This year at Divas Take the Hill it was the year of burlesque/boilesque/queer goodness. The Lady B percolated. EmpeROAR Fabulous taught everyone to count with his Burlesque Hall of Fame competition act. Infinite Directions took four parts drag king and threw in some stripping and gyrating to entertain as the ultimate boi band. Sylvia was not only a producer but entertained with one of her signature songs and charmed those dollars right out of the room. DonnaTella kept up with her usual twirling and lip-synching and Kitty Baby stripped, twirled and motor boated her way into people's hearts and laps. James Darling kept the spirit of Bacon Strip alive with his live number about every gay man's favorite appendadage (aka COCK). DJ Tony Burns provided all of the fabulous tunes and assistance to make our shimmying, shaking and lip synching happen. Jamie Von Stratton closed the show illustrating why she is Queen of the Roses with an act and a ponytail that just didn't quit
Big Thank You's to our Divaland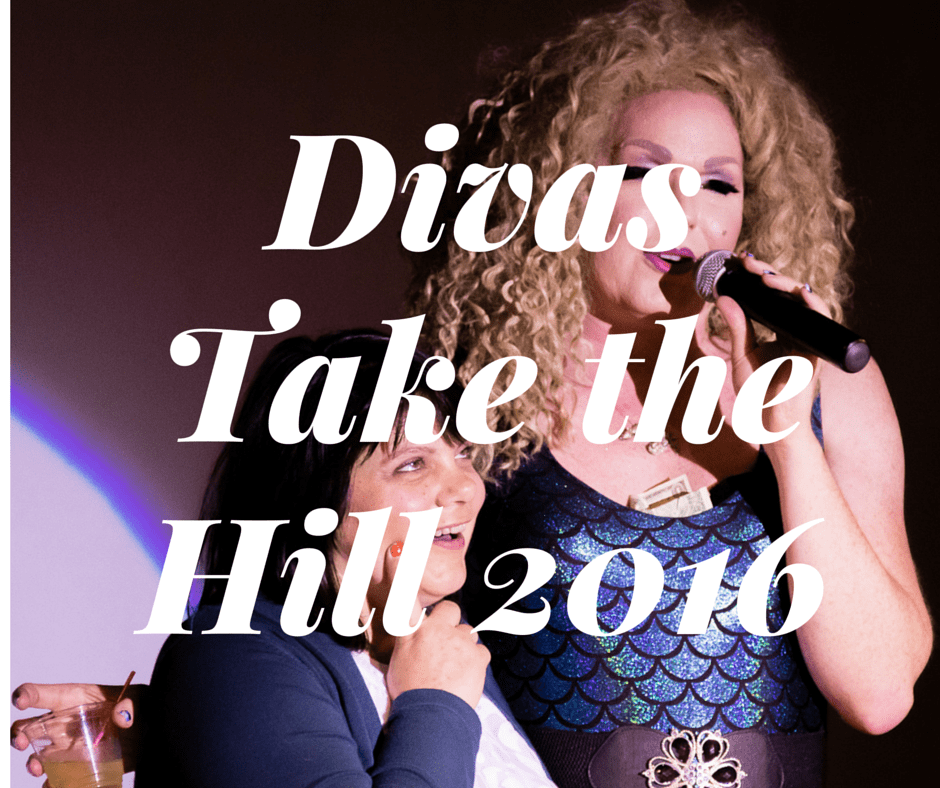 We want to give some big kisses and Pride love to the following folks who made Divas Take the Hill a huge success.
Quake Rugby sent hunky hunks out to help sell our goodie bags and do some fine tip collecting.
Sister Siren (aka Shana Deon) brought her signature balloon talents to help decorate the space.
Diva Dwellers Mike, Jackie & Sayer Lagase took time off work and helped to decorate. The Lagase family is just awesome.
Drag to the Rescue found a couple of handsome and hunky bartenders to make sure everyone was in a tipping mood. Thank you Tim, Lyndsey, and Daddy Griff.
Dear friend Chris Brown helped serve our VIP tables to the Saturgays and other patrons of the arts.
Women owned Spinnaker Bay was kind enough to help out with a Divalicious beer libation. By the way if you have not visited their brewery in Hillman City do it!!!
PSKS Volunteers were awesome. Out of the blue the One had to run the spotlight because the event space did not staff anyone for lighting.
Side X Side Creative helped to do the super fabulous creative.
John Beursken Photography was on point to snap the perfect shots of our performers.
Alex Berry Films captured all of the juicy moments in the film above.
Seattle Pride isn't over yet. And we are not going to let the horrid event in Orlando stop us. Go out and make out with a stranger, dance in a club with your shirt off, propose to your long term lover, take the kids to the parade. Do something to show that Divaland is love. This Saturday Chavi will be making a post surgery appearance at Bacon Strip. Check out DonnaTella's blog about other events happening in the city. Read Rocky's personal blog about his take on Seattle Pride as an out man of color.  And PLEASE read Kim's note about how to take action in a post Orlando world. Next year look out for DIVAS TAKE THE CITY!