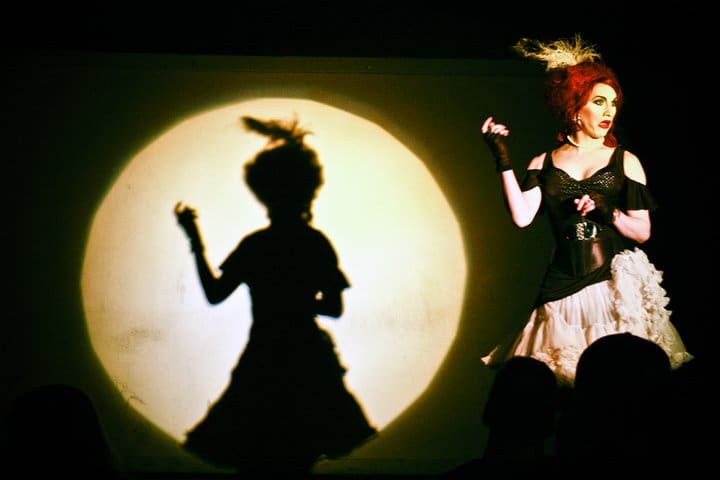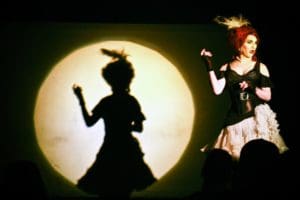 Diva Kim and I came across the stunning talents of Jerick Hoffer, as Jinkx Monsoon, at Bacon Strip this last holiday season. Bacon Strip is often known for its irreverent take on the traditional Drag Show with the smell of fresh cooked bacon wafting in the air. It makes the smell of cheap booze seem gourmet.
Kim and I prefer the high arts but we like to get a little dirty at Bacon Strip just to see the show. Being introduced to Jinxk as a performer at Bacon Strip's Christmas Show made our holiday season. First glance at Jinkx is disarming. First, she has the theater magic of making you think she is a girl, and then she starts to sing and you realize you are watching real artistic talent. Jinxk propped up her little piano and played a "12 Gays of Christmas" with a slight giggle and a sly glance at the audience. Her voice is very well trained and can take the audience by surprise. In Jinkx's second piece, she came out in all black and did an interpretive dance to some Madonna's "Papa Don't Preach".  WOW!
Jinkx Monsoon's Biography
Jinkx Monsoon is "the hardest working 'woman' in mo' business." She is a graduate from Cornish College's Theater department and was recently named "the best F***ing performer in Seattle" by The Stranger newspaper. She is a comedic songstress, combining dry wit with "the vocal power of two Ethel Merman's," all wrapped up in the body of a MILF. She performs every Thursday at The Rosebud restaurant and bar, every month at Bacon Strip with Sylvia O'Stayformore, and can be found on Funnyordie.com with her original webshow: Monsoon Season.
Jinxk Monsoon at Divas Take the Hill Event
Jinkx will be making her Diva debut at Divas Take the Hill on June 15, 2011 at Retail Therapy. Divas Take the Hill is sponsored by Team Diva Real Estate, Retail Therapy and Babeland.
RSVP Now for Divas Take the Hill