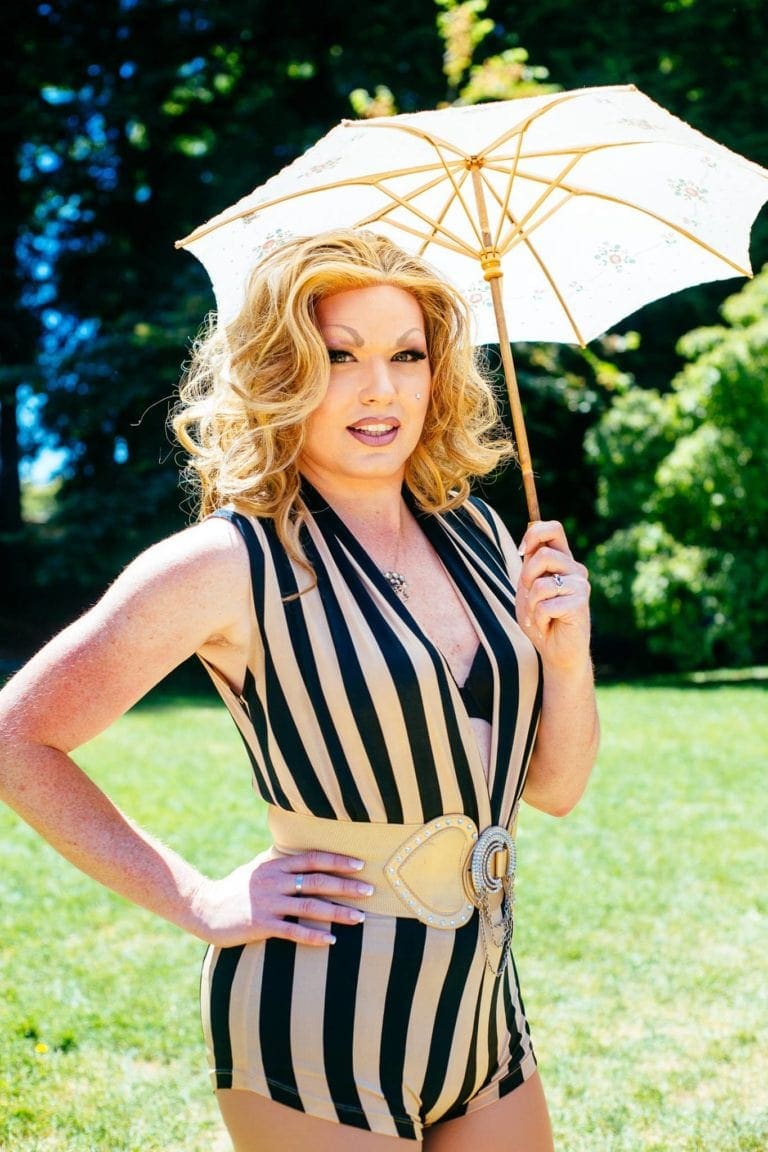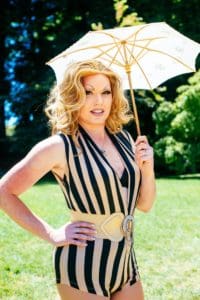 DonnaTella Howe has come a long way since we first met her. Donnatella's alter ego Michael began working with us last July as Diva Desk Dude. From hosting our early Divas Take the Hill events to being one of our bridesmaids in the Big Diva Wedding  we can't wait to see what she does for this year's event supporting PSKS!
DonnaTella Howe is moving and shaking all over Seattle. From Bacon Strip to Rainbow Bingo and the Georgetown Trailer Park Mall, and playing guest star and hostess for events with Team Diva Real Estate including Divas Take The Hill. She has expanded her appearances and is working the freelance circuit.  Her hosting ability came about while working as drag assistant for MoM, running her Mothers Day and birthday tribute shows and the occasional WET night at RPlace. Between the looks her mama gave her, some Atomic Cosmetics, lessons on how to wear it courtesy some of the best queens in the Pacific Northwest and some well-chosen outfits, DonnaTella has become a party girl around town.
Performances range from comedy to top 40. Old school hits and the occasional dramatic ballad. DonnaTella Howe is always looking to entertain, amuse and start the party off right. No two moments or performances of hers are alike and she is constantly striving to build her numbers into better spectacles while keeping audiences guessing. She is the social butterfly, the flirt, and the lover, but also the bitch you don't wanna cross. She's got the sexy sass of Katy Perry with the mouth of Elaine Stritch, a new class of queen mixing substance and style and here to make the show memorable.
Having completed her reign as Miss Gay Seattle XLVIII with the Imperial Sovereign Court of Seattle in January 2013, DonnaTella Howe moved into the role of Imperial Princess just moments after stepping down as Miss Gay Seattle, later moved into the role of Czarina of Capitol Hill. This last February she was crowned Olympia XLV representing the Court of Seattle and surrounding community as the Empress. Throughout Western Washington, Oregon, Alaska, and Canada she makes herself available to appear and perform wherever she is needed to support the community. XOXO
Don't miss the party! Divas Take the Hill is Thursday, June 9 at Velocity Dance Center in the heart of Capitol Hill. Get your tickets online!