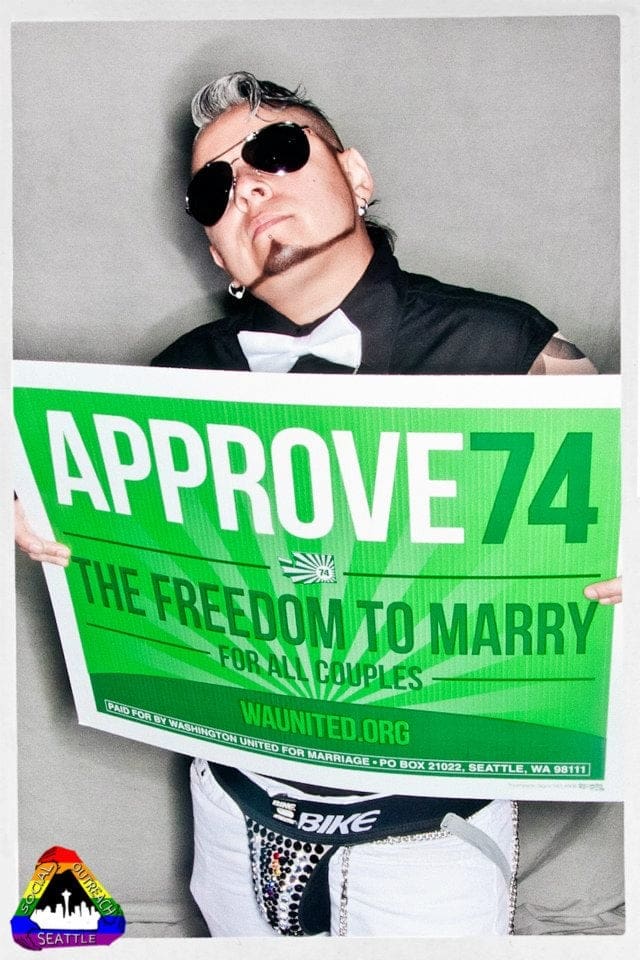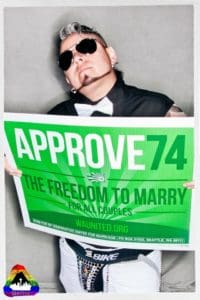 This year, Seattle's finest drag King, Ceasar Hart, will be making his second appearance at Divas Take the Hill. Last year, Ceasar tore up the dance floor with some incredible performances, wooing everyone in the crowd with soul and suave. We are super excited to see what Ceasar has in store for us this year – make sure you don't miss out!
Ceasar's Bio:
Ceasar Hart is our past and current Mr. Neighbours Seattle 2011-2013, as well as a cast member of the longest running drag show in Washington state, Marlayna Mcbride and The Jakettes Show, held at Jakes on 4th in Olympia the last Saturday of every month. He has traveled from Everett all the way down to Portland performing at benefits supporting Marriage Equality, Washington United for Marriage, Referendum 74, AIDS awareness, Drag for Dolls, Breast cancer, Planned Parenthood, Camp Ten Trees, Queer Rock Camp, You Are Loved Cabaret, and teen suicide and bullying prevention, just to name a few.
Also over the past few years Ceasar has done the annual Drag shows and Pride proms for the kids attending Green River Community College, Highline Community College, Seattle Community College, and South Seattle Community College. Ceasar is also a former cast member of Boys R Us at SWANK in Kent, Queens By Nature at Bad Monkey in Auburn, Bottoms Up at the Backstage Bar and Grill, Drag On at the Deltan Club, and The Aviators at the Airport Tavern in Tacoma.
Ceasar has guest performed at shows such as Morning Glory, HOTFLASH, Mimosas with Mama, INFERNO, Girl for Girl, BENT, Fuego at the Wild Rose, Bacon Strip, UNTUCKED, Doll House, Queens Brunch at the Royal Room, Pride Idol, and FUZED. Last but certainly not least, Ceasar has performed at Tacoma Pride, Olympia Pride, Portland Pride, Bremerton Pride, and  has walked in the Seattle Pride parade and the Olympia Pride parade for many years now.
He most recently became ambassador of Social Outreach Seattle, a coalition of LGBTQ and allied persons who care about the issues, politics, and social inequalities that exist in the world.
Divas Take the Hill Event Details:
Date: Saturday, June 15th
Location: Velocity Dance Center
Doors Open: 7:30 PM
RSVP: Through the Divas Take The Hill Facebook Page
Tickets: Brown Paper Tickets
Hosted By: Miss DonnaTella Howe
With Performances By: Miss Kitty Baby Burlesque, Caesar Hart, and Atasha Manila
Sponsors and Organizers: Team Diva Real Estate, Studio 5 Design, Velocity Dance Center, Babeland,Retail Therapy, Vino Verite, + Atomic Cosmetics