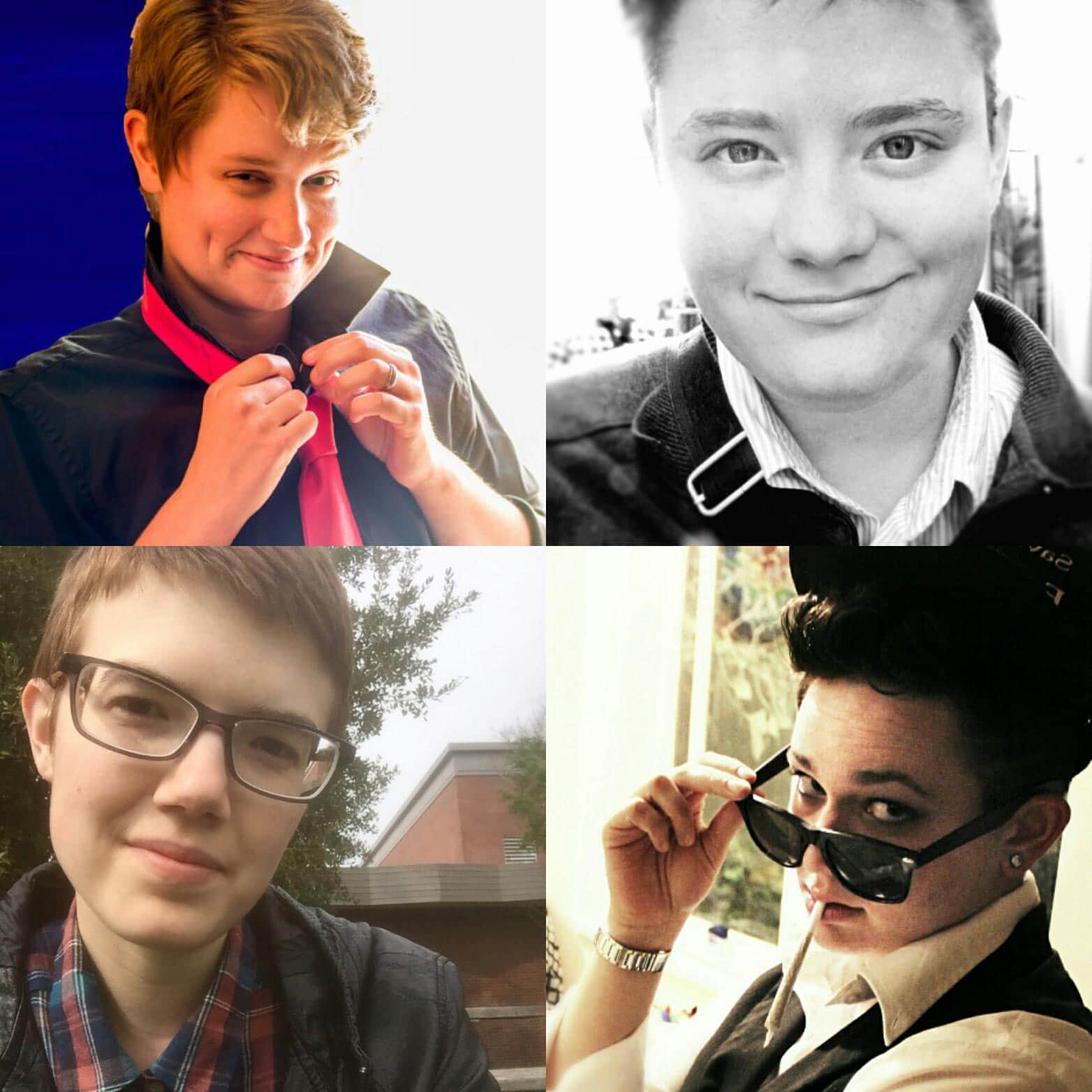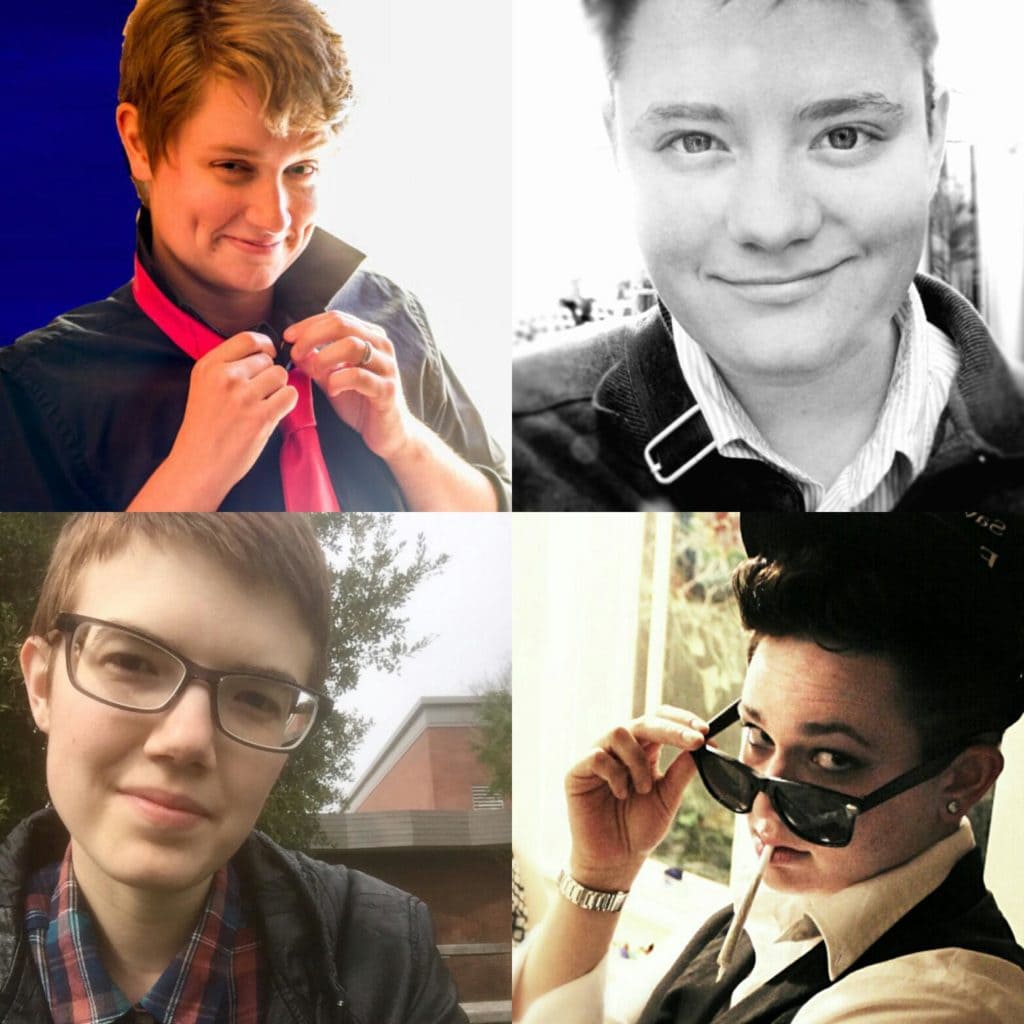 Drag King Al Lykya joined Divas Take the Hill for the first time last year, and the crowd went wild for a strip tease and, later, a lap dance that brought in hundreds of dollars for the cause, Peace for the Streets by Kids from the Streets. This year, not only is Al back, but he's bringing some friends: Infinite Directions.
Team Diva: Al, you nearly brought the house down with your performance last year. Do you think you can top it?
Al Lykya: I plan on topping it this year by quadrupling the amount of Drag Kings performing. I'm introducing Infinite Directions: a socially conscious drag king boi band consisting of myself, Rocky Orbody, Max Poetiq and Perry Dime-Shift.
Infinite Directions hopes to bring a little something for everyone and show people the variety of ways masculinity can be presented and sexy. We strive to step outside the cisheteronormative binary constraints and stray away from reinforcing the toxic, misogynistic box that masculinity is often fed to us by media and society. I'm glad to have met these lovely humans and call them band mates and drag brothers. They are all such socially minded individuals with a myriad of passions, talents and energy that they can't help but change the world around them a bit at a time. I look forward to all of you getting to know and adore them as much as I have come to. Infinite Directions aims to have a little something for every taste as each of us brings a little something different to the group. Whatever your type or turn on, there's a member or two or three—or all four—for you. *wink*
Team Diva: What is your favorite memory from a Pride event?
Rocky Orbody: My favorite memory from a Pride event so far would have to be Pride 2014. That year, I got to hitch a ride with one of the Dykes on Bikes! I stuck my thumb out from the side of the parade route and a handsome butch pulled up and gave me the nod. I jumped the railing, climbed on the bike, and rode with her in the circuit until she dropped me off farther down the route! That was a dream come true.
Max Poetiq: My favorite pride memory is from last year, when I got to march in the parade with the Y. I had 3 friends visiting from out of town, and they marched in the parade with me. Afterwards, we walked around the Seattle Center and I proudly wore a custom made "trans man" shirt—it was my first Pride being out as trans, and it was liberating and surreal.
Perry Dime-Shift: My fave Pride memory was last year, 2015, which was my first Pride in Seattle. It was the first time I'd really been comfortable with my queer identity, and I wore it loud and proud: tie-dye booty shorts with my hand prints on the front and "QUEER" painted across the back. I shaved funky lines into the side of my head and painted them the rainbow. The city of Seattle unveiled the rainbow crosswalks, which maybe could've been spent on something more directly beneficial to Seattle residents, but, damn it, they are adorable and I love them!
Al Lykya: My favorite Pride memories consist of spending fun, celebratory time with my queer friends and family. Also, I always love performing in Pride events, particularly June Debauchery because performing in Debauchery always feels warm, accepting, safe and like coming home, as they say.
Team Diva: What causes and charities are you passionate about year-round?
Rocky Orbody: My causes are climate justice; I've organized most recently with Rising Tide Seattle. And queer/trans rights! I also work with youth aged 11-17 in afterschool programs and absolutely adore them.
Max Poetiq: My causes include youth homelessness, immigrant and refugee rights, and helping LGBTQ+ folks of all ages and genders navigate this tough, tough world.
Perry Dime-Shift: With an understanding that all societal issues are deeply intersectional, some of the issues that I've been the most vocal about include environmental/climate justice, homelessness, mental health/self-care, and the many symptoms of late-stage capitalism.
Al Lykya: I am currently interested in trans health and working with kids with Type 1 Diabetes. I'm hoping to further my career in healthcare and implement better practices for healthcare professionals around safe language to use with trans and gender-variant patients.
Team Diva: What are your plans for Pride Week this year?
Rocky Orbody: I plan on going to Trans Pride and PrideFest for sure, and hitting as many dance parties as I can handle! I'm also going to try and catch the beginning of the parade, because I love me some dykes on bikes.
Max Poetiq: My organization (the Y) will be tabling at Trans Pride—and it'll be my first year going to that event! I'm also hoping to go to a lot more of the family events and the Dyke march, as well as watching the parade with friends. I will also be putting up a Pride exhibit and timeline at the homeless youth drop-in center where I work!
Perry Dime-Shift: This year I am looking forward to the experience of being surrounded by an infinite number of queer* identities as we celebrate our existence together!
Al Lykya: I plan to go to Trans Pride this year, my first one as an out transman, and the Dyke March. Mostly, I'm planning to spend celebratory time with all my queer family and friends.
Team Diva: Al, if you could give one of your legendary lap dances to any celebrity, who would it be?
Al Lykya: Ooo, that's a good question. I think I'd like to team up with Channing Tatum and do duo lap dances to anyone who's willing. 😉
Team Diva: You seem like the right people to ask: How many licks does it take to get to the center of the Tootsie Pop?
Rocky Orbody: As many as the Tootsie Pop wants! 😉
Max Poetiq: I have to second Rocky's perfect answer: as many licks as the Tootsie Pop wants 😉
Perry Dime-Shift: I don't remember, I was too busy enjoying the moment.
Al: I'm going to second Perry on this one: I don't remember, I was too busy enjoying the moment.
Don't miss the party! Divas Take the Hill is Thursday, June 9 at Velocity Dance Center in the heart of Capitol Hill. Get your tickets online!