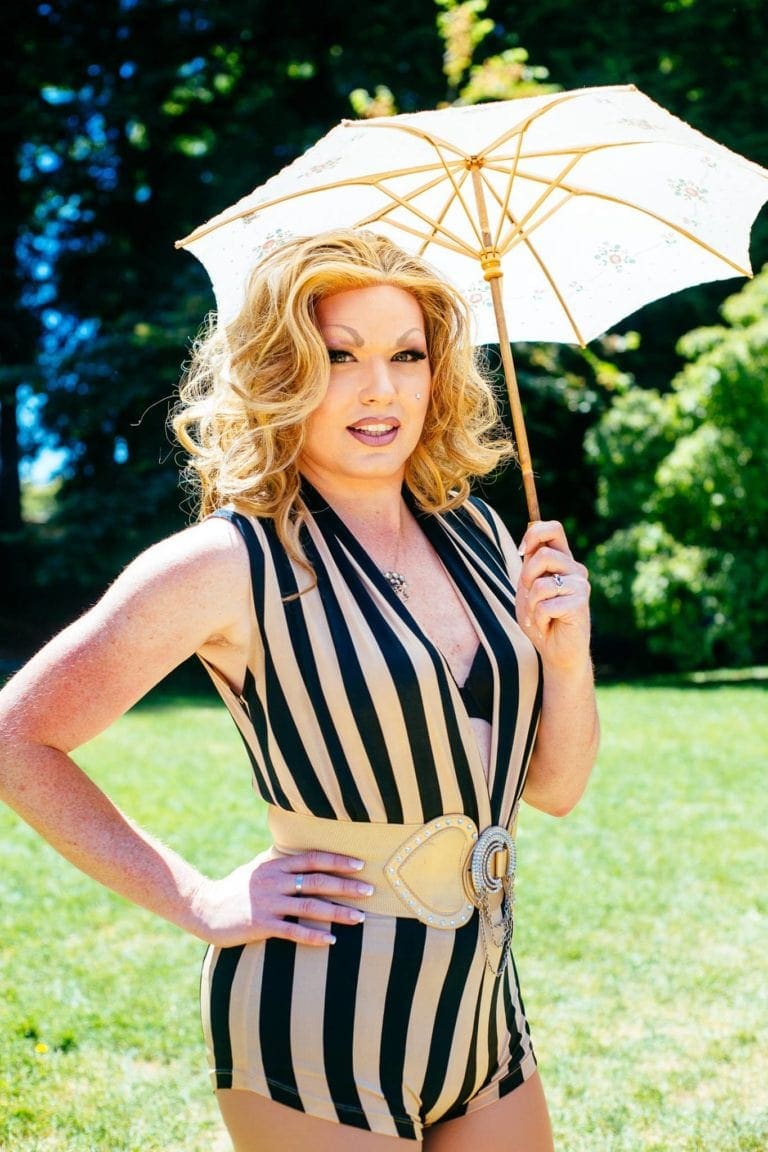 Divas Take the Hill began as a cozy, sweaty affair in our favorite Capitol Hill boutique, Retail Therapy, and DonnaTella Howe was there from the very beginning, hosting with the original crew, which also included Jinkx Monsoon and Miss Kitty Baby. DonnaTella is our co-host again this year, repping not just Team Diva, but the Imperial Sovereign Court of Seattle as its reigning empress.
Team Diva: What are you excited to see from the performers this year?
DonnaTella Howe: More burlesque! I think this might be the most burlesque performers we've had at a Divas Take the Hill event, plus many of the performers have hybrid performance styles and interests that include burlesque. I think it'll be pretty amazing to see this whole, fluid mix of folks who are oh-so colorful and energetic. It is really becoming its own company of performers, if you will, with those we have back and new faces each year. I love getting to help highlight some of Seattle's most fabulous!
Team Diva: You've been hosting this party for several years. Do you have any favorite memories from the past?
DonnaTella Howe: It is always so much fun watching everyone perform and wow the audience. Every year has its own special moments and I can't wait to see what happens this year! On a personal note, there was the spontaneous naming of the SaturGays, Kim and Chavi's guy pals that always come out to support when they can. That nickname stuck, which is awesome. I love them a lot! I'm also fond of those moments where I used to put Chris Clem (the former Team Diva himtern/himsistant/himployee) or Rocky Flowers in the spotlight to pick up my tips—just being silly and having the handsome Team Diva Dudes do my bidding while I'm all gussied up.
Team Diva: Can you tell us a little about what you have in store for the audience?
DonnaTella Howe: Hah! Welllllll…I haven't planned anything just yet, per se. I have my ear to the ground and listen to music constantly, as I'm doing other shows and picking tracks. I'm very much into picking songs as close as I can to the performance night because they'll tap into how I'm feeling at that time, so I can really work them out and emote the best that I can. But the sass, class and sauciness will certainly be full force, as usual, I can promise you that!
Team Diva: What are your plans for Pride Week this year?
Pride week!? Hah! Let's talk Pride Month!
Planning for 2016 literally began at 1am on Pride Sunday last year, which is really still so surprising to me. Court-wise, as empress I'll be in Reno just before the big week in Seattle begins, and there might be some  time in Portland early in the month. June 11th at Volunteer Park I'll be hosting the festival that Seattle Pride is putting on—back for my second year. You might be seeing me promoting it on a TV commercial. That same night is the Fireball Pageant at CC Attle's with the court, and we are also hoping to have our Seattle Teen Pride Pageant sometime in June. I'm working with a Relay for Life team, who are hoping to put on a fundraiser on June 23rd which is also the night I'm appearing for some standup comedy at the Rendezvous in Beltown. Its a fundraiser show called Exposed.  June 25th I'll be up around the Broadway festival, most likely performing in Julia's Day of Drag and judging a contest or two. And, of course, the main event will be hosting the parade at Westlake Center with my bestie Cherry Sur Bete! More to come on all of it on my Facebook!
Team Diva: What are some of the other causes you are passionate about this year?
Donna Tella Howe: Continuing my work with the court, my year as empress certainly dovetails with our goal for Divas Take the Hill. Working for Team Diva, I have been learning about the homeless youth at Lowell Elementary, fundraising for PSKS, learning more of their history, and living on Capitol Hill—all of this drives me to help Seattle's homeless youth. For the kids going to school, they should be learning, imagining and growing instead of worrying about the basic needs of life. I love what the local organizations like PSKS do.
Education is critical, and I'm happy to say that the community partnership that Team Diva has built with the Court of Seattle has added to the court's scholarship for deserving LGBT and Ally students.
I'd also like to help raise funds and awareness for prostate cancer research and care, as I have had great conversations with a good friend of mine who overcame prostate cancer, and I have learned that there isn't a lot of conversation about this topic of health which all men should know more about.
We are evolving as a community and a city, and we can all still enjoy what we love and grow with Seattle. I really want to reconnect parts of the community that seem like they've drifted at this time. I think Pride can be part of that, but it's only the beginning.
Team Diva: And they say Pride has gotten too commercial… and on that note, we see you are merchandising these days, with your face on a shirt.

DonnaTella Howe: I wouldn't call my shirt merchandising, it was a complete accident. While doing my Empress campaign photos, the photographer—who's a great friend of mine—took the shot when I was having trouble posing. I felt I wasn't doing as well as I usually do and I got frustrated and—snap. He likes to capture moments when you're not expecting them and that was one of them. It became the central image of my campaign, and the shirts were a joke, as he was planning to make only one for himself. We actually had a conversation about whether or not people would want one based on his and, sure enough, when I showed off the prototype image, everyone went nuts for it. I'm not one for shirts with designs on them, but with my campaign coming up, it seemed like a good idea to get some made as cheaply as possible so that people would buy them and get them out to help my election and visibility. I didn't make a dime on them and that's not the goal. I have some in the works that focus on some of the court's iconic members and another of myself, and all proceeds will go to charity!
Team Diva: Any tips for Pride visitors coming into Seattle and looking to hook up while here?
DonnaTella Howe: Oh GAWD! Haha… call me? I kid, I'll be too busy!
Well, there's the plethora of apps, Craigslist and sweaty parties to find your person of the moment…or who knows, maybe you'll find lasting love at Seattle Pride!?
Tips wise… I mean it's a no brainer: Play safe. Know where you're going, who you're going to see. If you venture off, let someone know who you trust, especially if you're visiting. Know your limits; drugs, booze and all that can make for stupid decisions. Don't answer ads and things with random capitalized T's…unless that's your jam. If you're lost, need help, need a friend, whatever…find a drag queen. Find me! There are fabulous people who are always out and about who will gladly look out for nice folks visiting Seattle. And you never know. Maybe they're you're next lover!
Don't miss the party! Divas Take the Hill is Thursday, June 9 at Velocity Dance Center in the heart of Capitol Hill. Get your tickets online!