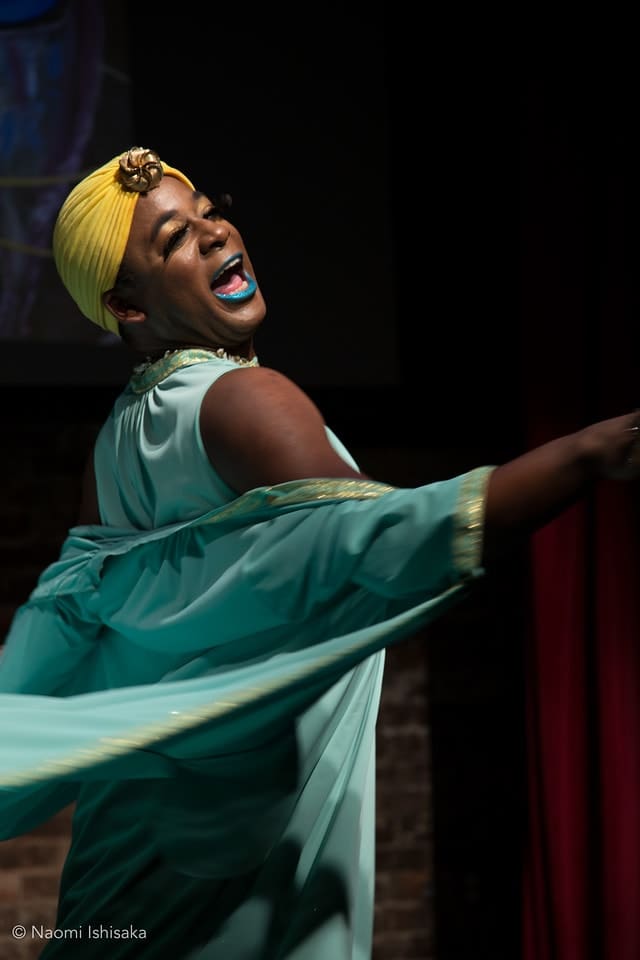 Divas Take the Hill is delighted to welcome for the first time The Lady B, who is, in her own words, "Seattle's Première TransFabulous Femtastic Draglesquing Sass-Mouthing Negro," whose talents include dancing and hostessing, making biscuits (from scratch, natch) and Twerkshop facilitating.
Team Diva: How did you get started performing?
The Lady B: I've been performing "formally" for a bit more than ten years. I started with speech writing and competitive acting. But my performance life really began at the age of three on street corners with my friends, as we twerked and krumped and danced it out until the street lights came on.
Team Diva: How do you usually spend Pride Week?
The Lady B: I usually spend Pride week thinking about how trans people are really awesome. Genuinely, I think about the courageous, full, complex people that helped make this new world of complicated opportunity possible.
Team Diva: What are your plans this year?
The Lady B: This year, I have a full schedule of performances and social outings. I really want to revel in the recent accomplishments of the gender non-conforming and trans community as well as the legacy of our fore-folk like Marsha P. Johnson that make celebrations like Pride possible.
Team Diva: What causes keep you passionate year-round?
The Lady B: I'm very passionate about my work as a Board member and Special Events Chair with Ingersoll Gender Center, which has been providing support and education organization for trans and gender nonconforming people for over 40 years. I'm really looking forward to the June 24th Ingersoll Gender Center and Seattle Counseling Services fundraiser, LOOK BALL, which I'm co-hosting with Cherry Sur Bete and Kremwerk.
Team Diva: Cherry Sur-Bete, visting us from L.A. That sounds exciting. And what excitement can we expect at Divas Take the Hill?
The Lady B: [playing coy] I'm certain to knock some socks off. Ya know, so people can more readily get to their sock money storage. Teeheehee.
Team Diva: If you could have a celebrity play-date, what would you do?
The Lady B: OK. I would love to have a gin-lemonade Lady Date with Oprah, Viola Davis, Laverne Cox, Tina Turner, and Beyonce. Cause ya know, I'd love to be their best friends.
Team Diva: Last question…If you could instantly become fluent in another language, what would it be?
The Lady B: I already speak English, French, and Brazilian Portuguese. But I've always wanted to learn the Creole/Kray-ol of my people, as its the closest connection I would have to my ancestors before they were brought to the Americas.
Don't miss The Lady B at Divas Take the Hill on Thursday, June 9 at Velocity Dance Center in the heart of Capitol Hill. Get your tickets online!